By Andrea Wong and Lananh Nguyen
Trade-weighted dollar index reaches strongest since 2002

Surge may thwart potential for more rapid hikes: State Street
The greenback has been on a tear again, especially by the Federal Reserve's own measure.
The central bank's dollar gauge, which takes into account the biggest U.S. trading partners, has risen more than 3 percent since Donald Trump's election victory, reaching the strongest since 2002.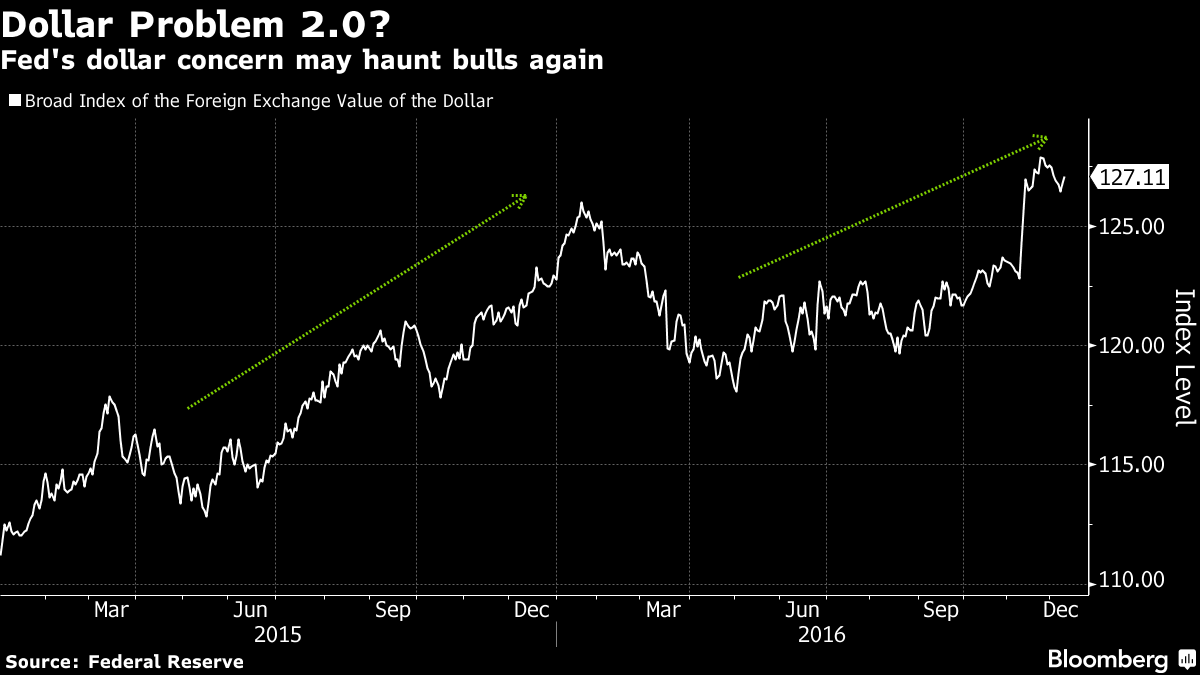 But even before Nov. 8, Fed officials were already growing more concerned about the currency's appreciation — as seen in changes in the wording of minutes of the Nov. 2 meeting, when policy makers cited the potential for the gains to damp prospects for quicker inflation. A widely expected Fed interest-rate increase Wednesday may only deepen their consternation.
"There's definitely a shift in tone between the September and November minutes, and obviously since the November meeting the dollar's carried on going up," said Lee Ferridge, head of macro strategy for North America at State Street Global Markets in Boston.
If history is any guide, dollar bulls may suffer a self-inflicted blow from the Fed's decision Wednesday, echoing events of a year ago, when Chair Janet Yellen referenced dollar strength following the central bank's first hike in almost a decade. After the dollar index's almost 11 percent rise in 2015, the biggest advance in almost two decades, the greenback went into retreat for most of the first half of this year.Now, Trump's promises of fiscal stimulus have re-energized dollar bulls — hedge funds are the most optimistic since January on the greenback's prospects. That stance faces a test as officials prepare to announce new forecasts for the year ahead. In September, policy makers estimated they'd raise rates twice in 2017.
"If we hadn't seen the big dollar rally, maybe there'd be more chance that they'd add an extra dot for next year," said Ferridge. "The dollar will mean that they're going to err on the side of caution."
For traders who were occupied with preparations for the U.S. Thanksgiving holiday, here's an excerpt from the November minutes, which were released Nov. 23:
"Participants discussed possible policy implications of the risks surrounding the outlook for inflation," including "the possibility that a further appreciation of the dollar stemming from developments abroad could renew disinflationary pressures and postpone the need for policy firming."
The tone marked a shift compared with the minutes from the September meeting, when officials "pointed to a number of factors that they expected would contribute to above-trend output growth over the next few years," including "diminution of the drag on net exports from a strong dollar."
Related articles across the web