Sterling falls despite better-than-forecast production data

Investors writing off good news given outlook: Mizuho's Jones
The pound fell to the weakest in more than two months as a larger-than-forecast increase in industrial output failed to soothe investors worried about Brexit.
Sterling fell as much as 0.7 percent to $1.2097 before trading 0.4 percent weaker at $1.2130 by 11:50 a.m. in London, after official data showed industrial production rose 2.1 percent in November from a month earlier, more than double the median prediction by economists in a Bloomberg survey. Manufacturing also rose more than expected. 
The pound's 1.7 percent decline against the dollar this year has only been surpassed by Mexico's peso and the Turkish lira among major currencies amid uncertainty over the U.K.'s strategy to leave the European Union. U.K. Prime Minister Theresa May, who on Sunday flagged regaining control of immigration as a priority over retaining access to the bloc's free-trade zone, is scheduled to speak in the House of Commons on Wednesday.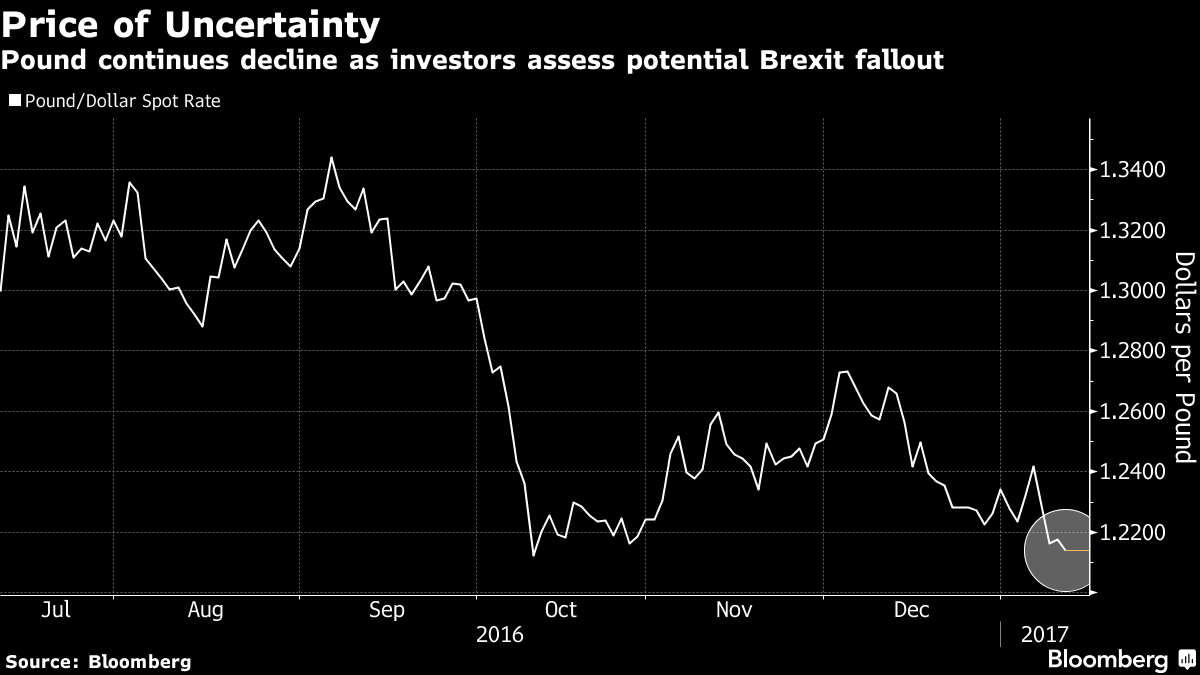 "Investors in the U.K. and overseas appear to be writing off good news on the basis that bad news lies ahead," said Neil Jones, the head of hedge-fund sales at Mizuho Bank Ltd. in London. "If a market can't go up on good news, it must go down. Today is no exception."
"The main driver is Brexit-related uncertainty and that keeps the pound a sell," says Manuel Oliveri, a currency strategist at Credit Agricole SA in London.

Bank of England Governor Mark Carney and Theresa May are unlikely to come up with any surprise at hearings on Wednesday, leading to risk being on the downside for the pound, Oliveri says.

"The market is getting very short cable at a strongly supported level," according to Richard Benson, the London-based managing director and co-head of portfolio investment at Millennium Global Investments Ltd.

If the U.S. dollar weakens today on Trump's comments, cable will likely see a big stop run. The market is looking for the pound to break lower. It may be very disappointed, he says.

The fundamental outlook for the U.K. looks very poor though, he says.