Societe Generale's Juckes sees politics weighing on peso, pound, and lira.
By Luke Kawa
Forget about current-account deficits, purchasing-power parity, and government debt.
The new year's currency action suggests politics is trumping economics in the world's foreign-exchange markets, according to Societe Generale Global Strategist Kit Juckes. Consider the three worst-performing currencies in the first ten days of the year, he said in a note on Wednesday.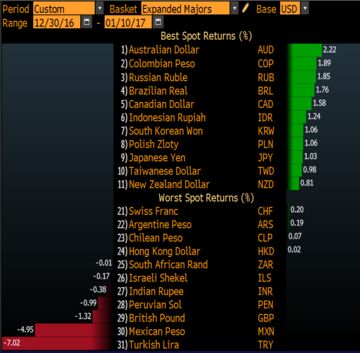 These laggards "all face significant political headwinds: terror attacks and government interference in monetary policy in Turkey, Brexit-dithering in the U.K., and fears of U.S. protectionism in Mexico," he writes. "The takeaway, two weeks into the year, is that as expected, politics is at least as important as economics in driving markets in 2017."
Political pressures appear to be factoring into the Turkish central bank's reluctance to hike rates despite hotter-than-expected inflation, which has fostered acute weakness in the lira. In Britain, the pound has been battered amid statements from Prime Minister Theresa May that point towards a 'hard' Brexit, despite evidence of firm economic activity.
These currencies are extending their year to date losses relative to the U.S. dollar in a big way on Wednesday.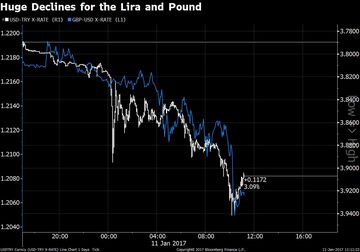 Mexico's peso, meanwhile, has been cementing its position on the "front line" of market reactions to President-elect Trump's policy agenda; most recently demonstrated by the swift plunge in the currency after Ford Motor Co. said it would forgo building a new plant in Mexico.
The six best- and worst-performers — the Australian dollar, Russian ruble, Columbian peso, British pound, Mexican peso, and Turkish lira — all share one key characteristic, according to Juckes: they're relatively high-beta. So it's not as if investors are shunning volatile currencies per se, in stark contrast to 2016 when safe-haven currencies were the strongest out of the gates, and those of commodity exporters struggled.
The major event on Wednesday's calendar looks set to be a test of Juckes's observation, as the world awaits the first press conference from President-elect Trump in six months.