Market News
Dollar Claws Back Losses as Trump Seeks to Limit Comey Turmoil - BLOOMBERG
MAY 18, 2017
BY Michael G Wilson and Chikako Mogi
GET INSTANT UPDATES WITH abokiFX APP LINKS BELOW
https://play.google.com/store/apps/details?id=com.app.Abokifx&hl=en
https://itunes.apple.com/us/app/abokifx/id1205477397?mt=8
Greenback recovers a tad as Mueller named as special counsel

Aussie rebounds after April unemployment rate falls to 5.7%
The dollar eked out gains against most of the Group-of-10 peers but pressure from the U.S. political turmoil remained evident as it swung between gains and losses against the yen.
The most important market news of the day.
Get our markets daily newsletter.
Sign Up
The greenback came up for air as drama at the White House saw some respite after former FBI Director Robert Mueller was appointed as special counsel to investigate Russian efforts to influence the 2016 U.S. election. Risk sentiment remained cautious as the bloodbath in U.S. stocks Wednesday dragged on Asian equities and the 10-year Treasury yield hovered near a one-month low. Australia's dollar rallied to a two-week high after jobs data beat estimates.
"Dollar-yen has more scope to the downside," said Bart Wakabayashi, Tokyo branch manager of State Street Bank and Trust Company. "As long as U.S. political confusion continues, dollar-yen is top-heavy. People are looking at charts to see when is a good time to sell on the rebound. When the pair approaches 112 or 112.50, that may spark selling."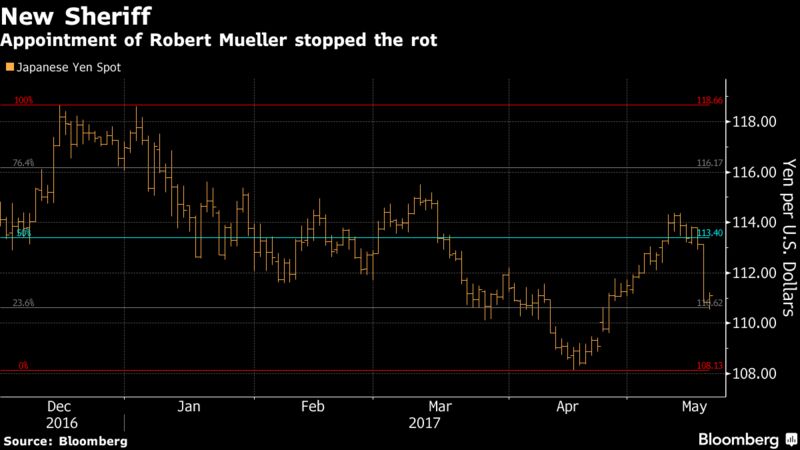 The Treasury curve rose and the yield on the 10-year note climbed 1 basis point to 2.24 percent. The Nikkei 225 slumped 1.4 percent by noon in Tokyo.
USD/JPY whips between gains and losses, rising as much as 0.4% to 111.23 before erasing the increase only to rebound 0.2%

Most of the dollar's gain was against the yen as clients reacted to Mueller's appointment by covering recent short dollar positions until more information becomes available, according to an Asia-based FX trader
Leveraged clients have exited short positions under 111.00 with most citing the latest White House development as reason to reconsider view, the trader says; macro sell orders just under 111.50

Aussie rebounds from early losses to reach a 2-week high of 0.7456 after April joblessrate unexpectedly fell to lows last seen in January

Employment increased 37.4k vs est. 5k and prior revised of 60k, while unemployment rate fell to 5.7% vs est. 5.9% and prev. 5.9%
GET INSTANT UPDATES WITH abokiFX APP LINKS BELOW
https://play.google.com/store/apps/details?id=com.app.Abokifx&hl=en