Market News
Dollar Hits Fresh Four-Month Low as Traders Follow Recent Trends - BLOOMBERG
MARCH 20, 2017
By Vassilis Karamanis
DOWNLOAD APPS AT https://www.abokifx.com/ ABOKIFX.COM
Euro-dollar option bets turn bullish first time in four months

G-20 statement shift to protectionism keeps volumes low
The greenback extended its recent decline, with the Bloomberg Dollar Spot Index touching its lowest level since November, pressured by investors who kept the latest bearish trend intact.
DOWNLOAD APPS AT https://www.abokifx.com/ ABOKIFX.COM
A Japanese holiday and a rather uneventful Group-of-20 meeting that left most business unfinished suppressed flows in the major currencies; dropping a reference from the G-20 statement to resist trade protectionism weighed on the dollar, with macro and leveraged accounts adding to shorts positions, according to a London-based trader who asked not to be identified as he isn't authorized to speak publicly. Volumes were near the lowest they have been in March, a Europe-based trader noted.
DOWNLOAD APPS AT https://www.abokifx.com/ ABOKIFX.COM
Investors were mainly building on the latest market trends that called for an extended dollar weakness and a rebound in the euro and the pound amid lack of near-term risks and a light data calendar. London open saw demand for dollar-shorts by interbank accounts that drove BBDXY to a fresh-day low, with the index on its longest losing streak in more than four months.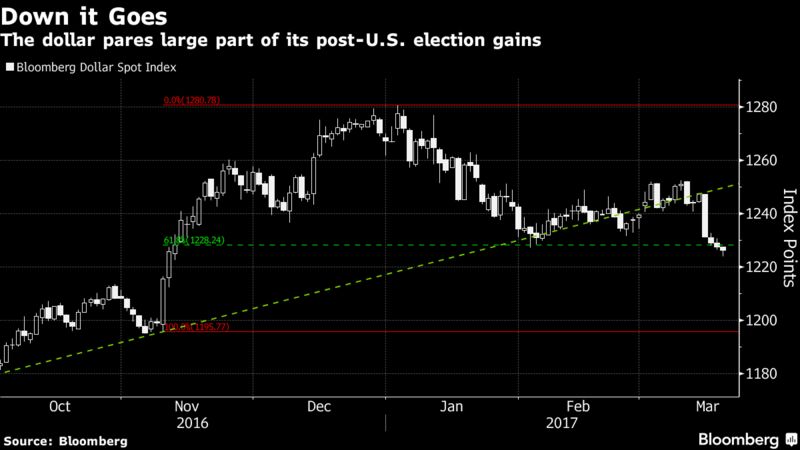 DOWNLOAD APPS AT https://www.abokifx.com/ ABOKIFX.COM
Euro-dollar bidding interest extending all way to 1.0650 keeps the pair in a buy-the-dip mode, while front-end bets in options space turn bullish for the first time since November. Traders note of take-profit interest within $1.0800-$1.0830, with little selling interest above.
Political risks in the common currency bloc keep sentiment in a bearish mode in the medium-to-long term. Still, euro-bulls took comfort as the average implied probability of far-right presidential candidate Marine Le Pen winning the French election based on bookmakers' quotes stood at its lowest level since early February. France's five main candidates appear for a televised debate for the first time on Monday night.
DOWNLOAD APPS AT https://www.abokifx.com/ ABOKIFX.COM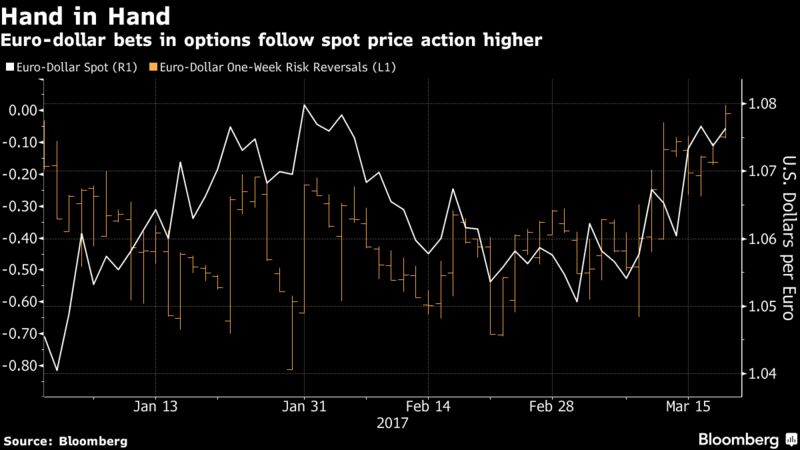 BBDXY dropped as much as 0.3% to 1223.95, lowest since Nov. 11, before paring decline; investors may look for guidance by speeches by Fed's Dudley and Yellen expected later this week before meaningfully adjusting their current positioning
GBP/USD rises a fourth day, following an impulsive move above 1.2400 handle that saw stops filled; sizable selling interest seen near 1.2480

1.2461, the 76.4% Fibonacci retracement of Feb. 24-March 14 drop marks next significant resistance
GBP351m worth of option expiries rollover Monday and may weigh on cable

Yen was the only G-10 currency weakening versus the dollar even after haven-seeking demand following G-20 statement sent USD/JPY lower to levels unseen in March; the pair trades slightly higher on the day at 112.75, with offers accumulating within 113.30-60
AUD/NZD slides ahead of Thursday's RBNZ rate decision, as position unwinding follows a 10-month high hit on March 16; no rate change is seen, accompanied by adovish statement according to NatWest Markets
DOWNLOAD APPS AT https://www.abokifx.com/ ABOKIFX.COM