Market News
Euro Rises to Strongest Since 2014 as Stars Align for Bulls - BLOOMBERG
JANUARY 12, 2018
By Vassilis Karamanis
German coalition breakthrough the latest supportive argument

Money market fully pricing two ECB rate hikes by June 2019
"The stars have aligned for a stronger euro this week," says Valentin Marinov of Credit Agricole.
The euro surged to a three-year high on signs that political risks in the euro area are fading and the European Central Bank may raise interest rates sooner than thought.
The common currency climbed for a third successive day after Chancellor Angela Merkel and Germany's Social Democrats reached a preliminary accord to negotiate a coalition government. That followed minutes of the European Central Bank's December meeting on Thursday showing that policy makers are considering a hawkish shift in their communication in the early months of 2018.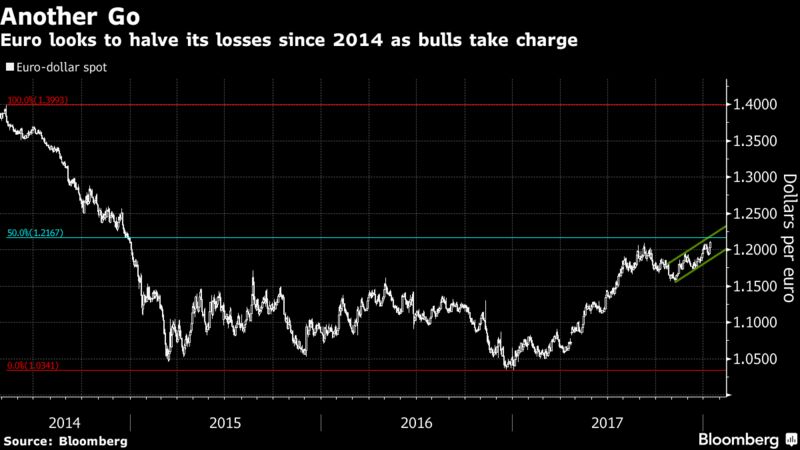 Investors are speculating that the central bank is preparing another scaling back of its monetary stimulus, following a strong recovery in the euro-area's economy. Money markets are now pricing in a 74 percent chance of a 10-basis point increase in the ECB's deposit rate in December and have fully priced in two increases by June next year.
"This is still a continuation of the trend seen yesterday and is just strengthened this morning as we have approached important technical levels," said Thu Lan Nguyen, a currency strategist at Commerzbank AG in Frankfurt. "I am uncertain whether this uptrend will continue, however, I do believe that at least in the very short term, there will be no quick correction to the downside."
The euro gained 0.9 percent to $1.2137, leading gains among Group-of-10 currencies and reaching its strongest level since Dec. 31, 2014. The currency has gained 14 percent against the dollar in the past year. The latest move may open up a test of $1.23, according to Martin Enlund, chief analyst at Nordea Markets in Stockholm.
In December the ECB confirmed a decision to extend its bond-buying program until at least September, at a reduced monthly pace of 30 billion euros ($36 billion). Since that decision, hawks calling for a definite end-date to asset purchases have dominated the public debate.
The talks in Germany reduce another potential political risk in the region. Merkel is attempting to restore leadership in Europe's largest economy 16 weeks after her party won an inconclusive federal election. While Italy's March vote remains a concern for markets, the leader of its populist Five Star party no longer thinks the country needs to leave the euro, alleviating the chances of an Italian referendum over the currency.
— With assistance by Charlotte Ryan, and Love Liman