Market News
Pound Falls as May Faces Revolt From All Sides Over Brexit - BLOOMBERG
DECEMBER 06, 2017
By Charlotte Ryan and Anooja Debnath
Options suggest Friday deadline to break Brexit deadlock

Risk of disappointment and a sharp pound selloff: MUFG
U.K.'s May Faces Cabinet Revolt Amid Brexit Deadline
The pound fell for a second day against the dollar, while U.K. government bonds rose, as Prime Minister Theresa May reportedly faced rebellion from all sides just days before a key meeting with the European Union.
Sterling extended its decline to touch the lowest in a week as the Sun newspaper's political editor said on Twitter that a source from the Northern Irish party which props up May's government told him there would no Brexit deal this week. The Prime Minister also faces opposition from her own ministers over her plan to keep U.K. regulations aligned with the EU after Brexit, with just days to get talks back on track.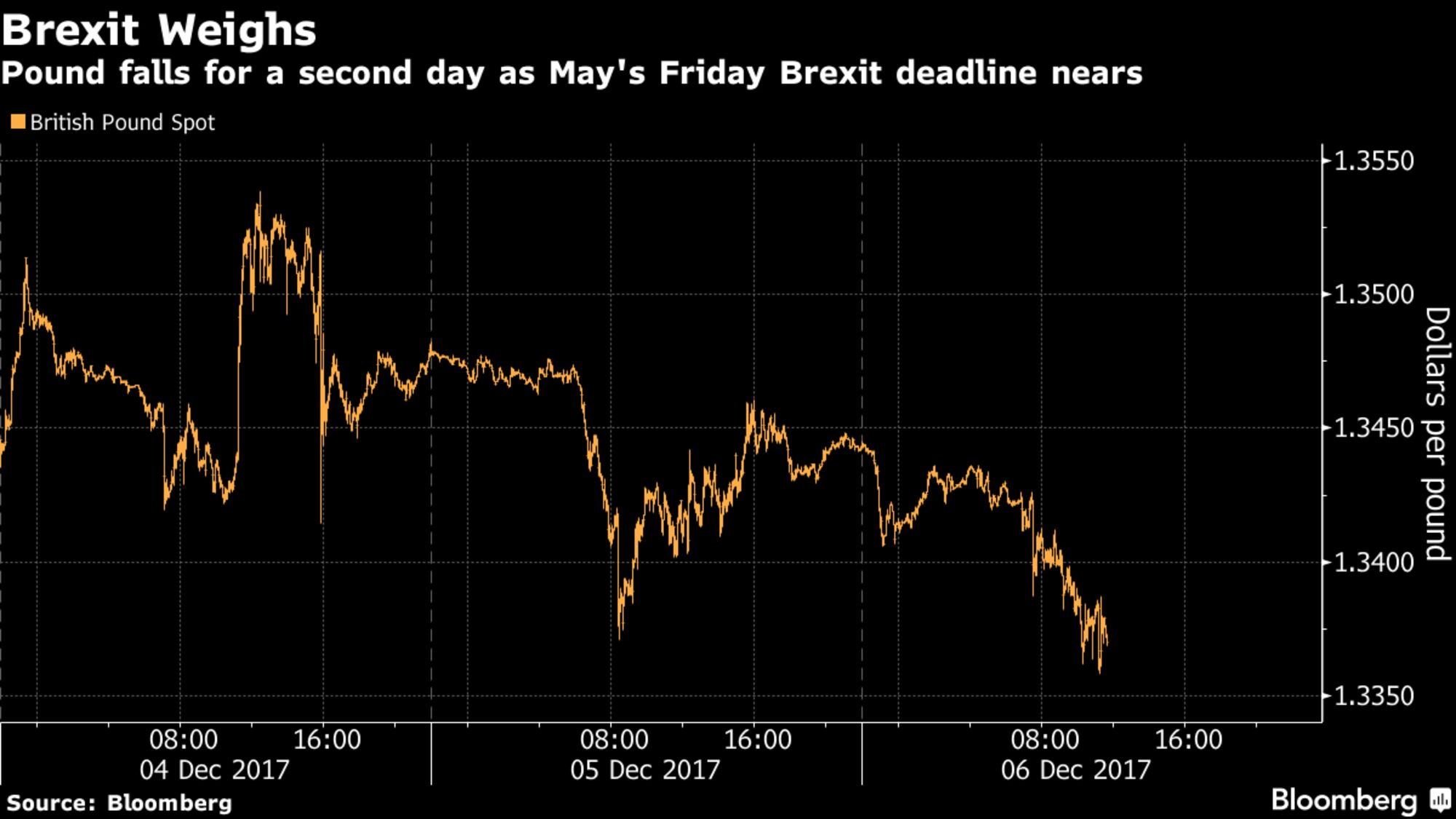 "The performance of the pound heading into next year rests primarily on whether the border issue can be resolved by the end of the week," said Lee Hardman, a currency strategist at MUFG. "The risk of disappointment and a sharp pound sell off has increased."
Investors will look to Prime Minister's Question Time for further signs on how discussions are going, after Brexit Secretary David Davis's comments to a parliamentary committee failed to shed light on the progress of talks. Options traders seem to agree with an EU official that the U.K. must come up with proposals to satisfy the EU by the end of the week, with pricing on one- and two-week tenors at similar levels.
The pound fell 0.6 percent to $1.3364 as of 11:58 a.m. in London, after touching $1.3358, the lowest since Nov. 29. It weakened 0.5 percent to 88.38 pence per euro. The yield on benchmark 10-year gilts slid two basis points to 1.24 percent.