Travel News
Ghana accuses harassed Nigerians of tax evasion, flouting rules - PUNCH
FEBRUARY 17, 2022
The Chief Executive Officer of Ghana Free Zones Authority, Amb. Michael Ocquaye, has said Nigerian businessmen who have accused Ghanaian authorities of frequent harassment and persecution are defaulters who have been found culpable of evading taxes and flouting the laid-down rules for doing business in the country.
The former Ghanaian ambassador to India said this during the Ghana Nigeria Business Council CEO Forum held in Lagos on Wednesday.
He said, "If you rent a shop in Nigeria or anywhere and you don't pay, and the owner comes to harass you, and then you change the matter to be that he doesn't like Nigerians, I don't think that's the issue. When you have to pay tax and you haven't paid, don't change the story to say it is Ghanaians who don't like Nigerians, because we love Nigerians.
"In fact, there are so many Nigerians doing well in Ghana. Dangote is in Ghana. He pays his tax; so nobody is asking him questions. But when you don't pay and we ask you and then you say Ghanaians are driving Nigerians out."
×
He added, "I just want to make this clear that we want law-abiding Nigerians. Let me make this very clear, as ambassador to India, one of the greatest offenders of the Indian laws of business are Nigerians. The Nigerian ambassador always comes to me to complain and say, 'Oh my people, they always want to play with the law.' If you play with the law, the law will catch you.
"So, we have a good synergy, but we don't want people to change the story from what it actually is, and if there are any matters, we will resolve those as we continue. If you come to Ghana and do armed robbery or fraud, we will lock you. But when you come to Ghana and do some good business with us, you pay your taxes, you pay your property rates, you will live in Ghana for five hundred years and nobody will ask if you are Ghanaian or not."
Also speaking, the Consul-General of Ghana in Lagos, Madam Samata Bukari, said the Ghanaian government had always prioritised maintaining diplomatic relations with its West African neighbours.
She said, "Let me reiterate that we in Ghana have always sought to maintain and consolidate the warm friendly relations our country has with the Federal Republic of Nigeria as a matter of national interest. It is a matter of fact that our two countries and peoples have much in common and are bound by many long-lasting ties of cooperation.
"Relations between Ghana and Nigeria have been characterised and sustained by regular high-level consultative visits. In fact, Abuja has become a busy conference post, as virtually no week passes without officials of one MDA or the other from Ghana coming for a programme. This is true even during this pandemic period."
Air France-KLM Ramps Up Flight Capacity as Omicron Recedes - BLOOMBERG
FEBRUARY 17, 2022
(Bloomberg) --
Air France-KLM plans to cautiously ramp up capacity in coming months as the latest coronavirus wave fades and travelers resume booking flights.
The struggling carrier forecast network capacity of 73% to 78% of 2019 levels during the first three months of this year, according to a statement Thursday. That would just exceed the 72% range achieved in the October-to-December period.
The increase coincides with improving financial results, with earnings before interest, taxes depreciation and amortization reaching 827 million euros ($940 million) in the fourth quarter from a loss the previous year. That figure is expected to be "around break even" in the seasonally weaker first quarter.
Air France-KLM is the first of Europe's major network carriers to report earnings after budget airlines Ryanair Holdings Plc and EasyJet Plc outlined plans to raise their own capacities to near normal this summer as ticket sales increase. While the Franco-Dutch operator is making progress toward recovery, its balance sheet is still debt heavy after relying on state bailouts to get through the pandemic.
Air France-KLM pushed back repayment of state aid last year amid a surge in the omicron variant of Covid-19, a move that will keep the airline under European rules restricting acquisitions and executive pay. The carrier is now readying more capital-strengthening measures that could include a rights issue and quasi equity instruments, according to the statement.
The carrier has 10.2 billion euros of available liquidity and credit lines at its disposal, the airline said.
Earnings Highlights
Fourth-quarter Ebitda 827 million euros versus loss of 409 million euros
Net debt was 8.2 billion euros at Dec. 31, a 2.8 billion euro decrease
Net loss of 127 million euros, compared with about 1 billion euros
Adj. operating free cash flow reached 225 million euros
Group expects capacity back to the 2019 levels in 2024
Britain scraps 'golden' visas amid concerns over illicit Russian money - REUTERS
FEBRUARY 17, 2022
LONDON (Reuters) -Britain on Thursday scrapped so called "golden visas" for wealthy investors amid heightened concerns about illicit Russian money after the Kremlin positioned more than 100,000 troops around Ukraine's border.
Hundreds of billions of dollars from Russia flowed into London and Britain's overseas territories since the 1991 fall of the Soviet Union, raising fears among some allies that illicit money was cascading into the global financial system.
British lawmakers on parliament's Intelligence and Security Committee warned in 2020 that more work needed to be done to tackle "the illicit financial dealings of the Russian elite" including overhauling the Tier 1 investor visa system.
Prime Minister Boris Johnson's interior minister, Priti Patel, said on Thursday that she had closed the Tier 1 visa system which offered a route to residency for those investing at least 2 million pounds ($2.72 million).
"I've closed the Tier 1 Investor visa with immediate effect following our review of all those granted," Patel said on Twitter. "This is just the start of our renewed crackdown on fraud and illicit finance."
London has long been dubbed 'Londongrad' or 'Moscow-on-Thames' as the city of choice for rich Russians and other wealthy residents of former Soviet republics.
From Russian oligarchs to Middle Eastern oil barons to newly-minted Chinese entrepreneurs, foreign buyers drove a spending spree on London property in the past three decades, snapping up everything from opulent homes to iconic commercial property.
($1 = 0.7345 pounds)
(Reporting by Kylie MacLellan; editing by Guy Faulconbridge)
Nigerian Air Travellers Lament Decay of Facilities at Lagos International Airport - THISDAY
FEBRUARY 18, 2022
BY Chinedu Eze
Nigerians who travel to international destinations from the Murtala Muhammed International Airport (MMIA), Lagos have lamented the depreciation of facilities at the terminal, thereby making passenger facilitation a horrible experience.
The passengers decried the limited capacity of the terminal, broken down air conditioning and the obsolete carousel (conveyor belt), which fail to work most of the time in recent times.
When THISDAY visited the terminal, passengers on arrival and others who were checking in to leave the country, complained that facilities at the airport terminal, which processes over 60 per cent of Nigerians who travel aboard, have degenerated.
Giving that the country is now into dry season, the terminal has become so hot because most of the air conditioners are not working efficiently.
Also, the conveyor belt breaks down very often, thereby causing flight delays and those working at the airport suffer from heat.
Informed source told THISDAY that the passenger facilitation system, Common Use Terminal Equipment (CUTE), which International Aeronautical Telecommunications Society (SITA) withdrew its services in May last year and replaced by RESA still experiences hiccups, which also delays passenger movement.
In August last year, the Managing Director of FAAN, Captain Rabiu Yadudu assured air travellers that passenger facilitation system would be restored in a more efficient manner but since then, airlines have been complaining about the inefficient service under RESA.
"The previous system we had is CUTE, the Common User Terminal Equipment, but we now want to upgrade to new technology, which isCUPPS: Common User Passengers Processing System. In addition, the self-service kiosk we never had, which is CUSE (Common User Self Service) comes with the new system. The departure control system we never had is all now here, baggage reconciliation system is coming here; FIDS (Flight Information Display System) will be installed too, at least in Lagos," Yadudu had assured, but international airlines said that that system is not working effectively.
Last week, a well-known Nigerian entertainer arrived the country through the Lagos airport and complained about the heat, saying that she had pity for the personnel who work at the terminal.
Also an aviator who was travelling out of the country wrote, "I am currently at MMIA trying to check-in. No belts (conveyor belt) working. I'm sweating buckets as (there is) no air conditioning and wondering what I paid $200 PSC (Passenger Service Charge) for?" A top airline staff at the airport terminal told THISDAY, "Air conditioning is not working.
Baggage conveyor belt is not working. It breaks down after every two days, but everyday we hear that billions of naira has been voted to revamp it. Passenger facilitation equipment is not working effectively. Since SITA left it is one hiccup or the other. When SITA was here they were managing the system by themselves but currently the equipment has been sub-let at three levels. We have Arlington; we have RESA and one other company. If I show you the picture of the baggage belt you will be shocked. FAAN workers don't see themselves as service providers; rather, they see airlines personnel as those serving them.
"They generate so much money that Ghana does not even come near to them when it comes to revenue generation. FAAN charges $100 for passenger service charge, while Ghana charges $50 but FAAN has more passenger throughput. Why can't FAAN replace conveyor belt from its petty cash account, but it remitted N16.7 billion to the federation account?"
Industry expert and Managing Director of Flights and Logistics Solutions Limited, Amos Akpan told THISDAY that infrastructure facilities at the Lagos airport are bad, noting that the airport is not passenger friendly.
"If you watch the video of how passengers' bags are thrown about by handling company workers, you will agree with me that the airport is not passenger friendly. The checking in system is bad. The infrastructure is totally bad. Airports are built for the comfort of passengers, their luggage, cargo and for airlines. Any airport that does not meet this requirement is not worthy to be an airport. So after safety the next is customer comfort. How comfortable are the passengers? The Lagos airport is not friendly.
"It is only those that enter VIP lounge that have some comfort so the airport is segregating passenger comfort for a class of passengers. Ideally avio-bridges should have maintenance calendar but here they have to breakdown down before you think of replacing or rehabilitating them. FAAN is still concentrating on kinetic for aviation security when other airports are concentrating on biodata, profiling and technology. They are talking of giving guns to aviation security personnel," Akpan said.
However, FAAN has assured the airport users that it is doing everything possible to ensure seamless passenger facilitation and comfort. In a statement issued by the General Manager, Public Affairs, Mrs. Henrietta Yakubu, FAAN said, "Contrary to the misinformation presently making the rounds online as depicted by some pictures posted suggesting a breakdown in the baggage processing system at the Murtala MuhammedInternational Airport, Lagos, the Federal Airports Authority of Nigeria wishes to inform passengers and the general public that what is going on is a routine maintenance of the conveyor belts.
"The procedure is in line with our facilities maintenance program, aimed at ensuring optimal performance of the airport's facilities. We therefore appeal to our highly esteemed stakeholders to please bear with us, as the maintenance work will soon be completed." THISDAY confirmed that the baggage conveyor belt has been repaired many times but it still breaks down often.
London on Red Alert as Storm Eunice Brings Dangerous Winds - BLOOMBERG
FEBRUARY 18, 2022
BY William Mathis and Siddharth Philip
(Bloomberg) -- The U.K.'s national weather service issued a second red warning for storm Eunice as high winds threaten to damage homes and bring down power lines across London and other parts of southeast England.
The Met Office's red warning is in place from 10 a.m. until 3 p.m., with winds as high as 80 miles (129 kilometers) per hour potentially causing transport delays and power outages. An earlier red warning for parts of south west England and south Wales will remain in place until noon on Friday, while the storm is also impacting parts of mainland Europe, including the Netherlands.
So far, network operators are reporting that over 24,000 British households are without power. The storm is also disrupting flights and trains into the capital. Severe wind storms are likely to become more common in Northern Europe as global temperatures rise, according to the United Nations Intergovernmental Panel on Climate Change.
"Climate change on a global level is associated with more freak weather events," Security Minister Damian Hinds told Sky News.
The U.K. government's emergency committee, known as Cobra, will hold a meeting this afternoon to discuss the response to the storm.
Flight cancellations were quickly stacking up. London City Airport, a favorite for business travelers because of its proximity to central districts, reported 64 canceled flights. Heathrow, London's biggest airport, was showing 66 cancellations as of 9:33 a.m., according to flight-tracking website FlightAware.com.
Storm Eunice was making its impact felt across Europe, with Amsterdam Schiphol showing 276 cancellations, more than any other airport and representing 19% of incoming and outgoing flights.
Train journeys are also likely to be affected, with National Rail warning that the storm would severely disrupt travel. Services between London's St. Pancras and Bedford are currently disrupted because of damage to overhead electric wires north of the capital, according to National Rail.
The storm is bringing some relief to the electricity market, as Eunice spins the nation's fleet of wind turbines. After the storm passes, the U.K. could post record wind power output on Sunday.
However, the powerful gusts mean that some wind farms may not be operating today as many turbines turn off when wind speeds go above about 56 miles per hour to protect the machinery.
There is a less severe amber warning for all of southern England and parts of the midlands until 9 p.m. Friday. Further north, in Scotland, heavy snow is forecast may cause disruptions.
(Updates with Cobra meeting in fifth paragraph, flight cancellations in sixth)
Most Read from Bloomberg Businessweek
Expat Exodus Builds in Hong Kong, But Escape Is Expensive - BLOOMBERG
FEBRUARY 18, 2022
(Bloomberg) -- Almost exactly a year after China's property-market debt squeeze sparked the first in a wave of defaults by developers, the industry is fighting for survival.
Home sales continue to plunge and elevated borrowing costs mean offshore refinancing is off the table for many developers. Global agencies are pulling their ratings on property bonds, while a string of auditor resignations is adding to doubts over financial transparency only weeks before earnings season. A sudden 81% plunge in the Hong Kong-listed shares of one real-estate firm is raising concern over the risk of margin calls.
Yu Liang, chairman of China Vanke Co. -- one of the country's largest developers -- urged staff to prepare for a battle that could make or break the firm, according to the South China Morning Post, which cited an internal document from last month. "We are on our last legs, which means there are no other options," he said.
A Bloomberg index of Chinese junk dollar debt fell every day this week through Thursday, driving yields above 20%. A gauge of Chinese property shares is down 3.4% this week, taking its losses over the past 12 months to 28%, even after rallying on Friday.
As the cash crunch for developers worsens, so does the housing slowdown that's become one of the biggest drags on China's economy. Attempting to deflate a speculative market is a risky strategy that -- if uncontrolled -- could threaten Beijing's pledge to prioritize economic stability this year. Regulators have quietly tweaked some rules to engineer a soft landing for the property industry, such as encouraging mergers and acquisitions, but so far officials have refrained from any substantive easing of curbs.
"While the government has become more supportive, measures have remained marginal and have not solved the liquidity crisis," said Paul Lukaszewski, head of corporate debt for Asia Pacific at abrdn Plc in Singapore, which has portfolios with exposure to developers. "The market turmoil and ongoing uncertainty have pushed traditional investors to the sidelines."
China Fortune Land Development Co. failed to repay a $530 million dollar bond due Feb. 28., 2021, becoming the nation's first real estate firm to default since Beijing drafted new financing limits for the sector in 2020. Since then, at least 11 developers defaulted, according to a Feb. 3 report by Standard Chartered Plc.
More may follow. Property firms have to find almost $100 billion to repay debt this year, even as their income streams shrink. Sales at China's 100 biggest developers fell about 40% in January from a year earlier, compared with a 35% decline in December, according to preliminary data by China Real Estate Information Corp.
Developers are selling more onshore bonds to fund project construction, but not enough to cover maturing debt. Onshore issuance by Chinese developers fell 53% in January to 23 billion yuan ($3.6 billion), while dollar note sales were down 90% from a year earlier to just $1.6 billion, according to China International Capital Corp. Net financing, which subtracts maturities from issuance, was a negative $7.3 billion, CICC analysts led by Eric Yu Zhang wrote in a Friday note.
Investors also need to worry about off-balance sheet debt. Fallen angel Shimao Group Holdings Ltd. recently proposed delaying repayment of about 6 billion yuan of high-yield trust products due between this month and August, people with the matter said this week. Its bonds sank on concern the company will prioritize these liabilities over money owed to offshore creditors.
Auditor resignations are sowing further doubt about the financial health of property firms. Auditors for Hopson Development Holdings Ltd. and China Aoyuan Group Ltd. resigned in late January, citing insufficient information and a disagreement over fees, respectively. Shimao's onshore unit changed its auditor for the first time in 27 years. Failure to publish results before the Hong Kong stock exchange's March 31 deadline may lead to long trading halts.
"Changing accounting firms just ahead of year-end results raises questions about the quality of a firm's governance," S&P Global Ratings analysts wrote in a Feb. 16 report.
Investor distrust of management is becoming entrenched. Rumors about Zhenro Properties Group Ltd.'s ability to repay a perpetual bond sent the note from near par to drop below 23 cents in a matter of days, while its shares sank amid reports holder Ou Zongrong had been forced to liquidate. The stock hasn't recovered even as the company said such speculation was "untrue and fictitious." Zhenro has yet to clarify its plans for the perpetual note.
Authorities are taking steps to ease funding restrictions for the sector, although these measures are largely targeted and incremental, rather than broad-based. The government recently issued rules to standardize the use of presale funding, banks extended more loans to the sector and some lenders in several cities have cut mortgage downpayments, according to multiple local media reports in the past week.
A Bloomberg Intelligence index of Chinese property stocks rose as much as 3% on Friday following the mortgage report, while high-yield dollar bonds halted their decline.
Even so, credit stress remains "acute" and funding channels aren't showing much of an improvement, according to Goldman Sachs Group Inc. analysts.
That means defaults are likely to pile up for developers that struggle to sell assets fast enough. State-owned companies have emerged as potential buyers, though the pace of deals so far has been slow.
Any distressed-debt investor buying defaulted bonds now is likely to face a lengthy wait before recovery. Among the past year's defaulters, only Fortune Land has released a preliminary restructuring framework for its debt. An estimated $48.9 billion is outstanding pending debt resolution, according to Standard Chartered.
While Chinese authorities have told state-owned bad-debt managers to participate in the restructuring of weak developers, it's unclear what such support might mean for bondholders. In China's property sector, court-led restructurings are rare, data compiled by Bloomberg show. Since 2018, 27 firms have failed to honor their bonds, and only two entered such a process.
"Price volatility in the sector is unlikely to subside," wrote Citigroup Inc. strategists including Dirk Willer in a Friday note. "Even the recent rebound in new real estate loans did not provide much relief to the deteriorating sentiment."
Storm Eunice: Flights grounded, trains cancelled and roads closed - disruption caused by storm - SKY NEWS
FEBRUARY 18, 2022
People have been warned not to travel unless it's urgent, with Storm Eunice forecast to hit the UK with gusts of almost 100mph.
By Amar Mehta and Samuel Osborne, news reporters
Two red weather warnings have been issued as Storm Eunice hits the UK, with gusts expected to reach 100mph.
The warnings cover the west of England and southern Wales, as well as the east of England including London.
It comes as parts of the country are still recovering from power cuts caused by Storm Dudley.
'All trains cancelled' - follow latest updates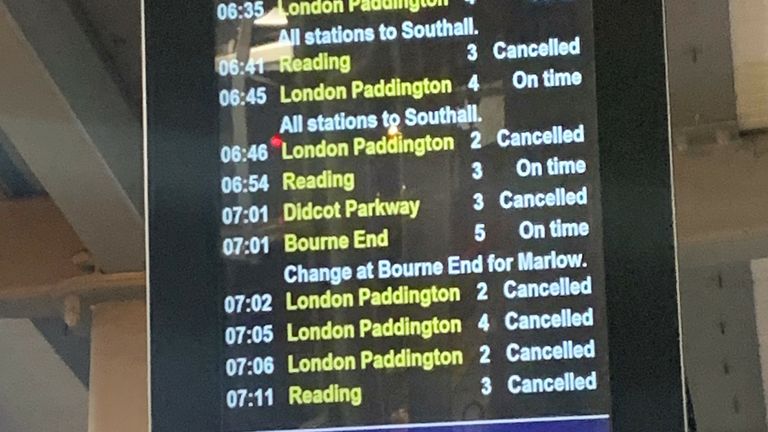 Below is a list of some of the things that will be affected by the weather today:
Transport
National Highways has published a list of roads that should not be used by high-sided or vulnerable vehicles. You can see those here
Most train operators are advising people not to travel at all on Friday, with many running reduced timetables
At least 65 flights arriving and departing Heathrow Airport have been cancelled and a further 114 delayed by more than 15 minutes, according to aviation data provider FlightStats by Cirium. There were 17 planned cancellations and two live cancellations at Gatwick, with 67 delayed flights
EasyJet has cancelled a "small number of flights" from UK airports due to strong winds
Network Rail said a fallen tree around 50ft (15m) long at Ewell West, Surrey, is blocking the line between London Waterloo and Dorking, Surrey. It is affecting South Western Railway services
All trains in Wales have been cancelled. The disruption is likely to continue into the weekend, with more than 1,000 miles of track to be checked and cleared of debris
There are no blanket cancellations on flights in the UK, but Gatwick, Heathrow, Birmingham, and East Midlands Airport asked passengers to check their flight status with their airline
DFDS and P&O Ferries have suspended their Dover to Calais ferries. The port of Dover is expected to close between 10am and 3pm
The M48 Severn Bridge between England and Wales is closed in both directions between junctions one and two due to strong winds
The Orwell Bridge in Suffolk on the A14 was closed in both directions with the Dartford Crossing joining it in shutting
In South Wales, bus company Stagecoach said all services would be suspended until after 1.30pm
ScotRail says Edinburgh/Glasgow Queen Street to Arbroath services will start and terminate at Dundee
Glasgow and Edinburgh trains to Arbroath and Montrose to Aberdeen services will not run
Nigerian applicants to UK varsities increase by 47% – Report - PUNCH
FEBRUARY 18, 2022
BY Victoria Edeme
A report from the Universities and Colleges Admissions Service has revealed that the number of Nigerian students who applied to universities in the United Kingdom has increased by 47%.
UCAS on Thursday reported that the number stood at 2,380 from 1,620 in 2021.
"Nigeria, a priority country in the International Education Strategy, continues to be an emerging market showing huge growth, 47% up year-on-year at 2,380 from 1,620 in 2021," the report revealed.
The report also disclosed that China grew by 12.1% to 28,930 applicants while "India grew by 11% year-on-year to 8,660 applicants."
Chief Executive at UCAS, Clare Marchant, said, "The application is just one part of the discovery journey and the focus must now be on ensuring applicants have the best information and advice to transition into successful students or apprentices – whatever is right for them.
"The entire education sector will be continuing its high levels of support, particularly as students sit formal exams for the first time in three years.
"It will be critical to support students to progress to both full-time undergraduate courses at university and college as well as degree and higher apprenticeship, as we know almost one-fifth of UCAS applicants are pursuing simultaneous applications."
"As we recover from the COVID-19 pandemic and see the increased opening up of international travel, this year was always going to be pivotal for the international student market. "
Canada real estate: Where rent has shot up the most - YAHOO FINANCE
FEBRUARY 18, 2022
The cost to rent a home in Canada is rising again after a drop to end 2021.
Data from rentals.ca's national rent report found the average rent for all properties in Canada on its site was $1,807 a month in January. That's up 4.4 per cent annually and 1 per cent monthly.
Ben Myers, president of Bullpen Research & Consulting, says the December drop in rent had more to do with a typical seasonal decline and less to do with Omicron fears.
"However, the pandemic trend of much higher demand for larger properties continues, with average rental rates for single-family properties up 20 per cent annually," said Myers.
"The need for more space, a frothy resale market, future interest rate hikes, and the decoupling of workers from their place of employment remain key factors in the rise."
The average rent for a single-family home in January was up nearly 20 per cent year-over-year to $2,652 a month. Condo rents rose 13.8 per cent to $2,227 a month, while apartments were up 2.1 per cent to $1,639.
Average rent in Ontario for all types of homes was $2,110, up 9.7 per cent year-over-year. British Columbia was up 9.6 per cent to $2,181, while Quebec was up 5.3 per cent to $1,686.
Alberta was an outlier, down 1.3 per cent to $1,227.
Cheapest cities to rent a home
Regina was the cheapest city to rent a home in the report at $1,027 a month, followed by Saskatoon ($1,071), and Edmonton ($1,182).
The largest declines in year-over-year average rents were in Scarborough (1.9 per cent), Regina (0.8 per cent), and Edmonton (0.8 per cent).
Conversely, rent has gone up the most in Gatineau (17.8 per cent), London (17.2 per cent), and Vancouver (16.2 per cent).
The highest average rents were in Vancouver ($2,550), Toronto ($2,317), and Etobicoke ($2,214).
Jessy Bains is a senior reporter at Yahoo Finance Canada. Follow him on Twitter @jessysbains.
VIN valuation'll boost transparency, revenue - Customs - PUNCH
FEBRUARY 19, 2022
BY Anozie Egole
The Customs Area Controller in charge of the Port & Terminal Multipurpose Limited Command of the Nigeria Customs Service, Festus Okun, has said that the Vehicle Identification Number valuation system being implemented will increase transparency and revenue generation and engender predictability.
Okun, in a statement on Thursday signed by the command's Public Relations Officer, Yakubu Muhammad, said the process would address discretionary duty value borne out of sentiments and address the problem of having variations in the value of same vehicle model and age in various commands of the service.
He said a recent stakeholders meeting held with the port users at PTML on Tuesday was targeted at keeping them abreast with the new policy on valuation for imported vehicles into Nigeria.
Okun said, "I will now relate VIN to some of the core principles of trade facilitation. Like, you can look at the trade facilitation agreement and the Kyoto Convention; what are they all saying? It's about processes and procedures that need to be simplified, to have harmonisation, to put integrity into the system for uniformity, predictability.
"By using it to generate appropriate duties and taxes to be paid, it means that it is predictable and there is harmonisation between all ports and terminals across the country. The human interface will be removed, and this brings integrity into the system. There will be harmonisation and absence of discretion because discretion is what has been causing a lot of issues, where people bring emotions into official transactions.
"When there is uniformity, there will be peace, because people will know that whatever is obtainable here is the same as all over and when something is predictable, it means that route is made more user friendly and people will rather come and make their transactions than go elsewhere.
"It's not like the NCS will relent in its enforcement of law but people will be encouraged to come into the system and do the appropriate thing. This will lead to a decrease in smuggling."