Travel News
Stranded Nigerians accuse UK of ignoring pleas of black refugees fleeing Ukraine - THE GUARDIAN UK
MARCH 20, 2022
Critics say race is an issue in treatment of African students fleeing war in Ukraine
Two weeks ago, Alani Iyanuoluwa fled Kyiv as the Russian invasion intensified. Making her way across Europe, the 24-year-old hoped to be reunited with family in London. Yet for 10 days she has been stranded in a French port – because she is Nigerian.
Iyanuoluwa is among a growing number of refugees who claim the British government is ignoring black people who fled Ukraine.
Their experiences have again raised the issue of race and the UK's welcome to refugees, prompting claims that ministers would never have unveiled last week's humanitarian sponsorship scheme for Ukrainians had it not been aimed at white Europeans.
Advertisement
Critics say that while Michael Gove's scheme places no limit on numbers, it contrasts sharply with the government's visa scheme for Afghans, which promised spaces for just 5,000 people in the first year. When the scheme finally opened in January, it emerged that most of those spots would be taken by Afghans already living in Britain.
A previous sponsorship scheme, launched in 2015 and largely for Syrian refugees, has been hampered by bureaucracy, managing about 700 placements in seven years compared with Gove's promise of "tens of thousands" for Ukrainians.
Alba Kapoor, senior policy manager at the Runnymede Trust, said the UK's response to the Ukrainian crisis had thrown up questions of parity amid claims that black people fleeing the conflict tended to be "dehumanised" and viewed as African migrants rather than Ukrainian refugees. "There's an obvious question, which is why people of colour who are fleeing war and terror and persecution do not have the right to equal treatment to others," she said.
"We are still confronted by an inability to properly conceive people from the global south as humans if they are trying to flee war and persecution. That's a sad place to be – it's not just the government, but also the press."
Kapoor said no Alan Kurdi moment – the Syrian boy photographed lying dead on a Turkish beach in 2015 – had been needed to galvanise support for refugees fleeing the fighting.
Jabeer Butt, chief executive of the Race Equality Foundation, said: "Devastatingly, race has undoubtedly been an issue in the level of support provided by the UK government for refugees from Ukraine compared with those from Afghanistan and other places that have faced terrible conflict in recent years."
Advertisement
The government's preoccupation with viewing refugees on the basis of where they came from needed to be re-examined. "We cannot blindly accept a tiered system whereby people's needs are prioritised based on nationality. This feels like being asked by the government to accept that in Britain we value the lives of people with a certain skin colour over others," he said.
Iyanuoluwa is staying with two other Nigerian students in Boulogne-sur-Mer. All three fear returning to Nigeria because of the dangers of kidnapping and trafficking, but say that as non-Ukrainian nationals they are not eligible for the British schemes, despite two of them having family in the UK.
"We're coming from war and they are telling us that without a Ukrainian passport we can't come to the UK, but the UK should consider all residents living in Ukraine when the war started," she said.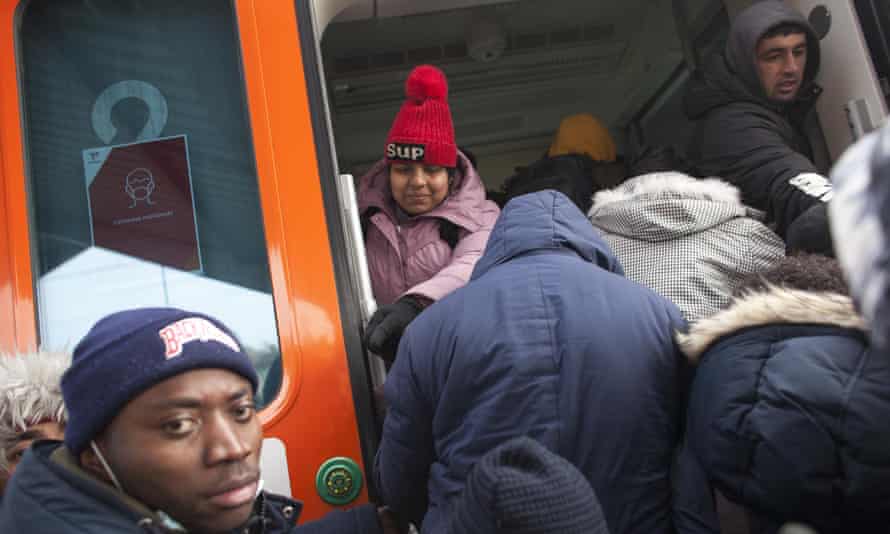 Iyanuoluwa is among a large group identified by charities that appears to have been split up from other Ukrainians by authorities because they are black.
They include Kevin Kanjuru, from Kenya, who was studying computer science in Kyiv when Russia invaded and has family in Britain – an uncle in Northampton with UK citizenship who is also a local councillor.
They also include Nigerian Michael Uwandu who lived in Ukraine for 12 years but who was separated from his nine-year-old daughter and Ukrainian ex partner who fled before him and has lost contact with them.
The 37-year-old was granted Ukrainian citizenship in late February but had to leave before collecting his passport. Uwandu should be eligible for Gove's scheme but the lack of proof of citizenship appears to have hampered his application and he has a sister, a British national, and cousin in the UK he is trying to join.
Advertisement
Others seemingly stranded include an Afghan refugee who had refugee status in Ukraine, but is not eligible for the sponsorship scheme – despite a UK national offering to sponsor her.
Clare Moseley, founder of the charity Care4Calais, said: "The UK schemes to help Ukrainian refugees come to Britain are heavily biased towards Ukrainian nationals. But they are not the only people whose homes and lives have been destroyed by the conflict."
The government's nationalities and borders bill, which is to return to the House of Commons in the coming weeks, intends to criminalise anyone arriving in the UK without permission, as all asylum seekers do.
The Department for Levelling Up, Housing and Communities rejected the claims as "utterly baseless." A spokesperson said: "We are working as fast as possible to house refugees from across the world and are proud this country has provided homes for more than 4,000 Afghans evacuees in such a short space of time.
"The £10,500 provided to councils to support each [Ukranian] arrival is the same level of funding as under the Afghan Citizens Resettlement Scheme and we urge councils to join those who have pledged to support Afghan families, and those who can offer more housing places, to do so.
"The scheme is open to Ukrainian nationals who were residents in Ukraine prior to 1 January 2022, regardless of ethnicity, and also to their immediate family members who may be of other nationalities".
Air Peace opens Niamey route to deepen integration - THE GUARDIAN
MARCH 20, 2022
By Wole Oyebade
Nigerian flag carrier, Air Peace airline, has opened a three-weekly flight into Niamey, Niger Republic, to deepen the economic integration of the African region.
Leader of the Air Peace delegation on the inaugural flight, Captain Augustin Kamano, said Niamey had always been on the airline's radar, especially as it was poised to expand its footprints across the West African coast and interconnect different cities in the sub-region.
Kamano, who doubles as the Director of Flight Operations, noted that Niger Republic and Nigeria are good neighbours and the airline is excited that it is serving as a strategic means of fostering the already existing positive relations, and further cementing the ties between the two countries through air travel.
"We are determined to reduce the air travel burden of Africans, and this will continue to propel our route expansion as well as fleet modernisation programme. Air Peace has accomplished so much in just seven years of operation, as we now have a network of twenty domestic routes, seven regional routes and two international destinations, including Johannesburg, which we launched in December 2020.
"Also planned for launch in the future are international routes, such as Houston-USA, Mumbai-India, Guangzhou-China and London. We're constantly reviewing our route network in line with the travel needs of Africans," Kamano said.
Expressing gratitude to the Niger authorities and the Nigerian Government that made the airline's entry into Niamey possible, Kamano promised that Air Peace would work concertedly with all the relevant aviation stakeholders to ensure the new route is maximised for air travellers.
Nigerian Deputy Ambassador to Niger Republic, Aisha Kabiru, said that Air Peace's entry into Niger would boost socio-cultural and economic ties between both countries and ease the burden of air travel for Nigerians and Niger nationals who connect both destinations, especially for commercial purposes.
Airlines are passing on fuel price hikes to travelers as demand rebounds - YAHOO FINANCE
MARCH 20, 2022
BY Dani Romero
If you're planning your summer vacation, brace yourself for higher airfares.
A combination the rise in oil prices amid the Russia-Ukraine war and a travel demand rebound after the pandemic disruption of the last two years is leading airlines to confidently raise prices.
"The biggest surprise to us in recent airline commentary was that demand was so strong that they feel confident in the ability to pass through the majority of the fuel increases," Bank of America analysts wrote in a note after a presentation by Delta Air Lines (DAL) and United Airlines (UAL) at the J.P. Morgan Industrials Conference. "This is way ahead of how airlines have been able to price historically, and we think near term labor issues and pilot pipeline helps keep a lid on capacity."
There is a shortage of pilots for passenger airlines, particularly in North America, as well as ongoing staffing issues. The reduction in supply of labor, along with business struggles amid the pandemic, led some airlines to cut routes across the country in late 2021.
According to a Hopper data published March, a travel search engine, the average airfare from U.S. to Europe round-trip rose 16%, to $770, from the month prior.
At the conference, United Airlines officials noted that business is now booming again after the pandemic wrecked demand for both leisure and business travel in 2020 and continued to lag in 2021.
"UAL notes business demand is tracking ahead of expectations, returning to ~70% of 2019 levels , [which is] +30 points vs peak of Omicron variant," J.P. Morgan analysts wrote. "Exemplifying strong yields, revenue from business travel is 75% recovered. ... While UAL is currently not passing through 100% of the increase in fuel prices to fares, management believes they will have no problem doing so in 2Q22."
This content is not available due to your privacy preferences. Update your settings here to see it.
In a separate note, the same Morgan Stanley analysts wrote that Delta is also optimistic that the airline can offset higher fuel costs amid an upswing in vacation travel demand and the uptick in business travel.
"With Delta achieving an all-time record in single-day cash sales last week, management is increasingly confident in its ability to pass 100% of higher fuel costs to fare prices in 2Q22," the March 14 note stated. "Management estimates an additional $10-$15 per ticket to compensate, and is seeing no difficulty in accomplishing this ahead of the usual 60-90 day window it usually takes to pass through higher costs."
U.S. Covid-19 Infections Likely to Rise Again, Fauci Says - BLOOMBERG
MARCH 20, 2022
(Bloomberg) --
A likely rise in U.S. Covid-19 cases probably won't amount to a full-scale surge or prompt a renewal of widespread restrictions, one of President Joe Biden's top advisers said.
"The bottom line is we likely will see an uptick in cases, as we've seen in the European countries, particularly the U.K.," Anthony Fauci, Biden's chief medical adviser, said on ABC's "This Week" on Sunday. "Hopefully we won't see a surge. I don't think we will."
The BA.2 subvariant of omicron is driving up cases in Europe and now accounts for about 30% of infections in the U.S, where indoor-mask and vaccine requirements have largely been rolled back.
While the U.S. Centers for Disease Control and Prevention has argued that the U.S. needs to be prepared to resume measures such as requiring masks in indoor public spaces, Fauci said, "right now, at this point, I don't see that."
U.S. cases, hospitalizations and deaths continue to decline. While BA.2 is about 50% more transmissible than the original strain of omicron, it doesn't cause more severe illness or evade immunity from vaccinations or earlier infection, Fauci said.
Fauci and U.S. Surgeon General Vivek Murthy urged Congress to pass a stalled package of new Covid-19 relief.
"As much work as we've done in the last two years to get the right tools, we've got to continue funding them and supporting them so they're available to people across the country," Murthy said on "Fox News Sunday." "That's why Congress moving to provide that funding is so critical."
Fauci, 81, tamped down speculation that he might be ready to retire. Last week, he told ABC: "I can't stay at this job forever."
"I want to make sure we're really out of this before I really seriously consider doing anything different," he said Sunday. "We're still in this. We have a way to go. I think we are clearly going in the right direction. I hope we stay that way."
FG to Commission New Terminal at Murtala Muhammed International Airport - THISDAY
MARCH 21, 2022
BY Chinedu Eze
The Federal Airports Authority of Nigeria (FAAN) has announced that all is now set for the commissioning of the newly built international terminal of the Murtala Muhammed Airport, Lagos on Tuesday, March 22.

The agency explained that the new facility was one of fivebbeing built in Lagos, Abuja, Port Harcourt, Kano and Enugu, in a bilateral arrangement between the Federal Government of Nigeria, and the People's Republic of China, stating that the ones in Abuja and Port Harcourt have been completed and commissioned already, while that of Kano has been completed and would soon be commissioned.
In a statement signed by the acting General Manager, Corporate Affairs of the agency, Mrs. Faithful Hope-Ivbaze, the new Lagos international terminal, which would be commissioned by President Muhammadu Buhari, has the capacity to process 14 million passengers per annum, and built on a land mass of approximately 56,000 square metres with 66 check-in counters.
"Other facilities in the terminal include five baggage collection carousels, 16 Immigration desks at arrival, 28 Immigration desks at departure, eight security screening points, six passenger boarding bridges (out of which two has already been installed), two food courts, four premium lounges, 22 guest rooms and spa, 16 airline ticketing offices, visa on arrival and port health facility, as well as praying area, more than 3,000 square metres of duty free space, approximately 5,000 square metres of lettable utility space, amongst others," the statement said.
The agency also said the new terminal to be commissioned is expected to generate about three thousand direct and indirect employment for Nigerians, as well as enhance passenger facilitation and comfort at the Lagos airport.
"The authority will also sign a memorandum of understanding with the Lagos State Government on the 9km Airport-Shasha-Alimosho link Road to be constructed by the state government," FAAN disclosed.
FAAN warns Lagos travellers to arrive airports earlier than usual on Tuesday, March 22 - NAIRAMETRICS
MARCH 21, 2022
President Buhari expected in Lagos on Tuesday for the commissioning of several key projects.
by William Ukpe
The Federal Airports Authority of Nigeria has advised travellers in Lagos to arrive at the airports earlier than usual due to the commissioning of a newly built international terminal at the Murtala Mohammed Airport.
This was disclosed by FAAN in a statement on Monday morning.
This comes as reports emerged that President Muhammadu Buhari will be in Lagos on Tuesday for the commissioning of several key projects.


What FAAN is saying
FAAN stated, "All travellers and airport users are advised to get to the airport earlier than usual, due to heightened security and logistics arrangements on ground."
It added that the reason for the notification is to alert passengers and the general public that the newly built terminal at the Murtala Mohammed Airport would be commissioned on Tuesday, March 22, 2022.
President Buhari is also expected to be in Lagos to commission the Dangote Fertiliser Plant.
He is expected to have a facility tour of the Dangote TPA fertiliser plant and inspection tour of the 650,000 BPO Oil refinery and 900,000 TPA Polypropylene Plant and the Lekki Deep seaport.
Mored details soon…
Chinese airliner carrying 132 people crashes in southern Guangxi region - CNN
MARCH 21, 2022
(CNN)A China Eastern Airlines jetliner carrying 132 people crashed in the mountains in southern China's Guangxi region on Monday afternoon, according to the country's Civil Aviation Administration (CAAC).
The Boeing 737 was en route from the southwestern city of Kunming to Guangzhou when it lost contact over the city of Wuzhou. On board were 123 passengers and nine crew members, CAAC said in a statement posted online.
China Eastern Airlines confirmed those details and said it had activated emergency procedures, including a line for emergency assistance for family members.
Rescue efforts are underway at the scene of the crash, but there were no immediate details on the possible cause or the number of casualties.
China Eastern offered its condolences to those who were killed in the incident, without confirming any death toll.
"The cause of the plane crash is still under investigation. The company expresses its sorrowful condolences to the passengers and crew members who died in this plane crash," the airline said in a statement.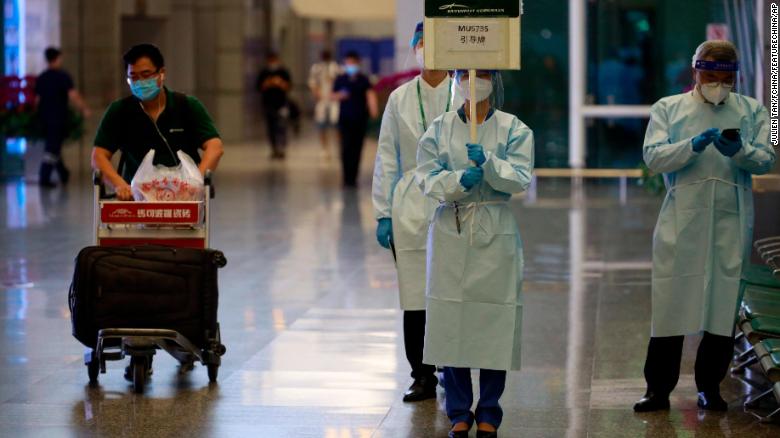 China Eastern staff wait to lead the relatives of those on board the crashed flight MU5735 to a special area at Guangzhou Baiyun International Airport, the destination of the flight, on Monday.
Boeing said in a statement it was "aware of the initial media reports and working to gather more information."
Chinese President Xi Jinping instructed the country's emergency services to "organize a search and rescue" operation and "identify the causes of the accident," state media reported.
"After the accident, President Xi Jinping immediately made instructions to start the emergency mechanism, organize search and rescue, and properly deal with the aftermath," state broadcaster CCTV said.
Sudden descent
The aircraft lost contact with emergency services before "suddenly descending" around 2.19 p.m., Chinese government officials and state media reported Monday.
"A China Eastern plane (flight number MU5735) lost contact at 2.15 pm ... Rescue teams are on the way to ground zero, and rescue work is being laid out in order," the Guangxi Emergency Management Department said in a statement.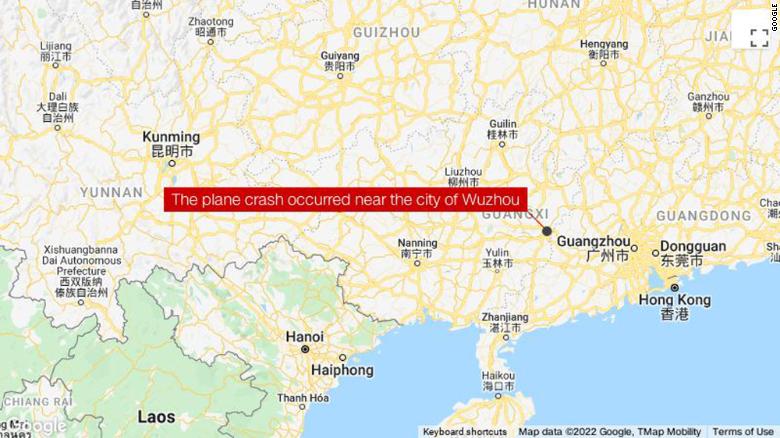 The plane's altitude dropped from 8,869 meters (29,098 feet) to 1,333.5 meters (4,375 feet) in the span of three minutes, state news agency China News Service reported, citing VariFlight, a Chinese technology company that provides civil aviation data services.
Hours after the accident, CCTV reported that the airline was grounding all its Boeing 737-800s and that the aircraft currently in the air would "not carry more flights after landing."
CCTV also reported that rescue efforts could be hampered by bad weather and limited accessibility to the site.
Heavy rescue equipment was unable to reach the scene -- which lacks electricity -- as it is surrounded by mountains on three sides and accessible only through a narrow path, CCTV said, citing the Guangxi Wuzhou fire department.
Separately, Guangxi Meteorological Bureau warned that the rescue effort could be hindered by an incoming cold front that would see heavy rainfall and a temperature drop in Tengxian County, where the crash site is.
Eyewitness describes falling plane
In an interview with state media outlet Beijing Youth Daily, an eyewitness described seeing a plane "falling directly from the sky in front of him around 2 p.m."
"The plane fell vertically from the sky. Although I was very far away, I could still see that it was a plane. The plane did not smoke during the fall. The fire started after it fell into the mountain, followed by a lot of smoke," the witness, who was only identified by his surname, Liu, said.
"My heart was thumping. I immediately informed friends about the situation, that this area is dangerous and not to come nearby," Liu continued.
In a separate interview with China News Service, a resident from Molang village in Tengxian county -- close to the scene of the crash -- reported seeing "wings and pieces of the plane, as well as pieces of clothing hanging from trees."
The witness -- whose name was not published -- told state media he drove his motorcycle to the crash site after hearing "a huge explosion" around 2.40 pm to "see if he could participate in the rescue." The onlooker added that the accident caused "about 10 acres of fire," according to his visual estimates.
Video showing what appears to be a plane falling nose first from the sky circulated widely on Chinese social media Monday, before being picked up and published by state media.
Footage posted online and shared by state media outlet People's Daily show plumes of smoke billowing from a mountainous, forested area. Another clip shows what appears to be wreckage from the plane on a muddy mountain path.
The colors on the Boeing and China Eastern Airlines websites were changed to black and white in China, as a sign of respect in response to the crash.
CNN's Hannah Ritchie, Helen Regan, Lauren Said-Moorhouse and Pete Muntean contributed to this report.
5 CHEAPEST COUNTRIES TO TRAVEL - THE GUARDIAN LIFE
MARCH 21, 2022
By SHOLA-ADIDO OLADOTUN


Brazil. Photo Pickvisa
Have you ever heard the popular saying, "you only live once"? Life is too short for you not to enjoy it to the fullest, which is why you need to make every moment count. It is perfectly normal if you decide to take a break from work to spend more time with your family, do a bit of self-discovery, and most importantly, travel around the world.
Travelling around the world is among the best ways to enjoy one's life because it provides the opportunity to explore the various cultures and traditions of people in different countries. However, the expensive cost of accommodation and feeding often discourages many Nigerians from packing their bags, getting on a plane, and going on a world tour.
Contrary to popular belief, travelling to different countries isn't expensive if you have the right information. This is why in the article, we listed five budget-friendly countries to consider when you next decide to take a holiday.
Brazil
There is a reason tourists flock to this beautiful country in South America. From the sunny and Instagram-worthy beaches to the educational, artistic, and historical sites, Brazil proves to have it all. Ranking as the fifth largest country in the world, Brazil is filled with different travel destinations that will leave you speechless.
The living cost in Brazil for tourists varies, with the lowest daily estimate being N8,400 when converted to Naira. So, if you are to spend at least a week in Brazil, it will cost you nothing less than N58,192.
The-Gate-of-Heaven-in-Bali.-Photo-Shutterstock
Indonesia
A tourist attraction, Indonesia is widely known for the many islands that exist in the country. If the enchanting beauty of the Raja Ampat Island isn't enough to get you to book a flight to the country, then be sure to marvel at the masterpiece called the Lawang Sewu building. The lowest daily living cost for this country is N10,500, which translates to N64,500 for an entire week of basking in nature's goodness.
Georgia.-Photo-Shutterstock.j
Georgia
Why go to Europe or Asia when you could visit a country at the intersection of both continents? Full of diverse and cultural heritage, Georgia showcases various wildlife animals and proudly exhibits a unique environmental scenery. The lowest daily estimate of living in Georgia is similar to Brazil's N8,400.
A-temple-in-Lumbini-Nepal.-Photo-Travellocal
Nepal
Another beautiful Asian country on our list. When it comes to describing Nepal, one might as well call it the country of adventures. Nepal does not only have a peaceful scenery; it has the Annapurna Region, which helps you burn those calories through trekking. And don't get us started on the Chitwan National Park, a great site for wildlife viewing. Similar to both Brazil and Georgia, the lowest daily cost of living is N8,400.
The hunt for Nigerians who can change into cats - BBC
MARCH 21, 2022
Armed with a sharp knife, a megaphone and dressed all in black, Gbenga Adewoyin could have passed for a medieval witch hunter, a herbal salesman or an urban preacher as he walked around a market in the south-western Nigerian city of Ibadan.
Warning: This article contains details that might be offensive to some readers
Those curious enough to get close in the Gbagi market quickly dispersed when they heard his message. "Anyone that can provide any evidence for the existence of the supernatural, be it juju or voodoo magic, will be offered 2.5m naira ($6,000, £4,650)," he announced repeatedly in Yoruba and English.
The 24-year-old atheist has recently emerged as a rebel publicly contesting the powers of the supernatural in this deeply religious country.
Belief in African traditional religions and its juju components are widespread in Nigeria, with many combining them with either Christianity or Islam, according to a 2010 report by the Pew Research Centre.
Many Nigerians believe that magic charms can allow humans to morph into cats, protect bare skins from sharp blades and make money appear in a clay pot.
These beliefs are not just held by the uneducated, they exist even at the highest level of Nigeria's academia.
Dr Olaleye Kayode, a senior lecturer in African Indigenous Religions at the University of Ibadan, told the BBC that money-making juju rituals - where human body parts mixed with charms makes money spew out of a pot - really work.
The naira notes that supposedly appear "are gotten by spirits from existing banks", he told the BBC.
Jude Akanbi, a lecturer at the Crowther Graduate Theological Seminary , is also unequivocal about juju.
"This ability to be able to transform yourself to [a] cat, to disappear and reappear, these things are possible within the dynamics of traditional African religion.
"Although [it] sounds illogical, like old wives' tales, however from what we have seen and heard, these things are possible," he said.
Such beliefs, especially that human body parts and charms can produce money from a clay pot, have led to a recent wave of gruesome murders in the country, with single women often the victims.
"I feel horrible to see young people engage in these ritual killings.
"If money ritual worked, we would have seen a massive inflation in the economy for the decades that we have believed in it," Mr Adewoyin told the BBC.
He was in Ibadan, Oyo state, on the second of three planned in-country tours offering 2.5m naira, crowd-funded via Twitter, to anyone that can publicly demonstrate these juju powers.
"The knife is for anyone that claims their juju makes them blade-proof," he said.
Questioning the existence of supernatural powers is considered taboo in much of Nigerian society.
To be openly expressing such thoughts, as Mr Adewoyin was doing in a market, was risky. He could just as easily be arrested for blasphemy or lynched by an angry mob.
"Of course juju works, he doesn't know what he is saying," said one trader who lingered with a scowl on his face.
In his pocket was a black amulet, a small leather pouch containing supposedly magic charms, that he said was for protection. However, he was not interested in publicly demonstrating its powers, not even for $6,000.
Belief in magic often coexists with Christianity and Islam. Clerics from both monotheistic religions often refer to aspects of traditional African religions as evil - something real, but which can be defeated by prayer and their own higher powers.
Many pastors have become rich and famous on claims of having supernatural powers that can overcome juju and evil curses, something which many imams also practise.
However, no-one has taken up Mr Adewoyin's challenge at two of the venues in Ogun and Ibadan and he is not holding his breath for his next stop in Anambra state in the south-east.
While he has been dismissed by some as an attention seeker, no-one can hide from the grisly images of the bodies found recently with missing limbs and empty eye sockets in a resurgence of the sinister money-making juju rituals.
This killing of humans to use their body parts for magic purposes gripped Nigeria in the mid-90s and led to riots in the eastern city of Owerri after the kidnap and murder of an 11-year-old boy in 1996.
Now, with social media, hardly a day passes without reports of a missing person and pictures of mutilated corpses linked to juju.
There was widespread outrage last month after three men allegedly killed a 17-year-old girl in Ogun state to use her body parts in a ritual they believed would make them rich. They confessed to the killing after they were arrested by the police and have been charged in court.
The clay pot and red cloths they were caught with could have passed for a scene in a movie from Nollywood, Nigeria's film industry famous for depicting manifestations of juju, but this was real.
And they were young men - the oldest was 21, sparking the Twitter hashtag #At21, where users described what they were doing at that stage in life and bemoaning what they saw as societal pressures on young people to get rich quick.
The outrage over the girl's death made federal lawmakers debate juju in parliament and consider the "declaration of a state of emergency on ritual killings in the country", with its depiction in Nollywood movies mentioned as a factor.
Nigeria's Information Minister Lai Mohammed has also chipped in, blaming Nigerian movies and social media for the spate of killings.
He wants the films censor board to engage film makers "on the need to eschew money ritual content in their movies".
But film makers are not having it - they feel he has unduly picked on Nollywood in what is a national crisis.
"The minister misfired, he cannot breach our fundamental rights to create," actor and producer Kanayo O Kanayo told the BBC.
He said the minister was neglecting what has become a societal issue and the inability of families, traditional and religious leaders, and politicians to ensure the moral upbringing of young people.
While the debate rages about who is to blame for the killings, a much broader conversation is to be had about Nigeria's educational system that fails to persuade people that juju and the supernatural are not real, says Mr Adewoyin.
He is hoping that his rebellious tour can expose those he calls tricksters, claiming the supernatural powers of juju, and help put an end to the spate of ritual killings.
"For a reasonable human being to believe that a human with all his biological components can turn to yam or banana is illogical, and worrisome," he said.
Vaccinated Travellers Arriving Nigeria No Longer Required To Take COVID-19 Test – FG - CAHNNELS TV
MARCH 21, 2022
Fully vaccinated travellers coming into Nigeria will no longer be required to take a pre-departure PCR COVID-19 test.
This is according to the Chairman of the Presidential Steering Committee, Boss Mustapha.
Mr Mustapha made the comment on Monday during a briefing of the PSC announcing a revision of International Travel Protocols.
However, passengers who are unvaccinated or partially vaccinated are still expected to take a COVID-19 PCR test 48 hours before departure, or do a Day 2 and day 7 test on arrival.
Such passengers, he said, will be expected to pay for their PCR tests through the Federal Government's travel platform, while fully vaccinated passengers will not be charged for rapid antigen tests at the airport.