Travel News
Fuel shortages disrupt domestic flight schedules in Nigeria - ALJAZEERA
MARCH 10, 2022
Nigeria, Africa's largest economy and oil producer, is experiencing a fuel scarcity crisis.
Fuel shortages in Nigeria, Africa's largest oil producer, have caused two of its largest domestic airlines to cancel some internal flights and delay others this week.
In a statement released on Wednesday, Air Peace, Nigeria's biggest carrier by passenger numbers, flying to Dubai and Johannesburg, said it was likely to experience flight disruptions on Wednesday and in the coming days due to jet fuel scarcity.
"Unfortunately, the fuel scarcity is starting to seriously impact our operations," it said.
Another carrier, Arik Air, delayed almost all its flights on Tuesday and cancelled others, it said, adding that there was no certainty on the situation in the coming days.
Three other airlines, Dana Air, Ibom Air and United Airlines, also released statements about facing challenges in sourcing jet fuel after their customers complained on social media.
Despite being Africa's largest producer, Nigeria imports nearly all its jet fuel, which has nearly doubled to as high as 625 naira ($1.50) a litre since December, Arik Air said.
Global jet fuel prices have hit a near-14-year peak as Russia's invasion of Ukraine triggered a surge in the crude oil market, hitting airlines and passengers with steep cost increases.
The latest crisis marks a further blow to an airline sector still recovering from the effects of COVID-19 restrictions.
Airline passengers in Nigeria pay their fares in naira, which has weakened sharply due to devaluations. Fuel suppliers, however, are paid in dollars, a scarce currency in Africa's top economy.
The fuel crisis has also been exacerbated by imports of sub-standard petrol and created a ripple effect for small businesses nationwide.
It has especially angered motorists, who have been spending hours in lines to fill their tanks, while some public transport fares have gone up.
UK house prices keep on rising despite squeezed budgets: RICS - REUTERS
MARCH 10, 2022
By Andy Bruce
LONDON (Reuters) - House price growth in Britain hit a new eight-month high in February as the housing market showed little sign of losing momentum amid a growing cost-of-living squeeze, a survey showed on Thursday.
The Royal Institution of Chartered Surveyors (RICS) said a net balance of +79% of its members reported a rise in house prices in February, up from +74% in January and its highest since June. A Reuters poll of economists had pointed to a reading of +73%.
- ADVERTISEMENT -
The report echoed other surveys that show Britain's housing market retained much of its momentum going into 2022, despite the phasing out of temporary tax breaks on property purchases in the second half of 2021.
But with household budgets being squeezed by high inflation and imminent tax rises, RICS had doubts about whether the housing market can keep up its recent strength - even though there is scant sign of a slowdown now.
"Huge clouds of uncertainty hang over the economic prospects as energy prices continue to surge and the Bank of England grapples with how to manage monetary policy in this challenging environment," said Simon Rubinsohn, RICS chief economist.
"Despite all of this, there is little evidence yet that the mood music regarding the expectations for house prices or rents is shifting."
Expectations for house price growth in the coming 12 months were strong cross all parts of the United Kingdom, the survey showed.
Rents were expected to increase by an average 4.5% over the next 12 months. The proportion of surveyors expecting rents to rise was the highest since December 2012, RICS said.
Rubinsohn said the mismatch between strong demand and a shortage of sellers would likely keep prices high.
"The risk is that these imbalances exacerbate the cost-of-living crisis and the challenges particularly for those on lower incomes," he said.
(Reporting by Andy Bruce; editing by David Milliken)
Travel companies accuse domestic airlines of fixing airfares - PUNCH
MARCH 11, 2022
by Anozie Egole
The National Association of Nigeria Travel Agencies, Susan Akporiaye, has accused local airlines of violating competition law by fixing airfares.
She described the domestic carriers' alleged action as against best global practices.
She disclosed this during a press briefing in preparation for the 46th annual general meeting of the association in Kano State.
She said, "There is a circular asking all the airlines to review their fares. It is anti-competition. By fixing prices they are going against the anti-competition law, because you cannot just come and say that you are fixing prices, there should be competition; are the prices supposed to be the same?
"The law says that there should be competition and once there is competition the benefit translates to the citizens. For instance, Ethiopian Airlines is flying from Enugu, it is the only carrier there, the fares from Enugu are crazy compared to the Ethiopian Airlines' fare from Lagos and Abuja. But guess what, if another airline flies from Enugu, the fare will drop, that is competition law.
"What the local airlines are doing is anti-competition law. The fare should not pegging because by pegging it, passengers don't have a choice."
Akporiaye added that the association recorded a 2.8 per cent increase in revenue in 2020. According to her, the COVID-19 pandemic is to blame for the 1.2 per cent drop in the group's contribution to Gross Domestic Product in 2020.
She said, "On the revenue, by 2020 things were down but in 2021, surprisingly things picked up so the travel agency we do a lot.
"Contributing to GDP in the aviation industry generally we are talking about two to five per cent. In 2019, the revenue was 4.5 per cent and in 2020 it dropped to 2.8 per cent."
U.S. to Extend Mask Rule for Plane, Train Travel Another Month - BLOOMBERG
MARCH 11, 2022
(Bloomberg) -- President Joe Biden's administration will extend a requirement for U.S. airline travelers to wear masks for another month, while working on a policy about how and when to roll back the rule, according to officials familiar with the matter.
The federal mask mandate for domestic travel on planes, trains and other transit is set to expire on March 18 and will be extended to April 18, the officials said, speaking on condition of anonymity ahead of an announcement.
During the weeks ahead, the Centers for Disease Control and Prevention will work on a revised policy for when, and how, mask rules should be eased on public transportation corridors, one of the officials said.
The requirement was imposed in the earliest days of Biden's administration and has been regularly extended since.
Flight Attendants Expect U.S. Mask Rule Will Be Extended Again
The mask rule has been a double-edged sword, particularly in the airline industry.
Requiring face coverings has eased fears of infection and helped fuel an airline-travel comeback since carriers lost more than 95% of passengers in early 2020. At the same time, the requirement was a catalyst for an unprecedented rise in violence on flights. Almost three-quarters of the 5,981 unruly passenger reports last year were related to objections to masks, according to Federal Aviation Administration data.
CDC Director Rochelle Walensky said earlier this month she'd weigh the latest science on masks and transmission, as well as "the frequency that we may encounter a variant of concern or a variant of interest in our travel corridors," before making a decision.
"People rely on those corridors for getting to work and for, you know, other reasons. So, that's among the reasons that we want to revisit this in a separate way," she said on March 2.
EgyptAir deepens operation in Nigeria with new partnership - THE GUARDIAN
MARCH 11, 2022
Egyptian national carrier, EgyptAir, has widened its operations in Nigeria with new partnership and opening of ticketing offices in Lagos and Ibadan.
The expansion is in reaction to the growing number of Nigerian travellers visiting the country and transiting on the carrier.
EgyptAir Country Manager, Muharram Abdel Rahman, at the launch of a partnership with Wakanow, said the new offices aim to give customers easy access to services by leveraging the strength of partners.
"This partnership will see EgyptAir open City Ticketing Offices through the Wakanow Travel Centre network across Nigeria, enabling our plans to expand our operations further into the Northern and Southern parts.
"EgyptAir was established in 1932 as the first airline in Africa and the Middle East and the seventh in the world. The airline also has a rich history in Nigeria being only the second airline to land in the country. We are proud to be an African airline and we have been serving Nigeria now for more than 56 years," Rahman said.
Expressing his excitement, the Chief Executive Officer (CEO) of Wakanow, Adebayo Adedeji, said the partnership is a boost for the service providers and a win-win for all.
"Our technological knowhow and our footprint will help EgyptAir serve its customers. For us, this is not a game changer; this is the game. The game for us is innovation. We are not competing because innovation does not need competition.
"Innovation is driven by thinking about the customer and taking care of them and EgyptAir is willing to take care of the customer. Wakanow is the only Travel Agency in Nigeria that can facilitate visa on arrival to Cairo through our partnership with EgyptAir and Karnak. We are doing this for the customer because we believe that when we take care of the customer the customer will end up taking care of us," Adedeji said.
FG Evacuates New Batch Of Nigerians Stranded In Ukraine - TVC 360
MARCH 12, 2022
The federal government has evacuated one hundred and twenty three more Nigerians stranded in Ukraine following Russia's invasion of the country.
The evacuees returned to the country aboard an Air Peace plane which arrived at the Nnamdi Azikiwe International Airport in Abuja at about 1:20am on Friday.
"The 2nd flight of Evacuation comprising 122 persons plus an infant from Warsaw, Poland arrive the Nnamdi Azikiwe Int'l Airport today Friday, 11th March, 2022 at about 1:20am aboard Air Peace," NIDCOM said in a tweet.
Following their arrival, the evacuees were subjected to the usual procedures such as documentation and test for COVID-19.
According to the Nigerians in Diaspora Commission NIDCOM, the returnees are also expected to receive $100 each as transport fee from the federal government.
"Returnees are also getting free SIM cards loaded with 5,000 Naira airtime to allow them to reach their family members courtesy of a partnership between NiDCOM and Mtn," NIDCOM added.
So far, 1,199 Nigerians have been evacuated from Ukraine since the efforts to help Nigerians flee the war-torn country started..
The evacuation process started on Wednesday, March 2, and four batches of Nigerians had earlier arrived in the country.
Pilots Raise Alarm As Aviation Fuel Scarcity Bites Harder - DAILY TRUST
MARCH 12, 2022
The National Association of Aircraft Pilots and Engineers (NAAPE), an umbrella body for pilots and engineers in the country, says air travel is under threat.
President of NAAPE, Engr. Abednego Galadima, said this while reacting to the hardship aircraft have been experiencing lately.
Appealing to the Federal Government to intervene in the skyrocketing aviation fuel price, Galadima told journalists in Lagos that the situation has made air travel difficult for Nigerians.
He said the hike in price of aviation fuel in the country which is almost N700 per litre is capable of crippling domestic operators and by extension, the Nigerian aviation industry.
"We are very worried about this issue as it has made traveling very difficult for passengers and caused much disruption in the operations of domestic airlines."
"The industry is still recovering from the negative impact of the pandemic and many airlines haven't completely recovered. If this issue of scarcity is not immediately addressed by the Federal Government, not only would the airlines be negatively impacted, the ripple effect will be felt in the aviation downstream sector which may lead to job losses.

"It has been reported that the House of Representatives will convene a meeting of industry stakeholders with a view to solving the issue. But we don't want it to stop at that."
The NAAPE boss said the Federal Government must urgently address the issues causing the scarcity and price hike so that normalcy can be restored as soon as possible.
Daily Trust reports that airline operators have had to cancel tens of flights this week over the scarcity of Aviation fuel known as Jet A1.
The oil marketers blamed the development on high cost of foreign exchange.
JET A-1: Airlines allege racketeering, NCAA may ground planes soon - PUNCH
MARCH 12, 2022
BY Leke Baiyewu
THE Nigerian Civil Aviation Authority on Thursday said it might be forced to ground some airplanes over the inability of local airlines to maintain them due to the rising cost of JetA1, also called aviation fuel.
The authority stated that the hike in aviation fuel price had led to a spike in the cost of the operations of airlines.
This is just as local airlines under the aegis of the Airline Operators of Nigeria said with the price of aviation fuel increasing from N190 to N670 per litre, they might be forced to suspend flights nationwide.
The stakeholders made their positions known at a meeting called by the House of Representatives in Abuja on Thursday over the current crisis in the aviation sector.
The House had on Wednesday summoned the Group Managing Director, Nigerian National Petroleum Company Limited, Mele Kyari; Director-General, Nigerian Civil Aviation Authority, Capt. Nuhu Musa; marketers and airline operators to the meeting over the current scarcity of aviation fuel.
The Deputy Speaker of the House, Ahmed Wase, specifically called the meeting based on a motion of urgent public importance moved by the Chairman, House Committee on Aviation, Nnolim Nnaji, titled, 'Urgent Need to Investigate the Sudden Scarcity and High Cost of Aviation Fuel Which Has Created an Existential Threat to Airline Operations and Requires Immediate Intervention by the Federal Government.'
The deputy speaker asked the chairmen of the House Committees on Aviation, Petroleum Resources (Downstream) and Petroleum Resources (Upstream) to also attend the meeting.
Adopting the motion, the lawmakers had urged the leadership of the House to "urgently intervene so as to resolve these challenges within 24 hours."
We'll ground planes for safety reasons – NCAA
In his presentation on Thursday, the DG of NCAA noted that the motion was correct about the developments in the aviation sector, adding that the spike in the cost of aviation had increased the cost of operations of airlines.
Musa said, "Fuel is to be about 30 per cent; as of today, it has gone to about 50 per cent under the cost of operations. For me as the regulator of the industry, this is of significant concern for me, not only for the inconveniences caused to the traveling public in terms of flight delays and cancellations.
"It is also a significant safety concern to us because if airlines cannot have enough financial margin to comply with all the mandatory requirements, then it is something that we really may have to look at.
"God forbid, I don't want to come before this committee explaining why A or B happened. Every day, it increases. Sir, I won't be surprised tomorrow if it is selling for N700 per litre. Every day it is increasing by between N20 to N30. Yesterday, it was N635. Today, it is N670."
He added, "Considering the cost of air tickets now, the airline industry cannot survive. It is either we shut them down because they cannot generate enough revenue to operate safely. We are not even talking about cancellations and delays; we are talking about the safety of flight operations.
"It is the responsibility of the (Nigerian) Civil Aviation Authority and I am fully responsible for the safe operations. We hope the honourable House can help us find a solution to resolve this matter. Aviation is critical to the economy of Nigeria."
The NCAA boss stated that if the aviation sector should crash today, many other sectors of the economy, such as the oil and gas sector, would stop operations in a matter of time.
There's enough Jet-A1, no scarcity, says NMDRA
The Executive Director (Distribution Systems, Storage and Retailing Infrastructure), Nigeria Midstream and Downstream Regulatory Authority, Ogbogu Ukoha, however, denied the scarcity of aviation fuel.
Ukoha said aviation fuel was a deregulated product, while those who supplied it were licensed.
"In our schedule for the last three months, we have about 28 marketers who are bringing in ATK (aviation fuel) in the last three months, because the licenses have 90 days validity," he stated.
The NMDRA official added, "I can also confirm to this august gathering that from our records, we have sufficiency; we also monitor the vessels as they come in to discharge. So, we are in a first-hand position to state the volume that we have in the country.
As of today, we have 34.9 days' sufficiency for ATK. That means even if nothing comes in, both what we have inland and on marine will be sufficient for us for 34 days plus.
"So, when you hear talks about scarcity, all we can say is that there is enough volume to go round. I will be interested in knowing and getting more details about this scarcity. That is what we can say from the regulator's perspective."
Shocked by the presentation, Wase asked what could be responsible for the scarcity in the supply chain. He also asked why the marketers were now demanding upfront cash payment before supplying airlines.
Ukoha, however, noted that with deregulation, market forces would determine the price.
Dissatisfied with the explanation, Wase said, "As a politician, I want to tell you that I am concerned. We are moving towards election period. Nobody should blackmail our government. It is part of it.
"If you have sufficient supply and you have a deposit. There is an entry into the country. Should there not be a stop-gap for cross-checking and checkmating to ensure that what you have does not go?"
We can't continue subsidising flights anymore – Airlines
The Chairman of Air Peace, Allen Onyeama, who spoke for the airline operators, took a swipe at the NMDRA for denying the scarcity.
"To say that I am saddened by certain responses is to play it down," he said.
He added, "That is true. The answer he (NMDRA official) gave, to say the least, is a response that none of us here expected. And you (Wase) hit the nail on the head; we did not ground our operations because we don't want the political actors to capitalise on something that actually, we should have done."
The Air Peace boss also corroborated the NCAA DG's position, stating that "safety is at stake."
According to Onyema, the cost of aviation fuel is about 70 per cent of the local airlines' cost of operations "even before this increase."
Onyeama said, " What happened in the last two weeks is unbelievable. From N190 per litre, it jumped to over N300 and from there to N450. We thought that was very alarming, only for us to wake up two days ago and it became N599; the following morning, I bought it for N670. We cannot operate this way.
"The airlines came together and said, for what this government has done for aviation, including customs duty waived on imported aircraft and parts, VAT on ticket fares waived, that was the sole reason airlines did not shut down two days ago."
He said airlines had subsidised what air passengers were paying for tickets.
"But we cannot continue. We cannot last the next 72 hours doing that. We are indebted and we don't want AMCON to come after us. It is a loss; it has gone up to 150 per cent of our costs," Onyema stated.
He disclosed that in order to manage the crisis, the airlines decided to reduce their flights to about 60 per cent. He also disclosed that he spent triple of what he should have spent on the evacuation of Nigerians who fled from Ukraine to Poland.
"What we are flying now is about 30 per cent because the product is not even available. I am surprised he said they have many volumes of fuel that will last 34 days. We are not here to play games because Nigerians know that this thing is scarce.
"The delays and cancellations that are happening now are unimaginable. That is why we are even flying skeletally. If not, we would have shut down the entire thing and it would have affected the economy of the country," he said.
Lawmakers, operators blame racketeers
The Chairman of Skyjet Aviation, Kashim Shettima, disclosed that while the known major marketers of aviation fuel do not have stock, some unknown firms have the product and inflated the price.
A member of the House, Sada Soli said there were indications that a cartel was emerging in the industry that is responsible for the current scarcity, blaming it on the NMDRA.
According to Soli, marketers are using the current war between Russia and Ukraine to exploit airline operators believing that there might be a possible increase in the price of the product.
The Chairman of the House Committee on Aviation, Nnolim Nnaji, also said it had been discovered from the previous engagements with stakeholders in the aviation sector that some marketers were procuring licenses for pseudo firms and diverting their stock to them, to be sold at a high price.
While the Majority Leader of the House, Alhassan Ado-Doguwa said it appeared that the Petroleum Industry Act was not working as expected, considering the various issues in the petroleum sector, the GMD of NNPC disagreed.
Kayari said, "I can confirm that there is enough supply. Yes, it might be in the wrong hands or in the wrong places. We are going to do everything we can to address the situation.
"However, regarding the request by the airline operators to bring down the price to N200, let me say that will not be possible. It is not possible because the landing cost of jet A1 now is N480 per litre. Except if we are going to subsidise it, the price cannot come down to N200."
Diesel becoming unaffordable for transporting petrol using tankers – NARTO - PUNCH
MARCH 12, 2022
BY Okechukwu Nnodim
The National Association of Road Transport Owners on Thursday raised the alarm that the cost of diesel was becoming unaffordable for the transportation of Premium Motor Spirit, popularly called petrol, using tankers.
In his address at the Annual General Meeting of the association, the National President, NARTO, Yusuf Othman, told stakeholders in the downstream oil sector that the price of diesel was becoming increasingly unbearable for road transport owners.
Global crude oil prices had been rising since the beginning of the war in Ukraine by Russia about two weeks.
The price of Brent crude had risen to over $130/barrel, pushing up the cost of refined deregulated petroleum products such as diesel and aviation fuel in Nigeria.
Othman commended the Federal Government for increasing the freight rate as requested by transporters, but expressed regrets that the price of diesel had compounded the cost of operations NARTO members.
He said, "As at today, the price of diesel is impacting negatively on our business, and not only our business but almost on all activities in Nigeria. This is because fuel is imported into our country and it is usually at the international price.
"Everybody knows that the international price is affected by the current war in Ukraine and Russia. So, of course, because we import it, it is really very costly.
"We appreciate the effort of the government for this (freight rate) increase, but at the same time, the fact is that the increase could not be noticed because of the higher cost of diesel.
Othman added, "If this (diesel price) continues to go up, we will have no option than to go back to government."
The Executive Secretary, Major Oil Marketers Association of Nigeria, Clement Isong, who made a virtual presentation at the AGM, said ongoing war in Eastern Europe had complicated the volatility in the oil industry in Nigeria.
He said marketers had yet to come out of the unpleasant development of the contaminated fuel that was imported into Nigeria few months ago, coupled with high foreign exchange rate.
Meanwhile, Othman appealed to the Federal Government through the Federal Minister of Works and Housing to fulfill its pledge in the repair of federal roads across the country.
He said the bad roads in Nigeria were responsible for fatal accidents and "have continued to be a stumbling block towards the safe and efficient movement of goods, services and passengers across the country."
Ukraine war shatters Nigerian medical student's dreams - DW
MARCH 12, 2022
Broken dreams of a Nigerian medical student
"This is the second time ... trying to graduate with a medical degree in Ukraine," said Bisola Ehi Ogolowa, a fourth-year medical student at Dnipro Medical Institute, located in central Ukraine.
"It's the second time Russians have put a stop to me ... " she added, before beginning to weep profusely. Crying and talking in fits and starts, she spilled out her story.
Fleeing the 2014 unrest
Ogolowa was 19 when she first came to Ukraine in 2013, excited to start her medical degree in a country whose universities have a solid reputation.
But then, early in 2014, Russia invaded Ukraine, annexing the southern region of Crimea. A few weeks later, Russian-backed separatists started fighting Ukrainian forces for control of the Donbas territories in eastern Ukraine.
She had never experienced such chaos before, said Ogolowa. Worried about her safety, her family and friends convinced her to return to Nigeria.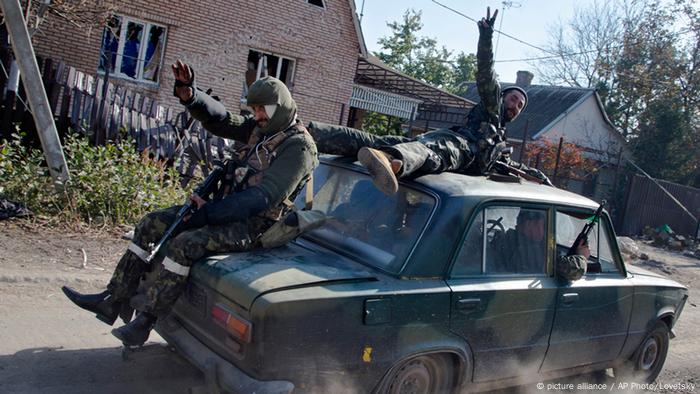 Protests in Ukraine's Donetsk and Luhansk regions in 2014 later turned into a pro-Russian separatist insurgency
Back home in Katsina State, she still dreamed of of becoming Dr. Bisola Ehi Ogolowa.
"It's so amazing how you can treat someone to get better," she said, explaining what fueled her desire to practice medicine. "The human body is so amazing and intriguing — being able to work with it, work on it, to produce something better."
Hopes for a US medical degree
So when Ogolowa's mother told her she had gained a place at the University of Central Oklahoma in the United States, her joy knew no bounds.
In Oklahoma, Ogolowa started studying clinical lab science to fulfill the four-year pre-med requirement for US medical schools.
In her second year of studies, however, Ogolowa's family ran into financial difficulties and she had to drop out.
Some of her acquaintances urged her to make an arranged marriage to a US citizen so she could stay there and work to pay her way through medical school, an idea that Ogolowa was quick to dismiss.
"I sat down and said: 'Why do I have to go through all these?' 'Why do I have to sacrifice my marriage because I want to get papers in US?' So, I said: 'God, if I were to do this thing, I don't think I'll be the same person again'."
Ogolowa returned to Nigeria once again, but her mental health was suffering.
"I was depressed, I was frustrated. I thought about suicide because I felt like anytime I wanted to do something, there was always something stopping me."
Return to Ukraine
By 2019, the Ukraine conflict had died down. Ogolowa still wanted to become a doctor more than anything, so she enrolled once again at a Ukrainian university.
But, once again, a Russian invasion has shattered her dreams.
"Now, 2022, another war, I have to leave Ukraine again," she said. "It's not like I'm not serious or ... I have given up. I'm not giving up. Nine years on this road, but it's like there's always something."
When Russian troops launched their invasion of Ukraine on February 24, Ogolowa originally didn't think of leaving. Like many, she didn't believe it would turn into full-scale war.
Two days later, as bombs started falling on neighboring towns, she realized the danger. She managed to secure a spot on an overflowing train to Lviv, in Ukraine's west, along with two friends.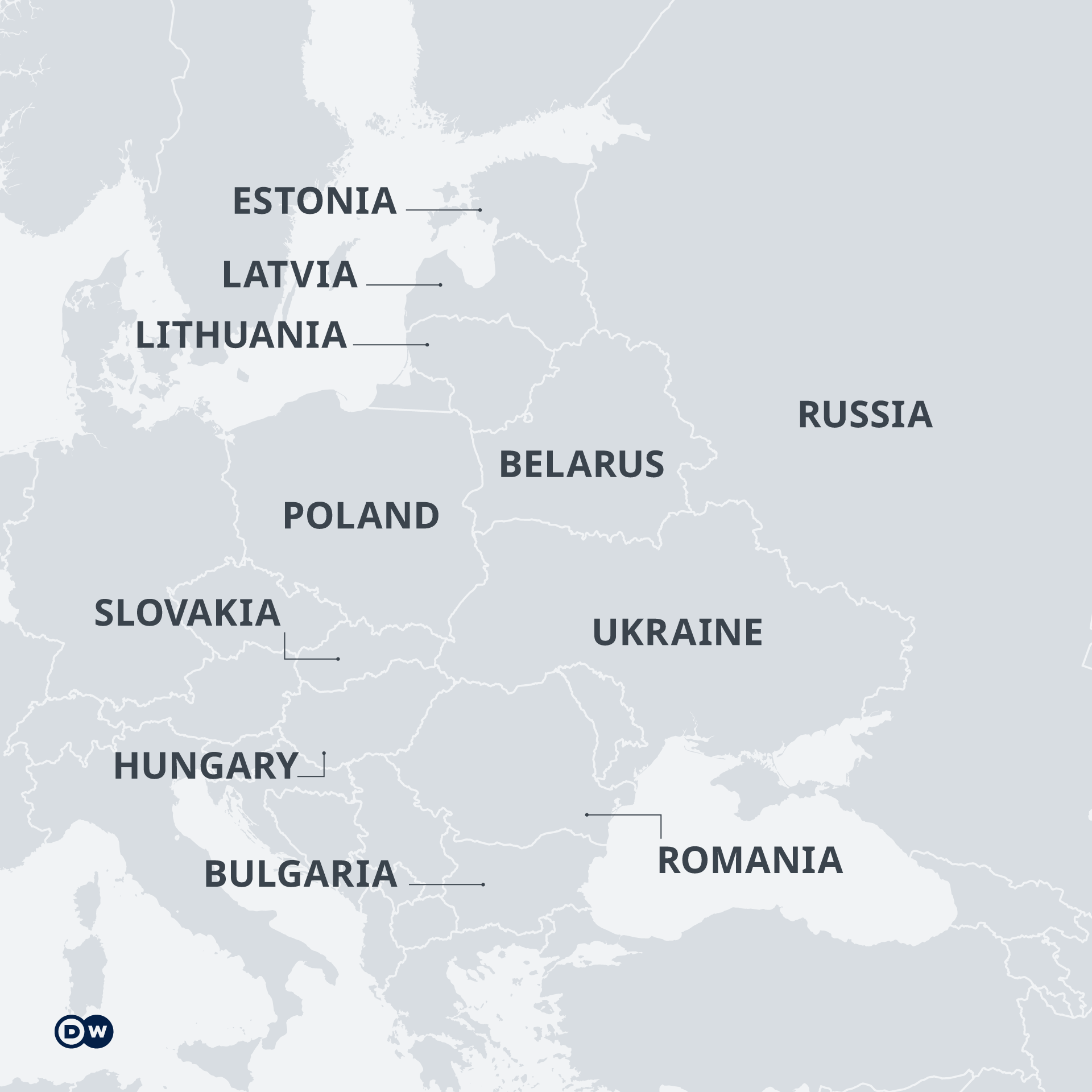 In Lviv, another struggle began. With tens of thousands of people fleeing the Russian invasion, Ogolowa and her friends were simply unable to board a train to the nearby Polish border, especially as soldiers were prioritizing seats for Ukrainians, she said.
The African students quickly changed plans, heading for Hungary instead.
Fled the country again
After a four-day journey, Ogolowa finally crossed into Hungary and found a place to stay with friends of her friend's brother.
Despite having no fixed abode and only a small bag of possessions, Ogolowa is already looking into whether she can transfer to a medical school somewhere else.
But Ukraine is still under siege. More than 2.5 million people have already fled the country, according to the United Nations.
Russian airstrikes struck the city of Dnipro for the first time on Friday; getting a copy of her university transcript so that she can apply for a transfer is unlikely to happen any time soon.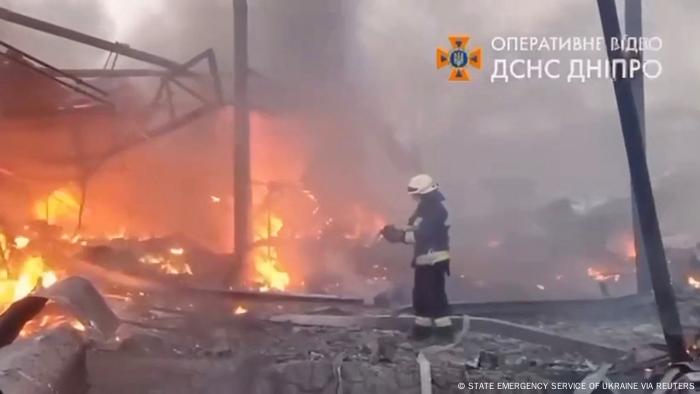 Russian airstrikes hit the city of Dnipro for the first time on Friday
Determined not to give up
The Dnipro Medical Institute has sent out a message, seen by DW, saying it plans to start online classes for medical students at the beginning of next week.
Ogolowa's computer, text books and notebooks are all back in her room in Dnipro. But she's determined not to give up.
"I cannot spend nine years trying to be a medical doctor and give up now," she said.
"I have labored so much for this, I want to see it to the end. If it is impossible, I want to do the impossible."