Market News
Pound-to-Dollar Rate "Not out of the Woods Yet" as Analyst Warns of Possible False Dawn - PSL
OCTOBER 12, 2017
The GBP/USD exchange rate has printed a lower close for each of the last three weeks and is therefore establishing itself in a broader downtrend.
Pound Sterling is tipped to retain a negative bias against the US Dollar as a rebound seen in the early part of the week does not yet break the downtrend established by the pair over the last three weeks.
Sterling has risen by more than 100 points against the Dollar since foreign exchange markets opened in Tokyo Sunday night, to trade as high as 1.3205 on Tuesday.
"At this stage, one has to take this latest rebound with a pinch of salt, as it could be a counter trend move which could ultimately fail to sustain itself," says Fawad Razaqzada, an analyst at Forex.com.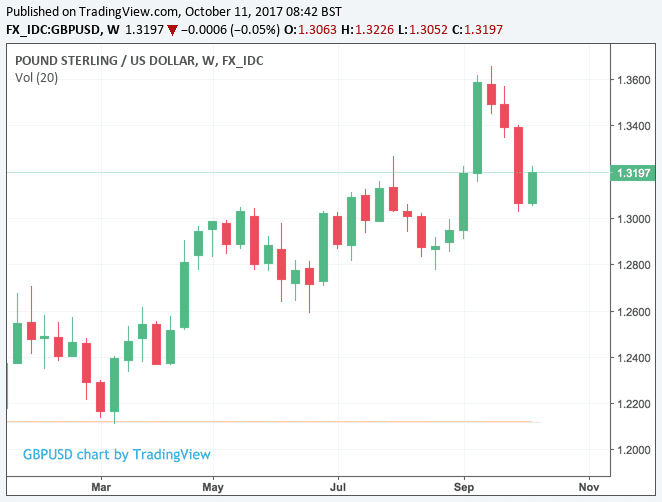 The upward move was driven by stronger than expected economic data emerging from the UK as well as the dissipation of concerns over the stability of Prime Minister Theresa May's leadership.
Razaqzada suggests that before those watching Sterling-Dollar prepare for further gains, it must be considered that the Pound-to-Dollar pair has printed a lower close for each of the last three weeks by the time that trading floors went dark at 22:00 London time on Friday evenings - meaning a downtrend is establishing itself.
"From a purely technical outlook, this week's rebound in the pound has lifted the GBP/USD to test key resistance in the range between 1.3200 and 1.3250," says Razaqzada. "Only a potential break back above 1.3250 would be deemed bullish at this stage."
Razaqzada notes that, even then, the Pound-to-Dollar rate will face a further challenge to overcome 1.3350. And there are no major economic numbers in the calendar for the UK further on in the week which might have offered a source support for further gains.
There is, on the other hand, a series of US data due out over the course of Thursday and Friday - which could drive the Pound-to-Dollar rate in either direction.
"So we could see a sharper move in the dollar in the second half of the week, which could undermine the cable again," says Razaqzada.
Get up to 5% more foreign exchange by using a specialist provider by getting closer to the real market rate and avoid the gaping spreads charged by your bank for international payments. Learn more here.
Downside in Sterling Likely Limited
While making the case for a run higher in Sterling-Dollar is limited, we also note the arguements against expecting deeper declines.
We have been reporting of late that positioning amongst traders on global FX markets shows increased demand for Sterling, particularly amongst 'real money' which suggests to some analysts that there is the potential for upside in Sterling.
Data is also supportive of a firm Pound.
Recent economic data has pointed toward a UK economy that has regained some, but not all, of its momentum in the third quarter with the ONS revising its second quarter estimate of unit labour costs up from 1.6% to 2.4% earlier this week, which has positive implications for wage growth in the UK.
This is while British Retail Consortium data suggested Tuesday that the UK consumer has remained largely undeterred by the inflationary hit to pay packets over the last year.
In addition, both manufacturing and construction industries churned out higher than expected rates of output in August, according to data released Tuesday.
All told, the case for a Bank of England rate hike in November has solidified on the back of recent events, which could help support Sterling going into November.
However, the prospect of a deadlock emerging in the fifth round of Brexit negotiations, which conclude later this week, is a source of potential downside for the Pound ahead of the weekend.
Stalled negotiations could vindicate Razaqzada for his cautious appraisal of the latest rally from Sterling.
The Pound-to-Dollar rate was quoted 0.19% lower Wednesday morning, at 1.3187, after having reversed some of Tuesday's gains.