Aboki News
Oil prices slide nearly 1 pct on persistent glut concerns - REUTERS
JUNE 02, 2017
By Jane Chung
GET INSTANT UPDATES WITH abokiFX APP LINKS BELOW
https://play.google.com/store/apps/details?id=com.app.Abokifx&hl=en
https://itunes.apple.com/us/app/abokifx/id1205477397?mt=8
SEOUL, June 2 (Reuters) - Oil prices dropped nearly 1 percent in early Asian trade on Friday, dragged down by ongoing concerns over a global glut in crude supply despite a bigger-than-expected draw in U.S. crude inventories.
Global benchmark Brent crude futures were down 39 cents, or 0.77 percent, at $50.25 a barrel at 0039 GMT.
U.S. West Texas Intermediate crude futures dropped 45 cents, or 0.93 percent, to $47.91 per barrel.
Official data showed crude inventories in the United States, the world's top oil consumer, fell sharply last week as refining and exports surged to record highs.
Crude stockpiles were down to 6.4 million barrels in the week to May 26, beating analyst expectations for a decrease of 2.5 million barrels.
Although a sharp fall of U.S. crude inventories could be seen as a supportive factor to oil prices, U.S. crude production rose to 9.35 million bpd last week, up nearly 500,000 bpd from a year ago.
Surging U.S. production has put a strain on OPEC members' efforts to curb production cuts in a bid to drain a global crude supply overhang and to prop up prices.
A week ago, the Organization of the Petroleum Exporting Countries (OPEC) and some non-OPEC members met in Vienna to roll over the output cut deal to reduce 1.8 million barrels per day (bpd) until the end of next March.
Faced with lingering glut woes, the oil cartel discussed last week reducing output by a further 1 to 1.5 percent, and could revisit the proposal should inventories remain high, according to sources.
Rising output from Nigeria and Libya is further undercutting the oil producers' attempt to limit oil production. Nigeria and Libya are exempted from curbing output as they seek to restore supplies hurt by internal conflicts.
Libya's oil production has risen to 827,000 bpd after technical problems were resolved at the Sharara field. That was above a three-year peak of 800,000 bpd reached earlier in May.
Some commodity markets were also absorbing news that President Donald Trump said he would withdraw the United States from the landmark 2015 global agreement to fight climate change, a move that fulfilled a major campaign pledge but drew condemnation from U.S. allies and business leaders.
But Jonathan Barratt, chief investment officer at Sydney's Ayers Alliance, said the U.S. decision to walk away from the climate agreement was not likely to impact oil markets.
"I see the little connection between oil markets and the Paris accord," Barratt said.
"I think the market is looking for swing factors like an increase in demand from China," he said.
(Reporting by Jane Chung; Editing by Joseph Radford)
GET INSTANT UPDATES WITH abokiFX APP LINKS BELOW
https://play.google.com/store/apps/details?id=com.app.Abokifx&hl=en
https://itunes.apple.com/us/app/abokifx/id1205477397?mt=8
Foreign participation in Egypt T-bill auctions at $368 mln -finance ministry - REUTERS
JUNE 02, 2017
CAIRO, June 1 (Reuters) - Foreign participation in Egypt's Thursday treasury bill auctions amounted to 6.6 billion Egyptian pounds ($368 million), the head of public debt at the Finance Ministry, Sami Khallaf, told Reuters.
Egypt on Thursday auctioned six-month and one-year treasury bills.
($1 = 17.9500 Egyptian pounds) (Reporting by Eric Knecht; Editing by Ahmed Aboulenein)
GET INSTANT UPDATES WITH abokiFX APP LINKS BELOW
https://play.google.com/store/apps/details?id=com.app.Abokifx&hl=en
https://itunes.apple.com/us/app/abokifx/id1205477397?mt=8
Pound to US Dollar Poised to Sell Off Over Next Five Days - PSL
MAY 15, 2017
GET INSTANT UPDATES WITH abokiFX APP LINKS BELOW
https://play.google.com/store/apps/details?id=com.app.Abokifx&hl=en
https://itunes.apple.com/us/app/abokifx/id1205477397?mt=8
Written by Joaquin Monfort
GBP/USD rose to within a hair's breadth of the psychologically significant 1.3000 level before rolling over last week and given price action so far, this may be the precursor to a deeper sell off in the coming week.
The pair has formed a topping pattern clearly visible on the four-hour chart, which suggests a strong possibility of further downside.
The pattern is probably what is known amongst technicians as an ending diagonal.
These occur at the end of uptrends and often signal an imminent and strong sell-off in the pair and a reversal of the trend on a higher timeframe.
Below is an idealized image of an ending diagonal and a 'real' ending diagonal on EUR/USD as well as the sell-off which followed.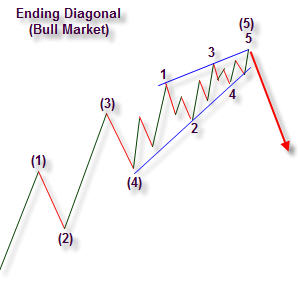 These images look very similar to the ending diagonal which appears to be forming on GBP/USD.
The pattern on GBP/USD shows a truncated or incomplete wave 4 – and therefore is not ideal – however some license is allowed in identification.
The exchange rate has already broken below the lower borderline of the pattern before recovering back up to it.
This is probably what is known as a 'throwback', which is the move back to a trendline or pattern border immediately after a breakout has occurred.
These moves almost always result in a resumption direction of the breakout after the exchange rate has said its 'final goodbye' or 'air kiss goodbye' as it is often referred to by traders, to the trend or borderline.
These are optimum entry points for traders seeking the alchemy of low risk – high reward.
The breakdown and throwback suggests a continuation lower in the week ahead.
The MACD is also very bearishly aligned and now below the zeroline which indicates a change of trend in the traditional interpretation of the indicator, as expressed by its originator Gerald Appel.
We have taken the height of the pattern at its widest point (a) to calculate the potential downside (b), in a method similar to forecasting the extent of a triangle's breakout.
This appears to forecast a target at around 1.2760, where support kicks in from the monthly pivot.
For confirmation of more downside, however, we would first want to see a break below the 1.2845 lows.
Data for the Dollar
It is a relatively quiet week ahead on the hard data front for the US Dollar.
Building Permits are the first tier-one release and are scheduled to come out on Tuesday, May 16 at 13.30 (BST).
They are expected to show a rise to 1.27m in April.
Housing data has generally been strong lately, suggesting a more upside.
Housing Starts, out at the same time, are forecast to show a rise of 1.26m from a previous result of 1.215m.
The next big release is the Philadelphia Fed Manufacturing Index, out on Thursday at 13.30 which is expected to show a decline to 19.8 from 22.00 previously.
Other data of note is New York Manufacturing, out at 13.30 on Monday and Net flows of financial investments (Net TIC flows) at 21.00, which is forecast to show a rising surplus of inflows into USD.
The Dollar is at risk of downside as expectations of 2 or even 3 hikes in 2017 have started to shift from the reality of slightly below expectations data releases.
"There's a serious misalignment between U.S. data, market expectations and Fed speak. Friday's U.S. economic reports raise questions about the possibility of a rate hike in June," said Kathy Lien in her week ahead report.
Data for the Pound
Retails Sales, on Thursday, May 18 at 9.30 (BST) will probably be the most significant release in the week ahead as it covers the UK economy's current weak spot.
Consumer spending has slowed in the first quarter as the weak pound has put pushed up the price of many imports leading shoppers to limit the size of their baskets.
This slowdown in the high street is a major concern as if it continues it will depress economic growth significantly given that it accounts for the largest proportion of GDP.
Slower growth will lessen even further the likelihood of the Bank of England (BOE) bringing forward the time when they will raise interest rates.
Given relatively higher interest rates tend to attract more capital flows which increase demand for a currency the pound stands to lose out if the BOE adopt a more dovish tone – which by dovish means more inclined to cut rather than raise interest rates.
Inflation data, on Tuesday, May 16 at 9.30 is the other major release for the currency, as it too could impact on rate setting.
Headline CPI is expected to show a 2.6% rise compared to April last year and 0.4% on a monthly basis.
Unemployment and Earnings data are out on Wednesday at 9.30 and are forecast to show earnings rise by 2.4% compared to March 2016 whilst the unemployment rate is expected to remain unchanged at 4.7%.
The change in those seeking unemployment benefits, meanwhile, is expected to show a rise of 5k in April.
All three of these releases could impact heavily on sterling if they come out very different from expectations, with Kathy Lien of BK asset management, for one, seeing an upside bias to the releases:
"We expect most of these reports to surprise to the upside, particularly the labor data as the PMIs report some of the strongest conditions in the labor market this year," said Lien.
FG, regulators need proactive measures to attract diversified investors – VANGUARD
MAY 15, 2017
The Managing Director and Chief Executive Officer of Solid -Rock Securities and Investment Plc, Mr. Patrick Ezeagu, in this interview spoke on what regulators and the government can do to attract diversified investors to boost the Nigerian capital market.
By Peter Egwuatu
WHAT kind of actions would you like the regulators to adopt that can attract investors to the market?
If the Federal Government remains committed to the financing of infrastructure deficit; this can done through the capital market. One of the major challenges businesses are facing is poor infrastructure which consume a large chunk of their revenues. The Federal Government should ensure that the capital expenditure of the 2017 budget is dedicated to improving infrastructure to enhance the ease of doing business in the country and for businesses to become productive and move towards economic recovery.
In addition, a time has come when the federal Government should involve the capital market regulators and operators in the build -up to budgetary processes and procedures in view of the pivotal role of the market to the growth and development of the economy.
The market is a reservoir of cheap and long term funds which is required for long term development of any nation. The capital market serves as a buffer zone for the government to finance budget deficit and there is a correlation between the development of the economy and its capital market.
GET INSTANT UPDATES WITH abokiFX APP LINKS BELOW
https://play.google.com/store/apps/details?id=com.app.Abokifx&hl=en
https://itunes.apple.com/us/app/abokifx/id1205477397?mt=8
Managing Director and Chief Executive Officer of Solid -Rock Securities and Investment Plc, Mr. Patrick Ezeagu
What are the effects of high exchange rate and inflation rate on investment in the stock market?
High exchange rate and inflation are the twin evils that afflict the capital market and indeed every economic endeavour. For a start, these two variables introduce a high level of uncertainty to the price structures of the market. Secondly, they stifle savings which is the fulcrum of investment. Any phenomenon that negatively impacts on savings reduces the quantum of available investible fund for Capital Market investment. Thirdly, it hits the foreign portfolio investors as they face Exchange rate risk with their investment, especially, with respect to repatriation of dividend or capital or both.
As a result, one of the main reasons why our capital market has been witnessing low patronage is attributable to the impact of both inflation and the uncomfortable high exchange rate regime. However, I am glad that the CBN is coming to terms with the need to free the strangulating hold it has on the rate to enable the Naira find its market determined exchange rate with the other currencies.
In this way, both investors in the capital market and other users of FX can be relatively assured of a band within which they can benchmark their exchange rate. The flip side is that inflation shall also be contained in the process as the economy and particularly the capital market inches towards a full free market determined price structures.
How can the governments at all tiers utilize the Capital Market to finance the economy?
Government at all levels utilizes the Capital Market to finance the economy because it provides an alternative source of funding that can complement Internally Generated Revenue (IGR). Capital Market fund is relatively cheaper than any other means of funding and has a longer maturity period.
There are various investments/windows available to both Federal and States governments in accessing funding from the market, these include asset sale, bond issuance such as Sovereign, Sub-national, green bonds, etc. These debt instruments are available and governments at various tiers are at liberty to fund infrastructural development using either or a combination of these types of instruments.
GET INSTANT UPDATES WITH abokiFX APP LINKS BELOW
https://play.google.com/store/apps/details?id=com.app.Abokifx&hl=en
https://itunes.apple.com/us/app/abokifx/id1205477397?mt=8
Euro zone recovery, Macron win give ECB chance to consider unwinding policy - BLOOMBERG
MAY 15, 2017
May 13 An economic recovery and robust outlook in the euro zone mean the European Central Bank may be able to look at normalising its ultra-loose monetary policy, German Bundesbank President Jens Weidmann said on Saturday.
Weidmann, one of the most conservative ECB policymakers, said the election of Emmanuel Macron as French president should give the single currency bloc an additional economic boost.
"The strengthening economic development in the euro zone and the robust outlook make a normalisation (of monetary policy) conceivable," Weidmann said at a meeting of the financial leaders of seven leading world economies in Bari, Italy.
But he said a rise in inflation should become more sustainable before the ECB considers such a move.
He added Macron's victory in France's presidential election should help boost growth in the euro zone. Macron won on a platform of reforming France and a business-friendly vision of European integration.
"The election victory of Macron gives a chance that the euro zone economy gets an additional momentum," Weidmann said. (Reporting by Gernot Heller; Writing by Joseph Nasr; Editing by Mark Potter)
Euro zone recovery, Macron win give ECB chance to consider unwinding policy - BLOOMBERG
MAY 15, 2017
BY Alexandria Arnold and Dennis Pettit
GET INSTANT UPDATES WITH abokiFX APP LINKS BELOW
https://play.google.com/store/apps/details?id=com.app.Abokifx&hl=en
https://itunes.apple.com/us/app/abokifx/id1205477397?mt=8
Friday drop halves dollar's weekly gain; euro retakes 1.0900

Treasury yields near lows for the week as rate-hike bets pared
The dollar fell for a third day after April U.S. retail sales and consumer price data missed estimates, paring its first weekly gain since the start of last month.
The greenback shed modest early gains to trade lower by 0.3 percent. Friday's dollar drop breached technical support at the 200-DMA for the Bloomberg dollar index, opening the risk of further declines. The dollar fell versus most of its G-10 peers, losing the most against the Swiss franc, which saw broad gains late in the European session.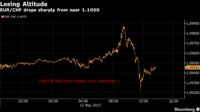 USD/CHF fell as much as 0.9% to below 1.0000, its steepest decline in three weeks, as the CHF advanced vs all of its G-10 peers. CHF gain came amid very muted flows, appeared to be position-driven rather than headline-driven, a trader in London said; position unwinds likely due to inability of EUR/CHF to add gains after a report that the ECB could begin signaling a policy shift around mid-year caught players wrong-footed, the trader said
EUR/USD rose to a fresh session high at 1.0934 following the data and remained close by after eclipsing the overnight high at 1.0878. Offers to sell EUR are stacked from 1.0925 to 1.0950, the high of a range that prevailed in the run-up to the French presidential election. The euro is expected to find further offers around 1.1000 and likely near the Monday high at 1.1023 that was seen in Asian trading as the French election outcome became clear
ECB's Praet and Angeloni speak on Monday; traders will watch to see if there is any pushback from the ECB officials to the report on policy signaling. ECB's Constancio reiterated Thursday that the bank's policy path is set until year-end though signaling of future steps could begin in the fall
USD/JPY is trading ~113.43 after reaching a session low of 113.20. The USD was undercut by a decline in Treasury yields that came as traders pared back bets for a June rate hike after the CPI miss. Stop-loss sell orders were triggered below 113.50, said a trader in London familiar with the transactions who asked not to be identified because not authorized to speak publicly
Traders parsed remarks from Fed officials to see whether Friday's economic reports may have caused a shift in sentiment amid still-high market expectations for a June rate rise. Chicago Fed President Charles Evans said that his view is that downside risks to inflation "still predominate," though the U.S. is probably at full employment. Philadelphia Fed President Patrick Harker, also a voter this year on the FOMC, said he sees "very little slack" left in the U.S. labor market
April retail sales rose 0.4% overall vs estimates for a gain of 0.6% and with an upward revision to the prior month offsetting the miss. At the same time, April CPI rose 0.2% overall, matching estimates, though the ex-food and energy component rose only 0.1% vs estimates for a gain of 0.2%. The dollar was little moved by UofMich sentiment at 97.7 vs est. 97.0
GET INSTANT UPDATES WITH abokiFX APP LINKS BELOW
https://play.google.com/store/apps/details?id=com.app.Abokifx&hl=en
https://itunes.apple.com/us/app/abokifx/id1205477397?mt=8
Dollar starts week under shadow of underwhelming data, North Korea - REUTERS
MAY 15, 2017
GET INSTANT UPDATES WITH abokiFX APP LINKS BELOW
https://play.google.com/store/apps/details?id=com.app.Abokifx&hl=en
https://itunes.apple.com/us/app/abokifx/id1205477397?mt=8
The dollar started the week on the defensive on Monday, after U.S. economic data came in shy of expectations and another missile test by North Korea over the weekend underpinned the perceived safe-haven yen.
The dollar index, which tracks the greenback against a basket of six major rivals, was slightly lower on the day at 99.226 .DXY
The dollar slipped 0.1 percent against its Japanese counterpart to 113.28 yen JPY=.
On Monday, North Korea said it had successfully conducted a newly developed mid-to-long range missile test on Sunday, supervised by leader Kim Jong Un and aimed at verifying the capability to carry a "large scale heavy nuclear warhead," according to the North's official KCNA news agency.
The North fired a ballistic missile that landed in the sea near Russia on Sunday in a launch that Washington called a message to South Korea, days after its new president took office pledging to engage Pyongyang in dialogue.
On Friday, U.S. data showed a smaller-than-expected 0.4 percent increase in April retail sales from the previous month, while a disappointing report on consumer prices raised concerns about the retail sector and the broader economy.
"The data was weaker than expected, but not weak enough to keep the dollar under pressure for long," said Mitsuo Imaizumi, Tokyo-based chief foreign-exchange strategist for Daiwa Securities.
"The North Korean missile news over the weekend gave the yen some lift, but not much," he said. "Overall, we see the dollar trading in its recent ranges for the time being, with investors focused on next month's FOMC meeting."
GET INSTANT UPDATES WITH abokiFX APP LINKS BELOW
https://play.google.com/store/apps/details?id=com.app.Abokifx&hl=en
https://itunes.apple.com/us/app/abokifx/id1205477397?mt=8
The Federal Reserve is widely expected to raise interest rates at its meeting next month. The central bank has forecast two more hikes this year after a quarter point increase in March.
The euro edged down 0.1 percent to $1.0924 EUR=.
Net dollar long positions fell in the week ended May 9 to their lowest since early October, according to calculations by Reuters and U.S. Commodity Futures Trading Commission data released on Friday. [IMM/FX]
In that week, the euro marked its first net long positioning since early May 2014, as investors breathed a collective sigh of relief following pro-European Emmanuel Macron's victory over anti-EU candidate Marine Le Pen in the second round of France's presidential election on May 7.
(Reporting by Tokyo markets team; Editing by Shri Navaratnam)
GET INSTANT UPDATES WITH abokiFX APP LINKS BELOW
https://play.google.com/store/apps/details?id=com.app.Abokifx&hl=en
https://itunes.apple.com/us/app/abokifx/id1205477397?mt=8
FOREX: CBN assures of more interventions - WORLD STAGE
MAY 14, 2017
GET INSTANT UPDATES WITH abokiFX APP LINKS BELOW
https://play.google.com/store/apps/details?id=com.app.Abokifx&hl=en
https://itunes.apple.com/us/app/abokifx/id1205477397?mt=8
WorldStage Newsonline-- In spite of a lull in FOREX trading activities towards the end of last week, the Central Bank of Nigeria (CBN) has assured of its continued intervention in the inter-bank market.
A CBN source revealed that the bank was determined to ensure that the gains made by it in recent times, with regards to the stability of the exchange rate, are not eroded.
The bank did not make major interventions all through the week ending May 12, 2017, because there was a surfeit of foreign exchange in the system, while the source maintained that the CBN would continue to make necessary interventions to ensure the stability of the naira.
The windows established by the CBN for Small and Medium Enterprises (SMEs) as well as for investors and exporters were said to be yielding the desired results by providing access to forex and easing pressure on the market.
Speaking on the matter, the Acting Director of Corporate Communications at the CBN, Isaac Okorafor reiterated the Bank's commitment to ensure that there is enough supply of forex to genuine customers to achieve the goal of forex rates convergence.
The CBN since February 2017 has been involved in massive interventions in all segments of the interbank market to ensure liquidity and availability of forex.
GET INSTANT UPDATES WITH abokiFX APP LINKS BELOW
https://play.google.com/store/apps/details?id=com.app.Abokifx&hl=en
https://itunes.apple.com/us/app/abokifx/id1205477397?mt=8
Inflation to Maintain Downward Streak in April, Say Analysts - THISDAY
MAY 14, 2017
By Kunle Aderinokun
GET INSTANT UPDATES WITH abokiFX APP LINKS BELOW
https://play.google.com/store/apps/details?id=com.app.Abokifx&hl=en
https://itunes.apple.com/us/app/abokifx/id1205477397?mt=8
With the expected Tuesday's release of numbers for April consumer price index (CPI) by the National Bureau of Statistics in view, economic analysts and market watchers have released their projections for the index, which gauges inflation. Essentially, they expect to see a continuation of the downward trajectory in the index, which began in February when it plunged to 17.78 per cent (year-on-year) from 18.72 per cent in January and subsequently dropped to 17.26 per cent in March. NBS had attributed the decline for the two consecutive months to the effects of stabilising prices in already high food and non-food prices as well as favourable base effects over 2016 prices.
While The Economic Intelligence Group of Access Bank Plc forecast that the CPI would drop further to 17.05 per cent in April from the 17.26 per cent level it stood in March, analysts at FSDH Research has estimated that the CPI would be 17.11 per cent when NBS released the figures on Tuesday. Also, the CEO, Nigeria Competitiveness Council of Nigeria (NCCN), Matthias Chika Mordi, who is also CEO, Accender Strategies, estimated a CPI of 16.75 per cent for the month in preview with a 25 basis points error of margin, based on macroeconomic indicators and Q1 surveys.
According to the Access Bank analysts, "As usual, our methodology adopts an autoregressive analysis of past prices, while it recognizes all the assumptions used by the National Bureau of Statistics (NBS) in its computation of monthly composite consumer price index (CCPI)."
GET INSTANT UPDATES WITH abokiFX APP LINKS BELOW
https://play.google.com/store/apps/details?id=com.app.Abokifx&hl=en
https://itunes.apple.com/us/app/abokifx/id1205477397?mt=8
The analysts noted that the group's inflation forecast was driven chiefly by anticipated downward movement in the food and core sub-indexes. Besides, they identified price movements for major commodity groups in the food basket which makes up over half of the CPI basket remained muted in April. "Based on an independent survey, vegetable oils, rice, and flour trended downwards, while the price of garri, potatoes and noodles were stable."
Similarly, they stated that, "Core inflation, which excludes the prices of volatile agricultural produce, is expected to extend its downward trend in April. This partially reflects the effects of currency appreciation in the parallel market. Month-on-month, the naira appreciated by 8.32 per cent as the Central Bank maintained the tempo of interventions in the forex market."
On probable market impact of the projected further inflation decline, The Economic Intelligence Group noted that, "With short-term secondary market T-bill yields currently around 16 per cent – 19 per cent, the downtick in inflation may prompt investors to take positions in short term securities and divest from equities.
They also said, "Despite the easing inflation, we expect the apex bank to maintain rates in an attempt to anchor the downward inflation trend. In the March Monetary Policy Committee (MPC) statement, the CBN governor made it clear that loosening the policy rate will worsen price pressures, while tightening of rates would be detrimental to already-weak economic growth."
As for the FSDH analysts, they said, "Although we noticed increases in the prices of food and non-food classification for the fourth consecutive month, the base effect in the CCPI in April 2016 will be responsible for the drop in the inflation rate."
According to them, "The Naira gained by 0.16 per cent at the inter-bank market to close at US$/N305.85 while it lost 0.25 per cent at the parallel market to close at US$/N396 at the end of April. The fall in the international prices of food helped to counter the effect of the depreciation in the value of the Naira at the parallel market.
"The appreciation of the Naira in the inter-bank market and the drop in the prices of food at the international market led to a moderation in the prices of consumer goods in Nigeria. The prices of food items that FSDH Research monitored in April 2017 moved in varying directions. The prices of tomatoes, garri, sweet potatoes, beans, Irish potatoes and yam were up by 56.78 per cent, 8.47 per cent, 6.94 per cent, 6.08 per cent, 5.64 per cent and 3.33 per cent respectively.
"Meanwhile, the prices of onions, vegetable oil, palm oil, rice, meat and fish were down by 27.11 per cent, 7.78 per cent, 6.67 per cent, 2.48 per cent, 2.22 per cent and 1.33 per cent respectively. The movement in the prices of food items during the month resulted in 2 per cent increase in our Food and Non-Alcoholic Index to 234.34 points.
"We also noticed increase in the prices of Housing, Water, Electricity, Gas & Other Fuels divisions between March 2017 and April 2017. Our model indicates that the general price movements in the consumer goods and services in April 2017 would increase the Composite Consumer Price Index (CCPI) to 226.01 points, representing a month-on-month increase of 1.48 per cent.
"We estimate that the increase in the CCPI in April will produce an inflation rate of 17.11 per cent lower than the 17.26 per cent recorded in March 2017."
In their view, analysts at Eczellon Capital expect the April 2017 inflation rate (year-on-year) "to ease slightly given the marginal drop in the prices of some food and non-food items and CBN's intervention in the Forex market."
"Consequently, the Apex Bank had introduced an Investors and Exporters Window (IEW) poised to boost liquidity in the FX market and ensure timely execution and settlement of eligible transactions for manufacturers and related constituents. Prior to CBN's intervention, the cost of accessing the FX was extremely high as it was mirrored in the prices of items. "Conversely, participants in the FX market are now accessing the FX via the CBN's IEW at a relatively affordable price and without exhausting same. By implication, the IEW has led to the reduction in cost of production and has translated to the marginal decline in the prices of items. Additionally, the recent manufacturing PMI for April 2017 indicates that the manufacturing sector had advanced at 51.1 index points showing expansion in the manufacturing sector after three months of contraction, though the non-manufacturing sector dragged sluggishly at 49.5 relative to 47.1 index points. Subsequently, the improvements in these sectors spur us to believe that the costs of items in the market are retracting gradually," the analysts explained.
Furthermore, the Eczellon Capital analysts added, "the historical behaviour of Nigeria's inflation rate over the past three months had shown a downward trajectory of 0.94 per cent point and 0.52 per cent point for February and March apiece. For that reason, we foresee the CPI plunging further in April 2017."
Also, in his projection, Chief Executive Officer, The CFG Advisory Ltd, Adetilewa Adebajo, is hopeful of a continuity in the downward trend in CPI "provided the CBN continues with its policies aimed at improving forex liquidity, Naira/$ rate appreciates further, and fiscal stimulus is maintained."
"We can therefore estimate a further downward trajectory in consumer price index, however, by smaller percentage points relative to the first two months, due to relative stability in prices of some food items and falling demand for other items.
GET INSTANT UPDATES WITH abokiFX APP LINKS BELOW
https://play.google.com/store/apps/details?id=com.app.Abokifx&hl=en
https://itunes.apple.com/us/app/abokifx/id1205477397?mt=8
"Month-to-Month inflation still on the rise. There appears to be the need to monitor CPI for the next few months to fully ascertain the downward trend in inflation," Adebajo pointed out.
"Month-to-Month inflation still on the rise. There appears to be the need to monitor CPI for the next few months to fully ascertain the downward trend in inflation," Adebajo pointed out.
BRIEFS
Domestic Flight
Domestic flight operations declined by 67 per cent in the first quarter of 2017, compared to the same period in 2016, the Nigerian Civil Aviation Authority said. NCAA's Consumer Protection Department, in a document on Monday, disclosed that 10,366 flights operated in the first quarter of 2017 compared to 15,434 flights operated in 2016 by the same eight domestic airlines. The domestic airlines, the agency said, are Aero Contractors, Arik Air, Air Peace, Azman Air, Dana Air, First Nation, Med-View, and Overland.
Gas supply
Nigerian National Petroleum Corporation and its partners evolved a scheme to grow gas supply for domestic consumption by 285 per cent. NNPC said this in a statement by its Group General Manager, Group Public Affairs Division, Ndu Ughamadu, in Abuja on Wednesday. Ughamadu said the gas growth was expected to rise from three billion standard cubic feet per day (scf/d) to five billion standard cubic feet per day (scf/d) by 2020. NNPC said the federal government had directed it to aggressively pursue gas development to aid the country's economic development.
BoI
The Bank of Industry introduced zero-interest loans for members of the National Youth Service Corps under its Graduate Entrepreneurship Fund programme. BOI said the zero per cent interest, from 9% previously charged, was part of measures to encourage entrepreneurship and aid business growth. According to BOI, the GEF scheme, being implemented in partnership with the NYSC, is currently on the second edition and has recorded over N262.9 million disbursements to 177 successful candidates. The bank said the zero per cent interest charge took effect from May 1.
Capital Market
Securities and Exchange Commission set aside N5 billion as seed capital for the take-off of the proposed Nigerian Capital Market Development Fund. The commission warned that it would henceforth prosecute investors who use false identity for share subscription. The apex capital market authority also indicated that its shares dematerialisation programme had run its full course, achieving a 100 per cent dematerialisation of shares with over 2.2 million investors mandating their accounts for e-dividend.
Leasing industry
Leasing firms in the country braved the odds and generated N1.26 trillion in 2016. The industry recorded 14 per cent growth in outstanding lease volume from N1.1 trillion in 2015. Consequently, experts believed the Nigerian leasing industry had remained vibrant and continued to provide succour to many organisations across all sectors of the economy, despite the current economic difficulties. Stakeholders said leasing was still attractive to new investors with massive diversification by existing players in the industry.
GET INSTANT UPDATES WITH abokiFX APP LINKS BELOW
https://play.google.com/store/apps/details?id=com.app.Abokifx&hl=en
https://itunes.apple.com/us/app/abokifx/id1205477397?mt=8
NAFEX: The Nigerian Autonomous Foreign Exchange Rate Fixing Methodology - FMDQ
APRIL 24, 2017
GET INSTANT UPDATES WITH abokiFX APP LINKS BELOW
https://play.google.com/store/apps/details?id=com.app.Abokifx&hl=en
https://itunes.apple.com/us/app/abokifx/id1205477397?mt=8
1. INTRODUCTION
This document provides a summary of the methodology that FMDQ OTC Securities Exchange ("FMDQ") applies to establish NAFEX - the Nigerian Autonomous Foreign Exchange Rate Fixing.
2. BACKGROUND FMDQ
This is an over-the-counter ("OTC") securities exchange with a mission to empower the financial markets to be innovative and credible, in support of the Nigerian economy. This mission is achieved by providing the secondary market with a world-class market governance and development service to the benefit of market participants and in support of the objectives of the financial services regulators.
Consequently, FMDQ is committed to developing and publishing independent and transparent benchmarks which are reasonably designed to be reflective of the market at the time of the fix and promote transparency in the OTC markets. FMDQ Fixings meet the requirements of domestic regulations as well as the International Organisation of Securities Commissions ("IOSCO") Principles for Financial Benchmarks on governance, quality of the methodology and accountability mechanisms.
NAFEX is the FMDQ benchmark rate for Foreign Exchange ("FX") spot operations in the Investors' & Exporters' FX Window (hereinafter referred to as the "Window"). NAFEX is designed and generated independently and objectively and also published every business day at a specific time.
2.1. Uses of NAFEX
An FX fixing is an essential component of the Nigerian financial system. Its importance to the financial industry and other non-financial sectors arises from the impact of a country's exchange rate on almost all sectors of the economy.
NAFEX will benefit the Nigerian economy in general and the financial industry in particular in a number of ways, including:
▪ Serving as a fixing for the settlement of FX derivatives
▪ Promoting transparency and awareness of USD/NGN rates
▪ Enabling foreign and local investors benefit from a market-driven independent reference rate
▪ Increasing forward contracts usage towards a reduction of investments in currency principals and foreign currency line utilisation
▪ Developing hedge products and derivatives, thus improving the standard of the Nigerian FX market
▪ Providing growth and income potentials for market players through the trading of hedging products ▪ Serving as a benchmark for portfolio valuations, conversions, performance measurement and audits.
2.2. Key Considerations
2.2.1. Benchmark Administrator FMDQ is the benchmark administrator for NAFEX and thus has primary responsibility for all aspects of the benchmark determination process. This process includes the development, determination, dissemination, operation and governance of NAFEX.
2.2.2. Active Market
FMDQ recognises that to enable the publication of a meaningful benchmark, a market in the currency pair represented by the benchmark must genuinely exist and that market must be active. However, the economic realities will dictate the relative meaning of what 'active' means, as market liquidity can vary significantly at particular times of the day. FMDQ applies the IOSCO Principles for Financial Benchmarks 7 & 8 – "Data Sufficiency" & "Hierarchy of Data Inputs" in determining thresholds for an "active market."
2.2.3. Data Sourcing
FMDQ may use transactional data entered into on an arm's length basis between buyers and sellers in the market, where that data is available and reflects sufficient liquidity. In a market where liquidity levels are low, the benchmark may be based predominantly or exclusively on contributed quotes.
2.2.4. Governance and Transparency
FMDQ is subject to a corporate risk framework which is based on three (3) lines of risk management:
i. Business procedures and controls are designed to promote consistency throughout the process
ii. The application of independent governance, reporting and risk management. The Board of Directors and relevant Board Committees are responsible for oversight of FMDQ Fixings, including reviewing and advising on the policies and methodologies by which FMDQ calculates, administers and publishes the Fixing.
iii. FMDQ Fixings are discussed and adopted by an Oversight Committee i.e. the Market Review Committee, consisting of members of the FMDQ Management Team who perform the required due diligence on the proprietary Fixings. Furthermore, in line with the IOSCO Principles for Financial Benchmarks, FMDQ shall publish submitted quotes received from contributing banks with the eliminated quotes identified.
2.2.5. Exercise of Expert Judgment
FMDQ may exercise discretion on the use of data in determining a Fixing. The calculation of a Fixing includes a validation process whereby, among other steps, FMDQ reviews data and fixes rates under certain pre-determined tolerance checks. When applying tolerance checks, FMDQ has the discretion (subject to internal policies and procedures) to include or reject certain data from the calculation of the Fixing.
Based on FMDQ's experience in interpreting market data, FMDQ shall apply expert judgment when necessary with the intent of ensuring the quality and integrity of the benchmark rate. Consequently, FMDQ has put in place internal guidelines and quality control procedures that govern the application of "Expert Judgment" and are intended to provide consistency and oversight to the process.
3. FIXING DYNAMICS
3.1. Fixing Methodology - NAFEX Spot Rate NAFEX Spot rates shall be determined as detailed below and contributing banks shall be expected to submit only 'professional spot quotes'. Where a contributing bank submits an unprofessional quote, such a quote will automatically be disqualified from the NAFEX computation. Contributing banks shall quote single rates for transaction sizes of $5,000,000.00 and above or as advised by FMDQ, at the time of the poll.
3.1.1. NAFEX is a polled rate based on the submissions of ten (10) contributing banks and calculated using a trimmed arithmetic mean. Upon receipt of quotes, the individual contributing banks' submission is ranked in descending order. The lowest and highest two (2) quotes are eliminated from the ranked rates leaving only the middle six (6) rates. The arithmetic mean of the remaining rates are then calculated to two (2) decimal places and disseminated as the NAFEX Spot Rate.
3.1.2. NAFEX shall be published daily by 12:00noon. 3.1.3. Where FMDQ receives fewer than the required number of submissions by the time NAFEX is due for publication, the reduced submissions methodology detailed below shall apply: i. NAFEX will be published provided that two (2) or more quotes are obtained on a daily basis ii. The calculation methodology shall remain the same irrespective of the number of submissions received.
3.13 If data remains insufficient by 12:00 noon, FMDQ shall activate the NAFEX Contingency plan as detailed below.
3.2. Contingency Plan
3.2.1. In instances where there are quotes below the documented threshold, the previous day's NAFEX shall be maintained and published as the current NAFEX.
3.2.2. In circumstances of a force majeure event, leading to the unavailability of quotes in the market, the previous day's NAFEX will be maintained and published as the current NAFEX.
3.2.3. Any republished rates from the previous business day shall be identified as such on the FMDQ1 eMarkets Portal.
3.2.4. After five (5) consecutive business days of republishing the previous day's NAFEX (in this case, the NAFEX of 5 business days prior), an FMDQ Market Review Committee meeting shall be convened in a special session to devise a strategy for the appropriate determination of future NAFEX during the extreme market condition, towards preserving the continuity of the NAFEX publication.
4. PUBLICATION NAFEX
Spot Rate is available in three (3) packages – Real-time, 24-hour Delayed and Historical:
▪ Live Fix: Available at 12:00 noon daily via the FMDQ e-Markets Portal
▪ Delayed (24 hours): Published via the FMDQ website2
▪ Historical: Available via the FMDQ e-Markets Portal
GET INSTANT UPDATES WITH abokiFX APP LINKS BELOW
https://play.google.com/store/apps/details?id=com.app.Abokifx&hl=en
https://itunes.apple.com/us/app/abokifx/id1205477397?mt=8