Aboki News
Nigeria: Delta Air Plane Catches Fire Mid Air, Makes Emergency Landing - VANGUARD
FEBRUARY 14, 2018
By Lawani Mikairu
Delta Air plane in the early hours of Wednesday, made emergency landing at the Muritala Muhammed International Airport , Lagos shortly after taking off when the pilot of the plane noticed that the left engine of the aircraft caught fire mid air in-flight.
The pilot of the Delta Air flight DL055 (ATL)ETG immediately contacted the control tower at the Lagos Airport to prepare for emergency landing. All emergency aviation officials were immediately contacted and fire fighters placed on standby. After landing successfully, all the passengers aboard were quickly evacuated via the emergency sliding door within few minutes.
Although there is no death recorded as at the time of filing this report but quite a number of crew and passenger casualties were recorded and have been taken to Lagos State University Teaching Hospital, LASUTH, Ikeja, Air Force Base Clinic and Federal Airports Authority of Nigeria, FAAN, Medical Centre for speedy medical attention.
Meanwhile, the incident led to the closure of the runway as the Delta Aircraft was on the Runway for over 1hour thereby preventing KLM, Lufthansa and Air France already positioned for take off from departing. The aircraft was later towed with a push back truck to the open parking bay close to Boarding gate E 63.
The remaining casualty - free passengers have been taken to an Hotel after the flight was announced cancelled and rescheduled for a date yet to be specified and communicated.
Euro-Area Economy Keeps Cruising Speed as Outlook Improves - BLOOMBERG
FEBRUARY 14, 2018
By Piotr Skolimowski
Eurostat confirms fourth-quarter GDP growth at 0.6 percent

German economy expanded 0.6 percent, Italy's 0.3 percent
The euro-area economy maintained its robust growth pace at the end of last year, setting the stage for another solid performance in 2018 that may sway European Central Bank policy makers into winding down unprecedented stimulus.
Gross domestic product increased 0.6 percent from the previous three months, Eurostat reported Wednesday, confirming a Jan. 30 estimate. Growth slowed in Germany and Italy, while the pace of expansion accelerated in the Netherlands and Portugal, according to separate reports.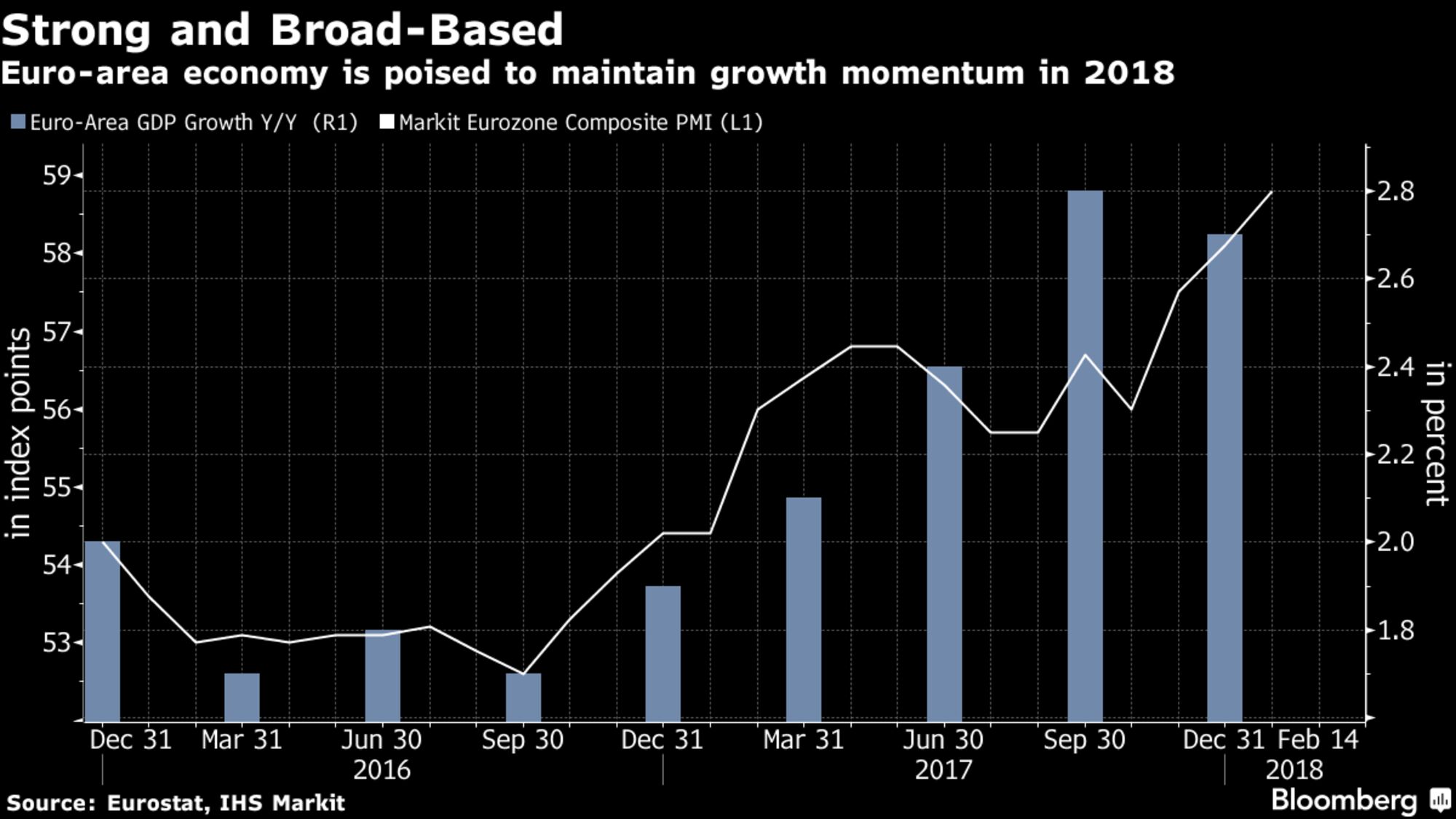 The European Commission has said the economic expansion in the 19-nation region is now more balanced than at any time since the financial crisis, and the International Monetary Fund has raised its global outlook for 2018. ECB policy makers say they're increasingly confident that robust growth will slowly rekindle price pressures, paving the way for a gradual withdrawal of monetary accommodation.
For Bloomberg's Markets Live Blog, click here
Germany's upswing -- despite a slowdown in quarterly output -- continues to be a key ingredient for growth in the euro area. Momentum in the country at the end of last year was driven by a strong increase in exports, according to a national report. Government consumption and equipment investment increased, while private spending remained largely unchanged and construction slipped.
The Dutch economy also benefited from buoyant global trade. GDP increased 0.8 percent in the fourth quarter, exceeding economist estimates. Italian growth slowed to 0.3 percent, leaving it lagging behind France and Germany and providing a note of caution ahead of general elections next month. GDP increased 0.7 percent in Portugal.
"Going into this year there are reasons to expect growth to broaden," said Jennifer McKeown, chief European economist at Capital Economics Ltd. in London. "Germany will likely be among the strongest performers this year, but as you move through the year France and Italy will hopefully start to catch up."
Global Trend
Elsewhere, the Japanese economy continues to look healthy after two years of uninterrupted growth, even though growth slowed to 0.1 percent in the fourth quarter amid weaker public demand. Singapore lost some of its momentum at the end of 2017, with the government projecting a slight moderation in growth this year as an export boom eases.
Economic momentum in the euro area surged to the fastest pace in almost 12 years last month, a business survey showed, pushing firms to pile on the most additional workers since the start of the millennium.
"Euro-zone industry is a good example of a sector with still a lot of upside left," Bert Colijn, senior euro-area economist at ING Bank NV in Amsterdam, said after a report showed industrial output surged an annual 5.2 percent in December. "The acceleration of production growth is unlikely to be a one-off as the outlook for industry remains rosy."
While ECB President Mario Draghi has welcomed the region's strengthening momentum, he also cautioned against removing stimulus too quickly in light of still-muted inflation. Consumer-price growth slowed to the weakest since July at the start of the year.
"The GDP results for the final quarter of 2017 should strengthen confidence at the ECB that inflation will gradually move from 1.3 percent currently to the goal of just below 2 percent," said Alexander Krueger, chief economist at Bankhaus Lampe KG in Dusseldorf. "We don't expect an accelerated exit from asset purchases due to the continued robust upturn though."
— With assistance by Andre Tartar, and Kristian Siedenburg
With $4 Billion Bond Sale Done, Egypt Readies Euro Offer - BLOOMBERG
FEBRUARY 14, 2018
By Ahmed Feteha and Mirette Magdy
Sale 'ideally' to take place in April, finance minister says

Egypt's international bond sales help lower borrowing costs
Egypt will begin approaching investment banks in a few days for a planned sale of euro-denominated bonds after successfully raising $4 billion from international debt markets to finance the budget deficit and bolster foreign reserves, Finance Minister Amr El-Garhy said.
The sale of 1 billion to 1.5 billion euros in notes will "ideally" take place in April, and Egypt wants European banks to manage it, the minister said in a phone interview. On Tuesday, the government received about $12 billion in offers for its dollar-denominated bonds, in what the minister described as a "vote of confidence" in the Egyptian economy.
The strategy of becoming a regular issuer on international markets will enable Egypt "to borrow easily and at relatively better pricing," said Mohamed Abu Basha, an economist at investment bank EFG-Hermes in Cairo.
While the global market turmoil last week also hit the assets of developing nations, investors are still tempted by higher-yielding emerging debt in a world that remains awash with central bank stimulus. For the Egyptian government, however, borrowing costs on international markets remain much lower than local-currency debt.
Tuesday's issuance completely covers Egypt's financing gap for the fiscal year ending June 30, Deputy Finance Minister Ahmed Kouchouk said. It brings to $11 billion the total amount of international bonds Egypt has sold since floating the currency and securing a $12 billion International Monetary Fund loan in November 2016.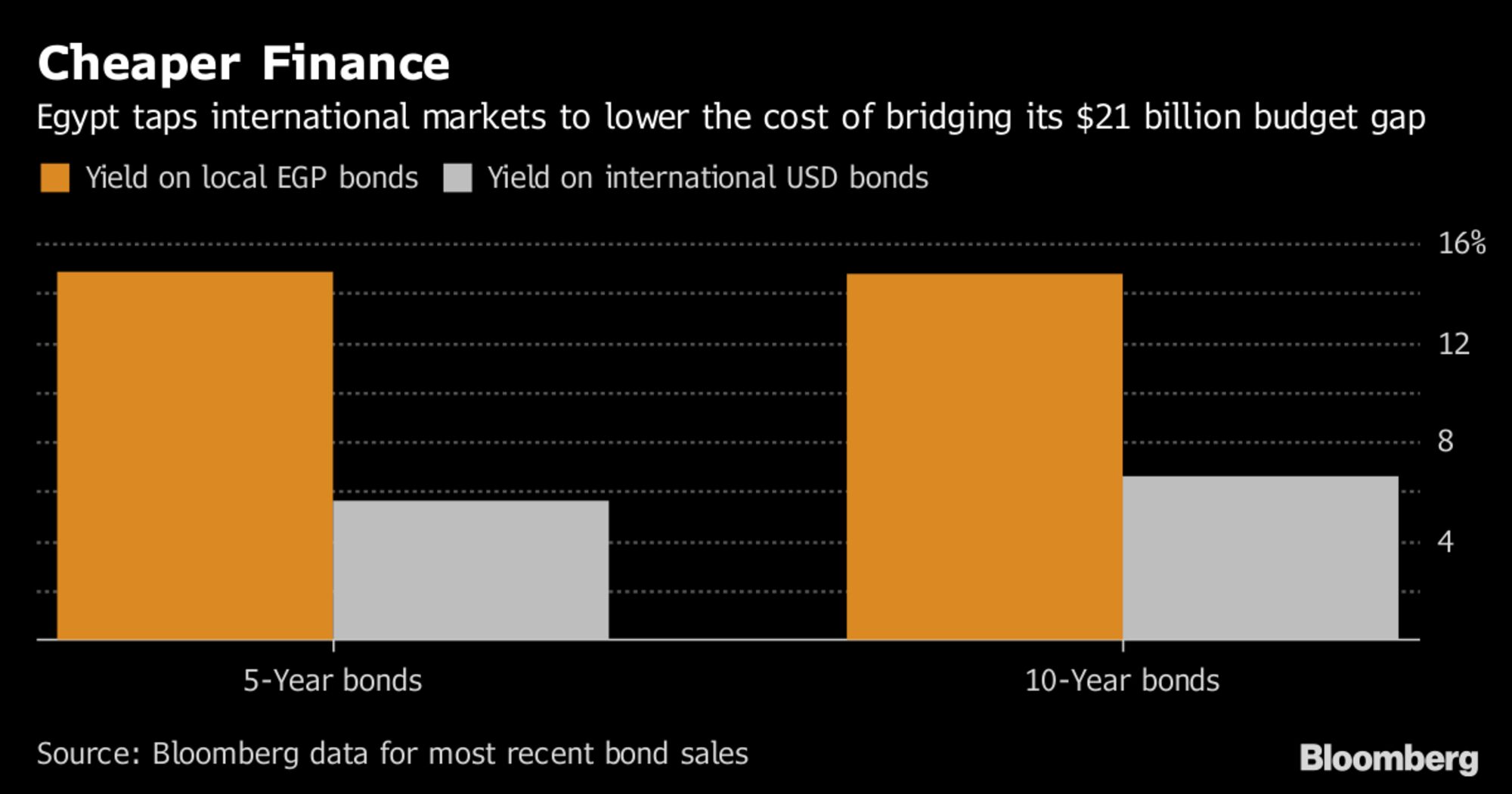 The terms for the latest issuance were less favorable than last year's due to the increase in global interest rates, El-Garhy said.
"We could've secured cheaper pricing since our risk position has improved since the last time we tapped the market, but the rise in yields on U.S. Treasuries has affected us," El-Garhy said.
Egypt's foreign-currency reserves have been steadily increasing since 2016, climbing to a record $38.2 billion January.
Tuesday's issuance was broken down into three parts: $1.25 billion in five-year notes with a yield of 5.58 percent, $1.25 billion in 10-year notes with a 6.59 percent yield; and $1.5 billion in 30-year notes with a yield of 7.9 percent, the Finance Ministry said in an emailed statement.
— With assistance by Tarek El-Tablawy, and Alexander Nicholson
PRCAN commends Buhari over executive order on expatriates, Naira - THE GUARDIAN
FEBRUARY 07, 2018
By Margaret Mwantok
The Public Relations Consultants Association of Nigeria (PRCAN) has commended President Muhammadu Buhari for signing the Executive Order criminalising the excessive use of expatriates to render professional services in the country.
The body's commendation is coming on the heels of increasing use of expatriates for jobs and services that could be provided by Nigerian professionals.
A statement signed by its President, John Ehiguese and Publicity Secretary, Israel Jaiye Opayemi, yesterday described the order as "exceptional, courageous and nationalistic, which puts our country first over and above the popular penchant of government officials for all things foreign and particularly Caucasian."
PRCAN said the move was a valid extension of the Federal Government's Buy Nigeria, Save the Naira campaign, insisting that most government officials have treated the campaign with contempt.
It assured President Buhari of its readiness to play the role of whistle blowers in relation to the Public Relations and Marketing Communications sector and promised to provide the Presidency with the details of foreigners operating agencies illegally in defiance to the laws regulating the industry.
"President Muhammadu Buhari can rest assured of our support in this regard. We will compile the names and addresses of those currently operating illegally here against the extant law regulating the Public Relations practice in Nigeria.
Nigeria Beyond Oil - THISDAY
FEBRUARY 07, 2018
Obinna Chima writes on the need for Nigeria's policy makers to prepare the economy for a post-crude oil era
A 2017 study that was published by Stanford University suggested that fossil-fuelled cars would vanish within eight years – and citizens will have no choice but to invest in electric vehicles or similar technologies.
This, according to the report, would bebecause the cost of electric vehicles – including cars, buses, and trucks – will ultimately decrease, resulting in the collapse of the petroleum industry.
Led by Stanford University economist, Tony Seba, the report had caused spasms of anxiety within the oil industry, when it was released.
Entitled "Rethinking Transportation 2020-2030," it had detailed how people will ultimately switch to self-driving electric vehicles, stating that they would be ten times cheaper to maintain than cars that run on fuels.
According to the report, in less than a decade, it would become very difficult for consumers to find petrol stations, spares or mechanics knowledgeable enough to fix combustion engines. His ultimate premise was that modern-day car dealerships would disappear by 2024 as the long-term price of oil.
Clearly, while the advent of electric cars may not be embraced in Africa in the coming years as estimated by Seba, this innovation coupled with shale oil as well as other technologies in crude oil production is going to disrupt the sector.
Indeed, it is going to have an attendant effect on the demand for crude oil from Nigeria and other oil producing economies.
In Nigeria, oil accounts for almost 90 per cent of the country's export and 95 per cent of revenues, respectively.
In fact, when the economy slipped into recession in 2016, it was because of the collapse in crude oil revenue and an increase in oil production saw the country exiting recession. But the oil industry contributes little in direct employment relative to its contribution to government revenues.
The foregoing therefore was the reason why experts that spoke at the Nigeria Economic Outlook Conference (NEOC) 2018, stressed the need for government to genuinely pursue its much talked about drive for economic diversification.
No doubt, the country's abysmal low tax base, as well as the internally generated revenue are all because of laziness on the part of the country's political leaders since the discovery of oil.
In addition, the political tension and civil arrest in the country have in most cases by traced to the fight for share of the revenue accruing from oil revenue.
Nigeria has been projected to be the world's third most populous country by 2050, according to the United Nations Department of Economic and Social Affairs. With that, the country would have a median age of 22, making Nigeria the third most populous country in the world, after India and China
Also, there have been outstanding and rapid developments in the field of robotics, leading to the emergence of robots that can replace human in many manufacturing process.
As a result, the manufacturing activities that were typically outsourced to developing countries in the past due to high labour cost.
To the President of Times Economics, an economic consulting firm and the organiser of the NEOC, Dr. Ogho Okiti, there need for policymakers in the country to start preparing for a Nigeria that is not driven by activities in the global crude oil market.
He noted that for five decades, Nigeria's relationship with the global economy was shaped by the sale crude oil and the attraction of investment to the sector.
Okiti, however, pointed out that in the last decade, two important features have continued to threaten the allure to the country's oil sector.
"First, we have seen and continue to see, very aggressive development of alternative sources of energy.
"Secondly, we have also seen the development of technology that made previously inaccessible crude oil available at reasonable cost.
"Combined, the implication is that today, the world thinks more about when there would be a peak in the oil demand, compared to about 20 years ago, when the thought was about whether the world would run out of oil," Okiti explained.
These, he also noted would have severe implications for the Nigerian economy and its future relationship with the global economy.
"If development continues at this pace, the manufacturing route to prosperity which was once open to Asian tigers, could be closed to Nigeria.
"The shift towards nationalisation as seen in United States and the Brexit referendum has also influenced hostility towards international trade and migration," he warned.
Human Capital Development
To the founder and chief executive of the Computer Warehouse Group (CWG), Mr. Austin Okere, there is need for increased investment in human capital to drive activities in the country, especially the non-oil sector of the economy.
Okere noted that the issue about crude oil is that it dominates so many other sectors and makes it difficult for policymakers to take their eyes away from it.
"Crude oil prices would go up and down and nothing is going to hold it stable. There are other areas such as media, entertainment, agriculture, that we can develop and even export.
"I think we should start looking at the fourth industrial revolution and how we can leapfrog on it. But I think we shouldn't be too fixated on crude oil prices," he added.
Also, the chief executive, Rise Network, Mrs. Toyosi Akerele-Ogunsiji, urged Nigerians to disregard the notion that the country is an oil-rich economy, saying that countries are not adjudged to be rich because of what they have, but because of their know-how.
She expressed disappointment that since the discovery oil in the country several decades ago, it has remained only at the stage of primaey production with no value addition.
"At the end of the day, oil will not refine itself, you need the human capital of those countries to be able to refine the oil.
"If you really appraise the parameters you measure to know whether countries are successful or not, Nigeria does not feature in any of it. But the challenge is the amount of energy we spend discussing issues around oil. There is need for the country to prepare for a post-oil economy.
"We need to start thinking about how to move on from a country that is so oil dependent to a country where we can begin to create wealth. The truth is that economies that consume are superior to economies that produce," she argued.
On his part, the chief economist at Macroafricaintel Investment LLC, Dr. Rafiq Raji, noted that less demand for crude oil as a result of electric car and other innovations in crude oil production means that any supply management by the organisation of petroleum exporting countries (OPEC) in the future may not succeed.
"Our vulnerability extends to the fact that we are not preparing for that future. The best we have been able to do is to talk about how agriculture can help us.
"Now, if developed economies can produce goods with less human needs and in a cheaper manner, that means there is nothing we can do to be competitive," he explained.
FG's Response
The Minister of Finance, Kemi Adeosun, recently pointed out that the federal government was no longer bothered by fluctuations in the price of crude oil.
According to Adeosun, the federal government has learnt to live with a low crude oil price.
"We have gotten to a point where we don't care whether oil prices will be sustained at the level that they have recently risen to.
"We have been able to balance our budget at $45-$46 per barrel and we've got to learn to live comfortably at that level,'' she said.
She said the government's diversificationefforts include pushing for agricultural expansion to reduce a heavy food-import bill and boost exports. Adeosun while noting that the government was seeking to plug an infrastructure gap of $25 billion, said "the infrastructure gap is significant, it is far bigger than anybody had imagined, in power, in roads, in rail."
Way Forward
For Raji, there is need to increasingly encourage activities in the non-oil sector, especially as regards to innovation, as well as make sure there is adequate policy around credit.
"When you don't resolve some of the structural challenges, like power for instance, there is not much that can be done.
Unless we resolve some of these constraints, we are not going to extract wealth from the real sector," he advised.
Also, Okere pointed out that the biggest employers of labour in the country presently are the entrepreneurs, stressing the need for capacity building and other incentives that would encourage business owners.
"Many of them can do better if they are empowered with technology and inclusiveness. The human capital development is extremely important, because that is where the wealth is.
"Power is the fundamental for industrialisation. Another thing that very important is broadband," he added.
The foregoing shows that there is an urgent need for the country to fast-track its transition to a post oil economy. Government at all levels need to start thinking and encouraging creativity and innovation. All over the world, there are resource rich countries that are not dependent on commodities and have been able to transform their economies. What the country requires today is to enhance its investment in infrastructure, education and manpower development, which would in turn drive competitiveness.
Guide to Doing Business in Nigeria Makes a Debut - THISDAY
FEBRUARY 07, 2018
The federal government's drive to improve the ease for doing business has received a boost as investors and would-be-business owners now have a handbook on how to obtain licences and permits when doing business in selected sectors in the country.
Publishers of the handbook, A&E Law Partnership, in a statement yesterday in Abuja, said it was part of their contribution to improving the environment for doing business in Nigeria.
The foreword to the handbook written by Peter Ntephe, said the Guide is "a one-stop-shop handbook on the rules for entry into various sectors of the Nigerian economy. Key processes and procedures are outlined in as much a succinct way as possible, along with the fees for obtaining licences and registrations."
This handbook which is a product of the knowledge gained by the law firm over the years in "its core competences" is a praiseworthy compendium and guide to the rules and regulations for doing business in the 'commanding heights' of the Nigerian economy."
According to the Managing Partner of A&E Law Partnership, "The Doing Business Handbook adopts a sectoral approach, respectively explicating the requirements for operating in insurance, aviation, cabotage, banking, energy and power, solid minerals, telecommunications, entertainment, food and beverages, private security, oil and gas, among others. There is also coverage of matters that are applicable across sectors, such as immigration, environmental standards, intellectual property and capital markets."
Beside these, there is a section devoted to foreign investors, providing an advisory on organisational forms available as well as other subjects of potential interests, such as repatriation of profits and tax exemptions.
He said the handbook is a "must have table-top business advisory for professionals, including lawyers, accountants and bankers as well as to investors, entrepreneurs and firms doing or seeking to do business in Nigeria. Students and academics whose disciplines require knowledge of matters within the remit of the guide will also find it a useful library reference."
Nigeria: Passengers Panic As Dana Airline's Door Falls Off - PREMIUM TIMES
FEBRUARY 07, 2018
By Oladeinde Olawoyin
Some passengers of Nigerian air carrier, Dana Airline, expressed fear when the door of an aircraft belonging to the airline fell off upon landing.
One of the passengers on the flight, Dapo Sanwo, said the door panel was loose all through the flight,a situation he described as an indication of "lack of maintenance."
Another passenger, Ola Brown, who took to his twitter page to vent his frustration, said the experience was scary.
Mr. Brown narrated that the exit door of the aircraft was unstable all through the flight, adding that it fell off as soon as the aircraft landed.
"Flew Dana. Exit door was unstable throughout flight. As we touched down, it fell off. Scary stuff," he wrote on twitter.
"I was closer to the front so when I heard the sound, (I) thought it was an explosion. (I) couldn't quite comprehend that it (the door) had just fallen off."
Details of the incident and its causes were not immediately clear.
When PREMIUM TIMES contacted the corporate communication desk of Dana Air Wednesday morning, the airline said it would need to be briefed by its engineers before reacting to the development.
"We need to also get the engineers to give their report," a staff of the airline's corporate communication desk told PREMIUM TIMES Wednesday morning.
Details later... .
Wall Street FX Strategists Hit Reset After Euro Calls Fall Short - BLOOMBERG
FEBRUARY 07, 2018
By Alexandria Arnold
7 February 2018, 00:00 WET
Euro up more than 3% in 2018, above prior targets for year-end

Some analysts now predicting move toward $1.30 area for euro
Wall Street's top currency strategists had the right idea when it came to the euro -- they just weren't right enough.
Foreign-exchange forecasters are headed back to the drawing board less than six weeks into the new year after the euro blew straight past most of their predictions for 2018. Europe's common currency has already advanced more than 3 percent since Dec. 31, easily topping the median survey forecast of $1.22 from back then. It's currently trading closer to $1.24, even after a pullback over recent days, and its advance has prompted a swath of analysts to lift their projections.
The euro's rally comes as the region's economy picks up steam and the European Central Bank plans its stimulus-exit strategy. Meanwhile, the market is already pricing in several more interest-rate increases this year by the Federal Reserve, and the dollar may face headwinds as America embarks on a debt-financed fiscal expansion and protectionist rhetoric increases.
"We were prepared for some euro appreciation, but not the aggressiveness of the move," said Valentin Marinov, global head of G-10 FX research at Credit Agricole SA. "The common denominator in the case of euro-dollar and also cable is really dollar weakness."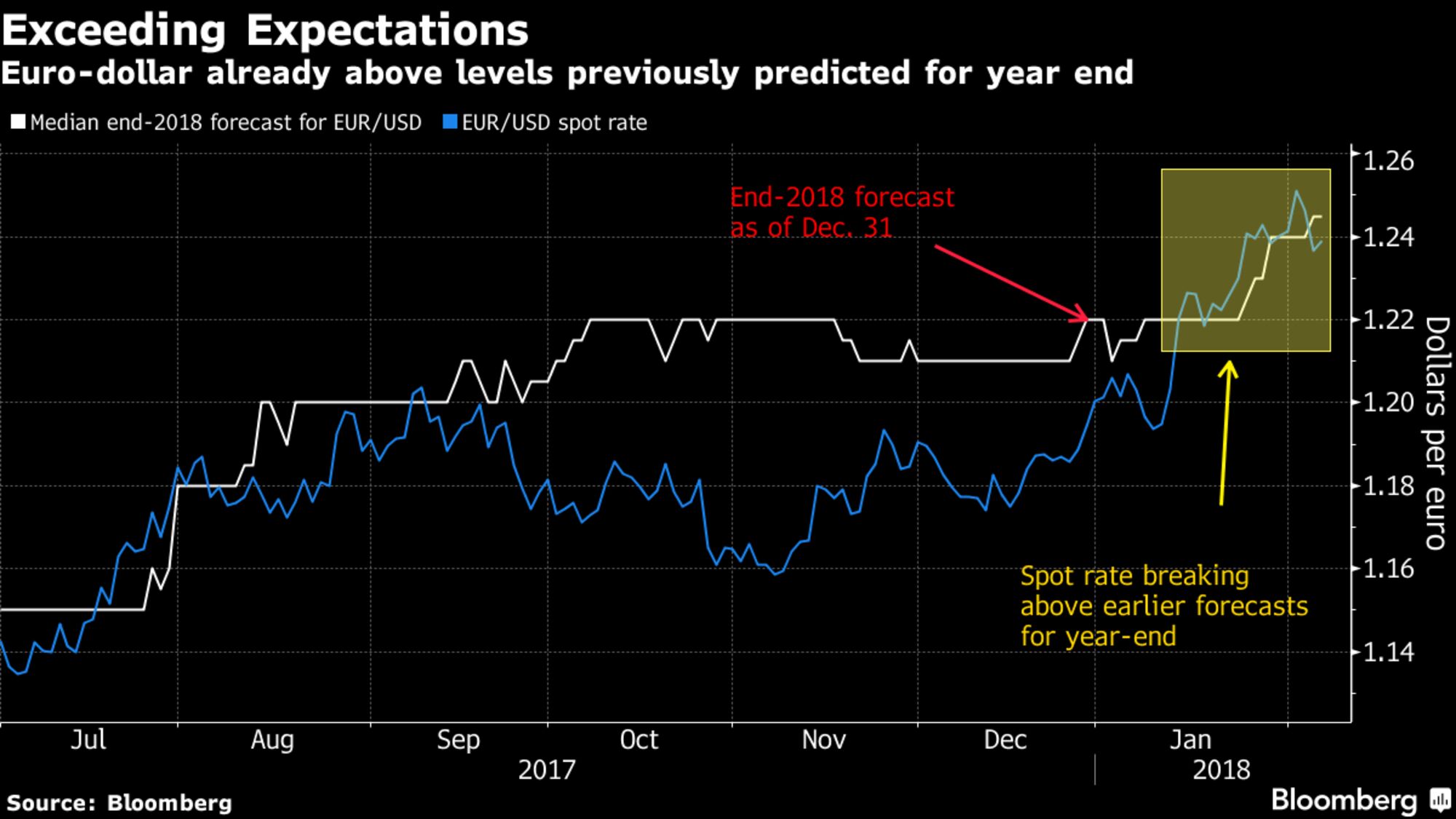 Marinov is far from alone. Goldman Sachs Group Inc., JPMorgan Chase & Co., HSBC Holdings Plc, ING Groep NV and UniCredit SpA have all raised their euro-dollar forecasts this year. Credit Agricole is now expecting the pair to reach $1.26 by year-end, while JPMorgan is targeting $1.29 and Goldman and ING are forecasting the common currency to finish 2018 at $1.30.
Read More: Traders See No End to Dollar Pain in 2018
Only two firms who contribute to Bloomberg currency forecast data had fourth-quarter euro-dollar projections at or above $1.28 at the beginning of the year. Now, that number has ballooned to 18. And comparing the same periods, the median forecast for end-year has risen from $1.22 to $1.25, already near where the common currency is currently trading. The euro was at $1.2377 as of 5 p.m. in New York.
The 19-nation currency is likely to remain bid for at least the first half of the year, according to Canadian Imperial Bank of Commerce North American head of foreign-exchange strategy Bipan Rai.
While ECB bond-buying is scheduled to last until at least September and President Mario Draghi has said rates will remain on hold "well past" the end of asset purchases, some policy makers are saying the central bank needs to be more specific in how long it will stand pat. Tightening the language on rates would be welcomed by more hawkish officials, who want to set a definite end-date for asset purchases.
"A lot of what we've seen in euro-dollar price action has caught us a bit off-guard," Rai said. "It's been a lot swifter than we expected. We didn't envision the hawks on the ECB board would be this vocal and there'd be growing signs of schisms within the governing body of the ECB."
While the Federal Reserve's policy normalization efforts are significantly ahead of the ECB's as U.S. unemployment hovers at the lowest since 2000 and rising wages signal a potential rebound in inflation, strategists say those would-be dollar positives are largely priced in. Brightening economic outlooks abroad along with prospects for scaled-back stimulus are overshadowing U.S. rate hikes and the Fed's asset-purchase wind-down.
"Given the return of U.S. protectionism, the persistent flatness of the U.S. Treasury yield curve, plus the fact people are now speculating about reserve diversification out of the dollar, a more cautious view of the dollar may be warranted," Marinov said.
Even as strategists expect the euro to continue strengthening, the move will likely be a slower grind in the second half as net-long wagers appear elevated and expectations for the ECB might be overly optimistic. Euro positioning among hedge funds and other large speculators is the most bullish on record in Commodity Futures Trading Commission data that goes back to 1999, according to figures for the week through Jan. 30.
"We're in a structural bear trend for the dollar and our gauge shows that the dollar is around 8 to 10 percent overvalued still," Rai said. "Even if the Fed is raising rates, that's something that needs to be corrected."
South Africa's net foreign reserves rise to $43.6 bln in January - REUTERS
FEBRUARY 07, 2018
JOHANNESBURG, Feb 7 (Reuters) - South Africa's net foreign reserves rose to $43.588 billion in January from $42.927 billion in December, the Reserve Bank said on Wednesday.
Gross reserves, however, fell to $50.501 billion from $50.722 billion, the central bank data showed.
The forward position, which represents the central bank's unsettled or swap transactions, increased to $2.024 billion from $1.196 billion. (Reporting by Mfuneko Toyana; Editing by Gopakumar Warrier)
Kenya targets 2021/22 to begin oil export - NAN
FEBRUARY 07, 2018
Kenya will start exporting oil on commercial scale in the next five years, Africa-focused oil and natural gas producer Tullow Oil said on Wednesday.
Tullow said extended well tests, water injection tests, well interference tests and water-flood trials have proved helpful for planning the development of the oil fields.
"The exploration and appraisal campaign in Kenya has confirmed the presence of substantial oil resources in the South Lokichar Basin.
After over six years of hard work, we can now move forward to commercialising these low cost resources through a phased development of the basin involving a central processing facility and an export pipeline to the Kenyan coast," said Mark MacFarlane, Executive Vice President for East Africa.
"In 2018, we will focus on taking the project towards Final Investment Decision (FID) in 2019 with a prudent and flexible plan of execution that can take advantage of low oil services costs and deliver first oil and cash flow as soon as possible.
" With good progress being made in Uganda towards FID, East Africa is on the verge of becoming a major oil exporting region."