Aboki News
Dollar surges past 107 yen before U.S. price data - REUTERS
MARCH 13, 2018
LONDON (Reuters) - The dollar surged against the yen on Tuesday, heading for its biggest single-day rise in five months, before inflation data later in the day that may alter expectations for U.S. interest rate moves this year.
Markets have priced in 75 basis points of rate rises in the United States so far this year, and analysts say stronger-than-expected inflation data might cement the case for a fourth increase in 2018 after strong jobs data last week.
"The broader story remains that of U.S. monetary policy normalization in the backdrop of an improving economy, and a further decline in currency market volatility would only fuel more risk taking appetite," said Commerzbank's FX strategist Thu Lan Nguyen.
The dollar rose to a two-week high and was up 0.7 percent on the day at 107.28 yen, its biggest single-day rise since late October. Even so, the yen was set for a 5 percent gain against the dollar so far this year.
Against a basket of currencies .DXY, the dollar gained just 0.1 percent at 90.02.
The yen came under some pressure from a scandal involving Prime Minister Shinzo Abe. It weakened by 0.3 to 0.5 percent against other major currencies after Japan's ministry of finance said on Monday it altered documents for a sale of state-owned land linked to Abe's wife.
However, Marc Chandler, global head of currency strategy at Brown Brothers Harriman in New York said that"many see the eruption of the scandal that threatens senior government officials as yen-positive because it weakens those that ostensibly want to depreciate the yen through monetary policy."
Morgan Stanley strategists said a further deterioration in Abe's political situation might see the yen"forcefully return towards its previous upward trend."
Elsewhere, the renewed drop in currency volatility prompted investors to bet on higher-yield currencies. The Australian dollar AUD=D3 recovered from three-month lows and the euro EURCHF= gained nearly 2 percent in the last 10 trading sessions against the Swiss franc.
The euro EUR=EBS was broadly flat around $1.2329 against the dollar on the day.
A key focus for investors is the U.S. consumer price data due at 1230 GMT. Median forecasts by economists polled by Reuters forecast annual core CPI inflation USCPFY=ECI of 1.8 percent in February, flat compared with January.
A higher reading could stoke expectations the Federal Reserve will raise rates four times this year rather than three. A rate increase at its meeting on March 20-21 has been long considered a done deal. Another increase in June is almost fully priced in.
But traders are also aware that the prospects of more U.S. rate hikes may not lift the U.S. currency, considering other factors weighing on the currency.
One big issue is U.S. President Donald Trump's tariff on steel and aluminum, which many investors worry could trigger retaliatory moves by U.S. trade partners and hurt the economy.
Elsewhere, sterling slipped 0.1 percent against the euro on the day, after the EU's chief Brexit negotiator, Michel Barnier, said that Britain cannot retain the benefits of the European Union after it leaves the bloc in 2019.
Reporting by Saikat Chatterjee; additional reporting by Hideyuki Sano and Masayuki Kitano in Tokyo; editing by Larry King
Sterling falls ahead of Hammond's economic update - REUTERS
MARCH 13, 2018
LONDON (Reuters) - Sterling slipped on Tuesday as traders shied away from taking out big positions ahead of U.S. inflation data and a half-yearly update on the public finances from the British finance minister.
Philip Hammond is expected to announce an improvement in the country's slow economic growth outlook in the run-up to Brexit while stressing that his priority remains to ease the pounds in public debt.
The spring statement will burden of Britain's 1.7 trillion be the focus today. In terms of the implications for the pound, it will be limited," said Lee Hardman, an analyst at MUFG, while adding that an upgrade to economic growth could"at the margins be supportive" for sterling.
With Britain stuck in negotiations with the European Union to try to agree the terms of a transition deal to cover the period after it leaves the bloc, Brexit continues to overshadow other influences on the pound.
The junior Brexit minister Robin Walker said on Monday that Britain was very close to agreeing the details of the implementation period with the EU for its transition out of the bloc. Britain is due to leave in March 2019.
Renewed concerns about the state of Brexit talks after the EU rejected some British proposals for a trade deal last week have weighed on the pound in recent weeks, as has a recovery in the dollar.
Sterling fell 0.2 percent to $1.3879 as the dollar pushed higher.
A focus for investors is the U.S. CPI data due at 1230 GMT. Median forecasts by economists polled by Reuters point to annual core CPI inflation of 1.8 percent in February, which would be flat from January.
Against the euro, sterling dropped 0.1 percent to 88.85 pence per euro.
Societe Generale's Kit Juckes said Hammond's statement, due at 1230 GMT, had been downgraded from a"major event to a mere speech". The euro versus sterling remained"stuck in a range", he said.
Reporting by Tommy Wilkes; Editing by Alison Williams
Another Exchange Jumps on Bitcoin Bandwagon - WSJ
MARCH 13, 2018
Startup trueEX says it plans to offer derivatives on bitcoin
A bitcoin-related product is the latest gambit of trueEX co-founder and Chief Executive Sunil Hirani, a serial entrepreneur. PHOTO: MIKE SEGAR/REUTERS
By
Alexander Osipovich
March 12, 2018 11:35 a.m. ET
A startup exchange active in the derivatives market is expanding into bitcoin, the latest sign that market operators remain excited about cryptocurrencies despite bitcoin's recent price slump.
New York-based trueEX LLC on Monday announced plans to offer derivatives on bitcoin and other "digital assets." That makes it at least the sixth U.S. trading venue to jump into cryptocurrency derivatives in recent months.
Bitcoin's price has fallen in half since hitting a high of nearly $20,000 in December, when investor mania for the digital currency hit a recent peak. But even with bitcoin's value bobbing around $10,000, more financial firms have been eager to offer new products tied to the volatile digital currency.
Chicago-based exchange giants CME Group Inc. CME -1.31% and Cboe Global Markets Inc.CBOE -0.58% launched bitcoin futures in December. Their contracts let traders bet on the price of bitcoin without directly holding the digital currency, all on a regulated marketplace.
Some lesser-known players have also launched or planned to launch bitcoin derivatives, including LedgerX, a startup bitcoin-options exchange; Cantor Exchange, a small trading venue owned by broker Cantor Fitzgerald LP; and Nadex, owned by London-based IG Group .
Nasdaq Inc. has also said it is exploring the idea of introducing bitcoin futures.
Like its predecessors, trueEX is betting that Wall Street banks and money managers want to be able to trade bitcoin on a regulated market, without the risks that often come with cryptocurrency exchanges, such as theft.
The move is the latest gambit by trueEX co-founder and Chief Executive Sunil Hirani, a serial entrepreneur who helped bring derivatives trading from the phone to the screen over the past two decades and has more recently been eyeing opportunities in cryptocurrencies.
TrueEX initially plans to offer a type of contract called a "non-deliverable forward" linked to bitcoin prices. Such contracts are popular in foreign-exchange trading. They allow two parties to agree to pay each other in the future an amount based on the value of two currencies, such as the dollar and the euro.
The plan is under review by the Commodity Futures Trading Commission, which regulates trueEX, the company said in a statement.
Related Video
Bitcoin vs. Regulators: Who Will Win?
As bitcoin has emerged from the underground world of nerds and criminals to become a mainstream investment, the risk of hacks and scandals has also blossomed. What's a government to do? The WSJ's Steven Russolillo travels the world (sort of) to see how regulators are responding to the remarkable rise of cryptocurrencies. Video: Sharon Shi and Crystal Tai
Despite the budding interest in bitcoin, many on Wall Street are still wary of trading the cryptocurrency because of its uncertain legal status, as well as the risk that their holdings could be stolen by hackers. Investors have lost more than $700 million worth of digital currencies this year in hacks of cryptocurrency exchanges in Japan and Italy.
The bitcoin-futures market remains small compared with that for bitcoin itself. In February, about $75 million worth of CME's futures changed hands each day, on average, while the comparable number at Cboe was around $62 million. Meanwhile, an average of over $1 billion worth of bitcoin changed hands daily on major cryptocurrency exchanges last month, according to blockchain.info, a bitcoin data and services provider.
Founded in 2010, trueEX isn't the first exchange to try to launch non-deliverable forwards on bitcoin. TeraExchange LLC, a startup trading platform, introduced a similar product in 2014 but it never gained traction.
Mr. Hirani has a history of building successful ventures. In 1999 he co-founded Creditex, one of the first electronic-trading venues for credit-default swaps—a type of derivative that can used to be bet on whether a company or group of companies defaults on its debt. Nine years later, he sold Creditex to Intercontinental Exchange Inc. for $513 million.
He returned to his entrepreneurial roots with trueEX, which sought to take advantage of postcrisis regulations that pushed more derivatives trading onto electronic platforms.
The company is now the sixth-largest venue for the trading of interest-rate swaps in the U.S., having traded $9 trillion of them last year, according to industry group FIA.
Write to Alexander Osipovich at [email protected]
U.S. Dollar Weakens as Investors Seek Second Opinion on Inflation - WSJ
MARCH 13, 2018
Investors look ahead to consumer price data and reports on wholesale prices, retail sales
By Daniel Kruger
The U.S. dollar edged lower Monday as investors sought confirmation about the pace of inflation after last week's weaker-than expected report on wage growth.
The WSJ Dollar Index, which measures the U.S. currency against a basket of 16 others, declined for a second consecutive day, dropping 0.2% to 83.63. The currency lost 0.2% against the euro and and 0.4% versus the British pound and Japanese yen.
The Labor Department will release data on the consumer price index Tuesday which could confirm that inflation remains tepid, even as the job market remains tight. The dollar weakened Friday after a Labor Department report showed that wages rose 2.6% from a year earlier in February, below economists' estimates, and the annual wage gain in January was revised down to a 2.8% increase. The report also showed that nonfarm payrolls rose a seasonally adjusted 313,000 last month, the strongest monthly gain since July 2016.
Investors will also be looking to reports on wholesale prices and retail sales, in a wave of data arriving before a two-day Federal Reserve meeting that concludes March 21. Policy makers are expected to raise interest rates at the meeting and are scheduled to release updated forecasts for the path of monetary policy and economic growth.
"The markets are taking a step back because it's going to be a very eventful data week for the U.S.," said Paresh Upadhyaya, who manages currencies for Amundi Pioneer Investments. "We're sort of in a holding pattern."
The inflation data are particularly important, as many private economists have forecast the Fed will raise interest rates four times this year, compared with the three increases policy makers penciled in at their December meeting. Should Fed officials signal they intend to accelerate the pace of monetary tightening, it could give a boost to the dollar, which had declined 2.5% through March 9. Higher interest rates typically support a nation's currency by offering a greater rate of return.
Write to Daniel Kruger at [email protected]
Faulty business models, policies shrink air travel market, survival of airlines - THE GUARDIAN
MARCH 13, 2018
By Wole Oyebade
Beyond the prevailing harsh operating environment, the faulty business models airlines' operators often adopt may be responsible for the perennial low market penetration and short lifespan of local carriers in the country, findings by The Guardian has shown.
Further findings by The Guardian also revealed that equally poor extant policies of regulators are not encouraging niche markets and other innovations to maximise the potential market at large.
Rather, an environment is created where all operators converge on the small viable high traffic routes, with gross under-utilisation of available equipment and neglect of potential traffic.
The consequence is that less than seven per cent of the population travel by air till date, with perennial low turnover for operators and steady decline in terms of viability and lifespan of airlines.
Records made available by the Nigerian Civil Aviation Authority (NCAA) show that no fewer than 40 registered airlines, scheduled and non-scheduled, have colapsed in the last 15 years.
Among the carriers are Associated Aviation, Allied Air, Hak Air, Kabo Air, TAT Nigeria, Belview, Sossoliso, Chanchangi, Sky World Express, Virgin Nigeria, ADC, Concord Airlines, IRS and Okada Air.
The high turnover in mortality rate, perhaps a record in global aviation, is often blame on various reasons including unfriendly business environment, multiple charges, lack of government's support, non-viable routes and low patronage.
Indeed, Nigeria has about 180 million population and one of the lowest air traffic demands by population. For instance, the air travel sector in 2017 transported a total of 11.3 million passengers, which is a dip from 12.2 million that travelled in 2016, as shown by the NCAA's factsheet. By implication, less than seven per cent of the population travel by air.
Meanwhile, there are 26 airports scattered across the country with more than two-third of the 36 states, including the Federal Capital Territory (FCT), having at least an airport.
Station Manager at Yola Airport in Adamawa State, Sheik Abdullahi, told The Guardian that it is not that people in Yola, Sokoto, Jalingo, Jos, Markurdi, Minna, Yenogoa, Ibadan, Akure, Maiduguri and so on, don't want to travel by air, being the fastest and safest mode of transportation. "But we all get frustrated having to sleep in airport for two to three days waiting for an airline that may not even come," Abdullahi lamented.
Fact is that it makes no economic sense for airlines to fly to an airport where there is no guarantee of at least 80 per cent load factor as the Lagos, Abuja, Port Harcourt and, sometimes Kano, routes offer.
Chief Operating Officer of one of the popular airlines narrates that it costs at least N800,000 to N1million to fuel a Boeing 737 aircraft to do a frequency of two landings. "Imagine if all you have as passengers are 20 persons going and 10 on the return with each paying N24, 000 for ticket (N720,000). Is that a profit or loss, on fuel alone?"
But route viability, as a determinant, was hardly the case in the 80s and 90s. Group Captain John Ojikutu (rtd), recalled that the defunct Nigerian Airways in its hey days strategically covered most parts of the country, including regional and international routes.
For example, the national carrier, flew the B727 and B737 to Kano where it already positioned the Fokker F27 turboprop that would fly passengers destined to Sokoto, Kaduna and Jos twice daily and also to Makurdi and Yola. Besides, there were direct flights to Yola and Maiduguri from Lagos, once a day. There were 50-seat capacity F27 flights from Lagos to Ibadan and Benin too.
"Nigeria Airways was flying F28 aircraft mainly to other places like Enugu, Port Harcourt, Calabar at least twice daily. The airline had 32 aircraft and could in addition fly the west coast. In addition, Nigeria Airways was flying to New York, London, Frankfurt, Amsterdam, Rome, Jedda, Nairobi, and so on."
Ojikutu, the Secretary General of the Aviation Safety Round-table Initiative (ASTRI), said what has changed and where the current operators are getting it wrong is in business plan that is tailored at flying all routes with Boeing and Airbus types of aircraft.
"You cannot fly all the routes at the same time. That is why I recommend that new airlines should start with a minimum of five aircraft and target about four or five routes. From Lagos, transport everyone to Abuja or Kano and from there use the smaller aircraft to distribute into other states. Flying big aircraft like Airbus without a full load is a big problem; you are losing money. And that is the major problem that I have seen here," Ojikutu said.
Fact is that at least 90 per cent of airplanes in commercial operations in the country are the B737 series, which is considered fuel inefficient and runs at a loss without 90 to 95 per cent load factor per flight.
Former Managing Director of Defunct Virgin Nigeria, Capt. Dapo Olumide, said the B737 series are now rarely used on shorthaul services because of their low fuel efficiency. "So, it is now like buy one, get one free. That is why everyone is buying it here," Olumide said.
Apparently in agreement with Ojikutu and Olumide, Captain Roland Iyayi, however, stressed that there is no separating the faulty business models and wrong types of equipment from the regulatory policies that permitted them and allowed the industry to stagnate.
Iyayi said a business model is a dictate of what obtains in an operating environment but "if the extant policies do not support the kind of business one wants to operate, such is bound to fail irrespective of how wonderful the model is."
Iyayi, a former Managing Director of the Nigerian Airspace Management Agency (NAMA), explained that the policies of the NCAA are such that welcome all-comers "without due diligence of cross-checking business case assumptions in line with the realities and needs of market".
He observed the new airlines in countries like Brazil, Ethiopia and even Ghana, are hardly allowed into already established local market, to protect operating airlines from failing. So, new entrants must have their niche market.
"To do contrary is to end up with what we have here. You have a situation where all the airlines are concentrated on three routes, engaging in destructive competition because you are throwing too much capacity into the otherwise saturated market.
"These three routes give you 80 per cent of the traffic. In realistic terms, what is the break-even factor that each airline would have? It all tells you that the NCAA does not see the wisdom to licence airlines to focus on niche markets like Minna-Abuja or Minna-Sokoto and so on."
When Will Stocks Tumble Again? Investors Look to Bitcoin for Answers - WSJ
MARCH 13, 2018
Highly volatile digital currency becomes 'a sign of speculative enthusiasm' for some
Bitcoin is seen fulfilling a role that other highly volatile investments have played during previous market run-ups: The highest-returning asset is often among the first to fall when investor appetite for risk starts to change. PHOTO: LUKE MACGREGOR/BLOOMBERG NEWS
By Ben Eisen
Investors are latching onto bitcoin as a new indicator for determining whether the stock market is headed for another downturn.
A number of traders said they started paying closer attention to the highly volatile digital currency after it suffered a sharp fall about a month before the global stock market decline. The price of a bitcoin roughly halved from its late-December high of near $20,000, reversing a powerful speculative rally. That was followed by the first 10% decline in the S&P 500 in two years, beginning in late January. Recently, both have been volatile.
Some investors say the tandem moves suggest bitcoin may be a barometer of investor sentiment that ultimately feeds into the stock market and other risky investments. If stocks are headed for another pullback, the thinking goes, bitcoin may fall first—and harder.
"We've begun to watch bitcoin more closely as a sign of speculative enthusiasm," said Doug Ramsey, chief investment officer of the Minneapolis money manager Leuthold Group. The top in bitcoin in December and stocks in January marked a peak in investor optimism, Mr. Ramsey said.
Crypto CueInvestors have increasingly turned to bitcoinas an indicator as the digital currency andstocks move in closer alignment.Bitcoin price
Record highOct. '17Dec.Feb. '1802,5005,0007,50010,00012,50015,00017,50020,000$22,500
S&P 500
Record highOct. '17Dec.Feb. '18240025002600270028002900
The 90-day correlation between bitcoin andS&P 500 returnsSources: CoinDesk (bitcoin); SIX Financial (index);DataTrek Research (correlation)
Oct. '17Dec.Feb. '180.000.050.100.150.200.250.300.35
Tom Forester, chief investment officer at Forester Capital Management, said he pays particular attention to the big moves in the cryptocurrency when looking for signals. "We do view bitcoin as a sentiment indicator," he said.
In recent days, stocks and bitcoin have both been volatile, but for different reasons. Equities fell as the U.S. discussed and signed tariffs on steel and aluminum, then rebounded after a strong jobs report on Friday. Bitcoin prices dropped below $10,000 apiece recently as regulators globally scrutinized cryptocurrencies.
Still, the relationship has been most closely aligned when investor sentiment is driving financial markets. Last month as the stock market sold off, the correlation between the cryptocurrency and the S&P 500 jumped to its highest in records going back to the beginning of 2016, according DataTrek Research, which looked at that link on a 90-day basis. Shorter-term correlations spiked as well, the firm found.
For some investors, bitcoin is fulfilling a role that other highly volatile investments have played during previous market run-ups when frothy levels had become a concern: The highest-returning asset is often among the first to fall when investor appetite for risk starts to change.
During the 1990s dot-com boom, for example, some of the most speculative companies with little or no profit history, from e-commerce retailer Pets.com Inc. to online grocery business Webvan Group Inc., shot to prominence the fastest. They were also among the hardest to fall, signaling a broader market retreat when the S&P 500 dropped 49% from its peak in 2000 to its trough in the fall of 2002.
With the U.S. stock market bull run reaching its nine-year anniversary on Friday, investors are worried that the Federal Reserve is starting to pull back its extraordinary easing measure at a time when valuations are becoming stretched and the long U.S. economic expansion appears to be in its later stages. The proposed steel and aluminum tariffs have ignited concerns of a trade war. All this has traders looking for fresh signs that investor sentiment is turning again.
Since many of the more speculative assets have been rising alongside stocks, any investor retreat from risk could have broad ramifications in markets ranging from metals and oil to emerging-market bonds.
Few rallies have approached the size of bitcoin's, where prices ran up from less than $1,000 at the beginning of 2017 to about 20 times that level in under 12 months. That drew in mainstream investor interest and spawned a series of other digital currencies. In one sign of crypto fever, an ice tea company rebranded to focus on the technology used in bitcoin.
The S&P 500's forward price-to-earnings ratio, a traditional valuation measure, topped out on the same December day that the bitcoin price peaked, according to Morgan Stanley .That was shortly before Congress passed a sweeping tax code overhaul, and the two gauges acted as a sign of "peak excitement" in the market, the bank's analysts concluded.
Related Video
Bitcoin 101: What It Is, How to Invest
The virtual currency bitcoin continues surging to new highs as a frenzy of investors get in on the action. WSJ's Paul Vigna explains what you need to know, and how to invest should you want to join the mania. Photo: Alexander Hotz/The Wall Street Journal.
Many analysts say there are limits to the link between bitcoin and stocks. Nicholas Colas, co-founder of DataTrek, found that the high correlations began to drop after the market selloff ebbed in the middle of last month. Mr. Colas concluded that while there are signs the correlations between the two assets have been rising in recent months, the link is strongest when the assets are falling.
Others outright reject bitcoin's value as a stock market indicator. "I think that's absurd," said Jason Ware, chief investment officer at Albion Financial Group. "Ultimately, stock returns are grounded in the economy, corporate earnings, interest rates and inflation," which he said that bitcoin investors don't seem to care much about.
Movements in the two assets have some very different characteristics. The levels of the S&P 500 and bitcoin have moved in the same direction on just over half of weekday trading sessions since the end of October, according to The Wall Street Journal's Market Data Group. That is hardly a lockstep relationship.
But even those who aren't convinced bitcoin will signal the next big fall in stock prices say they are watching the cryptocurrency alongside other sentiment gauges.
"I feel that there is always something at a top that offers a clue," said Bruce Bittles, chief investment strategist at Baird.
Write to Ben Eisen at [email protected]
US, Nigeria trade hits $9bn - BUSINESSDAY
MARCH 13, 2018
The US Secretary of State, Rex Tillerson, says Nigeria remains America's second largest trading partner with trade volume in the region of $9 billion.
Tillerson, speaking on his final leg of his African tour at the Presidential Villa, Abuja, after meeting with President Muhammadu Buhari, noted that Nigeria was regarded as America's important trade partner.
Nigeria is expected to play leading role as African countries sign Intercontinental Free trade agreement in Rwanda next week, Tillerson said.
He noted that although the United States was not against taking loans from China, America is more concerned with the aftermath of the Loans as experience has shown that such countries ended up forfeiting their sovereignty.
"You have to be in charge of your local infrastructures. We have seen a situation were some countries lost such control due to the loans," he said.
He revealed that Donald Trump has set up a committee to look at structuring financial strategy similar to what the Chinese government is offering with less risks.
The US government is also developing mechanism that will also create alternative opportunities financing offer.
There are alternatives, including great potentials for public private collaborations.
He noted that the United States will want to see China obey international rules and norms and financial structure to deal with unforeseen circumstances, adding that countries need to look more carefully.
"There are other alternatives ,financing mechanism that are available and I think in particular, of government plans to create the right conditions around those infrastructures investments, there are also great potentials for public-private sector co-investing in the infrastructures," Tillerson said.
Speaking on the abducted Dapchi school girls, he expressed hopes that the girls would be released peacefully through safe negotiation.
He assured that the United States government has offered to assist Nigeria in ensuring speedy rescue of the girls by providing materials, intelligence training, among others.
He affirmed that Boko Haram remains a threat not just to Nigeria but the sub region.
Tillerson commended President Buhari for leading the sub-region in the fight against terrorism as well as his fight against corruption, which he noted had earned the president recognition at the African Union.
"I think it is important to clarify that we do not seek to stop Chinese investments from flowing to countries that need those investments. But what we are cautioning countries is to look carefully, that the implications of the level of debts, the terms of the debts, and whether the arrangements around the local financing are intact creating jobs, local capacity or the projects being carried out by foreign labour being brought to your country," he said.
UPDATE 1-South Africa's VAT rise won't lead to higher interest rates - c.bank - REUTERS
MARCH 13, 2018
(adds more quotes, details, background)
LONDON, March 13 (Reuters) - South Africa's central bank expects a hike in value added tax (VAT) to lift inflation by around 0.6 percentage points over the coming year though it doesn't expect to raise interest rates in response, one of its top policymakers said on Tuesday.
South Africa announced plans to raise VAT for the first time in 25 years last month in its first budget under new President Cyril Ramaphosa.
It is part of efforts to stabilise the country's debt and repair its economy after nine years of mismanagement under the scandal-plagued, former President Jacob Zuma.
"With inflation targeting, you try and look through exogenous shocks, particularly temporary ones and this is a one off," Brian Kahn told Reuters on the sidelines of investor meetings in London.
Latest data showed that headline consumer inflation slowed to 4.4 percent year-on-year in January from 4.7 percent in December. On a month-on-month basis, inflation eased to 0.3 percent in January from 0.5 percent in December.
The move to raise VAT to 15 percent from 14 starting in April is expected to generate an additional 23 billion rand of revenue in 2018/19, but is also a politically risky step ahead of elections next year.
South Africa's powerful trade union movement and consumer groups have been vocal critics of the increase and are demanding an interest rate cut to ease the pain.
Kahn said policy makers at the bank would not be"too concerned" about the tax hike pushing up inflation by 0.6 percentage points, with those first round effects filtering out of the data after a year.
"There may be a few second round effects, it may affect wage increases in the following years, so we expect a moderate, very small increase in the following year as a result of that."
"But it is something that we would not react to by raising rates and we would certainly try and look through it." (Reporting by Karin Strohecker Editing by Marc Jones and Raissa Kasolowsky)
Nigeria's refinery overhaul projects to start in second quarter -NNPC - REUTERS
MARCH 13, 2018
CAPE TOWN, March 13 (Reuters) - Refinery overhaul projects will begin in Nigeria as soon as the second quarter, an official from state oil company NNPC said on Tuesday.
NNPC is in the final stages of talks with consortiums including top traders, energy majors and oil services companies to revamp its long-neglected oil refineries in an effort to reduce its reliance on imported fuel.
"We believe that by the second quarter of this year we will ...start getting the ball rolling on the refurbishment and rehabilitation exercise and believe this will run to the end of next year," said Anibor O. Kragha, NNPC's chief operating officer of refineries and petrochemicals.
"We are working with consortia right now, negotiating terms, trying to finalise the time sheets so that we can access the money... through the end of 2019 when we believe we will have the minimum 90 percent capacity utilization in place," he told delegates at the African Refiners Association conference in Cape Town.
NNPC has three oil refineries with a total capacity of 445,000 barrels per day (bpd), but they struggle to run anywhere near that level due to years of neglect. According to NNPC reports, the highest capacity utilization last year was just under 37 percent, and it fell as low as 5.92 percent in November.
The government plans to give Nigeria's refineries until 2021 to meet lower sulphur fuel requirements that will start phasing in this year for imports. (Reporting By Wendell Roelf, writing by Libby George; editing by John Stonestreet)
South Africa Plans Eurobond of as Much as $3 Billion 'Shortly' - BLOOMBERG
MARCH 13, 2018
By Selcuk Gokoluk and Colleen Goko
Country may tap 'conducive' market 'shortly': Treasury

African sovereigns have attracted record demand this year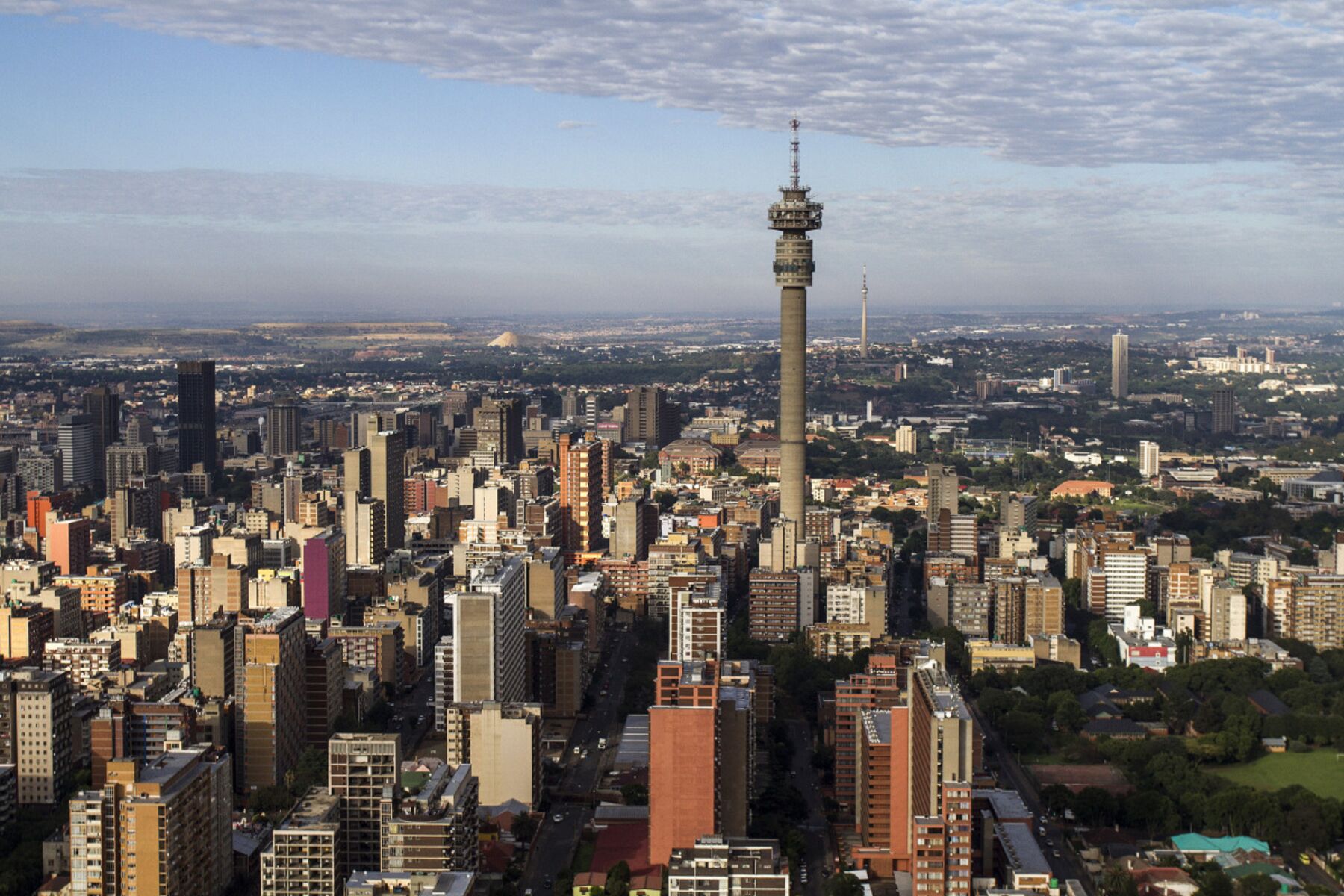 The city skyline in Johannesburg.
Photographer: Dean Hutton
South Africa plans to tap international markets for as much as $3 billion as the country seeks to take advantage of relatively low rates and strong demand from yield-hungry investors.
"We will be coming shortly and taking advantage of the favorable market conditions," Tshepiso Moahloli, chief director of liability management at the National Treasury, told reporters in London after meetings with investors. "The market is conducive and we're keen to access that. We are opportunistic in terms of the approach we take."
South Africa budgeted to raise $3 billion in international markets in the next fiscal year. Though the funding period only starts on April 1, the country has pre-funded in the past. African sovereigns including Kenya, Nigeria and Senegal have sold $10.7 billion of Eurobonds in 2018, already more than half the record $18 billion they managed last year and exceeding the total for the whole of 2016, with record demand from investors.
South African assets have outperformed emerging markets overall since late last year, as Cyril Ramaphosa, then deputy president and a former businessman and lawyer, maneuvered to succeed Jacob Zuma as president. The rand has strengthened 22 percent against the dollar since mid-November, the most globally, as the government moved to rein in the budget deficit, cut debt and stimulate growth. South Africa's foreign debt is less than 10 percent of total borrowing.
The country's dollar spread over U.S. Treasuries is 237 basis points, down from as high as 320 in mid-November and compared with 311 for similarly rated Turkey, according to JPMorgan Chase & Co. indexes. The average for emerging-market countries is 312.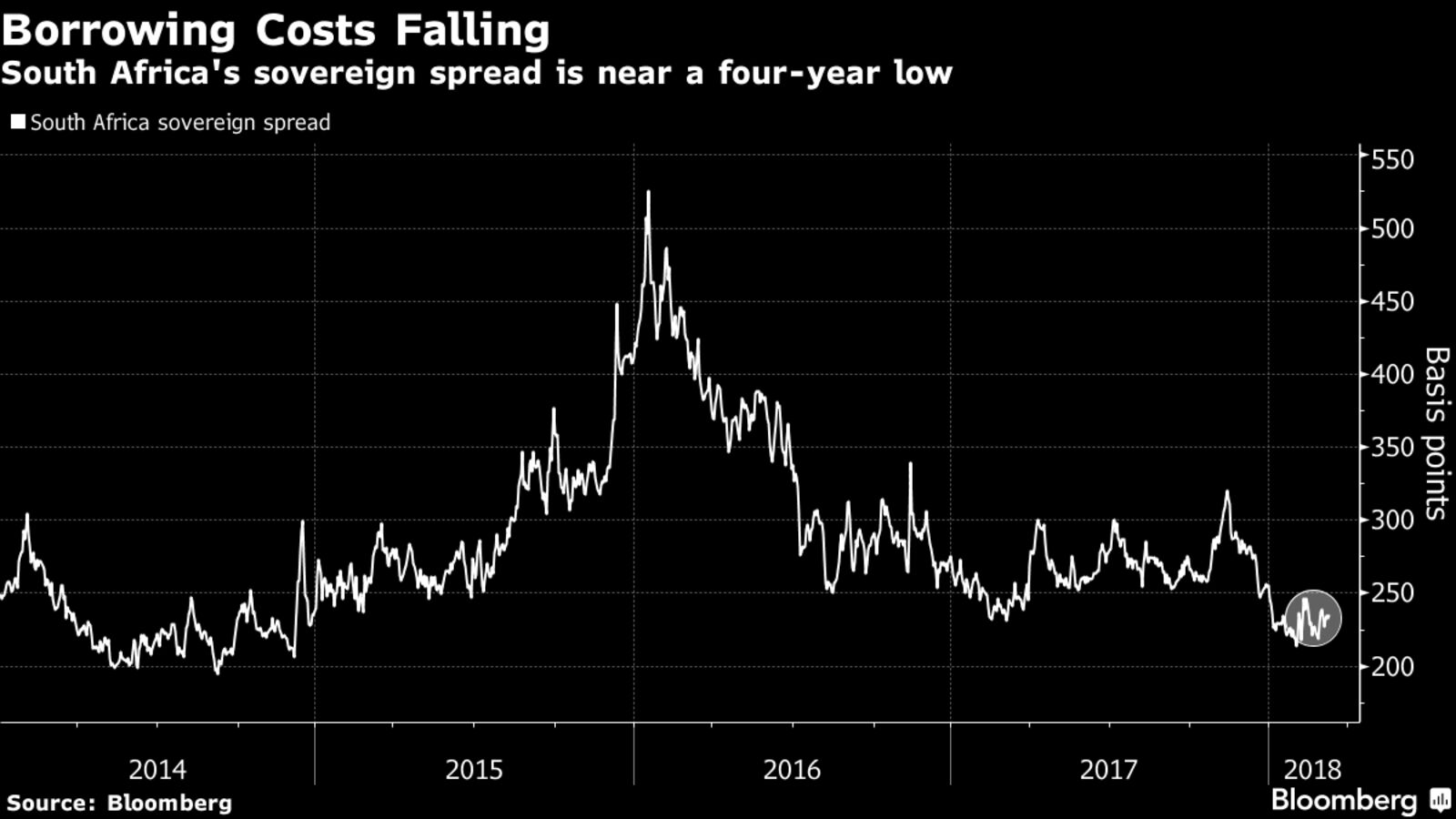 "South Africa traditionally has been relying more on domestic funding rather than external, which explains why South African Eurobonds trade so tight compared to some of their peers like Turkey," said Delphine Arrighi, a London-based portfolio manager at Old Mutual Global Investors Ltd. "The credit story is finally improving after years of slow deterioration. Increased external debt supply should be met with decent appetite from offshore investors."
South Africa last sold Eurobonds in September, when it issued $2.5 billion of notes maturing in 2027 and 2047 in September. Yields on the 2027 securities climbed two basis points on Tuesday to 5.04 percent.
"South Africa has always enjoyed not oversupplying the market with paper," Moahloli said. "I think at $3 billion it is comfortable and I don't think we should push it beyond that."