Aboki News
Nigeria's missing: 'We want to know whether our sons are alive or dead' - THE GUARDIAN UK
MAY 04, 2019
Roughly 20,000 people have been detained by Nigeria's military over the past decade, leaving their families fraught with anxiety
BY Shola Lawal in Maiduguri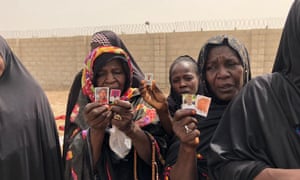 Women show photographs of relatives that have disappeared after being arrested by Nigeria's military. Photograph: Courtesy of Jire Dole
It was on a chilly morning in October 2011 that Hajja Gana Suleiman's world began to unravel.
The news came that her son had been arrested by military men. Mustapha "Saina" Abdulkareem had been saying his morning prayers at a nearby mosque when he was taken away.
The soldiers were conducting raids in the area and claimed to be arresting Boko Haram members. Saina, 25, was arrested together with 30 other men that day. It would be the last time Suleiman saw her son a free man.
Not knowing Saina's whereabouts torments the 55-year-old mother. "I cannot sleep. I cannot eat. I'm old and tired. He helped me when his father was not well," Suleiman says, sitting on a mat in her breezy compound in Gwange, a suburb of Maiduguri.
Two years ago, her pain drove her to help establish Jire Dole, a network of women who have missing relatives, and who campaign for justice.
Since 2009, Boko Haram's deadly insurgency in Nigeria's north-east has resulted in thousands of people going missing – either kidnapped or detained, or just disappeared. These include the 276 Chibok girls, whose abduction from their school in April 2014 sparked a global outcry.
But it is men and boys who have been largely unaccounted for. In a largely overlooked tragedy, thousands of men of fighting age have vanished in the conflict. Many have been killed by Boko Haram terrorists or forcibly taken as fighters.
Conversely, thousands more have been arbitrarily detained by soldiers on suspicion of being Boko Haram collaborators. Amnesty International estimates that, since 2009, about 20,000 men, including boys as young as nine, have been rounded up and detained without trial or due process. About 1,200 men have reportedly been killed.
Time has stood still for Suleiman and hundreds of mothers like her.
Efforts to free Saina prove futile. The day he was arrested, his wife, pregnant with their first child, asked where the soldiers were taking him. She was slapped and sent back to their home.
In the days that followed, Suleiman visited Giwa Barracks, a military detention centre in Maiduguri, anxiously trying to find her son. One week after his arrest, she saw Saina briefly. He wore red overalls. "This place is not good to stay," he cried to his mother, distraught. "Please get me out. I'm suffering."
Amnesty International has reported that many Boko Haram suspects are detained in the barracks in "inhumane' conditions".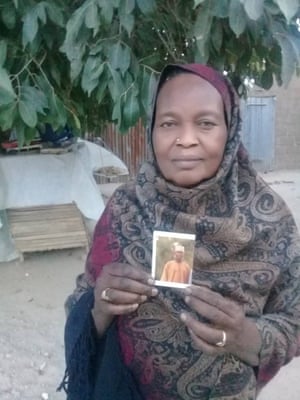 Hajja Gana Suleiman shows a photograph of her son. Photograph: Courtesy of Jire Dole
Several military men promised to release Saina after Suleiman paid 500,000 naira (£1,060) as a bribe. It was not the only time she paid out. "I've spent up to two million naira since they arrested him. I've sold my property and jewellery," she says.
But her son has not been released, and she doesn't know if he's alive or dead. At one point, she was instructed by soldiers to wait at a morgue in case Saina's body was among the dozens of corpses loaded into an ambulance out of Giwa Barracks every day. Suleiman waited to dig her son from the dead in vain. His body was not there.
In February 2012, Suleiman led a protest to the governor's house in Maiduguri. She was assaulted. "Look at my body," she says, lifting her clothing to show scars on her thighs. "The soldiers beat me and started shooting in the air."
A top commander, Colonel Hassan, had promised to help. "He took my number and said he'd call me whenever they prepare the men for release. I never saw him again."
As well as helping to form Jire Dole, she joined up with other groups, including the Knifar movement, an organisation of women seeking justice for sexual abuse they experienced at the hands of soldiers while in displacement camps.
Suleiman figured a collective fight would yield results. She began to announce her mission wherever women gathered – at meetings, weddings and child-naming events. "If you have this type of problem, please come to me. I will register you," she would tell the women.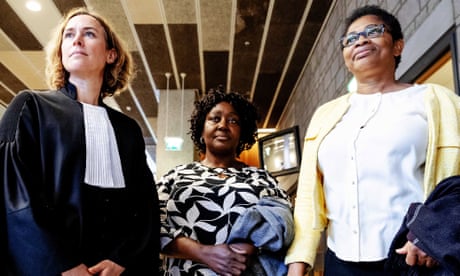 Dutch court will hear widows' case against Shell over deaths of Ogoni Nine
Read more
The response was huge. About 3,000 women have joined Jire Dole, Suleiman says, all looking for missing sons, husbands, brothers and fathers. The women have organised several protests. Although many of them are old and have little education, they attracted the attention of rights activists, who now amplify Jire Dole's voice on social platforms.
The women have become each other's support system. They donate money to members who need it and visit each other for companionship.
"Since I joined, my heart has been a bit calm," says Fatima Al-Hassan, whose sons Ibrahim and Musa were arrested in a mop-up raid after a bomb exploded in the area.
Advertisement
"They were eating in the parlour," Fatima says, pointing to a spot in her Maiduguri apartment.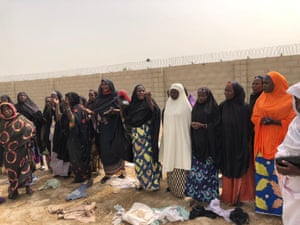 Jire Dole has empowered hundreds of women with missing relatives to demand justice. Photograph: Courtesy of Jire Dole
It seems the military is finally taking notice. Recent protests caught the attention of a top military commander. Jire Dole has been invited to the military headquarters for talks for the first time, although a date for the meeting has not been set.
It is unclear how many men are being held without charge in Giwa Barracks, or even how many are alive, says Isa Sanusi, Amnesty International's media manager in Nigeria. In March 2014, Boko Haram attacked Giwa Barracks, freeing their members and other detainees. But in a reprisal attack, Nigerian troops hunted and killed hundreds of suspected escapees. More than 640men were killed.
"[The authorities] have to do something. We want to know whether they are alive or not," says Suleiman, her voice cracking with emotion. "We want the truth."
Developing countries need bigger FX crisis toolkits - BIS - REUTERS
MAY 04, 2019
BY Marc Jones
LONDON, May 2 (Reuters) - Emerging market countries need to expand their currency crisis fighting toolkits and be ready to embrace the kind of money printing tactics used in the U.S., Europe and Japan, the head of the Bank for International Settlements (BIS) was due to say on Thursday.
Agustín Carstens, who leads the influential central bank umbrella group, was due to say poorer countries' vulnerability to FX volatility was now being compounded by the large stocks of internationally-mobile money chasing their higher interest rates.
He was due to say that while countries had been more active in recent years in FX intervention and introduced other ways of combating the swings, it was likely that overall more would be needed.
"Going forward, emerging market economy (EME) central banks will need to further develop their toolbox for dealing with the challenges of exchange rate and capital flow gyrations," Carstens was due to say in a speech at the London School of Economics.
As part of it, the EM central banks may need to consider using asset purchases or asset swaps similar in nature to those used by the likes of the U.S. Federal Reserve, ECB and other parts of Europe and in Japan over the last decade.
ADVERTISEMENT
"EME central banks need to incorporate sufficient flexibility and sufficiently long horizons in the interpretation of their price stability mandates," Carstens was also due to say, according to a text of his speech.
"That way, the longer-run risks to price stability posed by exchange rate-driven financial imbalances could be incorporated into the decision-making process, and short-term policy activism be avoided."
He was due to warn too of so-called beggar-thy-neighbour exchange rate policies where countries try to push down their currencies to aid trade competitiveness.
"This charge bites hard, especially in the current political economy climate," the former head of Mexico's central bank was due to say.
"I have no easy answer here, except to say that this is a problem that besets some advanced economies as well as emerging market economies." (Reporting by Marc Jones)
Oil price rally will continue into the next two quarters despite dip, experts say - CNBC
MARCH 27, 2019
Oil prices slipped Wednesday, interrupting a recent rally with news of sharply increased U.S. crude stockpiles.
But it's a temporary blip in the broader outlook for the next two quarters of price growth, commodities experts told CNBC.
The price of international benchmark Brent Crude is up 24 percent year to date while West Texas Intermediate is up 27 percent.
BY Natasha Turak | @NatashaTurak
Benjamin Lowy | Getty Images
Workers extracting oil from oil wells in the Permian Basin in Midland, Texas on May 1, 2018.
Oil prices slipped Wednesday morning, interrupting a recent rally with news of sharply increased U.S. crude stockpiles released by the American Petroleum Institute Tuesday night.
But it's a temporary blip in the broader outlook for the next two quarters of price growth, commodities experts told CNBC.
"We expect the rally in Brent prices will continue over Q2-Q3 this year as the market tightens further on the back of OPEC production cuts and deteriorating output in Venezuela," Edward Bell, director of commodities research at Dubai-based Emirates NBD, told CNBC in an email Wednesday.
Robin Mills, CEO of Qamar Energy and a nonresident fellow at Columbia's Center for Global Energy Policy, similarly sees prices remaining strong in the second quarter.
"Demand continues to be fairly good, OPEC+ compliance is high, the production cuts deal is planned to continue, output in Venezuela will keep deteriorating and Iranian exports are still under pressure," he told CNBC, noting that Russian compliance with the output cut deal is also increasing.
"If prices go 'too high', likely the U.S. will grant more Iran waivers, and if they don't then, with a lag, the Saudis will respond by increasing production within their overall cap."
Is an even bigger crude rally on the way? 1:56 PM ET Tue, 26 March 2019 | 03:08
International oil benchmark Brent Crude dipped 0.25 percent on Wednesday, trading at $67.80 a barrel at 11:22 a.m. London time. U.S. benchmark West Texas Intermediate was down 0.62 percent at the same time, trading at $59.57, after the API report revealed an inventory jump of 1.9 million barrels for the week ending March 22, obliterating market expectations for a drop of 1.2 million barrels.
Still, as Bell and Mills pointed out, prices are gradually rising year-to-date on the back of OPEC cut pledges coming to fruition and a worsening picture in conflict-ridden Venezuela, where the second power outage in a month has halted crude shipments coming out of the country's main oil port.
The price of international benchmark Brent Crude is up 24 percent year to date while West Texas Intermediate is up 27 percent in the same timeframe.
In the nearer term, inventory figures from both the U.S. and OPEC member states will continue to shape market sentiment, particularly as traders watch for the decline in U.S. rig counts since November to take effect.
Downward pressures by the end of the year
Conflicting forces of tightening global supply versus concerns over world demand have kept Brent crude in a narrow range over the course of March, trading within the window of roughly $64 to $68 per barrel.
Despite these supportive conditions, however, Bell expects prices to come down by the end of 2019.
"By the end of the year though we expect prices will slip from their current levels as OPEC production increases as member nations chase the market share ceded by declining production in Venezuela and other producers."
Futures Now: Crude nears 2019 high 1:57 PM ET Tue, 26 March 2019 | 01:23
And on the physical trading side, many executives at major oil companies aren't excessively bullish.
Shell's head of crude oil trading Mark Quartermain told the Financial Times on Tuesday that he saw the market staying in a range of $65 to $70 a barrel, while Ben Lockock, the co-head of oil for commodities trader Trafigura, told the paper he was only "gently bullish."
Analysts also point to the major unknown that is the direction of the U.S.-China trade war. Any failure in upcoming negotiations could trigger a sharp downturn in business sentiment and demand, particularly from an already-slowing China.
Talks will recommence in Beijing on Thursday. And while both sides are eager for a solution, U.S. President Donald Trump has already seemingly tempered expectations, saying last week that tariffs could remain "for a substantial period" and could more than double if the world's two largest economies don't manage to reach a deal.
Bank of Agriculture to get N250 billion lifeline - THE GUARDIAN
OCTOBER 30, 2018
By Clara Nwachukwu, Business Editor
Explains non-revocation of privatisation licences • BPE misses N300bn contribution to national budget funding
The Federal Government yesterday said that it would boost the operations of the Bank of Agriculture (BOA), with N250 billion to enable it to grant credit access to farmers.
Disclosing this in Lagos, yesterday, at a Stakeholders Media Interactive Forum, organised by the Bureau of Public Enterprises (BPE), its Director-General, Dr. Alex Okoh, said the recapitalisation of BOA became imperative, as current capitalisation is negative.
Okoh explained that equity holding in the recapitalised bank will be in the ratio of 40 per cent to the Central Bank of Nigeria (CBN), and Ministry of Finance Incorporated (MOFI); 20 per cent to the private sector, and the remaining 40 per cent to active farmers.
He added that the recapitalisation, which is in line with current restructuring/commercialisation efforts, will also "lead to the emergence of an Agriculture Micro Finance Bank that will provide capital for small scale farmers thereby boosting productivity in the sector," just as "the process of appointing a Transaction Adviser to superintend the process is nearing completion." This comes as the Bureau admitted that it would not be able to meet its share of about N300billion contribution to the N8.612 trillion 2018 National Budget before year end as expected.
The sum was expected to have been generated from the sale of some power plants in Nigeria, including Afam, Geregu, Calabar, and Omotosho, which process should have been completed this year.
Okoh revealed that the Yola plant, which was returned back to the government in 2015 by its previous core investor, Integrated Energy and distribution Management Services, was expected to have reached financial close by November, but for the delay in the appointment of transaction advisers for the process.
However, the sale of the asset and others billed for such purpose have now been moved to January 2019. Regarding the success and perceived failure of the privatisation of the power sector, the Minister of Information, also Chairman, Stakeholders' Engagement Committee, National Council on Privation (NCP), Lai Mohammed, insisted that the process was a success given the milestones so far achieved by this administration.
Mohammed, during a Q&A, defended that the reason the Federal Government has not revoked some of the sales as being clamoured is because of its respect for the sanctity of contracts, contrary to accusations.
He said: "We (Government) did not want to send the wrong signals, so we didn't want to revoke any agreement entered into in the power sector," even as he agreed that the generation and distribution companies have not performed optimally. As far as the Minister is concerned, significant milestones had been recorded in the sector since 2015, including plans to pump into the national grid, additional 2,000 megawatts (MW) by December, to bring capacity to about 9,000MW from less than 3,000MW upon takeover. This is in addition to expanding the transmission capacity to 5,000MW.
Aside from the provision of a N701-billion Power Assurance Guarantee, to assure gas suppliers and GenCos that government will pay for whatever power supplied to the DisCos, Mohammed reassured that once ongoing reforms gain higher ground, more impact would be felt. He pleaded with all stakeholders, including the media to pass on the true information regarding the privatisation exercise to stem the push-backs and criticisms the process had generated.
He reiterated that the parts of the objectives of the commercialisation and privatisation exercise include abrogating public sector monopoly to give room for private sector participating in key sectors of the economy as well as creating policies to encourage and guide such participation and a host of others.
Naira Gains 0.05% at I&E, Loses 0.08% at Interbank, Flat at BDC - BUSINESS POST
OCTOBER 27, 2018
By Dipo Olowookere
The local currency traded mixed against the United States Dollar at the various segments of the foreign exchange (forex) market this week.
Specifically, at the close of the trading week, the NGN/USD exchange rate, according to Cowry Asset, remained unchanged at both the Bureau De Change (BDC) segment and the parallel market to close at N359/$ and N362/$ respectively.
This was as the Central Bank of Nigeria (CBN) continued with its weekly intervention of which the sum of $210 million was injected by CBN into the foreign exchange market via the Secondary Market Intervention Sales (SMIS).
A breakdown of the intervention showed that $100 million was allocated to Wholesale SMIS, $55 million was allocated to Small and Medium Scale Enterprises, while $55 million was sold for invisibles.
At the close of the week, the Naira gained against the Dollar at the Investors & Exporters Forex Window (I&E FXW) by 0.05 percent to close at N363.84.
However, the local currency fell by 0.08 percent to N362.82/$ at the interbank foreign exchange market.
Meanwhile, most dated foreign exchange forward contracts at the interbank over-the-counter (OTC) segment appreciated – 1 month, 2 months, 3 months and 6 months gained 0.07 percent, 0.06 percent, 0.04 percent and 0.07 percent to close at N367.26/$, N370.69/$, N374.08/$ and N384.99/$ respectively.
However, spot and 1-year rates depreciated by 0.02 percent and 048 percent to close at N306.55/$ and N411.87/$ respectively.
Nigeria police say $470.5 mln retrieved in asset recovery exercise - REUTERS
SEPTEMBER 21, 2018
YENAGOA, Nigeria, Sept 20 (Reuters) - Police in Nigeria recovered $470.5 million in bank accounts related to the state oil company as part of an exercise to recover stolen funds, and the money will be sent to government coffers, the country's police force said on Thursday.
President Muhammadu Buhari, who won the 2015 election on an anti-corruption ticket, ordered government revenues to be placed in a Treasury Single Account (TSA) at the central bank as part of an anti-corruption drive. Money recovered from alleged graft would also be put in the account.
The police on Thursday said they had launched a nationwide exercise to recover stolen funds, to be placed in the TSA, during which it discovered money related to the Nigerian National Petroleum Corporation's (NNPC) Liquefied Natural Gas business unit.
Police recovered "$470,519,889.10 belonging to NNPC Brass/LNG Investment hidden in some commercial banks after the directives of the federal government on TSA," police spokesman Jimoh Moshood said in an emailed statement.

Moshood, who said the recovery followed an investigation by specialist police units, did not state when the money was recovered.
A spokesman for NNPC did not immediately respond to phone calls and text messages requesting comment.
Buhari plans to seek a second term in a presidential elections scheduled to take place in February 2019.
Nigeria, Africa's top crude oil producer and which has one of the continent's largest economies, in early 2017 emerged from its first recession in 25 years, which was largely caused by low oil prices. (Reporting by Tife Owolabi; Writing by Alexis Akwagyiram Editing by Leslie Adler)
ABOKIFX: THE WEEK IN PICTURES 30/07/18 – 05/08/18
AUGUST 06, 2018
A compilation of activities and headlines for the week ended 5th August 2018
1. PARALLEL MARKET RATES
RATES NAIRA REMAINED STABLE ALL THORUGH THE WEEK
Click the image to see more

2. BDC RATES
BDC RATES REMAINED N357/$1 ON THE BUY SIDE
Click the image to see more
3. ATM RATES
ATM RATE RANKING FOR THE WEEK
Click the image to see more
4. NAIRA MAINTAINS STRENGTH AGAINST THE THREE CORE CURRENCIES
Click the image to see more
5. OVIA RECOUNTS HOW ZENITH BANK WAS ESTABLISHED
6. CBN SELLS $210M ON FX MARKET
7. BANK OF ENGLAND RAISES INTEREST RATES
8. NAIRA EXPECTED TO HIT N364/$1 THIS WEEK
9. CBN RELEASES LOWER NOTES TO TRADERS
10. OIL BRACES FOR MAJOR SUPPLY SHOCK
11. NIGERIA ADOPTS CHINA'S YUAN
ABOKIFX: THE WEEK IN PICTURES 09/07/18 – 15/07/18
JULY 16, 2018
A compilation of activities and headlines for the week ended 15th July 2018
1. PARALLEL MARKET RATES
NAIRA REMAINED STABLE ALL THROUGH THE WEEK
Click the image to see more

2. BDC RATES
BDC RATES REMAINED N357/$1 ON THE BUY SIDE
Click the image to see more

3. ATM RATES
ATM RATE RANKING FOR THE WEEK
Click the image to see more

4. NAIRA MAINTAINS STRENGTH AGAINST THE THREE CORE CURRENCIES
Click the image to see more
5. ABUJA LIGHT RAIL ON STREAM
Click the image to see more
6. THIRD MAINLAND BRIDGE TO BE SHUT FOR 27 MONTHS
Click the image to see more
7. NIGERIA'S EXTERNAL RESERVES DECLINE BY $102 MILLION IN 6 DAYS
Click the image to see more
8. NIGERIAN BANKS STOP CASH WITHDRAWAL FROM OVERSEAS ATMS
Click the image to see more
9. FASHOLA TELLS LANDLORDS TO COLLECT RENTS IN ARREARS
Click the image to see more
10. CBN SPENDS $2.2bn IN JUNE TO DEFEND NAIRA
Click the image to see more
ABOKIFX: THE WEEK IN PICTURES 02/07/18 – 08/07/18
JULY 10, 2018
A compilation of activities and headlines for the week ended 8th July 2018
1. PARALLEL MARKET RATES
NAIRA REMAINED STABLE ALL THORUGH THE WEEK
Click the image to see more
2. BDC RATES
BDC RATES REMAINED DROPPED TO N357/$1 ON THE BUY SIDE
Click the image to see more
3. ATM RATES
ATM RATE RANKING FOR THE WEEK
Sterling Bank produces the lowest ATM rates for all three core currencies
Click the image to see more
4. NAIRA MAINTAINS STRENGTH AGAINST THE THREE CORE CURRENCIES
Click the image to see more
5. GLENCORE FACES MONEY LAUNDERING INVESTIGATION FOR NIGERIAN DEAL
Click the image to see more

6. IMMIGRATION SERVICE SUSPENDS CHARGES FOR VISA ON ARRIVAL
Click the image to see more

7. PRESIDENT MACRON VISITS FELA'S SHRINE
Click the image to see more

8. CBN PUMPS $210mn INTO CURRENCY MARKET
Click the image to see more

9. GT BANK REVIEWS INTERNATIONAL SPENDING LIMIT UPWARDS ON YOUR NAIRA MASTER CARD
Click the image to see more

10. NAIRA TO EXCHANGE AT N356/$1 BY YEAR END
Click the image to see more

ABOKIFX: THE WEEK IN PICTURES 10/06/18 – 16/06/18
JUNE 17, 2018
1. PARALLEL MARKET RATES

NAIRA REMAINED STABLE ALL THROUGH THE WEEK
See more at https://abokifx.com/ratetypes/?rates=lagos_previous OR
Click the image to see more

2. BDC RATES
BDC RATES REMAINED LOWER THAN PARALLEL RATES
See more at https://abokifx.com/bdc_rate OR
Click the image to see more
3. ATM RATES
ATM RATE RANKING FOR THE WEEK
Ecobank USD rate goes up to N363 from N362
UBA has lowest GBP rate at N487
See more at https://abokifx.com/rate_by_currency OR
Click the image to see more
4. NIGERIAN GOVERNMENT GETS $1bn DEBT OFFER FROM AFREXIM BANK
Read more at https://abokifx.com/news/government-gets-1b-debt-offer-from-afreximbank-the-guardian
Click the image to read more

5. NIGERIA THWARTS WORLD CUP CHILD TRAFFICKING PLOT AT AIRPORT
Read more at https://abokifx.com/news/nigeria-thwarts-world-cup-child-trafficking-plot-at-airport-reuters
Click the image to read more

6. NIGERIA SEEN AS A HAVEN AMID EMERGING MARKETS
Read more at https://abokifx.com/news/park-your-money-in-nigeria-a-haven-amid-emerging-market-mayhem-bloomberg
Click the image to read more

7. NIGERIAN'S INFLATION DIPS TO LOWEST IN MORE THAN TWO YEARS
Read more at https://abokifx.com/news/update-1-nigeria-inflation-dips-to-lowest-in-more-than-two-years-in-may-reuters
Click the image to read more

8. CBN INJECTS $210m INTO FOREX MARKET
Read more at https://abokifx.com/news/cbn-injects-210m-into-forex-market-leadership
Click the image to read more

9. CBN OFFERS 10% INCENTIVE TO IMPORTERS WITH RENMIMBI INVOICE
Read more at https://abokifx.com/news/cbn-banks-offer-10-incentive-to-importers-with-renminbi-invoice-businessday
Click the image to read more

10. NIGERIA WORKING WITH UK TO DENY, REVOKE TREASURY LOOTER'S VISAS
Read more at https://abokifx.com/news/nigeria-working-with-uk-to-deny-revoke-treasury-looters-visas-spip-vanguard
Click the image to read more