Aboki News
ABOKIFX: THE WEEK IN PICTURES 30/07/18 – 05/08/18
AUGUST 06, 2018
A compilation of activities and headlines for the week ended 5th August 2018
1. PARALLEL MARKET RATES
RATES NAIRA REMAINED STABLE ALL THORUGH THE WEEK
Click the image to see more

2. BDC RATES
BDC RATES REMAINED N357/$1 ON THE BUY SIDE
Click the image to see more
3. ATM RATES
ATM RATE RANKING FOR THE WEEK
Click the image to see more
4. NAIRA MAINTAINS STRENGTH AGAINST THE THREE CORE CURRENCIES
Click the image to see more
5. OVIA RECOUNTS HOW ZENITH BANK WAS ESTABLISHED
6. CBN SELLS $210M ON FX MARKET
7. BANK OF ENGLAND RAISES INTEREST RATES
8. NAIRA EXPECTED TO HIT N364/$1 THIS WEEK
9. CBN RELEASES LOWER NOTES TO TRADERS
10. OIL BRACES FOR MAJOR SUPPLY SHOCK
11. NIGERIA ADOPTS CHINA'S YUAN
ABOKIFX: THE WEEK IN PICTURES 09/07/18 – 15/07/18
JULY 16, 2018
A compilation of activities and headlines for the week ended 15th July 2018
1. PARALLEL MARKET RATES
NAIRA REMAINED STABLE ALL THROUGH THE WEEK
Click the image to see more

2. BDC RATES
BDC RATES REMAINED N357/$1 ON THE BUY SIDE
Click the image to see more

3. ATM RATES
ATM RATE RANKING FOR THE WEEK
Click the image to see more

4. NAIRA MAINTAINS STRENGTH AGAINST THE THREE CORE CURRENCIES
Click the image to see more
5. ABUJA LIGHT RAIL ON STREAM
Click the image to see more
6. THIRD MAINLAND BRIDGE TO BE SHUT FOR 27 MONTHS
Click the image to see more
7. NIGERIA'S EXTERNAL RESERVES DECLINE BY $102 MILLION IN 6 DAYS
Click the image to see more
8. NIGERIAN BANKS STOP CASH WITHDRAWAL FROM OVERSEAS ATMS
Click the image to see more
9. FASHOLA TELLS LANDLORDS TO COLLECT RENTS IN ARREARS
Click the image to see more
10. CBN SPENDS $2.2bn IN JUNE TO DEFEND NAIRA
Click the image to see more
ABOKIFX: THE WEEK IN PICTURES 02/07/18 – 08/07/18
JULY 10, 2018
A compilation of activities and headlines for the week ended 8th July 2018
1. PARALLEL MARKET RATES
NAIRA REMAINED STABLE ALL THORUGH THE WEEK
Click the image to see more
2. BDC RATES
BDC RATES REMAINED DROPPED TO N357/$1 ON THE BUY SIDE
Click the image to see more
3. ATM RATES
ATM RATE RANKING FOR THE WEEK
Sterling Bank produces the lowest ATM rates for all three core currencies
Click the image to see more
4. NAIRA MAINTAINS STRENGTH AGAINST THE THREE CORE CURRENCIES
Click the image to see more
5. GLENCORE FACES MONEY LAUNDERING INVESTIGATION FOR NIGERIAN DEAL
Click the image to see more

6. IMMIGRATION SERVICE SUSPENDS CHARGES FOR VISA ON ARRIVAL
Click the image to see more

7. PRESIDENT MACRON VISITS FELA'S SHRINE
Click the image to see more

8. CBN PUMPS $210mn INTO CURRENCY MARKET
Click the image to see more

9. GT BANK REVIEWS INTERNATIONAL SPENDING LIMIT UPWARDS ON YOUR NAIRA MASTER CARD
Click the image to see more

10. NAIRA TO EXCHANGE AT N356/$1 BY YEAR END
Click the image to see more

ABOKIFX: THE WEEK IN PICTURES 10/06/18 – 16/06/18
JUNE 17, 2018
1. PARALLEL MARKET RATES

NAIRA REMAINED STABLE ALL THROUGH THE WEEK
See more at https://abokifx.com/ratetypes/?rates=lagos_previous OR
Click the image to see more

2. BDC RATES
BDC RATES REMAINED LOWER THAN PARALLEL RATES
See more at https://abokifx.com/bdc_rate OR
Click the image to see more
3. ATM RATES
ATM RATE RANKING FOR THE WEEK
Ecobank USD rate goes up to N363 from N362
UBA has lowest GBP rate at N487
See more at https://abokifx.com/rate_by_currency OR
Click the image to see more
4. NIGERIAN GOVERNMENT GETS $1bn DEBT OFFER FROM AFREXIM BANK
Read more at https://abokifx.com/news/government-gets-1b-debt-offer-from-afreximbank-the-guardian
Click the image to read more

5. NIGERIA THWARTS WORLD CUP CHILD TRAFFICKING PLOT AT AIRPORT
Read more at https://abokifx.com/news/nigeria-thwarts-world-cup-child-trafficking-plot-at-airport-reuters
Click the image to read more

6. NIGERIA SEEN AS A HAVEN AMID EMERGING MARKETS
Read more at https://abokifx.com/news/park-your-money-in-nigeria-a-haven-amid-emerging-market-mayhem-bloomberg
Click the image to read more

7. NIGERIAN'S INFLATION DIPS TO LOWEST IN MORE THAN TWO YEARS
Read more at https://abokifx.com/news/update-1-nigeria-inflation-dips-to-lowest-in-more-than-two-years-in-may-reuters
Click the image to read more

8. CBN INJECTS $210m INTO FOREX MARKET
Read more at https://abokifx.com/news/cbn-injects-210m-into-forex-market-leadership
Click the image to read more

9. CBN OFFERS 10% INCENTIVE TO IMPORTERS WITH RENMIMBI INVOICE
Read more at https://abokifx.com/news/cbn-banks-offer-10-incentive-to-importers-with-renminbi-invoice-businessday
Click the image to read more

10. NIGERIA WORKING WITH UK TO DENY, REVOKE TREASURY LOOTER'S VISAS
Read more at https://abokifx.com/news/nigeria-working-with-uk-to-deny-revoke-treasury-looters-visas-spip-vanguard
Click the image to read more

ABOKIFX: THE WEEK IN PICTURES 03/06 – 09/06/18 - abokiFX
JUNE 10, 2018
A compilation of activities and headlines for the week ended 9th June 2018
1. NEW BDC RATE
CBN REVIEWS BDC BUYING RATE TO N357/$1
https://abokifx.com/news/cbn-r...

2. NEW PARALLEL MARKET RATES
NAIRA STRENGTHENS BASED ON THE NEW CBN BDC RATE REVIEW
https://abokifx.com/ratetypes/...

https://abokifx.com/ratetypes/...

https://abokifx.com/ratetypes/...

3. Air Namibia
AIR NAMIBIA HITS NIGERIA'S SKY JUNE 29, 2018
https://www.abokifx.com/news/a...

4. SCARCE PASSPORT BOOKLETS
SUMMER PASSENGERS STRANDED OVER SCARCITY OF PASSPORT BOOKLETS
https://www.abokifx.com/news/s...

5. ATM RATES
ATM RATE RANKING FOR THE WEEK
https://abokifx.com/rate_by_currency
6. NAIRA SLIPS THEN STRENTHENS
Fund Repatriation, High Travellers' Demand Pile Pressure On FX Market
https://abokifx.com/manage/mar...

7. FOREIGN RESERVES SLIP
THE NATIONS FOREIGN RESERVES FELL TO $47.4 FROM $47.6
https://abokifx.com/news/exter...

8. TANZANIA NEEDS NIGERIANS
TANZANIAN ENVOY SAY THEY WANT MORE NIGERIAN TEACHERS AND COMPANIES IN TANZANIA
https://www.abokifx.com/news/w...
9. ABCON ANTI-MONEY LAUNDERING
ABCON COMPLETES ANTI-MONEY LAUNDERING TRAINING
https://www.abokifx.com/news/a...
10. FBN PARTNERS WORLD REMIT
FIRST BANK OF NIGERIAN PARTNERS WITH WORLD REMIT TO DELIVER INSTANT TRANSFER TO ALL LENDERS ACCOUNTS IN NIGERIA
https://abokifx.com/news/money...

11. RISE IN EXPORT
THE NIGERIA BUREAU OF STATISTICS SAID THE COUNTRYS EXPORT ROSE BY 20.02% IN THE FIRST QUARTER OF 2018
https://www.abokifx.com/news/n...

12. CHINESE YUAN AUCTION
NIGERIA TO RELY LESS ON DOLLAR FOR IMPORTS
https://abokifx.com/news/niger...

13. $600m AIRLINE CLEARED
NIGERIA CLEARS $600m BELONGING TO INTERNATIONAL AIRLINES THAT WAS TRAPPED DURING FX CRISIS
https://www.abokifx.com/news/n...

14. NATIONAL CARRIER
STAKEHOLDERS DISAGREE WITH FG'S PANEL SET UP FOR PROPOSED NATIONAL CARRIER
https://www.abokifx.com/news/n...

15. ASSET SALES

NIGERIA EYES $1.3BN FROM ASSET SALES THIS YEAR TO HELP FINANCE 2018 BUDGET
https://abokifx.com/news/niger...
16. FOREX INFLOW
NIGERIA RECORDS $24.7BN FOREX INFLOW IN THREE MONTHS
https://www.abokifx.com/news/n...

17. NEW CBN DEPUTY GOVERNOR
BUHARI APPOINTS MR FOLASODUN ADEBISI ADENUBI AS NEW CBN DEPUTY DIRECTOR
https://abokifx.com/news/buhar...

Contagion From the EM Sell-Off Spreads to Africa's Local Markets - BLOOMBERG
MAY 25, 2018
By Paul Wallace
Zambia among worst hit as currencies, bonds feel pressure

Nigeria's naira at weakest since November even as oil rises
The rout that started in emerging markets last month is now roiling stocks and currencies across Africa.
https://www.bloomberg.com/news/articles/2018-05-25/contagion-from-the-em-sell-off-spreads-to-africa-s-local-markets
The pain's visible in foreign-exchange markets. While South Africa's rand was hit early on, other less-liquid currencies are also under pressure. Most have reversed or pared the gains against the dollar they posted in the first quarter.
Zambia's kwacha, in particular, is struggling. It's weakened 8.9 percent since the end of March, among the worst globally. While investors were previously attracted by the kwacha's carry returns, they're now exiting a country struggling with what the International Monetary Fund described as a debt problem.
Egypt, Ghana and Kenya are also showing strain. Egypt's stocks, which had risen steadily since the pound was devalued in November 2016, have fallen more than 9 percent since late April. Ghanaian equities were world beaters in the first quarter, but have since slipped along with the cedi, as have Kenya's shilling and stocks.
Tougher Times
Most African currencies have weakened since the end of March
Source: Bloomberg
Nigeria is another case in point. Despite Brent crude's 15 percent rise in 2018 to about $80 a barrel, the OPEC member's currency is under pressure for the first time this year. The naira has fallen to its weakest level since November on the black market and foreign reserves halted their continuous rise since September. The West African country's main stock index is near a five-month low as international funds reduce their exposure, according to Exotix Capital.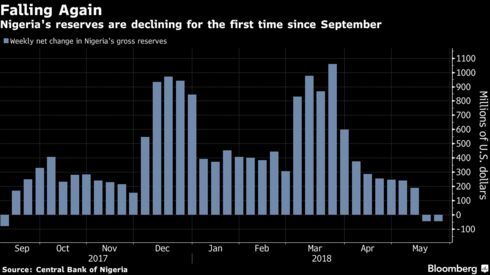 Nigerian stocks fall to lowest level in more than four months - REUTERS
MAY 25, 2018
LAGOS (Reuters) - Nigeria's main stock index fell to its lowest level in more than four months on Friday after shares in banking and consumer goods companies declined.
The index which fell for the seventh straight session, recovered some ground but closed down 1 percent. Stocks had fallen 1.28 percent in late trades, sliding to 39,213 points, a level not seen since January.
Offshore investors have been exiting local assets as yields on Nigeria's treasuries have fallen to around 12 percent from as high as 18 percent a year ago due to government action to lower borrowing costs and U.S. interest rate rises.
Traders expect the bear market to continue, even as the capital flight has also put the local naira currency under pressure.
Stocks fell widely on Friday with 41 companies declining and 12 firms advancing. Julius Berger and Transcorp each shed 5 percent while Fidelity Bank fell 7.7 percent.
Reporting by Chijioke Ohuocha; Editing by Toby Chopra
South Africa investigates $80 million bitcoin scam - REUTERS
MAY 25, 2018
JOHANNESBURG, May 25 (Reuters) - South African authorities are investigating an alleged cryptocurrency scam that defrauded investors of 1 billion rand ($80 million) with promises of huge returns that never materialised, police said on Friday.
The fraud investigation involves a company named BTC Global, which told clients they would earn 2 percent per day, 14 percent a week and 50 percent in a month, the police said.
A search for the company on the internet showed its services had been suspended.
The website lists Steven Twain as the "primary trader". A request for comment by Reuters sent to an email address listed on the website as belonging to Twain received no response.
"Members of the public are believed to have been targeted as part of the scam and encouraged by agents of BTC Global," the police said in a statement.
ADVERTISING
"Some of the investors got paid in terms of the agreement. However, the payments suddenly stopped."
Local technology news website mybroadband.co.za had reported in March that more than $50 million was lost by investors in BTC Global.
"This may prove to be the tip of the iceberg with potentially thousands more yet to discover they've lost money," police investigator Yolisa Matakata said.
The investigation follows a case this week where kidnappers demanded a ransom in bitcoin of nearly $120,000 to release a South African teenage boy.
On Thursday South Africa's central bank said it was in the process of determining whether cryptocurrencies complied with its financial surveillance and exchange control regulations. ($1 = 12.4837 rand) (Reporting by Mfuneko Toyana Editing by Joe Brock/Keith Weir)
Increasing debt in many African countries is a cause for worry - THE ECONOMIST
MARCH 14, 2018
Africa in the red

Unfortunately the keenest borrowers are also feckless spenders
Print edition | Middle East and Africa
Mar 8th 2018| KAMPALA
"A FOOL'S bargain." That is how Idriss Déby, Chad's president, now describes the state oil company's decision to borrow $1.4bn from Glencore, an Anglo-Swiss commodities trader, in 2014. The loan was to be repaid with future sales of crude, then trading above $100 a barrel. But two years later, as the price dived, debt payments were swallowing 85% of Chad's dwindling oil revenue. For weeks schools have been closed and hospitals paralysed, as workers strike against austerity. On February 21st, after fractious talks, Chad and Glencore agreed to restructure the deal.
Chad's woes recall an earlier era, when African economies groaned beneath unpayable debts. By the mid-1990s much of the continent was frozen out of the global financial system. The solution, reached in 2005, was for rich countries to forgive the debts that so-called "heavily indebted poor countries", 30 of which were in Africa, owed to the World Bank, IMF and African Development Bank. With new loans and better policies, many of these countries turned their economies around. By 2012 the median debt level in sub-Saharan Africa (as defined by the IMF) fell to just 30% of GDP.
ADVERTISING
Latest stories
Today the median debt level is over 50% of GDP. That is low by international standards, but interest rates are generally higher for African countries, which collect relatively little tax. Economic growth slowed in response to lower commodity prices. As a consequence, there is much less revenue to service debts. The pace of borrowing has picked up. The IMF reckons that five sub-Saharan African countries are already in "debt distress", with nine more at high risk of joining them.
Lending to Africa surged after the financial crisis, when interest rates in rich countries sank to historic lows. Fund managers chased the high yields of African government bonds and the profits from a commodities boom. The biggest lenders to Africa had long been Western governments. But since 2006, 16 African countries have sold their first dollar-denominated bonds to foreign investors. Interest rates in the rich world remain low, so several countries are scrambling back to the market this year. Senegal's $2.2bn Eurobond was five times oversubscribed on March 6th.
Borrowing makes sense for poor countries if it finances things like roads, schools and hospitals, which improve welfare and support economic growth. But the keenest borrowers in Africa are also feckless spenders. Take Ghana, which racked up debt as it ran an average annual budget deficit of 10% from 2012 to 2016. When a new government entered office last year, it found a $1.6bn "hole" in the budget. The new chairman of the state cocoa board found that a $1.8bn loan meant to fund cocoa production in 2017 was "all gone".
Ghana got a three-year loan of $918m from the IMF in 2015, ensuring a degree of transparency. Commercial loans are easier to hide. In Mozambique, three state-owned companies borrowed $2bn in deals arranged by European banks. Most of this was done in secret. The proceeds were squandered on overpriced security gear and a bogus fleet of trawlers. An audit could not trace $500m. The once-buoyant economy sank and Mozambique defaulted on its debt last year.
Leveraged corruption
A study of 39 African countries from 1970 to 2010 found that for every dollar borrowed, up to 63 cents left the continent within five years. The money is often siphoned out as private assets, suggests Léonce Ndikumana, one of the researchers, based at the University of Massachusetts, Amherst. Some banks seem more interested in juicy fees than good governance.
China's involvement in Africa has made it harder to assess the situation. Countries such as Zambia and Congo-Brazzaville have taken out opaque loans from Chinese companies. Angola has borrowed more than $19bn from China since 2004, mostly secured against oil. Such loans often have built-in clauses to review repayments as prices fluctuate, says Deborah Brautigam of the China-Africa Research Initiative at Johns Hopkins University. But there is little precedent for restructuring Chinese loans. Nor is China a full member of the Paris Club, which co-ordinates the actions of creditors when things go wrong.
Though much of the money borrowed by states comes from foreign investors, some is provided by local banks. They find it easier to buy government bills than to assess the reliability of businesses or homebuyers. Moody's, a ratings agency, estimates that African banks' exposure to sovereign debt is often 150% of their equity. So a sovereign-debt crisis could fast turn into a banking one.
Disaster can still be averted in most African countries. Abebe Shimeles of the African Development Bank warns against sudden spending cuts, which would leave half-finished infrastructure projects to rust. Research from the IMF suggests that the least costly way to deal with fiscal imbalances in Africa is to raise meagre tax-to-GDP ratios, which have crept up by just a couple of percentage points this century.
Other proposals aim to make lenders share more risk with borrowers by, for example, linking interest payments to growth or commodity prices. Some suggest changing laws in America and Britain, where most debt is issued, so that countries are not liable for loans agreed to by leaders acting without due authority. Organisations such as the IMF could be more robust, speaking out early when countries seem to be in a downward debt spiral.
As it is, the costs of bad borrowing rarely fall on leaders or their lenders, which often makes politicians borrow (and steal) more. "It's the common man that actually bears the brunt," says Bernard Anaba of the Integrated Social Development Centre, a Ghanaian advocacy group. The people of Chad, now paying for Mr Déby's foolish bargain, would surely agree.
This article appeared in the Middle East and Africa section of the print edition under the headline"On the rise again"
Tillerson's sack won't affect Nigeria-US relations – FG - PUNCH
MARCH 14, 2018
Olalekan Adetayo, Abuja
The Federal Government on Wednesday said the recent sack of Rex Tillerson as the United States Secretary of State would not affect the relationship between the US and Nigeria.
The Minister of Foreign Affairs, Geoffrey Onyeama, said this in an interview with State House correspondents at the Presidential Villa, Abuja.
Onyeama said Nigeria expected all the discussions held during Tillerson's recent visit to Nigeria as regards both countries relations to stand.
The minister said, "Rex Tillerson's sack won't affect the discussions held because government is a continuum, as we all know.
"When he came, it was the United States that was speaking and clearly we expect with every expectation that everything he has said as regards US/Nigeria relations reflects the position of the United States, reflects the position of the president of the United States, so we don't see any change happening."