Aboki News
'Nigeria May Be Key Brexit Trade Ally' - THISDAY
FEBRUARY 14, 2018
The Chairman of the Commonwealth Enterprise and Investment Council (CWEIC), Lord Marland of Odstock, has said it was time for the UK to set up a post-Brexit trading zone, with Nigeria, Singapore and Malaysia offering major opportunities.
Speaking in an interview with the British newspaper, The Telegraph, ahead of the 2018 Commonwealth Business Forum (CBF), thenigerianvoice.com, quoted Lord Marland as saying: "The UK doesn't want to be seen to be initiating anything but actually people look to the UK for leadership. If the UK wants to initiate something, which is a starting block for a commonwealth trade zone, it will start."
"There are one or two really encouraging, optimistic places on the horizon. You've got the big populations such as Nigeria, which is going to be 320m people – bigger than the United States – in under 10 years. They love British products…it's a huge consumer market. Fundamentally there is a lot of disposable wealth."
Asked which other products Nigerians were particularly keen to buy, he replied: "Everything."
Lord Marland added that leaving the EU's customs union was one of the UK's "great negotiating strengths," as it would grant the freedom to stimulate trade by lowering tariffs and other trade barriers.
The benefits of doing so would extend beyond the Commonwealth, he said, as a potential free trade deal with Japan was already "worrying" German car manufacturers who rely on exports to the UK.
Britain is Nigeria's second-largest trading partner, after South Africa, with the bilateral relationship worth around £3.8billion per year.
The CBF will be organised alongside the biennial Commonwealth Heads of Government Meeting (CHOGM), set to take place in April 2018 in London, for the first time in 20 years. Discussions will focus on key themes such as:easing the pathway for business and growth; harnessing Commonwealth technology and innovation; creating a new attitude to sustainable business; mobilising an export economy, and attracting inward investment
With the Commonwealth's cumulative population standing at 2.4 billion, the combined Gross Domestic Product of the nations is set to reach US$14 trillion by 2020. Intra-Commonwealth trade, which was estimated to be worth $525 billion in 2015, is projected to surpass $1 trillion by 2020.
CWEIC's ambition is to encourage and grow intra-Commonwealth trade and investment, and assist member organisations in developing high quality trade and investment opportunities.
'Non-oil economy still in recession' - THE NATION
FEBRUARY 14, 2018
By: Nduka Chiejina
Nigeria's economy is still vulnerable with fragile growth driven by increased oil production and rising crude oil Price.
Chief Executive Officer, RTC Advisory Services Limited, Mr. Opeyemi Agbaje made this observation at a media parley in Abuja.
He noted that, while there was miraculous reversal in oil price and production out put, other sectors such as manufacturing, services sector, telecommunications are yet to come out of the recession.
According to him, "Nigeria's economy witnessed miraculous reversal in terms of oil price and production. The country came out of recession because of oil growth. The economy of shell oil, NNPC and other oil firms may have come out of recession but other sectors are still grappling with recession."
He pained an optimistic picture by assuring that a sustained "diffusion of rising crude oil Price, other sectors currently in recession could experience positive growth."
Asked why Nigeria's budget has not made any meaningful impact on the citizens, Agbaje said the "Nigeria's budget as currently structured may not affect the citizens quickly as expected unless its focus is changed from heavy recurrent expenditure to capital."
According to him, "unless we reverse our budget culture, poverty will continue to grow. When you spend 80% of revenue on limited number of people you will get the sort of outcome we are currently grappling with. Unless you reverse the trend of your priority by spending 80% on capital projects and spend less on recurrent items, there would be massive poverty" he said.
Fed Govt plans N100b bonds next week - THE NATION
FEBRUARY 14, 2018
By: Taofik Salako
The Federal Government plans to issue two bonds valued at N100 billion next week, in a continuation of the government's dual strategy of proactive debt management and development of the domestic debt market.
A notice by the Debt Management Office (DMO)-which oversees Federal Government's sovereign debt issues, indicated that the government will be offering by subscription N100 billion worth of bonds in its February 21, 2018 auction.
The offer circular obtained yesterday indicated that government will sell a N50 billion three-year bond at a coupon of 14.50 per cent and maturity of July 2021. Government will also offer a N50 billion bond with maturity in February 2028.
The July 2021 bond is a re-opening of previous issues while the February 2021 bond is a new 10-year issue.
UPDATE 2-Appeal court rules Nigerians cannot pursue Shell spill claim in England - REUTERS
FEBRUARY 14, 2018
(Adds dissenting opinion, background)
By Libby George and Tife Owolabi
LONDON/YENAGOA, Nigeria, Feb 14 (Reuters) - The Court of Appeal in London ruled on Wednesday that two Nigerian communities cannot pursue Royal Dutch Shell in English courts over oil spills in Nigeria's Delta region.
The split decision upheld a High Court ruling last year that was a setback to attempts to hold British multinationals liable at home for their subsidiaries' actions abroad.
The court rejected the appeal from law firm Leigh Day on behalf of Nigeria's Bille and Ogale communities, and upheld a ruling that English courts do not have jurisdiction over claims against Shell's Nigerian subsidiary Shell Petroleum Development Company (SPDC).
SPDC is jointly operated with the Nigerian government
Shell said the court "rightly upheld" the earlier ruling, and said Nigeria's "well-developed justice system" was the correct place for the claims. Its subsidiary SPDC has also denied responsibility for the spills, which it says were due to sabotage and illegal refining.
One of the three senior High Court judges, the Rt. Hon. Lord Justice Sales, disagreed with the majority ruling, writing that the communities have "a good arguable claim that (Shell) assumed a material degree of responsibility in relation to the management of the pipeline and facilities" operated by SPDC.
Leigh Day said the two Nigerian communities intended to bring the case to Britain's Supreme Court.
"We are hopeful that the Supreme Court will grant permission to appeal and will come to a different view," Leigh Day partner Daniel Leader said.
King Okpabi, the ruler of the Ogale community, said the English courts were the only hope, and that they "cannot get justice" in Nigeria.
The case is significant in determining whether multinational companies can face legal action in England over their subsidiaries' actions abroad.
Last year, an appeals court upheld a ruling that a case brought by Zambian villagers against mining company Vedanta Resources over environmental pollution could be heard in England. Vedanta said it would seek the right to appeal to the Supreme Court. (Reporting by Libby George; Editing by Edmund Blair and David Evans)
NPA says only eight agencies allowed operations in ports nationwide - THE GUARDIAN
FEBRUARY 14, 2018
The Nigerian Ports Authority (NPA) on Tuesday disclosed that only eight Federal Government agencies are allowed to operate and have physical representation at all port locations in the country.
The General Manager, Corporate and Strategic Communications of NPA, Alhaji Abdullahi Goje, said in a statement in Lagos that the disclosure was based on the directive of the Presidential Enabling Business Environment Council (PEBEC).
Goje said that PEBEC had directed the NPA to ensure strict compliance to the Oct. 26, 2011 presidential directive on agencies permitted to operate in the ports.
"Agencies allowed representation at the ports are: Nigerian Ports Authority (NPA), Nigerian Customs Service (NCS), Nigerian Maritime Administration and Safety Agency (NIMASA), Nigeria Police, Department of State Security (DSS).
"Other agencies are: Nigerian Immigration Service (NIS), Port Health and the Nigerian Drug Law Enforcement Agency (NDLEA),'' he said.
He stressed that the other agencies not mentioned on the list must remain outside the port premises.
"The Nigerian Customs Service, which is the lead agency for inspection of cargoes, has developed standard operating procedures to facilitate
seamless operation,'' Goje said.
The NPA spokesman said that the authority remained committed to the Ease of Doing Business policy of the administration of President Muhammadu Buhari.
He said the presidential initiative was to improve the conditions under which business was carried out at all ports across the country.
Goje solicited for the support of all agencies and stakeholders in the Nigerian Maritime Sector towards making Nigeria, a destination of choice for all legitimate businesses.
Reps summon Emefiele, NDIC, BoI CEOs over N17bn NERFUND loans - PUNCH
FEBRUARY 14, 2018
BY John Ameh, Abuja
An ad hoc committee of the House of Representatives on Tuesday summoned the Governor of the Central Bank of Nigeria, Mr. Godwin Emefiele, over the N17bn non-performing loans recorded by the National Economic Reconstruction Fund.
Also to appear before the committee, which is chaired by a member from Ekiti State, Mr. Ayodele Oladimeji, are the Managing Director of the Nigeria Deposit Insurance Corporation, Mr. Umaru Ibrahim; and the Managing Director of the Bank of Industry, Mr. Olukayode Pitan.
The committee is investigating reports that NERFUND went under as a result of the loans, following which the Federal Government hurriedly merged it with the BoI.
Lawmakers are asking questions on why the loans are not recovered, in addition to investigating the beneficiaries.
Among the allegations were that "acolytes of the management" and some members of staff were among the beneficiaries.
The committee also has information that some members took a N500m facility with a repayment period of up to 20 years at only one per cent interest rate.
At Tuesday's session, Oladimeji recalled that NERFUND was shut in disregard to a standing resolution of the House, which directed that further actions on the agency should be put on hold pending the outcome of the probe.
He added that Emefiele was summoned to tell Nigerians why the CBN failed to ensure that the loans were recovered.
He also stated that the committee was interested in knowing the legal basis for the merger with the BoI.
The committee observed that the members had yet to be convinced on how NERFUND, which had an initial capital of N300m, could go under, while some commercial banks were posting profits in billions of naira.
The committee cited the case of Zenith Bank Plc and several others that started business around 1989 just as NERFUND did.
Oladimeji added that if NERFUND could fall easily, there were no guarantees that the BoI, the newly-inaugurated Development Bank of Nigeria or the Bank of Agriculture would survive for long.
He stated, "With all the precautions taken by the NERFUND Act, NERFUND was not supposed to be distressed. What has the CBN done to recover the loans as prescribed by the Act?
"If NERFUND can go under, should Nigerians be looking forward to the collapse of similar agencies like the DBN, BoI and the others? Merging NERFUND with BoI is illegal, but we will not allow the DBN, BoI and the others to collapse like NERFUND."
However, the Ministry of Finance claimed that NERFUND was not merged with the BoI.
A representative of the ministry, Olubunmi Siyanbola, told the committee that a process to wound down the agency began in 2013 and was followed through.
She stated that the BoI's role was merely to recover the non-performing loans after all the members of staff of NERFUND resigned.
She explained, "NERFUND had 82 workers, but the entire 33 senior management staff resigned in August 2016 on the verge of the presentation of the report of the presidential committee that investigated the Fund.
"Because the agency has no board, the Federal Government constituted an interim management committee to oversee its affairs and by October 2017, the entire 49 junior workers also resigned after which they pleaded that we assist in their absorption into other Federal Government agencies."
NCAA to investigate Delta's plane emergency landing at Lagos airport - THE GUARDIAN
FEBRUARY 14, 2018
The Nigerian Civil Aviation Authority (NCAA) on Wednesday said it would investigate the emergency landing by an Atlanta-bound Delta Air Lines flight at the Murtala Muhammed International Airport, Lagos.
The General Manager, Public Relations, NCAA, Mr Sam Adurogboye, disclosed this to the News Agency of Nigeria (NAN) in Lagos.
Adurogboye said that NCAA had been notified of the incident, stressing that it was the duty of regulatory authority to investigate such occurrences in order to ascertain what led to it.
He noted that the pilot acted in accordance with the Standard and Recommended Practices (SARPs) by making an air return immediately the left engine of the aircraft caught fire in-flight.
NAN recalls that the Delta Air Lines flight 55 which took off around 10:50 pm on Tuesday, made an air return less than an hour later due to an engine fault.
The pilot announced the evacuation of all the passengers on board within 90 seconds, after contacting the control towers when the left engine of the aircraft caught fire.
A statement signed by the United States carrier's media consultant in Nigeria, Mr Tope Awe, on Wednesday, said the A330-200 had an issue with one of its two engines.
"The flight landed safely and customers exited the aircraft on the runway via emergency slides.
"Airport fire authorities met the aircraft upon arrival. Delta's customers were bussed back to the terminal.
"Delta is aware of five customers reporting non-critical injuries as a result of the evacuation.
"Delta teams have provided overnight hotel accommodations to customers and will rebook customers on an alternate Delta aircraft Wednesday afternoon.
"The safety of Delta's customers and crew members is always our top priority," Awe said.
Nigeria: Delta Air Plane Catches Fire Mid Air, Makes Emergency Landing - VANGUARD
FEBRUARY 14, 2018
By Lawani Mikairu
Delta Air plane in the early hours of Wednesday, made emergency landing at the Muritala Muhammed International Airport , Lagos shortly after taking off when the pilot of the plane noticed that the left engine of the aircraft caught fire mid air in-flight.
The pilot of the Delta Air flight DL055 (ATL)ETG immediately contacted the control tower at the Lagos Airport to prepare for emergency landing. All emergency aviation officials were immediately contacted and fire fighters placed on standby. After landing successfully, all the passengers aboard were quickly evacuated via the emergency sliding door within few minutes.
Although there is no death recorded as at the time of filing this report but quite a number of crew and passenger casualties were recorded and have been taken to Lagos State University Teaching Hospital, LASUTH, Ikeja, Air Force Base Clinic and Federal Airports Authority of Nigeria, FAAN, Medical Centre for speedy medical attention.
Meanwhile, the incident led to the closure of the runway as the Delta Aircraft was on the Runway for over 1hour thereby preventing KLM, Lufthansa and Air France already positioned for take off from departing. The aircraft was later towed with a push back truck to the open parking bay close to Boarding gate E 63.
The remaining casualty - free passengers have been taken to an Hotel after the flight was announced cancelled and rescheduled for a date yet to be specified and communicated.
Euro-Area Economy Keeps Cruising Speed as Outlook Improves - BLOOMBERG
FEBRUARY 14, 2018
By Piotr Skolimowski
Eurostat confirms fourth-quarter GDP growth at 0.6 percent

German economy expanded 0.6 percent, Italy's 0.3 percent
The euro-area economy maintained its robust growth pace at the end of last year, setting the stage for another solid performance in 2018 that may sway European Central Bank policy makers into winding down unprecedented stimulus.
Gross domestic product increased 0.6 percent from the previous three months, Eurostat reported Wednesday, confirming a Jan. 30 estimate. Growth slowed in Germany and Italy, while the pace of expansion accelerated in the Netherlands and Portugal, according to separate reports.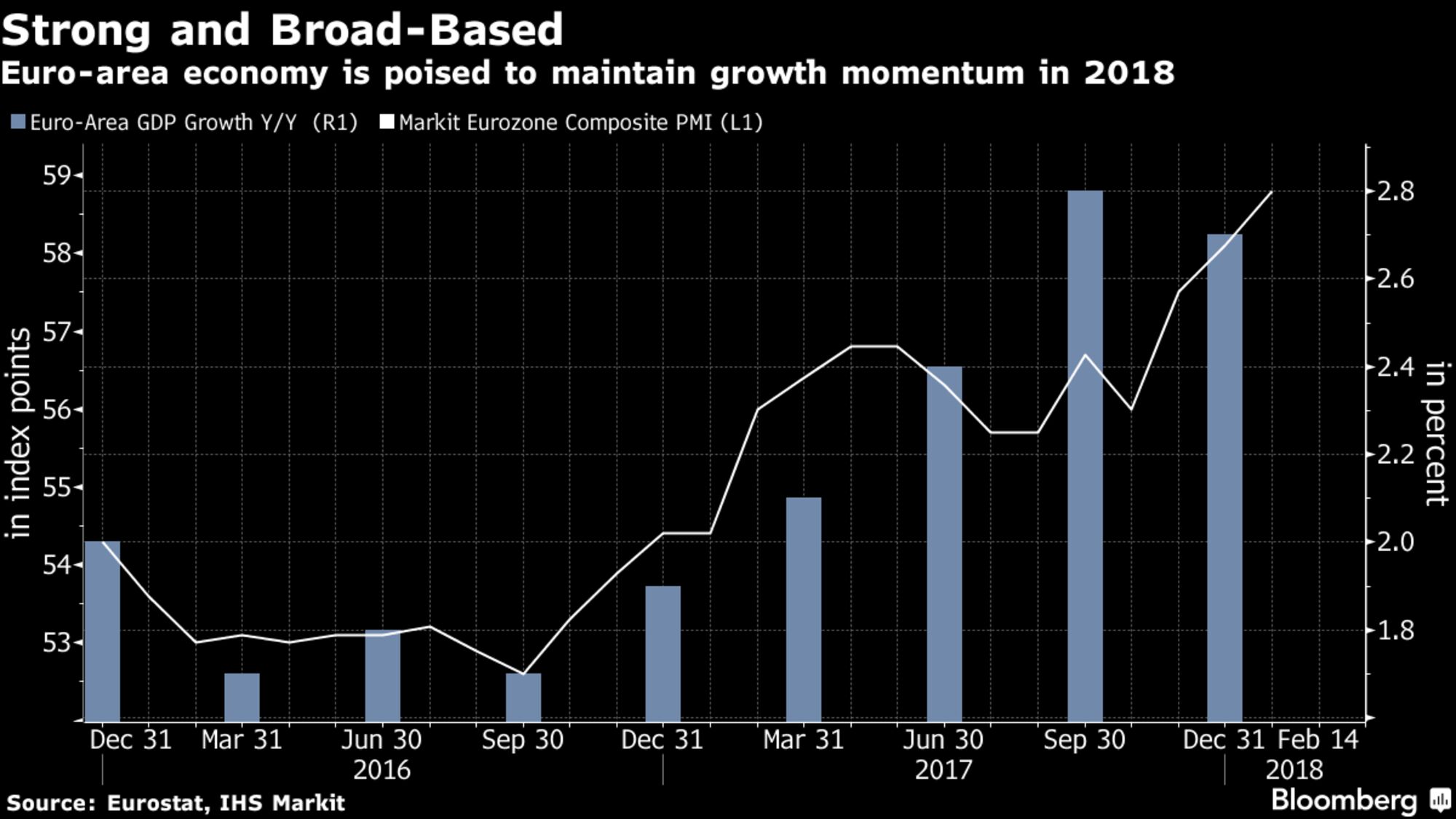 The European Commission has said the economic expansion in the 19-nation region is now more balanced than at any time since the financial crisis, and the International Monetary Fund has raised its global outlook for 2018. ECB policy makers say they're increasingly confident that robust growth will slowly rekindle price pressures, paving the way for a gradual withdrawal of monetary accommodation.
For Bloomberg's Markets Live Blog, click here
Germany's upswing -- despite a slowdown in quarterly output -- continues to be a key ingredient for growth in the euro area. Momentum in the country at the end of last year was driven by a strong increase in exports, according to a national report. Government consumption and equipment investment increased, while private spending remained largely unchanged and construction slipped.
The Dutch economy also benefited from buoyant global trade. GDP increased 0.8 percent in the fourth quarter, exceeding economist estimates. Italian growth slowed to 0.3 percent, leaving it lagging behind France and Germany and providing a note of caution ahead of general elections next month. GDP increased 0.7 percent in Portugal.
"Going into this year there are reasons to expect growth to broaden," said Jennifer McKeown, chief European economist at Capital Economics Ltd. in London. "Germany will likely be among the strongest performers this year, but as you move through the year France and Italy will hopefully start to catch up."
Global Trend
Elsewhere, the Japanese economy continues to look healthy after two years of uninterrupted growth, even though growth slowed to 0.1 percent in the fourth quarter amid weaker public demand. Singapore lost some of its momentum at the end of 2017, with the government projecting a slight moderation in growth this year as an export boom eases.
Economic momentum in the euro area surged to the fastest pace in almost 12 years last month, a business survey showed, pushing firms to pile on the most additional workers since the start of the millennium.
"Euro-zone industry is a good example of a sector with still a lot of upside left," Bert Colijn, senior euro-area economist at ING Bank NV in Amsterdam, said after a report showed industrial output surged an annual 5.2 percent in December. "The acceleration of production growth is unlikely to be a one-off as the outlook for industry remains rosy."
While ECB President Mario Draghi has welcomed the region's strengthening momentum, he also cautioned against removing stimulus too quickly in light of still-muted inflation. Consumer-price growth slowed to the weakest since July at the start of the year.
"The GDP results for the final quarter of 2017 should strengthen confidence at the ECB that inflation will gradually move from 1.3 percent currently to the goal of just below 2 percent," said Alexander Krueger, chief economist at Bankhaus Lampe KG in Dusseldorf. "We don't expect an accelerated exit from asset purchases due to the continued robust upturn though."
— With assistance by Andre Tartar, and Kristian Siedenburg
With $4 Billion Bond Sale Done, Egypt Readies Euro Offer - BLOOMBERG
FEBRUARY 14, 2018
By Ahmed Feteha and Mirette Magdy
Sale 'ideally' to take place in April, finance minister says

Egypt's international bond sales help lower borrowing costs
Egypt will begin approaching investment banks in a few days for a planned sale of euro-denominated bonds after successfully raising $4 billion from international debt markets to finance the budget deficit and bolster foreign reserves, Finance Minister Amr El-Garhy said.
The sale of 1 billion to 1.5 billion euros in notes will "ideally" take place in April, and Egypt wants European banks to manage it, the minister said in a phone interview. On Tuesday, the government received about $12 billion in offers for its dollar-denominated bonds, in what the minister described as a "vote of confidence" in the Egyptian economy.
The strategy of becoming a regular issuer on international markets will enable Egypt "to borrow easily and at relatively better pricing," said Mohamed Abu Basha, an economist at investment bank EFG-Hermes in Cairo.
While the global market turmoil last week also hit the assets of developing nations, investors are still tempted by higher-yielding emerging debt in a world that remains awash with central bank stimulus. For the Egyptian government, however, borrowing costs on international markets remain much lower than local-currency debt.
Tuesday's issuance completely covers Egypt's financing gap for the fiscal year ending June 30, Deputy Finance Minister Ahmed Kouchouk said. It brings to $11 billion the total amount of international bonds Egypt has sold since floating the currency and securing a $12 billion International Monetary Fund loan in November 2016.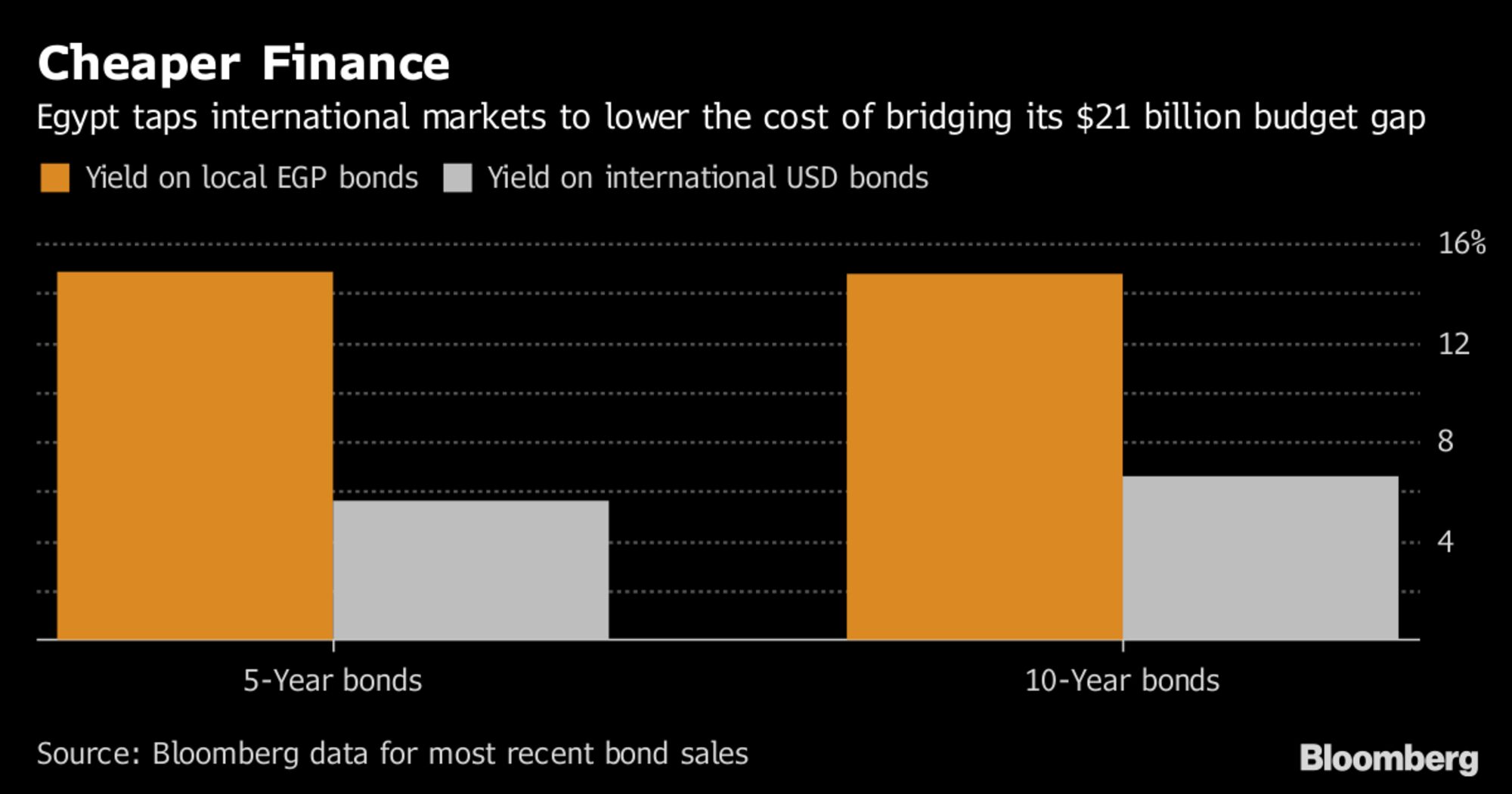 The terms for the latest issuance were less favorable than last year's due to the increase in global interest rates, El-Garhy said.
"We could've secured cheaper pricing since our risk position has improved since the last time we tapped the market, but the rise in yields on U.S. Treasuries has affected us," El-Garhy said.
Egypt's foreign-currency reserves have been steadily increasing since 2016, climbing to a record $38.2 billion January.
Tuesday's issuance was broken down into three parts: $1.25 billion in five-year notes with a yield of 5.58 percent, $1.25 billion in 10-year notes with a 6.59 percent yield; and $1.5 billion in 30-year notes with a yield of 7.9 percent, the Finance Ministry said in an emailed statement.
— With assistance by Tarek El-Tablawy, and Alexander Nicholson