Aboki News
UPDATE 1-South African rand hits 2-1/2-year high as ANC prepares to push out Zuma - REUTERS
FEBRUARY 14, 2018
JOHANNESBURG, Feb 14 (Reuters) - South Africa's rand jumped more than 1 percent to its firmest since June 2015 and bonds hit a one-week best on Wednesday after the ruling African National Congress (ANC) said it would proceed with a vote to remove President Jacob Zuma from office.
At 1140 GMT the rand was 1.1 percent firmer at 11.8200 per dollar. It earlier rallied to a session best 11.7975 just after the ANC's parliamentary caucus said it would support a motion of no-confidence brought by an opposition party against Zuma and due to be heard in the house on Thursday.
The party's chief whip Jackson Mthembu said the ANC hoped to elect party leader Cyril Ramaphosa as president of the country on Thursday, after the no-confidence vote, or on Friday, accelerating the end of Zuma's scandal-plagued reign.
"We saw the rand strengthen about 10 cents on the announcement but the fear is it's still not a done deal, so that's why we've seen the rand bounce. Zuma could still have something up his sleeve," Tradition Futures derivatives trader Gillian van Heerden said.
The rand's fortunes have been closely tied to political outcomes over the past couple of years, with the impasse in the last few weeks over Zuma's future weighing on the currency's 2018 rally.
The cost of insurance on the rand also rose sharply, with the price of one-week options increasing nearly 30 percent.
Bonds also firmed, with the yield on the benchmark 2026 paper down 6 basis points at 8.395 percent.
Stocks gained, with the Johannesburg bourse's index of 40 blue-chip shares up 0.5 percent at 50,658 points, while the All-Share index rose 0.5 percent to 57,501 points. (Reporting by Mfuneko Toyana; Editing by Dale Hudson)
Egypt's GDP growth for Q2 of 2017/18 fiscal year at around 5.3 pct - minister - REUTERS
FEBRUARY 14, 2018
CAIRO, Feb 14 (Reuters) - Egypt's GDP growth for the second quarter of the 2017/18 fiscal year rose to around 5.3 percent from 3.8 percent in the same period last year, Planning Minister Hala al-Saeed said on Wednesday.
Egypt's fiscal year begins in July and ends in June.
Egypt's economy has been struggling since a 2011 uprising drove foreign investors and tourists away, but a $12 billion IMF deal signed in November 2016 is hoped to put the country on the right track. (Reporting by Moemen Writing by Arwa Gaballa; Editing by Alison Williams)
'Ghost Liquidity' in Currency Markets Is a Concern for the CFTC - BLOOMBERG
FEBRUARY 14, 2018
By Lananh Nguyen
Vontobel CEO Staub Says Volatility Is a Return to Normal
U.S. regulators are keeping a keen eye on liquidity in the world's largest financial market.
"As far as the foreign-exchange market goes, we're concerned about any market that loses liquidity," Andrew Busch, the Commodity Futures Trading Commission's first chief market intelligence officer, said at the TradeTech FX conference in Miami Tuesday. "It gets to the central question: Where is it? Is it there? Is it pretend liquidity, is it ghost liquidity?"
The ability to buy and sell currencies when needed has been a focus for participants in the $5.1 trillion-a-day market amid stricter regulation and increased electronic trading. Declining liquidity has been blamed for flash crashes in foreign-exchange markets, including the British pound's plunge in October 2016.
Ensuring liquidity is a key priority for asset managers and hedge funds seeking to execute currency transactions, while Bank of America Merrill Lynch has noted that reduced activity is spurring a battle for market share among dealers. A survey published last year by the organizers of the Miami conference noted that finding alternative methods to source liquidity was among the biggest priorities for many currency trading desks.
"We are for safer markets, but we're also for markets that function efficiently," said Busch, who joined the CFTC in April. "We worry about the fragmentation, the different pricing that will occur, the different pockets of liquidity that people have to access."
FX Volatility Sparks Trading Surge With Signs of More to Come - BLOOMBERG
FEBRUARY 14, 2018
By Lananh Nguyen
Turbulence coincides with jump in activity: JPMorgan, CLS

Price swings in focus as currency industry gathers in Miami
BOJ to Drive Dollar-Yen by Year's End, Says Nomura's Rochester
The past week's financial-market turbulence is keeping foreign-exchange traders busy, boosting volumes along with volatility.
Price swings in the $5.1-trillion a day currency market have jumped at the start of 2018 to the highest since November 2016 on a monthly basis, according to a JPMorgan Chase & Co. gauge. The turmoil coincides with surging trading activity, say JPMorgan and CLS Group Holdings AG, which settles global foreign-exchange transactions.
As heads of currency trading from the world's biggest asset managers and banks gather at the TradeTech FX conference in Miami this week, they're fixated on whether the turmoil will persist. If it does, it could be a boon for speculators, while complicating the tasks of hedgers who prefer more placid waters.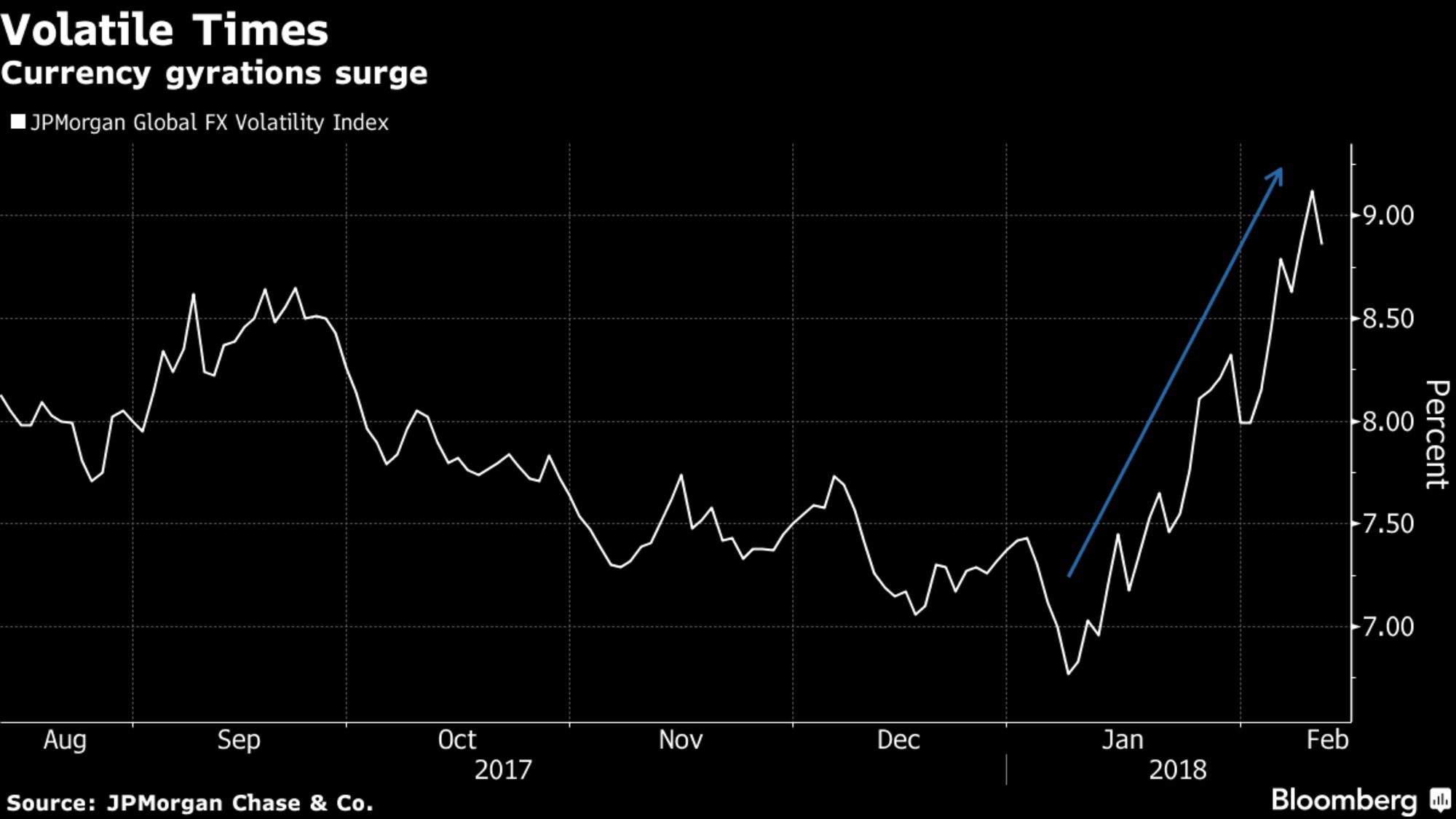 "Volatility is natural to markets -- low volatility is not natural," said Isaac Lieberman, chief executive officer of Aston Capital Management LLC in New York.
Managers of $1.7 Trillion Say Currency Volatility Here to Stay
Market gyrations have returned to FX after a subdued 2017, which was the calmest year since 2012, according to the JPMorgan gauge. As other central banks look to follow the Federal Reserve in withdrawing monetary accommodation against a backdrop of strengthening global growth, there are plenty of catalysts that could whipsaw markets.
"Market activity is really taking off," said David Puth, chief executive officer of CLS Group.
CLS settled an average of almost $2.1 trillion of currency trades a day from Monday to Thursday last week, up 14 percent from January's average, the company said in a statement.
As markets became more volatile over the last two months, JPMorgan's clients boosted their use of the bank's currency algorithms, according to Richard James, co-head of macro markets execution in London. The number of users trading on the bank's electronic platform also grew, with every day last week exceeding the highest level seen in 2017.
Here are some other views on volatility expressed at the event:
"FX market participants worry that any further round of equity volatility will spill much more heavily into FX than last week's episode did," said Steven Englander, head of research and strategy at Rafiki Capital. "The strong consensus is that the VIX will fall back sharply but stabilize closer close to historical norms around 15 or just under. VIX futures build in a relatively quick downward move."
"What we're seeing right now is the start of the volatility -- I think that continues," said Lee Ferridge, head of macro strategy for North America at State Street Global Markets. If the turbulence persists, it could prompt the Fed to back off its tightening cycle, he said.
Nigeria Airways' UK, Ghana workers got full entitlements – FG - PUNCH
FEBRUARY 14, 2018
Okechukwu Nnodim, Abuja
Employees of the defunct Nigeria Airways, who worked in the United Kingdom and Ghana, got their full entitlements when the airline was liquidated but their Nigerian counterparts were not paid, the Federal Government announced on Tuesday.
According to the Minister of State for Aviation, Senator Hadi Sirika, the lack of a strong enabling Act that backs Nigerian workers in cases of liquidation was one major reasons why the affected employees of the defunct airline could not get their entitlements when the carrier went under.
Sirika, who spoke at the annual retreat of the Joint Union Negotiating Council in Abuja, stated that it was time for workers to fight more on institutionalising procedures instead of struggling for less significant concerns.
Nigeria Airways was liquidated by ex-President Olusegun Obasanjo's administration in 2005, and the workers of the defunct airline based in the country had staged nationwide protests over their unpaid entitlements.
The minister, who was represented by the Commissioner, Accident Investigation Bureau, Akin Olateru, said, "You will agree with me that NITEL, Nigeria Airways, PHCN, etc., all laid off staff; and at every point, the staff had to fight to get their entitlements. It is good to fight for money, better condition of service and training, but we need to fight more on institutionalising some procedures.
"I'll give you an example; when Nigeria Airways was declared comatose, the people in the United Kingdom got full payment, those in Ghana got full payment, but why is it that we in Nigeria did not get same? It is because we don't have a very strong enabling Act that supports staff after the liquidation of their firms."
Sirika added, "So to union leaders, don't let us fight for just what we are eating today, but let's put the right systems in place to help our future. If you need to take this to the National Assembly, I think it is a worthy course. Today, it is Nigeria Airways and people are carrying placards and crying; tomorrow, we don't know who's next."
'Nigeria May Be Key Brexit Trade Ally' - THISDAY
FEBRUARY 14, 2018
The Chairman of the Commonwealth Enterprise and Investment Council (CWEIC), Lord Marland of Odstock, has said it was time for the UK to set up a post-Brexit trading zone, with Nigeria, Singapore and Malaysia offering major opportunities.
Speaking in an interview with the British newspaper, The Telegraph, ahead of the 2018 Commonwealth Business Forum (CBF), thenigerianvoice.com, quoted Lord Marland as saying: "The UK doesn't want to be seen to be initiating anything but actually people look to the UK for leadership. If the UK wants to initiate something, which is a starting block for a commonwealth trade zone, it will start."
"There are one or two really encouraging, optimistic places on the horizon. You've got the big populations such as Nigeria, which is going to be 320m people – bigger than the United States – in under 10 years. They love British products…it's a huge consumer market. Fundamentally there is a lot of disposable wealth."
Asked which other products Nigerians were particularly keen to buy, he replied: "Everything."
Lord Marland added that leaving the EU's customs union was one of the UK's "great negotiating strengths," as it would grant the freedom to stimulate trade by lowering tariffs and other trade barriers.
The benefits of doing so would extend beyond the Commonwealth, he said, as a potential free trade deal with Japan was already "worrying" German car manufacturers who rely on exports to the UK.
Britain is Nigeria's second-largest trading partner, after South Africa, with the bilateral relationship worth around £3.8billion per year.
The CBF will be organised alongside the biennial Commonwealth Heads of Government Meeting (CHOGM), set to take place in April 2018 in London, for the first time in 20 years. Discussions will focus on key themes such as:easing the pathway for business and growth; harnessing Commonwealth technology and innovation; creating a new attitude to sustainable business; mobilising an export economy, and attracting inward investment
With the Commonwealth's cumulative population standing at 2.4 billion, the combined Gross Domestic Product of the nations is set to reach US$14 trillion by 2020. Intra-Commonwealth trade, which was estimated to be worth $525 billion in 2015, is projected to surpass $1 trillion by 2020.
CWEIC's ambition is to encourage and grow intra-Commonwealth trade and investment, and assist member organisations in developing high quality trade and investment opportunities.
'Non-oil economy still in recession' - THE NATION
FEBRUARY 14, 2018
By: Nduka Chiejina
Nigeria's economy is still vulnerable with fragile growth driven by increased oil production and rising crude oil Price.
Chief Executive Officer, RTC Advisory Services Limited, Mr. Opeyemi Agbaje made this observation at a media parley in Abuja.
He noted that, while there was miraculous reversal in oil price and production out put, other sectors such as manufacturing, services sector, telecommunications are yet to come out of the recession.
According to him, "Nigeria's economy witnessed miraculous reversal in terms of oil price and production. The country came out of recession because of oil growth. The economy of shell oil, NNPC and other oil firms may have come out of recession but other sectors are still grappling with recession."
He pained an optimistic picture by assuring that a sustained "diffusion of rising crude oil Price, other sectors currently in recession could experience positive growth."
Asked why Nigeria's budget has not made any meaningful impact on the citizens, Agbaje said the "Nigeria's budget as currently structured may not affect the citizens quickly as expected unless its focus is changed from heavy recurrent expenditure to capital."
According to him, "unless we reverse our budget culture, poverty will continue to grow. When you spend 80% of revenue on limited number of people you will get the sort of outcome we are currently grappling with. Unless you reverse the trend of your priority by spending 80% on capital projects and spend less on recurrent items, there would be massive poverty" he said.
Fed Govt plans N100b bonds next week - THE NATION
FEBRUARY 14, 2018
By: Taofik Salako
The Federal Government plans to issue two bonds valued at N100 billion next week, in a continuation of the government's dual strategy of proactive debt management and development of the domestic debt market.
A notice by the Debt Management Office (DMO)-which oversees Federal Government's sovereign debt issues, indicated that the government will be offering by subscription N100 billion worth of bonds in its February 21, 2018 auction.
The offer circular obtained yesterday indicated that government will sell a N50 billion three-year bond at a coupon of 14.50 per cent and maturity of July 2021. Government will also offer a N50 billion bond with maturity in February 2028.
The July 2021 bond is a re-opening of previous issues while the February 2021 bond is a new 10-year issue.
UPDATE 2-Appeal court rules Nigerians cannot pursue Shell spill claim in England - REUTERS
FEBRUARY 14, 2018
(Adds dissenting opinion, background)
By Libby George and Tife Owolabi
LONDON/YENAGOA, Nigeria, Feb 14 (Reuters) - The Court of Appeal in London ruled on Wednesday that two Nigerian communities cannot pursue Royal Dutch Shell in English courts over oil spills in Nigeria's Delta region.
The split decision upheld a High Court ruling last year that was a setback to attempts to hold British multinationals liable at home for their subsidiaries' actions abroad.
The court rejected the appeal from law firm Leigh Day on behalf of Nigeria's Bille and Ogale communities, and upheld a ruling that English courts do not have jurisdiction over claims against Shell's Nigerian subsidiary Shell Petroleum Development Company (SPDC).
SPDC is jointly operated with the Nigerian government
Shell said the court "rightly upheld" the earlier ruling, and said Nigeria's "well-developed justice system" was the correct place for the claims. Its subsidiary SPDC has also denied responsibility for the spills, which it says were due to sabotage and illegal refining.
One of the three senior High Court judges, the Rt. Hon. Lord Justice Sales, disagreed with the majority ruling, writing that the communities have "a good arguable claim that (Shell) assumed a material degree of responsibility in relation to the management of the pipeline and facilities" operated by SPDC.
Leigh Day said the two Nigerian communities intended to bring the case to Britain's Supreme Court.
"We are hopeful that the Supreme Court will grant permission to appeal and will come to a different view," Leigh Day partner Daniel Leader said.
King Okpabi, the ruler of the Ogale community, said the English courts were the only hope, and that they "cannot get justice" in Nigeria.
The case is significant in determining whether multinational companies can face legal action in England over their subsidiaries' actions abroad.
Last year, an appeals court upheld a ruling that a case brought by Zambian villagers against mining company Vedanta Resources over environmental pollution could be heard in England. Vedanta said it would seek the right to appeal to the Supreme Court. (Reporting by Libby George; Editing by Edmund Blair and David Evans)
NPA says only eight agencies allowed operations in ports nationwide - THE GUARDIAN
FEBRUARY 14, 2018
The Nigerian Ports Authority (NPA) on Tuesday disclosed that only eight Federal Government agencies are allowed to operate and have physical representation at all port locations in the country.
The General Manager, Corporate and Strategic Communications of NPA, Alhaji Abdullahi Goje, said in a statement in Lagos that the disclosure was based on the directive of the Presidential Enabling Business Environment Council (PEBEC).
Goje said that PEBEC had directed the NPA to ensure strict compliance to the Oct. 26, 2011 presidential directive on agencies permitted to operate in the ports.
"Agencies allowed representation at the ports are: Nigerian Ports Authority (NPA), Nigerian Customs Service (NCS), Nigerian Maritime Administration and Safety Agency (NIMASA), Nigeria Police, Department of State Security (DSS).
"Other agencies are: Nigerian Immigration Service (NIS), Port Health and the Nigerian Drug Law Enforcement Agency (NDLEA),'' he said.
He stressed that the other agencies not mentioned on the list must remain outside the port premises.
"The Nigerian Customs Service, which is the lead agency for inspection of cargoes, has developed standard operating procedures to facilitate
seamless operation,'' Goje said.
The NPA spokesman said that the authority remained committed to the Ease of Doing Business policy of the administration of President Muhammadu Buhari.
He said the presidential initiative was to improve the conditions under which business was carried out at all ports across the country.
Goje solicited for the support of all agencies and stakeholders in the Nigerian Maritime Sector towards making Nigeria, a destination of choice for all legitimate businesses.