Aboki News
Nigeria signs air agreements with five countries - JOURNAL du CAMEROUN
FEBRUARY 06, 2018
President Muhammadu Buhari has signed bilateral air service agreements with the People's Democratic Republic of Algeria; the Republic of Congo; the People's Republic of China; the State of Qatar and the Republic of Singapore.The Instruments of Ratification of the Bilateral Air Services Agreements signed on Monday by Buhari were approved by the Federal Executive Council (FEC).
"With the execution of these instruments, it is expected that Nigeria's aviation links with the respective countries will improve significantly," the statement read in part.
Buhari also signed the Executive Order 5 to improve local content in public procurement with science, engineering and technology components.
The Executive Order is expected to promote the application of science, technology and innovation towards achieving the nation's development goals across all sectors of the economy.
"The President, pursuant to the authority vested in him by the Constitution, ordered that all 'procuring authorities shall give preference to Nigerian companies and firms in the award of contracts, in line with the Public Procurement Act 2007," the presidency said on Tuesday.
The Executive Order, according to the presidency, also prohibits the Ministry of Interior from giving visas to foreign workers whose skills are readily available in Nigeria.
According to the instrument, where expertise is lacking, procuring entities will give preference to foreign companies and firms with a demonstrable and verifiable plan for indigenous development, prior to the award of such contracts.
Buhari also directed Ministries, Departments and Agencies to engage indigenous professionals in the planning, design and execution of national security projects.
It added that ''consideration shall only be given to a foreign professional, where it is certified by the appropriate authority that such expertise is not available in Nigeria".
Nigeria's petrol price peg distorts West African markets - BUSINESSDAY
FEBRUARY 06, 2018
Nigeria is not only the biggest country in Africa; it is also the continent's most foolishly generous. With 20 million litres smuggled out of the country daily, Nigeria's subsidised petrol is a favourite commodity on West Africa's black markets.
The sale of illicit Nigerian petrol has become widespread across the West African sub region helping to oil black markets and distorting price mechanisms of these countries. Nigeria's retail price peg of N145 per litre is not only hurting investments in the downstream sector, it is encouraging smuggling across its porous borders.
On roadsides in Cameroun and other West African countries, vendors fill customer's car, using the cut-off top of a plastic bottle as a funnel. The fuel is less expensive with a 30 litres of petrol costing FCFA 17,000 in the country rather than FCFA 19,000 at the pump according to a report by African Arguments, a pan-African news platform on issues plaguing Africa. This translates to N382 per litre on the streets and N426 per litre at the pump.
With landing cost of petrol in Nigeria put at N171 per litre, the Nigerian National Petroleum Corporation (NNPC) incurred N37 on each litre of fuel at a depot price of N133.80, leading to a daily subsidy of N2.046billion for 55million litres. The landing cost of petrol has been higher than the pegged retail price of N145 per litre, after crude oil prices rose to $45 per barrel in January 2017.
This puts total subsidy spends since February 2017 to date at N746.79billion, according to BusinessDay calculations. There is no better manual on how to self-destruct an economy.
This figure is higher than budgetary allocation for the ministry of Power, Works and Housing (N555.88bn), transportation (N263.1bn), Agriculture and Rural development (N118.98), Universal Basic education (N109.6bn) and combined capital expenditures for defence (N145bn), health (N71.11bn) and education (N61.7bn) according to an analysis by SBM Intelligence.
On January 24, the Nigerian National Petroleum Corporation (NNPC) raised alarm over the sustained nefarious activities of some cross-border fuel smuggling syndicates that makes it difficult to account for about 20million litres of fuel a day.
Maikanti Baru, Group Managing Director of the state-owned corporation, told the Joint National Assembly Committee on Petroleum Downstream that if the activities of the fuel truck diverters and smugglers were left unchecked, it would constrain local supply.
Worse still, the economies of these neighbouring countries, such as Benin, Ghana and Togo are feeling the squeeze. At the 11th edition of Oil Trading & Logistics Expo that held in Lagos from October 23 – 25, Mohammed Amin Adam, deputy minister of Energy Ghana while delivering the keynote address, said Nigeria's regulated price is distorting price mechanisms in the region.
Adam said that policy is not only unsustainable but creates problems for its neighbours. Adam argued that since Nigeria constitutes the region's biggest market, its policies has serious impact for other countries in West Africa.
"On this note, I wish to call on the Nigerian government to make efforts at reaching full price deregulation given that it is the largest market for products on our continent and any failure at reaching full price deregulation will lead to distortion on the sub regional market on the continent," said Adam.
Petrol smuggled from Nigeria is known as "Funge" or "Zoa Zoa", in Cameroon's North West region.
"When police officers raid this area and collect bribes from vendors, they increase prices to make up for what they paid to the police," someone patronising the roadside fuel sellers told Africa Arguments. In the city, buyers say price is far from the only benefit to buying petrol in this way.
"We don't only buy because it is cheaper," he says, "but also because it is available everywhere and at all times."
Despite the fact that Cameroon is one of Africa's biggest oil-producers and sold 17 million barrels of crude in 2017, sale of illicit Nigerian petrol has become a common sight across the country. Meanwhile, in Nigeria where, over 1.9million barrels are produced daily, citizen's continue to sleep in fuel stations to get petrol subsidised in Lagos and Abuja.
A centrally controlled market for petrol which is the most consumed petroleum product in the sub region creates room for smuggling and discourages investments in the downstream sector of the region, stakeholders say.
"At the same time, we must put in place polices that punish domestic anti-competitive behaviours. This will make deregulation polices become effective instruments for increase in public confidence in our markets and prevent us from turning to the days of subsidies and under recoveries which have very negative long-term effect on many economies on our continent," said Adam.
ISAAC ANYAOGU
Manufacturers spend N66bn on gas, diesel, inverters in 6 months - BUSINESSNESS
FEBRUARY 06, 2018
Nigeria's manufacturers are spending more on diesel, gas, inverters, UPS and other alternative energy sources, indicating poor levels of power supply across Nigeria.
Local manufacturers spent N66.03 billion on alternative energy sources between January and June 2017, as against N62.96 billion expenditure made in the same period of 2016, according to a latest report prepared by the Manufacturers Association of Nigeria (MAN), sent to BusinessDay.
The largest chunk of expenditure went to diesel, which occupied 39.4 percent of the total. While N26.02 billion was spent on diesel, N21.35 billion was expended on procuring new generators within the period.
Also, manufacturers spent N17.75 billion on gas, while N906 million was for inverters, UPS, and other power storage and purifying gadgets.
"Energy shared 36 percent of the total cost of production in the manufacturing sector within the period. This accounts for the poor competitiveness of made-in-Nigeria goods," MAN says.
The report shows that the average daily electricity supply in H1 of 2017 declined to five hours, from seven hours supplied in the corresponding period of 2016 and eight hours in the preceding half.
Poor power supply ranks among the biggest challenges facing Nigerian manufacturers, which also include lack of or limited availability of good transportation systems, water, credit and high taxes.
Diesel is mainly used by small and medium manufacturers, while large enterprises, including conglomerates and multinationals, use gas plants.
Aliko Dangote, president of Dangote Group, installed coal-fired plants for his cement factory in 2016, and urged large enterprises with financial muscles to do the same. Coal is cheaper than gas, diesel and Low-Pour Fuel Oil (LPFO).
Gas is however subject to availability. Early this year, the Escravos-Lagos Pipeline (ELP), a natural gas pipeline, which supplies gas from Escravos region of the Niger Delta area to Lagos, was ravaged by fire, shrinking the levels of gas available for manufacturers.
Gas users contend that dollarising the product is not in the interest of manufacturers who are scrambling for dollars to import inputs.
"There is a need to review the pricing policy of gas companies which prescribe payment in dollars for gas used by industries," Babatunde Paul Ruwase, president, Lagos Chamber of Commerce and Industry (LCCI), said at the State of the Nation press conference in Lagos on January 24.
"We believe this is not consistent with the objective of promoting industrialisation, economic diversification and job creation. Most manufacturers are producing for the domestic market; it is therefore inappropriate to compel them to pay for gas in dollars," Ruwase said.
Similarly, manufacturers are increasingly abandoning power distribution companies popularly called DisCos for private companies that can provide 24-hour incremental and quality electricity at cheaper rates.
Already, the Manufacturers Association of Nigeria, through its recently formed MAN Power Development Company, has signed an agreement with Tower Energy Solution & Systems Limited for the supply of six to 10 megawatts (MW) of electricity to Henry Carr Industrial Cluster in Ikeja, Lagos.
MAN has an agreement with Negris Group for the supply of up to 80 MW of electricity to Odogunyan in Ikorodu industrial cluster.
The organisation is also talking with solar power supply firms in the northern Nigeria, where there is limited gas supply, to enable clusters in Kaduna, Kano and other parts of the north to have incremental power at cheaper rates. Similarly, a negotiation is on the pipeline with Sahara Energy, Geogrid LighTec Limited and other companies for the supply of power to industrial clusters, according to Ibrahim Usman, chairman of MAN Power Development Company Limited.
"The idea is to be able to put manufacturers together in clusters and arrange for power, which can be supplied through providers that will engage in power supply through hydro, solar, gas and will remove the cost of manufacturers getting involved in producing their own power, " said Reginald Odia, chairman of Economic Policy Committee of MAN and director of the MAN Power Development Company.
Bitcoin price will crash to zero, Nouriel Roubini says - CNBC
FEBRUARY 06, 2018
The noted economist thinks the price of bitcoin is going to zero.
Roubini, who is also known as "Dr Doom," claimed some people will use a market manipulation tactic known as wash trading to prop up the bitcoin price.
He called bitcoin the "biggest bubble in human history" last week.
BY Arjun Kharpal | @ArjunKharpal
David A. Grogan | CNBC
Noted economist Nouriel Roubini thinks the price of bitcoin is going to zero.
The chairman of Roubini Macro Associates, also known as "Dr Doom" for his pessimistic economic outlooks, called the price crash on Twitter on Tuesday.
Bitcoin crashing now to $6,100. And the US Hearing on cryptoscams is only a day away. So a $5K handle looks highly likely unless the crypto-manipulation gangs starts pumping and dumping or wash trading again. So HODL nuts: be ready for a 75% loss from recent peaks.
As expected Bitcoin now crashes below $6000. Now the $5K handle is reached. And the US Congressional Hearing on Crypto-Scams is still a day away. HODL nuts will hold their melting Bitcoins all the way down to ZERO while scammers and whales dump and run...
Roubini was referencing a Congressional hearing that will see Christopher Giancarlo, chairman of the Commodity Futures Trading Commission (CFTC), and Jay Clayton, chairman of the Securities and Exchange Commission (SEC), testify in front of lawmakers about cryptocurrencies.
The economist also used the term HODL, which stands for "hold on for dear life." Itoriginated in an online forum when someone spelled the word "hold" wrong. It has now become a meme and is often used in times of extreme volatility in the cryptocurrency market for people holding rather than selling.
Roubini said that "HODL nuts" will hold bitcoin until it plummets to zero.
Dr Doom also said that traders will use wash trading to prop up the prices. Wash trading in the crypto world involves someone buying and selling their own order to manipulate markets. Some have feared that wash trading takes place on bitcoin exchanges.
Roubini asked if the authorities will look into this practice.
As Bitcoin crashes to a $5K handle the wash traders move rapidly into action to prop it up...price and quantity action now clearly consistent with criminal wash trades...will the SEC and CFTC start looking into these criminal activities?
His tweets followed comments on Bloomberg last week in which he called bitcoin the "biggest bubble in human history."
Cryptocurrencies have seen a major sell-off in the last few days. Bitcoin fell below $6,000 for the first time since mid-November on Tuesday. Other major cryptocurrencies are all well off of their all-time highs.
Bitcoin continues to tumble, briefly breaking below $6,000 - CNBC
FEBRUARY 06, 2018
The digital currency briefly falls below $6,000 to its lowest since mid-November, according to CoinDesk.
The decline follows reports in the last week that have raised worries about increased regulation and potential price manipulation at a major cryptocurrency exchange.
The heads of the U.S. Securities and Exchange Commission and Commodity Futures Trading Commission are also set to testify before the Senate Banking Committee on Tuesday.
BY Evelyn Cheng | @chengevelyn
Bitcoin is in free fall - here's why 5:26 PM ET Fri, 2 Feb 2018 | 00:43
Cancel
Bitcoin dropped to its lowest in more than two months.
The digital currency fell to a low of $5,947.40, its lowest since mid November, according to CoinDesk, whose bitcoin price index tracks prices from four major exchanges.
At a price of $6,088.02 at 8:56 a.m. London time, the cryptocurrency was down more than 11.9 percent on the day, according to CoinDesk. The site measures bitcoin based on Coordinated Universal Time — currently the same time zone as the U.K.
With that decline, bitcoin has now lost more than 50 percent for the year so far.
Bitcoin 12-month performance
Source: CoinDesk
The latest sell-off follows reports in the last week that have raised worries about increased regulation, hackers and potential price manipulation at a major cryptocurrency exchange. On Friday, J.P. Morgan Chase, Bank of America and Citigroup also said they have decided to ban cryptocurrency purchases by their credit card customers.
A report from China's Financial News on Sunday said authorities will increase efforts to restrict virtual currency trading platforms, especially those that may have moved overseas following Beijing's ban on initial coin offerings in September. The South China Morning Post first highlighted the report.
The heads of the U.S. Securities and Exchange Commission and Commodity Futures Trading Commission are also set to testify before the Senate Banking Committee on Tuesday.
In prepared remarks, SEC Chairman Jay Clayton said investors should remain cautious about investing in cryptocurrencies and gave an overview of the commission's efforts so far.
Bitcoin remains several hundred percent higher over the last 12 months, while ethereum and ripple are several thousands of percent higher.
Why the stock market plunged Monday - CNBC
FEBRUARY 06, 2018
The Dow industrials tumbled more than 1,500 points at one juncture Monday, the worst intraday fall in market history.
The drop by the Dow was bad enough during most of the trading day, but the dive that happened around 2:40 p.m. ET started to resemble the 2010 flash crash at one point.
BY Jeff Cox | @JeffCoxCNBCcom
Largest intraday point drop for Dow in history 13 Hours Ago | 03:01
The first thing to know about the stock market's eye-watering slide Monday is that it wasn't caused by anything fundamental.
There was no particular piece of news that drove the major averages to capsize, in a move that sent the Dow industrials off more than 1,500 points — a new intraday record — briefly in the final hour of trading.
Instead, the market took on a mind of its own, where sentiment and likely some computer-programmed trading sent Wall Street into a bizarre tizzy. Fear brewed over a number of issues, with the biggest being trepidation about rising interest rates even though government bond yields actually were lower on the day.
"Panic is already starting to set in, which is kind of incredible when you actually think about it," said Michael Yoshikami, CEO of Destination Wealth Management. "The S&P is trading where it was in sometime in December. So it's not like we're retracing an entire 12 months of returns here. I think investors are just understandably nervous. It probably is programmed trading kicking in at this point."
Others blamed the Fed for the market breakdown, or least the mentality that led to the selling climate.
The central bank, following its meeting last week, noted that inflation looked to be on the uptick. That put the market on notice, a point that was echoed when the government Friday said average hourly earnings rose 2.9 percent in January, the fastest move of the recovery.
S&P 500 loses $1 trillion in market cap in February 14 Hours Ago | 00:24
Investors' minds quickly turned to a more aggressive central bank and the prospect of a faster pace of interest rate hikes.
"I'm not worried about this move. This is all a Fed move," said Joe LaVorgna, chief economist for the Americas as Natixis. "If you don't think there's inflation and you don't think the Fed's going to be as aggressive as the hawks would have you think, this equity sell-off should be bought."
Still, investors could be forgiven for having flashbacks about some of the market's most vicious drops. The Dow fell throughout the morning, but the dive that happened around 2:40 p.m. ET actually resembled the violent 2010 flash crash. However, no trading desks contacted by CNBC reported trading issues in Monday's big sell-off.
Sure enough, markets recovered somewhat just as they did that on that May 6 event nearly eight years ago.
But the damage could be substantial to the collective investor psyche.
"This is scary. A lot of people made a ton of dough over the last nine years," said Stephen Weiss, founder and managing partner at Short Hills Capital Partners. "I think we've got some more to go. There's not a catalyst to step in."
The frightening contraction happened to a market that looked bulletproof.
The Dow had soared more than 40 percent since President Donald Trump's election, a period that included an impressive nearly 20 percent rise in the S&P 500 for 2017 and the fastest start ever to a year in 2018.
"The market simply did not take into account that you can't go up like this that long," Yoshikami said.
"The key thing that I think people keep in mind here is that the market moves a lot very quickly, it doesn't mean fundamentals are changing that quickly," added Richard Bernstein, CEO of Richard Bernstein Advisors. "What you are seeing is the recalibration among investors that we actually are in a late-cycle environment."
—With reporting by CNBC's John Melloy, Bob Pisani, and Michelle Fox.
DNA shows first modern Briton had dark skin, blue eyes - THE GUARDIAN
FEBRUARY 07, 2018
A full face reconstruction model made from the skull of a 10,000 year old man, known as 'Cheddar Man', Britain's oldest complete skeleton is pictured during a press preview at the National History Museum in London on February 6, 2018. AFP PHOTO / Justin TALLIS
The first modern Briton had dark skin and blue eyes, London scientists said on Wednesday, following groundbreaking DNA analysis of the remains of a man who lived 10,000 years ago.
Known as "Cheddar Man" after the area in southwest England where his skeleton was discovered in a cave in 1903, the ancient man has been brought to life through the first ever full DNA analysis of his remains.
In a joint project between Britain's Natural History Museum and University College London, scientists drilled a 2mm hole into the skull and extracted bone powder for analysis.
Their findings transformed the way they had previously seen Cheddar Man, who had been portrayed as having brown eyes and light skin in an earlier model.
"It is very surprising that a Brit 10,000 years ago could have that combination of very blue eyes but really dark skin," said the museum's Chris Stringer, who for the past decade has analysed the bones of people found in the cave.
The findings suggest that lighter pigmentation being a feature of populations of northern Europe is more recent than previously thought.
Cheddar Man's tribe migrated to Britain at the end of the last Ice Age and his DNA has been linked to individuals discovered in modern-day Spain, Hungary and Luxembourg.
Selina Brace, a researcher of ancient DNA at the museum, said the cave environment Cheddar Man was found in helped preserve his remains.
"In the cave you have a really nice, cool, dry, constant environment, and that basically prevents the DNA from breaking down," she said.
A bust of Cheddar Man, complete with shoulder-length dark hair and short facial hair, was created using 3D printing.
It took close to three months to build the model, with its makers using a high-tech scanner which had been designed for the International Space Station.
Alfons Kennis, who made the bust with his brother Adrie, said the DNA findings were "revolutionary".
"It's a story all about migrations throughout history," he told Channel 4 in a documentary to be aired on February 18.
"It maybe gets rid of the idea that you have to look a certain way to be from somewhere. We are all immigrants," he added.
Central banker takes stab at bitcoin 'bubble' - THE GUARDIAN
FEBRUARY 07, 2018
The head of the Bank of International Settlements, the central bank for central banks, on Tuesday lambasted bitcoin as a speculative bubble and said authorities need to be ready to protect public trust in the financial system.
While acknowledging the intention of bitcoin's developers to create an alternative payment system with no government involvement, "it has become a combination of a bubble, a Ponzi scheme and an environmental disaster", said BIS's general manager, Agustin Carstens.
Delivering a lecture co-hosted by Germany's central bank, Carstens said that authorities need to be vigilant as cryptocurrencies could undermine the public trust in the financial system.
While cryptocurrencies, led by bitcoin, soared in value last year, authorities in most countries stood on the sidelines, while in some countries they embraced the technology that promises to cut the costs of financial transactions.
But as the value of bitcoin — the best-known virtual currency — has tumbled from its December high of nearly $20,000 to less than half that value with wild daily swings, regulators have taken a more critical outlook.
China recently vowed to fully stamp out cryptocurrency trading after cracking down on it late last year. South Korea has also cracked down on cryptocurrency exchanges to reduce the risk of money laundering.
Carstens said the volatility of cryptocurrencies undermined their utility for transactions and a store in value, thus apparently leaving their main use as a means for criminals to move money.
"If the only 'business case' is use for illicit or illegal transactions, central banks cannot allow such tokens to rely on much of the same institutional infrastructure that serves the overall financial system and freeload on the trust that it provides."
He called for particular vigilance in allowing cryptocurrencies to "piggyback" on the financial system with links to regular bank accounts.
A number of leading US and British banks have recently announced bans on purchasing bitcoin and other cryptocurrencies with credit cards.
Bitcoin trading exchanges, which function like brokerages and hold their client balances, have proved targets for hackers, with a Japanese exchange Coincheck hit by a $530 million heist last month.
Carstens, formerly the head of Mexico's central bank, said that cryptocurrencies may not yet pose a systemic risk.
"But if authorities do not act pre-emptively, cryptocurrencies could become more interconnected with the main financial system and become a threat to financial stability," he said.
Cryptocurrencies have also come under criticism for using vast amounts of electricity.
Nigerian cryptocurrency craze unfazed by bitcoin plunge - PHYS
FEBRUARY 07, 2018
by Stephanie Findlay
While bitcoin and other cryptocurrencies have suffered precipitous falls in recent weeks, the units remain popular in Nigeria where they make it easier to do business.
On the surface, digital coins may not seem like a good idea in a country where corruption is rampant and stacks of hard cash are often smuggled overseas.
Yet West Africa's biggest economy has the world's third-largest bitcoin holdings as a percentage of gross domestic (GDP), behind Russia and New Zealand, according to Citigroup.
That may be because blockchain technology—public, online ledgers that underpin cryptocurrencies—is liberating Nigerians sidelined by the global financial system as it dramatically improves the ease of doing business.
Olaoluwa Samuel-Biyi, a slight 27-year-old entrepreneur, looks the part of an aspiring corporate disrupter, dressed in skinny jeans with dishevelled hair.
He first considered using cryptocurrency when credit card firms and other established payment providers refused to partner with his global remittance company, deeming the venture too risky.
"They said the markets were too high risk and that people could finance terrorism," he told AFP, laughing. "It's ridiculous."
He realised that the only way he could solve the problem was to use cryptocurrency.
"It's so hard to send money from Nigeria to Zimbabwe, or from the United States to Sudan," he explained. Banks were "very tedious" and payment companies "generally exploitative", he said.
"There's heavy discrimination, definitely. We have to go all around them to succeed."
'Financial inclusion'
Samuel-Biyi's company, SureRemit, developed its own virtual token—a kind of custom cryptocurrency like bitcoin or one of the many alternatives such as ether.
The tokens are used to buy vouchers, which may be used to purchase goods and pay bills at participating merchants anywhere in the world, cutting out cumbersome middlemen and eliminating fees.
In January, SureRemit held its "initial coin offering" (ICO), a form of online crowdfunding where people purchase the tokens to be put in circulation for use in eight countries, mostly in Africa and the Middle East.
The 500 million tokens, each worth two US cents, sold out in just two days and were snapped up by major cryptocurrency players, including South Korea's Hashed, raising $7 million for the company.
Cryptocurrencies are a way for Africans to make payments online and abroad when banks or transfer companies won't, or only for high fees
"We were expecting scam allegations," said Samuel-Biyi, referring to Nigeria's unenviable reputation for online financial fraud. "But the world really accepted it."
If the token system works, SureRemit stands to take a chunk of the world's remittance market, which was worth $429 billion in 2016, according to the World Bank.
It's hardly surprising that SureRemit was conceived in Nigeria: remittance flows that year were worth $19 billion—more than four percent of GDP.
Sub-Saharan Africa has some of the highest remittance costs in the world, with the most expensive fees seen within the continent.
To send money from France to Mali incurs a five percent fee, a quarter of how much it costs to send from Nigeria to Mali.
Such high fees have for years forced Nigerians to find alternative, sometimes risky, ways to transfer money.
"I remember back in 2004, e-gold (a defunct digital currency) was the only option anyone in Nigeria had to make online payments," said Tim Akinbo, the founder of Tanjalo, a Nigerian exchange where people can buy bitcoin with the local naira currency.
"There are still African countries cut off from international commerce online. Bitcoin is technology that allows financial inclusion."
Naira volatility
The depreciation of the naira, which has sunk to 305 against the US dollar from 169 in 2015, has made cryptocurrencies even more attractive—and the authorities are paying attention.
Nigeria's central bank governor Godwin Emefiele warned recently that "cryptocurrency or bitcoin is like a gamble", though the Senate has launched an investigation into "the viability of bitcoin as a form of investment".
Stern warnings haven't made an impact on trading, said Owenizi Odia, Nigeria spokesman for Luno, another cryptocurrency exchange operating in the country.
"I think there's an acknowledgement that this technology is the future, going beyond bricks and mortar to improve cost efficiency," added Muyiwa Oni, an analyst at Stanbic IBTC Holdings in Lagos.
"For now we're still trying to distinguish who the main players will be."
Samuel-Biyi hopes to be one of them.
"Whether or not the authorities call it gambling, Nigerians are just looking for any opportunity to get ahead of the curve," he said. "It's part of the hustle."


Read more at: https://phys.org/news/2018-02-nigerian-cryptocurrency-craze-unfazed-bitcoin.html#jCp
Iconic Nigerian painting missing for decades is discovered in a north London flat - THE TELEGRAPGH UK
FEBRUARY 07, 2018
An iconic Nigerian painting missing for decades has been discovered in a north London flat.
The discovery of Ben Enwonwu's 1974 masterpiece of the Ife princess Adetutu Ademiluyi, known as Tutu, has been touted as the "most significant discovery in contemporary African art in over 50 years", Nigerian novelist Ben Okri told the Guardian.
The image of the painting became a symbol of national reconciliation in the country, where people hang posters of it on the walls of their homes.
It is not known how the piece came to be in north London, and the family who have it in their possession requested anonymity.
However, it will be sold at Bonhams in London later this month and is expected to go for over £200,000.
Giles Peppiatt, director of modern African art at the auction house, made the discovery when he went round to the house.
Ben Enwonwu's 1974 masterpiece of the Ife princess Adetutu Ademiluyi, known as Tutu CREDIT:BONHAMS
He said: "Sometimes you go somewhere on a wing and a prayer, you don't know what you are going to see ... this was an enormous surprise. It is a picture, image-wise, that has been known to me for a long time, so it was a real lightbulb moment; I thought: 'Oh my god, this is extraordinary.'
Enwonwu was a student at Oxford in the 1940s, but became widely known when he was commissioned to create a bronze sculpture of the Queen during her visit to Nigeria in 1956. He died in 1994.
Bankers' C'ttee Abolishes Commission on Retail Forex Transactions - THISDAY
FEBRUARY 07, 2018
External reserves hit six-year high of $42bn
BY Obinna Chima
The Bankers' Committee rose from its meeting Tuesday with a consensus that commercial banks in the country should henceforth desist from charging customers commissions on retail foreign exchange (forex) transactions.
Retail forex transactions include the purchase of dollars for personal travel allowance (PTA), business travel allowance (BTA), school fees and medicals.
The chief executive of the FSDH Merchant Bank Limited, Mrs. Hamda Ambah, disclosed this while briefing the media at the end of the meeting in Lagos.
Desirous of alleviating the pains of retail forex consumers, the Central Bank of Nigeria (CBN) in May last year had directed all banks to sell the greenback for BTA, PTA, tuition and medical fees to customers at not more than N360 to dollar, down from N380 to the dollar at which forex was sold previously for retail transactions.
The CBN sells to banks at N357 to the dollar. However, it was learnt that some commercial banks have been charging commissions on such transactions.
To this end, Ambah explained: "One of the things we discussed was a measure that would provide some sort of palliative for all individuals in the country to at least enjoy the benefit.
"It was agreed that the forex that banks sell to their clients for PTA, BTA, school fees and medical bills, that henceforth all banks should charge N360/$ and there would be no commission whatsoever charged by the banks for such sales.
"We want to make sure that this is uniform across all banks. Customers should report any bank that goes outside of this. It has actually been N360 for a while, but some banks in addition to the fee, are charging commissions."
Earlier, the director, Banking Supervision, CBN, Alhaji Ahmed Abdullahi, who was also at the briefing, put the present value of the country's external reserves at $42 billion, higher than $40.4 billion last month.
The last time the country's reserves derived mainly from proceeds of crude oil exports hit $42 billion was in December 2013.
Recent Eurobond issuances have also helped in boosting Nigeria's reserves position.
Abdullahi also expressed satisfaction with the positive growth of all economic indicators.
Responding to a question on why the modalities on the Agric-SME fund agreed by the committee were yet to be implemented, the CBN director said: "We had detailed discussions on the issues agreed at the last retreat and the modalities for disbursements have been agreed.
"By February, we would see traction in that regard. The modalities are now out and it is left for the customers to come forward."
Also, the chief executive of Stanbic IBTC Bank, Mr. Demola Shogunle, disclosed that during the meeting, there was a presentation on the Economic Recovery and Growth Plan (ERGP) by one of the special advisers to the president.
According to Shogunle, a major aspect of the presentation was that the federal government had agreed to focus on key selected areas in the ERGP to accelerate investments and job creation.
"The focus areas include power and gas, agriculture and transportation, and manufacturing and processing. The Bankers' Committee overwhelmingly agreed to be embedded in the programme.
"The banking community will participate actively to the extent that it will lead to job creation and additional investments in the economy," he said.
In his briefing, the chief executive, Citibank Nigeria, Mr. Akin Dawodu, reiterated plans by the CBN to sanction exporters that fail to repatriate export proceeds.
"Oil export proceeds have to be repatriated within 90 days and non-oil proceeds within 180 days. In the spirit of supporting the reserves position and economic growth, stricter measures were agreed regarding the repatriation of export proceeds, particularly oil export proceeds.
"A 90-day moratorium has been agreed for customers and corporate clients who have not repatriated their export proceeds within the stipulated timeframe for any delays to be cleared.
"After that, the CBN has the right to sanction any customer that defaults. The sanction may include banning people from the forex window or more stringent measures.
"We think this is very important as a body to ensure that the rules are adhered to," he said.
Macron to Visit Nigeria, Address National Assembly - THISDAY
FEBRUARY 07, 2018
President Emmanuel Macron of France is billed to visit Nigeria in early July this year and is expected to address the joint session of the National Assembly, Ambassador of France to Nigeria, Denys Gauer, has said.
Speaking when he paid a visit to the Speaker of the House of Representatives, Yakubu Dogara, at the National Assembly, Gauer said President Macron has interest in the future and development of Nigeria.
According to a statement issued by the Speaker's spokesperson, Turaki Hassan, Gauer revealed that Macron had worked in the French embassy in Abuja early in his career for six months, "some years ago."
He also said whereas relations between the two countries in the last few years have centred on security, Macron hoped to use the visit to further deepen relations with Nigeria especially in areas such as youths, culture and creativity.
Responding, Dogara said members of House of Representatives and indeed the National Assembly would want to listen to the French president whom he described as "a man of our generation.
"He has brought a lot of youthful zest, dynamism, charisma and appeal to French politics and we will want to yield the floor to him," Dogara said.
The Speaker also commended the French Government for assisting Nigeria in the fight against Boko Haram terrorists and pledged to give expeditious passage to all bilateral agreements that will be signed between Nigeria and France during Macron's visit.
NEXIM Bank urges SMEs to access N500bn export facility - PUNCH
FEBRUARY 07, 2018
BY Ifeanyi Onuba, Abuja
The Nigeria Export-Import Bank on Tuesday called on export-oriented Small and Medium Entrepreneurs in the South-East and Niger Delta region to access the N500bn Export Stimulation Facility and the N50bn Export Development Fund being managed by the lender.
The funds are expected to boost the SMEs, create more jobs, and contribute to the foreign exchange revenue earnings of the country.
The call was made by the Managing Director of NEXIM Bank, Mr. Abba Bello, during a one-day seminar on export potential.
The facilities were made available to NEXIM Bank last December by the Central Bank of Nigeria and it is expected to lend at a maximum of nine per cent interest rate.
Bello said the funds would address the declining export credit to the SMEs and reposition the non-oil sector to increase its contribution to the country's revenue generation and economic development.
The improved export financing for non-oil exporters, according to him, will enable them to upscale and expand their businesses and improve their competitiveness.
Bello, who was represented at the event by the Head of NEXIM's Enugu Regional Office, Mr. Chinedu Moghalu, stated, "NEXIM Bank is determined to ensure that these funds achieve the desired impact of triggering non-oil export development, growth and economic progress in line with its mandate as the trade policy bank of the Federal Government and the applicable CBN guidelines for the implementation of the facilities."
He said under the ESF facility, the transaction that could be funded were export of goods wholly or partly processed or manufactured in Nigeria; export of commodities and services permissible and excluded under existing export prohibition lists; and import of plants and machinery, spare parts and packaging materials, required for export oriented production that could not be produced locally.
Other businesses eligible under the ESF are export value chain support services such as transportation, warehousing and quality assurance infrastructure; and resuscitation, expansion, modernisation and technology upgrade of non-oil exports industries. Stocking facility and working capital can also qualify for funding under the ESF.
"The overall aim of the ESF and EDF is to lower the costs of Nigerian exporters so that their products can be priced at a level where they can compete with other products around the world," Bello added.
The Special Assistant the Enugu State Governor on SME Development, who represented his principal, Anayo Agu, stated that the fund would help to unlock the export potential of SMEs in the state.
He stated, "The invitation to the SMEs to access affordable non-oil export facilities had been the missing link in the efforts of various governments in the region to derive maximum benefits from their investments in the SME value chain, especially in the agriculture and other non-oil sectors.
"It provides us the platform to reach heights we could only dream about before now."
US firms invest $8.1bn in Nigeria – Envoy - PUNCH
FEBRUARY 07, 2018
Anna Okon
The United States Consul-General in Lagos, Mr. John Bray, has said that the private investments of US companies in Nigeria are more than $8.1bn.
He stated this in Lagos on Tuesday during the Lagos Chamber of Commerce and Industry's Security Meets Business Dialogue.
According to him, in spite of the security challenges in the country, some American companies have thrived, while some that cannot cope have left the country.
He said that to address the issue, the US Department of Commerce, Ministry of Trade and Industry and its Nigerian counterpart would hold dialogue sessions to identify impediments in the business environment.
The consul-general stated that the dialogue sessions would forge collaboration between the public and private sectors to improve on security in the country.
In his opening remarks, the President, LCCI, Mr. Babatunde Ruwase, noted that there was no better time to consider the business dimension of security challenges than now, adding that food security was at risk as agricultural production was being threatened by security concerns.
He said, "No meaningful business can be done in an environment that is insecure. Security of life and property is a very critical factor in the investment environment and a major consideration in investment decisions.
"The impact of these security challenges on business and investors' confidence is phenomenal. Not much investment activities are taking place in the north-eastern part of the country. Attacks by herdsmen on farming communities across the country are not abating, resulting in increasing loss of lives."
He added, "Many rural farmers are holding back from the current planting season because of the fear of attacks by herdsmen.
We are ready to offer Nigerians affordable education – Netherlands - VANGUARD
FEBRUARY 07, 2018
The Embassy of the Kingdom of the Netherlands in Nigeria on Wednesday announced the readiness of Dutch universities and other higher educational institutions to offer qualitative and affordable education to Nigerians.
The embassy's Advisor for Trade and Economic Affairs, Mrs Sonia Odije, disclosed this to newsmen in Lagos ahead of the Second "Study in Holland Fair'' in Lagos. Odije said that following the First Study in Holland on June 10, last year, a delegation of Dutch universities and other institutions would soon be visiting Lagos for recruitment of Nigerians.
"The Netherlands on June 10, last year, held her maiden Education Fair in Lagos, which attracted about 500 Nigerians. "That first fair was meant to create awareness among Nigerians of the internationally-recognised over 2000 English Language taught courses in her higher educational institutions.
"This forthcoming second fair, scheduled to hold on March 3, at the Federal Hotel, Victoria Island, from 9: 00 a.m. to 5: 00 p.m., is now meant for the recruitment of Nigerian students into Netherlands universities for qualitative and affordable education. "We really want more Nigerians to the Netherlands because it is a top notch country for international education,'' she said. Odije, who enjoined parents and wards to bring their children to the fair, added that the exhibition would give their children the opportunity to interact directly with representatives from the various institutions.
She said that their participation at the fair would also give them the platform to ask the right questions before making their choices among the visiting Netherlands universities and colleges. "There is the need for parents and guardians to take advantage of this second fair for their children and wards for them to study in these internationally-recognised institutions.
"There will be opportunities of study/work for would be Nigerian students. What this means is that after their studies, they can immediately be working in the Netherlands,'' Odije added. NAN

Read more at: https://www.vanguardngr.com/2018/02/ready-offer-nigerians-affordable-education-netherlands/
Kenya targets 2021/22 to begin oil export - NAN
FEBRUARY 07, 2018
Kenya will start exporting oil on commercial scale in the next five years, Africa-focused oil and natural gas producer Tullow Oil said on Wednesday.
Tullow said extended well tests, water injection tests, well interference tests and water-flood trials have proved helpful for planning the development of the oil fields.
"The exploration and appraisal campaign in Kenya has confirmed the presence of substantial oil resources in the South Lokichar Basin.
After over six years of hard work, we can now move forward to commercialising these low cost resources through a phased development of the basin involving a central processing facility and an export pipeline to the Kenyan coast," said Mark MacFarlane, Executive Vice President for East Africa.
"In 2018, we will focus on taking the project towards Final Investment Decision (FID) in 2019 with a prudent and flexible plan of execution that can take advantage of low oil services costs and deliver first oil and cash flow as soon as possible.
" With good progress being made in Uganda towards FID, East Africa is on the verge of becoming a major oil exporting region."
South Africa's net foreign reserves rise to $43.6 bln in January - REUTERS
FEBRUARY 07, 2018
JOHANNESBURG, Feb 7 (Reuters) - South Africa's net foreign reserves rose to $43.588 billion in January from $42.927 billion in December, the Reserve Bank said on Wednesday.
Gross reserves, however, fell to $50.501 billion from $50.722 billion, the central bank data showed.
The forward position, which represents the central bank's unsettled or swap transactions, increased to $2.024 billion from $1.196 billion. (Reporting by Mfuneko Toyana; Editing by Gopakumar Warrier)
Wall Street FX Strategists Hit Reset After Euro Calls Fall Short - BLOOMBERG
FEBRUARY 07, 2018
By Alexandria Arnold
7 February 2018, 00:00 WET
Euro up more than 3% in 2018, above prior targets for year-end

Some analysts now predicting move toward $1.30 area for euro
Wall Street's top currency strategists had the right idea when it came to the euro -- they just weren't right enough.
Foreign-exchange forecasters are headed back to the drawing board less than six weeks into the new year after the euro blew straight past most of their predictions for 2018. Europe's common currency has already advanced more than 3 percent since Dec. 31, easily topping the median survey forecast of $1.22 from back then. It's currently trading closer to $1.24, even after a pullback over recent days, and its advance has prompted a swath of analysts to lift their projections.
The euro's rally comes as the region's economy picks up steam and the European Central Bank plans its stimulus-exit strategy. Meanwhile, the market is already pricing in several more interest-rate increases this year by the Federal Reserve, and the dollar may face headwinds as America embarks on a debt-financed fiscal expansion and protectionist rhetoric increases.
"We were prepared for some euro appreciation, but not the aggressiveness of the move," said Valentin Marinov, global head of G-10 FX research at Credit Agricole SA. "The common denominator in the case of euro-dollar and also cable is really dollar weakness."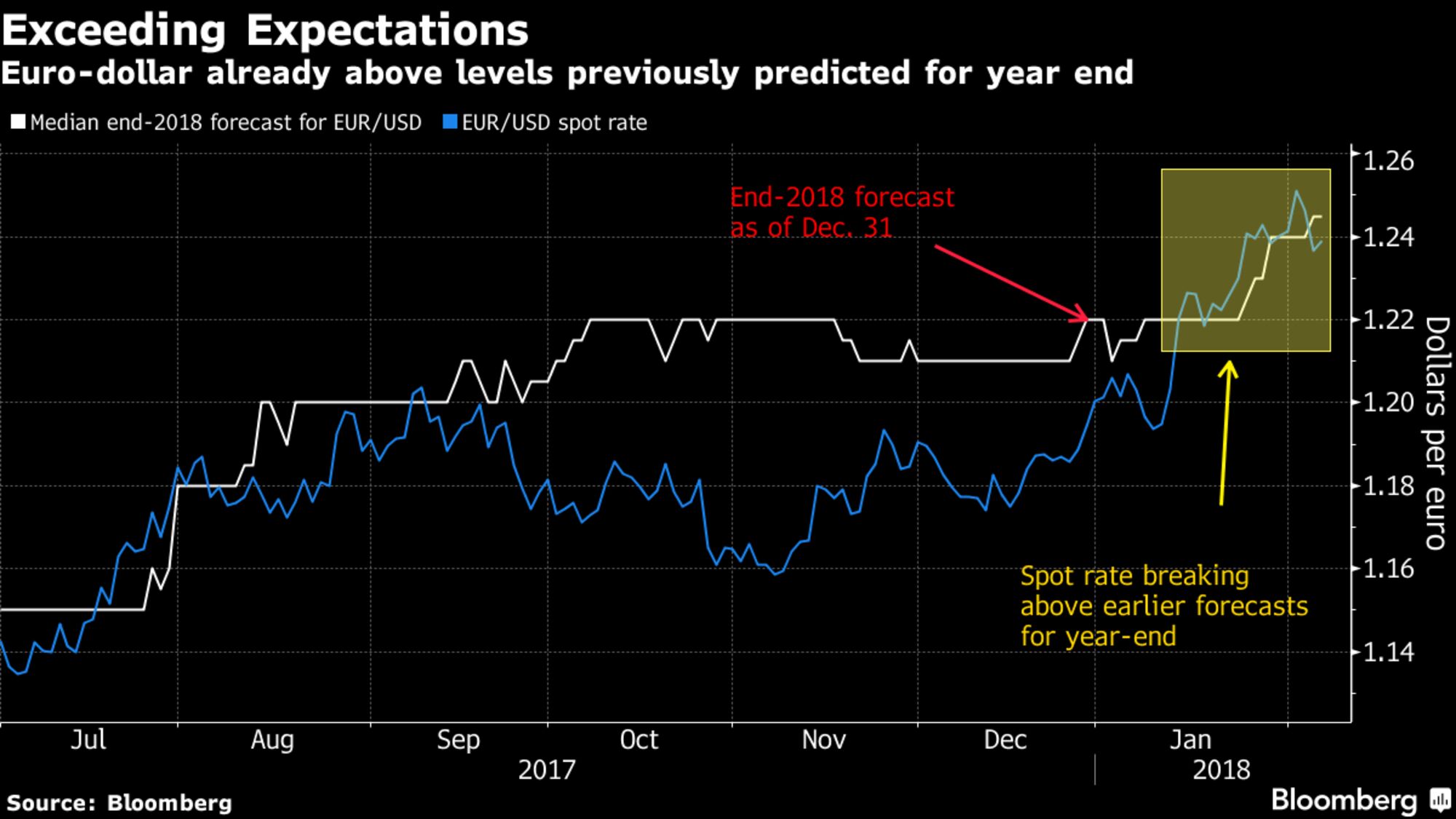 Marinov is far from alone. Goldman Sachs Group Inc., JPMorgan Chase & Co., HSBC Holdings Plc, ING Groep NV and UniCredit SpA have all raised their euro-dollar forecasts this year. Credit Agricole is now expecting the pair to reach $1.26 by year-end, while JPMorgan is targeting $1.29 and Goldman and ING are forecasting the common currency to finish 2018 at $1.30.
Read More: Traders See No End to Dollar Pain in 2018
Only two firms who contribute to Bloomberg currency forecast data had fourth-quarter euro-dollar projections at or above $1.28 at the beginning of the year. Now, that number has ballooned to 18. And comparing the same periods, the median forecast for end-year has risen from $1.22 to $1.25, already near where the common currency is currently trading. The euro was at $1.2377 as of 5 p.m. in New York.
The 19-nation currency is likely to remain bid for at least the first half of the year, according to Canadian Imperial Bank of Commerce North American head of foreign-exchange strategy Bipan Rai.
While ECB bond-buying is scheduled to last until at least September and President Mario Draghi has said rates will remain on hold "well past" the end of asset purchases, some policy makers are saying the central bank needs to be more specific in how long it will stand pat. Tightening the language on rates would be welcomed by more hawkish officials, who want to set a definite end-date for asset purchases.
"A lot of what we've seen in euro-dollar price action has caught us a bit off-guard," Rai said. "It's been a lot swifter than we expected. We didn't envision the hawks on the ECB board would be this vocal and there'd be growing signs of schisms within the governing body of the ECB."
While the Federal Reserve's policy normalization efforts are significantly ahead of the ECB's as U.S. unemployment hovers at the lowest since 2000 and rising wages signal a potential rebound in inflation, strategists say those would-be dollar positives are largely priced in. Brightening economic outlooks abroad along with prospects for scaled-back stimulus are overshadowing U.S. rate hikes and the Fed's asset-purchase wind-down.
"Given the return of U.S. protectionism, the persistent flatness of the U.S. Treasury yield curve, plus the fact people are now speculating about reserve diversification out of the dollar, a more cautious view of the dollar may be warranted," Marinov said.
Even as strategists expect the euro to continue strengthening, the move will likely be a slower grind in the second half as net-long wagers appear elevated and expectations for the ECB might be overly optimistic. Euro positioning among hedge funds and other large speculators is the most bullish on record in Commodity Futures Trading Commission data that goes back to 1999, according to figures for the week through Jan. 30.
"We're in a structural bear trend for the dollar and our gauge shows that the dollar is around 8 to 10 percent overvalued still," Rai said. "Even if the Fed is raising rates, that's something that needs to be corrected."
Nigeria: Passengers Panic As Dana Airline's Door Falls Off - PREMIUM TIMES
FEBRUARY 07, 2018
By Oladeinde Olawoyin
Some passengers of Nigerian air carrier, Dana Airline, expressed fear when the door of an aircraft belonging to the airline fell off upon landing.
One of the passengers on the flight, Dapo Sanwo, said the door panel was loose all through the flight,a situation he described as an indication of "lack of maintenance."
Another passenger, Ola Brown, who took to his twitter page to vent his frustration, said the experience was scary.
Mr. Brown narrated that the exit door of the aircraft was unstable all through the flight, adding that it fell off as soon as the aircraft landed.
"Flew Dana. Exit door was unstable throughout flight. As we touched down, it fell off. Scary stuff," he wrote on twitter.
"I was closer to the front so when I heard the sound, (I) thought it was an explosion. (I) couldn't quite comprehend that it (the door) had just fallen off."
Details of the incident and its causes were not immediately clear.
When PREMIUM TIMES contacted the corporate communication desk of Dana Air Wednesday morning, the airline said it would need to be briefed by its engineers before reacting to the development.
"We need to also get the engineers to give their report," a staff of the airline's corporate communication desk told PREMIUM TIMES Wednesday morning.
Details later... .
Guide to Doing Business in Nigeria Makes a Debut - THISDAY
FEBRUARY 07, 2018
The federal government's drive to improve the ease for doing business has received a boost as investors and would-be-business owners now have a handbook on how to obtain licences and permits when doing business in selected sectors in the country.
Publishers of the handbook, A&E Law Partnership, in a statement yesterday in Abuja, said it was part of their contribution to improving the environment for doing business in Nigeria.
The foreword to the handbook written by Peter Ntephe, said the Guide is "a one-stop-shop handbook on the rules for entry into various sectors of the Nigerian economy. Key processes and procedures are outlined in as much a succinct way as possible, along with the fees for obtaining licences and registrations."
This handbook which is a product of the knowledge gained by the law firm over the years in "its core competences" is a praiseworthy compendium and guide to the rules and regulations for doing business in the 'commanding heights' of the Nigerian economy."
According to the Managing Partner of A&E Law Partnership, "The Doing Business Handbook adopts a sectoral approach, respectively explicating the requirements for operating in insurance, aviation, cabotage, banking, energy and power, solid minerals, telecommunications, entertainment, food and beverages, private security, oil and gas, among others. There is also coverage of matters that are applicable across sectors, such as immigration, environmental standards, intellectual property and capital markets."
Beside these, there is a section devoted to foreign investors, providing an advisory on organisational forms available as well as other subjects of potential interests, such as repatriation of profits and tax exemptions.
He said the handbook is a "must have table-top business advisory for professionals, including lawyers, accountants and bankers as well as to investors, entrepreneurs and firms doing or seeking to do business in Nigeria. Students and academics whose disciplines require knowledge of matters within the remit of the guide will also find it a useful library reference."
Nigeria Beyond Oil - THISDAY
FEBRUARY 07, 2018
Obinna Chima writes on the need for Nigeria's policy makers to prepare the economy for a post-crude oil era
A 2017 study that was published by Stanford University suggested that fossil-fuelled cars would vanish within eight years – and citizens will have no choice but to invest in electric vehicles or similar technologies.
This, according to the report, would bebecause the cost of electric vehicles – including cars, buses, and trucks – will ultimately decrease, resulting in the collapse of the petroleum industry.
Led by Stanford University economist, Tony Seba, the report had caused spasms of anxiety within the oil industry, when it was released.
Entitled "Rethinking Transportation 2020-2030," it had detailed how people will ultimately switch to self-driving electric vehicles, stating that they would be ten times cheaper to maintain than cars that run on fuels.
According to the report, in less than a decade, it would become very difficult for consumers to find petrol stations, spares or mechanics knowledgeable enough to fix combustion engines. His ultimate premise was that modern-day car dealerships would disappear by 2024 as the long-term price of oil.
Clearly, while the advent of electric cars may not be embraced in Africa in the coming years as estimated by Seba, this innovation coupled with shale oil as well as other technologies in crude oil production is going to disrupt the sector.
Indeed, it is going to have an attendant effect on the demand for crude oil from Nigeria and other oil producing economies.
In Nigeria, oil accounts for almost 90 per cent of the country's export and 95 per cent of revenues, respectively.
In fact, when the economy slipped into recession in 2016, it was because of the collapse in crude oil revenue and an increase in oil production saw the country exiting recession. But the oil industry contributes little in direct employment relative to its contribution to government revenues.
The foregoing therefore was the reason why experts that spoke at the Nigeria Economic Outlook Conference (NEOC) 2018, stressed the need for government to genuinely pursue its much talked about drive for economic diversification.
No doubt, the country's abysmal low tax base, as well as the internally generated revenue are all because of laziness on the part of the country's political leaders since the discovery of oil.
In addition, the political tension and civil arrest in the country have in most cases by traced to the fight for share of the revenue accruing from oil revenue.
Nigeria has been projected to be the world's third most populous country by 2050, according to the United Nations Department of Economic and Social Affairs. With that, the country would have a median age of 22, making Nigeria the third most populous country in the world, after India and China
Also, there have been outstanding and rapid developments in the field of robotics, leading to the emergence of robots that can replace human in many manufacturing process.
As a result, the manufacturing activities that were typically outsourced to developing countries in the past due to high labour cost.
To the President of Times Economics, an economic consulting firm and the organiser of the NEOC, Dr. Ogho Okiti, there need for policymakers in the country to start preparing for a Nigeria that is not driven by activities in the global crude oil market.
He noted that for five decades, Nigeria's relationship with the global economy was shaped by the sale crude oil and the attraction of investment to the sector.
Okiti, however, pointed out that in the last decade, two important features have continued to threaten the allure to the country's oil sector.
"First, we have seen and continue to see, very aggressive development of alternative sources of energy.
"Secondly, we have also seen the development of technology that made previously inaccessible crude oil available at reasonable cost.
"Combined, the implication is that today, the world thinks more about when there would be a peak in the oil demand, compared to about 20 years ago, when the thought was about whether the world would run out of oil," Okiti explained.
These, he also noted would have severe implications for the Nigerian economy and its future relationship with the global economy.
"If development continues at this pace, the manufacturing route to prosperity which was once open to Asian tigers, could be closed to Nigeria.
"The shift towards nationalisation as seen in United States and the Brexit referendum has also influenced hostility towards international trade and migration," he warned.
Human Capital Development
To the founder and chief executive of the Computer Warehouse Group (CWG), Mr. Austin Okere, there is need for increased investment in human capital to drive activities in the country, especially the non-oil sector of the economy.
Okere noted that the issue about crude oil is that it dominates so many other sectors and makes it difficult for policymakers to take their eyes away from it.
"Crude oil prices would go up and down and nothing is going to hold it stable. There are other areas such as media, entertainment, agriculture, that we can develop and even export.
"I think we should start looking at the fourth industrial revolution and how we can leapfrog on it. But I think we shouldn't be too fixated on crude oil prices," he added.
Also, the chief executive, Rise Network, Mrs. Toyosi Akerele-Ogunsiji, urged Nigerians to disregard the notion that the country is an oil-rich economy, saying that countries are not adjudged to be rich because of what they have, but because of their know-how.
She expressed disappointment that since the discovery oil in the country several decades ago, it has remained only at the stage of primaey production with no value addition.
"At the end of the day, oil will not refine itself, you need the human capital of those countries to be able to refine the oil.
"If you really appraise the parameters you measure to know whether countries are successful or not, Nigeria does not feature in any of it. But the challenge is the amount of energy we spend discussing issues around oil. There is need for the country to prepare for a post-oil economy.
"We need to start thinking about how to move on from a country that is so oil dependent to a country where we can begin to create wealth. The truth is that economies that consume are superior to economies that produce," she argued.
On his part, the chief economist at Macroafricaintel Investment LLC, Dr. Rafiq Raji, noted that less demand for crude oil as a result of electric car and other innovations in crude oil production means that any supply management by the organisation of petroleum exporting countries (OPEC) in the future may not succeed.
"Our vulnerability extends to the fact that we are not preparing for that future. The best we have been able to do is to talk about how agriculture can help us.
"Now, if developed economies can produce goods with less human needs and in a cheaper manner, that means there is nothing we can do to be competitive," he explained.
FG's Response
The Minister of Finance, Kemi Adeosun, recently pointed out that the federal government was no longer bothered by fluctuations in the price of crude oil.
According to Adeosun, the federal government has learnt to live with a low crude oil price.
"We have gotten to a point where we don't care whether oil prices will be sustained at the level that they have recently risen to.
"We have been able to balance our budget at $45-$46 per barrel and we've got to learn to live comfortably at that level,'' she said.
She said the government's diversificationefforts include pushing for agricultural expansion to reduce a heavy food-import bill and boost exports. Adeosun while noting that the government was seeking to plug an infrastructure gap of $25 billion, said "the infrastructure gap is significant, it is far bigger than anybody had imagined, in power, in roads, in rail."
Way Forward
For Raji, there is need to increasingly encourage activities in the non-oil sector, especially as regards to innovation, as well as make sure there is adequate policy around credit.
"When you don't resolve some of the structural challenges, like power for instance, there is not much that can be done.
Unless we resolve some of these constraints, we are not going to extract wealth from the real sector," he advised.
Also, Okere pointed out that the biggest employers of labour in the country presently are the entrepreneurs, stressing the need for capacity building and other incentives that would encourage business owners.
"Many of them can do better if they are empowered with technology and inclusiveness. The human capital development is extremely important, because that is where the wealth is.
"Power is the fundamental for industrialisation. Another thing that very important is broadband," he added.
The foregoing shows that there is an urgent need for the country to fast-track its transition to a post oil economy. Government at all levels need to start thinking and encouraging creativity and innovation. All over the world, there are resource rich countries that are not dependent on commodities and have been able to transform their economies. What the country requires today is to enhance its investment in infrastructure, education and manpower development, which would in turn drive competitiveness.
PRCAN commends Buhari over executive order on expatriates, Naira - THE GUARDIAN
FEBRUARY 07, 2018
By Margaret Mwantok
The Public Relations Consultants Association of Nigeria (PRCAN) has commended President Muhammadu Buhari for signing the Executive Order criminalising the excessive use of expatriates to render professional services in the country.
The body's commendation is coming on the heels of increasing use of expatriates for jobs and services that could be provided by Nigerian professionals.
A statement signed by its President, John Ehiguese and Publicity Secretary, Israel Jaiye Opayemi, yesterday described the order as "exceptional, courageous and nationalistic, which puts our country first over and above the popular penchant of government officials for all things foreign and particularly Caucasian."
PRCAN said the move was a valid extension of the Federal Government's Buy Nigeria, Save the Naira campaign, insisting that most government officials have treated the campaign with contempt.
It assured President Buhari of its readiness to play the role of whistle blowers in relation to the Public Relations and Marketing Communications sector and promised to provide the Presidency with the details of foreigners operating agencies illegally in defiance to the laws regulating the industry.
"President Muhammadu Buhari can rest assured of our support in this regard. We will compile the names and addresses of those currently operating illegally here against the extant law regulating the Public Relations practice in Nigeria.
With $4 Billion Bond Sale Done, Egypt Readies Euro Offer - BLOOMBERG
FEBRUARY 14, 2018
By Ahmed Feteha and Mirette Magdy
Sale 'ideally' to take place in April, finance minister says

Egypt's international bond sales help lower borrowing costs
Egypt will begin approaching investment banks in a few days for a planned sale of euro-denominated bonds after successfully raising $4 billion from international debt markets to finance the budget deficit and bolster foreign reserves, Finance Minister Amr El-Garhy said.
The sale of 1 billion to 1.5 billion euros in notes will "ideally" take place in April, and Egypt wants European banks to manage it, the minister said in a phone interview. On Tuesday, the government received about $12 billion in offers for its dollar-denominated bonds, in what the minister described as a "vote of confidence" in the Egyptian economy.
The strategy of becoming a regular issuer on international markets will enable Egypt "to borrow easily and at relatively better pricing," said Mohamed Abu Basha, an economist at investment bank EFG-Hermes in Cairo.
While the global market turmoil last week also hit the assets of developing nations, investors are still tempted by higher-yielding emerging debt in a world that remains awash with central bank stimulus. For the Egyptian government, however, borrowing costs on international markets remain much lower than local-currency debt.
Tuesday's issuance completely covers Egypt's financing gap for the fiscal year ending June 30, Deputy Finance Minister Ahmed Kouchouk said. It brings to $11 billion the total amount of international bonds Egypt has sold since floating the currency and securing a $12 billion International Monetary Fund loan in November 2016.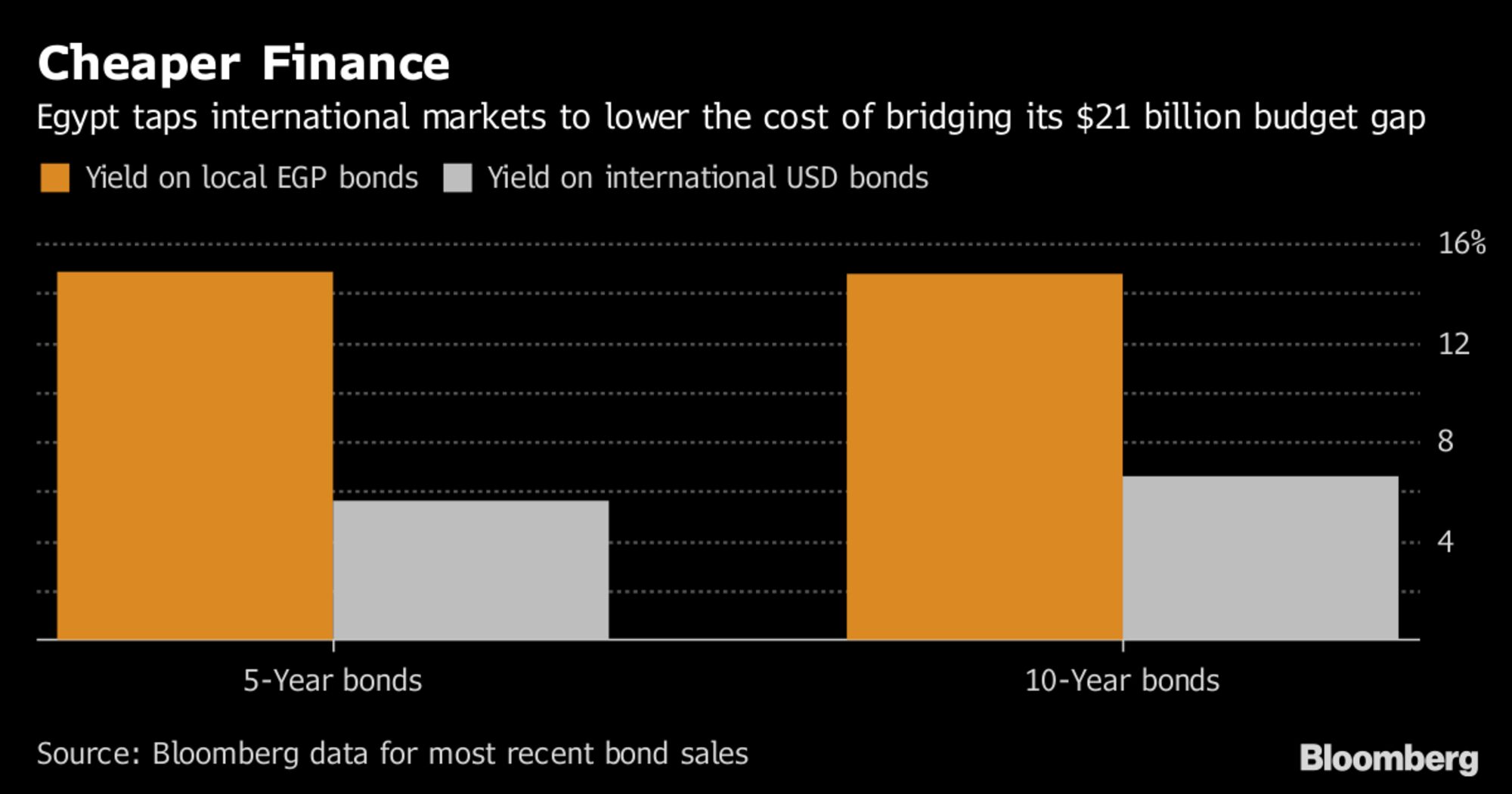 The terms for the latest issuance were less favorable than last year's due to the increase in global interest rates, El-Garhy said.
"We could've secured cheaper pricing since our risk position has improved since the last time we tapped the market, but the rise in yields on U.S. Treasuries has affected us," El-Garhy said.
Egypt's foreign-currency reserves have been steadily increasing since 2016, climbing to a record $38.2 billion January.
Tuesday's issuance was broken down into three parts: $1.25 billion in five-year notes with a yield of 5.58 percent, $1.25 billion in 10-year notes with a 6.59 percent yield; and $1.5 billion in 30-year notes with a yield of 7.9 percent, the Finance Ministry said in an emailed statement.
— With assistance by Tarek El-Tablawy, and Alexander Nicholson
Euro-Area Economy Keeps Cruising Speed as Outlook Improves - BLOOMBERG
FEBRUARY 14, 2018
By Piotr Skolimowski
Eurostat confirms fourth-quarter GDP growth at 0.6 percent

German economy expanded 0.6 percent, Italy's 0.3 percent
The euro-area economy maintained its robust growth pace at the end of last year, setting the stage for another solid performance in 2018 that may sway European Central Bank policy makers into winding down unprecedented stimulus.
Gross domestic product increased 0.6 percent from the previous three months, Eurostat reported Wednesday, confirming a Jan. 30 estimate. Growth slowed in Germany and Italy, while the pace of expansion accelerated in the Netherlands and Portugal, according to separate reports.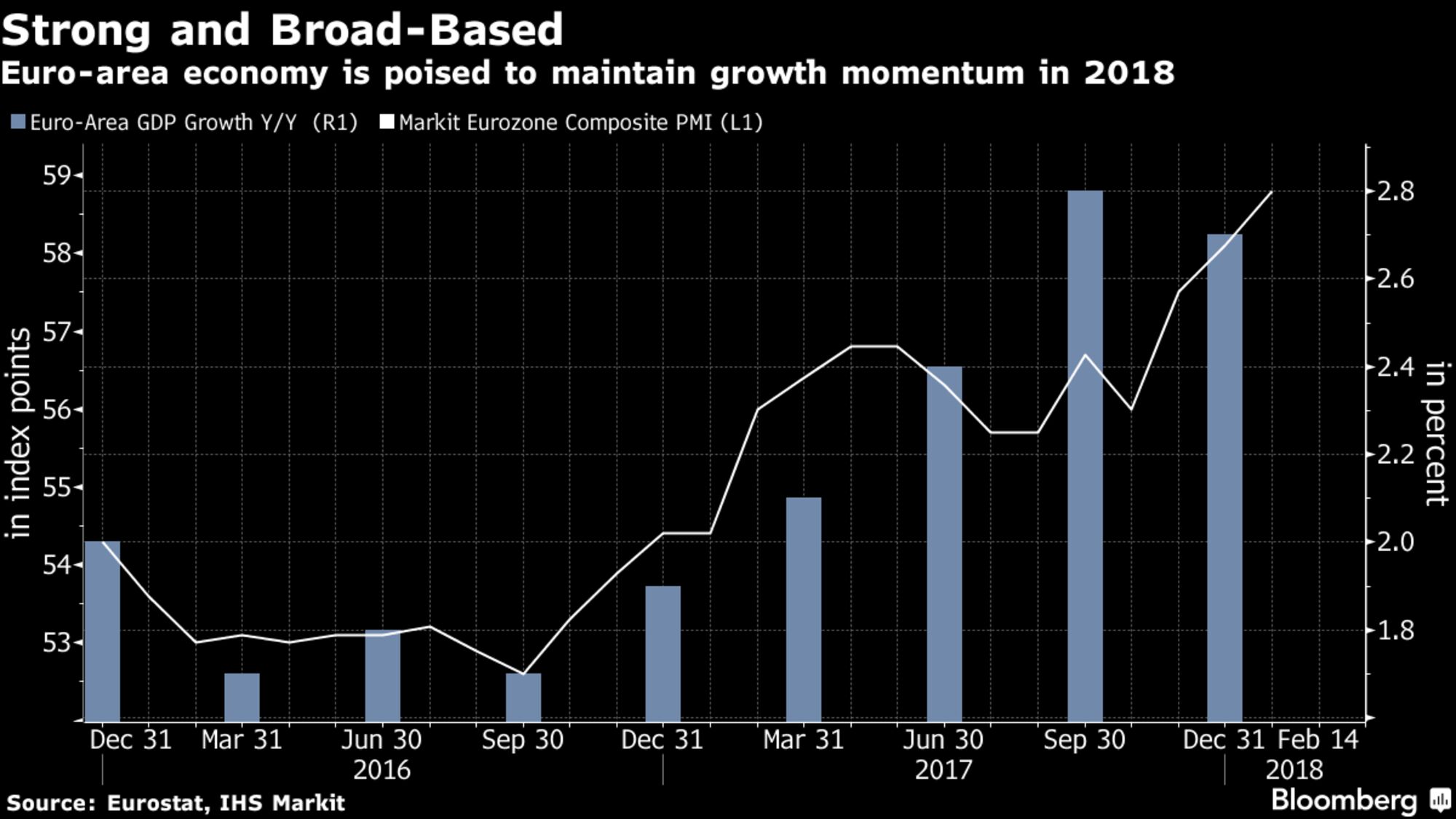 The European Commission has said the economic expansion in the 19-nation region is now more balanced than at any time since the financial crisis, and the International Monetary Fund has raised its global outlook for 2018. ECB policy makers say they're increasingly confident that robust growth will slowly rekindle price pressures, paving the way for a gradual withdrawal of monetary accommodation.
For Bloomberg's Markets Live Blog, click here
Germany's upswing -- despite a slowdown in quarterly output -- continues to be a key ingredient for growth in the euro area. Momentum in the country at the end of last year was driven by a strong increase in exports, according to a national report. Government consumption and equipment investment increased, while private spending remained largely unchanged and construction slipped.
The Dutch economy also benefited from buoyant global trade. GDP increased 0.8 percent in the fourth quarter, exceeding economist estimates. Italian growth slowed to 0.3 percent, leaving it lagging behind France and Germany and providing a note of caution ahead of general elections next month. GDP increased 0.7 percent in Portugal.
"Going into this year there are reasons to expect growth to broaden," said Jennifer McKeown, chief European economist at Capital Economics Ltd. in London. "Germany will likely be among the strongest performers this year, but as you move through the year France and Italy will hopefully start to catch up."
Global Trend
Elsewhere, the Japanese economy continues to look healthy after two years of uninterrupted growth, even though growth slowed to 0.1 percent in the fourth quarter amid weaker public demand. Singapore lost some of its momentum at the end of 2017, with the government projecting a slight moderation in growth this year as an export boom eases.
Economic momentum in the euro area surged to the fastest pace in almost 12 years last month, a business survey showed, pushing firms to pile on the most additional workers since the start of the millennium.
"Euro-zone industry is a good example of a sector with still a lot of upside left," Bert Colijn, senior euro-area economist at ING Bank NV in Amsterdam, said after a report showed industrial output surged an annual 5.2 percent in December. "The acceleration of production growth is unlikely to be a one-off as the outlook for industry remains rosy."
While ECB President Mario Draghi has welcomed the region's strengthening momentum, he also cautioned against removing stimulus too quickly in light of still-muted inflation. Consumer-price growth slowed to the weakest since July at the start of the year.
"The GDP results for the final quarter of 2017 should strengthen confidence at the ECB that inflation will gradually move from 1.3 percent currently to the goal of just below 2 percent," said Alexander Krueger, chief economist at Bankhaus Lampe KG in Dusseldorf. "We don't expect an accelerated exit from asset purchases due to the continued robust upturn though."
— With assistance by Andre Tartar, and Kristian Siedenburg
Nigeria: Delta Air Plane Catches Fire Mid Air, Makes Emergency Landing - VANGUARD
FEBRUARY 14, 2018
By Lawani Mikairu
Delta Air plane in the early hours of Wednesday, made emergency landing at the Muritala Muhammed International Airport , Lagos shortly after taking off when the pilot of the plane noticed that the left engine of the aircraft caught fire mid air in-flight.
The pilot of the Delta Air flight DL055 (ATL)ETG immediately contacted the control tower at the Lagos Airport to prepare for emergency landing. All emergency aviation officials were immediately contacted and fire fighters placed on standby. After landing successfully, all the passengers aboard were quickly evacuated via the emergency sliding door within few minutes.
Although there is no death recorded as at the time of filing this report but quite a number of crew and passenger casualties were recorded and have been taken to Lagos State University Teaching Hospital, LASUTH, Ikeja, Air Force Base Clinic and Federal Airports Authority of Nigeria, FAAN, Medical Centre for speedy medical attention.
Meanwhile, the incident led to the closure of the runway as the Delta Aircraft was on the Runway for over 1hour thereby preventing KLM, Lufthansa and Air France already positioned for take off from departing. The aircraft was later towed with a push back truck to the open parking bay close to Boarding gate E 63.
The remaining casualty - free passengers have been taken to an Hotel after the flight was announced cancelled and rescheduled for a date yet to be specified and communicated.
NCAA to investigate Delta's plane emergency landing at Lagos airport - THE GUARDIAN
FEBRUARY 14, 2018
The Nigerian Civil Aviation Authority (NCAA) on Wednesday said it would investigate the emergency landing by an Atlanta-bound Delta Air Lines flight at the Murtala Muhammed International Airport, Lagos.
The General Manager, Public Relations, NCAA, Mr Sam Adurogboye, disclosed this to the News Agency of Nigeria (NAN) in Lagos.
Adurogboye said that NCAA had been notified of the incident, stressing that it was the duty of regulatory authority to investigate such occurrences in order to ascertain what led to it.
He noted that the pilot acted in accordance with the Standard and Recommended Practices (SARPs) by making an air return immediately the left engine of the aircraft caught fire in-flight.
NAN recalls that the Delta Air Lines flight 55 which took off around 10:50 pm on Tuesday, made an air return less than an hour later due to an engine fault.
The pilot announced the evacuation of all the passengers on board within 90 seconds, after contacting the control towers when the left engine of the aircraft caught fire.
A statement signed by the United States carrier's media consultant in Nigeria, Mr Tope Awe, on Wednesday, said the A330-200 had an issue with one of its two engines.
"The flight landed safely and customers exited the aircraft on the runway via emergency slides.
"Airport fire authorities met the aircraft upon arrival. Delta's customers were bussed back to the terminal.
"Delta is aware of five customers reporting non-critical injuries as a result of the evacuation.
"Delta teams have provided overnight hotel accommodations to customers and will rebook customers on an alternate Delta aircraft Wednesday afternoon.
"The safety of Delta's customers and crew members is always our top priority," Awe said.
U.S. may halt crude oil import from Nigeria - THE GUARDIAN
FEBRUARY 14, 2018
By Roseline Okere
There are indications that the United States may halt crude oil import from Nigeria by 2022, as it moves closer to becoming a net export of petroleum products.The United State Energy Information Administration (EIA) has projected that the United States will become a net energy exporter in 2022 in the newly released Annual Energy Outlook 2018, primarily driven by changes in petroleum and natural gas markets.
Nigeria saw a significant reduction in the US imports of its crude in recent years, starting from 2012, following the shale oil production boom.The U.S. imported a total of 28.53 million barrels of crude oil from Nigeria in the third quarter of last year, up from 18.88 million barrels in the same period in 2016; 10.13 million barrels in 2015; 5.10 million barrels in 2014; and 21.23 million barrels in 2013.
The Minister of State for Petroleum, Dr. Ibe Kachikwu said recently that Nigeria would explore the possibility of selling crude oil to African markets.He said: "Nigeria has to begin by looking at the country first. What do we do to encourage local companies to be able to compete in Africa? It is along these lines for example, that we have started product or sector specialisation which are the areas where we have the most competitive advantages."
According to EIA, the transition from net energy importer to net energy exporter occured even earlier in some sensitivity cases that modify assumptions about oil prices or resource extraction. Sensitivity cases with less energy production project that the United States will remain a net energy importer through 2050.
It stated: "The transition of the United States to a net energy exporter is fastest in the High Oil Price case, where higher crude oil prices lead to more oil and natural gas production and transition the United States into a net exporter by 2020. In that case, higher crude oil prices also result in higher petroleum product prices and lower consumption of petroleum products, driving decreases in net petroleum imports.
"In the High Oil and Gas Resource and Technology case, with more favorable assumptions for geology and technological developments, the United States becomes a net exporter in 2020, and net exports increase through the end of the projection period. In cases with relatively low oil prices or less favorable assumptions for geology and technological developments, U.S. net energy trade still decreases, but the United States remains a net energy importer through 2050.
"In energy equivalent terms, the United States imported about 27 quadrillion British thermal units (quads) of energy in 2017 and exported 18 quads, which resulted in 9 quads of net imports. In 2017, the United States imported about 11 quads of petroleum and other liquids and exported two quads of coal and coal coke. U.S. natural gas trade in 2017 was nearly balanced between imports and exports, and net electricity trade with Canada and Mexico was relatively small. Petroleum and natural gas account for most of the changes EIA projects in U.S. energy trade."
EIA said that U.S. net petroleum trade—crude oil, petroleum products, and natural gas plant liquids—has fallen in recent years, reaching 3.8 million barrels per day (b/d) in 2017 based on data through November.
He expressed concern that the country has not been able to capture the African terrain of the market, adding that the market must be captured in terms of contract awards, whether in crude, investment or other formulations.
Reps summon Emefiele, NDIC, BoI CEOs over N17bn NERFUND loans - PUNCH
FEBRUARY 14, 2018
BY John Ameh, Abuja
An ad hoc committee of the House of Representatives on Tuesday summoned the Governor of the Central Bank of Nigeria, Mr. Godwin Emefiele, over the N17bn non-performing loans recorded by the National Economic Reconstruction Fund.
Also to appear before the committee, which is chaired by a member from Ekiti State, Mr. Ayodele Oladimeji, are the Managing Director of the Nigeria Deposit Insurance Corporation, Mr. Umaru Ibrahim; and the Managing Director of the Bank of Industry, Mr. Olukayode Pitan.
The committee is investigating reports that NERFUND went under as a result of the loans, following which the Federal Government hurriedly merged it with the BoI.
Lawmakers are asking questions on why the loans are not recovered, in addition to investigating the beneficiaries.
Among the allegations were that "acolytes of the management" and some members of staff were among the beneficiaries.
The committee also has information that some members took a N500m facility with a repayment period of up to 20 years at only one per cent interest rate.
At Tuesday's session, Oladimeji recalled that NERFUND was shut in disregard to a standing resolution of the House, which directed that further actions on the agency should be put on hold pending the outcome of the probe.
He added that Emefiele was summoned to tell Nigerians why the CBN failed to ensure that the loans were recovered.
He also stated that the committee was interested in knowing the legal basis for the merger with the BoI.
The committee observed that the members had yet to be convinced on how NERFUND, which had an initial capital of N300m, could go under, while some commercial banks were posting profits in billions of naira.
The committee cited the case of Zenith Bank Plc and several others that started business around 1989 just as NERFUND did.
Oladimeji added that if NERFUND could fall easily, there were no guarantees that the BoI, the newly-inaugurated Development Bank of Nigeria or the Bank of Agriculture would survive for long.
He stated, "With all the precautions taken by the NERFUND Act, NERFUND was not supposed to be distressed. What has the CBN done to recover the loans as prescribed by the Act?
"If NERFUND can go under, should Nigerians be looking forward to the collapse of similar agencies like the DBN, BoI and the others? Merging NERFUND with BoI is illegal, but we will not allow the DBN, BoI and the others to collapse like NERFUND."
However, the Ministry of Finance claimed that NERFUND was not merged with the BoI.
A representative of the ministry, Olubunmi Siyanbola, told the committee that a process to wound down the agency began in 2013 and was followed through.
She stated that the BoI's role was merely to recover the non-performing loans after all the members of staff of NERFUND resigned.
She explained, "NERFUND had 82 workers, but the entire 33 senior management staff resigned in August 2016 on the verge of the presentation of the report of the presidential committee that investigated the Fund.
"Because the agency has no board, the Federal Government constituted an interim management committee to oversee its affairs and by October 2017, the entire 49 junior workers also resigned after which they pleaded that we assist in their absorption into other Federal Government agencies."
NPA says only eight agencies allowed operations in ports nationwide - THE GUARDIAN
FEBRUARY 14, 2018
The Nigerian Ports Authority (NPA) on Tuesday disclosed that only eight Federal Government agencies are allowed to operate and have physical representation at all port locations in the country.
The General Manager, Corporate and Strategic Communications of NPA, Alhaji Abdullahi Goje, said in a statement in Lagos that the disclosure was based on the directive of the Presidential Enabling Business Environment Council (PEBEC).
Goje said that PEBEC had directed the NPA to ensure strict compliance to the Oct. 26, 2011 presidential directive on agencies permitted to operate in the ports.
"Agencies allowed representation at the ports are: Nigerian Ports Authority (NPA), Nigerian Customs Service (NCS), Nigerian Maritime Administration and Safety Agency (NIMASA), Nigeria Police, Department of State Security (DSS).
"Other agencies are: Nigerian Immigration Service (NIS), Port Health and the Nigerian Drug Law Enforcement Agency (NDLEA),'' he said.
He stressed that the other agencies not mentioned on the list must remain outside the port premises.
"The Nigerian Customs Service, which is the lead agency for inspection of cargoes, has developed standard operating procedures to facilitate
seamless operation,'' Goje said.
The NPA spokesman said that the authority remained committed to the Ease of Doing Business policy of the administration of President Muhammadu Buhari.
He said the presidential initiative was to improve the conditions under which business was carried out at all ports across the country.
Goje solicited for the support of all agencies and stakeholders in the Nigerian Maritime Sector towards making Nigeria, a destination of choice for all legitimate businesses.
UPDATE 2-Appeal court rules Nigerians cannot pursue Shell spill claim in England - REUTERS
FEBRUARY 14, 2018
(Adds dissenting opinion, background)
By Libby George and Tife Owolabi
LONDON/YENAGOA, Nigeria, Feb 14 (Reuters) - The Court of Appeal in London ruled on Wednesday that two Nigerian communities cannot pursue Royal Dutch Shell in English courts over oil spills in Nigeria's Delta region.
The split decision upheld a High Court ruling last year that was a setback to attempts to hold British multinationals liable at home for their subsidiaries' actions abroad.
The court rejected the appeal from law firm Leigh Day on behalf of Nigeria's Bille and Ogale communities, and upheld a ruling that English courts do not have jurisdiction over claims against Shell's Nigerian subsidiary Shell Petroleum Development Company (SPDC).
SPDC is jointly operated with the Nigerian government
Shell said the court "rightly upheld" the earlier ruling, and said Nigeria's "well-developed justice system" was the correct place for the claims. Its subsidiary SPDC has also denied responsibility for the spills, which it says were due to sabotage and illegal refining.
One of the three senior High Court judges, the Rt. Hon. Lord Justice Sales, disagreed with the majority ruling, writing that the communities have "a good arguable claim that (Shell) assumed a material degree of responsibility in relation to the management of the pipeline and facilities" operated by SPDC.
Leigh Day said the two Nigerian communities intended to bring the case to Britain's Supreme Court.
"We are hopeful that the Supreme Court will grant permission to appeal and will come to a different view," Leigh Day partner Daniel Leader said.
King Okpabi, the ruler of the Ogale community, said the English courts were the only hope, and that they "cannot get justice" in Nigeria.
The case is significant in determining whether multinational companies can face legal action in England over their subsidiaries' actions abroad.
Last year, an appeals court upheld a ruling that a case brought by Zambian villagers against mining company Vedanta Resources over environmental pollution could be heard in England. Vedanta said it would seek the right to appeal to the Supreme Court. (Reporting by Libby George; Editing by Edmund Blair and David Evans)
Fed Govt plans N100b bonds next week - THE NATION
FEBRUARY 14, 2018
By: Taofik Salako
The Federal Government plans to issue two bonds valued at N100 billion next week, in a continuation of the government's dual strategy of proactive debt management and development of the domestic debt market.
A notice by the Debt Management Office (DMO)-which oversees Federal Government's sovereign debt issues, indicated that the government will be offering by subscription N100 billion worth of bonds in its February 21, 2018 auction.
The offer circular obtained yesterday indicated that government will sell a N50 billion three-year bond at a coupon of 14.50 per cent and maturity of July 2021. Government will also offer a N50 billion bond with maturity in February 2028.
The July 2021 bond is a re-opening of previous issues while the February 2021 bond is a new 10-year issue.
'Non-oil economy still in recession' - THE NATION
FEBRUARY 14, 2018
By: Nduka Chiejina
Nigeria's economy is still vulnerable with fragile growth driven by increased oil production and rising crude oil Price.
Chief Executive Officer, RTC Advisory Services Limited, Mr. Opeyemi Agbaje made this observation at a media parley in Abuja.
He noted that, while there was miraculous reversal in oil price and production out put, other sectors such as manufacturing, services sector, telecommunications are yet to come out of the recession.
According to him, "Nigeria's economy witnessed miraculous reversal in terms of oil price and production. The country came out of recession because of oil growth. The economy of shell oil, NNPC and other oil firms may have come out of recession but other sectors are still grappling with recession."
He pained an optimistic picture by assuring that a sustained "diffusion of rising crude oil Price, other sectors currently in recession could experience positive growth."
Asked why Nigeria's budget has not made any meaningful impact on the citizens, Agbaje said the "Nigeria's budget as currently structured may not affect the citizens quickly as expected unless its focus is changed from heavy recurrent expenditure to capital."
According to him, "unless we reverse our budget culture, poverty will continue to grow. When you spend 80% of revenue on limited number of people you will get the sort of outcome we are currently grappling with. Unless you reverse the trend of your priority by spending 80% on capital projects and spend less on recurrent items, there would be massive poverty" he said.
'Nigeria May Be Key Brexit Trade Ally' - THISDAY
FEBRUARY 14, 2018
The Chairman of the Commonwealth Enterprise and Investment Council (CWEIC), Lord Marland of Odstock, has said it was time for the UK to set up a post-Brexit trading zone, with Nigeria, Singapore and Malaysia offering major opportunities.
Speaking in an interview with the British newspaper, The Telegraph, ahead of the 2018 Commonwealth Business Forum (CBF), thenigerianvoice.com, quoted Lord Marland as saying: "The UK doesn't want to be seen to be initiating anything but actually people look to the UK for leadership. If the UK wants to initiate something, which is a starting block for a commonwealth trade zone, it will start."
"There are one or two really encouraging, optimistic places on the horizon. You've got the big populations such as Nigeria, which is going to be 320m people – bigger than the United States – in under 10 years. They love British products…it's a huge consumer market. Fundamentally there is a lot of disposable wealth."
Asked which other products Nigerians were particularly keen to buy, he replied: "Everything."
Lord Marland added that leaving the EU's customs union was one of the UK's "great negotiating strengths," as it would grant the freedom to stimulate trade by lowering tariffs and other trade barriers.
The benefits of doing so would extend beyond the Commonwealth, he said, as a potential free trade deal with Japan was already "worrying" German car manufacturers who rely on exports to the UK.
Britain is Nigeria's second-largest trading partner, after South Africa, with the bilateral relationship worth around £3.8billion per year.
The CBF will be organised alongside the biennial Commonwealth Heads of Government Meeting (CHOGM), set to take place in April 2018 in London, for the first time in 20 years. Discussions will focus on key themes such as:easing the pathway for business and growth; harnessing Commonwealth technology and innovation; creating a new attitude to sustainable business; mobilising an export economy, and attracting inward investment
With the Commonwealth's cumulative population standing at 2.4 billion, the combined Gross Domestic Product of the nations is set to reach US$14 trillion by 2020. Intra-Commonwealth trade, which was estimated to be worth $525 billion in 2015, is projected to surpass $1 trillion by 2020.
CWEIC's ambition is to encourage and grow intra-Commonwealth trade and investment, and assist member organisations in developing high quality trade and investment opportunities.
Nigeria Airways' UK, Ghana workers got full entitlements – FG - PUNCH
FEBRUARY 14, 2018
Okechukwu Nnodim, Abuja
Employees of the defunct Nigeria Airways, who worked in the United Kingdom and Ghana, got their full entitlements when the airline was liquidated but their Nigerian counterparts were not paid, the Federal Government announced on Tuesday.
According to the Minister of State for Aviation, Senator Hadi Sirika, the lack of a strong enabling Act that backs Nigerian workers in cases of liquidation was one major reasons why the affected employees of the defunct airline could not get their entitlements when the carrier went under.
Sirika, who spoke at the annual retreat of the Joint Union Negotiating Council in Abuja, stated that it was time for workers to fight more on institutionalising procedures instead of struggling for less significant concerns.
Nigeria Airways was liquidated by ex-President Olusegun Obasanjo's administration in 2005, and the workers of the defunct airline based in the country had staged nationwide protests over their unpaid entitlements.
The minister, who was represented by the Commissioner, Accident Investigation Bureau, Akin Olateru, said, "You will agree with me that NITEL, Nigeria Airways, PHCN, etc., all laid off staff; and at every point, the staff had to fight to get their entitlements. It is good to fight for money, better condition of service and training, but we need to fight more on institutionalising some procedures.
"I'll give you an example; when Nigeria Airways was declared comatose, the people in the United Kingdom got full payment, those in Ghana got full payment, but why is it that we in Nigeria did not get same? It is because we don't have a very strong enabling Act that supports staff after the liquidation of their firms."
Sirika added, "So to union leaders, don't let us fight for just what we are eating today, but let's put the right systems in place to help our future. If you need to take this to the National Assembly, I think it is a worthy course. Today, it is Nigeria Airways and people are carrying placards and crying; tomorrow, we don't know who's next."
FX Volatility Sparks Trading Surge With Signs of More to Come - BLOOMBERG
FEBRUARY 14, 2018
By Lananh Nguyen
Turbulence coincides with jump in activity: JPMorgan, CLS

Price swings in focus as currency industry gathers in Miami
BOJ to Drive Dollar-Yen by Year's End, Says Nomura's Rochester
The past week's financial-market turbulence is keeping foreign-exchange traders busy, boosting volumes along with volatility.
Price swings in the $5.1-trillion a day currency market have jumped at the start of 2018 to the highest since November 2016 on a monthly basis, according to a JPMorgan Chase & Co. gauge. The turmoil coincides with surging trading activity, say JPMorgan and CLS Group Holdings AG, which settles global foreign-exchange transactions.
As heads of currency trading from the world's biggest asset managers and banks gather at the TradeTech FX conference in Miami this week, they're fixated on whether the turmoil will persist. If it does, it could be a boon for speculators, while complicating the tasks of hedgers who prefer more placid waters.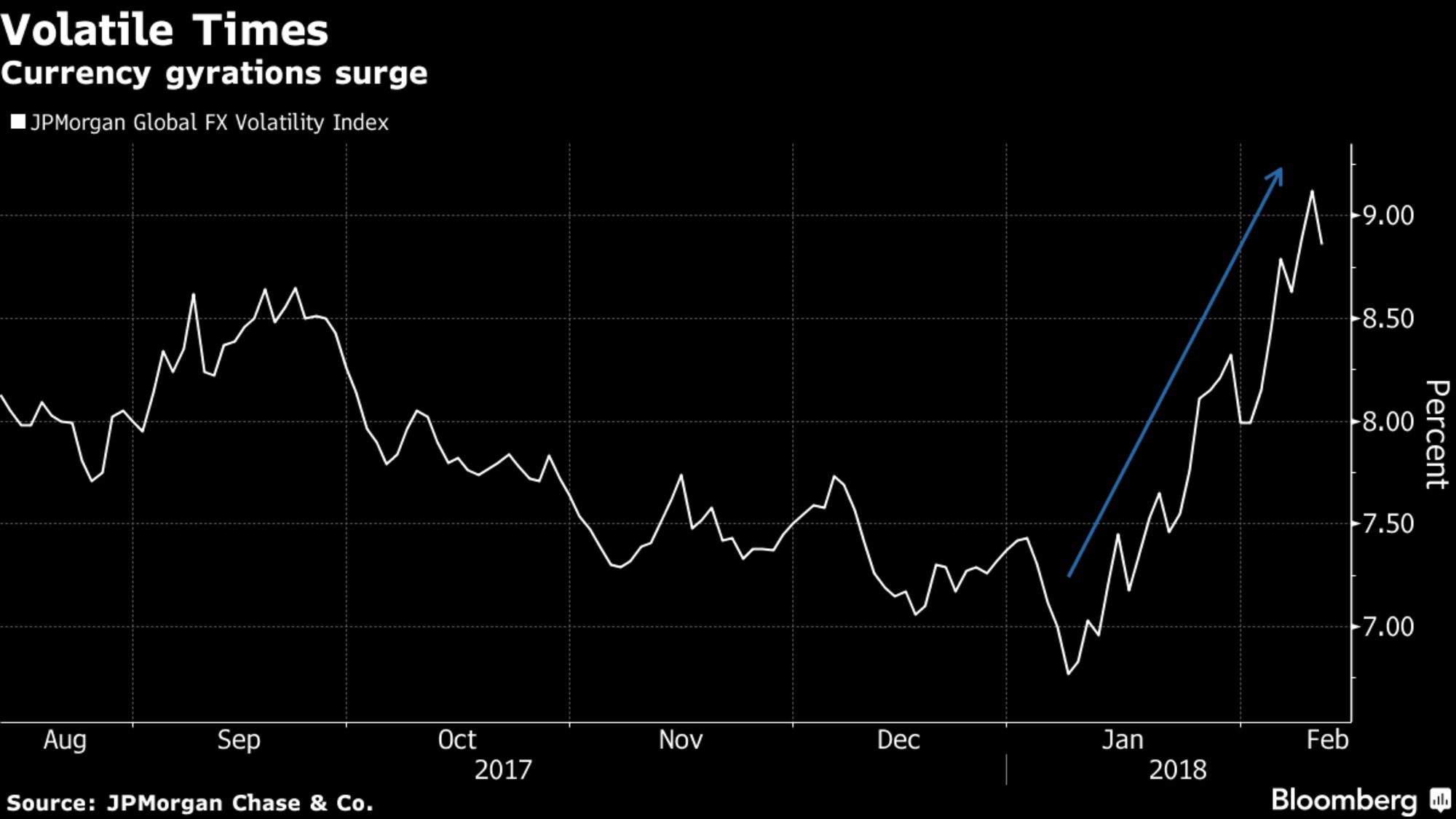 "Volatility is natural to markets -- low volatility is not natural," said Isaac Lieberman, chief executive officer of Aston Capital Management LLC in New York.
Managers of $1.7 Trillion Say Currency Volatility Here to Stay
Market gyrations have returned to FX after a subdued 2017, which was the calmest year since 2012, according to the JPMorgan gauge. As other central banks look to follow the Federal Reserve in withdrawing monetary accommodation against a backdrop of strengthening global growth, there are plenty of catalysts that could whipsaw markets.
"Market activity is really taking off," said David Puth, chief executive officer of CLS Group.
CLS settled an average of almost $2.1 trillion of currency trades a day from Monday to Thursday last week, up 14 percent from January's average, the company said in a statement.
As markets became more volatile over the last two months, JPMorgan's clients boosted their use of the bank's currency algorithms, according to Richard James, co-head of macro markets execution in London. The number of users trading on the bank's electronic platform also grew, with every day last week exceeding the highest level seen in 2017.
Here are some other views on volatility expressed at the event:
"FX market participants worry that any further round of equity volatility will spill much more heavily into FX than last week's episode did," said Steven Englander, head of research and strategy at Rafiki Capital. "The strong consensus is that the VIX will fall back sharply but stabilize closer close to historical norms around 15 or just under. VIX futures build in a relatively quick downward move."
"What we're seeing right now is the start of the volatility -- I think that continues," said Lee Ferridge, head of macro strategy for North America at State Street Global Markets. If the turbulence persists, it could prompt the Fed to back off its tightening cycle, he said.
'Ghost Liquidity' in Currency Markets Is a Concern for the CFTC - BLOOMBERG
FEBRUARY 14, 2018
By Lananh Nguyen
Vontobel CEO Staub Says Volatility Is a Return to Normal
U.S. regulators are keeping a keen eye on liquidity in the world's largest financial market.
"As far as the foreign-exchange market goes, we're concerned about any market that loses liquidity," Andrew Busch, the Commodity Futures Trading Commission's first chief market intelligence officer, said at the TradeTech FX conference in Miami Tuesday. "It gets to the central question: Where is it? Is it there? Is it pretend liquidity, is it ghost liquidity?"
The ability to buy and sell currencies when needed has been a focus for participants in the $5.1 trillion-a-day market amid stricter regulation and increased electronic trading. Declining liquidity has been blamed for flash crashes in foreign-exchange markets, including the British pound's plunge in October 2016.
Ensuring liquidity is a key priority for asset managers and hedge funds seeking to execute currency transactions, while Bank of America Merrill Lynch has noted that reduced activity is spurring a battle for market share among dealers. A survey published last year by the organizers of the Miami conference noted that finding alternative methods to source liquidity was among the biggest priorities for many currency trading desks.
"We are for safer markets, but we're also for markets that function efficiently," said Busch, who joined the CFTC in April. "We worry about the fragmentation, the different pricing that will occur, the different pockets of liquidity that people have to access."
Egypt's GDP growth for Q2 of 2017/18 fiscal year at around 5.3 pct - minister - REUTERS
FEBRUARY 14, 2018
CAIRO, Feb 14 (Reuters) - Egypt's GDP growth for the second quarter of the 2017/18 fiscal year rose to around 5.3 percent from 3.8 percent in the same period last year, Planning Minister Hala al-Saeed said on Wednesday.
Egypt's fiscal year begins in July and ends in June.
Egypt's economy has been struggling since a 2011 uprising drove foreign investors and tourists away, but a $12 billion IMF deal signed in November 2016 is hoped to put the country on the right track. (Reporting by Moemen Writing by Arwa Gaballa; Editing by Alison Williams)
UPDATE 1-South African rand hits 2-1/2-year high as ANC prepares to push out Zuma - REUTERS
FEBRUARY 14, 2018
JOHANNESBURG, Feb 14 (Reuters) - South Africa's rand jumped more than 1 percent to its firmest since June 2015 and bonds hit a one-week best on Wednesday after the ruling African National Congress (ANC) said it would proceed with a vote to remove President Jacob Zuma from office.
At 1140 GMT the rand was 1.1 percent firmer at 11.8200 per dollar. It earlier rallied to a session best 11.7975 just after the ANC's parliamentary caucus said it would support a motion of no-confidence brought by an opposition party against Zuma and due to be heard in the house on Thursday.
The party's chief whip Jackson Mthembu said the ANC hoped to elect party leader Cyril Ramaphosa as president of the country on Thursday, after the no-confidence vote, or on Friday, accelerating the end of Zuma's scandal-plagued reign.
"We saw the rand strengthen about 10 cents on the announcement but the fear is it's still not a done deal, so that's why we've seen the rand bounce. Zuma could still have something up his sleeve," Tradition Futures derivatives trader Gillian van Heerden said.
The rand's fortunes have been closely tied to political outcomes over the past couple of years, with the impasse in the last few weeks over Zuma's future weighing on the currency's 2018 rally.
The cost of insurance on the rand also rose sharply, with the price of one-week options increasing nearly 30 percent.
Bonds also firmed, with the yield on the benchmark 2026 paper down 6 basis points at 8.395 percent.
Stocks gained, with the Johannesburg bourse's index of 40 blue-chip shares up 0.5 percent at 50,658 points, while the All-Share index rose 0.5 percent to 57,501 points. (Reporting by Mfuneko Toyana; Editing by Dale Hudson)
Zuma Going But Not Gone Leaves Traders Divided on Rand's Future - BLOOMBERG
FEBRUARY 14, 2018
By Colleen Goko and Dana El Baltaji
Currency erased day's gain as ANC gives Zuma time to resign

Some investors concerned that impasse may affect budget
ANC Gives Zuma More Time to Leave Office
For about five minutes, the world's most volatile currency barely budged as a top leader of South Africa's ruling party made the announcement that everybody had been waiting for: President Jacob Zuma has been ordered to resign.
Then the rand started giving up the day's gain as traders digested the statement read by African National Congress Secretary-General Ace Magashule: the party hasn't given Zuma a deadline to comply, leaving the country's leadership crisis unresolved and investors unsure about prospects for the currency. Cyril Ramaphosa, leader of the ANC and Zuma's designated successor, is still waiting in the wings.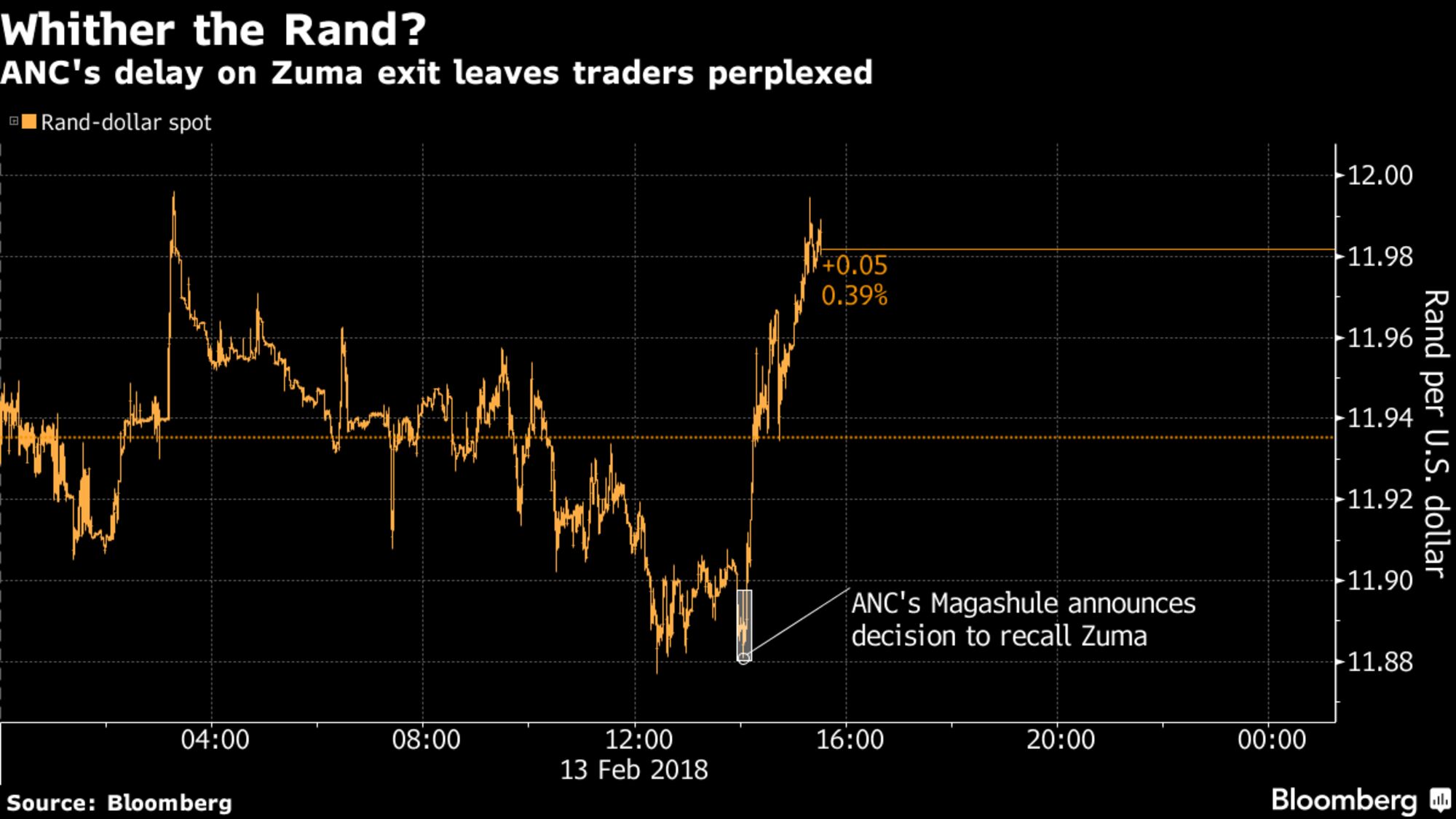 Unless Zuma decides to resign soon, the ANC may have to order its lawmakers in parliament to approve a motion of no confidence in the president. The political impasse already forced the unprecedented postponement of last week's scheduled annual state-of-the-nation address and may imperil the presentation of the budget next week, with Moody's Investors Service poised to cut the country's local-currency credit rating to junk.
That would spark the exit of the country's bonds from Citigroup Inc.'s World Government Bond Index, resulting in capital outflows as funds that track the gauge are forced to sell, and pressure on the currency. The rand weakened 0.4 percent to 11.9841 per dollar by 3:45 p.m. in Johannesburg, paring its advance in the past three months to 21 percent.
Play Video
ANC Gives Zuma More Time to Leave Office
The African National Congress will replace Jacob Zuma as president of South Africa.
(Source: Bloomberg)
Read more here about the latest twist in the Zuma saga
Here's what investors and analysts are saying about the latest developments:
Reezwana Sumad, Johannesburg-based analyst at Nedbank Group Ltd.:

"If this extends for more than a week without a resignation, the market could become quite fatigued, and this will likely be negative for the rand in the near term"

Zaakirah Ismail, a fixed-income analyst at Standard Bank Group Ltd. in Johannesburg:

"The rand has been awaiting key policy signposts amid policy uncertainty and has been trading in somewhat overvalued territory in the hope that the political environment would become more certain before key events such as the SONA and budget. However, delays in certainty stemming from the politics will see the rand discount its gains based on these views while key events which are meant to be important policy signposts hang in the balance"

Natalie Rivett, London-based senior emerging-market analyst at Informa Global Markets Ltd.:

"We expect to see a softer bias prevail for the rand should it look as though a Zuma exit will be dragged out further. Latest comments from the ANC have done little to suggest otherwise, with no deadline provided, while the possibility that Zuma will have to be removed through a parliamentary motion appears more likely now"
"Still, with Zuma's days as president ultimately numbered, we would expect the rand to stay rangebound, with limited upside past 12.20"

Manik Narain, head of emerging-market foreign-exchange at UBS Group AG in London:

"We have to see this in the context of how things have evolved since Ramaphosa won in December. Since then we've seen that he has proven to be stronger than one initially expected. He has made significant changes, he has prevented Zuma from making the State of the Nation address."
"As much as there is mild disappointment in the market as this news has broken, the market is taking the big picture as positive for South Africa, while Ramaphosa is strengthening his grip over the ANC, and Zuma looks like he's hanging on for dear life. He's probably only managed to buy a little bit of time. This hasn't changed our view of South African assets.
"The focus should now turn to next week's budget announcement. South Africa is still battling to maintain its local-currency investment-grade status. There's between 2.5 percent and 3 percent of GDP of portfolio flow at risk if it loses its investment grade"

Jaap Meijer, head of equity research at Arqaam Capital Ltd. in Dubai:

"The ANC wants Ramaphosa to take over as soon as possible ahead of the 2019 elections, though Jacob Zuma has not been given a hard deadline and ANC has not discussed a no confidence motion today The rand has strengthened almost 20 percent since October following the appointment of Cyril Ramaphosa, who is more centrist, investor-friendly and pragmatic than his predecessor"
"Bond markets are likely to remain firm though we keep an eye on the U.S. 10-year. We see room for 10-year South African bond yields to fall as well, as South Africa's bond yields trade at a premium of 150 basis points to its inflation rate differential. We, therefore, expect 10-year bond yields to fall from 8.6 percent to 8.25 percent by year-end"

Simon Quijano-Evans, emerging-market strategist at Legal & General Investment Management Ltd. in London:

"The wind of change came to South Africa in December and it will not change direction now. The rand's price action since early December shows that the wind of change from the new ANC leadership is a strong positive for the country's economy. Today's ANC statement shows that the direction remains in place"
— With assistance by Arif Sharif
Nigeria records paltry $9m of Africa's $2.7b non-oil export to U.S. - THE GUARDIAN
FEBRUARY 14, 2018
By Femi Adekoya
Nigeria may have to do more under its diversification agenda and remove several restrictions to investments if it hopes to benefit from the extended trade deal, Africa Growth and Opportunity Act (AGOA) by the United States, the State Department's Acting Director for Economic and Regional Affairs, Harry Sullivan said during a telephonic briefing on Tuesday.

According to data from the department, Nigeria accounted for a paltry volume of $9 million out of $2.7 billion agricultural exports recorded by the continent to the United States in 2017.

Specifically, Sullivan noted that an increasing number of countries took advantage of the benefits available under the legislation, adding that the low volume recorded in non-oil export was as a result of dependence on oil.Nigeria's oil export to the U.S rose from $3.4 billion to $6 billion.
The U.S. however encouraged Nigeria to liberalize to attract greater foreign investment stating that there are many restrictions to doing business in Nigeria thwarting foreign and domestic investment.
In 2017, African exports of agricultural products increased by 10% to $2.7billion, compared to previous years where non-oil exports increased from $1.3billion in 2001 to $4.2billion in 2015.Overall, trade trend was also positive, with US-Africa trade rising by 15.8% in 2017, from $33billion to $38.5billion, while US exports to Africa rose 4% to $13.1billion and African exports to the US rose by more than 20% to over $24billion.
Between 2016 and 2017, Ghana saw its exports under AGOA quadruple to more than $300million, while Madagascar and Ethiopia took greater advantage of the market access granted for footwear and garments, with the two countries' exports to the US rising to $152million and $92million respectively.

The United States (U.S.) had revalidated AGOA by 10 years, to elongate the flagship trade deal with the continent till September 30, 2025.The new window re-opened vista for Nigeria and other countries in the region to grow their non-oil exports to the U.S. to over $8 billion within the next 10 years, under the extended trade deal.

Essentially, under the programme's extended regime, African countries would be engaged in the rules of origin to engender value-addition of raw materials as they could now include the cost of direct processing, as they share production from one country to another on their way to the U.S. market.
Furthermore, African countries exporting to the U.S. can also use the programme across borders, thereby stimulating intra-African trade in regional markets, where value may be further added to export products.
Similarly, the reviewed scheme equally renews focus on the ability of Africans to meet food safety standards in the U.S. and other industrial standards that have been identified for export products.
The US determines whether countries in Sub-Saharan Africa meet its published eligibility requirements on a yearly basis and beneficiary status can be granted, or withdrawn, at the discretion of the US President. Currently, 38 African countries are eligible for AGOA, which extends duty-free access to the US market across 6 000 tariff lines.
Increased oil exports, which are not covered by AGOA, accounted for a large share of the increase, but Sullivan said there were also some "encouraging signs of diversification".
Nigeria Buys Spot Gasoline Cargoes to Stem Two-Month Fuel Shortage - BLOOMBERG
FEBRUARY 16, 2018
By Paul Wallace and David Malingha Doya
Government of Nigeria sold 12-year and 20-year dollar bonds

Finance ministry says order book in excess of $11.5 billion
Nigeria sold $2.5 billion of Eurobonds on Thursday as it sought to lower funding costs by using the notes to refinance higher-yielding naira debt.
Africa's biggest economy sold $1.25 billion of 12-year securities at 7.143 percent and a separate 20-year tranche, also $1.25 billion, at 7.696 percent, the Finance Ministry said on its Twitter account. The nation's fifth Eurobond sale received subscriptions in excess of $11.5 billion, according to the ministry.
Proceeds will be used for "refinancing of domestic debt," the ministry said in a series of tweets. The sale completes a dollar-debt program of selling more foreign debt to help reduce the burden of paying double-digit yields on local-currency bonds. That would free up funds needed to expand infrastructure, and help the economy sustain recovery from a contraction in 2016, the first in a quarter-century.
Nigeria sold a record $4.8 billion of Eurobonds last year, most recently in November, when it issued $3 billion of 10- and 30-year debt. Yields on the latter rose seven basis points to 7.71 percent by 5:32 p.m. in Lagos, the highest since they were issued. Nigeria's local bonds have an average yield of 13.8 percent, according to data compiled by Bloomberg.
Citigroup Inc. and Standard Chartered Plc managed the deal, while Standard BankGroup Ltd.'s Nigerian unit was a financial adviser.
Nigeria follows Egypt, which became the first African sovereign to tap the market this year when it sold $4 billion of debt on Feb. 13. Angola, Ghana, Ivory Coast and Kenya have all said they are considering deals soon.
African Markets - Factors to watch on Feb. 28 - REUTERS
FEBRUARY 28, 2018
NAIROBI, Feb 28 (Reuters) - The following company announcements, scheduled economic indicators, debt and currency market moves and political events may affect African markets on Wednesday. - - - - -
EVENTS KENYA AND UGANDA - The statistics offices in both countries are due to release February consumer price index data.
MAURITIUS - The central bank is expected to announce its benchmark repo rate decision.
GLOBAL MARKETS Asian shares extended losses on Wednesday and bonds were sold off as weak factory data from China revived worries about global economic growth amid fears of faster rate rises in the United States.
WORLD OIL PRICES Oil prices fell for a second day on Wednesday as weak Chinese factory data triggered concerns of an economic slowdown that could lower oil demand and, in the United States, industry data showed an increase in crude stockpiles amid its soaring output.
EMERGING MARKETS For the top emerging markets news, double click on AFRICA STOCKS For the latest news on African stocks, click on SOUTH AFRICA MARKETS South Africa's rand weakened more than one percent on Tuesday as investors took profit from a recent rally that sent the currency to new three-year highs overnight when new President Cyril Ramaphosa changed the finance minister in a cabinet reshuffle.
KENYA MARKETS The Kenyan shilling strengthened against the dollar on Tuesday, lifted by healthy hard currency inflows from horticulture exports and remittances, traders said.
KENYA RETAIL Africa's biggest supermarket chain, Shoprite Holdings , will take advantage of disarray in Kenya's grocery sector to open its first stores in the major East African market by the end of this year.
GHANA Ghana will certify the value of gold exports as part of efforts to tighten controls on the sector to ensure the state receives the revenues it is due, the vice president said on Tuesday.
NIGERIA ECONOMY Nigeria returned to growth in 2017 after suffering its first recession in a generation the previous year, data released from the country's statistics office showed on Tuesday.
NIGERIA CRUDE Nigeria's state oil firm NNPC is in the final stages of talks with two consortiums that include top traders, energy majors and oil services companies to revamp its dilapidated refineries, sources familiar with the matter said.
ZIMBABWE MINING Zimbabwe expects to earn $1.78 billion from mineral sales in 2018, up from $1.5 billion last year, Masimba Chandavengerwa, chief executive of the government marketing agency, told a mining conference on Tuesday.