Aboki News
UPDATE 1-South Africa's VAT rise won't lead to higher interest rates - c.bank - REUTERS
MARCH 13, 2018
(adds more quotes, details, background)
LONDON, March 13 (Reuters) - South Africa's central bank expects a hike in value added tax (VAT) to lift inflation by around 0.6 percentage points over the coming year though it doesn't expect to raise interest rates in response, one of its top policymakers said on Tuesday.
South Africa announced plans to raise VAT for the first time in 25 years last month in its first budget under new President Cyril Ramaphosa.
It is part of efforts to stabilise the country's debt and repair its economy after nine years of mismanagement under the scandal-plagued, former President Jacob Zuma.
"With inflation targeting, you try and look through exogenous shocks, particularly temporary ones and this is a one off," Brian Kahn told Reuters on the sidelines of investor meetings in London.
Latest data showed that headline consumer inflation slowed to 4.4 percent year-on-year in January from 4.7 percent in December. On a month-on-month basis, inflation eased to 0.3 percent in January from 0.5 percent in December.
The move to raise VAT to 15 percent from 14 starting in April is expected to generate an additional 23 billion rand of revenue in 2018/19, but is also a politically risky step ahead of elections next year.
South Africa's powerful trade union movement and consumer groups have been vocal critics of the increase and are demanding an interest rate cut to ease the pain.
Kahn said policy makers at the bank would not be"too concerned" about the tax hike pushing up inflation by 0.6 percentage points, with those first round effects filtering out of the data after a year.
"There may be a few second round effects, it may affect wage increases in the following years, so we expect a moderate, very small increase in the following year as a result of that."
"But it is something that we would not react to by raising rates and we would certainly try and look through it." (Reporting by Karin Strohecker Editing by Marc Jones and Raissa Kasolowsky)
Nigeria's refinery overhaul projects to start in second quarter -NNPC - REUTERS
MARCH 13, 2018
CAPE TOWN, March 13 (Reuters) - Refinery overhaul projects will begin in Nigeria as soon as the second quarter, an official from state oil company NNPC said on Tuesday.
NNPC is in the final stages of talks with consortiums including top traders, energy majors and oil services companies to revamp its long-neglected oil refineries in an effort to reduce its reliance on imported fuel.
"We believe that by the second quarter of this year we will ...start getting the ball rolling on the refurbishment and rehabilitation exercise and believe this will run to the end of next year," said Anibor O. Kragha, NNPC's chief operating officer of refineries and petrochemicals.
"We are working with consortia right now, negotiating terms, trying to finalise the time sheets so that we can access the money... through the end of 2019 when we believe we will have the minimum 90 percent capacity utilization in place," he told delegates at the African Refiners Association conference in Cape Town.
NNPC has three oil refineries with a total capacity of 445,000 barrels per day (bpd), but they struggle to run anywhere near that level due to years of neglect. According to NNPC reports, the highest capacity utilization last year was just under 37 percent, and it fell as low as 5.92 percent in November.
The government plans to give Nigeria's refineries until 2021 to meet lower sulphur fuel requirements that will start phasing in this year for imports. (Reporting By Wendell Roelf, writing by Libby George; editing by John Stonestreet)
South Africa Plans Eurobond of as Much as $3 Billion 'Shortly' - BLOOMBERG
MARCH 13, 2018
By Selcuk Gokoluk and Colleen Goko
Country may tap 'conducive' market 'shortly': Treasury

African sovereigns have attracted record demand this year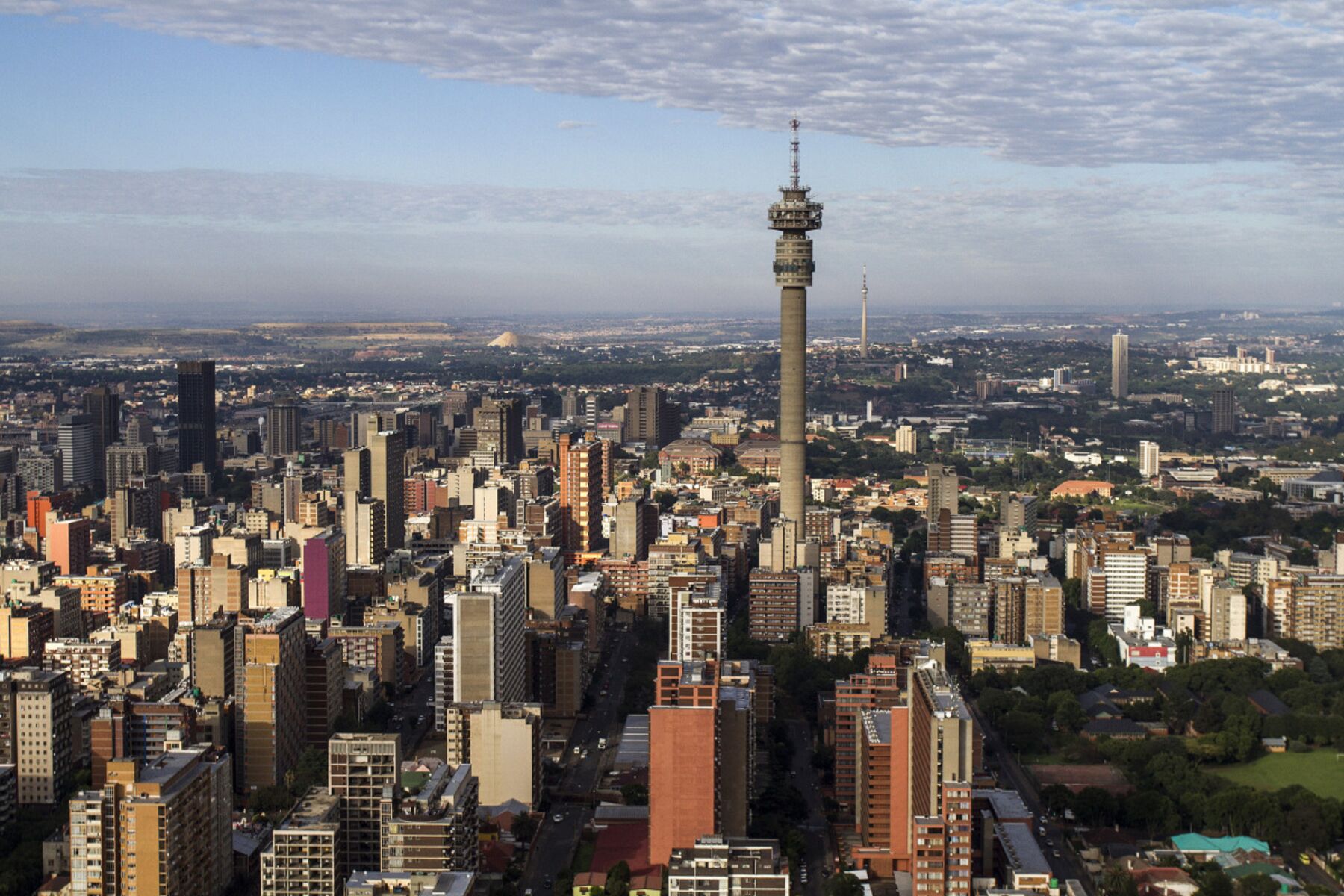 The city skyline in Johannesburg.
Photographer: Dean Hutton
South Africa plans to tap international markets for as much as $3 billion as the country seeks to take advantage of relatively low rates and strong demand from yield-hungry investors.
"We will be coming shortly and taking advantage of the favorable market conditions," Tshepiso Moahloli, chief director of liability management at the National Treasury, told reporters in London after meetings with investors. "The market is conducive and we're keen to access that. We are opportunistic in terms of the approach we take."
South Africa budgeted to raise $3 billion in international markets in the next fiscal year. Though the funding period only starts on April 1, the country has pre-funded in the past. African sovereigns including Kenya, Nigeria and Senegal have sold $10.7 billion of Eurobonds in 2018, already more than half the record $18 billion they managed last year and exceeding the total for the whole of 2016, with record demand from investors.
South African assets have outperformed emerging markets overall since late last year, as Cyril Ramaphosa, then deputy president and a former businessman and lawyer, maneuvered to succeed Jacob Zuma as president. The rand has strengthened 22 percent against the dollar since mid-November, the most globally, as the government moved to rein in the budget deficit, cut debt and stimulate growth. South Africa's foreign debt is less than 10 percent of total borrowing.
The country's dollar spread over U.S. Treasuries is 237 basis points, down from as high as 320 in mid-November and compared with 311 for similarly rated Turkey, according to JPMorgan Chase & Co. indexes. The average for emerging-market countries is 312.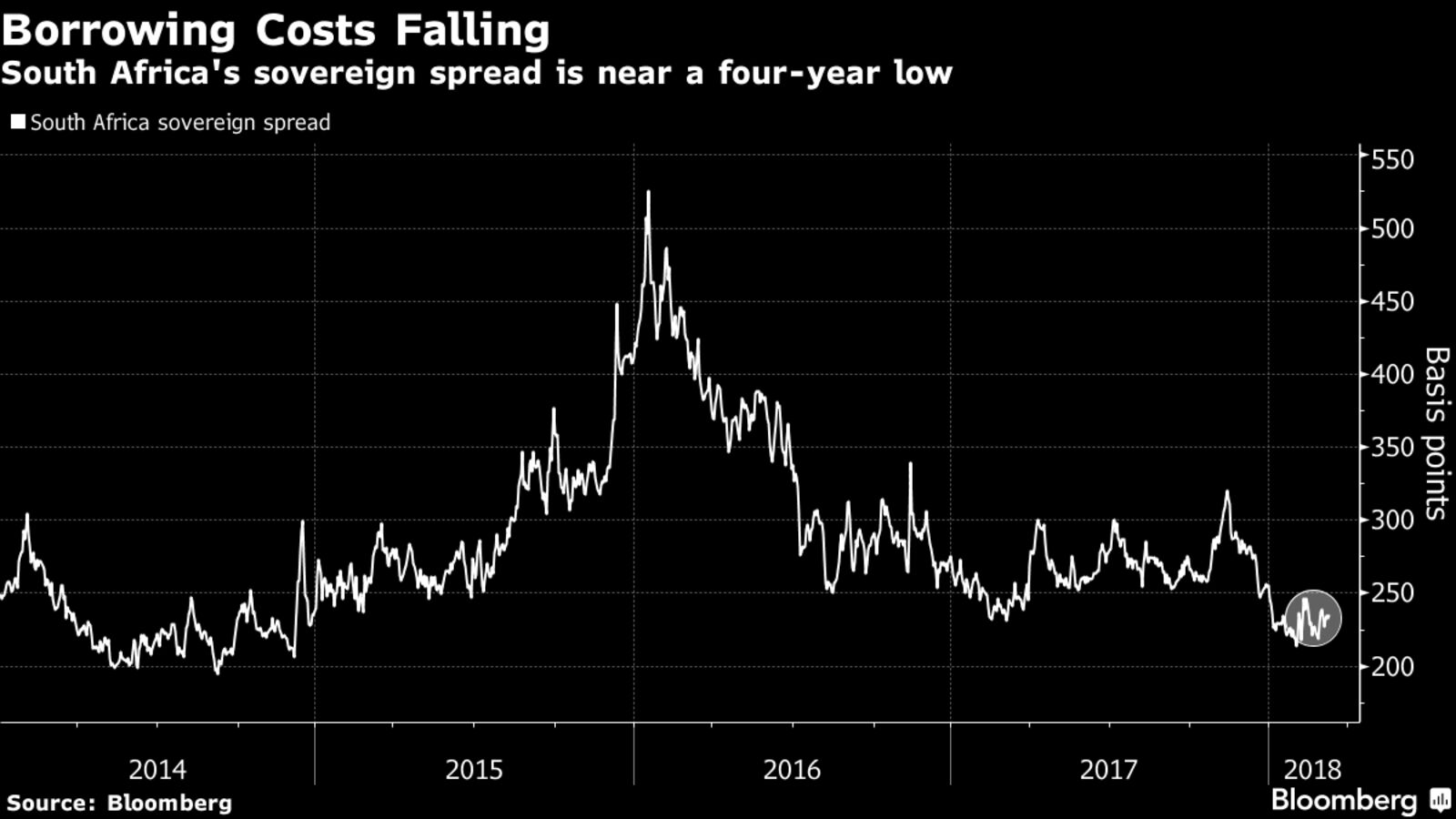 "South Africa traditionally has been relying more on domestic funding rather than external, which explains why South African Eurobonds trade so tight compared to some of their peers like Turkey," said Delphine Arrighi, a London-based portfolio manager at Old Mutual Global Investors Ltd. "The credit story is finally improving after years of slow deterioration. Increased external debt supply should be met with decent appetite from offshore investors."
South Africa last sold Eurobonds in September, when it issued $2.5 billion of notes maturing in 2027 and 2047 in September. Yields on the 2027 securities climbed two basis points on Tuesday to 5.04 percent.
"South Africa has always enjoyed not oversupplying the market with paper," Moahloli said. "I think at $3 billion it is comfortable and I don't think we should push it beyond that."
Power generators blackmailing govt, planning to disrupt supply – Fashola - PUNCH
MARCH 13, 2018
BY Okechukwu Nnodim, Abuja
Power generation companies are planning to disrupt the supply of electricity across the country, an intention that suggests blackmail against the Federal Government, the Minister of Power, Works and Housing, Babatunde Fashola, has alleged.
Reacting to reports that some of the firms had gone to court to file claims against the Federal Government, Fashola stated on Monday that the move was consistent with the rule of law but stressed that the power firms "must be ready to face scrutiny in the court of public opinion."
Last week, The PUNCH reported that some Gencos had dragged the government before the Federal High Court in Abuja over what they termed discriminatory practices against their interests and those of gas suppliers.
The firms also accused the Federal Government of conferring preferential treatment on Azura Power West Africa Limited and Accugas Limited at their own expense.
But speaking at the 25th Monthly Power Sector Meeting in Uyo, Fashola said the Gencos must be ready to explain to power consumers that despite all they had benefitted from the Federal Government, they were still planning to hold the citizens hostage.
He stated, "Let me say very clearly to all operators that I get reports of many of the clandestine meetings that some of them (Gencos) are holding with a view to disrupting the supply for political capital. I will implore those that are truly ready to run the business they have acquired voluntarily to continue to do so with the assurance of government support and partnership.
"As for those who entered the business without understanding it, please brace for hard work and help us rebuild this country. Those who choose to hide temporarily in the courts of law can do so, but the court of public opinion will scrutinise you and its verdict may be very scathing, unkind and enduring."
Fashola added, "I say this because you may not have noticed that Nigerians are increasingly taking their destiny in their hands. This is the essence of privatisation. If you bother to look up and around you, you will see solar panels on rooftops. The mini grid regulations allow them to procure one megawatt without a licence.
"This is bigger than what many traditional generators supply. There is no law that compels them to take public power. I am not afraid of the law courts and will meet you there to vigorously defend our position."
The minister stated that the Gencos must be ready to face the court of public opinion, which according to him, is a court of conscience and morality.
He noted that in the court of public opinion, the Gencos must be ready to tell the citizens how they felt when other groups went to court to stop the implementation of tariffs approved by Nigerian Electricity Regulatory Commission in 2016.
Fashola said the power firms must explain to the public court whether they went to court before the government approved a N701bn payment assurance guarantee to pay their monthly bills.
He added, "They must disclose to this court that they owed debts from the pre-Buhari era, because their income had reduced to less than 50 per cent. They must disclose to this court that they now receive about 80 per cent income and that this government is now paying them revenues collected from international customers from the Republics of Benin, Niger and Togo in dollars, as against the naira payment they used to receive.
"They must tell the court of public opinion that the reason for going to court is because the government is making 100 per cent payment to a new Genco, which has a different contract with a Partial Risk Guarantee, which they do not have. They must also disclose to the court that they held a meeting with the government and tabled their demands, which the government promised to look into one week before they went to court."
'The Lesotho Legend': The fifth-largest gem diamond in history sells for $40 million - CNBC
MARCH 13, 2018
BY Alexandra Gibbs | @alexgibbsy
Courtesy of Gem Diamonds
One of the largest gem-quality diamonds ever mined has sold for $40 million.
A 910-carat diamond, named "The Lesotho Legend," was bought by tender Monday by an unnamed buyer in Antwerp, Belgium, according to Gem Diamonds.
Gem Diamonds, which retrieved the rock in January, said it was the fifth-largest gem-quality diamond ever recovered.
The firm said it had removed the diamond from the Letseng mine in Lesotho, a country encircled by South Africa. According to Gem Diamonds in January, it was the largest diamond to have been recovered from the mine.
The company owns 70 percent of the Letseng mine — a location renowned for its production of white diamonds.
Courtesy of Gem Diamonds
Following the sale, Gem Diamonds CEO Clifford Elphick said in a statement that the company was "delighted," adding that its purchase highlighted the "exceptional quality of The Lesotho Legend itself" and the high standard of the Letseng mine's diamond production.
Gem Diamonds has recovered a number of diamonds in recent months, with the company stating last week that it had unearthed six diamonds larger than 100 carats since the start of the year.
African Markets - Factors to watch on Feb. 28 - REUTERS
FEBRUARY 28, 2018
NAIROBI, Feb 28 (Reuters) - The following company announcements, scheduled economic indicators, debt and currency market moves and political events may affect African markets on Wednesday. - - - - -
EVENTS KENYA AND UGANDA - The statistics offices in both countries are due to release February consumer price index data.
MAURITIUS - The central bank is expected to announce its benchmark repo rate decision.
GLOBAL MARKETS Asian shares extended losses on Wednesday and bonds were sold off as weak factory data from China revived worries about global economic growth amid fears of faster rate rises in the United States.
WORLD OIL PRICES Oil prices fell for a second day on Wednesday as weak Chinese factory data triggered concerns of an economic slowdown that could lower oil demand and, in the United States, industry data showed an increase in crude stockpiles amid its soaring output.
EMERGING MARKETS For the top emerging markets news, double click on AFRICA STOCKS For the latest news on African stocks, click on SOUTH AFRICA MARKETS South Africa's rand weakened more than one percent on Tuesday as investors took profit from a recent rally that sent the currency to new three-year highs overnight when new President Cyril Ramaphosa changed the finance minister in a cabinet reshuffle.
KENYA MARKETS The Kenyan shilling strengthened against the dollar on Tuesday, lifted by healthy hard currency inflows from horticulture exports and remittances, traders said.
KENYA RETAIL Africa's biggest supermarket chain, Shoprite Holdings , will take advantage of disarray in Kenya's grocery sector to open its first stores in the major East African market by the end of this year.
GHANA Ghana will certify the value of gold exports as part of efforts to tighten controls on the sector to ensure the state receives the revenues it is due, the vice president said on Tuesday.
NIGERIA ECONOMY Nigeria returned to growth in 2017 after suffering its first recession in a generation the previous year, data released from the country's statistics office showed on Tuesday.
NIGERIA CRUDE Nigeria's state oil firm NNPC is in the final stages of talks with two consortiums that include top traders, energy majors and oil services companies to revamp its dilapidated refineries, sources familiar with the matter said.
ZIMBABWE MINING Zimbabwe expects to earn $1.78 billion from mineral sales in 2018, up from $1.5 billion last year, Masimba Chandavengerwa, chief executive of the government marketing agency, told a mining conference on Tuesday.
Nigeria Buys Spot Gasoline Cargoes to Stem Two-Month Fuel Shortage - BLOOMBERG
FEBRUARY 16, 2018
By Paul Wallace and David Malingha Doya
Government of Nigeria sold 12-year and 20-year dollar bonds

Finance ministry says order book in excess of $11.5 billion
Nigeria sold $2.5 billion of Eurobonds on Thursday as it sought to lower funding costs by using the notes to refinance higher-yielding naira debt.
Africa's biggest economy sold $1.25 billion of 12-year securities at 7.143 percent and a separate 20-year tranche, also $1.25 billion, at 7.696 percent, the Finance Ministry said on its Twitter account. The nation's fifth Eurobond sale received subscriptions in excess of $11.5 billion, according to the ministry.
Proceeds will be used for "refinancing of domestic debt," the ministry said in a series of tweets. The sale completes a dollar-debt program of selling more foreign debt to help reduce the burden of paying double-digit yields on local-currency bonds. That would free up funds needed to expand infrastructure, and help the economy sustain recovery from a contraction in 2016, the first in a quarter-century.
Nigeria sold a record $4.8 billion of Eurobonds last year, most recently in November, when it issued $3 billion of 10- and 30-year debt. Yields on the latter rose seven basis points to 7.71 percent by 5:32 p.m. in Lagos, the highest since they were issued. Nigeria's local bonds have an average yield of 13.8 percent, according to data compiled by Bloomberg.
Citigroup Inc. and Standard Chartered Plc managed the deal, while Standard BankGroup Ltd.'s Nigerian unit was a financial adviser.
Nigeria follows Egypt, which became the first African sovereign to tap the market this year when it sold $4 billion of debt on Feb. 13. Angola, Ghana, Ivory Coast and Kenya have all said they are considering deals soon.
U.S. may halt crude oil import from Nigeria - THE GUARDIAN
FEBRUARY 14, 2018
By Roseline Okere
There are indications that the United States may halt crude oil import from Nigeria by 2022, as it moves closer to becoming a net export of petroleum products.The United State Energy Information Administration (EIA) has projected that the United States will become a net energy exporter in 2022 in the newly released Annual Energy Outlook 2018, primarily driven by changes in petroleum and natural gas markets.
Nigeria saw a significant reduction in the US imports of its crude in recent years, starting from 2012, following the shale oil production boom.The U.S. imported a total of 28.53 million barrels of crude oil from Nigeria in the third quarter of last year, up from 18.88 million barrels in the same period in 2016; 10.13 million barrels in 2015; 5.10 million barrels in 2014; and 21.23 million barrels in 2013.
The Minister of State for Petroleum, Dr. Ibe Kachikwu said recently that Nigeria would explore the possibility of selling crude oil to African markets.He said: "Nigeria has to begin by looking at the country first. What do we do to encourage local companies to be able to compete in Africa? It is along these lines for example, that we have started product or sector specialisation which are the areas where we have the most competitive advantages."
According to EIA, the transition from net energy importer to net energy exporter occured even earlier in some sensitivity cases that modify assumptions about oil prices or resource extraction. Sensitivity cases with less energy production project that the United States will remain a net energy importer through 2050.
It stated: "The transition of the United States to a net energy exporter is fastest in the High Oil Price case, where higher crude oil prices lead to more oil and natural gas production and transition the United States into a net exporter by 2020. In that case, higher crude oil prices also result in higher petroleum product prices and lower consumption of petroleum products, driving decreases in net petroleum imports.
"In the High Oil and Gas Resource and Technology case, with more favorable assumptions for geology and technological developments, the United States becomes a net exporter in 2020, and net exports increase through the end of the projection period. In cases with relatively low oil prices or less favorable assumptions for geology and technological developments, U.S. net energy trade still decreases, but the United States remains a net energy importer through 2050.
"In energy equivalent terms, the United States imported about 27 quadrillion British thermal units (quads) of energy in 2017 and exported 18 quads, which resulted in 9 quads of net imports. In 2017, the United States imported about 11 quads of petroleum and other liquids and exported two quads of coal and coal coke. U.S. natural gas trade in 2017 was nearly balanced between imports and exports, and net electricity trade with Canada and Mexico was relatively small. Petroleum and natural gas account for most of the changes EIA projects in U.S. energy trade."
EIA said that U.S. net petroleum trade—crude oil, petroleum products, and natural gas plant liquids—has fallen in recent years, reaching 3.8 million barrels per day (b/d) in 2017 based on data through November.
He expressed concern that the country has not been able to capture the African terrain of the market, adding that the market must be captured in terms of contract awards, whether in crude, investment or other formulations.
Nigeria records paltry $9m of Africa's $2.7b non-oil export to U.S. - THE GUARDIAN
FEBRUARY 14, 2018
By Femi Adekoya
Nigeria may have to do more under its diversification agenda and remove several restrictions to investments if it hopes to benefit from the extended trade deal, Africa Growth and Opportunity Act (AGOA) by the United States, the State Department's Acting Director for Economic and Regional Affairs, Harry Sullivan said during a telephonic briefing on Tuesday.

According to data from the department, Nigeria accounted for a paltry volume of $9 million out of $2.7 billion agricultural exports recorded by the continent to the United States in 2017.

Specifically, Sullivan noted that an increasing number of countries took advantage of the benefits available under the legislation, adding that the low volume recorded in non-oil export was as a result of dependence on oil.Nigeria's oil export to the U.S rose from $3.4 billion to $6 billion.
The U.S. however encouraged Nigeria to liberalize to attract greater foreign investment stating that there are many restrictions to doing business in Nigeria thwarting foreign and domestic investment.
In 2017, African exports of agricultural products increased by 10% to $2.7billion, compared to previous years where non-oil exports increased from $1.3billion in 2001 to $4.2billion in 2015.Overall, trade trend was also positive, with US-Africa trade rising by 15.8% in 2017, from $33billion to $38.5billion, while US exports to Africa rose 4% to $13.1billion and African exports to the US rose by more than 20% to over $24billion.
Between 2016 and 2017, Ghana saw its exports under AGOA quadruple to more than $300million, while Madagascar and Ethiopia took greater advantage of the market access granted for footwear and garments, with the two countries' exports to the US rising to $152million and $92million respectively.

The United States (U.S.) had revalidated AGOA by 10 years, to elongate the flagship trade deal with the continent till September 30, 2025.The new window re-opened vista for Nigeria and other countries in the region to grow their non-oil exports to the U.S. to over $8 billion within the next 10 years, under the extended trade deal.

Essentially, under the programme's extended regime, African countries would be engaged in the rules of origin to engender value-addition of raw materials as they could now include the cost of direct processing, as they share production from one country to another on their way to the U.S. market.
Furthermore, African countries exporting to the U.S. can also use the programme across borders, thereby stimulating intra-African trade in regional markets, where value may be further added to export products.
Similarly, the reviewed scheme equally renews focus on the ability of Africans to meet food safety standards in the U.S. and other industrial standards that have been identified for export products.
The US determines whether countries in Sub-Saharan Africa meet its published eligibility requirements on a yearly basis and beneficiary status can be granted, or withdrawn, at the discretion of the US President. Currently, 38 African countries are eligible for AGOA, which extends duty-free access to the US market across 6 000 tariff lines.
Increased oil exports, which are not covered by AGOA, accounted for a large share of the increase, but Sullivan said there were also some "encouraging signs of diversification".
Zuma Going But Not Gone Leaves Traders Divided on Rand's Future - BLOOMBERG
FEBRUARY 14, 2018
By Colleen Goko and Dana El Baltaji
Currency erased day's gain as ANC gives Zuma time to resign

Some investors concerned that impasse may affect budget
ANC Gives Zuma More Time to Leave Office
For about five minutes, the world's most volatile currency barely budged as a top leader of South Africa's ruling party made the announcement that everybody had been waiting for: President Jacob Zuma has been ordered to resign.
Then the rand started giving up the day's gain as traders digested the statement read by African National Congress Secretary-General Ace Magashule: the party hasn't given Zuma a deadline to comply, leaving the country's leadership crisis unresolved and investors unsure about prospects for the currency. Cyril Ramaphosa, leader of the ANC and Zuma's designated successor, is still waiting in the wings.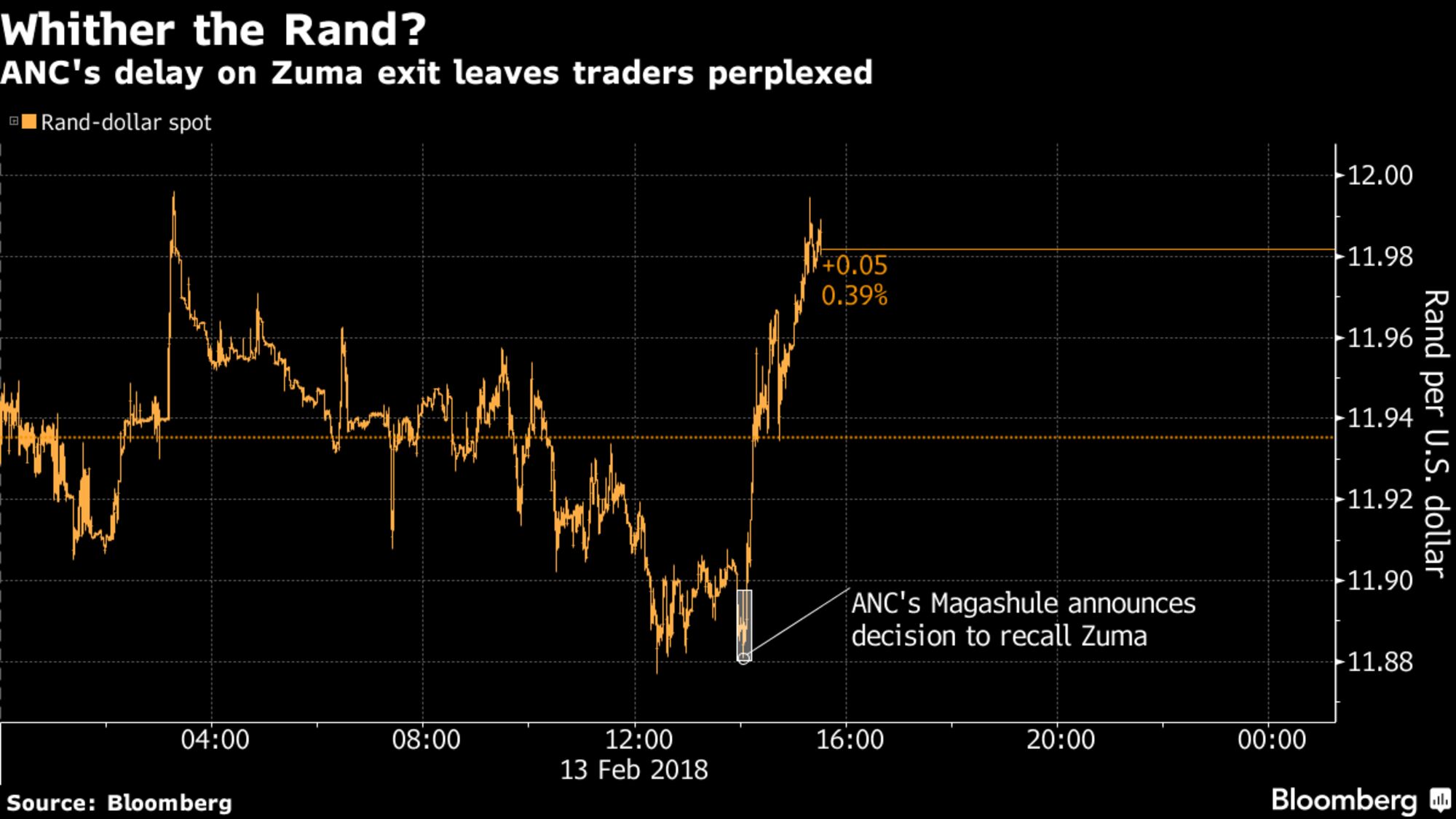 Unless Zuma decides to resign soon, the ANC may have to order its lawmakers in parliament to approve a motion of no confidence in the president. The political impasse already forced the unprecedented postponement of last week's scheduled annual state-of-the-nation address and may imperil the presentation of the budget next week, with Moody's Investors Service poised to cut the country's local-currency credit rating to junk.
That would spark the exit of the country's bonds from Citigroup Inc.'s World Government Bond Index, resulting in capital outflows as funds that track the gauge are forced to sell, and pressure on the currency. The rand weakened 0.4 percent to 11.9841 per dollar by 3:45 p.m. in Johannesburg, paring its advance in the past three months to 21 percent.
Play Video
ANC Gives Zuma More Time to Leave Office
The African National Congress will replace Jacob Zuma as president of South Africa.
(Source: Bloomberg)
Read more here about the latest twist in the Zuma saga
Here's what investors and analysts are saying about the latest developments:
Reezwana Sumad, Johannesburg-based analyst at Nedbank Group Ltd.:

"If this extends for more than a week without a resignation, the market could become quite fatigued, and this will likely be negative for the rand in the near term"

Zaakirah Ismail, a fixed-income analyst at Standard Bank Group Ltd. in Johannesburg:

"The rand has been awaiting key policy signposts amid policy uncertainty and has been trading in somewhat overvalued territory in the hope that the political environment would become more certain before key events such as the SONA and budget. However, delays in certainty stemming from the politics will see the rand discount its gains based on these views while key events which are meant to be important policy signposts hang in the balance"

Natalie Rivett, London-based senior emerging-market analyst at Informa Global Markets Ltd.:

"We expect to see a softer bias prevail for the rand should it look as though a Zuma exit will be dragged out further. Latest comments from the ANC have done little to suggest otherwise, with no deadline provided, while the possibility that Zuma will have to be removed through a parliamentary motion appears more likely now"
"Still, with Zuma's days as president ultimately numbered, we would expect the rand to stay rangebound, with limited upside past 12.20"

Manik Narain, head of emerging-market foreign-exchange at UBS Group AG in London:

"We have to see this in the context of how things have evolved since Ramaphosa won in December. Since then we've seen that he has proven to be stronger than one initially expected. He has made significant changes, he has prevented Zuma from making the State of the Nation address."
"As much as there is mild disappointment in the market as this news has broken, the market is taking the big picture as positive for South Africa, while Ramaphosa is strengthening his grip over the ANC, and Zuma looks like he's hanging on for dear life. He's probably only managed to buy a little bit of time. This hasn't changed our view of South African assets.
"The focus should now turn to next week's budget announcement. South Africa is still battling to maintain its local-currency investment-grade status. There's between 2.5 percent and 3 percent of GDP of portfolio flow at risk if it loses its investment grade"

Jaap Meijer, head of equity research at Arqaam Capital Ltd. in Dubai:

"The ANC wants Ramaphosa to take over as soon as possible ahead of the 2019 elections, though Jacob Zuma has not been given a hard deadline and ANC has not discussed a no confidence motion today The rand has strengthened almost 20 percent since October following the appointment of Cyril Ramaphosa, who is more centrist, investor-friendly and pragmatic than his predecessor"
"Bond markets are likely to remain firm though we keep an eye on the U.S. 10-year. We see room for 10-year South African bond yields to fall as well, as South Africa's bond yields trade at a premium of 150 basis points to its inflation rate differential. We, therefore, expect 10-year bond yields to fall from 8.6 percent to 8.25 percent by year-end"

Simon Quijano-Evans, emerging-market strategist at Legal & General Investment Management Ltd. in London:

"The wind of change came to South Africa in December and it will not change direction now. The rand's price action since early December shows that the wind of change from the new ANC leadership is a strong positive for the country's economy. Today's ANC statement shows that the direction remains in place"
— With assistance by Arif Sharif