Aboki News
Nigeria: Passengers Panic As Dana Airline's Door Falls Off - PREMIUM TIMES
FEBRUARY 07, 2018
By Oladeinde Olawoyin
Some passengers of Nigerian air carrier, Dana Airline, expressed fear when the door of an aircraft belonging to the airline fell off upon landing.
One of the passengers on the flight, Dapo Sanwo, said the door panel was loose all through the flight,a situation he described as an indication of "lack of maintenance."
Another passenger, Ola Brown, who took to his twitter page to vent his frustration, said the experience was scary.
Mr. Brown narrated that the exit door of the aircraft was unstable all through the flight, adding that it fell off as soon as the aircraft landed.
"Flew Dana. Exit door was unstable throughout flight. As we touched down, it fell off. Scary stuff," he wrote on twitter.
"I was closer to the front so when I heard the sound, (I) thought it was an explosion. (I) couldn't quite comprehend that it (the door) had just fallen off."
Details of the incident and its causes were not immediately clear.
When PREMIUM TIMES contacted the corporate communication desk of Dana Air Wednesday morning, the airline said it would need to be briefed by its engineers before reacting to the development.
"We need to also get the engineers to give their report," a staff of the airline's corporate communication desk told PREMIUM TIMES Wednesday morning.
Details later... .
Wall Street FX Strategists Hit Reset After Euro Calls Fall Short - BLOOMBERG
FEBRUARY 07, 2018
By Alexandria Arnold
7 February 2018, 00:00 WET
Euro up more than 3% in 2018, above prior targets for year-end

Some analysts now predicting move toward $1.30 area for euro
Wall Street's top currency strategists had the right idea when it came to the euro -- they just weren't right enough.
Foreign-exchange forecasters are headed back to the drawing board less than six weeks into the new year after the euro blew straight past most of their predictions for 2018. Europe's common currency has already advanced more than 3 percent since Dec. 31, easily topping the median survey forecast of $1.22 from back then. It's currently trading closer to $1.24, even after a pullback over recent days, and its advance has prompted a swath of analysts to lift their projections.
The euro's rally comes as the region's economy picks up steam and the European Central Bank plans its stimulus-exit strategy. Meanwhile, the market is already pricing in several more interest-rate increases this year by the Federal Reserve, and the dollar may face headwinds as America embarks on a debt-financed fiscal expansion and protectionist rhetoric increases.
"We were prepared for some euro appreciation, but not the aggressiveness of the move," said Valentin Marinov, global head of G-10 FX research at Credit Agricole SA. "The common denominator in the case of euro-dollar and also cable is really dollar weakness."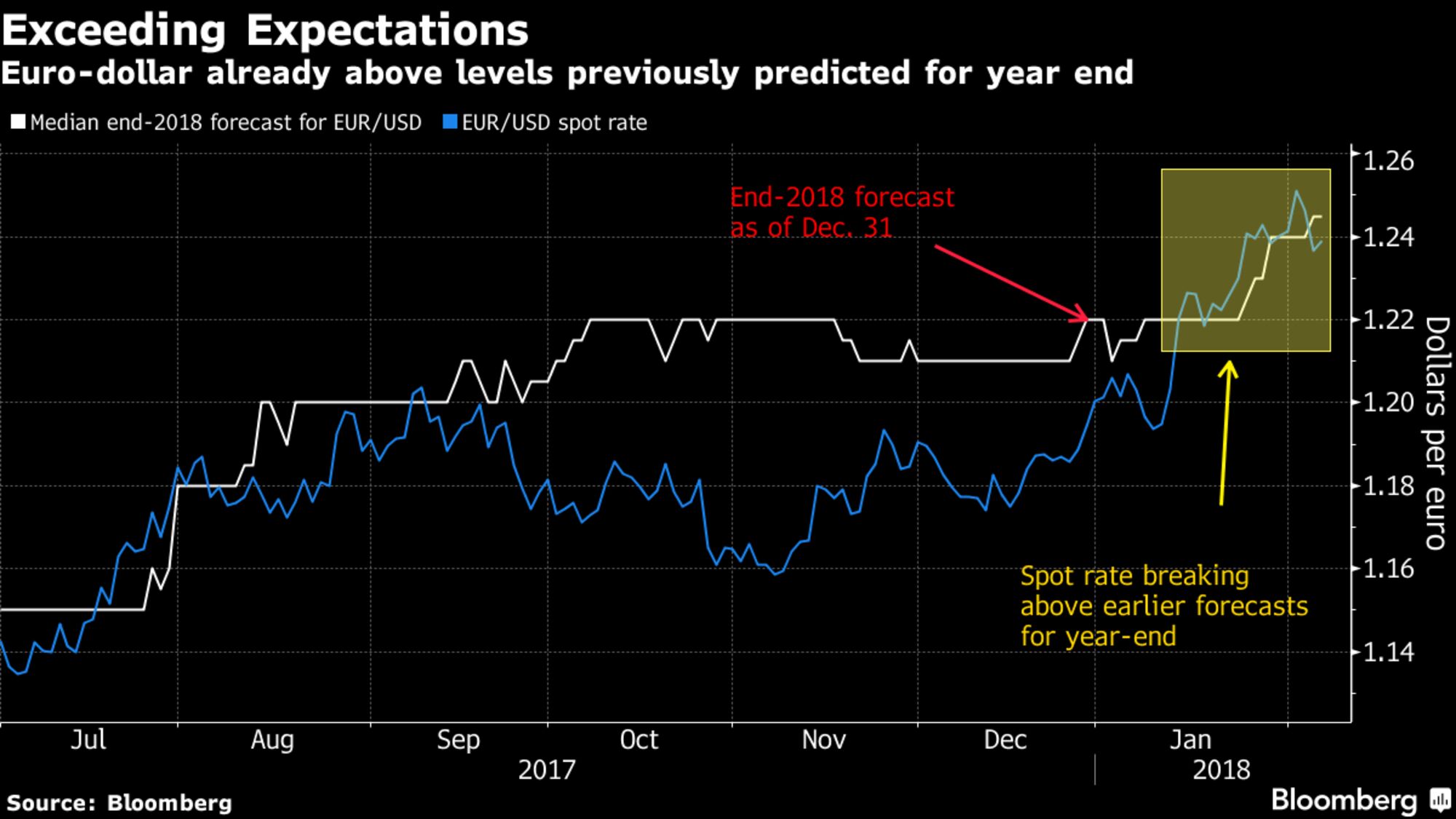 Marinov is far from alone. Goldman Sachs Group Inc., JPMorgan Chase & Co., HSBC Holdings Plc, ING Groep NV and UniCredit SpA have all raised their euro-dollar forecasts this year. Credit Agricole is now expecting the pair to reach $1.26 by year-end, while JPMorgan is targeting $1.29 and Goldman and ING are forecasting the common currency to finish 2018 at $1.30.
Read More: Traders See No End to Dollar Pain in 2018
Only two firms who contribute to Bloomberg currency forecast data had fourth-quarter euro-dollar projections at or above $1.28 at the beginning of the year. Now, that number has ballooned to 18. And comparing the same periods, the median forecast for end-year has risen from $1.22 to $1.25, already near where the common currency is currently trading. The euro was at $1.2377 as of 5 p.m. in New York.
The 19-nation currency is likely to remain bid for at least the first half of the year, according to Canadian Imperial Bank of Commerce North American head of foreign-exchange strategy Bipan Rai.
While ECB bond-buying is scheduled to last until at least September and President Mario Draghi has said rates will remain on hold "well past" the end of asset purchases, some policy makers are saying the central bank needs to be more specific in how long it will stand pat. Tightening the language on rates would be welcomed by more hawkish officials, who want to set a definite end-date for asset purchases.
"A lot of what we've seen in euro-dollar price action has caught us a bit off-guard," Rai said. "It's been a lot swifter than we expected. We didn't envision the hawks on the ECB board would be this vocal and there'd be growing signs of schisms within the governing body of the ECB."
While the Federal Reserve's policy normalization efforts are significantly ahead of the ECB's as U.S. unemployment hovers at the lowest since 2000 and rising wages signal a potential rebound in inflation, strategists say those would-be dollar positives are largely priced in. Brightening economic outlooks abroad along with prospects for scaled-back stimulus are overshadowing U.S. rate hikes and the Fed's asset-purchase wind-down.
"Given the return of U.S. protectionism, the persistent flatness of the U.S. Treasury yield curve, plus the fact people are now speculating about reserve diversification out of the dollar, a more cautious view of the dollar may be warranted," Marinov said.
Even as strategists expect the euro to continue strengthening, the move will likely be a slower grind in the second half as net-long wagers appear elevated and expectations for the ECB might be overly optimistic. Euro positioning among hedge funds and other large speculators is the most bullish on record in Commodity Futures Trading Commission data that goes back to 1999, according to figures for the week through Jan. 30.
"We're in a structural bear trend for the dollar and our gauge shows that the dollar is around 8 to 10 percent overvalued still," Rai said. "Even if the Fed is raising rates, that's something that needs to be corrected."
South Africa's net foreign reserves rise to $43.6 bln in January - REUTERS
FEBRUARY 07, 2018
JOHANNESBURG, Feb 7 (Reuters) - South Africa's net foreign reserves rose to $43.588 billion in January from $42.927 billion in December, the Reserve Bank said on Wednesday.
Gross reserves, however, fell to $50.501 billion from $50.722 billion, the central bank data showed.
The forward position, which represents the central bank's unsettled or swap transactions, increased to $2.024 billion from $1.196 billion. (Reporting by Mfuneko Toyana; Editing by Gopakumar Warrier)
Kenya targets 2021/22 to begin oil export - NAN
FEBRUARY 07, 2018
Kenya will start exporting oil on commercial scale in the next five years, Africa-focused oil and natural gas producer Tullow Oil said on Wednesday.
Tullow said extended well tests, water injection tests, well interference tests and water-flood trials have proved helpful for planning the development of the oil fields.
"The exploration and appraisal campaign in Kenya has confirmed the presence of substantial oil resources in the South Lokichar Basin.
After over six years of hard work, we can now move forward to commercialising these low cost resources through a phased development of the basin involving a central processing facility and an export pipeline to the Kenyan coast," said Mark MacFarlane, Executive Vice President for East Africa.
"In 2018, we will focus on taking the project towards Final Investment Decision (FID) in 2019 with a prudent and flexible plan of execution that can take advantage of low oil services costs and deliver first oil and cash flow as soon as possible.
" With good progress being made in Uganda towards FID, East Africa is on the verge of becoming a major oil exporting region."
We are ready to offer Nigerians affordable education – Netherlands - VANGUARD
FEBRUARY 07, 2018
The Embassy of the Kingdom of the Netherlands in Nigeria on Wednesday announced the readiness of Dutch universities and other higher educational institutions to offer qualitative and affordable education to Nigerians.
The embassy's Advisor for Trade and Economic Affairs, Mrs Sonia Odije, disclosed this to newsmen in Lagos ahead of the Second "Study in Holland Fair'' in Lagos. Odije said that following the First Study in Holland on June 10, last year, a delegation of Dutch universities and other institutions would soon be visiting Lagos for recruitment of Nigerians.
"The Netherlands on June 10, last year, held her maiden Education Fair in Lagos, which attracted about 500 Nigerians. "That first fair was meant to create awareness among Nigerians of the internationally-recognised over 2000 English Language taught courses in her higher educational institutions.
"This forthcoming second fair, scheduled to hold on March 3, at the Federal Hotel, Victoria Island, from 9: 00 a.m. to 5: 00 p.m., is now meant for the recruitment of Nigerian students into Netherlands universities for qualitative and affordable education. "We really want more Nigerians to the Netherlands because it is a top notch country for international education,'' she said. Odije, who enjoined parents and wards to bring their children to the fair, added that the exhibition would give their children the opportunity to interact directly with representatives from the various institutions.
She said that their participation at the fair would also give them the platform to ask the right questions before making their choices among the visiting Netherlands universities and colleges. "There is the need for parents and guardians to take advantage of this second fair for their children and wards for them to study in these internationally-recognised institutions.
"There will be opportunities of study/work for would be Nigerian students. What this means is that after their studies, they can immediately be working in the Netherlands,'' Odije added. NAN

Read more at: https://www.vanguardngr.com/2018/02/ready-offer-nigerians-affordable-education-netherlands/
US firms invest $8.1bn in Nigeria – Envoy - PUNCH
FEBRUARY 07, 2018
Anna Okon
The United States Consul-General in Lagos, Mr. John Bray, has said that the private investments of US companies in Nigeria are more than $8.1bn.
He stated this in Lagos on Tuesday during the Lagos Chamber of Commerce and Industry's Security Meets Business Dialogue.
According to him, in spite of the security challenges in the country, some American companies have thrived, while some that cannot cope have left the country.
He said that to address the issue, the US Department of Commerce, Ministry of Trade and Industry and its Nigerian counterpart would hold dialogue sessions to identify impediments in the business environment.
The consul-general stated that the dialogue sessions would forge collaboration between the public and private sectors to improve on security in the country.
In his opening remarks, the President, LCCI, Mr. Babatunde Ruwase, noted that there was no better time to consider the business dimension of security challenges than now, adding that food security was at risk as agricultural production was being threatened by security concerns.
He said, "No meaningful business can be done in an environment that is insecure. Security of life and property is a very critical factor in the investment environment and a major consideration in investment decisions.
"The impact of these security challenges on business and investors' confidence is phenomenal. Not much investment activities are taking place in the north-eastern part of the country. Attacks by herdsmen on farming communities across the country are not abating, resulting in increasing loss of lives."
He added, "Many rural farmers are holding back from the current planting season because of the fear of attacks by herdsmen.
NEXIM Bank urges SMEs to access N500bn export facility - PUNCH
FEBRUARY 07, 2018
BY Ifeanyi Onuba, Abuja
The Nigeria Export-Import Bank on Tuesday called on export-oriented Small and Medium Entrepreneurs in the South-East and Niger Delta region to access the N500bn Export Stimulation Facility and the N50bn Export Development Fund being managed by the lender.
The funds are expected to boost the SMEs, create more jobs, and contribute to the foreign exchange revenue earnings of the country.
The call was made by the Managing Director of NEXIM Bank, Mr. Abba Bello, during a one-day seminar on export potential.
The facilities were made available to NEXIM Bank last December by the Central Bank of Nigeria and it is expected to lend at a maximum of nine per cent interest rate.
Bello said the funds would address the declining export credit to the SMEs and reposition the non-oil sector to increase its contribution to the country's revenue generation and economic development.
The improved export financing for non-oil exporters, according to him, will enable them to upscale and expand their businesses and improve their competitiveness.
Bello, who was represented at the event by the Head of NEXIM's Enugu Regional Office, Mr. Chinedu Moghalu, stated, "NEXIM Bank is determined to ensure that these funds achieve the desired impact of triggering non-oil export development, growth and economic progress in line with its mandate as the trade policy bank of the Federal Government and the applicable CBN guidelines for the implementation of the facilities."
He said under the ESF facility, the transaction that could be funded were export of goods wholly or partly processed or manufactured in Nigeria; export of commodities and services permissible and excluded under existing export prohibition lists; and import of plants and machinery, spare parts and packaging materials, required for export oriented production that could not be produced locally.
Other businesses eligible under the ESF are export value chain support services such as transportation, warehousing and quality assurance infrastructure; and resuscitation, expansion, modernisation and technology upgrade of non-oil exports industries. Stocking facility and working capital can also qualify for funding under the ESF.
"The overall aim of the ESF and EDF is to lower the costs of Nigerian exporters so that their products can be priced at a level where they can compete with other products around the world," Bello added.
The Special Assistant the Enugu State Governor on SME Development, who represented his principal, Anayo Agu, stated that the fund would help to unlock the export potential of SMEs in the state.
He stated, "The invitation to the SMEs to access affordable non-oil export facilities had been the missing link in the efforts of various governments in the region to derive maximum benefits from their investments in the SME value chain, especially in the agriculture and other non-oil sectors.
"It provides us the platform to reach heights we could only dream about before now."
Macron to Visit Nigeria, Address National Assembly - THISDAY
FEBRUARY 07, 2018
President Emmanuel Macron of France is billed to visit Nigeria in early July this year and is expected to address the joint session of the National Assembly, Ambassador of France to Nigeria, Denys Gauer, has said.
Speaking when he paid a visit to the Speaker of the House of Representatives, Yakubu Dogara, at the National Assembly, Gauer said President Macron has interest in the future and development of Nigeria.
According to a statement issued by the Speaker's spokesperson, Turaki Hassan, Gauer revealed that Macron had worked in the French embassy in Abuja early in his career for six months, "some years ago."
He also said whereas relations between the two countries in the last few years have centred on security, Macron hoped to use the visit to further deepen relations with Nigeria especially in areas such as youths, culture and creativity.
Responding, Dogara said members of House of Representatives and indeed the National Assembly would want to listen to the French president whom he described as "a man of our generation.
"He has brought a lot of youthful zest, dynamism, charisma and appeal to French politics and we will want to yield the floor to him," Dogara said.
The Speaker also commended the French Government for assisting Nigeria in the fight against Boko Haram terrorists and pledged to give expeditious passage to all bilateral agreements that will be signed between Nigeria and France during Macron's visit.
Bankers' C'ttee Abolishes Commission on Retail Forex Transactions - THISDAY
FEBRUARY 07, 2018
External reserves hit six-year high of $42bn
BY Obinna Chima
The Bankers' Committee rose from its meeting Tuesday with a consensus that commercial banks in the country should henceforth desist from charging customers commissions on retail foreign exchange (forex) transactions.
Retail forex transactions include the purchase of dollars for personal travel allowance (PTA), business travel allowance (BTA), school fees and medicals.
The chief executive of the FSDH Merchant Bank Limited, Mrs. Hamda Ambah, disclosed this while briefing the media at the end of the meeting in Lagos.
Desirous of alleviating the pains of retail forex consumers, the Central Bank of Nigeria (CBN) in May last year had directed all banks to sell the greenback for BTA, PTA, tuition and medical fees to customers at not more than N360 to dollar, down from N380 to the dollar at which forex was sold previously for retail transactions.
The CBN sells to banks at N357 to the dollar. However, it was learnt that some commercial banks have been charging commissions on such transactions.
To this end, Ambah explained: "One of the things we discussed was a measure that would provide some sort of palliative for all individuals in the country to at least enjoy the benefit.
"It was agreed that the forex that banks sell to their clients for PTA, BTA, school fees and medical bills, that henceforth all banks should charge N360/$ and there would be no commission whatsoever charged by the banks for such sales.
"We want to make sure that this is uniform across all banks. Customers should report any bank that goes outside of this. It has actually been N360 for a while, but some banks in addition to the fee, are charging commissions."
Earlier, the director, Banking Supervision, CBN, Alhaji Ahmed Abdullahi, who was also at the briefing, put the present value of the country's external reserves at $42 billion, higher than $40.4 billion last month.
The last time the country's reserves derived mainly from proceeds of crude oil exports hit $42 billion was in December 2013.
Recent Eurobond issuances have also helped in boosting Nigeria's reserves position.
Abdullahi also expressed satisfaction with the positive growth of all economic indicators.
Responding to a question on why the modalities on the Agric-SME fund agreed by the committee were yet to be implemented, the CBN director said: "We had detailed discussions on the issues agreed at the last retreat and the modalities for disbursements have been agreed.
"By February, we would see traction in that regard. The modalities are now out and it is left for the customers to come forward."
Also, the chief executive of Stanbic IBTC Bank, Mr. Demola Shogunle, disclosed that during the meeting, there was a presentation on the Economic Recovery and Growth Plan (ERGP) by one of the special advisers to the president.
According to Shogunle, a major aspect of the presentation was that the federal government had agreed to focus on key selected areas in the ERGP to accelerate investments and job creation.
"The focus areas include power and gas, agriculture and transportation, and manufacturing and processing. The Bankers' Committee overwhelmingly agreed to be embedded in the programme.
"The banking community will participate actively to the extent that it will lead to job creation and additional investments in the economy," he said.
In his briefing, the chief executive, Citibank Nigeria, Mr. Akin Dawodu, reiterated plans by the CBN to sanction exporters that fail to repatriate export proceeds.
"Oil export proceeds have to be repatriated within 90 days and non-oil proceeds within 180 days. In the spirit of supporting the reserves position and economic growth, stricter measures were agreed regarding the repatriation of export proceeds, particularly oil export proceeds.
"A 90-day moratorium has been agreed for customers and corporate clients who have not repatriated their export proceeds within the stipulated timeframe for any delays to be cleared.
"After that, the CBN has the right to sanction any customer that defaults. The sanction may include banning people from the forex window or more stringent measures.
"We think this is very important as a body to ensure that the rules are adhered to," he said.
Iconic Nigerian painting missing for decades is discovered in a north London flat - THE TELEGRAPGH UK
FEBRUARY 07, 2018
An iconic Nigerian painting missing for decades has been discovered in a north London flat.
The discovery of Ben Enwonwu's 1974 masterpiece of the Ife princess Adetutu Ademiluyi, known as Tutu, has been touted as the "most significant discovery in contemporary African art in over 50 years", Nigerian novelist Ben Okri told the Guardian.
The image of the painting became a symbol of national reconciliation in the country, where people hang posters of it on the walls of their homes.
It is not known how the piece came to be in north London, and the family who have it in their possession requested anonymity.
However, it will be sold at Bonhams in London later this month and is expected to go for over £200,000.
Giles Peppiatt, director of modern African art at the auction house, made the discovery when he went round to the house.
Ben Enwonwu's 1974 masterpiece of the Ife princess Adetutu Ademiluyi, known as Tutu CREDIT:BONHAMS
He said: "Sometimes you go somewhere on a wing and a prayer, you don't know what you are going to see ... this was an enormous surprise. It is a picture, image-wise, that has been known to me for a long time, so it was a real lightbulb moment; I thought: 'Oh my god, this is extraordinary.'
Enwonwu was a student at Oxford in the 1940s, but became widely known when he was commissioned to create a bronze sculpture of the Queen during her visit to Nigeria in 1956. He died in 1994.