Aboki News
Nigeria Air still on aviation road map – FG - PUNCH
AUGUST 22, 2019
BY Okechukwu Nnodim, Abuja
Although suspended, the Nigeria Air project is still on the aviation roadmap of the Federal Government, the Minister of Aviation, Hadi Sirika, announced on Wednesday.
He said the proposed national carrier, Nigeria Air, will be implemented, as he was received by employees of the Federal Ministry of Aviation after his inauguration as minister.
"Nigeria Air is still on the roadmap. So, we need your support," Sirika told his staff.
He added, "One aeroplane that comes into the country means 300 jobs. More than that is the catalyst for the economic growth of our country. It also adds to our gross domestic product."
The returnee minister said he would further strive to raise the contribution of the aviation sector to the country's Gross Domestic Product.
"What we have done is that we have raised the aviation contribution to GDP from 0.4 to 0.6 (per cent). I believe that in the coming year, we will get to one per cent at least," he said.
He added, "I do believe that the aviation sector has a lot for Nigerians; it connects people, countries, continents, markets and be that catalyst that is missing to rejuvenate our economy. Having 200 million people in the centre of Africa is a huge advantage."
Trump Wants a Weak Currency. Rivals Do Too, and That's a Problem - BLOOMBERG
JULY 25, 2019
By Anchalee Worrachate and Liz McCormick
Fed rate cuts may not weaken dollar amid global dovishness

Any intervention could face strong countermeasures by rivals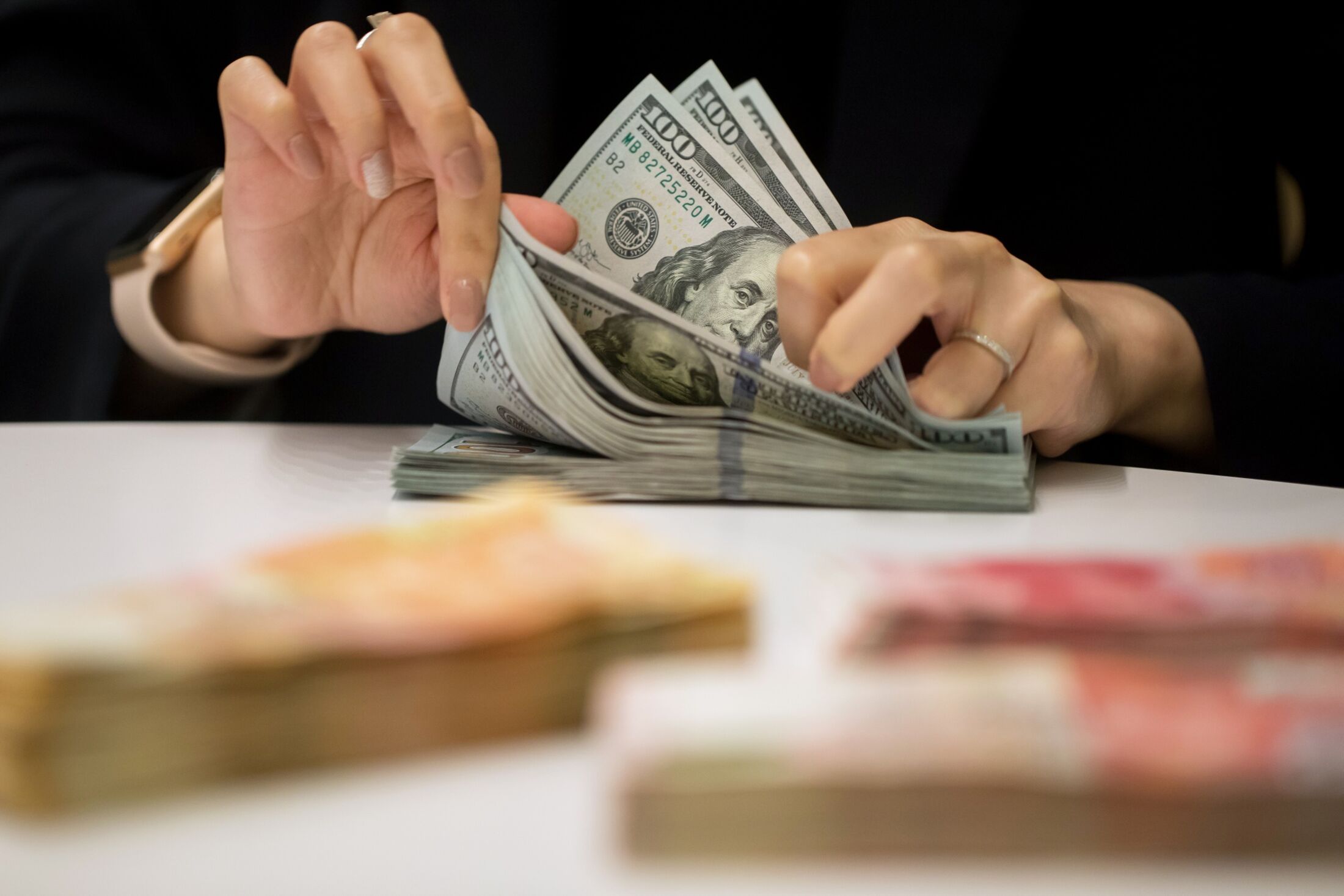 Despite the Fed's increasing dovishness, the greenback has beaten most Group-of-10 peers this quarter.
Photographer: Paul Yeung/Bloomberg
Major economies around the globe all seem to covet a weaker currency as risks to growth mount. That makes engineering a lower dollar, euro or other heavyweight all the harder.
President Donald Trump has repeatedly badgered the Federal Reserve to cut rates and complained that the U.S. dollar is too strong. But he's got competition. It might not mention the exchange rate explicitly, but the European Central Bank is poised to loosen policy, weighing on the common currency.
Bank of Japan Governor Haruhiko Kuroda said the bank will "persistently continue with powerful monetary easing" to boost inflation. In China, the central bank looks set to step up stimulus to revive growth.
Thanks to synchronized monetary easing, any simultaneous moves to weaken currencies might cancel each other out -- making beggar-thy-name policies a waste of time.
"Everyone is sort of pushing on the same piece of string," said Charles Diebel, head of fixed income at Mediolanum Asset Management. "If you have the Fed easing and the ECB easing, it's just a relative game. It's very hard for currency volatility to remain elevated."
2010 Redux
Despite the Fed's increasing dovishness, the greenback has beaten most Group-of-10 peers this quarter. The Bank of Korea surprised markets with a rate cut last week, but the won only weakened briefly. Even though the Swiss National Bank keeps reiterating it has leeway to ease, the franc continues to be buoyant against the euro.
Foreign-exchange strategists say the risk of a U.S. move to weaken the dollar has risen after Treasury Secretary Steven Mnuchin said last week that there's no change in the nation's currency policy "as of now."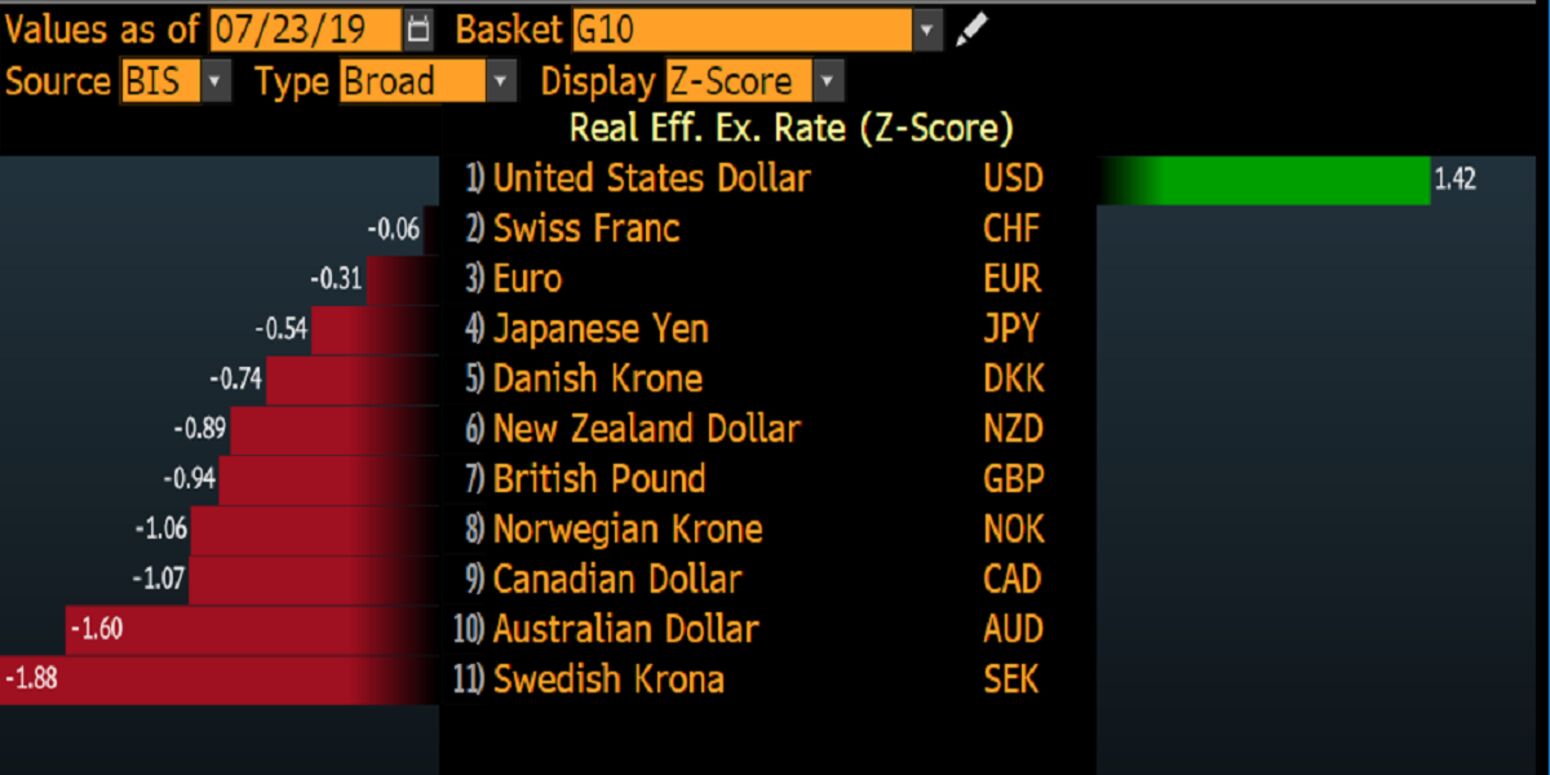 Dollar is most expensive G-10 currency.
Welcome to the latest race to the bottom. In 2010, when major central banks were printing money and cutting rates, causing their exchange rates to fall, then-Brazilian Finance Minister Guido Mantega famously labeled it a "currency war." The difference is that back then, the dollar was falling and other countries tried to catch up with it.
Now, the greenback is among the most overvalued G-10 currencies, according to a Bank for International Settlements model on real effective exchange rates.
A desire among policy makers to expand their toolkit to prop up growth is understandable. The International Monetary Fund has revised down its growth forecast for 2019 repeatedly -- including on Tuesday -- as trade and geopolitical tensions threatened to damp the world economy. Major central banks, including those in Switzerland and Australia, are sticking to a low-rates policy.
Monetary Struggle
"If the U.S. wants a weaker dollar now, they are going to struggle to get that with just the use of monetary policy," said Kit Juckes, a strategist at Societe Generale SA. "Fed policy is no longer the driver of the dollar -- growth is. A rate cut by the Fed isn't going to get the euro stronger if the prospect of growth there is weak."
Any competitive devaluations are naturally fraught with political tensions, while prolonged low interest rates risk asset bubbles and financial repression.
See it as a U.S.-Europe story, according to Stephen Jen, the chief executive officer of Eurizon SLJ Capital. He reckons the BOJ has already done so much easing that it is now worried about the economic effects of sustained negative rates. Meanwhile, the People's Bank of China may refrain from enacting a large stimulus amid fears it could destabilize the economy over the long haul.
"It's really the euro and the dollar racing lower," Jen said in an interview. "The Fed doesn't really have a strong case to cut at all as the U.S. economy is doing fine. The real issues are happening outside the U.S. That's a very different situation than the Europeans face. They are facing weakness right there in Germany."
Markets expect the Fed to announce a 25-basis-point cut in interest rates next week. Despite that, the euro depreciated 1.7% against the dollar this quarter, and is down 2.5% this year.
It's unlikely that the U.S. would intervene partly because it risks triggering counter-measures by other monetary authorities, said Bilal Hafeez, former head of G10 foreign-exchange and rates strategy at Nomura Holdings Inc. and now the CEO of Macro Hive.
"What's more likely is that the Fed would cut rates more aggressively" said Hafeez. "But the extent of dollar weakness will be limited because other central banks are becoming more dovish."
(Adds latest IMF forecast reduction in 10th paragraph.)
ECB signals a rate cut, sends the euro to a 2-month low - CNBC
JULY 25, 2019
The central bank said it expects its key interest rates to remain "at their present or lower levels" at least through the first half of 2020.
This is an update on the wording in previous statements and suggests a rate cut could be on the horizon.
Mario Draghi, president of the European Central Bank (ECB).
Bloomberg | Bloomberg | Getty Images
The European Central Bank (ECB) kept rates unchanged but altered its forward guidance on Thursday amid deteriorating economic data in the euro zone.
The central bank said it expects its key interest rates to remain "at their present or lower levels" at least through the first half of 2020, updating the wording on previous statements and suggesting a rate cut could be on the horizon.
The bank also signaled that there could be additional measures to stimulate the euro zone economy. It said it was examining options, "including ways to reinforce its forward guidance on policy rates, mitigating measures, such as the design of a tiered system for reserve remuneration, and options for the size and composition of potential new net asset purchases."
Potential new net asset purchases suggest the central bank could reintroduce its quantitative easing program, where it purchases government bonds from euro zone countries to further stimulate lending and stoke inflation.
On Thursday, the euro zone central bank kept the rates on its main refinancing operations, marginal lending facility and deposit facility unchanged at 0%, 0.25% and -0.40%, respectively. These have been at record lows following the euro sovereign debt crisis of 2011.
Euro fell to an eight-week law after ECB decision.
Traders are now waiting to hear from President Mario Draghi, who is due to speak at 1:30 p.m. London time.
Sintra speech
Draghi warned last month that without a clear improvement for the euro zone economy, the central bank would announce further stimulus measures. This caused market players to up their forecasts for new interest rate cuts or even a bond-buying program. Draghi, speaking in June in Sintra, Portugal, made it clear that his institution was ready to use all necessary measures to revamp the flagging economy.
Data out Wednesday further highlighted the recent weakness, showing German manufacturing PMIs (Purchasing Managers' Index) falling to 43.1 in July from 45.0 in June. At the same time, new orders in the country dropped at their fastest pace since July 2012, on the back of weakness in Chinese demand and in the auto sector.
The ECB had embarked on a major stimulus package following the sovereign debt crisis of 2011. This included cutting interest rates to record lows, purchasing government bonds and facilitating more lending to euro zone banks. The bank tried to normalize its policy last year — and catch up with other central banks like the U.S. Federal Reserve — but with global trade wars and softness in China most of these banks have now signaled a U-turn. In the U.S., investors now believe there's an 80% chance that the Fed announces a 25 basis point cut when it meets next week.
Facebook's Cryptocurrency Keeps Sounding Worse And Worse, As Insider Leaks New Partners - Visa and Mastercard....
MAY 04, 2019
The Global Crypto Press Association
More details have just emerged regarding Facebook's cryptocurrency project, perhaps giving us the most insight so far on the direction they're aiming to take the project.

An insider, speaking to The Wall Street Journal has just leaked some new information on the project, including it's name internally at Facebook, "Project Libra".

We already knew they we're 'going big' with this one - approximately 3 weeks ago we learned about the massive fundraising efforts going on behind the scenes - that's when we first heard the project's $1 billion dollar price tag, and that Facebook would be seeking outside investment to raise it.

The reporter who published that story also dove into Facebook's current job listings and discovered 22 new roles within the company's blockchain department now accepting applications, bringing the total number of department staff from 40 to 62.

If the WSJ's unnamed source is to be believed, we now know some specifics on where that $1 billion will come from - Visa, Mastercard, and a company you may not know by name, but processes many of the payments for both, First Data Corp.

Let's try to look on the bright side:

I know, it's starting to feel like an alliance of the worst corporations coming together to launch EvilCoin - but, this also may potentially serve as a gateway cryptocurrency.

Because Facebook's plan actually reaches far beyond Facebook - they've also been approaching major online retailers and hope to make their cryptocurrency an accepted form of payment at a wide variety of businesses. Rumor is, they're pitching them with a pro-crypro argument I've heard since owning my first Bitcoins - all the money they could save on processing fees.

Now imagine - once a retailer has been coaxed into accepting this cyptocurrency, and sees the cumulative effects of saving the 2%-3% typically lost to credit card companies for processing, why would they stop here?

They'll soon learn there's billion held by potential customers in other cryptocurrencies that offer them that exact same incentive.

It's also going to be a lot harder for anyone to make generalized statements against cryptocurrency's legitimacy, with a Visa and Mastercard in their wallet, and the Facebook app on their phone. Can you really be anti-crypto when everything in your pocket says you're wrong?

It may not be the path to mass adoption we dreamed of, but it's potentially a path nonetheless.

Facebook declined to comment on these latest rumors.

-------
Author: Justin Derbek
New York News Desk
Pound Faces Jolt as Local Elections Give Impetus to Brexit Talks - BLOOMBERG
MAY 04, 2019
Both main parties hit by Brexit backlash in local elections

Sterling could gain to $1.32 on a deal being reached: CIBC
The pound has climbed on optimism over a way forward on Brexit and next week may give the currency a decisive push, strategists say.
Sterling ended its best week in two months with a rally on Friday, following a battering in local elections for the two main political parties that could push them toward a Brexit compromise. The pound could either gain past $1.32 if an agreement is struck between the ruling Conservatives and the opposition Labour party, or fall back to $1.29 if Prime Minister Theresa May's talks fail.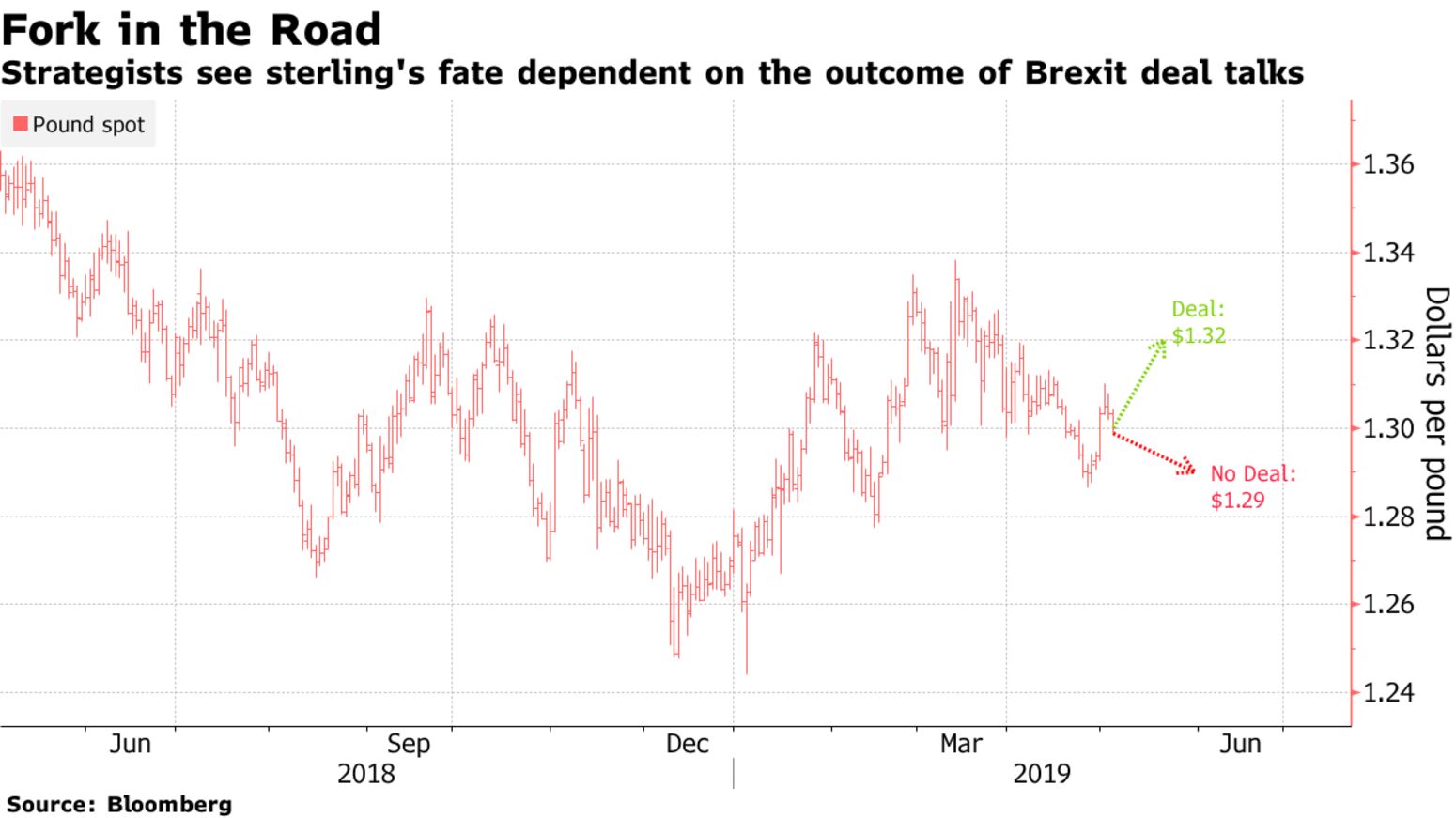 "Currently, cross-party talks are not making progress, but by the middle of next week expectations are that the government will make it a 'take-it-or-leave-it' moment for both sides to try and find a way through," said Jordan Rochester, an analyst at Nomura International Plc. "If they were to find an agreement this would send the pound much higher as the market would price out any hard Brexit risk for October."
Sterling surged above $1.31 Friday to head for its biggest weekly gain since March, yet is still well below its post-Brexit highs of around $1.43. Bets on pound gains over one month in options markets have turned positive for the first time in a year.
Investors are pinning their hopes for a resolution on the discussions between the two main parties, almost three years since the vote to leave the EU. The Tories and Labour both lost ground in local elections Thursday amid frustration over Brexit, which makes it in their interest to strike a deal. May and Labour leader Jeremy Corbyn both said that the message from the election was to sort out Brexit.
Why Labour Also Needs to Deliver Brexit
How Labour-held constituencies voted in the U.K. referendum
Sources: Brexit vote estimate from Chris Hanretty of UEA; Press Association 2017 election results
The outlook for the Bank of England's interest-rate path also depends on Brexit. The market barely reacted Thursday to comments from BOE Governor Mark Carney that policy makers would raise rates by more than investors are pricing if Brexit goes smoothly.
Even though any agreement in the talks would have to get through Parliament, the pound would still gain further on the news, according to Jeremy Stretch, head of Group-of-10 currency strategy at Canadian Imperial Bank of Commerce. A "systematic failure" would have a similar impact in the opposite direction, pushing the pound down toward $1.29.
The cross-party talks are due to resume on Tuesday. Traders will also have U.K. growth figures in their sights next week, with gross domestic product expected to pick up to 0.5 percent in the first quarter, from 0.2 percent in the last three months of 2018.
Zimbabwe extends central bank governor's term by another five years - REUTERS
MAY 04, 2019
HARARE , May 3 (Reuters) - Zimbabwe's President Emmerson Mnangagwa on Friday appointed John Mangudya for a second and final five-year term as central bank governor, a government official said.
Mangudya was first appointed to the post in 2014 but his term was marred by the bank's decision to introduce the surrogate bond note currency two years later in a bid to end a severe shortage of U.S. dollars and cash.
"The extension takes effect from 1 May 2019 for another five years," Misheck Sibanda, chief secretary to the president and cabinet said in a statement.
Mangudya's appointment had been largely expected after Mnangagwa's spokesman George Charamba said the governor would get a second term.
Zimbabwe is gripped by a severe shortage of dollars that has seen the country struggle to import food and medicines for hospitals. (Reporting by MacDonald Dzirutwe, editing by Louise Heavens)
Strategist Who Called Bitcoin Crash Says It's Time to Buy Crypto - BLOOMBERG
MAY 04, 2019
By Joanna Ossinger and Todd White
Fundstrat's Robert Sluymer sees longer-term recovery in works

Rally through resistance around 6,000 could come later in 2019
Bitcoin is in the middle of a sustained recovery and investors should use recent weakness to buy more, according to Fundstrat technical strategist Robert Sluymer. The largest cryptocurrency climbed to its highest since November.
"Use pending pullbacks to continue accumulating Bitcoin in the second quarter in anticipation of a second-half rally through ~6,000 resistance," Sluymer wrote in a note May 2. He sees Bitcoin's rebound from its 200-week moving average and breakout from its first-quarter trading range as "the early stage of a longer-term recovery developing."
Bitcoin advanced as much as 7.2 percent to $5,795.50 as of 9:33 a.m. in New York, according to Bloomberg composite pricing. The 55 percent jump in 2019 has helped pull rival tokens higher. Litecoin has soared more than two-fold.
Adding to the overall optimism Friday was a Wall Street Journal report that Facebook Inc. is reaching out to financial companies and online merchants to help launch a cryptocurrency-based payments system tied to the social network.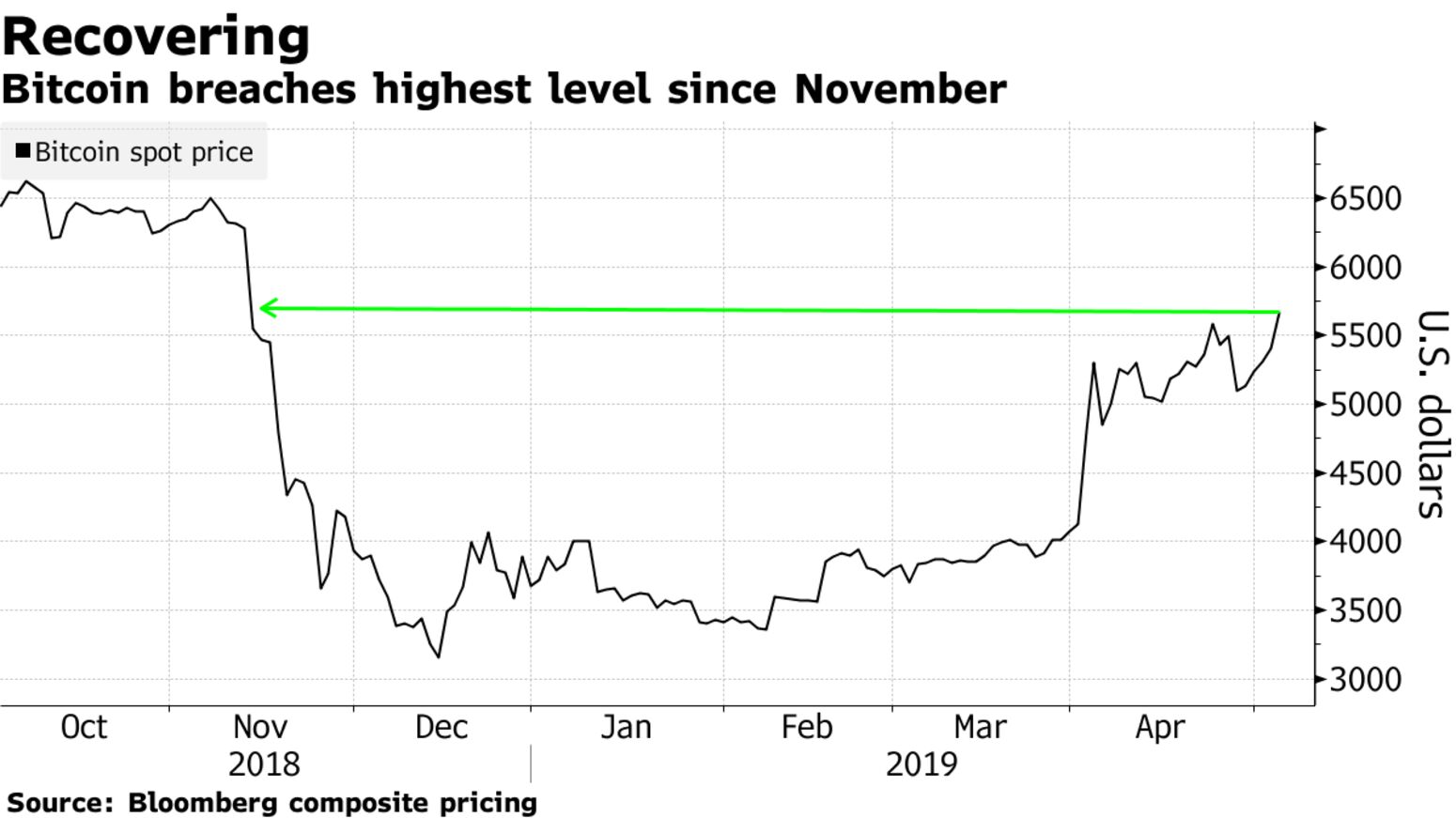 Sluymer warned in mid-November, when Bitcoin was trading around $5,500, that the asset had suffered "significant technical damage" that could take months to repair. Over the next several weeks, Bitcoin slid to as low as $3,136.04. In February, Sluymer cautioned that the technical position in the crypto space was still weak. Bitcoin didn't recover the $5,000 level until early April.
Fundstrat was an early mover in analyzing cryptocurrencies and developed its own indexes. And Sluymer's colleague, Fundstrat co-founder Tom Lee, is regarded as a Bitcoin bull. Lee started 2018 with a year-end price target of $25,000, before eventually abandoning time frames for his predictions in December when it was around the $3,000 to $4,000 range. Lee in March said he sees 2019 as a year the market can "build better risk-reward."
"While it's premature to conclude Bitcoin will not retest support near $4,300, we would encourage traders and investors to remain focused on the bullish longer-term technical profile developing," Sluymer wrote. "Bottom line: use recent weakness to accumulate."
(Adds report on Facebook in the fourth paragraph.)
Nigeria's missing: 'We want to know whether our sons are alive or dead' - THE GUARDIAN UK
MAY 04, 2019
Roughly 20,000 people have been detained by Nigeria's military over the past decade, leaving their families fraught with anxiety
Global development is supported by
BY Shola Lawal in Maiduguri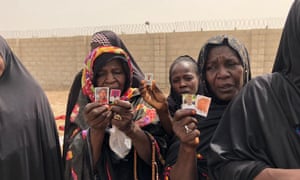 Women show photographs of relatives that have disappeared after being arrested by Nigeria's military. Photograph: Courtesy of Jire Dole
It was on a chilly morning in October 2011 that Hajja Gana Suleiman's world began to unravel.
The news came that her son had been arrested by military men. Mustapha "Saina" Abdulkareem had been saying his morning prayers at a nearby mosque when he was taken away.
The soldiers were conducting raids in the area and claimed to be arresting Boko Haram members. Saina, 25, was arrested together with 30 other men that day. It would be the last time Suleiman saw her son a free man.
Not knowing Saina's whereabouts torments the 55-year-old mother. "I cannot sleep. I cannot eat. I'm old and tired. He helped me when his father was not well," Suleiman says, sitting on a mat in her breezy compound in Gwange, a suburb of Maiduguri.
Two years ago, her pain drove her to help establish Jire Dole, a network of women who have missing relatives, and who campaign for justice.
Since 2009, Boko Haram's deadly insurgency in Nigeria's north-east has resulted in thousands of people going missing – either kidnapped or detained, or just disappeared. These include the 276 Chibok girls, whose abduction from their school in April 2014 sparked a global outcry.
But it is men and boys who have been largely unaccounted for. In a largely overlooked tragedy, thousands of men of fighting age have vanished in the conflict. Many have been killed by Boko Haram terrorists or forcibly taken as fighters.
Conversely, thousands more have been arbitrarily detained by soldiers on suspicion of being Boko Haram collaborators. Amnesty International estimates that, since 2009, about 20,000 men, including boys as young as nine, have been rounded up and detained without trial or due process. About 1,200 men have reportedly been killed.
Time has stood still for Suleiman and hundreds of mothers like her.
Efforts to free Saina prove futile. The day he was arrested, his wife, pregnant with their first child, asked where the soldiers were taking him. She was slapped and sent back to their home.
In the days that followed, Suleiman visited Giwa Barracks, a military detention centre in Maiduguri, anxiously trying to find her son. One week after his arrest, she saw Saina briefly. He wore red overalls. "This place is not good to stay," he cried to his mother, distraught. "Please get me out. I'm suffering."
Amnesty International has reported that many Boko Haram suspects are detained in the barracks in "inhumane' conditions".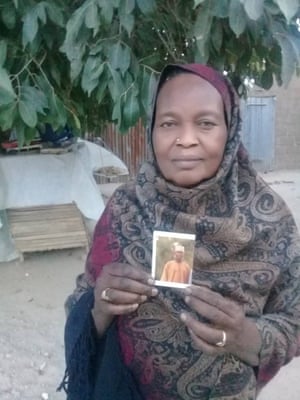 Hajja Gana Suleiman shows a photograph of her son. Photograph: Courtesy of Jire Dole
Several military men promised to release Saina after Suleiman paid 500,000 naira (£1,060) as a bribe. It was not the only time she paid out. "I've spent up to two million naira since they arrested him. I've sold my property and jewellery," she says.
But her son has not been released, and she doesn't know if he's alive or dead. At one point, she was instructed by soldiers to wait at a morgue in case Saina's body was among the dozens of corpses loaded into an ambulance out of Giwa Barracks every day. Suleiman waited to dig her son from the dead in vain. His body was not there.
In February 2012, Suleiman led a protest to the governor's house in Maiduguri. She was assaulted. "Look at my body," she says, lifting her clothing to show scars on her thighs. "The soldiers beat me and started shooting in the air."
A top commander, Colonel Hassan, had promised to help. "He took my number and said he'd call me whenever they prepare the men for release. I never saw him again."
As well as helping to form Jire Dole, she joined up with other groups, including the Knifar movement, an organisation of women seeking justice for sexual abuse they experienced at the hands of soldiers while in displacement camps.
Suleiman figured a collective fight would yield results. She began to announce her mission wherever women gathered – at meetings, weddings and child-naming events. "If you have this type of problem, please come to me. I will register you," she would tell the women.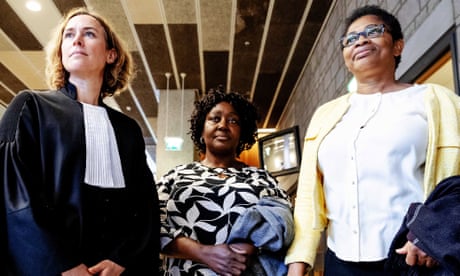 Dutch court will hear widows' case against Shell over deaths of Ogoni Nine
Read more
The response was huge. About 3,000 women have joined Jire Dole, Suleiman says, all looking for missing sons, husbands, brothers and fathers. The women have organised several protests. Although many of them are old and have little education, they attracted the attention of rights activists, who now amplify Jire Dole's voice on social platforms.
The women have become each other's support system. They donate money to members who need it and visit each other for companionship.
"Since I joined, my heart has been a bit calm," says Fatima Al-Hassan, whose sons Ibrahim and Musa were arrested in a mop-up raid after a bomb exploded in the area.
"They were eating in the parlour," Fatima says, pointing to a spot in her Maiduguri apartment.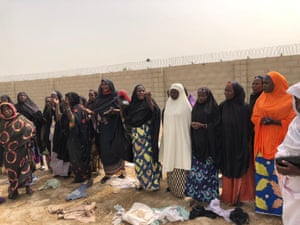 Jire Dole has empowered hundreds of women with missing relatives to demand justice. Photograph: Courtesy of Jire Dole
It seems the military is finally taking notice. Recent protests caught the attention of a top military commander. Jire Dole has been invited to the military headquarters for talks for the first time, although a date for the meeting has not been set.
It is unclear how many men are being held without charge in Giwa Barracks, or even how many are alive, says Isa Sanusi, Amnesty International's media manager in Nigeria. In March 2014, Boko Haram attacked Giwa Barracks, freeing their members and other detainees. But in a reprisal attack, Nigerian troops hunted and killed hundreds of suspected escapees. More than 640men were killed.
"[The authorities] have to do something. We want to know whether they are alive or not," says Suleiman, her voice cracking with emotion. "We want the truth."
Brexit deal could be done in 'next few days', top Conservative says - REUTERS
MAY 04, 2019
BY Elisabeth O'Leary, David Milliken
ABERDEEN, Scotland/LONDON (Reuters) - Prime Minister Theresa May could reach a Brexit deal with the opposition Labour Party within days, a leading Conservative Party figure said on Saturday, after senior ministers urged compromise following poor local election results.
Britain's Prime Minister Theresa May speaks at the Scottish Conservative conference in Aberdeen, Scotland, Britain May 3, 2019. REUTERS/Russell Cheyne
Ruth Davidson, the Conservatives' leader in Scotland, told party members that a cross-partisan agreement on Brexit was needed before this month's European elections, or Britain's major parties would face an even bigger backlash from voters.
The Conservatives lost 1,332 seats on English local councils that were up for re-election, and Labour - which would typically aim to gain hundreds of seats in a mid-term vote - instead lost 81.
Many voters expressed frustration at May's failure to have taken Britain out of the European Union, almost three years after the country decided to leave in a referendum.
"If we thought yesterday's results were a wake-up call, just wait for the European elections on the 23rd of May," Davidson told a party conference in Aberdeen.
Speaking to reporters afterwards, she said there had been progress in the weeks of talks between the Conservatives and Labour to find a Brexit deal which passes parliamentary muster.
"There is a deal that could be done in the next few days ... and I really hope we can get to that point," she said, describing the results as "a kick up the backside".
Labour leader Jeremy Corbyn said on Friday there was now a huge impetus on every lawmaker to get a Brexit deal done.
But even if the Conservative and Labour Party leaderships reach a Brexit compromise, there is no guarantee that it will pass through parliament, which has roundly rejected May's proposals three times already.
In an indication of the hostility May faces from the most pro-Brexit wing of her party, former leader Iain Duncan Smith renewed his call for her to step down soon, calling her a "caretaker prime minister" after the local election losses.
Complicating the picture, the main beneficiaries of the swing against the two major UK parties were the pro-EU Liberal Democrats, who campaigned on a demand for a new referendum, aiming to reverse Brexit.
"MOOD FOR COMPROMISE"
Health minister Matt Hancock urged pragmatism in a BBC radio interview earlier on Saturday.
"I think we need to be in the mood for compromise," he said.
Foreign minister Jeremy Hunt also saw a "glimmer of hope" that there might be a deal with Labour soon.
But an EU customs union that prevented Britain from striking its own trade deals was not a viable long-term option for the world's fifth-largest economy, he said.
Earlier on Saturday, Buzzfeed News reported sources saying that May was optimistic about a deal, and that behind closed doors the government had already compromised on a customs union.
"In the last week government ministers and officials presented Labour with a new offer on a customs arrangement that would effectively see the UK remain in the key aspects of a customs union with the EU," the sources familiar with the talks said.
One source told Buzzfeed "the offer would be tantamount to the government accepting in full Labour's demands".
However, the sources did not think a deal was necessarily imminent, as Labour might wish to delay any agreement until after the European elections to maximize the damage to May.
The political editor of the Spectator magazine, which has close links to the Conservatives, said in a column for the Sun newspaper that there had been an agreement to an initial "comprehensive customs arrangement" very like a customs union.
Labour and the Conservatives would then leave open whether this would lead in future to Labour's preferred customs union, with EU consultation rights, or the looser arrangement favored by the Conservatives.
It is unclear if the EU would approve a temporary customs deal, as border controls might later be needed between Ireland and Northern Ireland if the deal broke down.
Additional reporting by Elisabeth O'Leary in ABERDEEN and Kalia Shubham in BENGALURU; Editing by Gareth Jones, Ros Russell and Jan Harvey
Sanusi, Mbeki join MTN Board - PUNCH
MAY 04, 2019
BY Ife Ogunfuwa
MTN Group has announced significant changes to its Board of Directors with the Emir of Kano, His Royal Highness Sanusi Lamido Sanusi, resuming on the board by July 1, 2019.
Another Nigerian, the former African Union Commissioner for Political Affairs, Dr Aisha Abdulahi, also made the board as a member of the International Advisory Board whose operations will commence on July 1, 2019.
The group, in a statement issued by its Corporate Affairs unit on Friday, said the IAB would be chaired by a former President of South Africa, Mr Thabo Mbeki.
It said the restructuring had become necessary in view of "recent challenging regulatory environments and competitive trading conditions."
According to the statement, a Kenyan national, Vincent Rague, will join the board effective July 1, 2019.
Other changes that will be effected over the next 12 months, according to the telecom company, is the stepping down of the Chairman of MTN Group, Phuthuma Nhleko, from his position on December 15, 2019, after ensuring a smooth transition of the Board and the establishment of the IAB.
It added that Mcebisi Jonas has been appointed Chairman-designate and would assume the position of Chairman of MTN Group effective December 15, 2019.
On the same day, MTN said Dr Khotso Mokhele would assume the responsibilities of Lead Independent Director while Alan Harper, Jeff Van Rooyen and Koosum Kaylan would step down from the Board after an orderly transition and handover to incoming directors.
"Peter Mageza and Dawn Marole will step down from the Board effective April 30, 2020," MTN said.
The statement read in part, "The Board has resolved to establish an international advisory board of prominent persons of considerable and wide-ranging experience.
"The primary purpose of the IAB will be to counsel, guide and support the MTN Group from time to time in fulfilling its vision and objective of being one of the premier African corporations with a global footprint in telecommunications, contributing to increased digital inclusion in Africa and the Middle East, a pivotal aspect of the fourth industrial revolution."