Travel News
Airlines fault UK, Canada, others on travel restriction - THE GUARDIAN
DECEMBER 10, 2021
By Wole Oyebade
World airlines, yesterday, faulted the United Kingdom and Canada, among others, over restriction of some travellers in an effort to curb the Omicron variant of coronavirus.
The carriers, under the aegis of International Air Transport Association (IATA), said flight restriction had proven incapable of preventing virus spread.
Hence, they called on the governments to follow World Health Organisation (WHO) advice and immediately rescind travel bans that were introduced in response to the Omicron variant.
Public health organisations, including the WHO, have advised against travel curbs to contain the spread of Omicron. WHO stated that "blanket travel bans would not prevent the international spread, and they place a heavy burden on lives and livelihoods.
"In addition, they can adversely impact global health efforts during a pandemic by disincentivising countries to report and share epidemiological and sequencing data. All countries should ensure that the measures are regularly reviewed and updated when new evidence becomes available on the epidemiological and clinical characteristics of Omicron or any other variants of concern," WHO stated in part.
IATA's Director General, Willie Walsh, said after nearly two years with COVID-19, the operators know a lot about the virus and the inability of travel restrictions to control its spread.
"But the discovery of the Omicron variant induced instant amnesia on governments which implemented knee-jerk restrictions in complete contravention of advice from the WHO—the global expert," Walsh said.
He urged governments to reconsider all Omicron measures. "The goal is to move away from the uncoordinated, evidence-absent, risk-unassessed mess that travellers face. As governments agreed at the International Civil Aviation Organisation (ICAO) and in line with the WHO advice, all measures should be time-bound and regularly reviewed. It is unacceptable that rushed decisions have created fear and uncertainty among travellers just as many are about to embark on year-end visits to family or hard-earned vacations," Walsh said.
He added that despite the clear commitment, very few governments have addressed early over-reactions to Omicron.
"With the European Centre for Disease Control and Prevention (ECDC) already signaling that a de-escalation of measures will likely be needed in the coming weeks, governments must urgently put actions behind the commitments that they made at ICAO," said Walsh.
ECDC in the latest update to its Threat Assessment Brief on the implications of Omicron in Europe notes that "given the increasing number of cases and clusters in the EU/EEA without a travel history or contact with travel-related cases, it is likely that within the coming weeks the effectiveness of travel-related measures will significantly decrease, and countries should prepare for a rapid and measured de-escalation of such measures."
"Once a measure is put in place, it is very challenging to get governments to consider reviewing it, let alone removing it, even when there is plenty of evidence pointing in that direction. That is why it is essential that governments commit to a review period when any new measure is introduced.
"If there is an over-reaction—as we believe is the case with Omicron—we must have a way to limit the damage and get back on the right track. And even in more normal circumstances, we must recognize that our understanding of the disease can grow exponentially even in a short period of time. Whatever measures are in place need to be constantly justified against the latest and most accurate scientific knowledge," Walsh said.

Government reads riot act against extortions at airports - THE GUARDIAN
DECEMBER 10, 2021
The Federal Government has said that heavy sanctions await officials and agencies caught extorting passengers at airports nationwide, especially the Murtala Muhammed International Airport (MMIA), Lagos.
This is coming as the Federal Airports Authority of Nigeria (FAAN) said it is currently investigating six personnel that were lately caught extorting passengers, with a plan to recommend culprits for life ban from airports nationwide.
Special Adviser to the President on the Ease of Doing Business, Dr. Jumoke Oduwole, at a forum for heads of agencies in Lagos, said the Presidency was displeased with reports and trending videos on activities of personnel at the airports.
Oduwole warned that if care is not taken and leaders of these agencies are not held accountable for their subordinates' actions and inactions, there may be a clean sweep of the entire agencies.
Speaking to uniformed personnel at the airport including FAAN AVSEC, Nigerian Immigration Service, Nigeria Customs Service, National Drug Law Enforcement Agency, and Quarantine, Oduwole described the current MMIA as "a no man's land; a place where officials do anything they liked without consequences."
Managing Director of FAAN, Capt. Hamisu Yadudu, added that the Authority would monthly compile a list of violators and video clips or bank statement of the people that have been extorted or harassed by each agency, and copy the National Security Adviser (NSA), PEBEC and the Minister of Aviation.
Yadudu said: "In the light of all these videos, I called an emergency meeting and I said if this continues and nothing is done, it means, MD FAAN and other agency heads were accomplice and sharing the money.
"But the action we are taking now is, if you are caught, we will inform the NSA. We will enforce discipline and we will not cover up. Cover up is the biggest cause of the issues. Agencies want to cover their own. FAAN wants to cover its own. Stakeholders and airlines want to cover up and that is why people who are doing minimal violations graduate, overtime and become emboldened.
"And others that are not doing it see that there is no advantage because the others have more money and more privileges and so they join. If we identify any bad egg, we will ban him for life, take his ODC and nothing will happen."
NCAA: Why Nigeria Reduced Emirates' Flights from 21 to One Weekly - THISDAY
DECEMBER 10, 2021
BY Chinedu Eze
The Director General of the Nigerian Civil Aviation Authority (NCAA), Captain Musa Nuhu has confirmed that Emirates Airlines flight operations to Lagos has been suspended, while it is allowed to operate once in a week to Abuja.
The Director General explained to aviation correspondents in Lagos Friday that government decided to respond to the way United Arab Emirates (UAE) treated Nigerian airline, Air Peace, saying that it is the responsibility of government to protect Nigerian businesses.
UAE reduced Air Peace request for three times weekly flight to one, claiming it did not have enough slots for the airline.
Nuhu said that NCAA withdrew the approval to Emirates following the refusal of the General Civil Aviation Authority (GCAA) of UAE to grant equal rights to the sole Nigerian carrier, Air Peace flying to Dubai via Sharjah.
Nuhu explained that the Minister of Aviation, Senator Hadi Sirika, had graciously granted Emirates Airlines 21 frequencies weekly to two major airports in Nigeria; Lagos, 14 and Abuja, seven.
He regretted that despite this approval, the GCAA refused to grant Air Peace three weekly frequencies to Sharjah, which the airline requested for, but rather approved just one frequency weekly.
According to him, the GCAA had attributed its refusal to grant the three frequencies to the airline to inadequate slots in Sharjah airport, stressing that the government would continue to protect Nigeria's businesses.
"The Nigerian Government was gracious to grant Emirates Airlines 21 frequencies it requested for. The airline wants to operate 14 weekly flights to Lagos and another seven weekly to Abuja airports.
"However, Air Peace only requested for three weekly flights to Sharjah, not even Dubai airport, but the CAA refused the airline. The CAA only approved one weekly frequency to the airline. The only excuse they gave was that they don't have enough slots. Where is the justice in this? That is capital flight out of Nigeria. Nigeria should protect its own."
NCAA in a statement signed by the Director General also recalled that following the lifting of the ban on Emirates Airline passenger flights to Nigeria by the Government, the UAE based airline applied to Federal Ministry of Aviation for approval of its Winter Flight Schedule.
The requested schedule consisted of twenty-one (21) weekly passenger flight frequencies to Nigeria, comprising of two daily flights to Murtala Mohammed Airport, Lagos and one daily flight to Nnamdi Azikwe International Airport, Abuja.
"The Honourable Minister of Aviation graciously approved the Winter Schedule as requested without any hindrance or arrival slots requirements in the spirit and intent of the Bilateral Air Services Agreement (BASA) between Nigeria and UAE.
"Air Peace Airlines, the only Nigerian airline that operates passenger flights to Sharjah International Airport in UAE, requested for three weekly passenger flight frequencies and was granted only one weekly passenger flight frequency. The Director General of General Civil Aviation Authority (GCAA) attributed this action due to non-availability of arrival slots at Sharjah International Airport," the statement said.
NCAA explained that Bilateral Air Services Agreement (BASA) between countries are based on the principle of reciprocity for transparency and fairness to both sides, noting that while Nigerian Authorities approved the request of Emirates Airlines, UAE Authorities acted in total disregard of the terms and provisions of the BASA between the two countries by approving one out of the three weekly passenger flight frequencies requested by Air Peace Airlines.
"DG NCAA held a meeting with his GCAA (UAE) counterpart on Thursday 9th December 2021 at the sidelines of the ICAO Air Negotiation Conference (ICAN) in Bogota, Colombia which ended in a stalemate.
"The Honourable Minister of Aviation decided to apply the principle of reciprocity and withdraw the approval of the Winter Schedule given to Emirates Airlines and instead approved one weekly flight frequency to Abuja on Thursday. The DG NCAA notified The Country Manager of Emirates Airlines and DG GCAA of the new approved weekly passenger flight schedule.
"We want to assure the public that national interests in all aviation matters will be jealously guided and protected while regretting any inconvenience this action might
Reacting to the action of the federal government, many industry stakeholders commended government for the decision to withdraw Emirates flights from Lagos and leaving one flight a week to Abuja, saying that the principle of reciprocity encourages countries to respect one another.
Industry analyst and the publicity secretary of Aviation Round Table (ART), Olu Ohunayo, told THISDAY that what the Nigerian government did was commendable, noting that the he hopes that the Nigerian government would not dissolve the Presidential Steering Committee on COVID-19 (PSC) because the committee has done so much for aviation.
"What the federal government has done has not happened before in the industry and I applaud the PSC because they have given a bite to the aviation industry. The aviation industry is about reciprocity; that is what is used to negotiate power with nations.
"I have said it before and I stand on it. When you designate a carrier to represent you. That carrier, irrespective of the ownership, becomes the flag of Nigeria as long as it is representing Nigeria. Once it is your flag, all the support you can give to your national carrier you give to that airline that is carrying your flag; except it is going on a private charter. So the designated airline must get the same protection as British Airways, it must get the same protection as Emirates.
"I am happy I am seeing this in my life time. It is the time to call the bluff of Emirates," he said.
Nigerians are upset over UK's omicron travel ban - DW
DECEMBER 10, 2021
As the UK's omicron travel ban stirs a racism debate in Nigeria, health officials in the country worry the low vaccination rate could trigger a fourth wave of COVID-19 infections.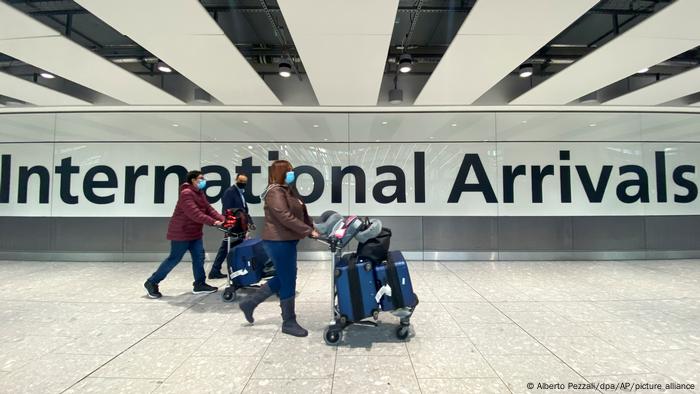 Nigeria is one of several countries, all of them African, who are banned from entering the UK
Nigeria became the eleventh African country to be added to the UK's red list earlier this week over fears travelers from the country could help spread the omicron COVID-19 variant in Britain.
Announcing the ban, the UK's Department of Health said 21 omicron cases, or 16% of all known cases of the new variant at the time, were linked to travel from Nigeria.
Nigerians join nationals of Zimbabwe, South Africa, Botswana, Mozambique, Angola, Malawi, Eswatini, Zambia, Lesotho and Namibia who are also banned from entering the UK.
British or Irish nations, or those who have residents rights in the UK, can only enter if they go into a 10-day hotel quarantine, paid at their own expense.
The British travel ban is "not driven by science" and is "unjust, unfair, punitive, indefensible and discriminatory," Nigeria's Information Minister Lai Mohammed told reporters on Monday.
Nigeria recorded its first case of omicron on December 1, 2021
'Health apartheid'
Omicron — designated as a variant of concern by the World Health Organization — was first reported by scientists in South Africa and Botswana.
But its country of origin is not yet certain, and it has since been detected in numerous European countries as well as in Asia and the United States.
Nigerians say it's racist that the UK only has African countries on its red list, despite the growing prevalence of omicron outside the continent.
"This is not fair," said Blessing Musa, in Abuja for a visit from the UK where he studies. He faces high quarantine fees when he returns. "This is much like health apartheid."
Hajara Yusuf in Abuja is also angry about the ban: "I see it as continuous oppression of our people — that's Africans and under-developed countries."
In the week up until December 2, Spain and Italy had a higher percentage of travelers testing positive for COVID-19 after arrival in the UK, compared to Nigeria (although the NHS report this data is based on does not give details of what variant travelers were infected with).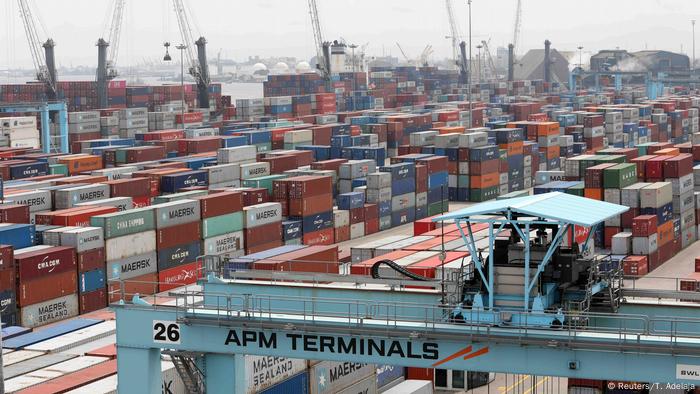 Nigeria is the second largest African market for UK goods
Business affected
Nigerian traders also fear that the UK travel ban will make doing business between the two countries much harder.
Trade between the UK and Nigeria, the UK's the second largest African market, already decreased slightly in 2020 compared to the previous year.
"It [the travel ban] will affect the economy of both countries," businessman Jamilu Isa told DW.
Rising COVID-19 cases
At the same time as decrying the UK travel ban, Nigeria faces the threat of a fourth wave of the virus as it sees an uptick in case numbers.
Lagos governor Babajide Sanwo-Olu has warned that the positivity rate, or the number of COVID-19 tests that are positive, is on the rise in Nigeria's commercial capital where more than 20 million people live.
Nigeria recorded 268 new COVID-19 infections on Wednesday, a 150% increase on the 107 cases recorded the previous day, although the low numbers are likely due to the country's paltry testing rate.
Testing is simply too expensive for the vast majority of Nigerians. A PCR test costs nearly €110 ($123), a vast sum in a country where some 40% of the population live under the poverty line.
In an attempt to curb the spread of the virus, as of December 1, the West African nation began requiring government employees to be vaccinated or have tested negative in the past 72 hours.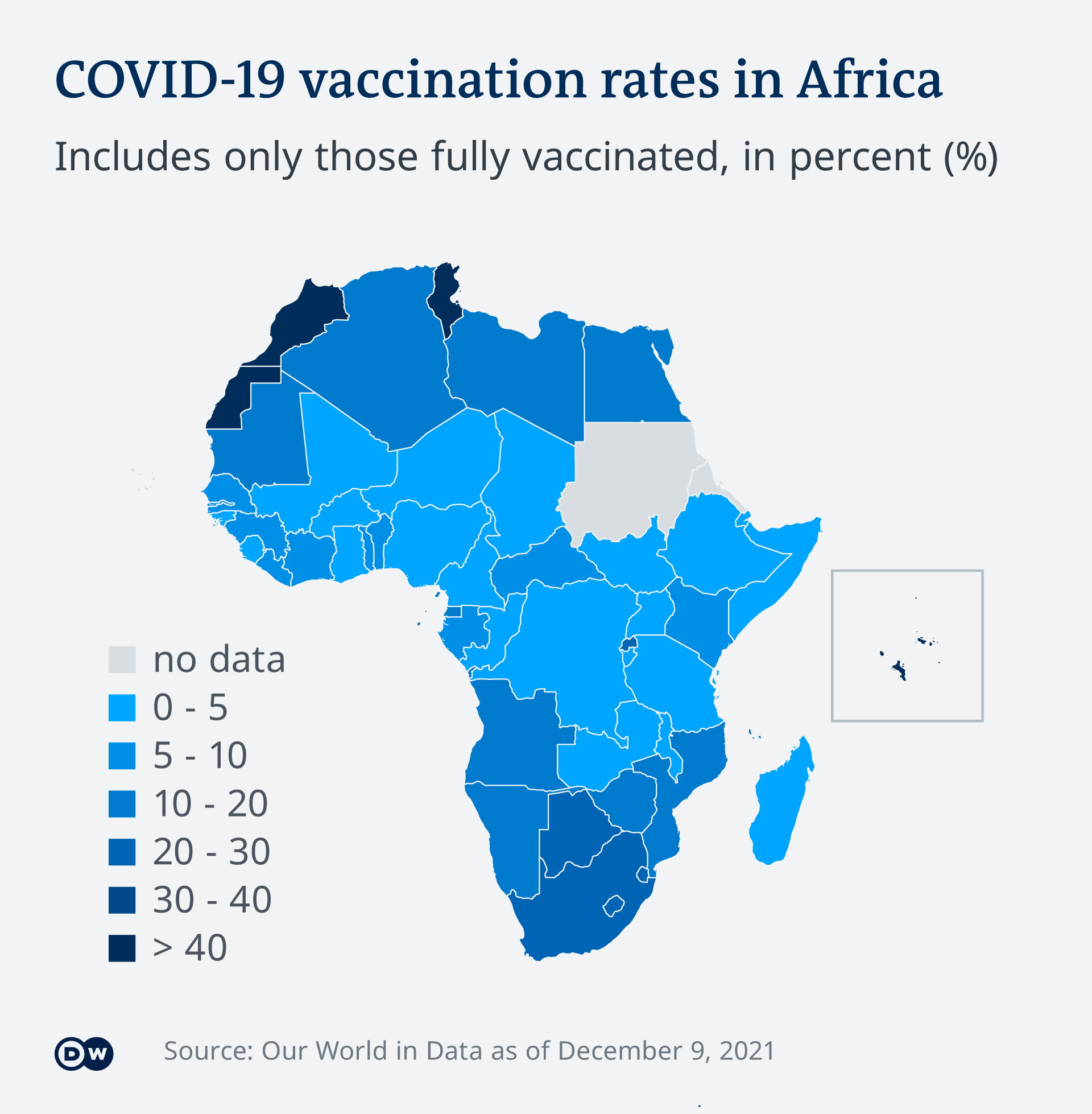 Slow vaccination campaign
If omicron proves to be more transmissible than the predominant delta variant, Nigeria's low vaccination rate leaves millions susceptible to infection.
Less than 4 million of Nigeria's 206 million people, or less than 2% of its population, have been fully vaccinated so far, although health officials have set a target of vaccinating at least 55 million within the next two months.
Authorities emphasize that there are Western-manufactured vaccines available to all of those who are willing to get the jab.
But healthcare workers in rural regions, who can get vaccinated for free, are struggling to access the vaccine, mostly because of delayed government funding.
In private vaccination centers, residents are required to pay an administration fee of up to 6,000 naira ($14.70; €13) — another obstacle to the vaccination campaign.
And in another blow to the government's efforts to raise the vaccination rate, up to one million COVID-19 vaccines are estimated to have expired in Nigeria last month without being used, according to Reuters.
AIR PEACE, FARES AND FLIGHT OPERATIONS - THISDAY
DECEMBER 10, 2021
Fred Chukwuelobe argues that the airline is operating within the laws
Leading Nigerian airline, Air Peace, has come under intense scrutiny and what appears to be an orchestrated campaign of calumny from a cross section of its flying public regarding its operations. The bone of contention is centered on two fronts: fares and flight operations. The airline has been accused of frequent flight delays and in some instances outright cancellations as well as charging arbitrary fares between its South East and Northern routes. Some passengers accused the airline of using the excess fares from the South East to subsidize the lower fares paid by passengers on the Northern routes.
Recently, some uninformed passengers took to social media and posted videos containing allegations of inefficiency on the part of the company, which were false or borne out of ignorance or outright mischief. Yet, some have genuinely been offended by such situations and have rightly expressed their frustrations too.
Another set of passengers were seen on social media holding one of the flights, refusing to vacate the apron unless their flight operated. They accused the pilot of arrogance and poured broadsides unjustified invectives on the airline. Meanwhile, the pilot was forced to cancel the flight when an unruly passenger refused to leave the plane on the pilot's instruction. Other passengers were alleged to have joined the affected passenger in protest, the kind of scenario you encounter on our roads with passengers often siding a reckless driver.
In the case of the passenger who posted a video alleging all sorts, Air Peace airline departing Owerri, Imo State, had a bird strike and was forced, for safety reasons, to make an emergency landing in Port Harcourt, Rivers State. Few days after that, another flight, one of the newest aircraft in its fleet, had another bird strike in Asaba, Delta State, effectively grounding the aircraft and affecting all the routes that aircraft was to operate that day. Just as the airline was making history landing its first commercial flight into the new Anambra State International Cargo and Passenger Airport, another aircraft was grounded in Akure, Ondo State, by yet another bird strike, further compounding the airline's ability to meet its contractual agreement to its passengers. In the Asaba incident, passengers were alleged to have become unruly and beat up some Air Peace staff. Did they expect them to go to nearby Onitsha Main Market and hire or buy a replacement aircraft? Who is responsible for clearing the runway of birds?
It is important to point out that delayed or cancelled flights affect scheduled appointments and cause untold hardships on the travelling public. It is also important to note that, safety is the first concern of all airline operators and that flights may be delayed or cancelled under certain conditions, one of which is the bird strike cited above.
However, Air Peace airline, concerned about the allegations of fare disparity, recently denied that it charges more for flights originating or terminating in the South East geo-political zone while those up North are charged less.
In explaining the so-called disparity, Air Peace stated that"we do not discriminate against South East. It is the same fare that is loaded for all the routes all over Nigeria. Our fares start from N23, 000. They progress from there to N60, 000 which is our highest economy class fare. For an aircraft that carries 136 passengers (12 business class and 124 economy) the fare is allocated as follows: N23,000, 10 seats; N27,500 – 20 seats; N30,000, 25 seats; N33,000- 15 seats; N35,000, 15 seats; N42,000, 10 seats; N47,000, 5 seats; N50,000, 5 seats, N55,000, 5 seats and N60,000, 14 seats.
"The above fares are loaded in the system for all the destinations – North, East, South and West. No discrimination. If the first 10 seats of N23, 000 fare are filled up, the system will automatically start showing the next fare which is N27, 500. If the allocated seats on this are exhausted, it will migrate to the next until it gets to the last 14 seats which is N60, 000.
"So, what happens is that as it is getting fuller, the higher fares will be showing up. Now, the Eastern routes, because of high traffic, gets sold out faster than some places, thereby showing higher fares faster, but the other destinations, though slower, will also pay the same higher fares as they get fuller."
The airline further explained that the fare of N95, 000 pointed out by a passenger is not our economy fare but our business class fare. "It is very mischievous for anyone to deliberately bring out our highest business class fare for Owerri and juxtapose it against a Kano economy class fare selling at that time, thereby making the unsuspecting reader to think that the Owerri passenger is paying N95, 000 for the same class of ticket the Kano person was paying N33, 000 for. Our fares are the cheapest in Nigeria for our type of aircraft," the airline concluded.
Customers of the airline have the right to air their grievances. In expressing these, such passengers ought to note that, travelling by air or using air transport services confers certain rights on them. But it also comes with some responsibilities. Among these are: One, the right to the full value for your money. Two, the right to compensation for flight cancellation, delays, damaged/loss baggage and denied boarding for reasons other than technical, weather conditions, air traffic control restrictions, security risks and industrial disputes that affect the operation of the flight. Three, the right to book and confirm tickets with an airline of your choice. Four, the right to the provision of a conducive airport environment before, during, and after flights.
Five, the right to seek redress for all irregularities during your flight. Six, the right to timely feedback in respect of matters/complaints lodged with service providers. Seven, the right to be fully informed about flight status. Eight, the right to be treated with respect and dignity irrespective of race or physical condition.
If the passengers who refused to leave the apron in protest with their unruly co-passenger knew what they were doing, they ought not to have done that public show of it and abused the airline. Yes, it is within their rights to protest delayed or cancelled flights, but holding the airline to ransom and refusing to leave the apron is criminal and they could be arrested and prosecuted. The regulators have provided avenues for seeking redress. Rather than hold down operations, passengers should seek redress through such avenues. It is criminal to disrupt services during pre-boarding or on-board the flight. The Nigerian civil aviation rules demand that all passengers cooperate with the crew by refraining from use of cell phone, other communication gadgets during flights, refraining from aggressive or abusive behaviours, be a responsible passenger and encourage others to behave responsibly too; obeying the rules, and avoiding all rude attitudes.
In asserting these rights, any aggrieved passenger should make his or her complaints courteously and seek redress where possible.
All airport and airline staff deserve to be treated with respect and courtesy. An airline reserves the right to deny boarding/ deboard a passenger for unruly behaviour. I witnessed this on an Ibom Air flight departing Enugu to Lagos. It cost us 22 minutes delay, but we didn't mind.
Passengers interfering with flight crew and aircraft attendants, guilty of offensive, disorderly conduct such as physical assault, verbal abuse or sexual harassment of any airline or service provider staff attract severe punishment in addition to fines or jail term.
Airline operators in Nigeria have many challenges running that business in a harsh environment like ours. The regulatory agencies have a responsibility to provide the enabling environment for the operators to thrive and make profit which is badly needed if they were to offer the sort of services passengers demand and deserve. But we know this is far from the reality. So, we ought to be patient with Air Peace as it struggles to overcome these challenges.
Air Peace is a private concern, operating in a strictly regulated industry. Its fares are subject to scrutiny by the regulatory agencies. If they are not approved, they cannot charge them.
For every fare you pay, it is shared among the many agencies. What comes to the airline is not the N95, 000 or N60, 000 that a passenger cited in one of the trending complaints which Air Peace addressed.
If anybody feels very strongly about their fares, I think there are alternatives: Ibom Air, United Nigeria, Dana, Max, Arik, Aero, etc. I will rather protest by patronizing other airlines to bashing the airline/the owner repeatedly as has been the case of late.
Frankly, the best way to protest their high fares or frequent cancellations of flights is to seek alternatives. We can as well travel by road.
We should bear in mind that Air Peace is not a publicly-quoted company where we, as shareholders, can intervene and determine how our company is run. The airline spent several millions of USD to buy a replacement engine to repair the one in Port Harcourt, which was damaged by bird strike. It will spend more for the aircraft grounded in Asaba and Akure.
Many airlines have come and gone. It is an industry that is capital-intensive and domiciled in USD. You may wish to ask me if other airlines operate in different industries and use Naira. Fact is, it is a private concern and operates in a regulated system. If anybody feels strongly opposed to what they charge or angry, and rightly so, for delayed or cancelled flights, l guess it may serve us better to petition the regulatory agencies rather than take laws into our hands and either disrupt operations or beat up the staff.
Even in filing complaints on delayed or canceled flights, passengers need to be reminded that under aviation rules, airlines are duty-bound to cancel or delay flights under certain conditions such as force majeure (unforeseeable conditions beyond the control of the airlines and which prevent them from fulfilling the terms of conditions of the contract between them and their passengers). These include: bad weather, run out of crew time, VIP movement, among others.
Having said that, let me also admit that airlines have been guilty in some instances of not regularly informing/updating passengers of these delays and/or cancellations. The guiltiest are those on the management cadre. They are known to have often disappeared from the scene when passengers protest, leaving middle-level staff, whose powers are limited, at the mercy of aggrieved passengers.
This is one area the management should continuously train and retrain their staff; to provide regular information on flight schedules and to do their best to calm frayed nerves.
Air Peace may as well scale down on its routes and operate those their fleet can effectively cover. I know the decision to operate many routes may have been informed by business as well as political considerations. I also know the airline places highest premium on safety and hence the delays or cancellations. Even at that, the interest and complaints of the traveling public should be of paramount concern to the management and if courteously and adequately addressed and compensations made where necessary, that will lessen the superficial war being waged by a cross-section of the travelling public.
Chukwuelobe is a media consultant and public affairs analyst
Amid weak regulation, Nigerians lament as more airlines delay flights - PREMIUM TIMES
DECEMBER 10, 2021
As more people adopt air travel, they have also faced a different kind of challenge: a rising spate of delayed flights.
By Abdulkareem Mojeed

In late November, after Airpeace cancelled a 3.00pm Ibadan-Abuja flight he had booked, Fadugba Ekundayo who was already at the airport when he learnt of the cancellation, decided to try Ibom Air.
He had an appointment to keep, so he booked Lagos to Abuja for 8.00pm, and opted to travel by road for three hours to catch the flight in Lagos. He was greeted by yet another disappointment.
"Ibom air without any form of apology except for the usual operational reasons delayed the flight till about 10: 30 pm," Mr Ekundayo narrated on Facebook.
In Lagos, he saw passengers of Max Air heading to Kano, whose flight had been slated for 6:00 pm, still stranded at the airport.
When he eventually arrived in Abuja shortly before midnight, Mr Ekundayo ran into robbers who snatched his phones and other valuables just as he was leaving the airport.
Traveling in Nigeria has lately become a nightmare with many of the country's roads taken over by kidnappers, forcing many to seek alternatives. As more people adopt air travel, they have also faced a different kind of challenge: rising spate of delayed flights.
Mr Ekundayo is one of several passengers that have experienced disappointments as result of flight cancellations or delays by airline companies in the country without concrete reasons.
Aniekan Essienette, Ibom Air's group manager, marketing and communication, acknowledged that indeed the airline had repeated flight disruptions in November. He said the disruptions were caused by weather fluctuations and flight maintenance.
"Yes we had a week of flight disruptions owing to weather and a couple of unscheduled maintenance carried out on our aircraft," she told PREMIUM TIMES, adding that while that was on, they had sent messages rescheduling some of the flights.
"Unfortunately some of them ran into the night and we deeply apologise to our passengers for that," she said. "It is not in our character to keep passengers beyond flight times as our brand ethos is schedule reliability, on-time departures and excellent service. We certainly fell short this time, we deeply apologise and promise to do better. We want to assure our passengers we appreciate their patronage, and would never take it for granted. We have taken the learnings and we are positioned to handle much better next time."
The airline's November scorecard seen by this newspaper showed that Ibom Air operated a total of 1023 flights that month, of which 283 were delayed, 119 rescheduled, and 19 cancelled.
"Sadly, we stumbled and delivered below our standards and your expectations in November. The reasons are not important. It's the results that matter! We have gotten up, dusted ourselves and refocused to deliver again on our established standards and your expectations," the company wrote.
Stanley Olisa, Air Peace spokesman, also told this newspaper that the airline apologised for the cancellations and delays their passengers must have encountered.
He said: "It hurts us that passengers have to experience such. But no airline intentionally delays or cancels flights."
Mr Olisa explained that delays and cancellations are always caused by "unexpected operational realities", saying that; "we clearly communicate to the passengers, with apologies for the inconveniences.
"We are assuring the flying public that from December 10 these disruptions will be a thing of the past as we're introducing 2 Airbus 320s, one more Embraer 195-E2 aircraft (totalling five on ground), and most of our aircraft on overseas maintenance will be returning very soon," the official said.
More Nigerians lament
Azeezat Armah, a nursing mother who also shared her recent encounter with PREMIUM TIMES, said she booked a 2:30 pm flight from Abuja to Lagos with Air Peace, but the trip was delayed for over five hours without apologies or explanation.
Before leaving for the airport, the company had sent a mail that her flight had been shifted from 2:30 pm to 4:45 pm, and apologised, but on getting to the airport, Mrs Armah said she met other passengers who had booked 12:00 pm flight still waiting to board.
"This time around, they did not announce the flight postponement, people were just there seated, nothing was happening, no apologies or explanations were given for their actions," she told PREMIUM TIMES.
Mrs Armah said they were called to board at almost 10:00 pm, and that the company had to combine five batches of travellers on an international flight that later arrived.
"You can imagine what I passed through that day with my baby," the displeased passenger recalled, saying they arrived Lagos at some minutes after 11:00 pm. They waited another two hours before being conveyed from the international wing to pick up their luggage.
"My baby arrived home at 1:00 am the next day," she said.
Another nursing mother, Maryam Mojeed, who shared her November 21 experience with Max Air, said she booked a 3:50 pm Max Air flight from Abuja to Benin, but arrived at her destination at almost 7:00 pm.
"Earlier that day, I was notified that the flight was now moved backward to 3:10 pm which made me hurriedly leave my house in order not to miss the flight," Mrs Mojeed recalled.
The text message she received from the company reads; "Dear Esteemed passenger, this is a follow up reminder that your Max Air flight VM1626 From Abuja-Benin for 21st/11/2021 is rescheduled to depart at 03:10pm., Max Air sincerely apologise for any inconveniences caused by this change. For more Inquiries please Call: 0909 0092 221, 09090092207, 09090092202, 09090092201."
Mrs Mojeed said she arrived at the airport on that day at 2:00 pm, but was surprised that no boarding announcement was made for the 3:10 pm.
While wondering if she had missed the flight announcement, she said she observed that other passengers bearing similar tickets as hers were still seated.
"I began to wonder what was happening since no apologies or whatsoever from them for delaying the flight again," she said. By 4:30 pm, the airline made an announcement that the flight had been delayed by another 30 minutes. They were finally called to board at 5:16 pm.
Often, during the long wait at the boarding terminals of airports, most passengers are forced to spend more on food they never budgeted for, especially as foods and even snacks sold at Nigerian airports are usually more expensive.
Repeated calls to the above help lines designated by Max Air for enquiries were to no avail, as they are all switched off.
Some Nigerians who also experienced similar ordeals recently took to social media to vent their anger.
Wole Olaoye, a victim of delayed flight, posted on his Facebook page recently saying; "Frustrated passengers waiting for another delayed Air Peace flight in Abuja this morning.
"When will Air Peace be called to order by the authorities? TV adverts are utter rubbish when you can't run a simple schedule! Bleeding shame! FAAN," Mr Olaoye wrote.
Koonlay Perse, another user said "I'm not surprised! Our local airlines are not better than "Molue" buses plying Lagos roads!! I'm yet to remember a local flight I had in Nigeria that performed punctiliously on time."
In another post, Segun Basorun, said: "Quite unfortunate and very frustrating. Landed Abuja yesterday on Aero at 11.45 pm, a supposedly 5pm flight. No apologies no nothing. I think it's time we have a systematic response to this madness by Nigerian airlines. Imagine, the first flight? I pity all those on Airpeace flights today."
"So disheartening to the say the least Sir. Especially, when you realise that even with the massive outcries and cascades of complaints by passengers, nothing have been done by the authorities involved. With the kind of government support and public good will air peace has been enjoying, it is just unbelievable the way they treat passengers,"Lucious Kelechi wrote.
Poor Regulation
The Minister of Aviation, Hadi Sirika, in July had announced that airlines shall reimburse passengers after a two-hour delay. It is not clear how that directive has been enforced.
Sam Adurogboye, the general manager of the Nigerian Civil Aviation Authority, urged passengers to take advantage of available consumer protection laws, including compensations for denied boarding, delays and cancellations of flights.
He, however, explained that it is not all delays or cancellations that are not excusable. Some he said are caused by adverse weather conditions or technical issues or safety related issues.
"Flight would be delayed till it is safe to operate. But the aairline is duty-bound to notify their passengers on time," he said.
Calls and WhatsApp messages sent to Henrietta Yakubu, the spokesperson of the Federal Airport Authority of Nigeria, FAAN, were unanswered.
Emirates suspends flights to Nigeria indefinitely - PREMIUM TIMES
DECEMBER 11, 2021
The airline says it is responding to a restriction on its operations by the Nigerian government.
By Ayodeji Adegboyega
Emirates has announced the suspension of flights operations to Nigeria indefinitely.
The Dubai-based airline said it took the action in response to a restriction by the Nigerian government limiting its flights to the country to just a once a week.
The government on Thursday limited the carrier's daily flights to Abuja to a single run a week and denied approval for the airline's winter schedule.
The director general of the Nigerian Civil Aviation Authority (NCAA), Musa Nuhu, said the government took that step after authorities in the United Arab Emirates (UAE) denied Nigeria's only carrier to Dubai, Airpeace, the three frequencies it requested.
"With the recently imposed directive limiting Emirates to operate one flight per week to Nigeria via Abuja, Emirates will be suspending its flights between Nigeria and Dubai from 13 December 2021, until the UAE and Nigerian authorities work on a solution to the ongoing issue," Emirate announced Friday night on its website.
It added: "The last flights to operate on 12 December 2021are EK 783/784 to/from Lagos and EK 785/786 to/from Abuja.
"Customers holding tickets with the final destinations Lagos and Abuja will not be accepted at the point of origin.
"Affected customers do not need to call us immediately for rebooking. Customers can simply hold on to their Emirates ticket and when flights resume, get in touch with their travel agent or booking office to make new travel plans.
"Emirates regrets any inconvenience caused.
"In order to receive the latest updates on their flights, customers are also advised to ensure that their contact details are correct by visiting Manage Your Booking
"Emirates is committed to its operations in Nigeria, and we stand ready to reinstate services once restrictions are lifted by the Nigerian authorities, ensuring travellers have more choice and access to trade and tourism opportunities in Dubai, and beyond to our network of over 120 destinations."
Comparing Dubai at 50 with Nigeria at 61 - VANGUARD
DECEMBER 11, 2021
To cast light on Nigeria's stunted growth despite her enormous potentials in human and material capital , let us compare our country which obtained her independence from British colonialists in 1960 with the United Arab Emirates, UAE which was formed in 1971 under the counsel of the same Britain.
So, while Nigeria is 61 post independence, UAE just celebrated the 50th anniversary of its founding , the UAE is ten years younger than Nigeria, yet she is light years ahead of our country in industrialization , adoption of high technology and prosperity of citizens .
According to the UAE office of the Historian, prior to 1971, the Trucial Sheikdoms of Abu Dhabi, Dubai, Sharja, Ajman, Umm al-Qaiwain, Fujairah, and Ras al-Khaimah were under a British protectorate.
Fifty years after her coming together as a country, she is the toast of the world for the socioeconomic, infrastructural and dexterous management of its diversity.
Even as Nigeria has been caught up in the past 61 years in the shenanigans of ethnic supremacy, religious rivalry and insurgency, banditry and separatism, the UAE has been plotting its way into the club of countries with presence in the orbit with its recent deployment of satellites and a robot to planet Mars and the building of awe inspiring infrastructure so magnificent that it appears to have trounced that of the Uk, USA and France, put together.
While Nigerian authority's predilection for proposing archaic policies such as RUGA and re-enacting millennium old grazing routes/reserves for cattle is legendary ; the UAE has got the whole world cooing about her stupendous wealth, adroitness of their leaders and the indomitable spirit of the Emiratees which in terms of population is far less than delta state, that is a little less than six (6)million people .
And it is a testament to that country's ingenuity that despite the fact that she is located in the gulf region and nestled in the desert between Saudi Arabia, Oman and lran, it is the world's foremost tourism destination, while at the same time attracting hordes of business into the country because of its gigantic man made sea ports and some of the world's biggest and busiest airports. Little wonder, it is the undisputed market hub for practically all major multinational firms that have set up offices there for their Middle East and Africa markets .
Now, can Nigeria be more Islamic than the UAE? Not by any chance.
Yet,while Nigeria is locked in religious extremism leading to deadly clashes between Muslims and Christians resulting in colossal human and property losses in the past decades , the UAE just entered a strategic arrangement with Israel, a Christian and Zionist country that is a world leader in technology, to set up technology driven businesses in Dubai with a view to achieving technology transfer.
So , in a very profound way, the UAE places peace, progress and prosperity of Emiratees above prebendal issues of religion or tribal rivalry, matters on which we dissipate colossal energy in Nigeria.
Like our country , the desert nation of UAE is made up of diverse nationalities and ethnic groups, yet the country is very stable and therefore a very much sort after investment haven for funds managers from Europe, (Sweden , Denmark and other Scandinavian countries with huge sovereign wealth funds deployed as foreign direct investment,FDI ) and from North America – multinational corporations like the USA , Canada and Mexico.
That is in stark contrast with the volatility and instability of government and governance in Nigeria occasioned by religious and ethnic intolerance, which have prevented potential investors from pitching their tents in our country. Available statistics indicate that only an inflow of a paltry sum of about $320m in FDI came into Nigeria in 2020 . That is despite the existence of abundance of God given virtues, which is underscored by the fact that Nigeria is not only the largest market, but also has the highest Gross Domestic Product , GDP in the continent of Africa.
Even as the United Arab Emirates, UAE present a striking blend of ancient customs and modern technology, of cosmopolitanism and insularity, Nigeria is the antithesis of all the positive virtues that the 50 years old Arab country represents because, regrettably , our leaders' policies are anachronistic.
At the risk of appearing to be calling out my country and waxing lyrical about the great accomplishments of another country's strategic and visionary leaders , it is with all sense of responsibility that l am denouncing the apparent myopic world view of our leaders whose policies are mired in pre-historic and archaic idiosyncrasies.
Which is why l would like to recommend that president Mohammadu Buhari models Nigeria's development after the UAE's extraordinarily captivating system simply because it is a universally acknowledged success story and he too can attest to the wonder in the desert which Dubai, in particular has been transformed into.
The advise is also especially apt now, since mr president has just returned from a visit to the UAE's months long EXPO 2020, where that desert country exhibited her scintillating accomplishments in the 50 years of its formation as a united country of seven Emirates independently optimizing and reaping the benefits of the natural endowments endemic in their various locations.
One can imagine that if the UAE were to be Nigeria , all the other Emirates would literally run pipelines into Abu Dhabi to suck all the oil endemic in that region as all the states in Nigeria appear to be doing by relying solely on the oil/gas in the Niger Delta region for sustenance instead of harnessing other natural resources available in their localities as the UAE is doing with Dubai as the hub for trade, industry and tourism and the other Emirates like Ras Al-Khaimah, Fujairah , and Ajman being centers for agricultural production and various activities in which they enjoy comparative advantage.
Put succinctly, why can't Nigeria adopt a development strategy similar to UAE's proven formula ? The Niger delta can be like Abu Dhabi as oil/gas hub, Lagos as commercial , industrial and financial center like Dubai and the northern region would be like Ras Al-Khaimah for agriculture and the eastern region can be the artisan and engineering hub like the other Emirates like Sharja , Umm al-Qaiwain etc in the UAE.
I am of the conviction that such might have been the vision of the British colonialists that modeled our country structure after their own parliamentary system at independence in 1960. And it was working well for us until some smart Alecs with guns, (six years after the British left our destiny in our hands in 1960-66) derailed the train of progress via a mindless coup detat and six (6) months after that sad event, another set of the same spoilers with guns, further muddied the waters via a counter coup, and thus consolidated the damage already inflicted by the first set of military adventurists by adopting the unitary system of government disguised as federalism. More than 50 years after the first coup that started a civil war, the military incursion into politics remains the main culprit for Nigeria's arrested development.
Is the quest to reverse the mistakes made by the military (wittingly or unwittingly) in 1966 and subsequently consolidated by the politicians who took over from them, not what the current clamor for restructuring is all about ?
The bottomline of this piece, (which is actually a plea) is that our political leaders should strive to be more religion and tribe neutral. That is one sure way that we can have the chance to be like the UAE.
More liberalism and less totalitarianism is one sure way that as a nation , we can optimally harness our latent potentials to enable us collectively attain the destined level of prosperity, from which we are currently very far from achieving, largely due to the dearth of innovative and dynamic leadership vision of the hue that has been deployed by the leaders of the UAE that which has enabled them turn desert into paradise .
In conclusion, l am optimistic that my fervent plea for our leaders to, like true patriots resolve to rise above ethnic and religious considerations and resolutely pursue a political settlement of the crisis of separatism and terrorism threatening to wreck the nation, and adopt the UAE development model would not fall on deaf ears.
Because it would facilitate the harnessing of the full potentials of our beloved country that is currently hamstrung by the pursuit of inanities by some of our past and current leaders as earlier outlined .
Without a scintilla of doubt, it is clear that the urgency of seeking innovative ways to put our country together again can not be denied , as it is increasingly looking like the subject of the kindergarten rhyme, Humpty-Dumpty that sat on a wall, had a great fall and all the kings men could not put it together.
If the UAE leader Khalifa Bin Zayed Al Nayan and his co-rulers of the 7 Emirates presently known as the UAE could co-operate with each other to cobble together an originally disparate people from the seven (7) Emirates that were independent and banded together as one nation in 1971 to form one country; and thereafter rose meteorically to the level of being the envy of many nations, l do not see why Nigeria and Nigerians should continue to be mentioned in same breathe or be grouped together with wretched countries like Afghanistan, lraq, Syria, or be at the bottom of the rung of the comity of undeveloped nations.
For the sake of emphasis, were it not for the mismanagement of our diversity by our leaders to the extent that the twin monsters of secessionism and terrorism have been unleashed with ethnic nationalism and religious extremism as propellants, our country would not be in such a sorry state today.
We need no soothe sayer to enlighten us on the fact that a combination of religious insurgency , ethnic supremacy and separatism that have collectively and significantly impaired the productivity of our country men and women, (hence we are currently punching below our weight) should not be allowed to fester, more so because they are preventable and avoidable through good leadership.
And what a glorious country Nigeria would have been, were it not for the mismanagement of our diversity- a condition which leaders of other climes such as the UK, Switzerland, Canada and UAE that are also comprised of diverse people are successfully managing and harnessing for the beneficially interest of the citizens of those nations.
Now that our leaders have been fully apprised of what has been ailing us as a nation, and as we prepare to enter the year 2022, hopefully they would make a new year resolution to be more flexible and responsive to the stimuli of progress through dialogue and negotiations amongst the multifarious ethnic nationalities and religions for the common good and prosperity of all.
•ONYIBE, an entrepreneur, public policy analyst ,author, development strategist, alumnus of Fletcher School of Law and Diplomacy, Tufts university, Massachusetts, USA and a former commissioner in Delta state government, sent this piece from Lagos.
Reunite families at Christmas by relaxing hotel quarantine rules – Heathrow boss - P.A.MEDIA
DECEMBER 11, 2021
BY Neil Lancefield, PA Transport Correspondent
Travellers returning to the UK from red list countries should be allowed to self-isolate at home over Christmas rather than be forced to stay in a quarantine hotel, according to the boss of Heathrow Airport.
Chief executive John Holland-Kaye called for the rules to be relaxed to enable more people to spend the festive period with friends and family.
He also urged the Government to reverse tighter testing requirements as soon as it is safe to do so.
To view this content, you'll need to update your privacy settings. Please click here to do so.
Mr Holland-Kaye made the comments as Heathrow announced it was used by 3.1 million passengers last month.
That was more than four times higher than the total for November 2020 – which was affected by a coronavirus lockdown – but is half the pre-pandemic figure of 6.2 million during November 2019.
Heathrow said it has seen a "high level" of cancellations by business travellers concerned about being trapped overseas since it was announced that the requirement for pre-departure testing would be reintroduced from Tuesday.
The airport is expecting demand for air travel to be "slow" during the coming months, with a total of around 45 million passengers in 2022.
That would be just over half of pre-pandemic levels.
Mr Holland-Kaye said: "By allowing Brits to isolate at home, ministers can make sure they are reunited with their loved ones this Christmas.
"It would send a strong signal that restrictions on travel will be removed as soon as safely possible to give passengers the confidence to book for 2022, opening up thousands of new jobs for local people at Heathrow.
"Let's reunite families for Christmas."
There are currently 11 African countries on the red list.
People arriving in the UK from those locations must spend 11 nights in a quarantine hotel at a cost of £2,285 for solo travellers.
Tougher rules introduced due to the Omicron coronavirus variant also mean travellers entering the UK must have evidence of a negative pre-departure test, and self-isolate until they receive a negative result from a post-arrival test.
The Conservative chairman of the Transport Select Committee has urged Health Secretary Sajid Javid to explain the rationale behind the new rules.
In a letter, Huw Merriman asked the Cabinet minister to explain what "benefit" reintroducing pre-departure testing has when post-arrival testing is already required.
He called on Mr Javid to "publish the evidence" behind the new rules, and asked him "when you expect such measures to end".
Mr Merriman concluded that the "lack of financial support" accompanying the new rules mean travel sector workers are "keen to understand the reasoning behind, and the likely duration of, these measures".
New York State Will Require Masks in All Indoor Public Places - BLOOMBERG
DECEMBER 11, 2021
(Bloomberg) -- New York Governor Kathy Hochul ordered all businesses to require masks indoors if they don't have a Covid-19 vaccine requirement.
"My two top priorities are to protect the health of New Yorkers and to protect the health of our economy," she said in a Friday statement. "The temporary measures I am taking today will help accomplish this through the holiday season."