Travel News
WHO: Omicron detected in 89 countries, cases doubling fast - ASSOCIATED PRESS
DECEMBER 18, 2021
VIENNA (AP) — The omicron variant of the coronavirus has been detected in 89 countries, and COVID-19 cases involving the variant are doubling every 1.5 to 3 days in places with community transmission and not just infections acquired abroad, the World Health Organization said Saturday.
© Provided by Associated Press Despite rainy weather, Duesseldorf's city centre is well frequented despite the Corona rules for retailers, shortly before Christmas in Duesseldorf, Germany, Saturday, Dec. 18, 2021. (Malte Krudewig/dpa via AP)
© Provided by Associated Press Closed turn stiles following the news that Aston Villa's match against Burnley at Villa Park has been postponed, in Birmingham, England, Saturday, Dec. 18, 2021. The Premier League lost another match to a COVID-19 outbreak in a squad when Aston Villa's home game against Burnley was postponed around two hours before kickoff. Villa said it did not have enough players to field a team following more positive tests in its squad. (David Davies/PA via AP)

Omicron's "substantial growth advantage" over the delta variant means it is likely to soon overtake delta as the dominant form of the virus in countries where the new variant is spreading locally, the U.N. health agency said.
© Provided by Associated Press A woman receives Moderna COVID-19 vaccine as riders train at the National Velodrome in Saint-Quentin-en-Yvelines, west of Paris, France, Friday, Dec. 17, 2021. The government is holding a special virus security meeting Friday to address growing pressure on hospitals in France from rising infections. (AP Photo/Christophe Ena)

WHO noted that omicron is spreading rapidly even in countries with high vaccination rates or where a significant proportion of the population has recovered from COVID-1levels of population immunity
It remains unclear if the rapid growth of omicron cases is because the variant evades existing immunity, is inherently more transmissible than previous variants, or a combination of both, WHO said.
Other major questions about omicron remain unanswered, including how effective each of the existing COVID-19 vaccines are against it. Conclusive data also does not exist yet on how ill omicron makes COVID-19 patients, the health agency said.
WHO first labeled omicron a variant of concern on Nov. 26.
Flight disruption likely over 5G signals -Airline experts - PUNCH
DECEMBER 19, 2021
Airline executives have warned that interference from 5G signals using C-band spectrum could lead to flight disruptions.
According to Cnet, these industry executives said that if the United States wireless carriers push forward with its plans to begin deploying a specific type of 5G service early next year in spite of interference concerns brought to light by the Federal Aviation Administration, travellers could see delays and other disruptions in air travel starting from January 5, 2022.
United Airlines Chief Executive Officer, Scott Kirby told reporters following a Senate Commerce Committee that if AT&T and Verizon continue with their plans to begin using C-band spectrum for 5G service in January, his airline could be forced to divert or cancel about 4 per cent of daily flights, affecting hundreds of thousands of passengers.
He said, "It would be a catastrophic failure of the government.
Sorry, the video player failed to load.(Error Code: 100013)
"Coming Jan. 5 — unless something changes — we will not be able to use radio altimeters at 40-something of the largest airports in the country. It is a certainty. This is not a debate."
According to Kirby, this potential interference issues between the 5G cell towers and the altimeters would require that during bad weather, such as cloud cover or even heavy smog, pilots would have to only do visual approaches instead of using sensitive instruments to guide their landing.
Last month, the FAA said there was a likelihood of interference between key cockpit safety devices and cell towers on the ground transmitting 5G signals.
Last week, the FAA issued new directives to the airline industry warning that interference from 5G signals using the C-band spectrum could result in flight diversions, although the agency didn't quantify the impact.
Southwest Airlines CEO Gary Kelly told lawmakers at the Senate hearing that if the FAA directive takes effect, it would be a significant setback to airline operations.
AT&T and Verizon, have said they would take precautions to make sure cell towers transmitting 5G signals do not interfere with aircraft signals.
The carriers, alongside experts from the FCC, have said there are no serious interference issues.
A Verizon spokesman said, "Air safety is of paramount importance, but there is no evidence that 5G operations using C-band spectrum pose any risk to aviation safety, as the real-world experience in dozens of countries already using this spectrum for 5G confirms.
"While the new directives suggest the FAA plans to further analyse this issue, we are confident that it will conclude — as the FCC already found — that 5G over C Band poses no risk to air safety."
'Detty December': Nigeria's diaspora flock to Lagos for party season - THE GUARDIAN
DECEMBER 19, 2021
Concerts, parties and weddings booked to coincide with annual homecoming of overseas Nigerians
BY Eromo Egbejule in Lagos
For several weeks this summer, Agnes Olowogboye was simultaneously monitoring flight tickets to Lagos from her home in London and checking the news for updates on Nigeria's coronavirus restrictions. Unable to visit Nigeria last year because of the pandemic, she was giddy with excitement at the prospect of being reuniting with family and friends – and partying.
"Ticket prices were going up every single day and within a few minutes of checking, the cost went up by another £100," says the 27-year-old financial regulations consultant, who finally booked her flight in early September. "This is my chance to do Detty December, enjoy the nightlife and go for parties with all of my friends."
Advertisement
In Birmingham, the digital media strategist Bolu Ayeye was doing a similarly rigorous flight search. "It's almost the same way English people love their summers," says Ayeye. "December in Nigeria is a compressed festival period. Being around Nigerian food, Nigerian entertainment and friends … I've discovered that I like my family much more than I realise."
Thousands of Nigerians from around the globe make a triumphant return home every December not just to reunite with relatives and friends, but also to participate in one of the world's biggest Christmas extravaganzas. They have been nicknamed IJGBs – a reference to the phrase "I Just Got Back", which peppers conversations. In recent years, this seasonal hedonism has been christened "Detty [a corruption of dirty] December".
Beyond the cities and towns, some Nigerians also reunite in their villages. But the effect is felt most in Lagos, the lifeblood of an entertainment industry projected to be worth $10.5bn (£7.9bn) by 2023, and a hub of the Yoruba ethnic group, for whom the art of partying or faaji is a cardinal element of life. According to the World Bank, remittance inflows accounted for 4% of Nigeria's GDP last year; that purchasing power comes to the fore when the diaspora arrives.
All of these factors combine to turbo-charge the already frenetic pace in this megacity of an estimated 18 million people with more than enough energy to overshadow its infamous power cuts and security concerns. Traffic jams intensify, obliging drivers and their passengers to take in the flamboyant decor and lighting that pops up at roundabouts and along main roads.
The celebrations take place at house parties, street carnivals, beach hangouts and nightclubs spanning the mainland and island districts of Lagos. It is soundtracked by Afro-pop, which donated at least two of the world's most popular anthems this summer – WizKid's Essence and CKay's Love Nwantiti – and other genres from fuji to highlife and the alté sound.
Jokes resurface about relationships being invaded by free-spending, accent-toting dating prospects. Multinationals and the state government struggle to outdo each other with boisterous end-of-year concerts graced by superstars, laid on for free. From mid-December, promoters also make a killing from concerts that are pricey by local standards but relatively affordable compared with shows by the same artists in Europe and the US.
Fireboy DML, one of the breakout artists of the last couple of years, says these homecoming gigs allow performers to engage with their fans and spread positive energy. "I wanted something totally intimate and chill, but with the energy I'm getting since I announced the show, it's gonna be a rave," says the musician, whose first headline show in Lagos this December will be sandwiched between tours of the US.
"It's the time when the city fully comes to life and everyone's in high spirits. The hustle continues, but we also love to have fun so, despite the restraints of Covid-19, we still find ways to enjoy ourselves."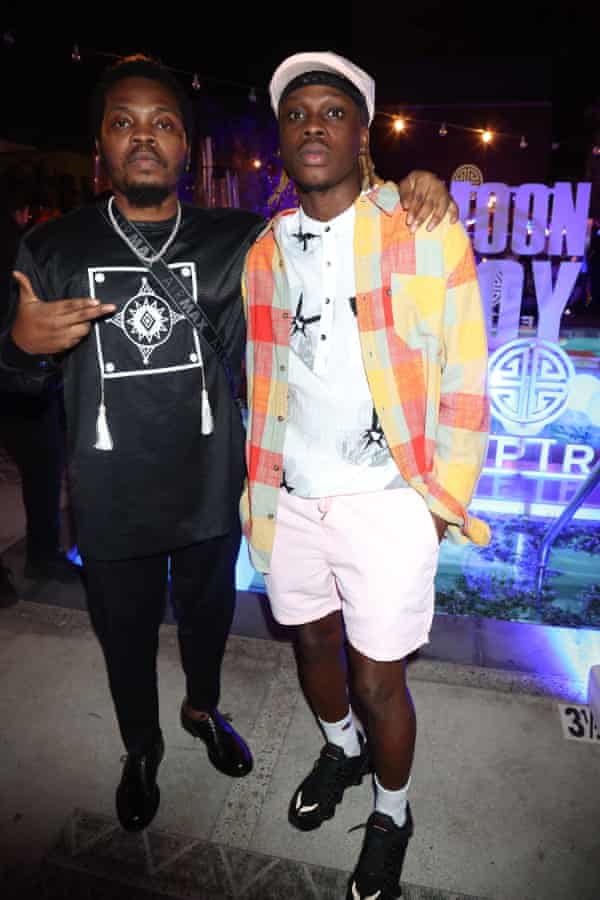 The Afrobeats star Davido told CNN in a recent interview that playing Lagos in December was like performing at "our own Super Bowl".
The party season is also a boon for the city's hospitality and tourism sector.
Oluwatoyosi Adegunle, a representative for Xenia Lifestyle, a Lagos hospitality brand which launched a flat-rental service last March, says that December has been the busiest month for reservations.
"We have noticed a 55% increase in extended-stay bookings (four nights or more)," she says. "The recent happenings around Covid-19 and the Omicron variant seemed like a major blocker, but with the restrictions being lifted we are primed to be fully booked for the rest of the year."
Returnees are also lured by weddings, which are often scheduled to coincide with friends and families converging for Christmas, and are routinely all-day affairs with after-parties.
Some have had to cancel their trips this year due to unforeseen challenges, such as the recent decision by Emirates to suspend flights to Lagos against the backdrop of a quiet diplomatic row between Nigeria and the UAE. Others, optimistic about travel restrictions lifting and the health situation improving, have jetted in or are preparing to do so.
For returnees like Olowogboye, early preparation was worth the stress, and she cannot wait to – among other things – dance uninhibited to biripo, the folk music of her home town, Ondo, in south-western Nigeria. "When I was planning this trip, I actually checked YouTube because lots of people vlog their Detty December journey, concerts to go to, hotspots, what to avoid," she says.
Counting the Losses in UAE-Nigeria Air Travel Impasse - THISDAY
DECEMBER 19, 2021
Emirates Airlines did not operate to Nigeria from February to December 2021 due to imbroglio that arose between the airline and the Nigerian government over COVID-19 rapid tests. But the airline resumed flights to Abuja and Lagos on December 12 with initial 14 flights a week from its assigned 21 frequencies per week.
Then another disagreement came up with the refusal of United Arab Emirates to give Nigerian carrier, Air Peace three frequencies it requested from the Sharjah authorities where it operated until the Coronavirus lockdown in 2020. That refusal prompted the federal government to withdraw 20 frequencies to Emirates, leaving them with only one flight a week in response to the way the Middle East nation treated the Nigerian airline. Who stands to lose more if air travel is severed between the two countries, asks Chinedu Eze
It became manifest during the evacuation that followed the COVID-19 that the federal government has different approach to international air travel politics, which is known as aeropolitics. Airlines use the Bilateral Air Service Agreement (BASA) to open routes between two countries. They also use it to play the politics of competition. Airlines operating to Nigeria may not want Nigerian carrier to fly to their own territories so that they would have dominance and sometimes monopoly over the route.
When evacuation started during the lockdown, many foreign airlines wanted to take advantage of it by reaching deals with Nigerian embassies to evacuate Nigerians back to the country. Jostling started, as some airlines quickly reached agreement with some Nigerian embassies in Canada, in the UK, in UAE and other countries. Then the Minister of Aviation, Senator Hadi Sirika and the Minister of Foreign Affairs, Geoffrey Onyeama made it known that it is only Nigerian carriers that would be funded by government and its agencies to evacuate Nigerians back to their father land.
The rhythm of music changed for some foreign airlines that hoped to rip off from Nigeria and not without their exorbitant fares. It was this policy that made Air Peace and Azman Air to airlift Nigerians from different countries. So, the federal government, for the first time adopted the principle of reciprocity and refused to back down. It saved Nigerians who were stranded overseas money because Nigerian carriers charged them low fares and those who did not even have money to pay were even airlifted free by Air Peace, especially from India, UAE and China.
Fence mending
Although Nigeria and UAE are mending diplomatic fences now and there is hope that both Air Peace and Emirates Airlines would have their frequencies restored, but what is remarkable about it, which has attracted a lot of commendation for government and the Minister of Aviation is the ability of the Minister to stand his grounds despite pressures.
In the leaked audio by the Minister when he updated his team while still in Bogota, Colombia, he encapsulated what was going on between Nigeria and UAE over the flight rights between the two countries and acknowledged that both countries would lose revenues if they remained aloof without compromise.
"I know they (Emirates) cannot bear the pressure because they have lost a lot of money in the past. Honestly, who cares; but by their not coming they are losing a lot of money, we also in Nigeria are losing the service they provide or also losing some economic activity as a result of flight stoppage. But the sovereignty of 200 million people is too important for us to toy with. So, on behalf of the 200 million Nigerians, I have taken the decision that they also be given one slot," the Minister said.
Who Loses?
Industry stakeholder and the Chairman of the Board, Nelike Capital, Dr Alex Nwuba said during an Arise TV interview that with 21 flights a week, Emirates was airlifting about 450, 000 passengers a year and making about half a billion dollars on the Nigerian route, so there is no comparison with what Nigerian carrier is getting.
Industry sources estimated that Emirates airlifted about 1000 outbound passengers everyday from its three operations to Nigeria, which gives it about 7000 passengers a week. This cannot be compared to Air Peace that airlifts less than five per cent of that lot in a week. Emirates inbound daily flight would also be close to that number.
Industry consultant and CEO of BeluJane Konsult, Chris Aligbe agreed with Dr Nwuba, saying that the capital flight from Nigeria by these airlines amounted to $1.5 billion annually, up from $1.2 billion in the previous years.
"21 flights a week will tell you that the route means a lot to them. It is a huge mileage. High percentage of the passengers does not drop in Dubai but connect flight to other destinations. I think Emirates has overtaken British Airways; so Emirates cannot afford to lose the Nigerian market because it has become a major market to the airline. It was good that UAE got back to give Air Peace seven weekly flights. I hope Air Peace will make good use of it," Aligbe said.
He said that the action of Nigerians over the matter showed strong nationalism among citizens and noted that the Minister was point blank in his position over the impasse, which is very good because that would redefine future interface between the two countries.
Industry logistics expert and Managing Director, Flight and Logistics Solutions, Amos Akpan said that determining which country s losing depends on the perspective from which the impact is assessed, noting that Emirates loses about $25.2 million a month.
"Some would score from the viewpoint that Nigeria stood up to defend her rights in the international arena. Some would say Emirates is losing an estimated revenue of $25.2 million per month that could have accrued from operating 21flights per week, while Air Peace would have lost only $2.7 million per month from operating three flights per week. These exclude the additional money that passengers would spend in Dubai on holidays and businesses. It is estimated that 40 per cent of passengers on Dubai flights have Dubai as their destination while 60 per cent transit through Dubai airport."
Lopsided BASA
Akpan suggested that the Bilateral Air Service Agreement is skewed against Nigeria because the country did not protect its interest well; looking at the number of times the country has been shortchanged by foreign airlines, backed by their countries. These countries took the advantage over Nigeria because of the weakness in the BASA against Nigeria's interest.
"BASA is standardised for the benefit of signatory countries. It is based on equality and a win-win policy platform for the two countries.
When one signatory country has more capacity than the other party, the imbalance in execution is traded on a commercial agreement. Lopsided execution of BASA is when the party with greater capacity exploits the flight frequencies with its associated freedoms leaving other signatory with less or nil capacity without financial compensation or reciprocity.
"It is the responsibility of the signatory parties to build capacities to exploit the benefits in a BASA. Instead of blaming the party with more capacity, you negotiate commercial trade off while you build capacity to engage on equal utilisation," Akpan said.
He gave example with the British Airways and the Virgin Atlantic Airways, saying that these two UK airlines operate daily into Lagos and BA operates to Abuja all year round. That no Nigerian airline operates to UK but is not UK's fault.
"Nigeria should develop capacity to have at least two airlines operate into UK. But while in the process of building capacity to reciprocate, Nigeria should earn income per payload from BA and Virgin on the excess frequencies utilised within the BASA.
Akpan estimated that Emirates airlifts 250 passengers per flight × 21 flights per week × $1200 per passenger = $6.3m per week. Then $6.3m × 4 weeks = $25.2m per month.
"This is a type of revenue Emirates or BA makes from operations into Nigeria. (Note that revenue is not income or profit for the airline). This revenue excludes money spent by passengers on holidays or engaged in businesses in UK and UAE. Also, note these airlines will request to repatriate greater portions of their revenue, which puts pressure on Nigeria's forex. Nigerian government should sustain this latest approach used to engage UAE in aero-politics," Akpan added.
Aligbe also suggested that the federal government should begin to input slots in its allocation of frequencies and after allocation frequencies in the BASA if an airline requests for more frequencies beyond the number stipulated in the BASA, the airline would pay for it.
"We should begin to input slots in our BASA agreements. If you give us free slots, we give you free slots; if you charge us for slots, we also charge you for slots. We should also classify our airports and introduce charges to reflect that classification. You pay more to our first grade airports and less on the others," he said.
But while Emirates generates huge revenues from Nigeria it also pay for handling services, fueling, landing and parking and other charges; just as Nigerian carrier does when it flies to UAE.
So, in a way, the two countries have something to gain maintaining the Nigeria, UAE route.
England Has Hundreds of Thousands of New Omicron Cases Daily - BLOOMBERG
DECEMBER 19, 2021
(Bloomberg) -- England is "almost certain" to be suffering hundreds of thousands of new omicron cases a day as the variant drives a new wave of the virus, the U.K. government's scientific advisers said.
Levels of infection are at their highest in London, and while recorded hospitalizations of omicron patients haven't yet taken off, the true level is likely to be much higher, the government's Scientific Advisory Group for Emergencies said in the minutes of its Dec. 16 meeting, released on Saturday.
London Mayor Sadiq Khan declared a "major incident" due to a rapid spread of the omicron variant across the capital, according to a statement. The move allows the city to coordinate emergency services and access government support.
Without new measures to stem the spread, modeling suggests hospitalizations will reach a peak of at least 3,000 a day, SAGE said. "The earlier interventions happen the greater the effect they will have," the scientists said. "This may also mean that they can be kept in place for a shorter duration."
The scientific advice creates a dilemma for U.K. Prime Minister Boris Johnson, who has so far relied largely on a program of vaccination boosters to limit the virus. After suffering the biggest Tory rebellion of his tenure earlier this week over new Covid rules, he'll struggle to get stricter measures past his mutinous members of Parliament.
The new restrictions including increased use of face coverings and Covid passes to gain entry to venues were passed with the help of votes from the opposition Labour Party. But Johnson has stopped short of bringing stricter measures and lockdowns used earlier in the pandemic.
Europe Braces for More Covid Restrictions in Time for Holidays - BLOOMBERG
DECEMBER 19, 2021
BY Corinne Gretler, Bloomberg News

Shoppers at the Christmas Market on St. Ann's Square in Manchester, U.K., on Thursday, Dec. 9, 2021. U.K. business groups called for government support after Prime Minister Boris Johnson announced restrictions to curb the spread of the omicron variant, which Bloomberg Economics estimates could cost the economy as much as 2 billion pounds ($2.6 billion) a month. Photographer: Anthony Devlin/Bloomberg , Bloomberg
(Bloomberg) --
Europe is racing to fight a surge in Covid-19 infections and the spread of the omicron variant, with some countries considering additional restrictions that would disrupt the Christmas and New Year's holidays.
From a new lockdown in the Netherlands to travel restrictions targeted at the U.K. and emergency meetings scheduled for southern Europe, the continent faces a critical week.
The spread of the highly-transmissible omicron strain risks slamming populations already weary of restrictions. It also comes at a time some countries, like Germany and Austria, were just getting their latest waves under control.
European nations have taken a varied approach to counter the winter Covid wave, but most have emphasized the importance of accelerating vaccination and booster campaigns.
The omicron strain, first detected in Europe less than a month ago, will likely be dominant there by mid-January, European Commission President Ursula von der Leyen said last week. Debate continues to rage over whether or not the variant produces milder illness than previous strains.
Much of the effort is focused on not repeating the experience of the U.K., where total Covid infections -- powered by omicron -- rose by about 50% in a week to touch a record 93,000 on Friday.
Another 12,000 omicron cases were reported in the U.K. on Sunday, although government scientific advisers say most cases are going undetected and that the real daily number may already be above 200,000.
U.K. advisers have told the government that new measures are needed within days to protect the health care system. Prime Minister Boris Johnson, trying to avoid another lockdown, has thrown open the country's vaccine booster program to anyone over 18, and a record 900,000 third shots were given on Sunday.
So far, one of the most effective vaccine programs in the world doesn't appear to be slowing the spread of omicron, although deaths from coronavirus in the U.K. haven't risen recently.
"We can't afford to wait," U.K. government scientific advisor Mark Woolhouse told Times Radio on Sunday, saying measures don't have to mean restrictions, specifically, but can be increased testing and the rollout of booster shots.
"Let's not just focus on restrictions but what level of interventions will make a difference to this surge," Woolhouse said.
Here are the steps countries have taken or are discussing:
The U.K.
Health Minister Sajid Javid Sunday declined to rule out pre-Christmas restrictions but said any new measures would have to be voted on by parliament. That would require members to be recalled during the holiday recess. Johnson would likely face further rebellion within his ranks after 100 of his Conservative allies voted last week against much milder measures than the tougher curbs now being considered, requiring Johnson to rely on the opposition Labour party for passage.
A key minister, Lord David Frost, quit over the weekend, and warned Johnson in his resignation letter "not be tempted by the kind of coercive measures we have seen elsewhere."
"There are no guarantees in this pandemic," Javid said when asked whether he would rule out a so-called circuit-breaker lockdown. "At this point, we just have to keep everything under review."
Read More: U.K. Mulls Emergency Aid for Hospitality and Tourism: Telegraph
London Mayor Sadiq Khan Saturday declared a "major incident" due to a rapid spread of the omicron variant across the the city, giving him more powers to fight the virus and seek government support. With so many people now staying home, the country has entered what some call a "stealth lockdown" that's has left retail, hospitality and travel reeling. U.K. Chancellor Rishi Sunak talked with industry leaders in recent days about providing further aid.
The Netherlands
The Dutch already made their move: the nation returned to a strict lockdown on Sunday. That means schools and non-essential shops are closed, and fewer visitors will be allowed in households. The steps come as the government said the rise of omicron will likely overburden its health care system in January. The new restrictions will remain in place until at least Jan. 14.
Germany
That's a scenario Germany is trying to avoid, as its health care system continues to struggle with a virus wave that peaked in late November. Hospital demand isn't expected to subside much for a month or more. The country joined Cyprus and France in imposing stricter rules for travelers from Britain, who'll have to undergo a mandatory 14-day quarantine upon arrival, upending holiday plans. France temporarily banned entry for many Britons last week, and Cyprus will require visitors from the U.K. ages 12 or above, regardless of vaccination status, to self-isolate. Germany's new government is also mulling a vaccine mandate.
France
As well as imposing a ban on U.K. arrivals, France is curbing outdoor revelry on New Year's Eve to try to limit the spread and protect its hospitals. The government is also turning up the pressure on people to get vaccinated, and from January only immunized people will be able to get a "health pass" that gives access to bars, restaurants, medical facilities and cultural venues.
Spain
Spain will convene an online emergency meeting on Wednesday to analyze the evolution of the pandemic and discuss adopting new measures. Some regions are already requiring proof of vaccination to enter restaurants and bars, but have refrained from more aggressive steps that could put a drag on an economy heavily reliant on services and tourism.
Italy
On Thursday, Italy's government will also hold an emergency meeting and may look at options such as requiring masks outdoors, shortening the validity of vaccine certificates, and possibly requiring inoculated people as well as the unvaccinated to take Covid tests to access large events, according to people familiar with the matter.
Switzerland
A vaccine laggard, with less than 68% fully inoculated, Switzerland will exclude the unvaccinated from large parts of public life, such as restaurants, museums and gyms. The Swiss government also reintroduced a work-from-home requirement. The measures are in place until Jan. 24.
Ireland
Also starting this week, Ireland will require bars, restaurants, cinemas and sport venues to shut down by 8 p.m. Omicron is already the dominant strain in the country, with public health advisers saying it makes up more than half of new cases.
Austria
Austria was in lockdown when omicron hit, after a low vaccine rate fed a surge in delta cases that swamped the country's health care system. The general lockdown was lifted earlier this month in time for the holidays. The unvaccinated have also been offered a respite, but after the New Year will once again only be allowed to leave their homes to go to work, do essential shopping, or exercise. The country also mandated vaccines from February. Austria's daily cases have fallen more than 75% from their peak, and vaccinations have advanced steadily in the past month.
Poland
The Polish government has ordered schools to switch to remote learning through Jan. 9, and tightened capacity limits in public spaces such as restaurants, hotels and cinemas. Limits were reduced to 30% of capacity from 50% previously. The government closed discos and nightclubs as of Dec. 15. The health ministry is also planning to make vaccines mandatory for medical staff, uniformed services and teachers as of March 1. Deaths from Covid in the nation of 38 million people have been running at more than 500 a day.
Yuletide demand spikes airfares by 200% amid haze disruptions, delays - THE GUARDIAN
DECEMBER 20, 2021
By Wole Oyebade
• Economy tickets sell at N100,000 on average
• Consumer satisfaction tumbles as travellers suffer without protection
• NCAA alerts pilots, crew to poor visibility, safety precautions
• We have low capacity to meet demand surge, operators confess
Nigerians travelling by air this season is in for one of the most expensive pricing regimes in local airfares, but without corresponding value for money or customer satisfaction.
While airfares offered by the local operators have twice doubled and cost an average of N100,000 for less than an hour flight, the number of flight delays has also hit a frustrating threshold with travellers left to lament and weep at the airport terminals without succour. Conspicuously missing in the confusion is the consumer protection department of the Nigerian Civil Aviation Authority (NCAA) and the Federal Competition and Consumer Protection Commission (FCCPC), two agencies mandated to enforce the rights of consumers and mete sanctions to airlines for deterrence. The apex regulator, NCAA, at the weekend warned pilots and crew to be wary of the poor visibility and exercise maximum restraint in accordance with safety rules.
Local airlines, though apologised for situations beyond their control, gave assurance of doing everything possible to ease air transport services as the festive peak period beckons. Indeed, local aviation recorded marginal growth this year with two new airlines bringing the toll of scheduled carriers to 11. Conversely, an increase in fleet capacity and wider route coverage has not lowered airfares; rather, it ballooned it. A survey of the current airfares showed a slightly varying price range across the airlines and routes. On average, Economy Class one-way tickets on all routes, subject to seat availability, that was earlier sold for N33,000 were on the airlines' platform quoted between N42,000 and N118,500 as of yesterday.
Over the counter of agencies, it ranges between N71,000 and N121,000. Return tickets for the same class averaged N140,000 on online sales platforms. The one-way Business Class ticket was offered for an average of N135,000, also subject to seat availability. For instance, an Arik Air Lagos-Sokoto Economy flight ticket that used to sell for N42,000 went for between N76,800 to N106,800 on the airline's official platform. Its Lagos-Port Harcourt corridor was quoted at N68,000. Lagos-Warri cost an average of N75,000 on a one-way trip. Air Peace future flights into the south range between N42,000 to N60,000, with a tendency of spiral effect as the travel date and festivities approach. A travel agent, Olaolu Adams, said the industry is already in a "festive mood" with airlines raising fares on few available seats.
"The major carrier, Air Peace, is calling the shots and others are following. Full Economy on Air Peace that sold for about N54,000 last week is now N81,000. Other airlines will give the same ticket between N74,000 and N78,000. It is the laws of demand and supply, which is often on the demand end at this period of the year. "With insecurity, kidnappings and the likes, many Nigerians going to Southeast are bound to travel by air. Most flights from 19th (yesterday) upwards are already fully booked. The few ones available are offered to the highest bidder. Except airlines create more flights, we will continue to have scarcity and ridiculously expensive airfares," Adams said. The Chief Operating Officer of one of the local carriers said they were not averse to adding as many flights to meet demand, but for the low capacity facing the local airlines.
He said despite the foreign exchange liquidity crisis that has made mandatory maintenance hectic for all carriers, the 2020 global lockdown still has a telling effect on operating capacity. "The truth is that many of our airlines still have airplanes either stuck overseas or on the ground. That is a serious challenge no one should overlook. The push-in demand is the right motivation for us to recover unserviceable aircraft and bring them back into operations," he said. Indeed, operators have been seeking alternatives to shore up the fleet deficit. For instance, Air Peace, with 20 domestic routes to service, recently took delivery of two leased Airbus 320s to boost its operations. The equipment came in as the airline also brought in the fifth of its brand new Embraer 195-E2 aircraft, bringing its current fleet capacity to about 33 airplanes.
Indigenous carrier, United Nigeria Airlines (UNA), has also acquired a new Airbus 320 aircraft to further boost its fleet and expand its route network, bringing the airline's fleet capacity to eight. The aircraft would be deployed to Lagos, Owerri, Asaba and Enugu route operations this season. By the Nigerian Civil Aviation Regulations (Nig. CARs), airfare pricing has been deregulated and is subject to cost analysis of the operating carrier. The caveat, however, is that a carrier that may wish to change rates should intimate the Directorate of Air Transport Regulation (DATR) of the NCAA with a cost analysis of the new pricing. As at press time, there is no confirmation of airlines intimating the NCAA of the new pricing regime. Travel specialist and Chairman of the Airlines Joint Passenger Committee of the International Air Transport Association (IATA), Bankole Bernard, said it was most disappointing that the industry was fast becoming lawless, with no form of engagement between the operators and regulators, nor protection for the consumers.
Bernard, who had his Akure-Lagos flight delayed for six hours without an apology recently, said the regulatory authorities have consistently indulged excesses of the operators "like they are beyond control". Consistent decline in scheduled reliability of the local operators worries Bernard and many others that depend on air travel to get by. For instance, of the 14,662 domestic flights operated in the country in the first quarter of this year, at least 7,554 were delayed. A total of 149 flights were cancelled according to figures released by the NCAA.
Curiously, only 47 customers complained to the authority. Five of the cases were on discourtesy by local operators, 10 cases of overbooking and denied boarding. A total of the 41 complaints were resolved. In 2019 alone, the NCAA recorded 65,401 flights, of which 37,510 (about 57 per cent) were delayed and 356 cancelled. Apparently angered by the damning figures and myriad of complaints, the Minister of Aviation, Hadi Sirika, recently said consumers have a right to 100 per cent refund for flights delayed beyond three hours.
Delays between 10:00 p.m. and 4:00 a.m., the carrier shall provide hotel accommodation, refreshment, meal, two free calls, SMS, email and transport to-and-fro airport. "On domestic flights delayed beyond one hour, the carrier should provide refreshment, and one telephone call, or one SMS, or one e-mail. They should send you an SMS or email or call you to say, 'I am sorry, I am delaying for one hour'. "Delay for two hours and beyond, the carrier shall reimburse passengers the full volume of their tickets. Delay between 10 p.m. and 4 a.m., the carrier shall provide hotel accommodation, refreshment, meal, two free calls, SMS, email and transport to-and-fro airport."
Findings, however, showed that none of the rules has been implemented, though with the NCAA insisting on not getting most of the complaints formally. The NCAA, at the weekend, noted that delays and cancellations were inevitable where safety on account of weather disruption could not be guaranteed. Director-General of the NCAA, Capt. Musa Nuhu, in a circular to pilots and airline operators, stated that moderate to severe dust haze, early morning fog especially along the coastal areas, which in some instances can reduce horizontal visibility to less than 200 meters are expected during the period of November 2021 to March 2022.
Nuhu added that with air-to-ground visibility reduction due to dust haze or fog, aerodrome visibility may fall below the prescribed operating minima and in severe conditions, dust haze can blot out runways, markers and airfield lighting over wide areas making visual navigation extremely difficult or impossible. In this circumstance, "flights are bound to be delayed, diverted or cancelled where terminal visibility falls below the prescribed aerodrome operating minima. Operators shall ensure that necessary measures are put in place to cushion the effects of flight delay or cancellations on their passengers," the circular read in part. Former Commandant of the Lagos Airport and aviation security consultant, Group Capt. John Ojikutu (rtd), said airlines might be excused on the airfare spike, as they are for once charging the right fares that are commensurate with economic realities.
Ojikutu recalled that from the 1990s to date, exchange rates had spiked several times without airlines changing ticket fares. He said it was no surprise that the airlines continued to struggle, owing service providers and regulatory agencies deductions of five per cent Ticket Sales Charge (TSC) and Passenger Services Charge (PSC), just to stay afloat. But on incessant delays and flight cancellations, Ojikutu flayed the regulators for mediocre oversight of their core responsibility to the travelling public. "First, which of the economic regulations of Nig. CARs has the NCAA been able to effectively apply? I begin to wonder why the National Assembly (recently) went to court to challenge the delay or cancellation of their flight by Azman Air instead of telling the NCAA to cancel the airline's Air Operating Certificate (AOC) as they did in the case of the NG Eagle (ordering NCAA to withhold its AOC).
"The minister just recently said to the public the various sanctions against each airline for certain levels of delays hourly. But, these are what one would hear in other climes from the responsible civil aviation authority. I am still wondering if the NCAA is now a department of the ministry that has lost its powers as contained in the 2006 establishment Act. What I expect to be happening is for air travellers to begin to sue the airlines and the NCAA, to enforce their Constitutional and the Consumers' Protection Rights," Ojikutu said. Assistant Secretary of the Aviation Safety Round Table Initiative (ASRTI), Olumide Ohunayo, reckoned that the travelling public should go beyond complaining, rather, they should make formal complaints to the authorities and demand sanctions for erring operators. "It is not enough to complain on WhatsApp platform or send viral videos on how badly they have been treated. The formal approach is to make a report at the NCAA's Consumer Protection desk at the airport. It is only the incidents that they know of that the NCAA will act on. We should not be tired of reporting.
"The lasting solution is that as aircraft are coming in, the operators must begin to work on their schedule integrity, which is very poor on the part of Nigerian airlines. The NCAA should also do monthly statistical data of flight operations and schedule reliability. They should put that in the public domain for consumers to know airlines that respect their schedule and those that do not. "Secondly, the airlines should also begin to look at those things ASRTI has pushed for, in terms of commercial negotiation or a central clearing house such that if passengers are stranded, they can simply use the ticket on another available airline that will also get the revenue. As an operator, when you begin to lose your passengers and revenue to your competitor, then you will start taking your schedule reliability seriously," Ohunayo said.
Ambassador Debo Adesina Resolves Togo Airport Crisis - THE NEWS
DECEMBER 20, 2021
The Embassy of the Federal Republic of Nigeria in Lome, Togo has reacted further to trending videos on the social media on the maltreatment of some Nigerians in transit from the United States, aboard Ethiopian Airlines through Lome to Nigeria. The Ambassador, His Excellency Debo Adesina and his officials were at the airport and took up the matter until it was resolved.
All the passengers were evacuated on two flights, following the Embassy's intervention and with the cooperation of Togolese authorities.
The Embassy has made it known to the host authorities that the manhandling of Nigerian travelers is totally unacceptable and not in accordance with International Best Practices. However, through concerted efforts by the Mission in its engagement with relevant host officials, this is being addressed. Meanwhile, the Embassy has registered with the host authorities, its displeasure over this unfortunate incident.
The Embassy said in a statement that it would continue to work towards preventing a recurrence of such treatment of Nigerians.
Trouble started when Nigerians, who were traveling on Ethiopian Airlines from the US to Lagos got to Lome. They were shocked when they were informed that their connecting flight was full and that they could not continue the trip.
The protest by some of them was met with maltreatment by Togolese security officials. Worse still, they handcuffed and seized the telephones of the protesting Nigerians.
Mr. Geoffrey Onyeama, Nigeria's Foreign Affairs Minister, who is far away in Istanbul, Turkey as part of the delegation of President Muhammadu Buhari to the third Turkey-Africa Partnership Summit being hosted by President Recep Tayyip Erdogan, swung into action. He contacted Adesina in Togo.
"The Ambassador Debo Adesina immediately rushed to the airport when I called him and oversaw the evacuation of everyone back to Nigeria," the Minister reacted in an email to globalpatriotnews.
In Nigeria, Richard Akinnola said: "Kudos to Debo Adesina, Nigeria's Ambassador to Togo. Following the viral videos of how the Ethiopian airline maltreated some Nigerian passengers in Togo, he, in conjunction with our foreign affairs minister, worked tirelessly to deal with the situation by arranging two flights to evacuate the stranded Nigerian passengers home. Well done, Debo."
U.K. Debates Christmas Lockdown Amid Omicron-Driven Covid Surge - BLOOMBERG
DECEMBER 20, 2021
(Bloomberg) -- The U.K. government kept open the prospect of a Christmas lockdown as daily Covid cases remained near record levels, driven by the fast-spreading omicron variant.
Ministers are considering how to respond after Boris Johnson's scientific advisers recommended bringing in tougher rules "very soon" if he wants to keep hospitalizations from escalating to thousands a day. The government's Scientific Advisory Group for Emergencies said limits on household mixing and the closing of hospitality venues could "substantially reduce" the peak in cases.
"We can't make hard, fast guarantees" Deputy Prime Minister Dominic Raab told BBC Radio when asked if he could rule out a lockdown over the festive period. "We have to keep the evidence viewed on an hour-by-hour and day-by-day basis."
The prime minister is being squeezed by government scientists on one side, who say earlier intervention is more effective, and mutinous members of his party on the other, who have already been angered by restrictions they view as unreasonable interference in the lives of ordinary Britons.
The scale of Conservative opposition to more curbs was put into stark focus last week, when more than 100 of Johnson's Members of Parliament opposed the introduction of Covid passes to gain entry to venues and large events -- the biggest rebellion of his tenure. The measure was approved only because of support from the opposition Labour Party.
The "crisis of confidence" in Johnson's leadership from the Tories "is impacting on the government's public health response," Labour Shadow Health Secretary Wes Streeting told Sky on Sunday.
Adding to the sense of disagreements in the ruling party, the Times on Monday reported that Chancellor of the Exchequer Rishi Sunak and Foreign Secretary Truss are among 10 cabinet ministers resisting calls to toughen the Covid rules before Christmas. Business Secretary Kwasi Kwarteng, Transport Secretary Grant Shapps and Leader of the House of Commons Jacob Rees-Mogg also oppose the move, the paper said.
Sunak isn't opposed to new measures, but rather wants to see more evidence backing the need to bring them in, according to a person familiar with the matter.
Government Aid?
The chancellor also faces a clamor from hospitality businesses calling for more government support because Christmas bookings have been hit by mass cancellations as Britons dial down their social interactions in the face of the surging pandemic.
The Treasury is examining where support is most needed and how best to deploy it, according to the person, who said any aid would be tied to the nature of any new restrictions -- if there are any.
Johnson's ability to persuade his party to support any fresh measures has been hobbled by a series of missteps that have weakened his standing. Last week's rebellion over Covid rules in the House of Commons was followed by a resounding defeat in a special election that saw the Tories lose a seat they had held for 200 years.
All of that followed weeks of turmoil that began with Johnson's botched attempt to prevent Parliament's suspension of his friend, Conservative MP Owen Paterson over violations of lobbying rules. In between that and the loss of Paterson's seat last week, the Tories have been hit by a string of negative news stories about second jobs held by MPs and about parties and other social gatherings apparently held in breach of Covid rules last year.
The latest controversy came when The Guardian newspaper published a picture on Monday of Johnson, his wife, and Downing Street staff drinking wine and eating cheese in the garden of No. 10 during lockdown last year. A spokesman for Johnson denied it was a party.
"This was not a social gathering: it is palpably not a social gathering, because you had people in work suits, following meetings that they were having at work," Raab told Times Radio. "Let's also remember, Number 10 was a place, the hub, where they were running the crisis response."
Qatar Airways flies directly to Abuja - THE NATION
DECEMBER 20, 2021
Qatar Airways has commenced a direct fligh t to Abuja, the Nigerian capital starting from December 1, 2021. The direct flights to the Nigerian capital will no longer be linked to Lagos, offering direct connectivity between Abuja and Doha.
Served by state-of-the-art Boeing 787 Dreamliner featuring 22 seats in Business Class and 232 seats in Economy Class, the direct service will allow travelers to enjoy a seamless travel experience to Hamad International Airport with connections to more than 140 destinations.
The move follows the recent addition of double-daily flights to Lagos. Qatar Airways now offers 100 weekly flights to 27 destinations in Africa.
Qatar Airways Vice-President, Africa Mr. Hendrik Du Preez said: "Nigeria is a very important market to us and we will continue to offer more travel options and seamless connectivity to the largest network of destinations across Asia-Pacific, Europe, the Middle East and North America.
"We anticipate the Abuja-Doha route being especially popular with visitors to the UK, India, UAE, Saudi Arabia and Doha. After just under a year of resuming flights to Lagos and launching to Abuja, following the challenges imposed by the pandemic, it is a testament to the resilience of the African region that we have now introduced direct flights to Abuja. We look forward to welcoming passengers on board to enjoy our award-winning hospitality and service."
With more frequencies being added to key hubs, Qatar Airways offers unrivalled connectivity to passengers, making it easy for them to travel when they want to. Qatar Airways also offers strong connectivity to Asia-Pacific with destinations such as Kuala Lumpur, Singapore, Jakarta and Manila among many others.
A multiple award-winning airline, Qatar Airways was announced as the 'Airline of the Year' at the 2021 World Airline Awards, managed by the international air transport rating organization, Skytrax. It was also named 'World's Best Business Class', 'World's Best Business Class Airline Lounge', 'World's Best Business Class Airline Seat', 'World's Best Business Class Onboard Catering' and 'Best Airline in the Middle East'. The airline's hub, Hamad International Airport (HIA), was recently recognized as the 'Best Airport in the World 2021', by the Skytrax World Airport Awards 2021.
In addition to this, Qatar Airways has become the first global airline to achieve the prestigious 5-Star COVID-19 Airline Safety Rating by Skytrax.
This follows the success of Hamad International Airport (HIA) as the first airport in the Middle East and Asia to be awarded a Skytrax 5-Star COVID-19 Airport Safety Rating. These awards provide assurance to passengers across the world that the airline's health and safety standards are subject to the highest possible standards of professional, independent scrutiny and assessment.