Market News
Analysts Embrace Pound Strength Versus Euro as Parity Calls Fade - BLOOMBERG
FEBRUARY 12, 2018
By Anooja Debnath
And to think that analysts were calling for the pound to reach parity against the euro.
The Bank of England's hawkish rhetoric on Thursday has caused Toronto Dominion Bank Ltd. to double down on its call for a rate increase in May and bet on more strength in the pound versus the euro. It is a trade the Canadian bank is sticking to even after sterling slid on Friday as the European Union's chief negotiator Michel Barnier said a Brexit transition deal wasn't a given.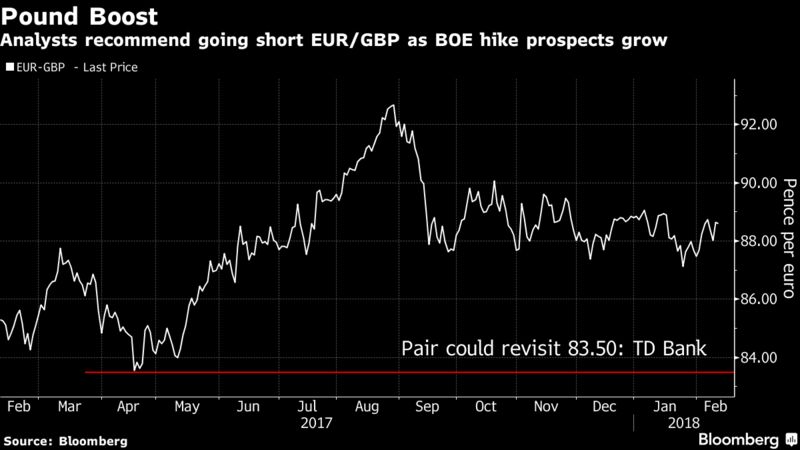 Governor Mark Carney's comments last week that interest-rate increases could come earlier than thought caused money markets to bring forward pricing of a hike to August from November. Toronto Dominion added a long position on sterling versus the euro in its model portfolio on Thursday. Nomura International Plc concurs with that optimism on the pound against the common currency. All this is a far cry from last August, when analyst after analyst was calling for sterling to weaken enough to be exchanged one for one against the euro.
"We think markets are going to quickly converge to our longstanding expectation for a May rate hike -- and may even begin to price in a second for later this year," said Ned Rumpeltin, the European head of foreign-exchange strategy at TD Bank in London.
The pound gained as much as 0.2 percent to 88.43 pence per euro on Monday in London. TD Bank entered the trade at 87.50, with an initial target of a move to 83.50 and a stop at 90.25. Nomura entered a similar trade in September and is targeting 86.50.
Hawkish Bank of England Means Potential for More Sterling Gains
"The BOE's hawkish tone fits our view, reinforces it and actually over-delivers in a more forceful way than we were expecting," said Jordan Rochester, a currency strategist at Nomura.
Calling the BOE's latest meeting a "game-changer for rates," Rochester still cautioned that for sterling "politics may come back to the fore into the March EU summit. Yet, while some short-term paring-back in bullish sterling positions should be expected, Nomura sees this more as "another opportunity to buy on a dip."
Brexit remains the main risk to TD Bank's view as well. Rumpeltin said there's "a risk that all the market volatility seen elsewhere could complicate the trade in the short term."
"Whether or not the U.K. economy can actually sustain an increase in policy rates against the backdrop of ongoing macro and political risks remains an open question," he said. "The BOE seems more confident in its outlook, however."