Travel News
West Africa: Reopened Borders - Obey Ecowas Treaty Abeoccima Urges Govt - DAILY TRUST
APRIL 25, 2022
By Peter Moses
The President of Abeokuta Chamber of Commerce, Industry, Mines and Agriculture (ABEOCCIMA), Jare Oyesola has urged the federal government to obey the Economic Community of West African States (ECOWAS) treaty on movement of goods to improve the local economy.
Oyesola said reopening of the land borders after almost three years was not enough until the government obeys the ECOWAS treaty.
He stated this while speaking with Daily Trust in Abeokuta on the reopened Idiroko border in Ogun, Jibiya in Katsina, Kamba in Kebbi and Ikom in Cross River as ordered by President Muhammadu Buhari last Friday.
Oyesola submitted that the border closure affected exportation of goods produced locally and also led to job loss.
He said even though the reopening was commendable the government must expand the scope in order to improve on the local economy and scale up naira from further depreciation.
Oyesola said: "I hope they are learning from their mistakes. Naira has depreciated to an all-time low. This is because by closing the borders they did not allow us to export the goods produced by micro and medium scale enterprises. Things like pure water, soap that we use to sell across West Africa. As such they have reduced the productivity of the industries. The workers have also been reduced because of a lack of markets.
"Now that they are re-opening it, maybe our people will be able to export. But they should not just re-open it, they should obey the ECOWAS treaty. Once the ECOWAS treaty is obeyed, we will be able to export and manufacture goods across the West African region. That will improve our economy and that's the only way naira can pick up," he said.
Blast at Illegal Nigeria Oil Refinery Claims More Than 100 Lives - BLOOMBERG
APRIL 25, 2022
BY William Clowes, Bloomberg News
(Bloomberg) -- More than 100 people died in an explosion at an illegal oil refinery in southeastern Nigeria over the weekend, demonstrating the dangers associated with an illicit industry that thrives in the crude-producing region.
The blast at a site in the Abaezi forest during the night of April 22-23 killed at least 110 people, said Ifeanyi Nnaji, head of operations for the Nigerian government's National Emergency Management Agency in Imo state, where the accident happened. Local authorities are planning "a mass burial of the many corpses," he said by phone on Monday.
Africa's largest crude producer loses as many as 150,000 barrels of oil a day, or about 10% of its current output, to criminals that tap the pipelines crisscrossing the Niger Delta region, according to government estimates. At current prices, the missing barrels are worth almost $5.6 billion a year. Some industry figures believe the true scale of theft is even higher.
Much of the pilfered oil is redirected to the makeshift camps that have proliferated in the Delta's creeks and forests where it is turned into gasoline, diesel and kerosene. The explosion near Imo's border with Rivers state killed traders and refinery workers, Nnaji said.
President Muhammadu Buhari declared the event a "catastrophe" and instructed security agencies "to intensify the clampdown on illegal refineries," according to a statement by his spokesman. The financial backers of the site "must all be caught and made to face justice," it said.
The government blames the country's inability to meet its OPEC+ production quota at least in part on crude theft. Average output in March was 1.24 million barrels of crude oil a day, according to data published by the Nigerian Upstream Petroleum Regulatory Commission. The nation's daily OPEC limit stood at 1.7 million barrels at the time, according to data compiled by Bloomberg.
While dangerous and unlawful, manufacturing and trading fuel is popular in the Delta where many are unemployed and few occupations offer comparable incomes.
Average road transport fare in Nigeria up 36% in last one year — NBS - PREMIUM TIMES
APRIL 26, 2022
On a year-on-year basis, airfare rose by 28.26 percent (N36,495.41) in March 2021.
By Oladeinde Olawoyin
Nigerians paid high transportation fares across different parts of the country in March, the National Bureau of Statistics (NBS) has said.
The NBS said in its Transport Fare Watch report for March that the average fare paid by air passengers for specified routes single journey increased to N 46,810.62 in March from N44,825.04 in February. The difference showed a 4.43 percent increase.
On a year-on-year basis, the NBS said fare rose by 28.26 percent (N36,495.41) in March 2021.
The Transport Fare Watch report presents the data covering bus journey within the city per drop, constant route, bus journey intercity, state route, and charge per person. It also covers air fare charge for specified routes' single journey, journey by motorcycle (Okada) per drop, and waterway passenger transport.
The average fare paid by commuters for bus journey intercity per drop rose to N3,270.94 in March indicating an increase of 5.29 percent compared to the value of N3,106.72 in February.
On a year-on-year basis, however, the fare rose by 35.65 percent from N2,411.29 in March 2021, it said.
Similarly, the average fare paid by commuters for bus journey within the city per drop increased by 4.41 percent to N536.35 in March 2022 from N513.72 in February 2022.
In another category, the average fare paid by commuters for journey by motorcycle per drop increased by 4.22 percent. The fare rose to N395.12 in March 2022 from N379.12 in February 2022.
Also, on a yearly basis, the fare rose by 45.57 percent to N395.12 in March 2022 from N 271.44 in March 2021.
The average fare paid for water transport (water way passenger transportation) in March 2022 dropped to N 890.03 showing a decrease of 2.53 percent on month- on-month from N 913.13 in February 2022.
UK faces acute shortage of free-to-use ATMs, study warns - YAHOO FINANCE
APRIL 26, 2022
The UK is facing an acute shortage of free-to-use ATMs, leaving consumers who rely on face-to-face banking services and cash to pay for everyday essentials at risk of being cut adrift, a new study has warned.
New research from Which? found nearly a quarter of ATMs have vanished since 2018 and almost half of the UK's bank branches have closed since 2015.
According to the consumer group, 4,685 bank branches have shut their doors, with a further 226 already scheduled to close by the end of this year, with 12,178 free-to-use ATMs axed.
Which? warned that elderly consumers, those aged 65 and over, who are most likely to reply on cash as a payment method, made up 23% of the population across the 17 areas with poor access to cash.
Meanwhile, those living in rural areas, where residents often have to travel for miles to reach their nearest alternative source of cash, are also among the most reliant on it. However, digital infrastructure can be poor in these areas, making it harder for residents to embrace online banking and payments, Which? said.
The analysis revealed that the rate of branch closures in rural areas outstripped those in urban regions. It said that since 2015 the banking network in rural communities has been cut by 50.7%, compared with 47.3% in urban areas.
On average, rural constituencies have just 0.1 bank branches per 10 square kilometres and 1.1 ATMs, compared with 2.6 branches per 10 square kilometres in urban areas and 31.3 ATMs.
The group called on the government to introduce legislation to protect cash in next month's Queen's Speech, warning that "another year of inaction could risk an irretrievable collapse" of Britain's cash system. It also suggested that the Financial Conduct Authority should regulate cash services.
Jenny Ross, Which? money editor, said: "While many consumers have embraced digital banking, there are still millions, including the elderly, vulnerable and isolated, who aren't yet ready or willing to make that switch — and they must be protected.
"With just two weeks to go until the Queen's Speech, it really is now or never to halt the cash crisis.
"Though banking industry proposals for action are welcome, what's needed most is the legislation promised by the government to protect cash. This should also include making the FCA the key regulator to protect cash services."
P&O Ferries to resume Dover-Calais sailings this week - YAHOO FINANCE
APRIL 26, 2022
P&O Ferries is planning to restart operations between Dover and Calais in the coming days amid accusations it attempted to further reduce the wages of its seafarers.
According to PA, the firm is selling tickets for cross-Channel sailings on its ship Spirit of Britain, with the first departure for freight customers at 4.25am on Wednesday from the Kent port.
However, reports suggest P&O does not anticipate carrying tourists until early next week.
It will be the first time it has operated a ferry on the route since it unexpectedly sacked 800 workers without notice in March, replacing them with cheaper agency staff in a bid to shore up its finances.
The agency workers will be earning an average of £5.50 ($7) per hour, less than the UK minimum wage, which has provoked anger from trade unions and politicians.
The company said at the time it had made a loss of £100m year-on-year, and that its survival was dependent on making "swift and significant changes now".
Spirit of Britain was detained by the Maritime and Coastguard Agency on 12 April after safety issues were found. However, was cleared to sail on Friday.
It comes as Rail, Maritime and Transport (RMT) union general secretary Mick Lynch has claimed that P&O Ferries has been "prevented from further cutting the pay of vulnerable agency crew" by "pressure from RMT seafarers".
But the firm insisted no agency workers were asked to take a pay cut.
"There are no depths to which P&O and their Dubai owners at DP World will not sink to extract the maximum profit from ferry crews operating our vital maritime supply chains," Lynch said.
"This is underlined by the fact that, despite this U-turn, P&O are still only paying barely half of the UK minimum wage of £9.50 per hour."
He added: "Ultimately, staffing ships with super-exploited agency staff is not just morally wrong, it undercuts those remaining ferry operators who do abide by union rates of pay and conditions, and undermines passenger safety.
"The only way out of this latest crisis at the ferry operator is for the government to take over the running of P&O vessels and reinstate directly employed staff on union rates of pay."
A spokesman for P&O Ferries said: "No agency seafarers were asked to accept reduced wages."
Heathrow passenger numbers rise as COVID losses top £4bn - YAHOO FINANCE
APRIL 26, 2022
Heathrow passenger numbers rose to 9.7 million in the first three months of the year, but the UK's biggest airport still expects to make a loss in 2022 as COVID losses surpass £4bn ($5bn).
The number of passengers flying through Britain's biggest airport increased by 474.9%, to 9.7 million, from 1.7 million in the same period a year earlier.
However, despite increased outbound demand, the airport is not expecting to return to profit and dividends in 2022. Although revenue rose to £516m in the first quarter of the year and adjusted EBITDA (earnings before interest, taxes, depreciation, and amortisation) reached £273m, total pandemic losses now total over £4bn.
Heathrow reported weaker than expected passenger numbers in January and February due to Omicron-related travel restrictions, but saw demand increase in March after the removal of all UK travel restrictions on 18 March with a surge of last-minute bookings for the Easter holidays.
The airport is expecting this to continue into the summer months and plans to respond by reopening Terminal 4 by July and recruiting over 1,000 new security officers.
Heathrow said it is also "assisting airlines, ground handlers and retailers to fill over 12,000 vacancies across the airport".

Despite this, Heathrow said the increase in demand driven by UK outbound leisure passengers taking advantage of the end of UK travel restrictions and redeeming travel vouchers from cancelled flights during the pandemic is "temporary" and "remains very volatile".
The west London airport forecasts passenger numbers to drop off significantly after the summer with airlines already cancelling services into the autumn as the "realities of higher fuel costs, lower GDP growth, the war in Ukraine and the ongoing pandemic" drag on demand.
"We are still in a pandemic with many markets still closed, nearly 80% with testing and vaccination requirements and another variant of concern could see the return of UK travel restrictions," the airport said in its latest financial results.
Heathrow updated its 2022 passenger forecast from 45.5 million to 52.8 million, which represents a return to 65% of prepandemic traffic.
Several UK airports, including Heathrow, were in chaos in recent weeks, with passengers facing long queues, delays and cancelled flights due to staff shortages.
Heathrow said more than 95% of passengers got through security within five minutes during the Easter getaway.

Chief executive John Holland-Kaye said: "I want to thank colleagues who worked very hard to ensure the start of 2022 has gone to plan, and I want to reassure passengers that we're redoubling our efforts to ensure this summer's journeys go safely and smoothly."
Rwanda Defends U.K. Migration Deal, Weighs Similar Denmark Plan - BLOOMBERG
APRIL 27, 2022
(Bloomberg) -- Rwandan President Paul Kagame defended a controversial plan by the U.K. to send asylum seekers to the East African nation, and said it's holding talks with Denmark about a similar deal.
U.K. Prime Minister Boris Johnson announced the proposal earlier this month. It swiftly drew criticism from human rights groups and opposition political parties as "cruel" and "unworkable, unethical and extortionate."
The plan is expected to cost the U.K. government about 120 million pounds ($151 million).
"The partnership we entered with the U.K. has caused confusion amongst people saying the U.K. gave Rwanda money to dump people here," Kagame said Tuesday in remarks broadcast on state television. "We are not involved in buying and selling of people, with the U.K. or anybody. It's just a problem that needs to be solved and Rwanda is ready to help."
Kagame said he first conceived of the idea of hosting asylum seekers during his time as head of the African Union in 2018, after migrants fled conflict in Libya across the Mediterranean Sea to Europe.
"We are happy to deal with the migration problem," Kagame said. "It's because of how we handled the Libyan situation that we have been approached by different countries and are currently in talks with Denmark."
Rwanda's ruling party has been criticized by advocacy groups including Human Rights Watch for its repression of political opponents and independent media. Still, its won praise for policies including the fact that it doesn't criminalize same-sex relations.
Why are UK supermarkets rationing cooking oil? - THE GUARDIAN
APRIL 27, 2022
Tesco, Morrisons and Waitrose have limited sales after concerns over shortages caused by Ukraine war
The latest supermarket data from Kantar shows shoppers have been stockpiling cooking oil because of concerns about the shortage of sunflower oil caused by the Russia-Ukraine war.
Here we look at what is behind the shortages, what the situation means for consumers and how long it might last.
Why are supermarkets rationing cooking oil?
In a manner reminiscent of the controls put in place on popular items such as flour, eggs and toilet roll during the pandemic, a number of supermarkets, including Tesco, Morrisons and Waitrose, have restricted the number of bottles shoppers can buy to ensure there are enough to go round.
In Kantar's monthly review of supermarket sales trends, Fraser McKevitt, head of retail and consumer insight, explains why limits may have been required. In the four weeks to 17 April (before restrictions were in place) sales of all cooking oils were up by nearly a fifth as consumers "stocked up". Cooking oil sales were up 17%, McKevitt said, because of a combination of "rising prices and increased demand". Within that, demand for sunflower and vegetable oil was the greatest, up 27% and 40%, respectively.
Why is there no sunflower oil in the shops?
Taken together, Ukraine and Russia account for about 60% of world production of sunflower oil, so the disruption to exports caused by the war has resulted in a supply shock.
Millions of tonnes of sunflower oil earmarked for foreign buyers is trapped in Ukraine, triggering in a scramble to source alternative vegetable oils, of which there are not enough to go round.
The situation is acute in the UK as most of its sunflower oil comes from Ukraine. Before the crisis, sunflower oil represented about a fifth of the cooking oil market by value in UK supermarkets and 44% by volume, according to the data firm NielsenIQ.
What is the knock-on effect?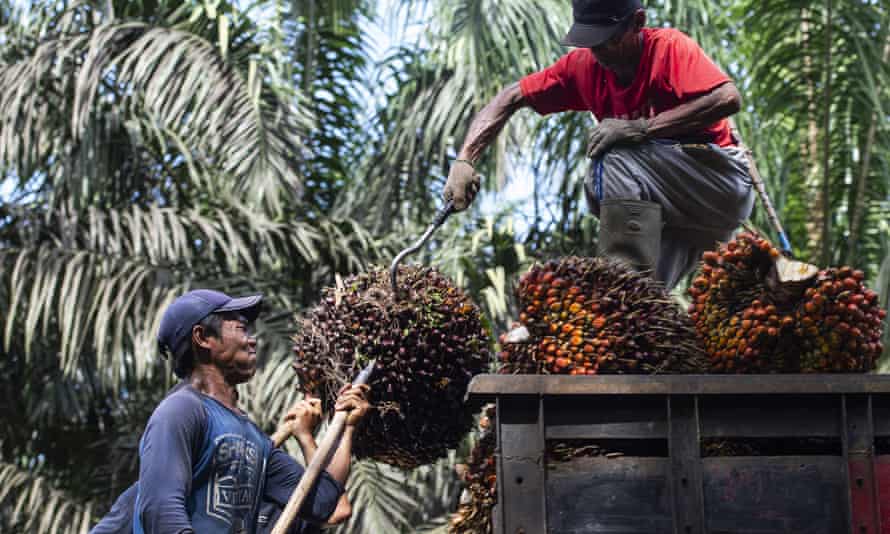 A rush to secure substitute vegetable oils for business and home use is pushing up prices on global markets. Prices were already extremely high, because of crop problems linked to the Covid pandemic as well as the climate crisis.
In 2021, farmers in Canada, the biggest exporter of rapeseed, had a disastrous growing season after temperatures soared to almost 50C. The soya bean oil price is also high amid forecasts of smaller harvests from growers in Brazil, Argentina, and Paraguay after severe drought. The South American countries account for more than 50% of world supply.
Indonesia is to ban the export of some palm oil products, which is likely to lead to a fresh squeeze. Palm oil – used in everything from cakes and frying fats to cosmetics and cleaning products – accounts for nearly 60% of global vegetable oil shipments, while Indonesia accounts for abuot a third of all vegetable oil exports.
"Indonesia's decision affects not only palm oil availability, but vegetable oils worldwide," James Fry, chair of the commodities consultancy LMC International, told Reuters.
"This is happening when the export tonnages of all other major oils are under pressure: soya bean oil due to droughts in South America; rapeseed oil due to disastrous canola crops in Canada; and sunflower oil because of Russia's war on Ukraine."
How is the food industry coping?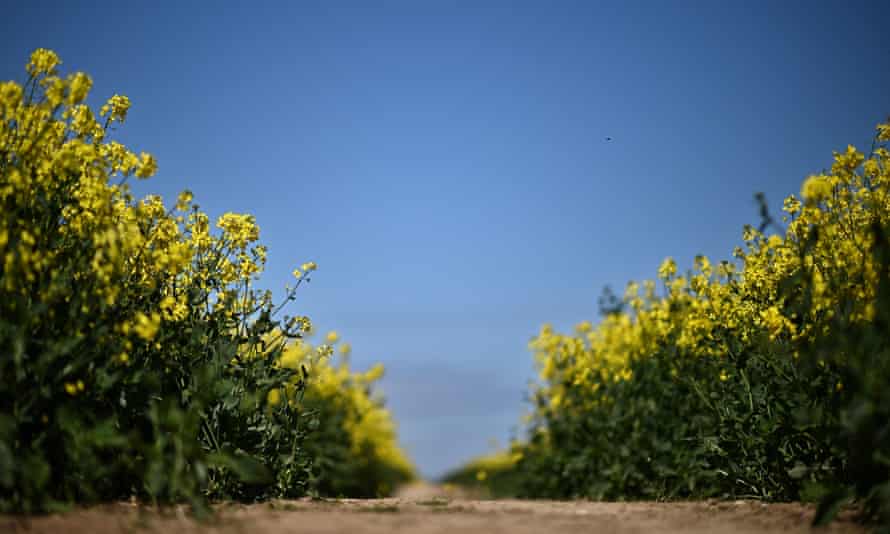 The shortage of sunflower oil is not just a problem for retailers. As well as being a staple at home, it is used to make hundreds of foods, including crisps, biscuits, fish fingers and mayonnaise. Many food firms have been forced to alter their recipes at short notice. To prevent food production lines grinding to a halt the government has allowed manufacturers to switch to rapeseed oil with the proviso they update their labels as soon as possible.
To increase the supply of vegetable oil there have been calls for governments to divert crops away from fuel tanks, by relaxing their biofuel mandates. Biofuels account for about 15% of global demand for vegetable oil as countries try to cut their reliance on fossil fuels. However there is no sign of this happening yet.
When will supplies return to normal?
The situation is unlikely to recover until at least the end of the summer, says Gary Lewis, of oil importer KTC Edibles, when more of the new rapeseed oil crop becomes available to buy. "There maybe some more supplies of EU and Argentine sunflower oil in the market in the next few months, but it will still be limited," he says.
In normal times shoppers buy cooking oil every eight to 10 weeks, so demand may start to slow down in the coming weeks, leading to fewer gaps on shelves, with would-be buyers potentially deterred by the higher price. According to Kantar, consumers are paying 20% more for a litre of vegetable oil this year, and 16% more for sunflower oil.
Consumers will start to see a different mix of cooking oils as retailers attempt to plug gaps, with more soy bean and corn oils, as well as vegetable oil blends made from rapeseed and soy in an attempt to keep prices down as much as possible.
A/Ibom Eyes Biggest Airport Terminal In Africa - DAILY TRUST
APRIL 28, 2022
Governor Udom Emmanuel of Akwa Ibom State has said the state is building the biggest airport terminal and Maintenance, Repair and Overhaul (MRO) facility in Africa.
The governor spoke during an interview with journalists as he was departing Calabar at the end of his consultation with PDP stakeholders for his presidential aspiration, on Wednesday.
He said the MRO was about 85 per cent completed and that he was serious about commissioning it by the end of this year.
Gov Emmanuel further said that it was a big shame that many countries in Africa did not have functional airlines, thereby depending mostly on Ethiopian and Rwandan airlines.
He said, "It is also shameful that a particular country in West Africa needed to do an overhaul of its aircraft which was paid for by the USA.
"Many countries and their leaders have to depend on commercial aircraft. We took on this challenge and established Ibom Air which is now dominating the skies, and we intend to fly to countries in Africa.
"We have decided to go the extra mile and established the MRO and airport terminal. It will be the biggest, smartest and best of it all in Africa."
Border reopening: Clearing agents knock FG, say closure disastrous - PUNCH
APRIL 28, 2022
BY Anozie Egole
CLEARING agents operating in the nation's maritime sector have taken the Federal Government to the cleaners over the recent re-opening of four land borders.
The Federal Government had, on Friday, approved the second phase of the reopening of the remaining four land borders at Idiroko, Jibia, Kamba and Ikom.
This is coming a few years after shutting the land borders due to the incessant smuggling of arms and different contraband goods.
In December 2020, the Federal Executive Council re-opened the country's four major land borders, which were Seme, Ilella, Maigatari and Mfun.
The newly re-opened borders bring the number to eight.
However, in a circular signed by the Deputy Comptroller General of the Nigerian Customs Service, Enforcement and Inspection, E.I Edorhe, recently titled, 'Re-opening of Four Additional Nigerian Border Posts', the NCS directed all Customs formations and Joint Border Patrol Teams to ensure proper manning in compliance with extant operational guidelines.
The circular read in part, "Sequel to the presidential directive dated 16 December 2020 granting approval for the phased reopening of land borders namely, Mfum, Seme, Illela and Maigatari borders across the country, I am directed to inform you that four additional borders stated below have been approved for re-opening.
"The borders are Idiroko border post, Ogun State (South-West Zone); Jibiya border post, Katsina State (North-West Zone; Kamba border post, Kebbi State (North-West Zone) and Ikom border post, Cross River State (South-South Zone).
"Consequently, all Customs formations and JBPTs are to take note and ensure that proper manning takes place in compliance with extant operational guidelines. Above is forwarded for your information and compliance."
Reacting to this, a member of the National Association of Government Approved Freight Forwarders, Segun Musa, charged the government to tell Nigerians what had been achieved by closing the borders.
"Federal government has refused to tell us what they have achieved from the closure of the borders these years. If there has not been any achievement, then the closure was a disaster. As the government re-opens the border, they should be able to tell us what they have achieved within the period and what measures have been put in place to ensure that we don't expect a closure again."
He said the Federal Government needed to provide these explanations to assure Nigerians that the border closure itself was not a disaster.
"Government can't just wake up overnight, after closing the borders for too long, and just re-opened it without analysing their achievements so far during the closure."
According to him, "We have not gained anything and it has been a disaster. A lot of businesses are shut down. We have over 80 per cent of small-scale businesses that are using that corridor to source their raw materials, equipment, spare parts and other consumables. And they lost billions of dollars in that unfortunate situation. Some even committed suicide and nobody has put a measure in place to check the impact assessment."
Also speaking, a member of the Association of Nigerian Licensed Customs Agents, Ojo Akintoye, said that the reopening of the land borders was political.
He queried why the decision was coming now that the country was planning for its 2023 election.
"It is political, tell us why they were closed in the first place and tell us why the government decided to open the borders now that the election is around the corner. I don't know why we continue to deceive ourselves in this country. You said you closed the borders because of security threats and since then till now, the security threat has been increasing on a daily basis. So how do we justify that?
"Or is the government coming to tell us that there are no more security challenges in the country? So, closing the borders is political and opening it around this time is also political, that is to the best of my knowledge," he concluded.