MarketNews
Bitcoin Flashes Sell Signal After Struggling to Break $9,000 - BLOOMBERG
JANUARY 21, 2020
Technical indicator warning is first since peak in June 2019

Cryptocurrency trades near highest level since November
Although Bitcoin kicked off the year with renewed enthusiasm, a technical indicator is indicating potential trouble ahead.
The largest cryptocurrency's Global Strength Indicator, a measure of upward and downward movements of successive closing prices, is posting a sell signal, the first since the digital asset's peak last year in June.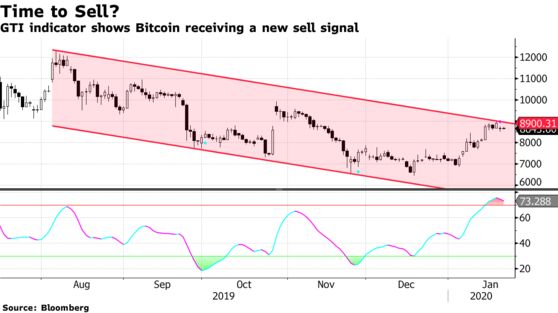 In recent weeks, Bitcoin has failed to successfully overtake the $9,000 mark for a sustainable period, with a dip at the beginning of January pushing the price below $7,000. But the downward trend reversed last week, with Bitcoin briefly breaching $9,000 on Jan. 17, the highest since November.
The sell signal Tuesday is reminiscent of one in June that saw the coin to drop to nearly $7,400, a trough that lasted to mid-December.
The price swings come in the wake of a volatile 2019, in which investor optimism over the announcement of Facebook Inc.'s Libra crypto project was followed by skepticism and upped regulatory scrutiny.
"On a technical basis, it's getting overbought and more importantly for political reasons I think there are just too may political headwinds for a cryptocurrency to get the kind of traction the bulls think it will," said Matt Maley, an equity strategist in New York at Miller Tabak & Co.
— With assistance by Kenneth Sexton