MarketNews
British Airways: 'glitch' delays flights at Heathrow and Gatwick - THE GUARDIAN UK
NOVEMBER 21, 2019
British Airways: 'glitch' delays flights at Heathrow and Gatwick
Airline rebooking passengers on alternative flights after latest 'technical issue'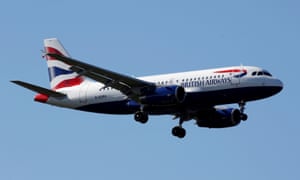 British Airways has apologised for the latest disruption to customers' travel plans. Photograph: Régis Duvignau/Reuters
British Airways has blamed a "technical issue" for disruption to its flights around the world, but said it expected to operate virtually a full schedule on Thursday.
Some long-haul flights into the UK's two busiest airports, Heathrow and Gatwick, were severely delayed overnight and the airline said there would be knock-on effects, including further delays.
Aabout 45 flights due to land at Heathrow were delayed by more than 45 minutes by 9am. The worst affected was flight BA170 from Pittsburgh, US, which was expected to arrive more than 12 hours late.
BA said it was working hard to resolve an unspecified "technical issue" affecting inbound long-haul flights and that it had rebooked customers on alternative flights with hotel accommodation for those unable to continue their journeys
A BA spokesman said later on Thursday morning: "We plan to operate a full flight schedule today.
Quick guide
What are your rights when flights are cancelled or delayed?
Show
"There may be some knock-on delays to flights and we are advising customers to check ba.com for the latest flight information.
"We are sorry for the disruption to customers who have been affected."
It is the latest in a series of systems failures to hit the airline in recent months. In August, an IT glitch led to the cancellation of more than 100 flights and disrupted the travel plans of tens of thousands of passengers.
BA's system resilience has been the focus of particular scrutiny since a major incident in May 2017, in which all flights from its major London airports were cancelled, stranding tens of thousands of passengers. A power outage caused by an engineer overriding the electrical failsafe was blamed by executives.