Travel News
Nigerian Consulate In New York Shut As COVID Spreads Among Staff - SAHARA REPORTERS
FEBRUARY 21, 2021
The consulate disclosed this in a public notice dated February 18, adding that the action became necessary to safeguard its staff and visitors' health.
The Nigerian Consulate in New York has suspended operations temporarily over the exposure of some of its staff members to the coronavirus.

The consulate disclosed this in a public notice dated February 18, adding that the action became necessary to safeguard its staff and visitors' health.


The notice read, "The general public is, as a result of this, notified that the Consulate General of Nigeria, New York, will be temporarily closed from Thursday, February 18, 2021, to Sunday, February 28, 2021, due to the number of staff who are quarantined as a result of exposure to COVID-19 at work.

"This action has become necessary to safeguard the health of staff and visitors to the consulate.

"Therefore, passport applicants who have been earlier scheduled for biometrics within the period of closure would be rescheduled and informed accordingly.

"All other requests for consular services should be mailed to the Consulate during this period."

The consulate general said it would reopen for regular services on March 1, 2021.

The US has the highest number of COVID cases in the world.
Americans may still need masks to fight COVID in 2022, Fauci says - REUTERS
FEBRUARY 21, 2021
WASHINGTON (Reuters) - Americans may still need to wear masks in 2022 even as the country relaxes other restrictions to combat COVID-19, Dr. Anthony Fauci, the nation's top infectious disease expert, said on Sunday.
While daily infection rates are coming down dramatically, thousands of Americans still die every day from the virus, and less than 15% of the U.S. population has been vaccinated against it. (Graphic: here)
President Joe Biden is trying to accelerate the campaign to vaccinate most American adults as local governments clamor for more doses to prevent the highly contagious illness that has claimed nearly 500,000 lives in the United States.
Fauci, Biden's top medical adviser, told CNN that the approaching deaths tally was "a terribly historic milestone in the history of this country."
Asked if Americans should expect to still be wearing masks into next year, Fauci said: "I think it is possible that that's the case," adding that it depended on the level of the virus in communities and potential virus variants.
"Obviously, I think we are going to have a significant degree of normality beyond the terrible burden that all of us have been through over the last year," Fauci said.
In an interview on NBC's "Meet the Press", Fauci said it was too soon to pinpoint when the United States might reach herd immunity. "We want to get that baseline really, really, really low before we start thinking that we're out of the woods."
He told "Fox News Sunday" that whether people in the United States will later need a booster shot depends on the path the South African variant takes.
While the currently available vaccines appear protective against the UK variant that has appeared across the country, they are less protective against the South African one, which so far is not dominant, he said.
"If in fact this becomes more dominant, we may have to get a version of the vaccine that is directed specifically against the South African isolate," Fauci told Fox, saying studies were already underway.
Reporting by Michael Martina, Susan Heavey and Linda So; Editing by Lisa Shumaker
French city of Nice asks tourists to stay away amid COVID surge - REUTERS
FEBRUARY 21, 2021
PARIS (Reuters) - The mayor of Nice in southern France called on Sunday for a weekend lockdown in the area to reduce the flow of tourists as it battles a sharp spike in coronavirus infections to triple the national rate
The Nice area has France's highest COVID-19 infection rate, with 740 new cases per week per 100,000 residents, according to Covidtracker.fr.
"We need strong measures that go beyond the nationwide 6 p.m. curfew, either tighter curfew, or a partial and time-specific lockdown. A weekend lockdown would make sense," Mayor Christian Estrosi said on franceinfo radio.
Health Minister Olivier Veran said on Saturday the government would decide this weekend on tightening virus control measures in the Mediterranean city.
Before ordering a second national lockdown in November, the government imposed curfews some cities and closed restaurants in Marseille, but it has generally refrained from regional measures due to protest from local politicians and businesses.
"We do not rule out local lockdowns," government spokesman Gabriel Attal said on LCI television.
He added that the trend in new cases was not good in recent days and that there was no case for loosening curfew.
"The weather is nice, everybody rushes to come here. A weekend lockdown would put a stop to that, without halting economic activity in the city," Estrosi said.
Estrosi said infection rates had leapt due to the massive inflow of tourists over the Christmas holiday. International flights to the city had jumped from 20 a day before Christmas to 120 over the holiday - all this without people having virus tests in their country of origin or on arrival.
"We will be happy to receive lots of tourists this summer, once we win this battle, but it is better to have a period while we say 'do not come here, this is not the moment'. Protecting the people of Nice is my priority," he said.
Reporting by Geert De Clercq; Editing by Frances Kerry and Raissa Kasolowsky
Nigerians in Canada kick against new charges by High Commission - THE GUARDIAN
FEBRUARY 21, 2021
By Onyedika Agbedo
Nigerians living in Canada have kicked against the introduction of new charges for passport renewal, replacement and other services by Nigeria High Commission in Canada.
In a statement, yesterday, Chairman, Nigerian and Canadian Business Network (NCBN), King Wale Adesanya, described the new charges as outrageous, urging the High Commissioner, Adeyinka Asekun, to delay its implementation.
He said the decision was not only arbitrary and inauspicious, but also capable of bringing untold hardship to concerned family members, as well as Nigerian students, who have had to grapple with the effects of COVID-19.
"On behalf of Nigerians living in Canada, we request a delay in implementing the new surcharge. We also seek an urgent meeting between the High Commission and various community organisations and stakeholders," he said.
The Guardian learnt that the High Commission in a reference letter No. NHC/OTT/ADM.422/X dated February 2, 2021 titled, 'Presidential Directive on the Implementation of Administrative Charges at Nigerian Missions', announced the introduction of the new charges for effective management and efficient service delivery.
"The High Commission hereby presents hereunder, the list of services as well as the administrative charges, which takes effect from Wednesday, February 10, 2021. Passport: Fresh Issue/Renewal, $50; Expedited issuance (wait and get) $200; Lost Passport (Caution Fee) $400; Letter of Certification of Passport, $70; Emergency Travel Certificate (E.T.C.) (i) with expired Nig. Passport, $50; (ii) without Passport (Lost Passport with police report) $100; Authentication of Documents $30 (per document); Authentication of Corporate/Business documents $150; Letter to Police for Character Certificate (police report) $50; Repatriation/Shipment of Human Remains $50 (per document); Driver's Licence letter $100; Change of Data (Passports) (i) by marriage $100 (ii) others $150."
Why Britain's anti-immigration politicians are opening the doors to thousands of Hong Kongers - CNN
FEBRUARY 21, 2021
By Tara John, CNN
(CNN)Eighteen months ago, Malcolm was at the vanguard of Hong Kong's pro-democracy movement.
Full of bravado and often clad in black, the 21-year-old oversaw a group of 60 combative front-liners who embraced confrontational tactics against the police while demanding greater democracy in the former British colony.
Today, he is applying for asylum in the United Kingdom, and separated from his family in Hong Kong where he feels he can longer visit. Malcom believes if he returns to the Chinese city he could be arrested under a sweeping national security law imposed by Beijing on Hong Kong last June, which scaled up penalties against dissent to include punishments as severe as life imprisonment.
Since then, nearly 100 activists have been arrested under the new law. When Hong Kong police apprehended a protester friend of Malcolm's in October, he booked a red-eye flight to London. Malcolm asked CNN not to use his real name, for fear that his family -- who remain in Hong Kong -- could face repercussions.
The British government has called the security law a clear violation of the "one country, two systems" policy meant to ensure Hong Kong's autonomy from Beijing until 2047. In its wake, the UK has opened a six-year pathway to British citizenship for holders of British National (Overseas) passports (BN(O)), a special visa category created for Hong Kong nationals before the 1997 transfer of power.
The visa does not account for the most vulnerable Hong Kongers: young pro-democracy protesters, like Malcolm, who were born after 1997 and are therefore not eligible. But it is nonetheless remarkable in its scope -- in a city of 7.5 million people, 5.2 million Hong Kongers and their dependents are eligible for it.


Malcolm is one of hundreds of young pro-democracy protesters who have left Hong Kong.
It's also remarkable for another reason: it has been pioneered by the same British politicians who engineered the UK's break from the European Union, in part, to curb immigration.
It sets a markedly different tone for the Conservative government, and its cheerleaders in the British press, who have spent the past decade pushing anti-immigrant policies. And critics say it is predicated on a flawed idea of Hong Kongers as a "model minority" who will need no support to settle into a new life in the UK.
A different tone
The UK voted to leave the European Union in 2016 following a campaign dominated by anti-immigration rhetoric -- much of it emanating from the same politicians who are now running the government.
In one campaign missive, pro-Brexit lawmakers Boris Johnson, Priti Patel, and Michael Gove stoked fears that rising numbers of southern European immigrants would "put further strain on schools and hospitals," and that "class sizes will rise and waiting lists will lengthen if we don't tackle free movement."
Yet last June, Prime Minister Boris Johnson announced the visa pathway for millions of Hong Kongers, describing the offer as being "one of the biggest changes in our visa system in history." The same politicians and media houses that warned darkly of an influx of foreigners during the Brexit campaign raised few objections this time around.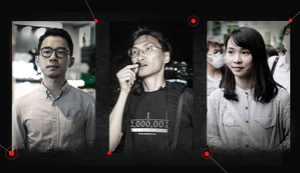 The exiles and the inmates: The heart-wrenching hand dealt to Hong Kong's democracy activists
Last month, Priti Patel, now the Home Secretary, said she looked forward to welcoming Hong Kongers "to our great country." Yet in 2016, Patel campaigned against what she described as "uncontrolled migration" from the EU, and last year she is reported to have considered plans to send those seeking asylum in the UK to two Atlantic islands more than 4,000 miles away.
Welcoming Hong Kongers has become one of the few issues in British politics that commands bipartisan support, uniting opposition Labour, Green Party and Scottish National Party members with the hawkish, anti-China wing of the Conservative party.
The British government's shift in attitude could echo a change in public opinion -- migration concerns in the UK appear to have softened considerably in recent years. The jury is out as to why public attitudes have shifted, but it has coincided with immigration dropping off the agenda as a political issue in the past few years.
There is also a feeling of colonial "indebtedness" to the people of Hong Kong, says Jonathan Portes, a Professor of Economics and Public Policy at King's College London.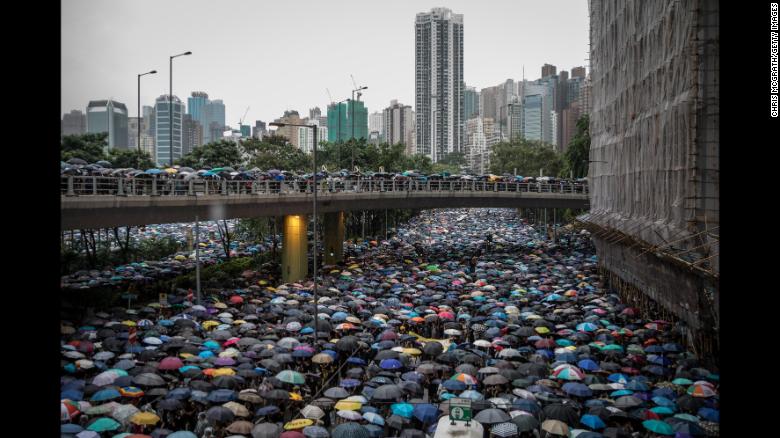 Hundreds of thousands took part in pro-democracy protests in Hong Kong.
Some of Brexit's biggest backers are championing the scheme "in a pretty explicit break with the approach of [Margaret] Thatcher in the run up to 1997," Portes said, explaining that the late UK Prime Minister "wanted to limit, as much as possible, the number of Hong Kong Chinese who came here, because of her wider anti-immigration views."
Defending Hong Kong against the creep of authoritarianism has also become a moral issue in the UK, which has hardened its attitude towards China in the past year. The UK has barred Chinese telecoms giant Huawei from playing a part in the country's 5G network, and has been vocal in its criticism of Beijing for human rights abuses against Uyghurs and other minorities in the Xinjiang region.
Model minority
Perhaps one of the reasons the Hong Kong visa scheme has been so lauded is that its recipients are also being sold to the British public by hardline Brexiteers as a caricatured model minority, say critics.
Hong Kong nationals "wouldn't cost our taxpayers a penny... [they] would bring their own wealth," Conservative peer Daniel Hannan wrote in the right-wing Daily Telegraph newspaper. "And once they arrived, they would generate economic activity for the surrounding region, just as they did in their home city."
The Home Office estimates that up to 153,700 BN(O) holders will arrive in the country this year -- and estimates they could bring £2.9 billion ($4.1 bn) into the economy over five years.
Yet the reality might not be so clear cut.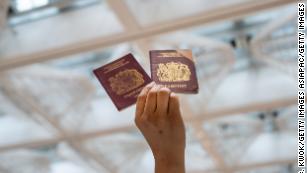 UK prepares to welcome thousands of Hong Kongers fleeing national security law
Hong Kong has one of the highest GDPs per capita in the world, but it is also one of the most economically unequal places on the planet, where one in five people are estimated to be living in poverty.
A family of two adults and two children will have to pay as much as £12,000 ($16,600) in immigration-related fees and have more than £3,100 in the bank in savings, according to the UK Home Office, and that doesn't include flights.
The language barrier (forms will need to be completed in English), and having to demonstrate the ability to accommodate and support themselves for at least six months, are also likely to put some off.
"60% of the people in Hong Kong live in public housing estates and they would find it harder [compared to Hong Kong's white-collar workers] to settle in a foreign country," Chan added.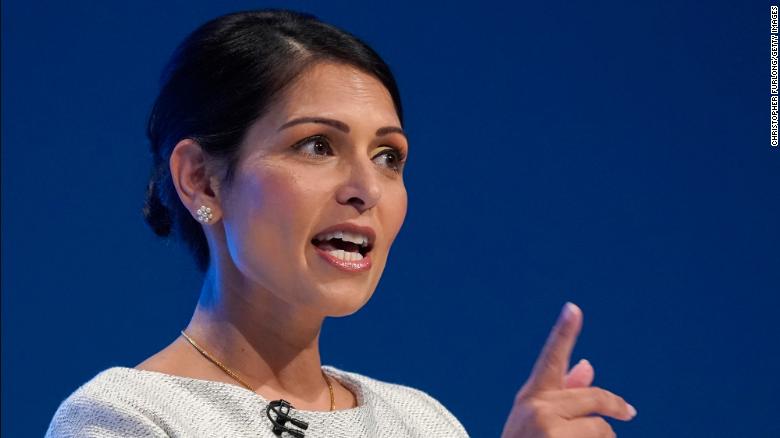 Some of Brexit's biggest backers are championing the scheme, including Home Secretary Priti Patel
Nor is it straightforward for those who are able to scrape the funds together, campaigners say. A study by civil society group Hong Kongers in Britain found that the majority of people planning to take up the visa are highly educated and financially able to support themselves through the move. Yet their main concerns about the move are finding accommodation, living costs, finding a job, and integrating into British society. More than a quarter of those surveyed worried about having trouble communicating in English.
Another challenge is the support that awaits them when they arrive in the UK.
The UK does not have a formal national integration program for immigrants. And there is no nationwide integration plan for the Hong Kongers who emigrate under the new scheme, according to Fred Wong, who works with Hong Kong ARC, a civil society group which offers Hong Kongers legal and mental health support. Wong asked CNN not to use his real name because he still has family in Hong Kong and fears for their safety.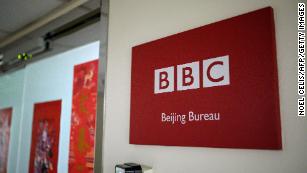 Inside the battle between the BBC and China
Some of the 40 Hong Kongers who Wong is currently helping in the UK have yet to finish university or high school, while around half have never held down a job before and are struggling to get on the ladder in the UK. The UK government has no provisions to help them find jobs, set up bank accounts, or access mental health support, Wong said.
"Most of them suffer from PTSD [post-traumatic stress disorder], which could be a reason or excuse [to why] they are not progressing," Wong said. His group has been organizing free psychological consultations and talks on how to overcome insomnia, nightmares and stress, as many of the Hong Kongers Fred helps have had trouble sleeping since fleeing the territory.
The model minority narrative means that the UK government is "unprepared, and maybe a bit oblivious to the amount of support that's needed," Wong said.
"The UK government is working alongside civil society groups, local authorities and others to support the effective integration of BN(O) status holders and their families who choose to make our United Kingdom their home," UKs Minister for Future Borders and Immigration, Kevin Foster, told CNN in a statement.
Support could shift
Polls show that the majority of British voters support the BN(O) scheme, but attitudes could shift as an estimated 300,000 BN(O) holders arrive in the next five years, Tanja Bueltmann, a professor of migration and diaspora at the University of Strathclyde, told CNN.
"The [ BN(O) scheme] is genuinely well meaning, but the provision around it is not very good," she explained -- something that raises questions over how many Hong Kongers will make the move in the end.
The other worry is Hong Kongers will face racially aggravated violence at a time of increasing xenophobia against people of East Asian appearance in the UK. Figures from London's Metropolitan Police showed that people who self-identified as Chinese, and whose ethnic appearance was recorded as "Oriental," experienced a five-fold increase in racist crimes between January 2020 and March 2020. Polling done in June found that three quarters of people of Chinese ethnicity in the UK had experienced being called a racial slur.
During an October debate on racism against the Chinese and East Asian community in Parliament, Scottish National Party lawmaker David Linden said some of his constituents "described the attacks against them, with restaurants and take-outs being vandalized and boycotted and victims being punched, spat at and coughed on in the street and even verbally abused and blamed for the coronavirus pandemic."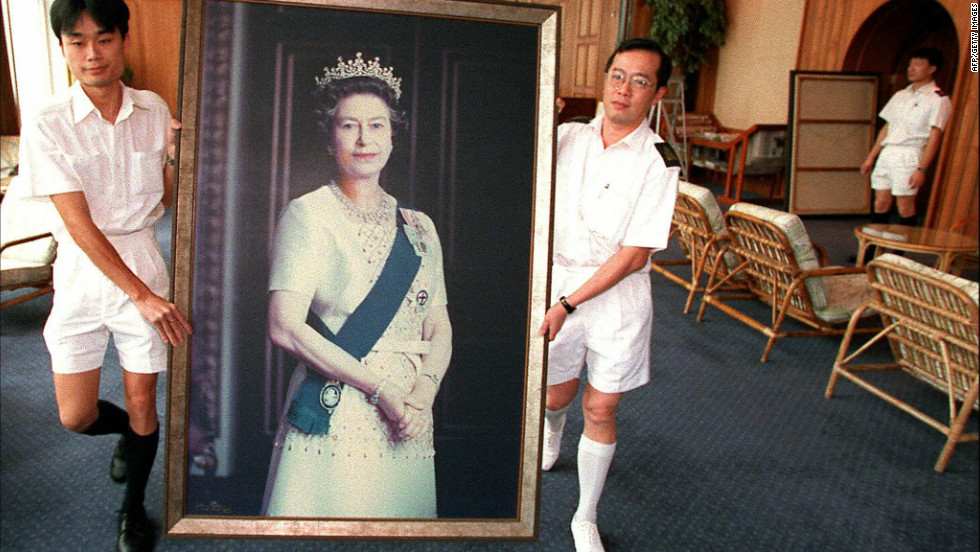 Two Royal Navy sailors carry a portrait of Queen Elizabeth through the British Forces' Hong Kong headquarters as her pictures are taken down ahead of the handover of Hong Kong in 1997.
London-based Hong Kong Watch and 10 other civil society groups wrote to the government in January expressing concern about the lack of a "meaningful plan in place to ensure that the new arrivals properly integrate ... local authorities do not have specific policies, strategies or the creative bandwidth to welcome and integrate Hong Kong arrivals into their communities."
"The government must learn the lessons from past failures and take pre-emptive action now," their letter read.
'In limbo'
In the meantime, up to 350 Hong Kong dissidents between the ages of 18 and 24 are believed to be currently "stuck in limbo" in the UK, according to Wong from Hong Kong ARC. Being born after 1997, they are not eligible for the BN(O) scheme.
Some are in the country on tourist visas, biding their time until the UK government creates a policy that considers them, or until Canada begins its planned work-visa pathway for young Hong Kong dissidents. Australia has offered a pathway for permanent residency for Hong Kong students and skilled workers currently in the country.
But pandemic-related travel restrictions, as well as a lack of funds, mean many have had to rely on the generosity of civil society groups for a stipend, food and even accommodation.
Others, like Malcolm, have already applied for political asylum in the UK. The process can take more than a year. Asylum seekers are not allowed to work or open a bank account while their claim is being processed; they will be charged higher international fees if they attend a UK university.
And campaigners say there is no guarantee that pleas for asylum will be granted. According to the Refugee Council, in the year to September 2020, only 49% of initial decisions by the Home Office resulted in a grant of asylum or other form of protection.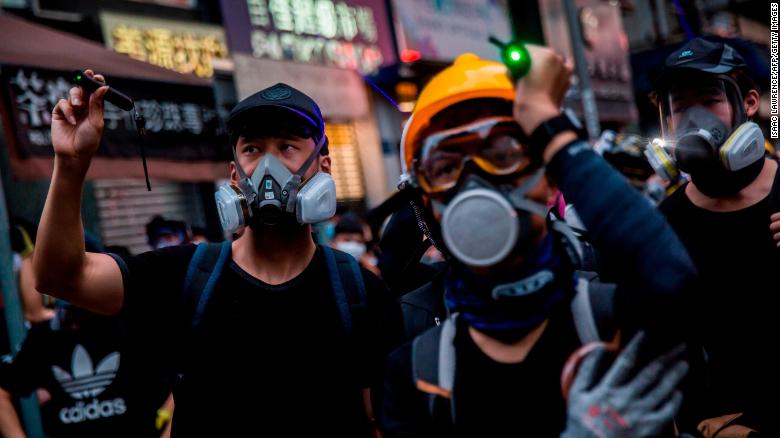 Welcoming Hong Kongers has become one of the few issues in British politics that commands bipartisan support.
Many asylum-seekers instead have to rely on asylum appeals through the courts to provide them with refugee status.
"The pro-democracy protests would not have existed without them [young activists], and without the protests there would not have been the BN(O) scheme -- but they're the ones who are being left behind," said Chan.
Malcolm says he is luckier than most, having a sizeable inheritance to survive on, and a network of contacts that helped find him accommodation outside London. He hopes to apply for college once he gains asylum, but in the meantime has started to financially support around 20 dissidents in the UK and Hong Kong. He says that the British government has not done enough to help his generation.
'Practice makes perfect'
Hong Konger Sze, who asked CNN not to use her full name because her family still lives in Hong Kong, quit her job as a high school geography teacher and came to the UK in October on holiday to visit some friends.
At the end of her two-week trip, Sze decided to stay. She told CNN she plans to apply for BN(O) visa at the end of this month and is living off her savings in a flat she rents with a friend in North London in the meantime. Sze has been looking into roles as a geography teaching assistant or tutor as her Hong Kong teaching qualifications are recognized in the UK. When asked if her halting English will be a liability, Sze says "practice makes perfect."
The 28-year-old said China's incursion into everyday life in Hong Kong had influenced her decision to stay, as had the fact that being in the UK means she has the "freedom to do what I want and even protest every week," without fear of political retribution.
It would be intolerable to live in Hong Kong now, especially since teachers have been compelled to "teach students about the [national] security law," she said.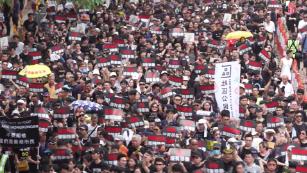 Nathan Law: 'Hong Kong is not losing hope' (2019) 07:28
Sze has settled into London life: She already has strong opinions on the snail's pace of London buses and is counting the days to when lockdown ends and she can go shopping on Oxford Street.
While it can be hard to find the authentic Cantonese cuisine she grew up eating in Hong Kong, Sze marvels at how much cheaper food is at British supermarkets.
"The food quality is better, the price is cheaper and the rent is cheaper," she told CNN.
Sze cannot get a job until her BN(O) visa is approved, but she is optimistic that the UK's coronavirus-induced economic slump will not get in the way of her finding work. "I am open to any [job] option -- it really depends on how much savings I have," she said.
But her biggest concern is the fate of fellow dissidents going through the asylum process, and whether her compatriots who move to the UK will give up the fight for independence back home.
"Hong Kongers should never give up, no matter if they've left Hong Kong or not," she said.
FAA orders stepped-up inspections of Boeing 777s after United engine failure - REUTERS
FEBRUARY 22, 2021
WASHINGTON (Reuters) - The U.S. Federal Aviation Administration said on Sunday it is issuing an emergency airworthiness directive following an engine failure of a United Boeing 777 in Denver, requiring immediate or stepped-up inspections of similar planes.
FAA Administrator Steve Dickson said in a statement late Sunday the directive covers Boeing 777 airplanes equipped with certain Pratt & Whitney PW4000 engines and it "will likely mean that some airplanes will be removed from service."
Dickson said the initial review of Saturday's engine failure shows "inspection interval should be stepped up for the hollow fan blades that are unique to this model of engine, used solely on Boeing 777 airplanes."
United is the only U.S. operator with the PW4000 engine type in its fleet.
Reporting by David Shepardson; Editing by Sam Holmes
Boeing 747 cargo plane drops engine parts in Netherlands, investigation launched - REUTERS
FEBRUARY 22, 2021
AMSTERDAM (Reuters) - An incident involving a Boeing 747-400 cargo plane that dropped engine parts after a mid-air explosion and fire over the southern Netherlands on Saturday is under investigation, the Dutch Safety Board said.

The Longtail Aviation cargo plane, flight 5504, scattered small metal parts over the Dutch town of Meerssen, causing damage and injuring a woman shortly after take-off, Maastricht Airport spokeswoman Hella Hendriks said.
The Bermuda-registered plane, which was headed from Maastricht to New York, was powered by Pratt & Whitney PW4000 engines, a smaller version of those on a United Airlines Boeing 777 involved in an incident in Denver, also on Saturday.
After that incident, Boeing recommended airlines suspend operations of certain older versions of its 777 airliner powered by Pratt & Whitney 4000-112 engines, variants currently flown by five airlines.
U.S. regulators announced extra inspections and Japan suspended their use while considering further action.
In the Dutch incident, witnesses heard one or two explosions shortly after take-off and the pilot was informed by air traffic control that an engine was on fire, Hendriks said.
"The photos indicate they were parts of engine blade, but that's being investigated," she said. "Several cars were damaged and bits hit several houses. Pieces were found across the residential neighbourhood on roofs, gardens and streets."
Longtail Aviation said it was "too early to speculate as to what may have been the cause of the problem" and that it was working with Dutch, Belgian, Bermuda and UK authorities looking into the incident.
Dozens of pieces fell, Hendriks said, measuring around 5 centimetres wide and up to 25 centimetres long. The aircraft landed safely at Liege airport in Belgium, some 30 kilometres (19 miles) south of the Dutch border.
Boeing referred questions to Dutch authorities.
"Our investigation is still in a preliminary phase, it is too early to draw conclusions," a spokeswoman for the Dutch Safety Board said on Monday.
Europe's EASA aviation regulator said on Monday that it was aware of the Pratt & Whitney jet engine incidents, and was requesting information on the causes to determine what action may be needed.
Reporting by Bart Meijer and Anthony Deutsch; editing by Emelia Sithole-Matarise and Jason Neely
NLC Threatens to Ground Turkish, Caverton Helicopters over Anti-labour Activities - THISDAY
FEBRUARY 22, 2021
BY Chinedu Eze
The Nigeria Labour Congress (NLC) has threatened to ground the operations of Turkish Airlines and Caverton Helicopters over its members that were relieved of their appointment at both airlines.
The body also insisted that it would continue to oppose the plan to concession Nigeria's airports, saying it was against the interest of the people and the country. These were contained in the communiqué issued at the weekend, after the National Executive Council (NEC) of the NLC held at Abuja.
The communiqué, which was jointly signed by the President and General Secretary, NLC, Comrades Ayuba Wabba and Emmanuel Ugboaja respectively, insisted that the sack of workers by Turkish Airlines and Cavrton Helicopters was against the dictates of the labour laws in the country.
"The case of sack of trade union executives by Turkish Airline and the anti-unionisation stance of Caverton Helicopters were discussed by NEC. "NEC deplored the industrial tyranny by Turkish Airlines and Caverton Helicopters.
"The NEC also decried continued violation of workers' rights in the banking sector especially through imposition of outrageous targets and absence of formal machinery for collective bargaining," the communiqué stated. NLC also noted that the move by the government to concession Lagos, Abuja, Kano and Port Harcourt Airports to private business was unnecessary.
It insisted that neither concession nor privatisation of public assets were in favour of government or members of the public, arguing that it would end up favouring individuals in the system.
"The NEC also discussed the current move by government to concession Nigeria's major airports to private business. The NEC described the move as resonating with the appetite by successive Nigerian governments to privatise every public asset.
"The NEC warned that experience shows that neither concession nor privatisation of public enterprises and assets have been to the advantage of the Nigerian people and workers." It maintained that efforts by successive government to concession the airport terminal facilities were driven by narrow interests, noting that they were at best self-serving.
Canada Cautions Citizens against Non-essential Travel to Nigeria - THISDAY
FEBRUARY 23, 2021
By Segun James

Following the security challenges in Nigeria, the Government of Canada has warned its citizens against non-essential travel to the country.
It also cautioned its citizens resident in Nigeria to exercise high level vigilance so as not become victims of the insecurity in Nigeria.
In a travel advisory published on its official websites, the Canadian government urged citizens to "avoid non-essential travel to Nigeria due to the unpredictable security situation throughout the country and the significant risk of terrorism, crime, inter-communal clashes, armed attacks and kidnappings".
The advisory further read, "Avoid all travel to the following regions due to the risk of terrorism, armed attacks, kidnapping, inter-communal and sectarian violence:
"The north-western states of Kaduna, Kano, Katsina, Sokoto and Zamfara; the north-central state of Plateau;
"The north-eastern states of Adamawa, Bauchi, Borno, Gombe, Jigawa and Yobe; and
"The Niger Delta states of Akwa Ibom, Anambra, Bayelsa, Delta, Imo and Rivers (with the exception of Rivers' capital city, Port Harcourt, where we advise against non-essential travel)."
The Canadian government also urged its nationals in Nigeria to "exercise a high degree of caution in the cities of Abuja, Calabar and Lagos due to the incidence of crime".
Emirates, KLM'll compensate passengers of cancelled flights - NCAA - PUNCH
FEBRUARY 23, 2021
BY Okechukwu Nnodim, Abuja
The Nigerian Civil Aviation Authority on Monday said Emirates and KLM airlines would compensate passengers for cancelling or delaying their flights at short notices.
NCAA's Director-General, Musa Nuhu, who disclosed this at the briefing of the Presidential Task Force on COVID-19, stated that senior government officials had had discussions with the airlines over the matter.
He said, "We have been having some issues with two airlines, namely Emirates and KLM, who have not been flying passengers out of Nigeria for two weeks. They have only been flying passengers into Nigeria.
"Shortly before this, they requested to conduct rapid test four hours before departure and at that point in time, we were not ready with the logistics for the request from the countries.
He added, "Shortly after that, they stopped and for a couple of days, some passengers really went through difficult times without notice of cancellation of their flight.
"The Minister of Aviation and NCAA had discussions with the airlines, state authorities concerning the unfavourable treatment of Nigerians and they are certainly going to compensate all passengers whose flight were cancelled or delayed with short notice."