Market News
FX Traders' $2.2 Trillion Dream Actually Closer to $456 Billion - BLOOMBERG
OCTOBER 12, 2017
BY Katherine Greifeld
Dollar bulls may be disappointed if they're pinning their hopes on Republican proposals that could clear the way for U.S. companies to repatriate profits stashed overseas, according to JPMorgan Chase & Co.
Of the $2.2 trillion the bank estimates is available for repatriation, the actual flow back into dollars may be around $456 billion, given that much of the money is either already in the U.S. currency or is otherwise hedged or held in illiquid assets, according to analysts Daniel Hui and Niall O'Connor.
The numbers argue that even if President Donald Trump unites Republican leaders around a tax-overhaul plan that includes a one-time levy on offshore profits, the downtrodden dollar may only get a limited boost. After falling to the lowest since January 2015 last month, the Bloomberg dollar index has risen almost 3 percent, in part as traders factored in the prospect of economic stimulus from tax reform.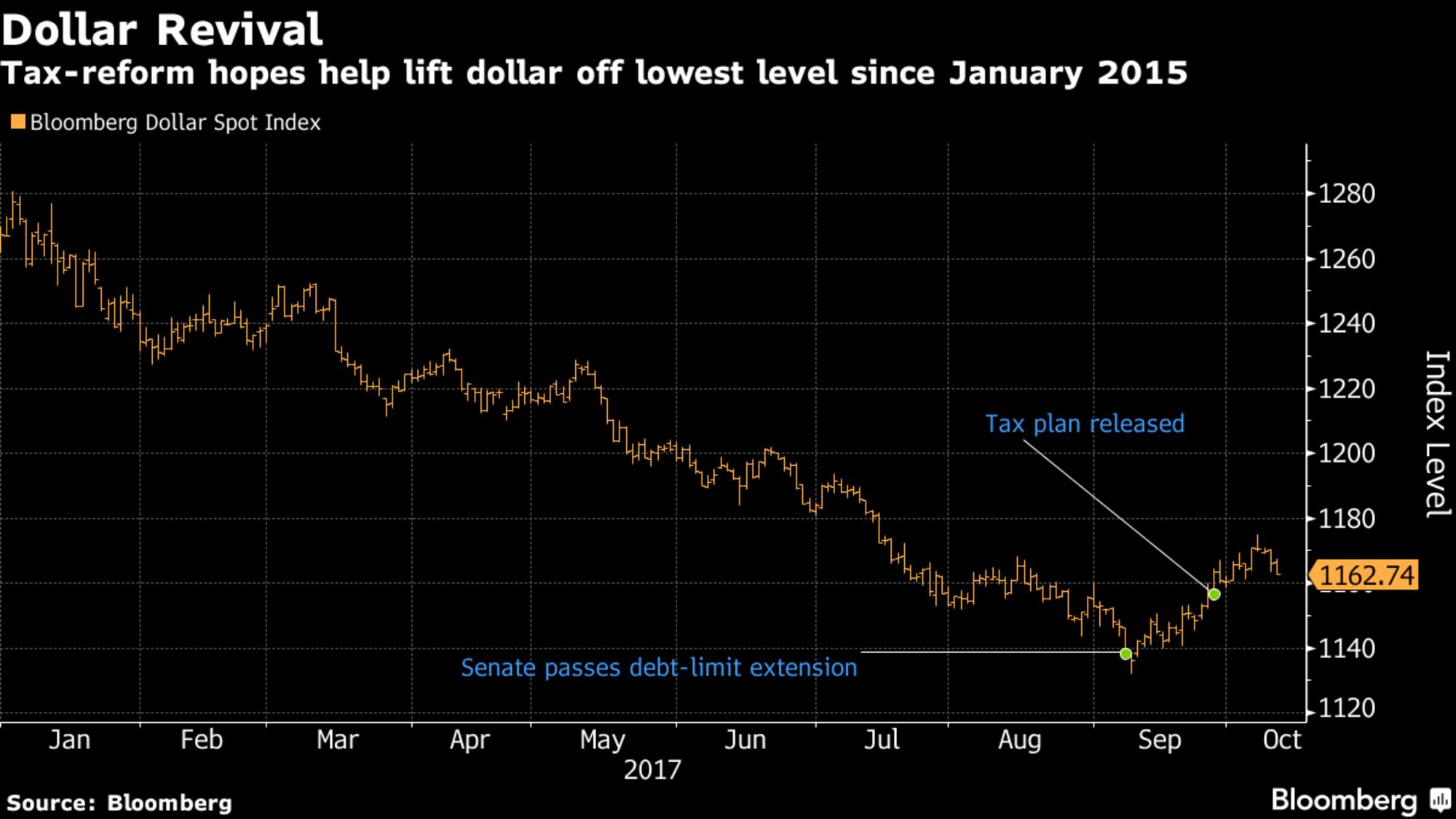 "The reality of corporate repatriation is that the likely FX flow is much smaller than headlines suggest, and the historical impact from such flows shouldn't be over-read," Hui and O'Connor wrote in an Oct. 6 note.
The analysts were referring to the historical precedent of repatriation flows resulting from the Homeland Investment Act of 2004, which also provided for a one-off tax holiday on foreign earnings. The dollar rebounded in 2005, after three straight annual declines.
In Hui's analysis, the greenback probably advanced that year as a result of easing concern about the U.S. current account deficit amid Federal Reserve rate hikes, rather than because of repatriated overseas profits.
Some Benefits
That isn't to say that tax reform would be devoid of benefit for the dollar, which is down about 8 percent this year. A move to reduce levies, for example, could provide stimulus, with more potential to buoy the currency than repatriated profits, according to Hui.
"So in some ways, it's more important to ask what is the impact on the dollar of broader tax reform that might also include a repatriation component," he said in a phone interview.
The upshot for the bank is that any upside in the greenback will likely be blunted by shifting expectations for monetary policy globally, particularly against the euro. JPMorgan expects that the common currency will rise to $1.2500 by September 2018, from roughly $1.1870 now, as the European Central Bank moves toward policy normalization.