MarketNews
German Economy Rebounds From Stagnation With 0.4% Expansion - BLOOMBERG
MAY 15, 2019
Reading matches forecasts, follows two quarters of no growth

Economy remains at risk from escalation of global trade war
Consumer spending, construction and equipment investment boosted growth.
Photographer: Krisztian Bocsi/Bloomberg
Go inside the global economy with Stephanie Flanders in her new podcast, Stephanomics. Subscribe via Pocket Cast or iTunes.
Germany's economy emerged from stagnation at the beginning of 2019, returning to growth despite a slump in manufacturing that continues to plague the nation.
The 0.4% expansion signals some strength across the euro area in the first quarter amid a better-than-expected performance in a number of countries. But industry is under pressure and the region is at risk of being sucked into an increasingly tense U.S.-China trade conflict.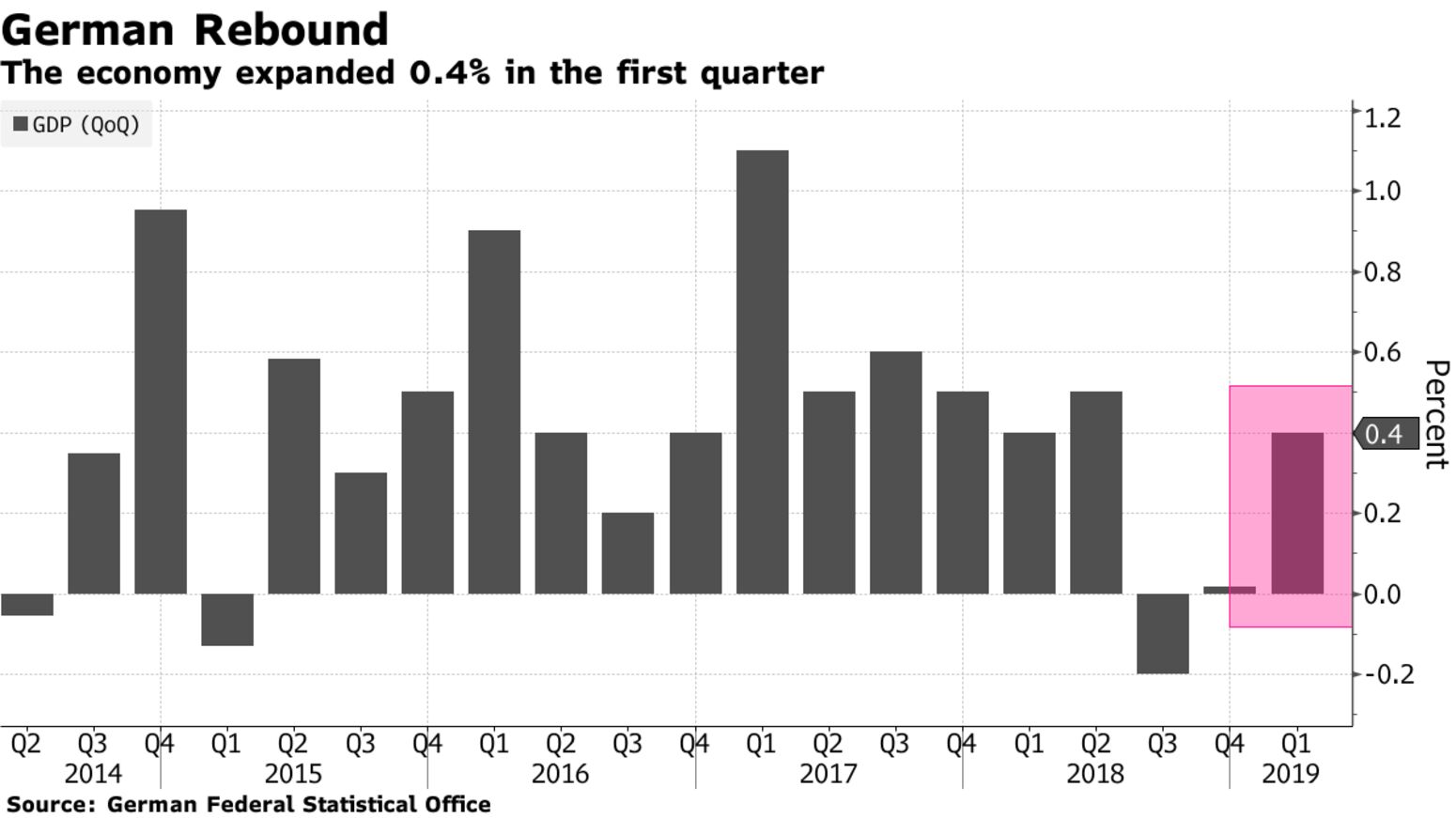 The Chinese economy continues to cool despite efforts by the government and the central bank, with data Wednesday showing slower growth in industrial output, retail sales and investment.
Germany's first-quarter pickup matched the median forecast of economists. The statistics office said consumer spending, construction and equipment investment were a boost, while there were "mixed signals" on trade. German bonds rose, pushing 10-year yields close to minus 0.1%, the lowest since 2016.
What Bloomberg's Economists Say
"Germany's economy performed strongly in first quarter, withstanding a slowdown in external demand and weakness in its manufacturing sector. And we expect the headwinds to weaken by year-end. The euro area's largest economy is unlikely to give the European Central Bank any justification for additional monetary stimulus."
--David Powell, euro-area economist
Click here to read the full REACT
Bloomberg Economics also notes that the lift from construction spending may be temporary and economic growth could "decelerate slightly" this quarter. UniCredit economists share that view and say it's "not out of the woods yet."
Europe's largest economy barely skirted a recession last year after it took a hit from factors including disruption to auto production. While some of those issues have faded, more pronounced protectionist measures could damp business sentiment in the export-heavy nation. Thyssenkrupp on Tuesday noted a "weakening macro environment" as it reported a drop in profit.
Growth in Germany is forecast to slow to 0.5% this year from 1.4% in 2018, according to the government. Euro-area expansion is predicted by economists to ease to 1.2% from 1.9%.
The slowdown, along with weak inflation, has prompted the ECB to delay interest-rate increases. But solid domestic demand is giving hope to some officials about the second half of the year. They hold their next policy meeting on June 6, when their updated projections for the economy will determine how favorable they want to make a new round of loans they're offering banks.
Average first-quarter growth in the 19-nation region more than doubled thanks to Germany, a surge in Spain, resilience in France and a rebound in Italy.
COUNTRYFIRST-QUARTER GDPPREVIOUS QUARTEREuro area0.4%0.2%Germany0.4%0.0%France0.3%0.3%Italy0.2%-0.1%Spain0.7%0.6%Netherlands0.5%0.5%
Eurostat is expected to confirm first-quarter growth in the euro area was 0.4% in the first quarter when the figures are released at 11 a.m. in Luxembourg. Portugal is due to publish its data half an hour earlier and Italian industrial production is also on the calendar.
— With assistance by Kristian Siedenburg, Catarina Saraiva, Harumi Ichikura, Zoe Schneeweiss, and Catherine Bosley
(Adds bunds, Bloomberg Economics starting in fourth paragraph.)