Travel News
Hajj 2022: You'll get your BTA in dollars, Lagos Commissioner assures intending pilgrims - DAILY TRUST
JUNE 24, 2022
By Shakirah Adunola
The Lagos State Commissioner for Home Affairs, Prince Anofiu Olanrewaju Elegushi, has assured intending pilgrims from the state that the $ 800 Travel Allowance (BTA) promised them during the one-day seminar held at the Blue Roof Arena, Agidingbi, Ikeja, recently, would be fulfilled.
He gave the assurance on Wednesday while briefing the fourth batch of the intending pilgrims on the efforts government has taken to facilitate the collection of the dollars for their welfare while in the holy land for the spiritual exercise.
Speaking at the Hajj camp, Murtala Mohammed International Airport (MMIA), Ikeja, Lagos, Elegushi said that the state government had paid the naira equivalent to Union Bank of Nigeria Plc, but the bank was demanding for the e-passport of each intending pilgrim before releasing the money.
According to him, after writing letter guaranting as well as presenting the airlifting manifest of all the intending pilgrims, the bank declined, saying it will need to get appropriate directive from the Central Bank of Nigeria (CBN) before taking necessary action.
While pleading for understanding of the intending pilgrims, he gave assurances that as a responsible and responsive government, the state will do everything humanly possible to ensure the bank releases the BTA in dollars for every pilgrim without further delay.
The commissioner, on behalf of the state government, appreciated the intending pilgrims for their understanding and cooperation, saying the administration of Governor Babajide Olusola Sanwo-Olu and his deputy, Dr. Kadri Obafemi Hamzat will not take the gesture for granted.
The fourth batch of 347 intending pilgrims comprising 143 males and 204 females were merged with 81 from Oyo State and three NAHCON officials to make a total of 431 passengers on board the Flynas Airbus with registration number PK-LER and flight number XY- 5032, which took off at exactly 11.41pm on Wednesday, June 22,2022.
With the safe arrival of the fourth batch of 347 pilgrims, Lagos State now has 1,598 pilgrims already airlifted to the Kingdom of Saudi Arabia, while efforts are still ongoing to airlift the remaining intending pilgrims.
Government functionaries at the airport to see off the pilgrims include, Special Adviser to the Governor on Islamic matters, Hon. Ahmad Abdullahi Jebe and the Board Chairman, Engr. Shakiru Ayinde Gafar.
Others are Hon. AbdulWaheed Lolade Shonibare (Board member), Mr. Hakeem Kosoko (Secretary), South West Commissioner of NAHCON, Alhaja Basirat Akintunde, andothers.
Lufthansa Cancels 2,200 Flights as Europe's Travel Chaos Mounts - BLOOMBERG
JUNE 24, 2022
(Bloomberg) -- Deutsche Lufthansa AG canceled 2,200 flights after a wave of coronavirus infections worsened staffing shortages, adding to Europe's travel chaos as the crucial summer vacation period gets under way.
The airline scrapped both German domestic and European routes for July and August, a spokesman said. That follows 900 cancellations announced earlier this month.
Germany and other European countries have been confronted by a new outbreak of Covid-19 infections. While less deadly than previous waves, it's causing growing absences from workplaces, worsening acute labor shortages at airlines.
Travel chaos has mounted throughout Europe as carriers face resurgent post-lockdown demand. Airlines cut back staffing during the pandemic and were slow to rebuild, worried about the resiliency of ticket sales.
Growing labor unrest as workers seek pay increases to keep up with inflation is adding to the problem, with strikes threatened or under way at airlines including Ryanair Holdings Plc and IAG SA's British Airways.
UK Covid cases surge following Queen's Jubilee celebrations, new variants become dominant - CNBC
JUNE 24, 2022
KEY POINTS
U.K. Covid-19 cases are on the rise again, according to new data, which points to an increase in infections following the Queen's Platinum Jubilee celebrations.
A total of 1,739,700 people tested positive for the virus in the week to June 18, estimates from the U.K.'s Office for National Statistics (ONS) showed Friday.
The uptick comes as the U.K.'s Health Security Agency said that the latest technical data suggests two new Omicron variants — BA.4 and BA.5 — have become dominant in the U.K.
A total of 1,739,700 people tested positive for the virus in the week to June 18, new estimates from the U.K.'s Office for National Statistics (ONS) have shown. Xinhua News Agency | Xinhua News Agency | Getty Images
LONDON — U.K. Covid-19 cases are on the rise again, according to new data, which points to an increase in infections following the Queen's Platinum Jubilee celebrations.
A total of 1,739,700 people tested positive for the virus in the week to June 18, estimates from the U.K.'s Office for National Statistics showed Friday.
That figure is up 75% from two weeks prior, before Brits celebrated the Queen's 70th anniversary on the throne with a long weekend of street parties and social gatherings.
The uptick comes as the U.K.'s Health Security Agency said Friday that the latest technical data suggests two new Omicron variants — BA.4 and BA.5 — have become dominant in the U.K. and are driving recent increase in infections.
The two variants now make up more than half of new Covid cases in England, accounting for approximately 22% and 39% of cases, respectively.
"It is clear that the increasing prevalence of Omicron BA.4 and BA.5 are significantly increasing the case numbers we have observed in recent weeks," the UKHSA's chief medical advisor, professor Susan Hopkins, said Friday.
UKHSA's latest analysis suggests BA.5 is growing 35.1% faster than the previously dominant BA.2, while BA.4 is growing around 19.1% faster. That suggests that BA.5 is likely to soon become the dominant Covid variant in the U.K.
Both variants were designated "variants of concern" in May, though scientists said there is currently no evidence to suggest either causes more serious illness than previous strains.
However, health experts reminded people to ensure their vaccinations are up-to-date and to continue following Covid-safe behavior. That includes staying at home if you have any respiratory symptoms or a fever and limiting contact with others until you are feeling better.
Some 20-25% of people in the U.K. currently remain unvaccinated.
"As prevalence increases, it's more important than ever that we all remain alert, take precautions, and ensure that we're up to date with COVID-19 vaccinations, which remain our best form of defense against the virus," Hopkins said.
Cases and hospitalizations on the rise
Friday's ONS data showed positive cases as a percentage of the community were highest in Scotland, where one in 20 people tested positive for the virus in the past week.
It was followed by Northern Ireland (one in 30), England (one in 40) and Wales (one in 45).
Overall, England reported the greatest number of cases at 1,360,600, followed by Scotland (250,700), Wales (68,500) and Northern Ireland (59,900).
Britain celebrated the Queen's Platinum Jubilee with a four-day weekend from June 2 through 5. Mike Kemp | In Pictures | Getty Images
The data, which is compiled by testing thousands of people from private U.K. households at random, whether or not they have symptoms, is thought to provide the clearest picture of Covid infections in Britain since free public testing was abandoned in England and Scotland.
Covid hospitalizations have also increased in line with community infections, rising 8.2% in England in the past week, according to UKHSA data.
"The pressure on the health system in terms of beds that are occupied is increasing," Dr. Duncan Robertson, a member of the Indie Sage scientists collective, said during a briefing Friday.
Vaccinations continue to keep serious admissions and deaths at low levels, UKSHA said Friday. The intensive care unit and high dependency unit admission rate remained low at 0.2% over the same period.
However, Robertson warned against complacency, pointing to a slight spike in deaths in the week to June 18, and noting a potential distortion in reporting over the Jubilee public holiday.
"If you look at the data in terms of number of deaths reported, that has increased in the latest release, but that could be down to the Jubilee effects," he said.
Lufthansa Sees No End to Disrupted Flights Until 2023, Welt Says - BLOOMBERG
JUNE 25, 2022
BY Stephan Kahl, Bloomberg News
(Bloomberg) -- Deutsche Lufthansa AG doesn't expect flight operations to return to normal until next year, after cutting 3,100 flights from its summer schedule due to staff shortages.
"Unfortunately, we will hardly be able to realistically achieve a short-term improvement now in the summer," Lufthansa board member Detlef Kayser said in an interview with Die Welt. The only option for now is to reduce the number of flights, he said.
"Overall, we expect the situation to return to normal in 2023," the newspaper quoted Kayser as saying.
Germany's flagship airline on Friday announced it will scrap 2,200 domestic and European routes in July and August, on top of 900 cancellations unveiled earlier this month. That's about 4% of the carrier's capacity during that period, according to a spokesperson.
Travel demand has rebounded dramatically in Europe with the lifting of Covid-19 restrictions, leaving some airlines struggling to cope and subjecting passengers to waiting in line for hours and cancellations. Labor shortages are worsening as a new pandemic outbreak prompts more staffers to call in sick.
'Absolute shambles' at Manchester Airport as passengers arrive eight hours early for flights - YORKSHIRE LIVE
JUNE 26, 2022
Travellers flying out of Manchester Airport were once again hit with travel chaos and queues on Friday morning. The ever-busy Terminal Two was packed, with photos showing huge queues snaking towards Terminal One.
And, to add insult to injury, the TUI website has also been reported as down - so weary travellers were not even able to access help or check-in online. One person shared a photo of the Terminal Two queue early this morning and said that, with the TUI website down, it was "no wonder the queues [were] so bad".

They said that the situation was an "absolute shambles" and said that all passengers were forced to check in at the desk, instead of checking in online. They continued: "Only planned on taking a carry on bag to avoid this mess but what is the point if I am going to have to queue anyway."
TUI, which has already been forced to apologise to customers for cancelled flights and delays during half term, insisted that there were no "operational issues" this morning but said that problems were caused by passengers arriving a staggering eight hours early for flights. With the news of travel chaos on many passengers minds, people have been arriving even earlier in a bid to beat the queues.
A spokeswoman for TUI told the M.E.N : "I can confirm there were no operational issues at Manchester Airport this morning. Unfortunately, there are passengers arriving up to eight hours before their flight which contributes to a longer wait time. Also online check in closes six hours before flights."
But other passengers were raging at the "utter carnage" at the airport. One person wrote on Facebook: "Manchester airport utter carnage, 2 hours 45 minutes to check in and get through security, no breakfast, now boarding plane."
Related video: Queue for TUI check-in desks at Manchester Airport Terminal 2
Video Player is loading. Queue for TUI check-in desks at Manchester Airport Terminal 2
Other passengers in other terminals reported no issues and airport officials said the issue in T2 had nothing to do with security, which they said had experienced no significant problems today.
Another wrote: "And we're off! Don't believe the hype… Manchester airport was a breeze."
Today's queues come as two airlines face possible strike action later this summer. Last week it emerged Ryanair cabin crew plan walkouts in Europe. Strikes are set to take place in France, Italy, Spain, Portugal and Belgium which could impact services on UK routes.
Unions in Belgium representing staff at the budget airline are the latest to announce walkout plans as the main summer holiday season commences. According to unions staff are planning to strike in Belgium and Portugal from June 24-26, France from June 25-26 and in Italy on June 25.
Staff in Spain are expected to strike on June 24-26, June 30, and July 1-2. In Belgium industrial action will come as a blow to passengers as Ryanair operates 17 planes from Charleroi and two aircraft from Brussels.
British Airways workers based at Heathrow have also voted to strike in a dispute over pay. Members of the GMB and Unite backed industrial action.
The unions said holidaymakers face disruption, warning of a summer of strikes. Workers, including check-in staff, will now decide on strike dates, which the union said were likely to be held during the peak summer holiday period.
In April, the boss of Manchester Airport quit amid a growing backlash over long passenger queues, staff shortages and calls from city leaders for management to 'get a grip' of the growing crisis. The problem has persisted, however.
Manchester Airports Group (MAG), which owns Manchester, Stansted and East Midlands airports confirmed at the time that Karen Smart has decided to leave the business after eight years. Karen, who took on the Managing Director role at the start of the pandemic, has navigated the hub through the impacts of Covid-19, and has also led the start of its controversial recovery.
Even more misery at UK airports with passengers stuck in long queues - METRO
JUNE 26, 2022
Passengers looking to get abroad are still being plagued with long queues across major airports such as Manchester, Bristol and Birmingham.
© Provided by MetroAirport queues continue across major airports (Pictures: Ioannis Alexopoulos/LNP / Lee Thomas/Twitter / @g_pursallward/ @DrGBuckingham/Bav Media / Mark Thomas/i-images / @RM15171)
Check-in queues reportedly stretch back 'three lengths of the airport' and disruption is expected to continue after BA staff decided to strike this summer.
700 members of staff are set to walk out during the peak travel period, which runs from mid-July to the beginning of September.
Workers, including check-in staff, are yet to decide on exact dates, but holidaymakers have been warned to expect significant disruption.
Today, photos across social media show the large queues across major airports across the country.
At Birmingham Airport, queues could be seen spiralling out of the terminal to the outside area.
One passenger at Birmingham tweeted today: 'Congratulations Birmingham Airport, you now have a queue that folds three lengths of the airport! Second time this week you have failed your #SLAs [service level agreements].'
© Provided by MetroQueues form at Edinburgh Airport (Picture: Twitter / @DrGBuckingham)
© Provided by MetroPassengers are facing hours of delays at airports like Birmingham (Picture: Twitter / @g_pursallward)
At Heathrow, queues could be seen snaking around different parts of terminal two, At Stansted, queues could also be seen snaking outside.
Cardiologists Baffled: Japanese Weight Loss method Taking Dagenham By Storm
Ad
Top 10 Review Hive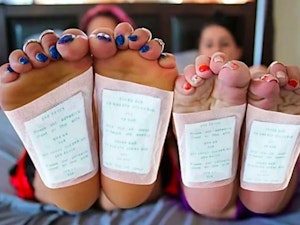 Related video: Long delays at UK airports
More strikes across Europe are expected this summer when Ryanair cabin crew staff began a three-day walkout in Belgium, France, Italy, Portugal and Spain. easyJet's operations in Spain face a nine-day strike next month.

In relation to the BA strike, GMB national officer, said: 'With grim predictability, holidaymakers face massive disruption thanks to the pig-headedness of British Airways.
'BA have tried to offer our members crumbs from the table in the form of a 10 per cent one-off bonus payment, but this doesn't cut the mustard.
'Our members need to be reinstated the 10% they had stolen from them last year with full back pay and the 10% bonus which other colleagues have been paid.
'GMB members at Heathrow have suffered untold abuse as they deal with the travel chaos caused by staff shortages and IT failures.
© Provided by MetroPassengers pictured outside at Stansted Airport (Picture: Bav Media)
© Provided by MetroLots of passengers were seen queuing at Heathrow Terminal 2 (Credits: Mark Thomas / i-Images)
© Provided by MetroManchester Airport where passengers were seen queuing in their masses at TUI check-in (Picture: Zenpix Ltd)
© Provided by MetroRyanair check-in was also busy at Bristol Airport (Picture: LT1Media)
'At the same time, they've had their pay slashed during BA's callous fire and rehire policy. What did BA think was going to happen?
'It's not too late to save the summer holidays – other BA workers have had their pay cuts reversed.
'Do the same for ground and check-in staff and this industrial action can be nipped in the bud.'
Further disruption is also expected on the railways this Saturday as ongoing rail strikes promise to halt thousands of services for a third day.
Get in touch with our news team by emailing us at [email protected].
For more stories like this, check our news page.
For even more unmissable travel news, features and inspiration in your inbox each week, sign up to Metro's The Getaway newsletter
Terrorism: Buy guns, defend yourselves, Zamfara govt tells residents - PUNCH
JUNE 26, 2022
The Zamfara State Government has directed residents of the state to obtain guns to defend themselves against bandits' invasion.
This became necessary following the increase in the activities of bandits in various parts of the state.
In a statement obtained by The PUNCH on Sunday, the Commissioner for Information, Ibrahim Magaji Dosara, revealed that the government has concluded arrangements to facilitate residents to acquire basic weapons.
The statement partly read, "Government has, henceforth, directed individuals to prepare and obtain guns to defend themselves against the bandits, as government has directed the state commissioner of police to issue licences to all those who qualify and are wishing to obtain such guns to defend themselves.
"Government is ready to facilitate people, especially our farmers, to secure basic weapons for defending themselves.
"Government has already concluded an arrangement to distribute 500 forms to each of the 19 Emirates in the state for those willing to obtain guns to defend themselves.
"People must apply from the Commissioner of Police, license to own guns and such other basic weapons to be used in defending themselves.
"A secretariat or centre will be established for the collection of intelligence on the activities of informants."
The government also set up an 11-man special committee to receive intelligence on the activities of informants.
Headed by the Secretary to the State Government, Kabiru Balarabe Sardau, the committee comprises of top government officials with Bello Bakyasuwa Soja as the secretary.
Germany wants foreign workers quickly amid summer travel crunch - REUTERS
JUNE 27, 2022
BERLIN (Reuters) - Germany wants to bring in foreign workers as quickly as possible to relieve airports overwhelmed by staff shortages during the busy summer season, an Interior Ministry spokesperson said.
The temporary workers, who would be offered accommodation and standard wage, would have to fulfil the same security and reliability checks as other staff, for example baggage handlers, which in general takes about two weeks, the spokesperson said at a regular government news conference in Berlin on Monday.
Travellers across Europe are facing especially long queues this summer as travel demand is back in full force after COVID-19 lockdowns, and airports and airlines are having trouble maintaining enough staff to handle the crunch.
A spokesperson for the Labour Ministry would not comment on how many foreign workers were expected to come, but Bild am Sonntag reported that the aim is to bring in a four-digit number of skilled workers from Turkey to Germany to work from July.
Foreign workers could be used for baggage handling, said Andreas Rosskopf, the chairman of Germany's police union.
But he warned against trying to put them in positions requiring additional security.
"We are talking about people who have to be intensively screened and briefed in terms of security. That takes a certain amount of time," Rosskopf told the Rheinische Post newspaper.
(Reporting by Miranda Murray)
Europe's Travel Woes Deepen as Strikes Add to Scrapped Flights - BLOOMBERG
JUNE 27, 2022
(Bloomberg) -- A wave of airline strikes and flight cancellations is deepening Europe's transport crisis, disrupting travel plans just as the region's peak summer season gets under way.
Walkouts in coming days at Ryanair Holdings Plc, EasyJet Plc, British Airways and Aeroports de Paris (ADP) will add to the turmoil from staffing shortages that are leading to hours-long delays and thousands of scrapped flights. In the UK, the transport disarray has been compounded by a rail strike.
Although travel demand has rebounded dramatically in Europe, what had been touted as the aviation industry's long-awaited post-pandemic revival is being constrained by labor strife and limits in airport logistics. Chaotic scenes are playing out at airports in Amsterdam, London, Frankfurt and Paris, with lines of people waiting for hours only to be told their flights have been canceled.
"It's frustrating to deal with other agencies that put us in difficult situations," Air France-KLM CEO Ben Smith said Thursday, after flights in Paris were hit by an earlier strike at ADP.
The prospect of more mayhem looms as unions seek to capitalize on airlines' desperation to cash in on the summer bookings surge to end losses and repair balance sheets after the pandemic plunged the sector into its worst crisis since World War II. Labor groups are pressing demands for pay increases to keep up with inflation, better working conditions, benefits and compliance with local labor laws.
Ryanair's cabin crew in Spain, Portugal and Belgium began a three-day strike Friday and will be joined by colleagues in France from Saturday and Italy on Sunday. The discount airline says fewer than 2% of its flights on Friday were disrupted by the strikes, although about 40% of services in Belgium were affected. Its Spanish workers are set for a further three days of labor action next Friday, while rival EasyJet is bracing for nine days of staggered walkouts in the country from July 1.
British Airways check-in staff based at London Heathrow airport have also voted for industrial action, with dates to be set shortly. ADP, operator of Paris's Charles de Gaulle and Orly airports, is locked in talks with unions in a bid to avert a second strike on July 1 over wages. The one on June 9 led to the scrapping of a quarter of all flights at CDG and the shutting down of two runways.
In the UK, the transport crisis has been worsened by a rail strike, making it harder to get to and from airports. The dispute has also been triggered by wage claims, though in contrast to the aviation sector workers are also seeking guarantees of no compulsory redundancies in an industry that, far from bouncing back from Covid upheaval, appears to have been fundamentally changed by it.
The Transport Salaried Staffs Association has warned that Britain faces "a long-running summer of discontent" across the rail network if its demands aren't met.
Beyond strikes, severe staffing constraints are forcing airlines to trim their ambitions for the summer. Germany's Deutsche Lufthansa AG on Friday increased the number of flights it is canceling in July and August to 3,100. London Gatwick and Amsterdam Schiphol, two of the region's biggest hubs, announced caps on flights, while EasyJet, TUI AG and KLM have rationalized their timetables. BA, which cut 10,000 posts at the height of the pandemic, is struggling to hire back in the tighter labor market.
Even after limiting flights, Schiphol airport on Friday was struggling to cope with the influx of passengers, with winding lines and frustrated travelers, showing things may get worse as the July-August travel season kicks in. Schiphol has had to set up tents outside the departure hall to accommodate queues.
Waiting in a long line for a Dubai-bound flight, Ritu, an Amsterdam-based fashion industry brand strategist who declined to provide her last name, said she would have missed her flight had she not arrived four hours before departure.
"It is so sad to see such a cool airport in this state," she said. "I hope they quickly find a solution to the labor shortage issue as we're heading into a busier travel period."
In Belgium, Brussels Airlines said it is aiming to keep about 40% of its schedule from Thursday to Saturday, which means about 315 flights will be canceled with pilots and cabin staff on strike. At least 127 Ryanair flights will be scrapped from the country's Charleroi airport between Friday and Sunday because of striking crews, according to the Belga news agency.
Travelers are bearing the brunt of the chaos. For many, dream vacations are starting off badly or long-planned professional trips are having to be rerouted.
At Madrid's Barajas Airport on Friday, Loreto, who didn't want to give her surname, waited in line for her Ryanair flight to Malta, where she was going with two friends.
"There's no information," she said, zipping up a tightly packed suitcase. "I thought they would send a list of canceled flights but we've not seen that anywhere so we're just crossing our fingers."
Scott Webster, an operations manager and Twitch streamer in the UK, found out that his mid-July flight to Amsterdam for Twitchcon, a streaming industry convention, had been canceled by EasyJet.
"We have about 12 people who have had to cancel their trips," he said. "We're just going to drive. At least we're not gonna have to play games with all the carriers."
Hackers can bring ships and planes to a grinding halt. And it could become much more common - CNBC
JUNE 27, 2022
KEY POINTS

Vast container ships and chunky freight planes — essential in today's global economy — can now be brought to halt by a new generation of code warriors.
"The reality is that an aeroplane or vessel, like any digital system, can be hacked," David Emm, principal security researcher at Kaspersky, told CNBC.
In December, German firm Hellmann Worldwide Logistics said its operations had been impacted by a phishing attack.
Container cargo ships sit off shore from the Long Beach/Los Angeles port complex in Long Beach, CA, on Wednesday, October 6, 2021. Jeff Gritchen | MediaNews Group | Getty Images
Armed with little more than a computer, hackers are increasingly setting their sights on some of the biggest things that humans can build.
Vast container ships and chunky freight planes — essential in today's global economy — can now be brought to a halt by a new generation of code warriors.
"The reality is that an aeroplane or vessel, like any digital system, can be hacked," David Emm, a principal security researcher at cyber firm Kaspersky, told CNBC.
Indeed, this was proven by the U.S. government during a "pen-test" exercise on a Boeing aircraft in 2019.

Hacking logistics
Often it's easier, however, to hack the companies that operate in ports and airports than it is to access an actual aircraft or vessel.
In December, German firm Hellmann Worldwide Logistics said its operations had been impacted by a phishing attack. Phishing attacks involve sending spoof messages designed to trick people into handing over sensitive information or downloading harmful software.
The company, which offers airfreight, sea freight, road and rail, and contract logistics services, was forced to stop taking new bookings for several days. It's unclear exactly how much it lost in revenue as a result.
Hellmann's Chief Information Officer Sami Awad-Hartmann told CNBC that the firm immediately tried to "stop the spread" when it realized it had fallen victim to a cyberattack.
"You need to stop it to ensure that it's not going further into your [computing] infrastructure," he said.
Hellmann, a global company, disconnected its data centers around the world and shut down some of its systems to limit the spread.
"One of the drastic decisions we then made when we saw that we had some systems infected is we disconnected from the internet," Awad-Hartmann said. "As soon as you make this step, you stop. You're not working anymore."
Everything had to be done manually and business continuity plans kicked in, Awad-Hartmann said, adding that some parts of the business were able to handle this better than others.
Awad-Hartmann said the hackers had two main goals. The first being to encrypt Hellmann and the second being to exfiltrate data.
"Then they blackmail you," he said. "Then the ransom starts."
Hellmann did not get encrypted because it moved swiftly and closed down from the internet, Awad-Hartmann said.
"As soon as you're encrypted, of course your restarting procedure takes longer because you may need to decrypt," he explained. "You may need to pay the ransom to get the master keys and things like this."
Hellmann is working with legal authorities to try to determine who is behind the cyberattack. There's some speculation but no definitive answers, Awad-Hartmann said.
NotPetya attack
The notorious NotPetya attack in June 2017, which impacted several companies including Danish container shipping firm Maersk, also highlighted the vulnerability of global supply chains.
Maersk first announced that it had been hit by NotPetya — a ransomware attack that prevented people from accessing their data unless they paid $300 in bitcoin — in late June of that year.
"In the last week of the [second] quarter we were hit by a cyberattack, which mainly impacted Maersk Line, APM Terminals and Damco," Maersk CEO Soren Skou said in a statement in Aug. 2020.
"Business volumes were negatively affected for a couple of weeks in July and as a consequence, our Q3 results will be impacted," he added. "We expect that the cyber-attack will impact results negatively by $200 - $300 million."
The ransomware attack took advantage of certain security vulnerabilities in the Windows software platform that Microsoft had updated after they leaked.
"This cyber-attack was a previously unseen type of malware, and updates and patches applied to both the Windows systems and antivirus were not an effective protection in this case," Maersk said.
"In response to this new type of malware, A.P. Moller Maersk has put in place different and further protective measures and is continuing to review its systems to defend against attacks."
In a follow-up article, Gavin Ashton, an IT security expert at Maersk at the time, wrote that it's "inevitable" you will be attacked.
"It is inevitable that one day, one will get through," Ashton continued. "And obviously, you should have a solid contingency plan in place in case of the worst. But that's not to say you don't attempt to put up a damn good fight to stop these attacks in the first case. Just because you know the bad actors are coming, doesn't mean you leave your front door open and make them a cup of tea when they walk in. You could just lock the door."
Meanwhile, in February 2020, Japan Post-owned freight forwarder, Toll Group was forced to shut down certain IT systems after suffering a cyberattack. Toll Group did not immediately respond to a CNBC request for comment.
Disguising drug shipments
Sometimes the hackers aren't necessarily looking for a ransom.
In 2013, criminals hacked systems at the port of Antwerp in order to manipulate the movement of containers so that they could conceal and move their drug shipments.
Once the hackers were inside the right systems, they changed the location and the delivery times of containers that had the drugs in them.
The smugglers then sent their own drivers to pick up the drug-loaded shipping containers before the legitimate hauler could collect them.
The hackers used spear phishing and malware attacks — directed at port authority workers and shipping companies — to obtain access to the systems.
The whole scheme was uncovered by police after shipping firms detected something wasn't right.
Awad-Hartmann said hackers have realized how important global supply chains are, and they now know what happens when they get disrupted.
"It impacts the whole world economy," he said. "You see goods are not flowing. You have gaps in the supermarkets. Of course I think the hackers do see the dependency on this supply chain. And then of course a logistics company is a target for them."
He added that logistics is in focus at the moment because global supply chains are in the news.
"But I think it's a general threat," he said.
"And this will not go away. It will increase. You constantly need to check. Are you still prepared? This is something which keeps us quite busy and costs us a lot of money."