MarketNews
Loonie Loses Its Mojo Ahead of Bank of Canada Rate Decision - BLOOMBERG
JANUARY 21, 2020
Canadian dollar has started 2020 weaker against the greenback

Central bank is expected to keep rates unchanged Wednesday
After notching the top spot among major currencies last year, the Canadian dollar is off to a sputtering start in 2020 as traders and strategists await the central bank's first interest rate decision of the year.
It has weakened 0.6% against the greenback so far this year as a combination of trade relief, geopolitical tension and positive economic data boosted the U.S. currency. This marks a shift from a near 5% rise last year, thanks to resurgent commodity prices and a hold on rates from the Bank of Canada, which surprised many with a rare reference to loonie strength in 2019.
Governor Stephen Poloz may not need to fire another "warning shot" on the currency, said Greg Anderson, global head of FX strategy at BMO Capital Markets. "But we always need to be alert to the potential for surprises from him." The Bank of Canada is expected to remain on hold when policy makers meet Wednesday.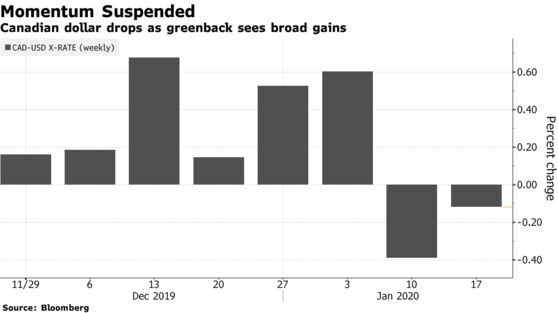 Despite a rebound in Canada's employment, investors are less bullish on its dollar on concerns sluggish productivity could slow economic growth and as oil prices retreat from recent highs. Traders are also growing more comfortable with riskier and higher-yielding currencies as equity markets hit records and the U.S.-China trade deal bolsters optimism.
On Monday, the International Monetary Fund toned down its global risk warnings, predicting the world economy will strengthen in 2020, albeit at a slightly weaker pace than previously anticipated.
Short-Term Weakness
Some strategists are expecting short-term weakness in the Canadian dollar before an eventual rebound later in the year. The loonie traded at C$1.3066 Tuesday.
The central bank's growth forecasts are too optimistic, TD Securities Inc. strategists including Mark McCormick wrote in a note to clients Friday. He recommends investors short the loonie ahead of the meeting. The firm has favored a tactical trade on a weaker Canadian dollar for about a month, which it would exit if it reaches C$1.33 per dollar, McCormick said in a separate email. He forecasts the currency will climb to C$1.29 per dollar by year-end.
Win Thin, a strategist at Brown Brothers Harriman, predicts the Canadian currency will fall to C$1.32 per dollar at the end of the first quarter before recovering later in the year.
In its last rate decision of 2019, the Bank of Canada cited a tightening labor market as a main reason for keeping its policy rate at 1.75% and bucking the global easing trend. A strong business outlook survey last week and a rebound in jobs in December could suggest a firmer economy at the start of 2020 after third-quarter gross domestic product shrank for the first time in eight months.
Yet the currency has wavered even as the U.S. Senate approved President Donald Trump's U.S.-Mexico-Canada free trade agreement Thursday. Options markets suggest traders see no major moves ahead, with one month implied volatility in the U.S. dollar-Canadian dollar pair trading not far off its record low in December.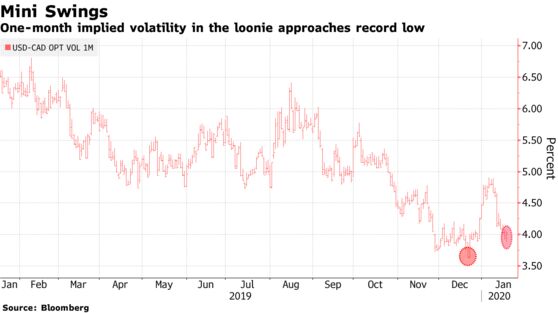 Speculative Bulls
Still, it seems at least hedge funds and speculators remain bullish on the currency's prospects. Net non-commercial long loonie positions have risen to the highest since November, according to the latest Commodity Futures Trading Commission data.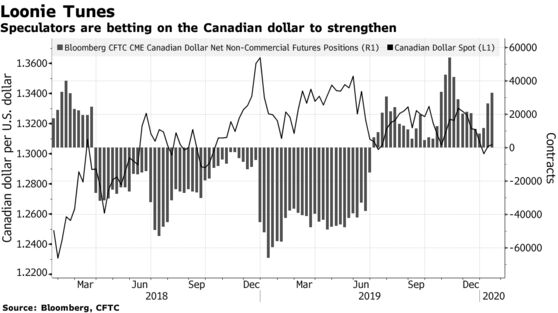 The currency could strengthen if the Bank of Canada's messaging keeps interest-rate cuts out of the near-term picture, said Scotiabank strategists including Shaun Osborne in a note Friday. He believes the loonie could retest the mid-C$1.29 level if the central bank's messaging keeps interest rate cuts out of the near term picture.