Travel News
Ukraine war shatters Nigerian medical student's dreams - DW
MARCH 12, 2022
By Lawani Mikairu
Domestic airlines are currently groaning under acute scarcity of aviation fuel, popularly called Jet A1, with only few operators getting supplies from marketers.
This is just as the Chief Executive Officer of Cleanserve Energy, a major marketer of Jet A1, Mr Chris Ndulle, told Vanguard that the current price of crude oil in the international market and the raging Ukraine-Russia war have affected price and supply.
Vanguard investigation revealed that the price of Jet A1 has been oscillating between N580 and N600 per litre in the last few days, compared to the N450 it was previously sold.
An official of one of the domestic airlines, who does not want to be named, told Vanguard, yesterday, that "the price of jet A1 touched N600 yesterday, reason those who have been keeping quiet shouted."
The high cost of aviation fuel, which accounts for almost 40 per cent of airline's cost of operations, is one of the reasons advanced recently by airline operators for increasing the cost of tickets. The least ticket for an hour flight currently goes for N50,000.
A statement from Ibom Air on the current state of the scarcity, read: "We have encountered a situation today where aviation fuel is scarce and, therefore, unavailable at almost all our flight destinations. This has significantly impacted our flight schedule today and may do the same tomorrow.
"We sincerely apologize to all our passengers affected by the current situation. At this time, we have no indication when the issue will be resolved. However, we are working with our fellow airlines and fuel suppliers to find a solution."
Arik Air also, yesterday, said: "Nigeria airlines are currently experiencing acute scarcity of Jet A1 and this situation is having serious impact on our operations.
"The commodity is not readily available across the country and where available goes for between N590 and N625 per litre.
"We are appealing to our esteemed customers to please bear with us as we engage the oil marketers and other stakeholders on ways of resolving the current jet fuel situation."
Dana Air had also cried out about the crippling effect of the Jet A1 scarcity on their operations. The airline management said the "aviation fuel crisis is taking a new turn and has continued to have effect on our operations in the last few weeks."
Speaking with Vanguard on the cause of the scarcity and current high price, Chief Executive Officer of Cleanserve Energy, Mr Chris Ndule, said the current price of crude oil in the international market had affected the prices of all petroleum products, aviation inclusive.
Ndule said: "It is not only aviation fuel price that has increased, other petroleum products prices have also increased.
"This is partly due to the current price of crude oil in the international market, which is going for between $110 and $125 per barrel.
"The raging war in Ukraine has affected international trade. For instance, I was to bring in some shipment of Jet A1. But my foreign partner decided we should hold on and watch the international shipping routes."
Thousands of African students are stuck in Ukraine - DW
MARCH 12, 2022
Thousands of Africans studying in Ukraine are desperate to leave as Russia invades the country. But, with flights grounded and other options limited, there isn't much that their governments can currently do.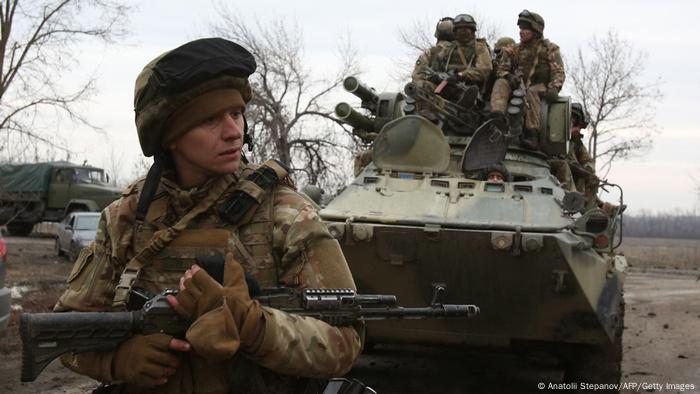 Ukrainian servicemen get ready to repel an attack
"Everyone is under pressure — there have been explosions in different cities, including my city, Kyiv," 19-year-old Nigerian student Sarah Ajifa Idachaba, who is studying medicine in the Ukrainian capital along with her older sister, told DW.
"Me and my sister are in panic because we don't know what to expect. We are not safe and we are not sure about leaving here because the airport is shut down," Idachaba said after Russia launched an invasion of Ukraine early on Thursday morning.
Ukraine has closed its airspace to civilian flights, including from Kyiv airport, citing the high safety risk.
Idachaba said she and her sister felt abandoned as air raid sirens were heard across Kyiv and some residents sought refuge in metro stations and air raid shelters.
"We are citizens of Nigeria, and we need help. Please don't neglect us, don't leave us alone," she said.
Nigerian Temi Rosabel Tseye-Okotie, who is also studying medicine in Ukraine, shares Idachaba's feelings.
"Honestly? We are scared — we don't know what to do. The information we are getting from Nigeria is basically that we are on our own," she told DW.
0 seconds of 0 secondsVolume 90>#/span###
About 4,000 Nigerians are currently studying in Ukraine. A number of them took to social media to share their frustration about the lack of information from the Nigerian government.
"President Muhammadu Buhari of Nigeria has already told his citizens in the Ukraine to help themselves," Ron Peters wrote on DW Africa's Facebook page. "It would have surprised many if he had offered help."
On Thursday afternoon, Nigerian Foreign Affairs Minister Geoffrey Onyeama said in a video released on Twitter that once airports reopened his government would assist with the evacuation of people who wanted to leave.
Morocco, Egypt acted early
Nigerians make up the second biggest group of foreign students in Ukraine. The biggest group are from Morocco with 8,000 students, while Egyptians are in third place with 3,500 students.
Nigerians point to the differing approaches of Morocco and Egypt in the lead up to the Russian invasion.
Two weeks ago, Morocco's government called on citizens to leave Ukraine as soon as possible, while the head of the Egyptian community in Ukraine, Ali Farouk, said last week that authorities in Ukraine and the Egyptian embassy were coordinating the return of Egyptian students.
No way of leaving Ukraine
Africans make up more than 20% of Ukraine's international students, studying in many different towns and cities throughout the country. Many are attracted by the country's good technical and medical schools combined with relatively low fees.
These students are also expressing their fear for their safety as explosions were heard in several parts of the country, including Kyiv, the second-largest city, Kharkiv, and the Black Sea port of Odesa on Thursday.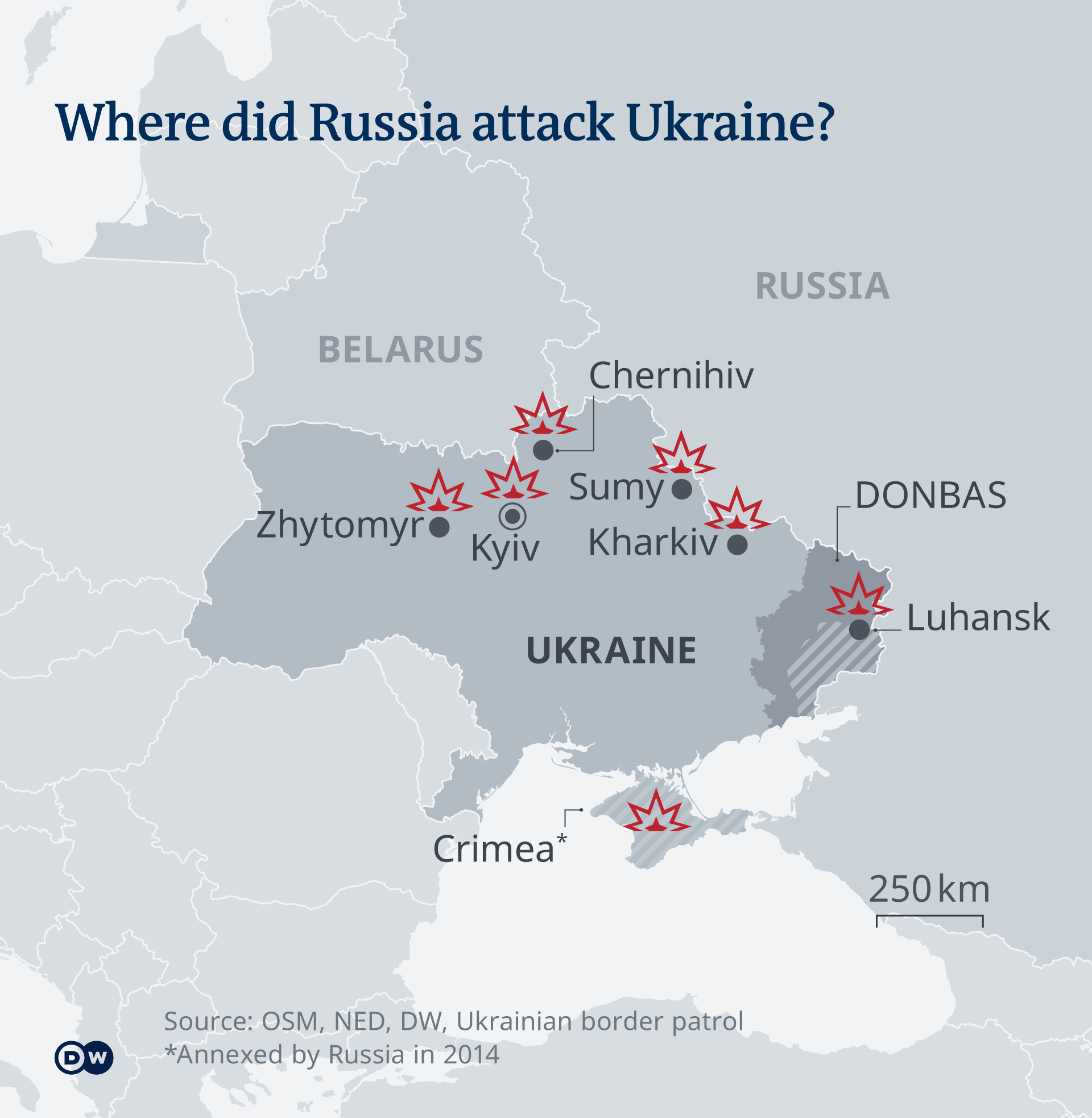 "We are very worried about our safety and will like to ask for assistance as regards evacuation from Ukraine to a safer place until the situation here in Ukraine is calm," Liberian Augustine Akoi Kollie, a fifth-year medical student based in Ternopil, in western Ukraine, wrote in a social media message to DW.
"Please help us," Kollie wrote.
Though Zimbabwe has said it was prepared to fly its citizens out of Ukraine, Zimbabwean student Mellisa Charuvira told DW that the offer didn't help in the current situation because there was no way to leave Ukraine at the moment.
"There is no transportation — there are no buses from Kyiv to other cities," she said in tears.
Zimbabwe doesn't have an embassy in Ukraine. Its closest diplomatic representation is in the German capital, Berlin.
"We have called the ambassador of Zimbabwe in Berlin, and she said she is organizing something. Right now we don't have any protection. We can't get out through any border. My appeal is to evacuate us," Charuvira said.
'Stay indoors'
The Nigerian Embassy in Kyiv on Thursday advised Nigerian nationals living in Ukraine to "remain calm but be very vigilant and be responsible for their personal security and safety."
Richard, a Nigerian living in Kyiv who asked that his full name not be used, told DW that he is trying to follow that advice.
He said he could see people packing their belongs into cars and fleeing their homes.
Richard said many people hoped to head west, away from the border with Russia, in an attempt to reach safety on the Polish border.
But he doesn't want to follow their example.
"I will stay indoors," he said. "The roads are unsafe. My advice is to stay home. It's not good to make decisions when you are in a panic mode," he said.
He wouldn't even venture out to buy necessities, he said, as the "queues in front of shops and pharmacies are endless."
Tobore Ovuorie, Josephone Mahachi and Shola Lawal contributed to this article.
Edited by: Kate Hairsine
This article mistakenly wrote that Sarah Ajifa Idachaba was 23. She is 19. This article has been corrected to reflect this.
Airlines Warn Aviation Fuel Scarcity to Disrupt Nigerian Flights - BLOOMBERG
MARCH 11, 2022
(Bloomberg) -- Airlines in Africa's largest economy warned of possible flight disruptions in the coming days because of a scarcity of aviation fuel.

Unfortunately the fuel scarcity is starting to seriously impact our operations," Air Peace, one of Nigeria's biggest carriers, said in a statement on Wednesday. "We are likely to experience flight disruptions today and in the coming days until the situation is resolved."
Two other domestic airlines, Dana Air and Ibom Air, issued similar notices. Nigeria has experienced fuel shortages since the beginning of February, after the authorities rejected a batch of imported gasoline that contained too much methanol, making it unsuitable for domestic usage.


Nigeria has experienced fuel shortages since the beginning of February, after the authorities rejected a batch of imported gasoline that contained too much methanol, making it unsuitable for domestic usage.

Importers of aviation fuel have also been unable to obtain foreign exchange to pay for their products, exacerbating the shortages, Roland Iyayi, a former managing director of the Nigerian Airspace Management Agency, said by phone from Lagos, the commercial hub.

The shortage of foreign currency, coupled with rising oil costs, has lifted prices of aviation fuel to as high as 607 naira ($1.45) per liter at some airports in the country, from about 360 naira a liter in December. The Nigerian government doesn't regulate the price of aviation fuel, like it does for gasoline, allowing importers to sell at market-determined prices.

Airlines doubled ticket prices last month to cover the rising cost of operations. Gasoline shortages are causing an "unnecessary shock" to the Nigerian economy that may lead to a spike in inflation and slower economic growth, Statistician-General Simon Harry warned in February.

Read more at: https://www.bloombergquint.com/business/airlines-warn-aviation-fuel-scarcity-to-disrupt-nigerian-flights
Qatar begins flight operations to Kano, Port Harcourt - PUNCH
MARCH 12, 2022
BY Edidiong Ikpoto
Qatar Airways has announced the launch of four weekly flights to Kano and three weekly flights to Port Harcourt.
According to the airline, these flights will connect to both locations through Abuja.
In a statement, the airline said, "Qatar Airways will operate to Mallam Aminu Kano International Airport is one of the fastest-growing cities in the country, and the gateway to Kano's rich historical treasures that have survived millennia.
"Meanwhile, Port Harcourt, the largest city and capital of Rivers State, Nigeria will be served via Port Harcourt International Airport, a diverse and fast-moving city on the southern tip of Nigeria. More than a century of international trade has turned this former port town into a vibrant, fast-growing metropolis."
The group Chief Executive, Qatar Airways, Mr Akbar Al Baker, said, "This is a defining moment for Qatar Airways, with Nigeria becoming our most connected market in Africa with the launch of our new services to Kano and Port Harcourt.
"We see tremendous opportunity in the region and these new routes are an important catalyst to further boost trade and commerce in the country. Our presence in Nigeria now covers four key markets and is a real affirmation of our support to the country.
"Qatar Airways has stayed steadfast in its commitment to Africa throughout the pandemic, operating continuously and reliably to Nigeria. We have since increased frequencies and grown our network considerably, improving connectivity to and from the continent and providing travellers with more choice and convenience."
The airline added that with its two new routes, it will start operating 188 weekly flights between Africa and Doha. It said it was now serving 28 destinations across the continent.
The Minister of Aviation, Hadi Sirika, said, "The new flights provide important travel and trade links between Nigeria and the world.
"As the largest economy in Africa, this enhanced global connectivity via the new Qatar Airways service will provide a vital network to move goods and people, as we recover from challenges of the pandemic and prioritise growth.
"Kano and Port Harcourt are both important to this recovery. This new service also reinforces the close ties between Nigeria and Qatar, and it paves the way to explore new, untapped opportunities."
Industries, Transporters Groan Over Diesel Price Hike - DAILY TRUST
MARCH 12, 2022
By Simon Echewofun Sunday
As the price of Automotive Gas Oil (diesel) continues to rise over N650 per litre in some quarters as of Thursday, transporters and other users have noted that it is raising their cost of business.
In Abuja, a trucker confirmed the product was sold for N670 Thursday. "The cost is getting high every day from N450 two weeks ago. Now we are buying at N670 per litre," said Adamu Yusuf.
An industrialist and sachet water manufacturer, Onuoha Okorie, said if the price hike continues, the association of table water producers (ATWAP) may be forced to raise unit cost. Just in August 2021, the group raised the wholesale price per bag from N100 to N200 while it was sold at N250 in retail shops and N20 per sachet.
In Lagos, diesel sold for between N610 and N645/litre in some fuel stations. A supplier of sachet water in Ikeja said the rise is affecting operation, coupled with the epileptic power supply. While some factories are not producing water at all, those producing have increased the price from N120 per bag to N150 while those who retail sell at N200 per bag.
Commenting on the situation, an Economist and CEO of Centre for Promotion of Private Enterprise (CPPE), Dr. Muda Yusuf said NNPC Ltd cannot continue to provide the fuel needs of the entire country as it is not sustainable. "This approach would consume the entire revenue of the government," he said.
Yusuf also said most firms still depend on diesel generators to power their operations in the face of epileptic electricity supply, noting that the diesel price hike could escalate product prices.
Diesel unaffordable globally – NARTO
Responding to the rising diesel prices, Nigerian oil marketers have blamed the ongoing war between Russia and Ukraine.
Speaking at the Annual General Meeting of the National Association of Road Transport Owners (NARTO) in Niger yesterday, the National President of NARTO, Yusuf Lawan Othman, said the price of diesel is becoming increasingly unbearable for his members.
Othman who lauded the federal government for increasing the freight rate for transporters, however said diesel price hike is raising the logistics business cost.
He said, "It's usually at the international price and everybody knows that the international price is affected by the current war in Ukraine and Russia. So of course, because we import it, it's really very costly."
Aside from the high cost of diesel, the NARTO president appealed to the federal government through the minister of works and the N621bn NNPC road intervention for 21 critical federal roads as he said bad roads cause fatal accidents.
The oil marketers also shared their pain as the Executive Secretary of Major Marketers Association of Nigeria (MOMAN), Clement Isong, sympathised with transporters, calling on the federal government to intervene, although the diesel market is liberalised.
The National President of the Independent Petroleum Marketers Association of Nigeria (IPMAN), Alhaji Debo Ahmed, also said the cost of diesel has become unaffordable even for the marketers.
Commenting at the event, the Executive Secretary of Nigerian Midstream and Downstream Petroleum Regulatory Authority (NMDPRA), Farouk Ahmed whose agency regulates the downstream petroleum sector, pledged commitment to the transporters with the Petroleum Industry Act (PIA).
Ukraine war: Britons who host refugees will get £350-a-month 'thank you' from government - SKYNEWS
MARCH 13, 2022
Levelling Up Secretary Michael Gove is unveiling a Homes for Ukraine scheme in a bid to help tens of thousands of people fleeing their homeland in the wake of Vladimir Putin's war.
BY Jon Craig
Families who welcome Ukrainian refugees into their home for at least six months rent-free will receive a £350-a-month "thank you" from the government.
After weeks of criticism of the government's response to the refugee crisis, the Levelling Up Secretary Michael Gove is finally announcing a "Homes for Ukraine" scheme.
Mr Gove is proposing that a UK sponsor - an individual, charity, community group or businesses - will be able to nominate a named Ukrainian person or family to stay in their home.
Around a million-and-a-half refugees have now crossed the border into Poland The aim is that up to tens of thousands of Ukrainians fleeing war in their country, including those with no family ties to the UK, will be able to live in safety, rent-free.
Advertisement Ministers hope that hotels, landlords, owners of B&Bs and Airbnb properties will form the bulk of the offers to the new sponsorship scheme, to speed up the process.
Those refugees who have sponsors will be able to remain in the UK for up to three years and be entitled to work, use public services and claim benefits.
But because most refugees will be women and children, people offering accommodation will be vetted and face criminal record checks.
Ukrainian applicants will also undergo security checks.
Mr Gove's plan coincides with a new opinion poll, by Opinium, suggesting 52% think the government has not gone far enough in accepting Ukrainian refugees, yet only 9% would definitely take them in if asked.
In a plea to people to step forward with offers of help, Mr Gove is calling on landlords, businesses, community groups and other organisations to offer rooms and other accommodation to Ukrainians.
"The crisis in Ukraine has sent shockwaves across the world as hundreds of thousands of innocent people have been forced to flee their homes, leaving everything they know and love behind," he said.
"The UK stands behind Ukraine in their darkest hour and the British public understand the need to get as many people to safety as quickly as we can.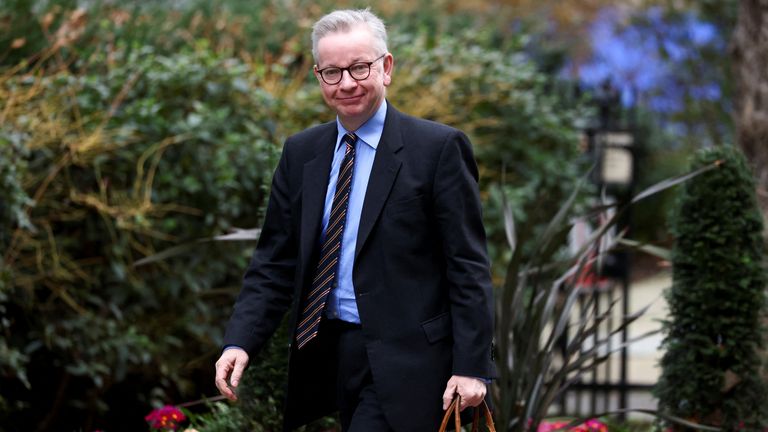 "I urge people across the country to join the national effort and offer support to our Ukrainian friends. Together we can give a safe home to those who so desperately need it."
In other developments
Putin holds 75-minute call with Macron and Scholz about how to 'end war in Ukraine'
Russia warns Western arms shipments to Ukraine are now 'legitimate' military targets
Russia 'shells mosque where people were sheltering'
Footage appears to show Russian troops kidnapping Ukrainian mayor
Roman Abramovich disqualified as director of Chelsea FC
Macron condemns UK for failing to meet promises to help people fleeing Ukraine
The government is this week launching a website for sponsors to register their interest in the scheme and their potential offers of accommodation, whether a spare room or a separate property.
Besides families or individuals with a spare room or rooms, local communities, the voluntary sector and organisations such as charities and religious groups will be able to sponsor groups of Ukrainians.
The government says sponsors will be asked to provide a home or spare room rent-free for as long as they are able.
Despite the criticism of Home Secretary Priti Patel's handling of the refugee crisis, the government insists it has already taken action to support those suffering as a result of the crisis in Ukraine.
This includes a Ukraine Family Scheme, allowing extended family members to enter the UK, and from Tuesday Ukrainians with valid passports will not need to go to a Visa Application Centre.
Responding to Mr Gove's proposals, Labour's shadow levelling up secretary Lisa Nandy said: "We have known for weeks that generous Brits want to help Ukrainians fleeing war.
"The problem is that once again the government has failed to plan and has been dragging its feet. We still need far more urgency and too many questions remain unanswered.
"It is unclear what support will be offered to vulnerable children and older people, whether provision is made for unaccompanied children, and what help will go to local government, sponsoring organisations and housing providers.
"Given the scale of the refugee crisis in Ukraine, ministers must be sure this scheme will help enough people, and quickly.
"If Brits will need to have a prior connection to a Ukrainian family to sponsor them, as is suggested, that would be a severe limitation.
"Once they are here, how will families access support, such as universal credit for housing, after their sponsorship ends?
"Ministers must reduce all unnecessary bureaucracy for desperate people fleeing Putin, and they must engage councils and charities, who know what can be done - but incredibly haven't been asked yet."
Fuel Scarcity: Passengers Stranded As Airlines Reschedule Flights - DAILY TRUST
MARCH 14, 2022
By Abdullateef Aliyu
There seems to be no end in sight due to the fuel scarcity confronting the aviation sector as many morning flights were rescheduled today leaving hundreds of passengers stranded at various airports across the country.
For instance, at the Murtala Muhammad Airport Lagos domestic terminals, there was chaos as virtually all the airlines rescheduled their flights.
This is just as it was learnt that aviation fuel has hit N600 per litre in Lagos for the first time since the scarcity started.
Though the aviation fuel had been selling for N600 outside Lagos, especially in the Northern parts of Nigeria, while it was around N575-N579 last week, this is the first time it would hit N600 since the scarcity and price hike started.
This has left many airline operators in a difficult situation with the drastic increase in the high cost of their operations.

Passengers have become victims of the present circumstances as many flights are now rescheduled, delayed for hours and often times cancelled.
Due to these recent events, many passengers at the Murtala Muhammad International Airport (MMIA) domestic wing were stranded.
It was gathered that Air Peace, Dana Air, Ibom Air, Arik Air, Azman, Max Air, among others have some of their morning flights rescheduled.
It was also gathered that other airlines were busy attending to passengers that had their flights hitherto rescheduled in the last few days.
Daily Trust reports that the House of Representatives had intervened in the Jet A1 scarcity last week by summoning the Group Managing Director of the Nigerian National Petroleum Corporation (NNPC), Mr. Melee Kyari alongside airline operators and the regulatory authorities.
However, the problem has not subsided since last week while the aviation fuel marketers are expected to meet the lawmakers this week.
Ukraine War: Russian Forces Have Taken Over The Town We Are In, Trapped Nigerian Students Beg For Help - DAILY TRUST
MARCH 14, 2022
The Nigerian students trapped in Kherson, Ukraine, say their lives are in serious danger as Russian forces have taken over the town. The Head...
The Nigerian students trapped in Kherson, Ukraine, say their lives are in serious danger as Russian forces have taken over the town.
The Head of the International Student Union in Kherson, Jerry Kenny, who spoke on behalf of the students, said only ceasefire agreement between the two warring countries could make them leave the city unhurt.
Kenny, in an interview with Channels TV on Monday morning, said the Kherson mayor advised the students to persuade the Nigerian government to seek a ceasefire so they could be evacuated.
When asked by the interviewer about the situations in Kherson now under the attack and control of Russia, Jerry said, "Now, we are not allowed to gain exit, that is, the green corridor because it has been captured by the Russian soldiers preventing the Ukrainian army invasion. So that's why there is no green corridor.
"Moreover, the bombing, the sounds, the explosions are really terrible and now, no provisions; medical aids are limited because they (medics) attend to the casualties in the hospitals first. So for you that is very sick with a cold, you have no option but to stay indoors and look for possible means to help yourself in terms of treatment."
Kenny further lamented that many personalities and bodies had contacted him without rendering any help eventually.
He stated, "It has been a very terrible situation and I've been doing this all alone until two days back when some NGOs (non-governmental organisations) contacted me because I stopped receiving calls from some people because everybody will just call you and they ask how you're doing even when they know the situation is critical and nobody is doing anything.
"So for now, I will say there is some improvement in terms of the people that are coming on board to see how they can evacuate us here from Kherson because most of the Nigerian students (are trapped). Six of them are sick as we speak and I take care of their welfare to ensure they are fine not with the help of anybody but with the help of God and the little strength that I have to render.
"As at this week, we had some development. The Minister of Foreign Affairs, Godfrey Onyema, called me and he gave us hope that very soon, we will be evacuated from Kherson."
The student leader also said he had sent out videos to some groups, indicating the critical situation he and co-students were going through but their complaints were not taken seriously.
He added, "No "I've been able to speak with the Mayor of Kherson and I approached the commander in charge of Kherson. He told me this issue is from the top and we need to communicate. We were told that the (Nigerian) government needs to liaise with the Russian people and also the Ukrainian people and they will come into an agreement for a ceasefire.
"When this is done, we know we are safe and the next thing for us to do is to try and evacuate during that period of time. I've been able to get the numbers of people, I have not only Nigerians in my stock but I'm speaking for Nigerians in my custody. I will try all my best possible to ensure that all students are safe but now, there is little to be done so all these people need to come in contact with the Russia and Ukrain for them to cease fire. Without that, I'm not sure there's anything we can do."
Squatters occupy London mansion 'owned by Russian oligarch Oleg Deripaska' in protest over Ukraine war - THE INDEPENDENT UK
MARCH 14, 2022
BY Lamiat Sabin and Zoe Tidman
Squatters have occupied a London mansion, allegedly linked to a Russian oligarch, in protest over Vladimir Putin's invasion of Ukraine.
At least five activists from the group known as the London Makhnovists took over the luxury townhouse in Belgrave Square on Monday, claiming that it now "belongs to Ukrainian refugees".
They hung a Ukrainian flag from an upstairs window and unfurled a banner that reads "this property has been liberated".
- ADVERTISEMENT -
Another banner reads: "Putin go f*** yourself."
The property worth more than £2 million is apparently owned by Oleg Deripaska, a Russian billionaire industrialist with close links with the British political establishment, who was targeted by government sanctions last week.
He was described as "a prominent Russian businessman and pro-Kremlin oligarch", who is "closely associated" with both the Russian government and Putin.
The house at 5 Belgrave Square – in Belgravia – is reportedly one of the many UK properties in Deripaska's property portfolio, and it has been owned by an offshore British Virgin Islands company.
When The Independent asked the activists how long they plan to be at the property, one of the squatters shouted from the balcony: "Until Putin stops the war."
The group is named after the 1917 Ukrainian anarchist movement known as the Makhnovists, that was led by Nestor Ivanovich Makhno.
In response to the The Independent asking how they entered the house, the activist joked that the "ghost of Nestor Makhno manifested itself and opened the door."
The activists described their group as a "property liberation front", and are demanding that properties of oligarchs are seized to house refugees.
One of the activists vowed to "go further" to occupy properties – adding "no more oligarchs' mansions!"
They also said: "Do we want to live in a society that protects mansions of oligarchs, or that houses refugees?"
A passer-by was overheard saying: "Good for them. F*** Putin."
An activist accused police of "restricting the protest" and claimed that "the only thing standing in the way of refugees being housed is the police". Officers at the scene declined to answer any reporters' questions.
Six police vans were outside the property, including those of the Metropolitan Police's Territorial Support Group.
Officers had cordoned off part of the street in the area where embassies of many countries are located.
In a statement, the Met Police said officers were called to the property at 1am on Monday, and found that "a number of people had gained entry and hung banners from upstairs windows".
The anarchists said, in a statement, that they had taken over the mansion "in protest against Putin and his world" and wanted to show solidary with Ukrainians whose lives are devastated by the invasion.
In Ukraine, about 600 civilians have been killed – according to the United Nations, more than 2.5 million people have been forced to flee, and Russian troops' bombardments have destroyed infrastructure and homes across the country in the invasion launched on 24 February.
"This mansion belongs to a Russian oligarch, complicit in Putin's invasion of Ukraine," the squatters said in a statement.
They said the residence would "serve as a centre for refugee support, for Ukrainians and people of all nations and ethnicities".
While the activists occupied the house, Mayor of London Sadiq Khan repeated his call for some oligarch-owned London properties – that he called "gold bricks used to launder money" – to be used for housing displaced Ukrainians.
"I think the government should be seizing them, and before selling them – because they'll take some time – they should be using them to house those Ukrainians who are fleeing Ukraine, who we'll be offering a safe haven in London," he told Times Radio.
"It's a form of poetic justice, but also it's a good use of these many, many empty properties sitting across London simply with dust being gathered inside rather than them being used to house people who need homes."
Over the weekend, housing secretary Michael Gove said the government wants to "explore" the option of using sanctioned oligarchs' properties to house Ukrainian refugees.
Aviation fuel scarcity: We may shutdown in 3 days – Airlines - BUISNESSDAY
MARCH 14, 2022
economy ticket to cost N120,000
Airlines Operators in Nigeria said they have only three days left to shut down their operations over the skyrocketing cost and acute scarcity of aviation fuel which is selling over N600 per litre.
Allen Onyema, Chief Executive Officer of Airpeace said this while speaking for airline operators before the House Committee investigating the scarcity and high cost of aviation fuel, insisting that they can no longer afford the product.
Onyema who demanded that airline operators should be given a licence to import aviation fuel said if they must continue flying, an average Nigerian will spend N120, 000 for an economy ticket.
In their presentation, the oil markers said the high dollar rate was responsible for the high cost of the fuel, refusing to tell lawmakers the landing cost which caused a commotion.
Mele Kyari the Group Managing Director of NNPC Limited said currently, there were 19 oil companies with 88 million litres of aviation fuel in the country.
The oil marketers, airline operators, NNPC and Nigeria Downstream and Midstream Petroleum Regulatory Authority (NDMPRA) were conferring to come out with a resolution at the time of this report.
Details later