Travel News
Nigeria: Most students want to study abroad but many also need financial aid - ICEF MONITOR
MAY 11, 2022
Short on time? Here are the highlights:
Affordability is a key concern for Nigerian students and institutions that can offer financial aid or flexible tuition payment arrangements will be much more likely to secure Nigerian enrolments
The devaluation of the naira has had a serious impact on Nigerian students' ability to study abroad, and many are considering distance learning with a foreign institution as a more affordable option than study abroad
An annual survey exploring Nigerian students' perceptions of study abroad and the main motivations for their decisions about where to study finds that as many as 9 in 10 Nigerians are interested in pursuing a university degree with a foreign institution. At the same time, many Nigerian students cannot consider study abroad without financial assistance, and significant proportions are interested in the more affordable option of distance learning.

The Nigeria Market Sentiment & Study Motivations Report was produced by a consortium comprising the University of Sussex, The Student Coach, BUILA Africa, Culture Intelligence from RED and Vive Africa, and it is based on a survey of roughly 4,100 Nigerian students as well as on supplementary research. It was conducted in July through September 2021 across various regions in Nigeria.
Two-thirds of surveyed students were interested in undergraduate studies, and a third were looking for graduate programmes.
Preferred destinations
The UK, US, Canada, Germany, and Australia are the preferred host countries for surveyed Nigerian students. However, even more survey respondents indicated a preference for distance learning (46.6%) than in-person learning abroad (40.6%), perhaps as a result of financial constraints.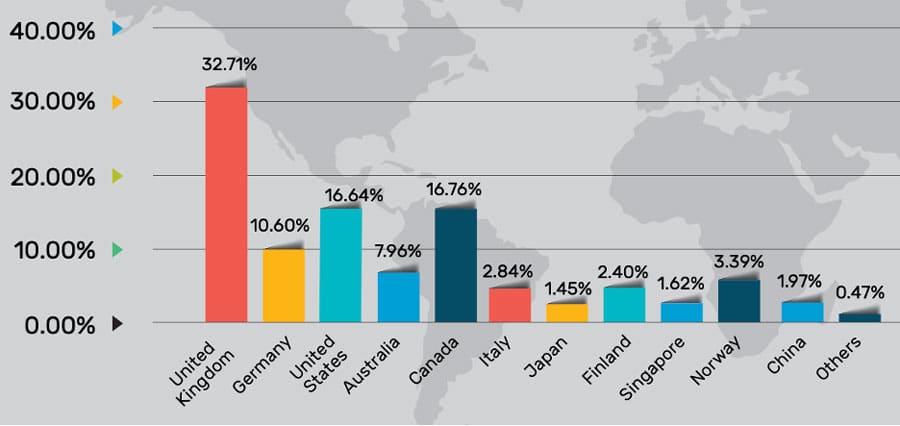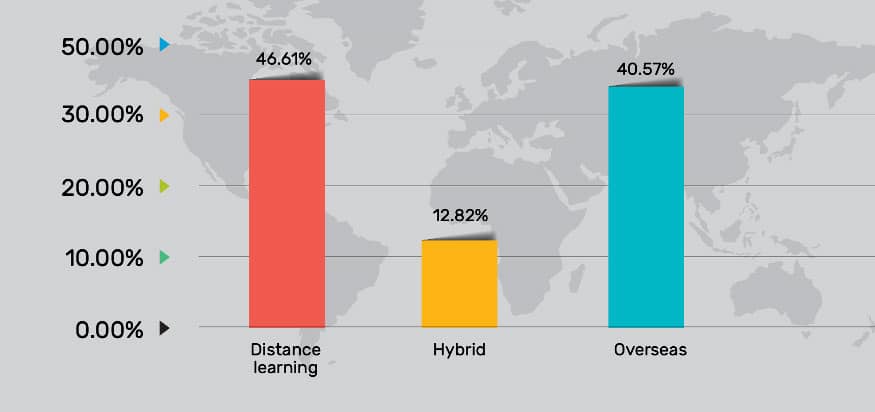 Scholarships, safety, and affordability are top priorities
The availability of scholarships and a country's reputation for being safe, secure, and welcoming are the most compelling draws for Nigerian students. The ability to work part-time during studies, "low living expenses," and the presence of family or friends in a host country also factor into Nigerian students' decisions about where to study. As depicted in the chart below, Nigerian students consider many factors when choosing where to study abroad.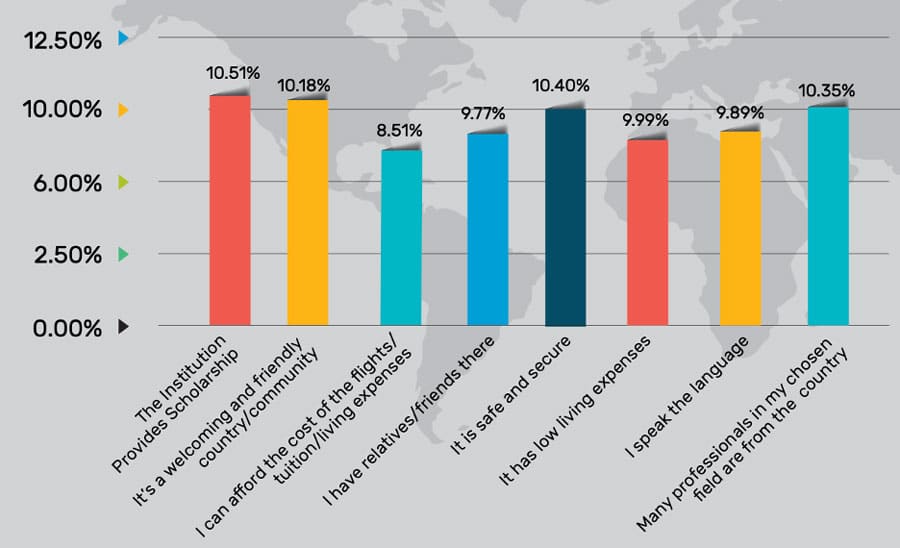 Professors are key influencers and scholarships are a hot topic
Roughly 70% of surveyed students said the opinions of their lecturers, career mentors, and advisors carry the most weight when it comes to which foreign institutions they decide to apply to. Also important to students were efforts by the foreign institution to engage with them one-on-one. The report notes, "students desire a more personal, focused relationship in order to be more motivated to attend a particular institution."
Interestingly, students were not particularly influenced by institutional marketing involving alumni, and the report suggests that communicating with faculty is likely a better bet for universities recruiting in Nigeria this year.
The most important resource for Nigerian students to engage with a university and to apply is the institutional website. WhatsApp, Skype, and Facebook Messenger follow as most-used resources.
After they register, students prefer communicating with institutions through email (especially correspondence with course professors – preferred to emails from the international team or generic communications from the institution) and WhatsApp. Students find social media live sessions to be the most effective means of engaging with the institutions they have applied to; in order, Instagram Live, Facebook Live, and YouTube Live are their preferred channels for live sessions. In-person events, webinars, and "open days" follow as popular opportunities for engaging with institutions. Wherever the engagement happens, students want scholarships to be discussed, followed by academics and career opportunities. As shown in the chart below, 6 in 10 students said they were looking for a full scholarship.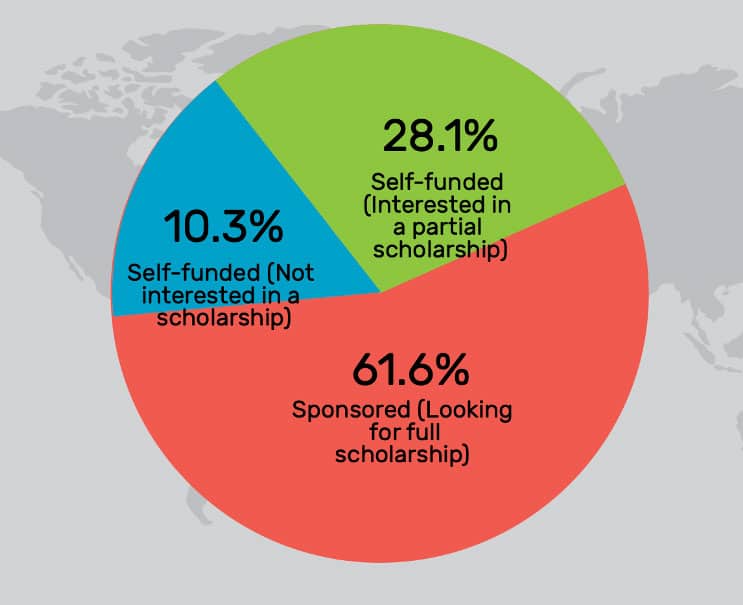 Students search for ways to reduce financial burden
Most students indicated that they would prefer to pay their tuition in instalments and they look carefully at whether scholarships are available. The report emphasises that affordability remains a major issue for Nigerian students and says that this is a significant reason that many have chosen to study in China or Germany over more expensive English-speaking destinations. The report recommends,
"Universities need to innovate around providing suitable tuition payment terms and scholarship opportunities especially for students of African origin whose economic status may not be as buoyant as that of students from other continents."
The government's devaluation of the naira – brought on by falling oil prices during the pandemic – has had a significant impact on Nigerians, causing inflation and reducing consumers' purchasing power.
The pandemic has affected the popularity of certain study fields
Nearly two-thirds (65%) of students said that the pandemic has affected which programmes they apply to, and the report anticipates that interest in health-related fields such as nursing will continue to grow, particularly if there are strong post-study work rights available in host countries given "abysmal" career opportunities in the healthcare sector in Nigeria. These are the programme areas that surveyed Nigerian students cited the most frequently, in order of popularity:
Law
Engineering
Health Studies and Medicine
Business Management
Computer Science and Information Technology
Media Studies & Writing
A promising market with challenges
Nigeria remains a promising market for foreign institutions, but financial considerations are top of mind for students and without funding assistance, many Nigerians may not be able to study abroad in the near term. This reality may be the reason that significant proportions of Nigerians are interested in distance learning with a foreign institution. The survey findings also highlight the opportunity for universities of engaging with local Nigerian academics and of investing in personalised communications with students. Nigerian students are looking for more than generic communications from institutions and want to seriously engage with the staff at institutions they are considering.
Aviation Fuel: Airline Operators To Get 3 Months' Supply At N480 – NNPC - DAILY TRUST
MAY 11, 2022
By Balarabe Alkassim
The Nigeria National Petroleum Corporation (NNPC) Ltd, airline operators and marketers have resolved on common ground in the interim to take measures that will keep the aviation sector functioning in the country.
The agreements were reached at a meeting with stakeholders and the leadership of the House of Representatives led by the Speaker, Femi Gbajabiamila on Monday.
In his remark at the meeting, the speaker informed that there were three resolutions reached in the interim between the stakeholders
According to him, recommended ten marketers will get a steady supply of Jet A1 fuel for three months from the NNPC.
He said: "In the long term, you commence the process of applying for your own licence to be able to import your own Jet fuel. So, that will remove, whether it is middlemen or frontmen or whatever. You will know the landing cost to assist you in your business. Have we agreed on that? We have agreed on that.
"And there is the benevolence of the governor of Central Bank; there are six million litres available at N480, correct? You will get allocation for the next three months through the companies that you have nominated. So that you will not come back and say Jet fuel is a particular amount and is being sold by NNPC because you nominated those people that are selling to you."
In the process of applying for licence, the Speaker said the midstream agency should as much as possible grant waivers that would not touch on the security and safety of the process while urging the committee chairmen on aviation and downstream to follow up.
Earlier, the NNPG Ltd GMD, Mele Kyari stated that it was agreed at the earlier meeting to make the marketers sell the product to them at N500 for three days pending the day they would sit down and agree on the pricing formula.
He said: "It is our role to ensure we intervene. We did. We brought in products so that we can dampen the price. In March and April, we brought in cargo and made it available to the entire industry at N460. There is a build-up to that price.
He said the only way to fix the price is to put a subsidy on adding that to sell for N500 in any circumstance, then somebody has to pay the difference.
He explained that there is a ForeX constraint. "There is a limit to what the CBN can provide. We are constrained because we are not able to produce dollars because of the dearth of oil in the Niger Delta. This is then reality. So we do not have. That means customers must source for FX from alternative sources."
Also speaking, the Governor Central Bank of Nigeria, Godwin Emeifile said: "The availability of Forex is very important and the issue of constraint from Forex arising from issues bordering on theft in the Niger Delta is a big issue. It is when NNPC is able to export that dollars can come in.
"We do not have FX to sell. It would be difficult for us to grant any concession. It means we would be taking a hit or we would be providing some sort of subsidy for the industry".
Speaking on behalf of the Airline operators, Chairman of Air Peace, Allen Onyeama said, the operators were not striking. But they are fighting to save a very crucial industry being bogged down by unnecessary bottlenecks.
He said: "We did not intend to go on a strike. It was not a strike. What the AON was saying on Friday when we released our communique was that we do not have the money anymore to pay.
"Even spare parts, sometimes you take the spare parts and pay later, not to talk of aviation. You don't have to carry loads of naira in your cargo hold to pay. We all owe these marketers, yes, but we are servicing them.
"What we are doing actually is that we are fighting for this government and the poor masses of this nation. We are subsidising ticket fares at N50,000."
Nigeria's NNPC, central bank 'cannot help fix' jet fuel prices - ALJAZEERA
MAY 11, 2022
The jet fuel price increase has affected already debt-laden airlines that rely on the import.
The head of Nigeria's state oil firm and the central bank governor have told the national assembly and the country's airlines they are unable to help with soaring jet fuel prices.
However, in a resolution to the meeting, the Nigerian National Petroleum Corporation (NNPC) agreed to supply jet fuel to marketers nominated by the Airline Operators of Nigeria (AON).
The association will apply for a jet fuel import licence, the speaker of the house of representatives Femi Gbajabiamila, said.
"We cannot fix the prices … on a deregulated commodity. The only way we can fix the price of aviation fuel is to introduce a subsidy," NNPC chief Mele Kyari told MPs.
Central bank governor Godwin Emefiele, who is making an unprecedented presidential run, said he could not offer the airlines a "concessionary rate" on foreign exchange to help with imports.
"If it is naira intervention that airlines want, they could approach their banks," Emefiele told the lawmakers. "The banks would look at it."
Dependency and 'failed promises'
Nigeria's oil refineries, relics of colonial times that have been mismanaged for years, are barely functional. As a result, Africa's largest oil producer has to rely mostly on imports of refined fuel for its domestic needs.
But fuel prices have risen sharply around the world since Western companies began imposing a series of increasingly tight financial sanctions on Russia after its invasion of Ukraine in late February.
The price increase has affected already debt-laden airlines that rely on imported kerosene or jet fuel, which is not subsidised, unlike gasoline.
The head of AON says this situation did not have to be this dire and that NNPC had failed to deliver on a promise to supply jet fuel at a fixed 500 naira ($1.21) a litre.
"NNPC told us the president has approved 25,000 metric tonnes for us (airlines) but we never got this fuel," Allen Onyeama, vice president of AON and chairman of Air Peace, said, referring to Nigerian President Muhammadu Buhari.
"We nominated some marketers who have been licensed … to handle the 25,000 tonnes, but we are yet to get this fuel."
The AON nearly suspended flights but U-turned on the decision just hours before the move was due to take effect on Sunday.
What the passport backlog means for you and your family and how to beat the system - YAHOO FINANCE
MAY 11, 2022
If you haven't renewed your passport, and you're planning a summer holiday, you'll need to step on it, because you're on borrowed time.
The Passport Office has been warning for the last month that it's taking up to 10 weeks to process applications — up from its usual timetable of three weeks.
More and more tales are emerging of people who've been caught out and had to cancel their holiday.
It was only while reading one of these stories that it occurred to me to check the kids' passports for our summer holiday, and the horrible realisation dawned that they expired last year.
Apparently I'm far from alone in failing to renew — about 5 million of us put it off during the pandemic, because when we weren't going anywhere more exciting than the end of the driveway, it didn't seem worth it.
Now we're all clamouring to get back on a plane again, applications have soared. The Passport Office worked its way through a million of them in March alone — a new record — and still they're flooding in.
If you're in this position, you should also check whether you input the old passport numbers when you booked your holiday. If you did, you'll need to get in touch with the travel company and see how much it will cost you to update them.
If you haven't booked yet, wait until the new passport is safely in your hands, because the new number will be different.
If you're travelling this summer, there's no time to delay in getting the renewal in. The Passport Office says the quickest and easiest way to do this is online. However, their definition of 'quick and easy' is very different to mine.
The first stumbling block is the photo. I learned from experience that the best approach is to go to a photo booth or a shop offering a digital code.
Your photos will be taken in an environment where they're more likely to be suitable, and getting it right using your own camera is bit of a nightmare.
It's worth checking all the rules before you start, which range from having to keep your mouth closed and your face serious, to ensuring none of your hair has strayed in front of your eyes.
Even after checking the rules and trying to stick to them, after 30 photos and three photo shoots, I can vouch for the fact that getting a photo that the online application accepts can be tricky. Even now, I still won't know if the photos are OK until they have been checked manually.
The Passport Office has also warned that applications will take much longer to process if there's information missing or any mistakes. It means you need to check all the details properly — one false move when you're inputting your passport number will set your application back.
It also means you need to get your hands on information that may be a struggle to track down. Not everyone lives in a straightforward nuclear family, and not everyone can easily get hold of their ex-partner's passport number in a hurry when they need new passports for the kids.
Even once all the paperwork is sorted, you need to find the cash to cover the cost of an application, which at £75.50 for an adult passport and £49 for a child is not to be sniffed at. Unfortunately, if you want to apply using a paper form it's even more expensive — £85 for adults and £58.50 for children.
If you're travelling within ten weeks, you may need to go to one of the seven UK Passport Offices in person.
However, you'll need an appointment, and you have to be quick to get one, because new appointments are released daily, three weeks in advance, and they're getting snapped up fast.
Even when you get an appointment — and trek across the country to get there — there's an enormous additional cost. If you have an adult passport issued after 31 December 2001, you can get a premium appointment to sort everything in 30 minutes, for £177.
Alternatively, you can get a one-week fast track appointment, which can be used to renew adult and child passports, and costs £142 for an adult and £122 for a child. The passport will be sent back to you within a week of your appointment.
If you haven't checked your passports for your summer holiday, you need to do it now. If they've expired, you can join me in the increasingly anxious wait to see whether they arrive in time.
Cost of living crisis: UK's high earners more insecure than those on low pay - YAHOO FINANCE
MAY 11, 2022
Workers in the top pay bracket in the UK are more concerned about changes in the labour market compared to those who earn lower wages, a study suggests.
Analysis published on Wednesday from the Resolution Foundation found higher earners are more fearful of moving or losing jobs than low earners.
This was due to worries about getting less pay and flexibility when they find new jobs, while low-earners often see little benefit from upending the status quo, the report said.
In its Listen Up report for The Economy 2030 Inquiry, a collaboration with the LSE, funded by Nuffield Foundation, the think tank examined how the economy and changes in the labour markets affect workers amid a cost of living crisis.
High work intensity and bad management were identified as the main negatives at work.
Higher earners saw change in the labour market as risky, identifying the challenges of finding equally well-paid work, and losing the "flexibility earned" from current employers, according to the research.
Respondents were also fearful of unemployment amid worries around a lack of support from the government during any period out of work.
In contrast, low earners were less worried about the prospect of losing their job, seeing their skills as transferrable, and feeling that it was easy to find new work.
The foundation said that this view likely reflects the fact that the current labour market is tight, with vacancies currently at record highs.
"This report gives much-needed voice to people who are not often heard in economic debate. It highlights how people's lives are about so much more than work and spending, including the importance of family and community, and the contributions that so many make to society," said Alex Beer, welfare programme head at the Nuffield Foundation.
"However, bad management, limited autonomy at work and rising costs are all detrimental to people's quality of life and have implications for the successful functioning of the UK economy.
"Better management practices, training opportunities, an improved social security safety net and regulation in product and labour markets could all make a difference."
Despite this, employees reported little incentive to actively find new work as they expected jobs to be "more-of-the-same" in terms of levels of pay, work intensity and insecurity.
The financial gains from moving jobs were seen as too small, and the financial cost of undertaking training to enable them to find better paid work was too high.
The Foundation notes that the reluctance to move jobs is hugely problematic as the lack of job mobility can stunt the careers of higher earners, especially younger workers.
The think tank highlighted that low-earners, even those who found themselves trapped in an unsatisfying low pay, high insecurity working environment, still felt little incentive to escape it.
Karl Handscomb, senior economist at the Resolution Foundation, said: "The big takeaway from our research is that people value work in far richer ways than simply their pay cheque.
"Choice was acknowledged as important to get better value for money, and to actively participate in wider society. But people warned that when money was tight, their life choices were limited.
"This suggests the cost of living crisis could have a wider impact on families than just their personal finances."
Aero Contractors Debunk Plan To Shut Down Operations - INDEPENDENT
MAY 11, 2022
LAGOS – Aero Contractors has denied the claim in some quarters that it is planning to shut down operations over industry challenges.
The airline in a statement by its management said that the airline could not be isolated from the current challenges facing the industry and promised its clients, travelling public and stakeholders that it would continue to operate in the industry.
The statement hinted that high cost of aviation fuel, high foreign exchange rate; high maintenance cost, inflation and low purchasing power of the traveling public following the increase of fares were some of the challenges facing its operations.
ABUJA DOCTOR REVEALS THE UNIQUE WAY TO PERMANENTLY CURE WEAK ERECTION, SMALL AND SHAMEFUL MANHOOD AND INFERTILITY ISSUES WITHOUT SIDE-EFFECTS WITHIN A SHORT PERIOD. CLICK NOW TO SEE!
-Advertisement-
The statement added: "Like many airlines in Nigeria, Aero Contractors have been operating daily, and facing the challenges squarely.
"We categorically deny any plan to close operations as the airline is proactively taking necessary measures and strategy to continue operation and ensure a great travel experience to our highly esteemed customers."
The airline said that it has one of the best Maintenance Repair Overhaul (MRO) facilities in West and Central Africa, adding that it remained the oldest aviation company with capacity to offer both scheduled airline services and maintenance for third party, licensed in over three countries.
Face masks to no longer be required on European flights and at airports - SKY NEWS
MAY 11, 2022
The wearing of face masks in airports and on European flights is "no longer recommended", the European Centre for Disease Prevention and Control (ECDC) has said.
The move, announced by the European Union Aviation Safety Agency (EASA) and ECDC, is due to come into force on 16 May.
The EASA said it hope the decision would mark "a big step forward in the normalisation of air travel".
Both authorities have advised travellers that, despite the rule being lifted, face masks remain "one of the best protections" against COVID-19.
Vulnerable passengers have been told they should continue to wear a mask and people will be asked to observe social distancing in indoor areas.
However, airport operators have been advised not to impose any distancing measures if they are likely to lead to a bottleneck, ECDC director Andrea Ammon said.
Once the rule has been dropped by the EASA and the ECDC, individual airlines will continue to be able to implement their own requirements.
Airlines have been told to encourage passengers to use masks on flights to or from destinations where mandatory mask-wearing on public transport is still enforced.
They have also been advised to keep systems for collecting passenger locator information on standby in case they are needed in the future, for example if a "new variant of concern" emerges.
"From next week, face masks will no longer need to be mandatory in air travel in all cases, broadly aligning with the
changing requirements of national authorities across Europe for public transport," EASA executive director Patrick Ky said.
"It is a relief to all of us that we are finally reaching a stage in the pandemic where we can start to relax the health safety measures."
Italy, France, Bulgaria and other European countries have been relaxing or ending many of their COVID measures and a number of US airlines have already dropped the face mask requirement.
What are the COVID rules for travel in the UK?
In the UK, passengers are advised to check with their travel provider on whether COVID-19 rules are in place.
The Department for Transport and the Department of Health state people should follow any coronavirus restrictions and guidance from their transport venue as well.
People are also no longer required to complete a UK passenger locator form before they travel or take a COVID test when leaving or entering the country.
Fuel scarcity won't spread to Lagos, others – Marketers - PUNCH
MAY 12, 2022
Oil marketers have said that the fuel scarcity being experienced in Abuja will not spread to Lagos State and other parts of the country.
In a telephone conversation with The PUNCH on Wednesday, the Major Oil Marketers Association of Nigeria, the Independent Product Marketers Association of Nigeria, and the Depot and Petroleum Products Marketers Association, unanimously said the state oil firm (NNPC) was on top of the situation.
While lending their voices to the reasons behind current fuel scarcity being experienced in Abuja just a few weeks after it abated due to the importation of contaminated products into the country, former Executive Secretary, MOMAN, Clement Isong, told The PUNCH that the scarcity was due to the Sallah break.
He said tanker drivers had abandoned their trucks and travelled for the Sallah holiday.
"No, the scarcity won't spread to Lagos and other parts of Nigeria. It will be resolved by the weekend because NNPC has increased the number of trucks to Abuja," he said, adding that 150 trucks were released to Abuja between Tuesday and Wednesday.
"The drivers simply just parked their trucks and went for the Sallah break, and they are yet to fully return," he said.
On his part, the IPMAN National President, Chinedu Okoronkwo, said the cost of transporting the products to the North increased, adding, however, that the NNPC had taken control of the situation.
"Cost of taking the product to Abuja increased due to scarcity of gas and diesel, but the NNPC found its way around the situation," he said.
He added that the IPMAN was "in talks with NNPC at the moment. Let's just give them till the end of the week, then, we can take it up from there."
The Executive Secretary, DAPPMAN, Olufemi Adewole, also reiterated that the scarcity would not spread to Lagos and other parts of the country.
He advised the masses to resist panic-buying.
Long fuel queues had re-appeared in Abuja immediately after the Sallah break, causing uproar and panic in the city.
However, the NNPC, in a statement, had cautioned Nigerians not to engage in panic-buying of petrol, saying it had enough product for the country.
According to the Corporation, the sudden appearance of fuel queues in parts of Abuja was due to low loadouts at depots, which usually happened during long public holidays.
The NNPC said it had over 2.5 billion litres of petrol in stock with a sufficiency of more than 43 days.
Central Banker Among Nigeria Presidential Hopefuls Asked to Quit - BLOOMBERG
MAY 12, 2022
BY Ruth Olurounbi, Bloomberg News
(Bloomberg) -- Nigeria's president ordered officials who plan to take part in next year's elections, including central bank Governor Godwin Emefiele, to resign by May 16.
Emefiele is among a number of other political appointees who were sent the memorandum containing President Muhammadu Buhari's order. Six cabinet members have declared their intention to run for president in elections scheduled for next February, while Emefiele has argued in court that he is not a political appointee.
The order "affects all ministers, heads and members of extra-ministerial departments, agencies and parastatals of government, ambassadors as well as other political appointees who desire to contest for elective offices," according to the memo, issued late Wednesday and signed by Boss Mustapha, secretary to the government of the federation.
An earlier order released on Wednesday was directed only at members of the cabinet. In a court filing on May 5 seeking his exemption from such rules on the grounds that he is not a political appointee, lawyers for Emefiele expressed his "desires to contest elections as president." If the governor were to resign, one of the deputy governors will step in temporarily until a new one is appointed by the president. A central bank spokesman couldn't comment immediately when contacted by phone.
Emefiele's second five-year term as governor ends in June 2024. Government appointees holding tenured office will have to decide if they want to resign voluntarily or "someone will decide" for them Garba Shehu, a spokesman Buhari, said on Thursday on Channels TV, a local television station. Buhari will meet with all its cabinet members that resign by 10 a.m. Friday to bid them farewell, Shehu said. "It is all done -- signed, sealed and delivered," he said.
Almost 50 candidates, including Vice President Yemi Osinbajo and Senate President Ahmed Lawan, have indicated their interest in running for president under the two major parties, the All Progressives Congress and the main opposition Peoples Democratic Party. Osinbajo and Lawan are exempted from the order to resign as they are not political appointees.
VerifyMe Launches Instant Vehicle License Plate Verification Service - INDEPENDENT
MAY 12, 2022
By Rotimi Agbana
LAGOS – Leading digital identity and consumer analytics technology company, VerifyMe Nigeria, has launched a digital plate number verification service that verifies motor vehicle and motor owner data instantly via plate numbers.
With products such as license plate verification, VerifyMe continues to bring relevant products to market to help power growth in the fintech, insurance, and services industries. These industry-enabling products are made possible by continued digitization in government agencies such as FRSC and their continued mandate to enable growth in the digital economy.
According to Esigie Aguele, Co-founder/CEO, VerifyMe Nigeria, the plate number verification service is designed to fill the need for trusted real-time data within Nigeria's burgeoning vehicle and asset verification market. It will also enable insurance companies to instantly onboard customers while also maintaining full compliance and security.
ABUJA DOCTOR REVEALS THE UNIQUE WAY TO PERMANENTLY CURE WEAK ERECTION, SMALL AND SHAMEFUL MANHOOD AND INFERTILITY ISSUES WITHOUT SIDE-EFFECTS WITHIN A SHORT PERIOD. CLICK NOW TO SEE!
-Advertisement-
He said: "We are enthusiastic about the possibilities Plate Number Verification service offers in opening new opportunities for the insurance sector. This initiative, supported by the Federal Road Safety Corps (FRSC) will ensure trust in the system as the parties in a transaction can confirm the particulars of a vehicle real time and mitigate future issues and delays during claims.
The Nigerian Insurers Association (NIA) estimates that the auto-insurance sector has a N50 billion premium growth opportunity while about 77 percent of cars in the country are currently uninsured. This situation is exacerbated by the high number of unregistered vehicles and vehicles with fake registration licenses on the roads which significantly stunts motor-insurance penetration in the country.
Additionally, about 95 percent of the Nigerian auto market falls within the used car segment making it critical to verify the details of a vehicle for end-to-end transaction trust. The country also accounts for about 15% of Africa's ride-hailing app customers. The Vehicle License Number API will facilitate the seamless sale and purchasing of vehicles, boost consumer lending and enhance security within the industry.
Recognized as a leading African startup leveraging practical technology to solve Africa's problems, VerifyMe is noted for its innovative products and transformational leadership within the digital identity and open finance infrastructure space. The company was voted a Notable Ecosystem Champion in Nigeria in the StartupBlink 2021 report.