MarketNews
Metropolitan Police deploys facial recognition in central London with two hours' warning - INDEPENDENT
FEBRUARY 20, 2020
'This tech makes us less free and no safer,' says privacy campaign group
BY Zoe Tidman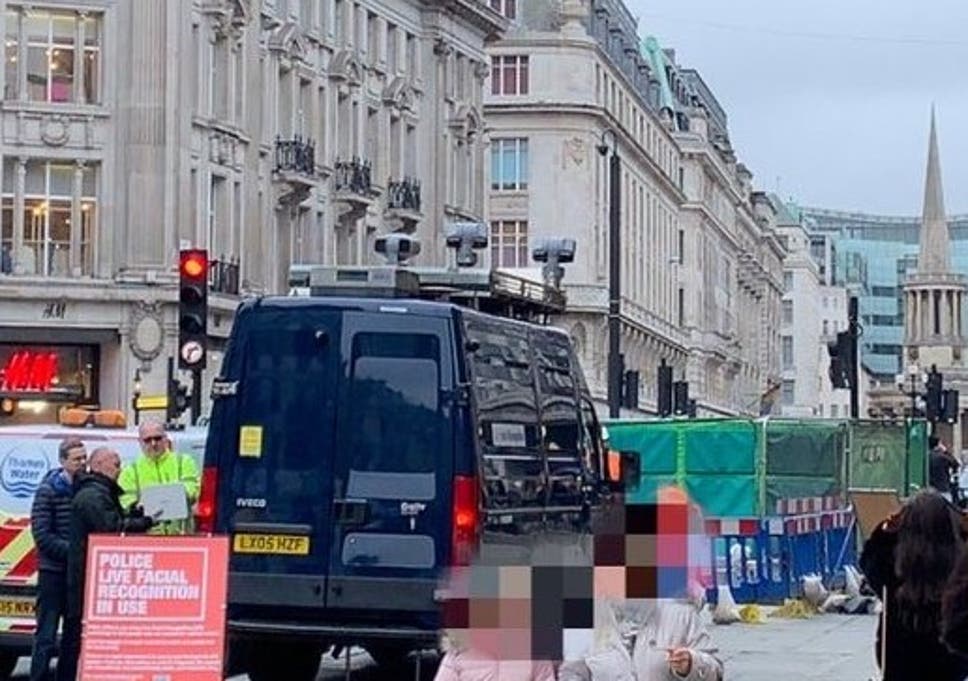 Police have launched facial recognition technology in City of Westminster on Thursday ( Big Brother Watch )
Police have deployed controversial facial recognition technology in central London with just two hours' notice, sparking privacy concerns.
The Metropolitan Police installed a live facial recognition (LFR) camera at Oxford Circus, a highly-trafficked area in the City of Westminster, late on Thursday morning, a spokesperson told The Independent.
It was due to remain there until the early afternoon, the spokesperson added.
Download the new Independent Premium app
Sharing the full story, not just the headlines
Download now
The force has pushed forward with plans to roll out facial recognition across London, despite the technology's poor accuracy and fears that it compromises innocent people's privacy.
Trials carried out by the Met between 2016 and 2018 wrongly identified members of the public as potential criminals more than 90 per cent of the time, figures have revealed.
Silkie Carlo, director of privacy campaign group Big Brother Watch, said it was "alarming" to see biometric mass surveillance used in London.
She said: "Never before have citizens been subjected to identity checks without suspicion, let alone on a mass scale. All the evidence shows this tech makes us less free and no safer."
The UK's biometrics commissioner, who oversees LFR use, warned last month that the force's deployment of the technology could be unlawful.
Protesters were at Oxford Circus on Thursday with signs to rally against facial recognition as a camera scanned faces in the area.
Campaigners for Big Brother Watch claimed that the police van – which left the scene before 2pm – had to leave earlier than planned because the camera broke.
Protesters also claimed that they saw two black men questioned and handcuffed by officers in the area, before being released.
Eight arrests have been made as a result of eight trials into facial recognition software conducted over three years.
The Met Police's first official deployment of facial recognition – which took place last Tuesday outside Stratford railway station in east London – resulted in no arrests, as well as no matches to wanted criminals.
The technology being used in the City of Westminster on Thursday is "part of a proactive policing operation to focus on violent and other serious offences", police said in a notice on their website.
Hannah Couchman, from campaign group Liberty, compared this technology to "having your fingerprint taken – but without your knowledge or your consent".
"If you are in London today, you might understandably change what you do or where you go because this tech in use," she said. "It is a violation of our privacy and a threat to our ability to express ourselves and live freely."
Watch more
A Met spokesperson said: "We have tweeted this morning about today's LFR deployment from the MPS Westminster and MPS corporate account, as per our responsibility to announce deployments in advance.
"Leaflets and large signs will also be used during the deployment."
A spokesman for the London mayor said Sadiq Khan has sought reassurance police have met conditions set out in a report on the ethical use of the technology by an independent panel.
"New technology has a role in keeping Londoners safe, but it is equally important that the Met Police are proportionate in the way it is deployed and are transparent about where and when it is used in order to retain the trust of all Londoners," he said.
"City Hall and the ethics panel will continue to monitor the use of facial recognition technology as part of their role in holding the Met to account."
Additional reporting by Press Association