Travel News
Sufficient Funding For Health Sector Will Reverse Medical Tourism - Osinbajo - NIGERIAN TRIBUNE
OCTOBER 23, 2021
Vice President Yemi Osinbajo, the Governor of the Central Bank of Nigeria (CBN), Godwin Emefiele and the Lagos State Governor, Babajide Sanwo-Olu, on Friday, made a strong case for an increase in investments in the health sector to curb about N6 billion spent on medical tourism yearly.
The trio made the call in Lagos at the unveiling of Duchess International Hospital, a multi-million-naira state-of-the-art health facility funded by Access Bank Plc.
They urged banks to make loans accessible to healthcare investors to provide standard health facilities, technologies and equipment for quality services to curb medical tourism.
Osinbajo said Nigeria had world-class talents, ideas and other resources required to develop and manage global health facilities if there was sufficient funding, stressing that delivering the highest standards of healthcare would reverse medical tourism.
The VP said investment in healthcare facilities such as Duchess would reverse brain drain in the sector and make the country a destination for medical tourists. He commended Access Bank Plc for funding the project, describing its involvement as courageous.
He said the COVID-19 pandemic has taught Nigeria key lessons, including the danger of neglecting the health sector.
Emefiele, on his part, said over 80 countries took stringent steps like restricting their medical and pharmaceutical supplies from being exported to other countries as necessary measures to cope with the pandemic.
He said it was regrettable that while the global pandemic was ravaging, Nigeria could not produce medical and pharmaceutical supplies such as drugs, hand sanitisers, hand gloves, face masks and disinfectants, but had to depend on other countries, including China and India.
The apex bank's boss queried the sustainability of relying on importation for medical supplies while expressing fear that a bigger pandemic could put the country on the brink if it fails to make necessary investments.
He said poor investment has posed an enormous threat to the country's health sector, which parades some of the best brains in the global medical circle.
Emefiele said countries all over the world were investing in their healthcare system to prepare for rising health challenges, warning that Nigeria could not afford to do otherwise. He said as part of efforts to prepare the country, the apex bank has embarked on policies that would enable banks to grant easy loans to private healthcare providers.
In his remarks, Sanwo-Olu said government needed to restore the trust of the citizens in the domestic healthcare system by creating an enabling environment for health facilities to thrive. He urged the federal and state governments to make healthcare a priority and increase their budgets for the sector.
The Chief Executive Officer, Duchess International Hospital, Dr Adetokunbo Shitta-Bey, said about 60, 000 Nigerians spend N6 billion yearly to seek various medical treatments abroad ranging from chronic diseases like diabetes, cardiovascular disease, cancer, minor conditions as well as plastic and reconstructive surgeries.
He said lack of trust, good governance, quality facilities, equipment and expertise in the healthcare industry and inability to meet international standards were part of the causes of medical tourism in the country.
He called on the private healthcare providers to take the bull by the horn to bridge the gaps in the health industry and help the country recoup the money lost to medical tourism.
Shitta-bey said: "Healthcare is a major priority across the world and countries are making sure their health industry is the best, which is what we are doing here in the Duchess International Hospital with the state-of-the-art facility and the best of equipment to cater for all the healthcare specialists. We want to ensure every Nigerian have access to affordable and quality healthcare."
https://tribuneonlineng.com/su...
FG completes repairs of bombed Abuja-Kaduna rail track, reopens today - PUNCH
OCTOBER 23, 2021
BY Okechukwu Nnodim
The Federal Government, on Friday, announced that it had completed the repairs of the Abuja-Kaduna rail track that was bombed by terrorists on Wednesday.
The Minister of Transportation, Rotimi Amaechi, announced this after inspecting the facility on Friday, saying train services would resume on the route on Saturday (today).
He said the government was already working to apprehend those who bombed the facility, adding that he would meet with the Department of State Services and the Nigerian Army on the matter.
"The repair work is completed. What is significant is that the repair was done by our Nigerian engineers and completed in record time. They moved in today (Friday) and finished today and by tomorrow (Saturday), we expect that the first train will run on the track," he said.
Amaechi said the procurement of digital systems would be fast-tracked in order to enhance the security network on the railway.
He said, "The essence of the digital security system is to enable us to know when there is an impact on the rail. There is a sensor; when people cross the rail or do anything, we will be able to know and we will be able to forestall this kind of attack.
"We will get the police to be involved so that they will be here before we install the digital security system. I am happy that our people fixed it."
How a private firm resolves Nigeria's passport crisis - THE NATION
OCTOBER 23, 2021
Vice President Yemi Osinbajo is right on point on this; his views resonate with trends in developed and the developing world on the role private firms can play in a nation's economic development.
"It is the private sector", said Professor Osibajo at the commissioning of BUA's Sokoto Cement plant in July 2018, "not the government, that will ultimately drive Nigeria's economic growth". True, and this does not require much elaboration. The woeful performance of public companies in Nigeria and elsewhere have been well documented and formed the basis for the massive privatization exercise that has liberated numerous sectors of the economy from the shackles and lethargies of non-performance.
What has taken place in the telecommunications and financial sectors is nothing short of a revolution. The performance of private firms in the telecommunications and financial sectors has validated Vice President Osibanjo's assertion. Since the liberalization of those sectors of the economy, they have become the major drivers of the nation's economic development.
In this regard, the transformation of Nigeria's chaotic, corrupt and inefficient passport administration, issuance, and control under the Buhari administration should be considered as a positive development and a major game-changer. Since the outsourcing of the production of Nigeria's e-passport to a highly qualified, competent, and engaged private company, Iris Smart Technologies Limited, the problems associated with the issuance and administration of Nigeria's passport have become a thing of the past.
This Public-Private Partnership (PPP) in passport production and administration has become a reference point in the synergy of the public and private sectors and a foretaste of what is to come. Without investing money into passport production, the Federal Government earned over $290m and N80b from this Passport Project in revenue. This sum is expected to rise as more Nigerians apply and receive new passports.
Due to the enhanced security features in the new passports, Nigerian passport holders are no longer subjected to embarrassment at international airports and other travel destinations as was rampant in the past. Gone are the days when Nigeria's passport was printed and easily obtained at street corners and counterfeit joints.

As a private company, wholly-owned by Nigerians and based in Nigeria, Iris Technologies Limited is a good example of how the best brains in Nigeria can contribute their quota to national development. Iris invested its own money; the Government never invested one single dine, they put their own money and they printed passports, it is after the sale that immigration pays them back and they have successfully handled this work for years and it has succeeded. The idea that someone in Government is contemplating taking away this job from these patriotic bonafide Nigerians who are not foreigners is indefensible and reprehensible. Iris Technologies is growing Nigerian confidence in technology and private sourcing of funds for investment.
At this time Nigerians are complaining of a sluggish economy, how else is this economy expected to grow other than by individuals creating an investable enterprise, sourcing their funds, and creating values for the common good? Companies like Iris are privately driven, yet they are doing very well. Instead, they should be encouraged, not discouraged. Unlike Nigerian Security Printing and Minting Company (NSPMC) which wastes billions of Naira annually but still cannot meet the minimum standards in product or service, Iris Technologies produces the e-passports with funds with its resources. The company took a syndicated loan of $30million to finance the design and production of the new national passport project. It installed equipment for high-definition biometric capture in 86 different locations – 42 within Nigeria and 44 abroad.
Private firms like Iris Technologies excel where government firms fail because they are efficient and deploy resources in an efficient and result-oriented manner. They achieve quality results without wasting materials, energy, and time.
They deliver quality results to build and maintain their reputation. A company like Iris technologies would have been more respected and referred to if it were owned by foreigners. It is a shame that Nigerians do not value what they have.
This company has also introduced technological innovations that have met and exceeded global industry standards. The featured innovations on the Nigerian e-passport strengthen its security value, making it impossible to be faked, counterfeited, or transferred to an authorized user who might pose a security threat to a third-party country.
Strengthened by enhanced twenty-five new security features which include the engraving of a holder's National Identity Number (NIN), the new Nigerian e-passport assists rather than hinder at-risk countries in their fight against terror.
Also, the data page comes in polycarbonate technology that eliminates damage and is not laminated like the previous one. Therefore, fraudsters will find it harder to alter personal information, including changing a photograph on the Nigerian passport.
The Multi Laser Image (MLC) captures the primary and secondary image of a passport holder. This heightened tamper-proof feature gives the passport double-safety uniqueness and dissuades attempts to duplicate or forge it. It also comes in a higher quality material than the previous one.
With the innovations introduced by Iris Technologies, the national passport meets ICAO standards and it is the handwork of a Nigerian company, not a foreign company.
In the best traditions of private enterprises, Iris Technology has shown what can be achieved when Nigeria's best brains partner with the Government to work on a specific project. Private firms minimize the cost of carrying out a Government project by cutting out unnecessary expenses from the budget and still deliver the best. They manage available resources and can even take a loss to ensure they deliver high-quality jobs on demand.
Iris Technologies has shown that Government Projects can be conceptualized and executed by a team of professionals. They identify a problem, brainstorm on it, and jobs are completed faster and better professionally. They can withstand pressure and still deliver on the agreed timeline. It makes sense by every parameter to encourage Iris Technologies and other indigenous firms rather than take away the job they invested so much in. As a Nigerian company, they can be trusted to secure national assets and not share sensitive data. In trusting an indigenous company with national data, Nigeria is toeing the line of developed countries which empower local firms to improve technological, financial, and managerial capacities and then encourage them to go overseas to earn foreign currency for the country.
Dr. Sule wrote from BUK in Kano
Don't send migrants back to unsafe countries, pope says, citing Libya - REUTERS
OCTOBER 24, 2021
By Philip Pullella
VATICAN CITY, Oct 24 (Reuters) - Pope Francis on Sunday urged countries not to send migrants back to insecure countries such as Libya, where he said many suffer violent and inhumane conditions similar to those in concentration camps.
The pope's appeal at his Sunday blessing came as European Union leaders are struggling to overcome their differences on how to handle immigrants, an issue that feeds support for nationalist and populist groups across the EU.
"We have to put an end to the return of migrants to countries that are not secure," he said, citing "thousands of migrants, refugees and others who need protection in Libya".
Priority should be given to rescues at sea, orderly disembarkation, alternatives to prison, and regular paths to immigration and asylum procedures, he said.
Francis asked the international community to "keep their promises" to find lasting solutions to manage migration flows in Libya and all of the Mediterranean.
"Many of these men, women and children (in Libya) are subjected to an inhumane violence," he said.
"How much those who are sent back suffer! There are real lagers there," he said, using the German word that is common in Italy when referring to concentration camps.
"I never forget you. I hear your cries," he said.
This month the U.N. human rights office demanded an inquiry into what it called "unnecessary and disproportionate" force by Libyan security forces to detain African migrants, shooting dead some of those trying to escape.
Francis spoke a day after the latest hearing of a highly publicised trial in Sicily where former interior minister Matteo Salvini, leader of Italy's right-wing League party, faces kidnapping charges for refusing to let a migrant ship dock in the country in 2019.
The EU has tightened asylum rules and its external borders since more than a million refugees and migrants reached Europe across the Mediterranean six years ago and cut deals with countries like Turkey and Libya for people to stay elsewhere along the global routes.
Reporting by Philip Pullella; Editing by Giles Elgood
Heathrow to Become Flying Taxi Hub With Vertical Aerospace Deal - BLOOMBERG
OCTOBER 25, 2021
(Bloomberg) -- London Heathrow airport will work with start-up Vertical Aerospace Group Ltd. on establishing flying-taxi services at the U.K. hub by mid-decade.
Heathrow will explore how to fit the electric aircraft made by Vertical into its operations, while working with regulators and minimizing community impacts, according to a statement Monday.
Vertical has preliminary deals to sell 1,350 of its four-passenger, one-pilot VA-X4s to customers including Heathrow-based Virgin Atlantic Airways Ltd. for a total of $5.4 billion. London, Tokyo and Sao Paolo figure to be testing grounds for electric vertical take-off and landing vehicles, which are billed as quieter, cleaner and cheaper than helicopters.
Carriers see an opportunity to create a much larger market zipping passengers across and between cities, with airports the initial base. However, there are safety and regulatory hurdles, as well as community concerns to address.
Vertical is aiming for its first test flight of VA-X4 next year, with a target of 2024 for type certification and the start of production.
Lagos Airport COVID-19 Scandal: Staff Whose Account Travelers Refused To Pay PCR Test Fee Into Suspended - INDEPENDENT
OCTOBER 25, 2021
LAGOS – The Lagos State govern­ment has suspended Williams Oladipupo, a staff of the govern­ment-appointed firm charged with the responsibility of collect­ing COVID Polymerase Chain Reaction (PCR) test payments and connecting passengers to approved designated private COVID PCR test centres, over alleged misconduct.
It also said it has started a fo­rensic audit on the amount paid so far by passengers traveling into the country, promising that the details of the audit would be made public.
Some United Kingdom (UK) returnees had protested last week when authorities at the airport asked them to pay the sum of N51,950 into a personal account belonging to one Oladipupo Wil­liams. The original fee required by the Federal Government is N50,400.
Those who did not have nai­ra were asked to pay in foreign currency. They were debited 95 pounds each.
The passengers who were handed over a note that read, '1433844324, Access Bank, N51,950 Williams Oladipupo', queried why they should pay money be­longing to the government into a private account.
Prof. Akin Abayomi, the state's Commissioner for Health, who issued a statement in reac­tion to the exclusive report by Daily Independent on Friday, October 22, 2021, with headline, 'Passengers Refuse To Pay PCR Test Fee Into Private Account' wherein it was reported that in­ bound pass eager sat the Murtala International Airport refused to remit mandatory PCR test fee into a private account belonging to a member of staff of the gov­ernment-appointed firm charged with the responsibility.
He, however, clarified that an arrangement involving the payment of fees into a personal account was necessitated by the need to ameliorate the plight of passengers who complained of poor turnaround time at the air­port in the confirmation of test fees paid, all affected passengers of interest were issued a phys­ical receipt to serve as proof of payment.
The statement read in part, "The attention of the Lagos State Government has been drawn to a news report of Friday, October 22, 2021 entitled, 'Passengers Refuse To Pay PCR Test Fee Into Private Account.'
"For the avoidance of doubt, it is pertinent to state that the La­gos State government through the Ministry of Health officially began the collection of payments of COVID-19 PCR tests from in ­bound passengers at the Mur­tala Muhammed International Airport on the 15th of Septem­ber 2020 through the services of its contracted partners for a smooth implementation of the mandatory COVID-19 protocols as declared by the Federal Government for in bound passengers.
"We are aware that access to the national registration and payment portal for COVID-19 has been challenging. Many countries around the world do not permit a passenger to board aflight with out showing proof of such registration and booking for post arrival testing in addition to a negative PCR test done 72hours prior to departure.
"To date, the Lagos State gov­ernment has been able to assist over 11,000 inbound passengers who were unable to register prior to departure for Lagos by connect­ing them to approved designated private laboratories in line with the protocol.
"It is important to note that the provision of the option to pay the test fee in the country was intro­duced to prevent passengers being denied the right to board flights destined for Nigeria without a proof of registration and payment with a generated e-receipt.
"Our contracted partners have always supported passen­gers who experience payment difficulties to ensure that they comply with the federal pro­tocols while payments for the tests are collected at the point of arrival in Lagos and remitted to the assigned laboratories for the mandatory day 7 test.

"Following the allegation, ade­tailed forensic audit for the period in question was commenced to track all payments made by pas­sengers in-country, and initial re­sults revealed that all payments due to the assigned laboratories collected from inbound passen­gers have been duly accounted for.
"The final report of this audit would be made available to the public, and if any unscrupulous acts are detected, these would not go unpunished by any individu­als indulging in them.
"Whilst it is valid to note that an arrangement involving the payment of fees into a personal account was necessitated by the need to ameliorate the plight of passengers who complained of poor turnaround time at the air­port in the confirmation of test fees paid, all affected passengers of interest were issued a physical receipt to serve as proof of pay­ment and till date, we have not received any report of passengers not getting e-receipt via mail after payment.
"Despite this, the named indi­vidual has been suspended from his engagement pending the outcome of the ongoing investi­gation. This action was taken be­cause the stop-gap intervention was carried out without prior approval from his organisation and/or the Lagos State govern­ment.
"We have also ordered that this practice to assist passengers on arrival be discontinued immediately, and passengers hould be required to wait at the airport till their payments are confirmed by the financial institution.
"Therefore, it is important to ensure that booking and pay­ments are made by inbound pas­sengers prior to departure from their originating country(s) to avoid being delayed on arrival.
"This situation will be ame­liorated when a newer version of the national online portal, which has been harmonised with the Lagos State platform, is launched by the end of the month of October 2021.
"Once this new and more efficient portal is launched, it is likely that passengers will not be able to board their flights bound for Nigeria with out confirmation of registration and payment for mandatory post arrival PCR testing as is the practice in most parts of the world.
"These are all necessary protocols to avoid importation of dan­gerous strains that may trigger a 4th wave in Nigeria. You will recall that the Presidential Steering Committee has recently relaxed these arrival protocols in line with international best practices effective from the 25th of October.
"We fully under stand and support the grouse and suspicions being expressed by certain pas­sengers, particularly regarding this stop-gap payment options.
"Going forward, the public should be aware that there are arrays of payment options avail­able for the mandatory PCR test which include payments using both credit or debit cards on the online platform, direct transfers to the accredited and responsible financial institution accounts and payments using the PoS machines made available at the airport for passengers that were unsuccessful in making these payments before departure from their country of origin.
"The intermediary payment option that has created this unfortunate scenario ceases to exist going forward because it is in con­sistent with acceptable fiscal and fiduciary transactions."
First weekend of enforcement of vaccine passport scheme 'unmitigated disaster' - THE SCOTSMAN
OCTOBER 25, 2021
The first weekend of enforcement of Scotland's vaccine passport scheme has been an "unmitigated disaster", according to a hospitality sector body.
By Lucinda Cameron And Beth Murray
The Scottish Hospitality Group (SHG) said that staff have faced "intolerable levels of abuse" and some venues saw a drop in footfall of up to 40 per cent. It is calling on the Scottish Government to scrap the scheme, which has been legally enforceable since October 18.
Proof of full vaccination is required to enter nightclubs and large events as part of the Scottish Government's efforts to limit the spread of coronavirus and increase vaccine take-up.
The measures technically came into effect from October 1, but an 18-day grace period was announced following backlash from affected industries and significant problems with the new app.
SHG spokesman Stephen Montgomery said: "The first weekend of the vaccine passports scheme has been one of unmitigated disaster and that responsibility lies entirely at the door of the Scottish Government.
"The Scottish Hospitality Group has been warning the government for weeks that their vaccine passports scheme is not ready but the government's attitude has been to tell us to 'get on with it' whilst offering no safety net of support for businesses or our hard-working staff.
"The experience of this weekend shows that the result has been intolerable levels of abuse of our staff, and the creation of an atmosphere that will totally undermine anyone's enjoyment of our night-time venues."
The SHG comprises many restaurant and bar businesses, including the DRG Group, Buzzworks Holdings, Signature Pubs, Montpeliers and Manorview Group.
It said that over the weekend members reported more than 550 instances where venue staff had to refuse entry to a customer because they had no vaccine passport, an ineligible vaccine passport, or a potentially fraudulent vaccine passport.
There were also a "concerning number" of reports of abuse of hospitality staff over rejections and queues at venues, and continuing problems were reported with the vaccine passport app and its update.
The vaccine certification scheme applies to late-night premises with music, alcohol and dancing between midnight and 5am.
Mr Montgomery said the SHG is seeing some venues closing at midnight to "take themselves out of scope of the regulation for reasons around recruitment and staff welfare".
He said: "The Scottish hospitality industry as a whole has paid enough for government failures in this pandemic, and it's time the Scottish Government scrapped this scheme altogether."
A Scottish Government spokeswoman said: "Covid-19 certification is a proportionate way of encouraging people to get vaccinated, and also of helping large events and night-time hospitality to keep operating during what will potentially be a very difficult winter.
"This means many businesses will not have to close and can continue to trade whilst making necessary adjustments to ensure their premises are as safe as possible for staff and customers.
"Officials continue to engage regularly with the sector to discuss implementation of the scheme."
The latest data from the Scottish Government reported that another 2,528 cases of coronavirus had been confirmed on Sunday.
There were 21 deaths recorded yesterday, though 20 of those were from Saturday with data issues causing a reporting delay.
Up to Sunday, 4,305,582 people had received the first dose of the Covid-19 vaccination and 3,892,224 had received their second dose.
Transforming Arik Air to NG Eagle Airlines: The issues - THE NATION
OCTOBER 25, 2021
The plan by the Asset Management Corporation of Nigeria (AMCON) to float a new carrier-NG Eagle Airlines out of Arik Air has triggered vast debate in the aviation sector. This is a fall out of calls by some aviation unions and the National Assembly Committee on Aviation to the Nigeria Civil Aviation Authority (NCAA) not to issue the all-important Air Operators' Certificate (AOC) to the start-up airline on account of huge debts owed to aviation agencies by Arik Air. KELVIN OSA OKUNBOR reports
Crisis is brewing in the aviation sector over plans by the Asset Management Corporation of Nigeria (AMCON) to float a new carrier from Arik Air where it has, in the past few years, served as Receiver Manager.
The bone of contention, according to industry analysts, bothers on the shift in attention by the Receiver Manager-AMCON-to inaugurate a new carrier instead of considering ways to bail the sick carrier-Arik Air out of the woods.
AMCON, a special-purpose vehicle of the Federal Government for the recovery of debts, took over Arik Air on February 9, 2017. The rationale, then, was to save the airline from imminent collapse over alleged debts running into billions of naira.
As of the time of the takeover, AMCON said the debt the carrier owed was more than N135 billion and another N10 billion to service providers, including aviation fuel suppliers, suppliers for catering and others who provided services to the company.
AMCON appointed Captain Roy Ukpebo Ilegbodu, an aviation expert, to run Arik under the receivership of Mr Oluseye Opasanya, a Nigerian lawyer.
AMCON explained that it took over the airline due to the carrier's heavy financial debt that is threatening to permanently ground its operations.
In the period leading to AMCON's take over, the airline was responsible for the airlift of at least 55 per cent of freight in Nigeria's aviation sector. But, events took a different twist for the worst as it had been racked by financial and operational difficulties.
It was on the heels of these developments that Nigerian authorities called upon AMCON to intervene before the airline went under like many other carriers before it.
Justifying the takeover of the airline, AMCON had argued: "The development will also afford Arik Air the opportunity to go back to regular and undisrupted operations, avoid job losses, protect investors and stakeholder funds as well as ensure safety and stability in the already challenged aviation sector."
The Minister of Aviation, Hadi Sirika had described the intervention as a move that would save the country's aviation industry.
He added: "We believe that this appointment is timely and will stabilise the operations of the airline.
"This will enhance the long-term economic value of Arik Air and revitalise the airline's ailing operations as well as sustain safety standards, in view of Arik Air's pivotal role in the Nigerian aviation sector."
But, developments took a new turn in April 2021, when it began the process of floating a new carrier-NG Eagle Airlines out of Arik Air deploying some of the assets.
On April 8, 2021, two aircraft previously operated by Arik, were rebranded in the colours of NG Eagle and parked at the Murtala Muhammed International Airport in Lagos, ahead of take-off.
It was part of the regulatory procedures required to scale the fourth stage of securing an Air Operating Certificate (AOC) from the Nigerian Civil Aviation Authority (NCAA).
The development sparked reactions from aviation stakeholders, including unions that demanded to know the status of Arik Air under that arrangement.
The unions had asked whether Arik Air was going to operate side by side with the proposed carrier.
The workers, under the aegis of the National Union of Air Transport Employees (NUATE), kicked against the move by AMCON; accusing it of transferring some personnel of Arik Air to the new carrier.
NUATE's General Secretary, Ocheme Aba accused AMCON of moving all valuable assets from Arik Air, including its personnel into Nigerian Eagle Airline without making proper provisions for the emoluments and benefits of members of staff.
Only last week, aviation unions made a u-turn as they pledged to support AMCON's plan to float the new airline.
They said from available information, it would be in the workers' interest for AMCON to go ahead with the proposal to float the new airline because its continuous intervention in Arik Air with over N230 billion exposure may not turn around the airline.
NUATE, therefore, called for the intervention of the Presidency in resolving the conflict among some aviation unions and the Nigeria Civil Aviation Authority (NCAA) in the issuance of AOC to the new carrier.
Aba, who made the call at a briefing in Lagos said it had become imperative because signals emanating from the sector suggest that some forces in the industry were hiding under the debt owed by Arik Air to the Federal Airports Authority of Nigeria (FAAN) and the NCAA as a smokescreen not to issue the all-important license to NG Eagle Airlines to take off.
Aba said insinuations suggesting Arik Air was transforming itself to NG Eagle Airlines as a ploy to escape its heavy indebtedness to FAAN and other aviation agencies were unfounded because there are indications that the startup carrier being floated by the Asset Management Corporation of Nigeria (AMCON) may metamorphose into a national carrier, thereby displacing the proposed carrier the Ministry of Aviation has been labouring for over six years without any headway.
He said: "Information available to NUATE, however, suggests that the issue of indebtedness of Arik Air to FAAN and the NCAA is only a smokescreen. It is understood that the real issue is the politics of a new national carrier. Indications are that there is the fear on the part of the Minister of Aviation that AMCON has positioned its new airline, NG Eagle, to metamorphose into a national carrier, whereas the Minister has been labouring for the past six years to create one which he has named Nigeria Eagle.
"As AMCON and the ministry are both agencies of the Federal Government, there is clearly no possibility of the two airlines operating side by side as national carriers. The fear is that if NG Eagle succeeds, then the Nigeria Eagle project would be jettisoned. That means one of the airlines must bulge. This, we understand, is the crux of the matter.
"This does not, in any way, downplay the significance of Arik's indebtedness to FAAN and others. If anything, it suggests that there is a pressing need to find a solution to Arik's heavy pile of debts.
"The above situation has pitted FAAN and NCAA on the one hand against AMCON on the other hand. NCAA and FAAN are parastatals of the Federal Ministry of Aviation, while AMCON is a parastatal of the Federal Ministry of Finance and is also supervised by the Central Bank of Nigeria (CBN).
"Therefore, this executive fiasco alludes to the failure of the executive to put its house in order. This, unfortunately, paints a picture of a government at war with itself. And if this war is not quickly brought to an end, we fear that the aviation sector of the national economy will suffer dire consequences, especially at this time that the sector is grappling with the serious negative impact of the receding Coronavirus pandemic."
Continuing, he said: "We call the Presidency which is the apex of the Executive Arm of Government to duty over this serious malady in order to avert a major mishap in the aviation sector. In particular, NUATE hereby calls on the Secretary to the Government of the Federation (SGF) and the Chief of Staff to the President (CoS) to urgently intervene in these matters and facilitate an immediate cease-fire and chart a path to progress on the sensitive issues."
He said the intervention of the Presidency had become necessary because "it is important to avert a chaotic end to Arik Air. At the last count, Arik Air's debt burden is in the region of N300 billion, whereas the Airline's assets are worth only about half of its total debts.
"What this means is that Arik Air is unable to pay its debts. And it cannot, under any circumstances. This is a solid fact that cannot be altered by the denial of AOC to NG Eagle.
"The point here is that Arik Air, or AMCON, cannot raise the N19 billion being demanded by FAAN and the NCAA. Therefore, those proposing that AMCON's NG Eagle's AOC should be on hold until Arik Air's debts are settled are only pushing AMCON to the wall and that may translate to liquidation.
Considering the airline's low worth compared to its huge debts, liquidation will bring about a chaotic end to Arik Air by which all parties will be losers. This should be avoided by all means.
"Therefore, the intervention of the Presidency is needed to foster understanding on the issue of indebtedness of Arik Air to FAAN and other government agencies with a view to aiding AMCON to continue with its rescue efforts in the Airline which is the best option for now to safeguard all interests.
"Should there be a chaotic end to Arik Air by way of liquidation; the workers would count among the greatest losers.
"Therefore, the intervention of the Presidency is urgently needed to grant AMCON the space to continue to protect the employment of over 2,000 employees. This will also afford the unions and the management the opportunity to negotiate severance benefits for Arik Air workers; a process that is currently at concluding stages.
"In the same way, denial of AOC to NG Eagle will shut out 20,000 potential jobs for Nigerians, together with the opportunity for a reasonable number of members of staff of Arik Air to migrate to the new Airline. This would be very unfortunate indeed."
Besides, NUATE, and the National Association of Aircraft Pilots and Engineers (NAAPE)-the umbrella body of aircraft pilots and engineers, took a swipe at efforts by some people in the industry towards undermining the autonomy of the NCAA, using two aviation unions – Nigerian Association of Aviation Professionals (ANAP) and National Union of Pensioners (NUP) not to grant AOC to NG Eagle Airlines.
ANAP and NUP wrote a petition to the National Assembly to direct the NCAA not to grant AOC to the new airline.
The pilots' and aircraft engineers' association said though it recognises the constitutional role of the legislature to carry out oversight duties on the NCAA, a situation where it begins to dictate who the authority should issue an AOC amounts to gross political interference.
NAAPE's National President, Comrade Abednego Galadima said such a move was not only counter-productive but falls short of global best practices.
Galadima said: "The contention on whether the NCAA should give NG Eagle Airline an AOC or not is very unnecessary and uncalled for. We see it clearly as an attempt to politically influence the NCAA's decision on what is clearly a technical process that has outlined requirements and procedures that guide them in determining suitability or otherwise.
"We believe that NG Eagle Airlines is a very good initiative by AMCON and deserves to be given a fair deal and not these unnecessary encumbrances.
"As a matter of fact, we want to commend AMCON for saving thousands of jobs in the aviation industry through their interventions in Arik Air and Aero Contractors.
"For the avoidance of doubt, we clearly support AMCON's initiative to float NG Eagle because we believe that it will further guarantee jobs for our members and create opportunities for the teeming unemployed pilots and aircraft engineers among others while rendering services.
"We call on the Director-General of the NCAA to immediately conclude the process of issuing AOC to NG Eagle and grant the same because the information available to us shows that they have met all requirements as stipulated by the regulation."
Two weeks ago, the Senate Committee on Aviation joined its counterpart at the House of Representatives in directing the NCAA to stop the issuance of AOC to NG Eagle Airline.
A letter signed by the Chairman of the Senate Committee on Aviation, Senator Smart Adeyemi, to the NCAA on October 11, 2021, made reference to a joint petition by ANAP and NUP in the Federal Airports Authority of Nigeria (FAAN) branch, challenging the issuance of the AOC over huge debts to FAAN.
"The petition categorically stipulated that the application for AOC is unrealistic and unfeasible as the debt profile of Arik Air which is currently under receivership by AMCON is enormous. Therefore, the notion that AOC is granted to NG Eagle while it uses Arik Air aircraft which accounts for part of the assets of Arik Air will invariably undermine the receivership.
"Having carefully considered the submission by the unions, the Senate Committee on Aviation, in consonance with the House Committee on Aviation, hereby directs you to immediately suspend the issuance of AOC to NG Eagle Airlines.
"The essence of this suspension is to enable the Committee and relevant authorities carry out a thorough investigation on all allegations levelled by the unions in the petition. The Committee expects full compliance with this directive until a workable resolution is achieved," the letter read.
Also, Aviation Safety Round Table Initiative (ASRTI)-the industry's think tank group- also condemned the interference by the House of Representatives on the matter.
In a statement signed by Olumide Ohunayo for ASRTI, the pressure group noted with dismay how, in the past, the lawmakers had interfered in the affairs and duties of the NCAA, saying such undermines and whittles the powers granted to the NCAA.
Heathrow to become hub for eVTOL after deal with Vertical - CITY A.M
OCTOBER 25, 2021
Electric vertical take-off and landing (eVTOL) vehicles could be flying from Heathrow within the next few years.
Aerospace and technology company Vertical has announced a collaboration with the London hub to explore how aerial taxis could fly people from the airport to the City in around 12 minutes and at the cost of a taxi.
The news comes less than a week after the company called on the UK Government to make electric flights a reality by 2025.
"This partnership is a big step forward as we try to get the UK to net zero by 2050," said Vertical's chief executive Stephen Fitzpatrick. "This announcement marks the start of an exciting relationship that will help make eVTOLs flying from Heathrow by the mid-2020s a reality."
The deal highlights the growing interest in the aerial mobility market, with companies already investing in the sector. Virgin Atlantic has announced a partnership with Vertical to launch an eVTOL network, pre-ordering 150 aicraft.
BA Amex Credit Card
AdAMERICAN EXPRESS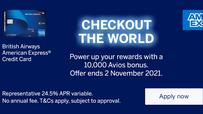 "Vertical continues to partner with world leading organisations such as Rolls-Royce, Honeywell, American Airlines, Virgin Atlantic, Bristow Group and Microsoft," Fitzpatrick commented.
"This emerging technology has the potential to reduce congestion and pollution on local roads, while providing passengers with a best-in-class experience on the cutting edge of modern technology," added Heathrow's chief strategy officer Chris Annets.
The news comes on the same day the airport announced its intention to allow passengers to purchase sustainable aviation fuels (SAF) as a way to offset emissions.
Working alongside climate-tech company Chooose, Heathrow will use a platform to enable travellers to offset even a small percentage of their flights.
"We're delighted that from today Heathrow passengers will be able to offset their flights by purchasing SAF with our partner Chooose – the more people who talk about and use SAF, the faster we'll be able to scale-up production and cut carbon emissions from flying for good."
The post Heathrow to become hub for eVTOLs after deal with Vertical appeared first on CityAM.
Security: FG to construct shooting ranges at airports - BLUEPRINT
OCTOBER 25, 2021
BY Suleiman Idris
The Federal Government has said construction of shooting ranges at major airports in Nigeria is nearing completion as part of measures to train aviation security personnel in the industry.
Minister of Aviation, Senator Hadi Sirika made the disclosure while declaring open the maiden edition of the Federal Airports Authority of Nigeria (FAAN), Airports Council International (ACI) Africa, Security Week in Abuja on Monday.
Senator Hadi Sirika said the Federal Executive Council recently approved the the deployment of (K-9) security at the country's airports following the ministry of aviation presentation.
The minister, who was represented by the Director General of the Nigerian Civil Aviation Authority NCAA, Capt Musa Nuhu said this is expected to upscale the safeguarding of national and international civil aviation against acts of unlawful interference in limits yet to be recorded in Nigeria's history.
Sirika said " we are working with FAAN and other stakeholders to quickly actualize the approval of the FEC for Aviation Security personnel to bear arms… we are currently addressing the challenges related to damaged, incomplete and non-existent perimeter fences at Nigeria because as the first layer of defence, airport perimeters will minimise attacks, prevent incursion and enhance general security."
Managing Director of FAAN, Captain Rabiu Hamisu Yadudu said following the International Civil Aviation Organisation ICAO's re-launch of the Year of Security Culture (YOSC) 2021, FAAN in collaboration with key stakeholders in November 2020 designed an approved AVSEC roadmap.
The roadmap, in line with the Nigerian Airports Security Week theme: 'Promoting Security Culture in Nigerian Airports' covers awareness workshops/seminars/ symposium, Policy and process articulation, enhance security reporting system and community relations.