MarketNews
Pound Gains as U.K. Jobs Data Weakens the Case for BOE Rate Cut - BLOOMBERG
JANUARY 21, 2020
The pound advanced after the U.K.'s employment rate hit a record high, weakening the case for an imminent interest-rate cut.
Sterling rose against all its Group-of-10 peers as the U.K. labor market figures ended a run of weak economic data. Money markets trimmed bets that the Bank of England will lower borrowing costs on Jan. 30 to around a 65% chance, down from 67% on Monday.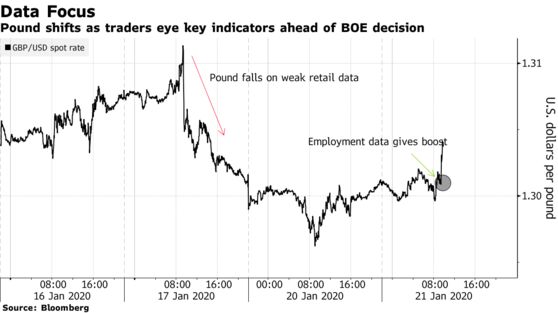 Disappointing releases and a flurry of dovish comments from policy makers in recent weeks have fueled speculation that the BOE will act to stimulate the economy. Combined with fears of difficult trade talks with the European Union and fading optimism from the Conservatives' decisive election victory in December, this has dragged on the pound.
"The labor market is holding up better than feared, which supports expectations for a post-election pick-up in growth," said Lee Hardman, a strategist at MUFG Bank Ltd. "However, it is unlikely to be decisive on its own in determination whether the BOE cuts rates."
Traders are now turning their gaze to impending purchasing managers' indexes, which are forward looking and will provide a better indication of the central bank's next steps. Reports from BOE agents, a cross-country network that holds confidential conversations with businesses and community organizations, will also be key.
"All eyes are still on Friday's PMIs," said Valentin Marinov, a strategist at Credit Agricole SA. "The pound is bouncing, potentially hinting that investors have got themselves short all over again. The currency remains sell on rallies into the BOE, however."
The pound rose 0.3% to $1.3045 by 10:30 a.m. in London, and gained 0.2% to 85.10 pence per euro. U.K. government bonds were little changed, with the yield on 10-year gilts at 0.65%.
Tuesday's jobs data bolsters the case for those arguing the market has gone too far in pricing BOE cuts. Morgan Stanley expects interest rates to remain unchanged this year, and thinks that if there is a cut, it will be 'one and done.'
(Updates with comments from MUFG, Credit Agricole from fourth paragraph.)