Market News
Pound Jumps to Highest Since Brexit Vote on Hopes of Better Deal By Charlotte Ryan - BLOOMBERG
JANUARY 12, 2018
By Charlotte Ryan
Spanish and Dutch said to want soft Brexit, boosting sterling

Meaningful progress needed to sustain gains, says ING's Patel
BNP Paribas's Sneyd Says Go Short Euro Vs. Dollar
The pound jumped to the strongest level since the Brexit referendum as Spanish and Dutch finance ministers were said to be working together for a deal that keeps Britain as close to the European Union as possible. Gilts declined.
Sterling rallied as much as 1.1 percent, the biggest intraday gain since mid-September, as the news rekindled optimism about the U.K. having continued access to Europe's single market. Still, the rally was greeted with caution even by top sterling bulls, who said a more meaningful development is needed to maintain the currency's strength.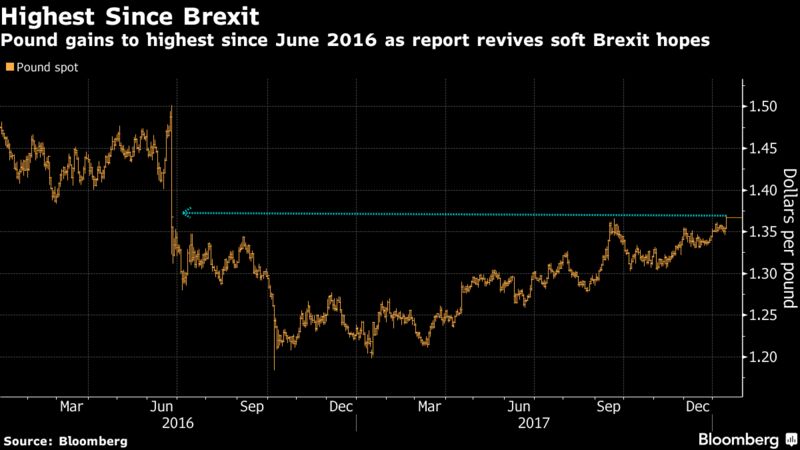 "We'll need substance in these reports plus a transition deal and positive U.K. data to keep the pound supported here," said Viraj Patel, a currency strategist at ING Groep NV. "But it means the pound has taken out a really important resistance area and makes our call for $1.40 all the more likely."
The pound rose 1 percent to $1.3667 as of 2:54 p.m. in London, after earlier touching $1.3693. It gained 0.1 percent to 88.80 pence per euro while the yield on U.K. 10-year government bonds gained three basis points to 1.34 percent.
Sterling has been pressured earlier this week by signs of continued divisions between the U.K. and EU over Brexit, amid reports that banks are beginning to enact their contingency plans to set up European headquarters to avoid losing access to the European market in the event of a so-called hard Brexit. Pound traders will continue to focus on developments in the discussions, with the next round of talks set to focus on the transition period agreed last month and trade negotiations to begin in March.
While a push for a soft Brexit is good news, the speed of the pound rally suggested it was provoked by algorithms buying, according to Nomura International Plc currency analyst Jordan Rochester.
"Even as someone who is long the pound, I'm skeptical this is a game changer at this stage," he said.