MarketNews
Rand Breaches Key Level With More Gains in Store as Assets Rally - BLOOMBERG
NOVEMBER 07, 2018
By Robert Brand
South African currency rides risk-on wave after U.S. midterms

Banking stocks advance the most in more than two months
The rand gained to its strongest level against the dollar since August, benchmark bond yields fell to the lowest in more than a month, and bank shares rallied as South African assets rode the risk-on wave following the Democratic Party's House win in U.S. midterm elections.
Lower oil prices are also supportive of South African bonds and the currency, with inflation expectations as measured by break-even rates falling to the lowest level in more than two months on Wednesday.
Key Insights
Weaker dollar post-midterms is benefiting emerging-market currencies, with MSCI's gauge climbing for the first time in three days; as one of the most-traded currencies, the rand tends to lead gains or losses among developing-nation peers
The rand closed below its 100-day moving average on Tuesday for the first time since April; the last time it held below that level, in December, it marked the start of a two-month, 18 percent rally
Lower oil prices are improving South Africa's inflation outlook. The five-year break-even rate -- a gauge of investors' expectations for average inflation over the period -- dropped to 5.57 percent on Wednesday, the lowest since Aug. 28
Outflows from the country's bond market appear to be losing momentum, with average daily net sales by foreign investors dropping to 369 million rand ($26 million), from as high as 1.77 billion rand in June
Commentary
"Emerging-market currencies, including the rand, have benefited from dollar weakness this morning; and, even should stocks fall from here, EMs have been quite resolute despite stock-market weakness," Zaakirah Ismail, a Johannesburg-based analyst at Standard Bank Group Ltd., said in a client note

"We believe that EM currencies may remain resilient, thereby limiting any negative impact from stock-market weakness. Of course, the broader impact of a Democrat win could leave U.S. financial asset prices vulnerable in the case of Congressional deadlocks. However, ultimately, wherever Congressional support is not required, and Trump's policies get passed, there should be more stability in U.S. financial assets"

The rand has breached 14 to the dollar, and "is set to make further headway south," said Sejul Gokal, founder and chief strategist at GO-TechniKAL Insight. "The next objective zone is at 13.70-60, which captures Fibonacci lines and price highs. A closing break below 14.00 today would heighten that risk."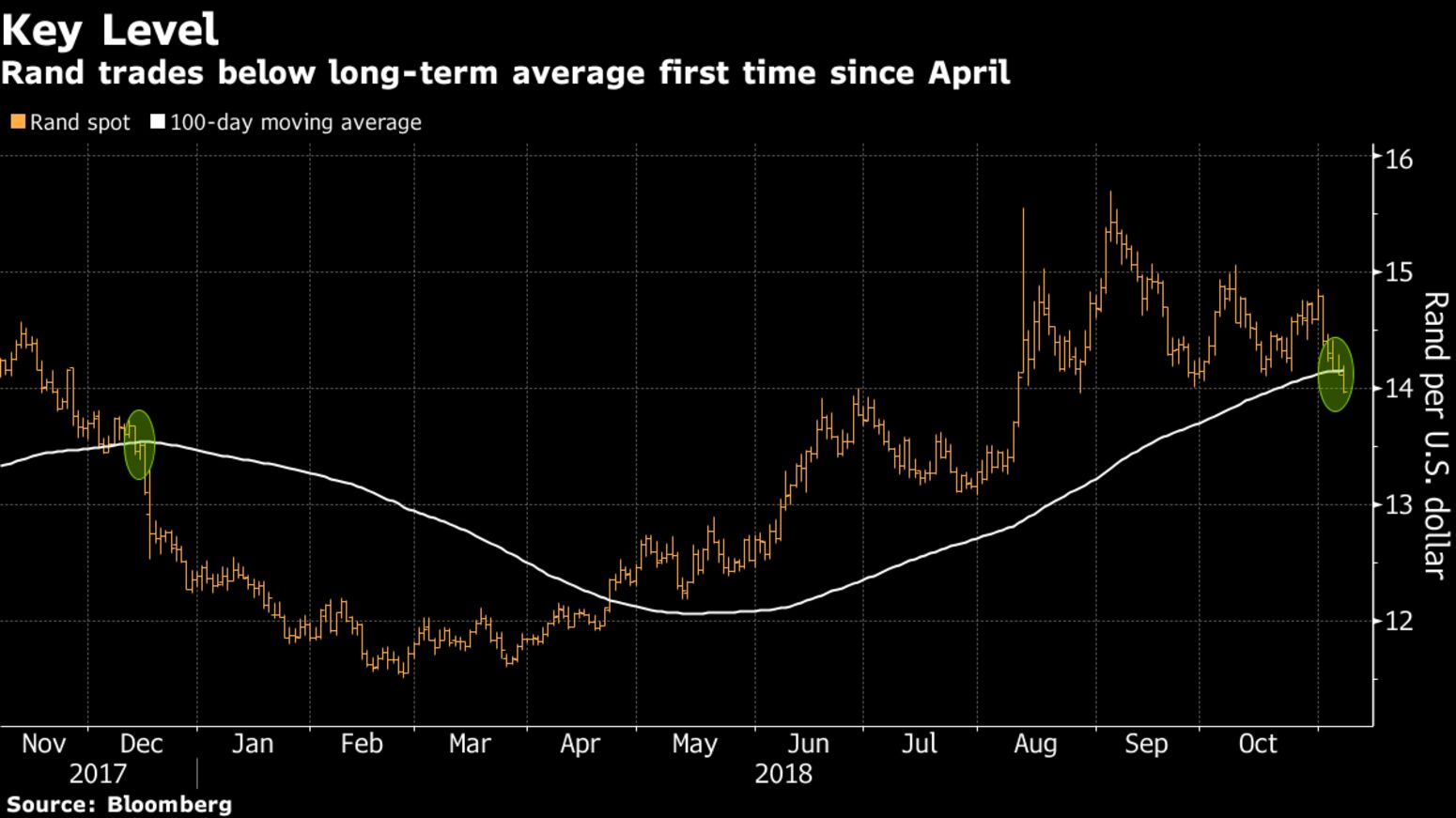 Market Moves
Rand gained 1.4 percent to 13.9128 per dollar by 11:54 a.m. in Johannesburg, trading below 14 for the first time since August
Yield on benchmark 2026 government bonds falls seven basis points to 9.08 percent, lowest since Oct. 1
An index of banking stocks rose as much as 2.6 percent to the highest in more than two months. Standard Bank Group Ltd. led the gains, climbing 2.8 percent and contributing the most points to Johannesburg's benchmark stock index, which rose 0.7 percent. FirstRand Ltd. advanced 2 percent.
— With assistance by John Viljoen