MarketNews
Sterling Stays Stronger After BOE Leaves Rates at Record Low - REUTERS
MARCH 26, 2020
More QE stimulus may follow if fiscal boost increases: Mizuho
U.K. interest rates already cut twice in emergency virus moves
The pound stayed stronger in a broad trend for a weaker dollar across global markets, while gilts also continued to gain after the Bank of England held interest rates at a record low.
Andrew Bailey's first regularly scheduled policy gathering as BOE Governor came after sterling touched its lowest level in more than three decades last week.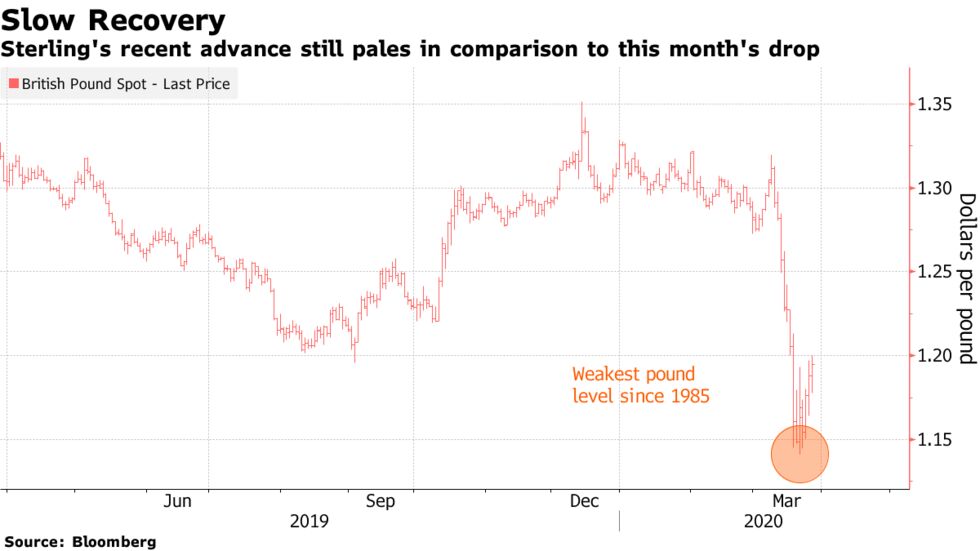 The BOE has already slashed interest rates by 65 basis points in total in two dramatic emergency announcements, taking them to their lowest ever at 0.1%. It also added 200 billion pounds ($239 billion) to its quantitative-easing target, raising it to 645 billion pounds, in an effort to soften the economic impact of the coronavirus pandemic that has brought some of the world's major cities close to a standstill.
The central bank's reaction comes at a time when data out of the U.K. has turned increasingly sour and after the pound plunged to $1.1412 last week. The BOE and the U.K. government were among the first among developed nations to deploy monetary and fiscal stimulus in tandem earlier in March.
"No surprises from the BOE, the comments signaling readiness to do more," said Valentin Marinov, head of G-10 currency strategy at Credit Agricole CIB.
"The main point is that the pound is looking cheap relative to both the euro and the dollar. I suspect that the dollar scarcity has exacerbated the move lower in cable and thus the undervaluation. This means that the sterling could regain more ground, towards $1.24."
The pound was up 1.2% at $1.2017, trading back around its day-highs as of 1:15 p.m. London time. Nonetheless, while it has retraced the worst of its losses since last week, options trading signals that sterling will likely remain under pressure. Three-month risk reversals in the pound versus the dollar are close to the most bearish levels seen since the 2016 European Union referendum. Sterling was 0.2% stronger at 91.45 pence per euro.
"The BOE has already delivered, but if the fiscal stimulus rises the BOE will need to deliver more QE," said Peter Chatwell, the head of multi-asset strategy at Mizuho International, before the policy announcement Thursday. He expects the BOE to keep "the door open to more QE and corporate bond buying if the need arises, and being flexible on how they execute the buying. This should be bullish for gilts, bull flattening the curve."
Gilts were also rallying after the announcement, with the yield on benchmark 10-year U.K. government debt down 5 basis points at 0.39%.
(Adds comments in fifth and sixth paragraph, updayes pricing)