MarketNews
The Hard-to-Measure Economic Gauge on the ECB's Mind - BLOOMBERG
SEPTEMBER 14, 2018
Bond-buying to be phased out even as growth outlook downgraded

ECB reckons labor market and rising wages will save the day
Mario Draghi's insistence that the European Central Bank can continue paring back euro-area monetary support owes a lot to how fast the region is using up its slack.
Also known as the output gap, slack is a gauge of unused capacity -- essentially idle machines and excessive unemployment. The ECB president announced a slight downward revision to growth projections on Thursday but also said the economy is expanding faster than it could normally manage, reviving dormant resources and fueling inflationary pressures.
"We've seen growth rates now for some time above growth potential," he told reporters after the Governing Council confirmed it expects to cap its bond-buying program at 2.6 trillion euros ($3 trillion) by year-end. What he failed to answer was when the output gap will close.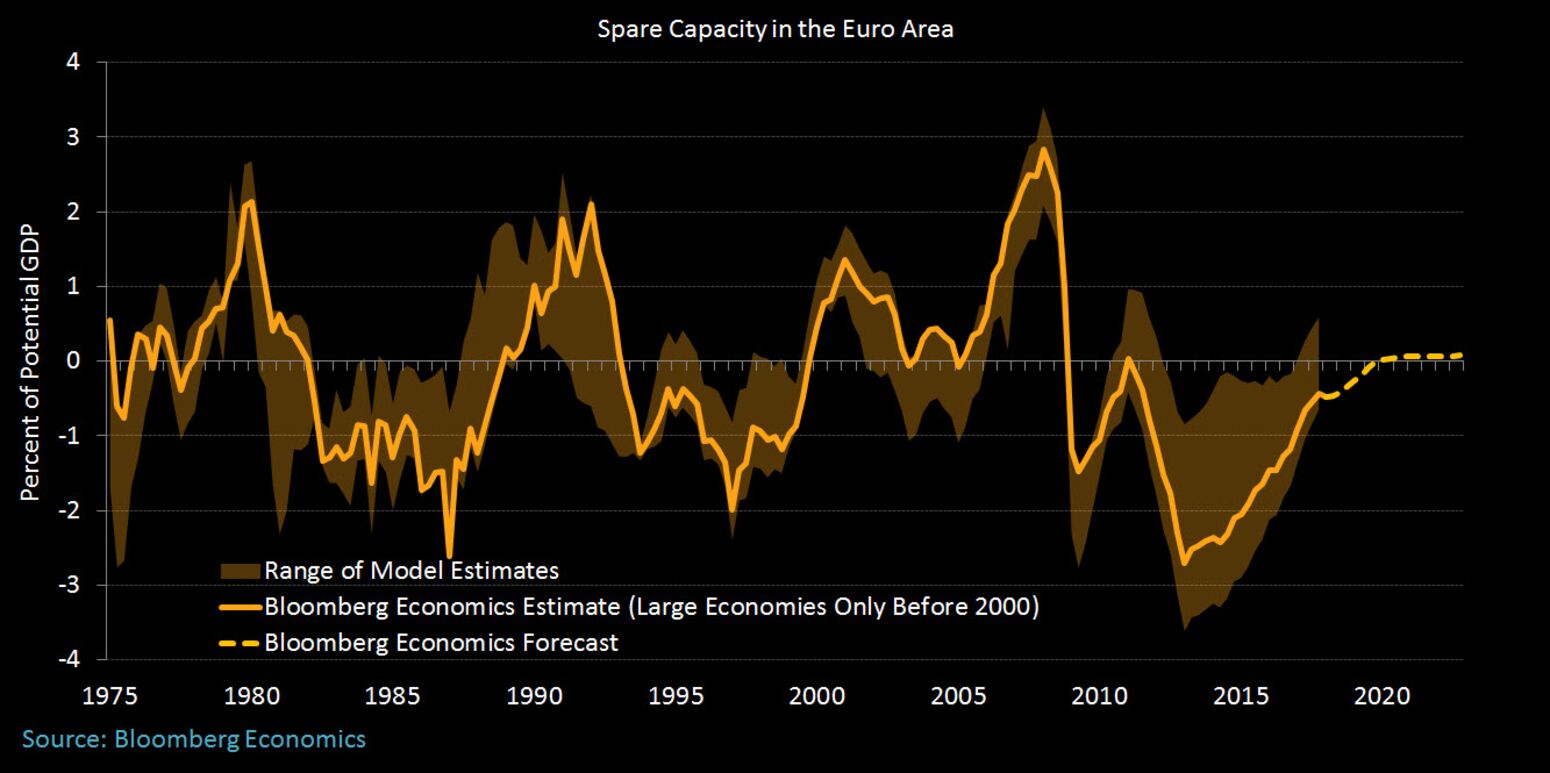 "Companies are increasingly reporting difficulties in hiring so you could probably build the case for some lack of capacity," said Gilles Moec, European economists at Merrill Lynch in London. "I remain skeptical, because for me the proof of the output gap is in its impact and I still find it hard to believe there is a shortage of labor if wages don't accelerate."
Read more: Draghi Says Solid Euro-Area Economy Weathering U.S. Trade Threat
Euro-area wage growth was just 1.8 percent in the first quarter and has shown little sign of picking up. Inflation tells a similar story -- the ECB projects it to average 1.7 percent each from 2018-2020, still below the goal of just-under 2 percent. Even in booming Germany, which Goldman Sachs Group Inc. reckons has a positive gap that has widened, consumer-price growth is barely above 2 percent.
Slightly Weaker Outlook
ECB staff reduce economic-growth forecasts as inflation prospects remain stable
Source: European Central Bank
The output gap is exceptionally difficult to measure and economists rarely agree on it. The European Commission expects euro-zone slack to be used up this year, while the International Monetary Fund says the gap will turn positive, meaning the economy is starting to strain.
Not Observable
The ECB doesn't publish its own measure, and updated economic forecasts unveiled on Thursday did little to help, referring to "diminishing slack" and noting that "both potential growth and its drivers are unobservable and such estimates are surrounded by considerable uncertainty."
The currency bloc's 19-member makeup makes a precise assessment even harder. Goldman Sachs said in a client note last week that the output gap is almost closed in the region as a whole, but has started to widen again in France and is static in Italy.
WHAT OUR ECONOMISTS SAY..."Our estimates of slack in the euro area suggest there isn't much left, perhaps just half a percent. But the risk is that unemployment falls much further without triggering excess inflation, as it has in economies which started their recoveries sooner. This calls for supply agnosticism -- slow withdrawal of stimulus, testing the limits of the economy's potential. We think it's far too soon for Draghi to declare the job done."
-- Jamie Murray, Bloomberg Economics

In the U.K., the Bank of England estimates that spare capacity has "largely been absorbed" and there's "very limited slack." With the economy growing just above its potential pace, that means the economy will be into excess demand by late next year.
In the U.S., with perhaps the most comprehensive collection of economic data, Federal Reserve Chairman Jerome Powell argued in his Jackson Holespeech this year that academic estimates of how the economy works were at best "hazy" navigational guides in setting policy.
Another issue in the post-crisis era is that countries such as the U.S. and U.K. have shown that plunging unemployment, the clearest sign that slack is being used up, might not prompt higher wages and prices immediately. Both nations have long struggle with subdued pay growth.
Draghi's bet -- even as he said risks from trade protectionism, emerging-market troubles and potential financial volatility have "gained in prominence" -- is that the underlying strength of the euro zone will win the day. That might just allow him to raise interest rates before his term ends in October 2019.
"The output gap is closed -- clearly," said Karsten Junius, an economist at Bank J Safra Sarasin in Zurich. "What we've seen in this cycle is that in all countries wages reacted to a closing of the output gap with a very strong delay."
— With assistance by Jana Randow, Catherine Bosley, John Ainger, and Zoe Schneeweiss