MarketNews
The State of South Africa's Faltering Economy in Charts - BLOOMBERG
DECEMBER 05, 2019
South Africa's economy contracted for a second quarter this year and is now, again, staring down a recession.
While the median estimate in a Bloomberg survey was for zero growth in the three months through September, only 4 of the 14 economists polled projected a negative number. After the 0.6% annualized contraction was published on Tuesday, the rand extended its drop against the dollar.
Africa's most-industrialized economy hasn't expanded at more than 2% annually since 2013, and Treasury forecasts show growth will remain below that threshold until at least 2022. The following charts show why that may turn out to be true.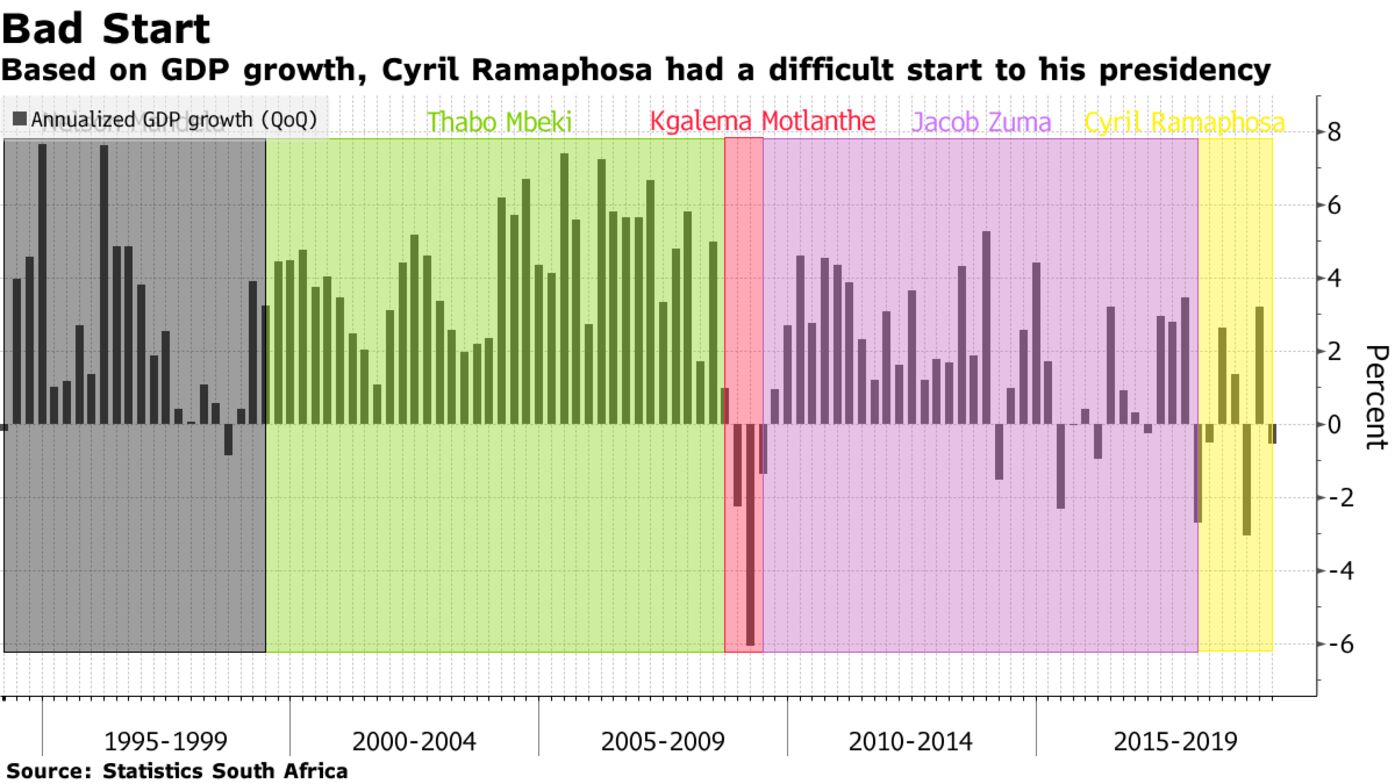 With pledges to boost economic growth to as much as 5% by 2023, President Cyril Ramaphosa couldn't have had a more difficult start to his presidency. The economy has contracted for four of the seven quarters since he took over from Jacob Zuma in early 2018. Only Kgalema Motlanthe, who led the country for eight months after Thabo Mbeki was ousted, had a worse stint -- and that was during the global financial crisis.
"The answer to helping the economy and driving South Africa forward doesn't only rest with the president but all aspects of authorities, parliament and the central bank," Jameel Ahmad, global head of currency strategy at FXTM, said by email. "The window of opportunity is open but all policymakers across various sectors need to act."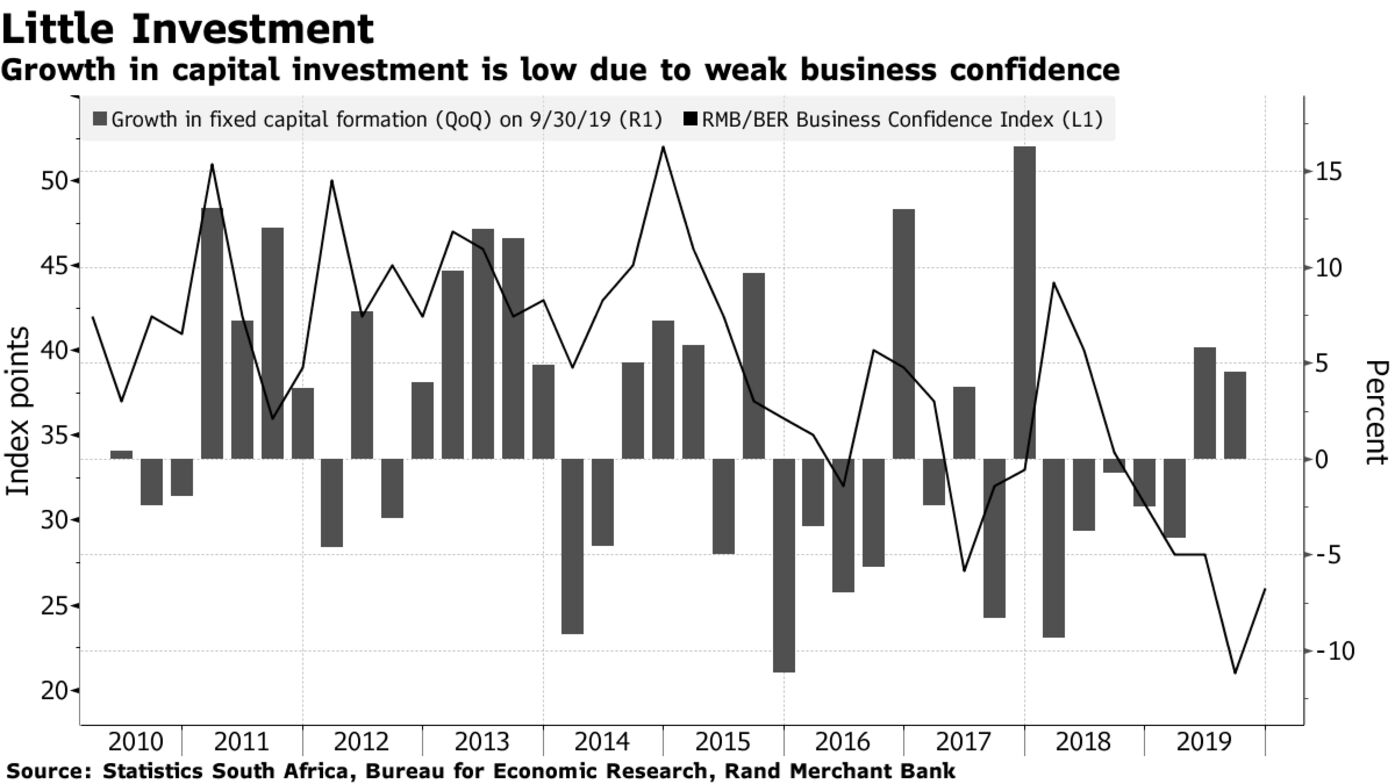 Business confidence still lingers near the lowest level in two decades, and that's meant the private sector is unwilling to invest in large projects. The government doesn't have the scope to meaningfully increase spending given that its debt trajectory has worsened considerably, said Kevin Lings, chief economist at Stanlib Asset Management Ltd. in Johannesburg.
"This means that the policy focus has to be on trying to boost business confidence in order to encourage an increase in renewal and maintenance capital expenditure, while at the same time trying to introduce more private-public partnership in a much broader range of economic sectors," he said in an emailed note.
Growth in household consumption spending, which makes up about 60% of economic activity, slowed to 0.2% in the quarter, even though the central bank cut its key interest rate in July. This is partly due to consumer sentiment being at its weakest in almost two years and an unemployment rate that's close to 30%.
The Reserve Bank's Monetary Policy Committee kept borrowing costs unchanged at its last two meetings even with inflation below the midpoint of its target range. While cutting rates may lead to a small boost in consumption spending, it won't help the economy to expand, Gina Schoeman, an economist at Citigroup South Africa, said by phone.
"The problem with growth is structural and due to government inefficiencies," she said.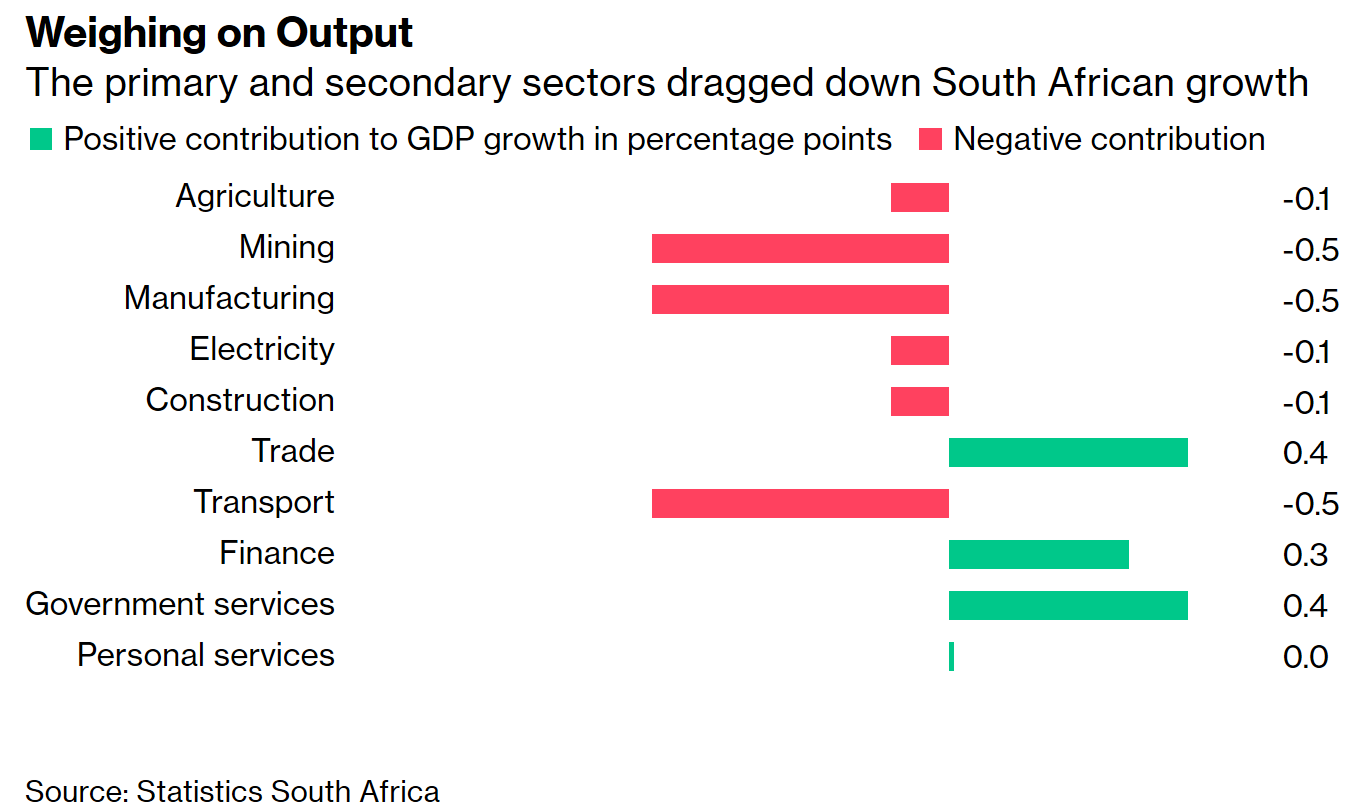 Gripped by a severe drought in the central part of the country, agriculture contracted for a third straight quarter. That, and the slump in mining and manufacturing, partly due to uncertainty about power supply, as well as in construction and transportation, means both the primary and secondary sectors of the economy are weighing on growth.
If this isn't addressed soon, the tertiary sector, which includes finance and services, will also turn negative, according to Schoeman.
— With assistance by Gordon Bell, and Adelaide Changole