MarketNews
The Worst Is Over for the Rand, Says Nedbank - BLOOMBERG
APRIL 09, 2020
By Robert Brand
South Africa's rand will probably rebound to below 15 per dollar by year-end as emerging-market capital flows normalize in the wake of the coronavirus-induced shock to the global financial system, according to Nedbank Group Ltd.

The currency's slump to a record of 19.3508 per dollar this week was due more to the sharp decline in commodity prices and capital flight from developing economies, than domestic factors such as sovereign downgrades, Walter de Wet, an analyst at the Johannesburg-based lender, wrote in a report.
While the rand will remain volatile, dollar rallies should be seen as an opportunity to buy the South African currency, he said.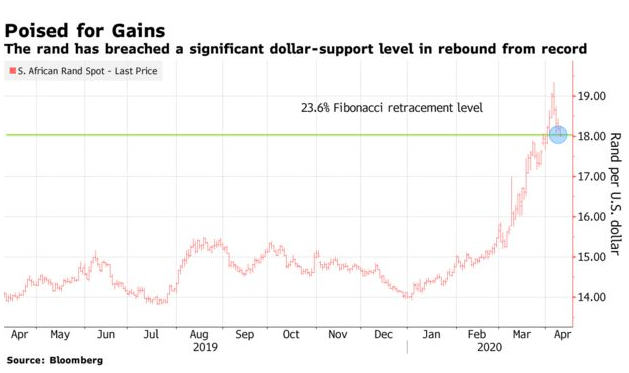 "We are growing in confidence that for the first time this year, many of the negative events that rocked the global and domestic economies – including sovereign downgrades – are largely priced into the currency," De Wet said. "Where we previously believed that rallies in the rand will fade (and these rallies should be sold into), we now take the view that weakness in the rand is more likely to fade (and should be bought into)."

Foreign investors have sold $3.2 billion of South African bonds this year, according to JSE Ltd. data. Much of that capital will return, bolstering the rand, De Wet said. South Africa's relatively high yields will be particularly attractive as returns from developed-nation debt remain close to record lows.
"Capital will return to EM local bond markets in search of higher real returns that would in turn aid EM currencies," he said. "Capital returned after the 1998 Asian crisis, the 2001 US recession, and the 2008 global financial crisis. The likelihood that it will return after this recession is high."
The rand strengthened 0.9% to 18.0206 per dollar by 12:13 p.m. in Johannesburg. The probability of the rand appreciating to 15 per dollar by year-end is 20%, according to Bloomberg's forecast model based on prices of options to buy and sell the the currency.