MarketNews
Venezuela Considers Tax on U.S. Dollar Sales to Boost State Coffers - BLOOMBERG
JANUARY 25, 2020
Government wants cut of dollars circulating in economy

Venezuela's current value-added tax in bolivars stands at 16
Venezuela is considering to impose a tax on the growing number of sales being conducted in U.S. dollars to boost government revenue at a time when foreign reserves are at a 30-year low.
The country's Constituent Assembly, which is loyal to President Nicolas Maduro, is discussing a value-added tax reform proposal in the coming weeks as part of economic measures the government is planning in 2020, said Gerson Hernandez, an assembly member who's part of the economy committee.
"We have to adjust to the new times," Hernandez said, pointing out that the bill can still be subject to changes.
Following crippling U.S. sanctions imposed against Venezuela in 2019, Maduro has essentially dollarized the country and dropped restrictions on imports to create some breathing room as he tries to hold on to power for a seventh year.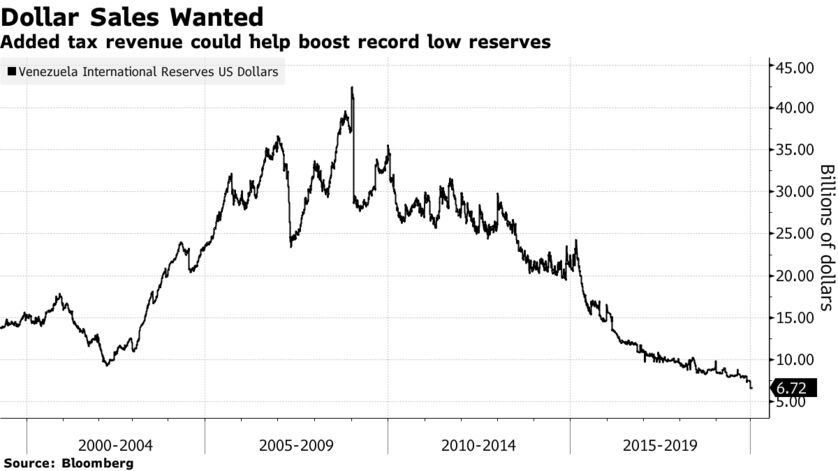 As part of the new law, sales in euros and cryptocurrencies -- with the exception of the sovereign crypto coin known as the Petro -- would also be taxed, said two lawmakers who are familiar with the original draft. The president is entitled to exonerate certain goods and services and will set the fee --which is additional to the current 16% VAT rate-- through a special decree, one of the lawmakers said.
Dollar Prevalence
In Caracas, most transactions from restaurants to supermarkets and shopping malls now take place in dollars while smaller denomination purchases like parking and subsidized gasoline are in bolivars. Thus far the government hasn't been collecting VAT on the dollar sales, which equates to a lost opportunity to make up for a dramatic drop in revenue.
Purchases in dollars are set to reach nearly 70% of all transactions this year, according to estimates by Caracas-based consultancy Ecoanalitica. Taxing them would represent a tacit acceptance of the informal dollarization.
Press officials at Venezuela's Finance Ministry, the Presidency and tax authority declined to comment.
Who's in Charge in Venezuela and What May Come Next: QuickTake
A devalued bolivar and crippling economic crisis means Maduro's government collected just $410 million worth of taxes in 2019, according to Seniat, which oversees the area. Venezuela's reserves, already at a 30-year low, have only about $800 million remaining in cash and an additional $200 million of other liquid assets.
The reform draft also orders retailers and providers to issue receipts in the currency or cryptocurrency in which the purchase was made, reflecting the equivalent amount in bolivars, one of the people said. The receipt must also show the applicable exchange rate.
After little to no restrictions on imports at one point in 2019, Maduro introduced a tax bill seeking to scale back the number of items that can enter the country free of import taxes this month. The sudden opening of the economy last year allowed certain stores to fill shelves with imported apples, codfish and wine, undermining what's left of local production.