MARKET NEWS
Binance Takes The Largest Piece of Crypto Activity Pie in Africa - XCOINS
SEPTEMBER 10, 2020
By Godfrey Benjamin
Africa's on-chain cryptocurrency activity has consolidated onto the ten largest services in the region by volume over the course of the last year, with "a large portion of that activity" going to Binance, according to blockchain and analytics specialist Chainalysis.
The ten largest services' share of overall activity in the region has risen from 66% in October 2019 to 78% recorded this summer, as Chainalysis shared in their recent post. Binance's share of the cryptocurrency activity in Africa "has risen sharply since the beginning of 2020."
"The liquidity and variety of trading pairs offered by top exchanges like Binance are likely attractive to the growing professional trading market (which we define as being made up of transfers above [USD] 10,000 USD worth of cryptocurrency), which despite making up a lower share of Africa's overall activity compared to other regions, still accounts for 70% of all on-chain volume transacted," the analysts said.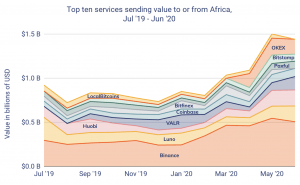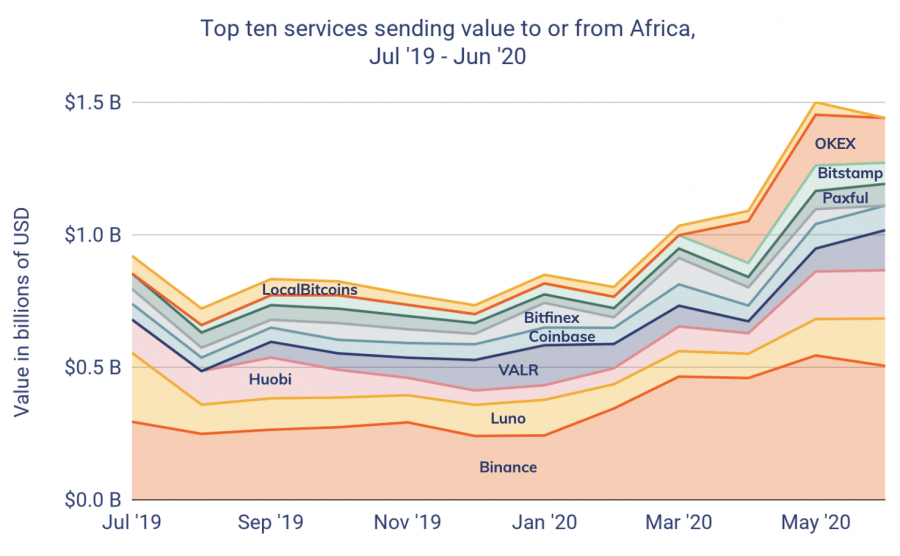 The following graph also seems to confirm that statement, given that "the rises in professional activity coincide with rises in African transaction volume on Binance."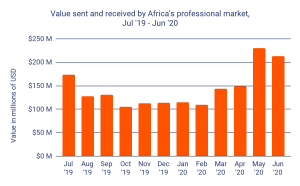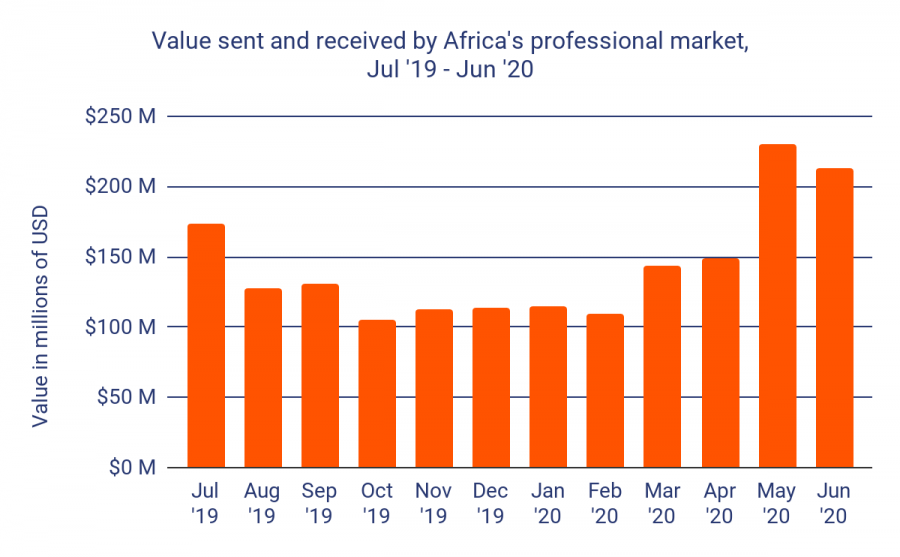 In a YouTube Ask Me Anything session, Binance CEO Changpeng Zhao attributed this growth to the exchange's ability to build relationships with local banks, who in turn allow users to on-ramp from fiat to cryptocurrency.
Chainalysis attributes the surge in crypto transactions to African countries' fiat devaluation and to remittances. As previously reported, Effort Onoboh, a Nigerian independent trader and investor, told Cryptonews.com that stiffened regulations "coupled with the incessant devaluation of the Naira has made cryptocurrencies a viable option for all."
Meanwhile, Reuters recently reported on a "quiet bitcoin boom in Africa," driven by small business on one hand, and remittances sent home by migrant workers on the other - and all thanks to young, tech-savvy, and adaptable populations. Interviewed bitcoin (BTC) users from five countries said the crypto made their businesses more profitable.
As reported yesterday, Ukraine, Russia, and Venezuela have taken three top spots in the Global Crypto Adoption Index, announced by Chainalysis. Kenya, South Africa, and Nigeria ranked 5th, 7th, and 8th respectively.